Thanks to my cutest neighbor Miah for coming outside and taking these pics before we left. Why I have this little smirk on my face is beyond me... It's just what you get I guess before 9 in the morning!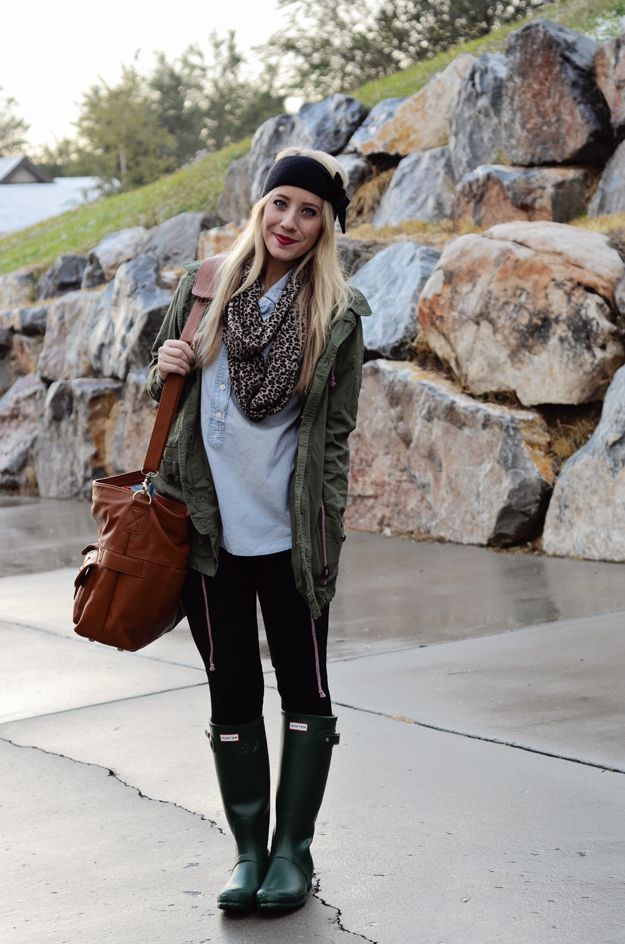 Jacket: c/o
Chicwish
| Bag: c/o
Jo Totes
| Hunters:
Amazon
| Head Wrap: Forever 21 | Denim shirt: JCrew Factory | Cheetah Infinity Scarf: Franchesca's, in store only. Similar
here
| Leggings:
Franchesca's
. Fleece lined. I have a size small and they are a bit tight on my waist, but I absolutely love them and need more!
Just in case you were wondering what you could fit into the amazing
butterscotch Jo Totes Bag
... let me tell you: One red umbrella. Because of all this ridiculous rain. I mean seriously. Where did fall go? Your nice SLR camera... of course, it's a camera bag for crying out loud. That basically means you have to take it with you. Three Diapers and a brand new package of wipes. From Costco. That usually goes without saying. A peanut butter and jelly sandwich, apple sauce, pirates booty -individual packs (if you've never tried these you must), fruit snacks, two water bottles and two sippy cups... Who knows why you pack so much food because your kids refuse to eat anything. But you hope and so you come prepared. Your wallet. Or in my case a tiny little makeup bag that fits just my cards. Because I lose everything else. Luckily it fits in those cute little closures in the front of the bag. My phone, some lipgloss and oh yeah an extra pair of shoes for Savy just in case.
I'm telling you. This bag is amazing. If you need a good
diaper
multifunctional bag, this would be the one you want.
This morning we went to Hee Haw Farms with Boston's preschool. Just to paint the picture. It was raining. And freezing because it was at 9 am. Both kids were bundled so well they couldn't even move. I guess that was our first problem. Poor Savy. She screamed bloody murder the entire two hours we were there. I seriously just laughed as the other parents were giving me the stink eye,
control you children
. I mean, what was I supposed to do? So we left early and the second Savy warmed up she became so sweet and happy. Why is it that when you provide fabulous fun activities for your kids they're usually miserable the entire time? Makes me second guess why we ever leave the house!
Annnnd here it comes. I'm sure you won't be surprised to hear that I read another article... ha ha image that, titled 1,000 things to be thankful for by Richard M Romney. He talked about his 12 year old daughter having an assignment from school to come up with 100 things to be thankful for. At first it was really hard for her to think of 100 things. Eventually she enlisted the help of her family and friends. He said, "The week spent searching for things to be thankful for changed our family. Charlotte completed her assignment with a nice two page description of thankfulness. She attached a list that finally totaled 1,213, a list that today, at age 16, she still has in a box stored in her closet. But the total wasn't important. What mattered was that, long after Charlotte's essay was written, the
attitude of gratitude lingered
. The marvelous result was that we now have a family tradition- and I have a personal tradition- of finding something each day to rejoice in. We have found that when we are thankful day after day, our attitudes are more often happy and hopeful. We reflect that gratitude regularly in our prayers and record it in our journals."
Don't worry, I'm not going to come up with 1,000 or even 100 things I am grateful for. But. I'm not going to complain anymore about the crazy weather and my unruly children. At the end of the day I want to be happy, thankful and hopeful for the life I'm able to live with my
hopefully happy
and very healthy children. If I don't see you tomorrow, have a happy weekend and we will see you Monday!