Easy Valentine's Makeup Tutorial ❤️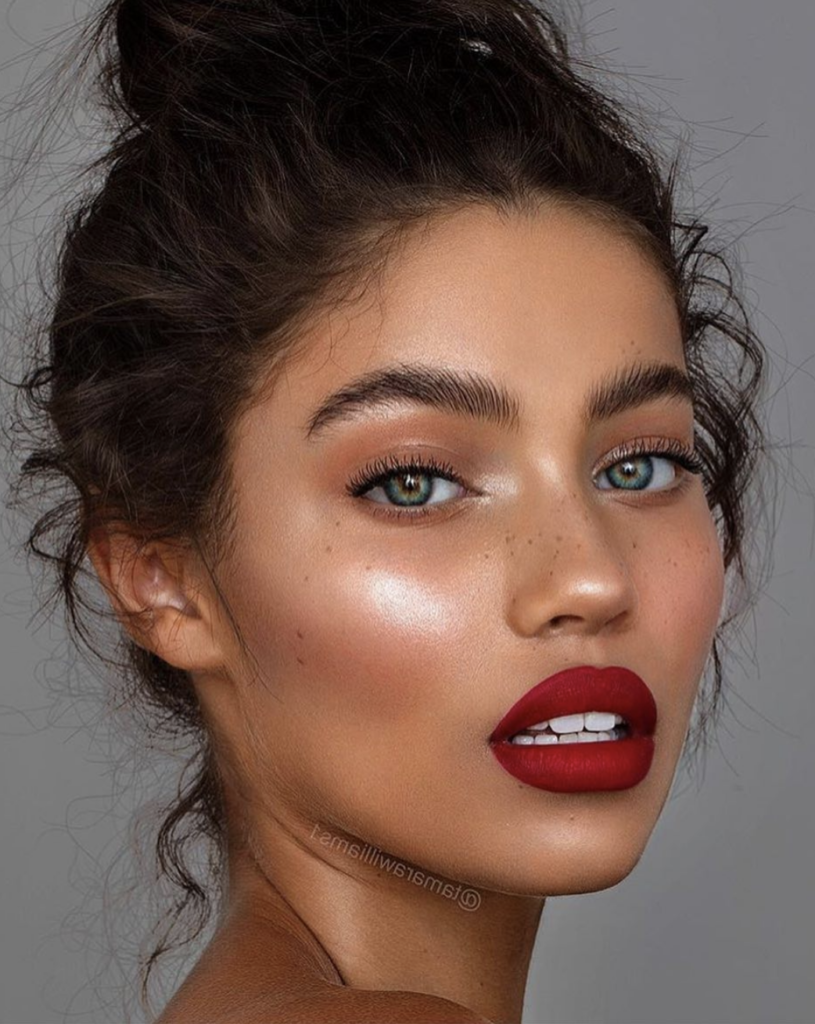 Inspiration
Is this woman not one of the most beautiful humans you've ever seen?! She was photographed by Tamara Williams on Instagram and I seriously cannot stop staring! Feeling a tiny bit jealous over her bushy brows and full lips 😜 I quickly flipped the narrative though in my head and decided she could provide some much needed inspiration in an easy Valentine's Makeup Tutorial 👏🏼.
I have no idea why I'm putting my face next to hers haha and despite having completely different features, how'd I do?!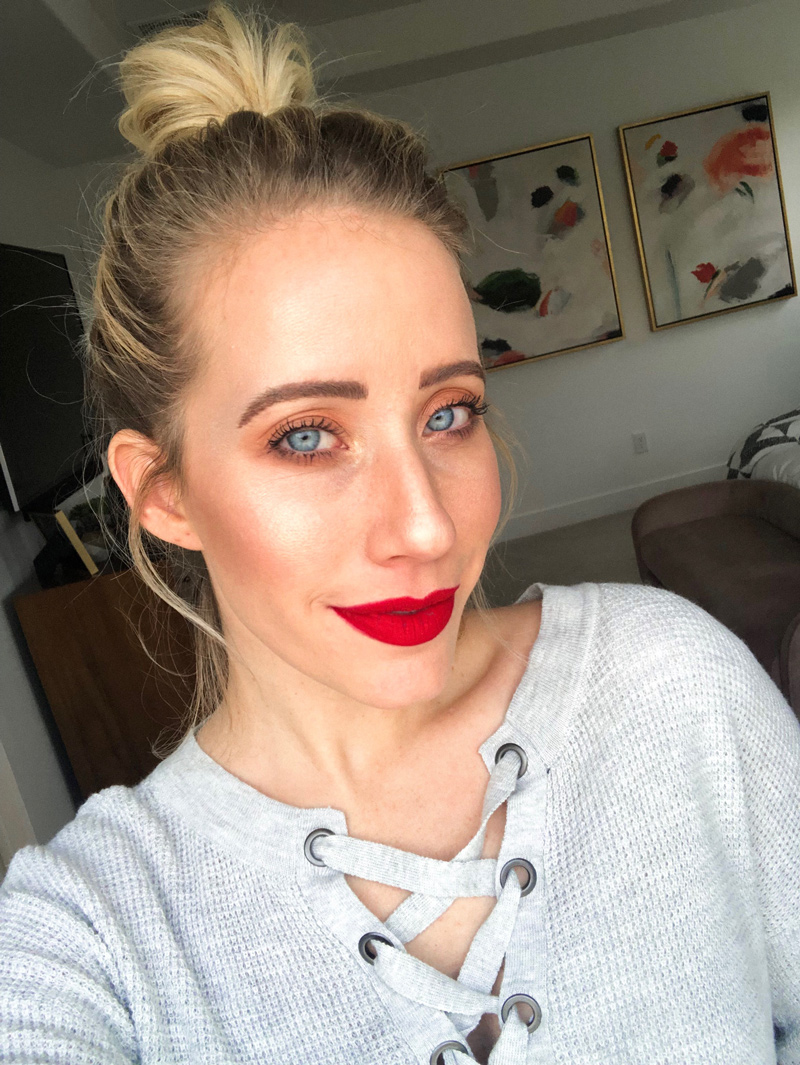 This look was painfully easy and if you've got a poppin' highlight and a red lip already in your makeup drawer then chances are you've got everything you need to complete this look. I love how neutral everything is and then BAM you've got this bright highlight and bold lip. Stay tuned and I'll share the products I used with you so you can create this easy Valentine's Makeup Tutorial too!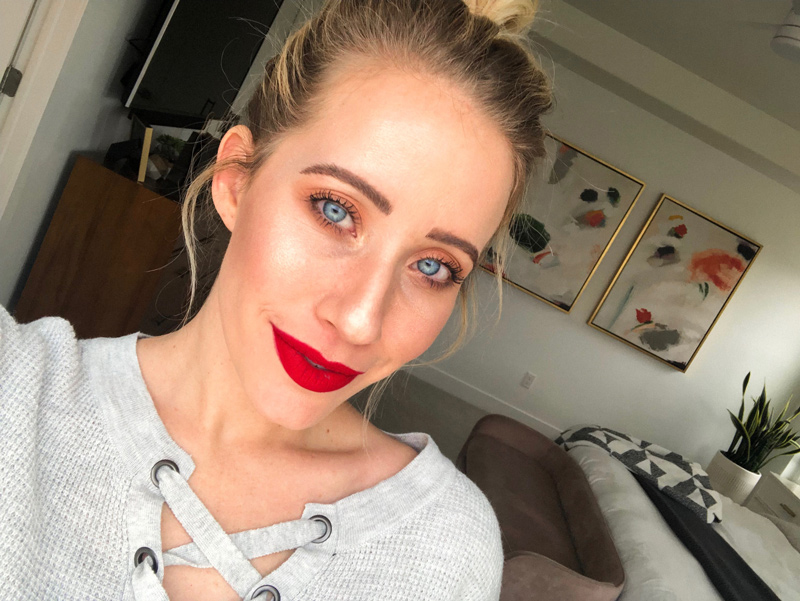 Skin
Foundation: We're going for fresh and dewey! My favorite foundation is the SeneGence Anti-Aging foundation but I know a lot of you want products you can find at the drugstore or Sephora and in that case you need to try the Georgio Armani foundation… GAHHH it's so good. Expensive. BUT SO GOOD!!! If you're on a budget my favorite is the Loreal Infalliable foundation. I used it in this video here and it's amazing too!
Concealer: Then we need some under eye concealer, because let's be honest… we're all tired around here! I love the Nars Creamy Concealer but if you're on a budget the Maybelline Instant Age Rewind is awesome too!
Contour/Blush/Highlight
If you haven't tried Fenty Beauty — well honey, you're livin' under a rock! For my contour I used the Match Stix in Mocha and then my favorite Nars blush in Orgasm. And finally for highlight, there's nothing better than the Becca Pressed Highlighter in Moonstone. Champange Pop is also a beautiful color but I love the warm tones from the Moonstone!
Brows
For brows I use Shadowsense, it's a long lasting creme to powder and I mix the Moca Java and Garnet colors together. Alternatively you could brush your brows with some Benefit Eyebrow Gel and then if you're needing some more dimension I swear by the Mote Liner in brown to help add in strokes.

Eyes
For the eyes I'm using one of my favorite palettes of all time and guess what, it's only SIXTEEN DOLLARS!!!! It's the Color Pop Entendre Palette and it is SO GOOD!! I'm using the color "hard" all over the lid and under the lower lash line. It's a matte deep terracotta color and it really makes blue eyes pop! And then I've pressed the Draft color which is a metallic rose gold just below my brows and on the inside corner of my eyes. Then I just threw on some mascara! One of my favorites is the IT Cosmetics Super Hero Mascara. The brush is super thin so you can really get in there and grab all your lashes! I still love the PUR Cosmetics one but I ran out of it awhile ago and just haven't ordered anymore.
Lips
And last but not least, Lips. Smashbox Matte Liquid Lipsticks are one of my favorites. They're matte so they're not super hydrating but they don't make my lips feel dry and they have great staying power! This it the color Bawse, it's obviously a deep red.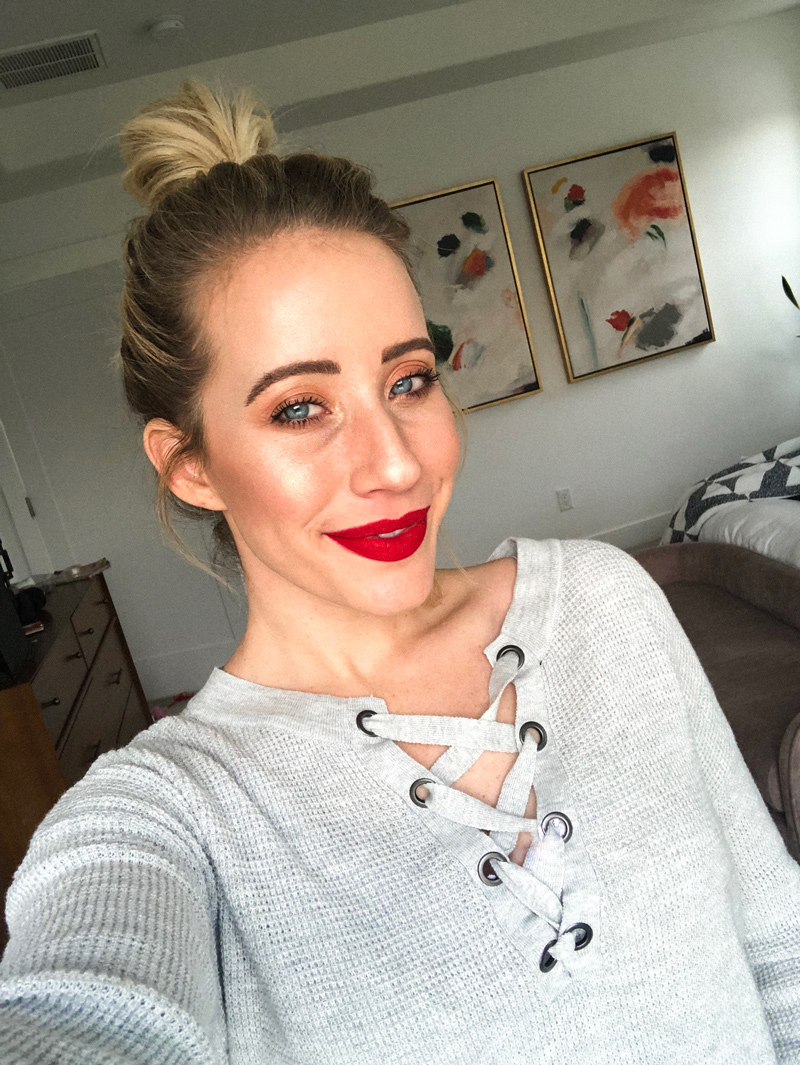 What do you guys think?! For spending less than ten minutes + 30 seconds on my messy bun I'm counting this look as a win! Don't let all those hard youtube tutorials scare you, a little lip, highlight and mascara can go a long way! I hope you guys enjoy the days that lead up to V-day as much as possible and if you need a few hair tutorials to getcha in the mood, check out these Four Valentine's Hair Tutorials I shared just yesterday and this adorable heart one I wore last year! xo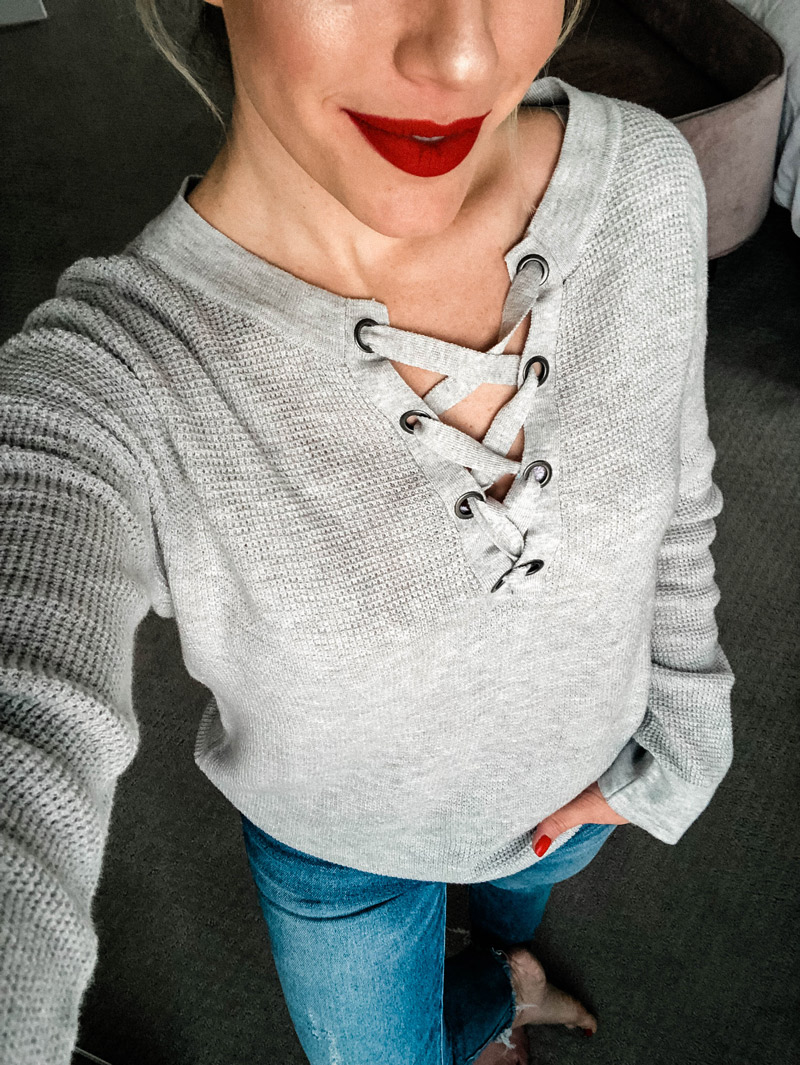 Outfit details: