I'm having these babies on MONDAY. Last night I was like crap, I need to throw my hospital bag together just in case these little dudes come early. HA. Yeah right. They're not coming early. Who am I even kidding?! UGH! At any rate it's gotta get done so I thought I'd put a little post together to share with you what I plan on bringing to the hospital. Here is my no nonsense, simplified and practical hospital bag must haves!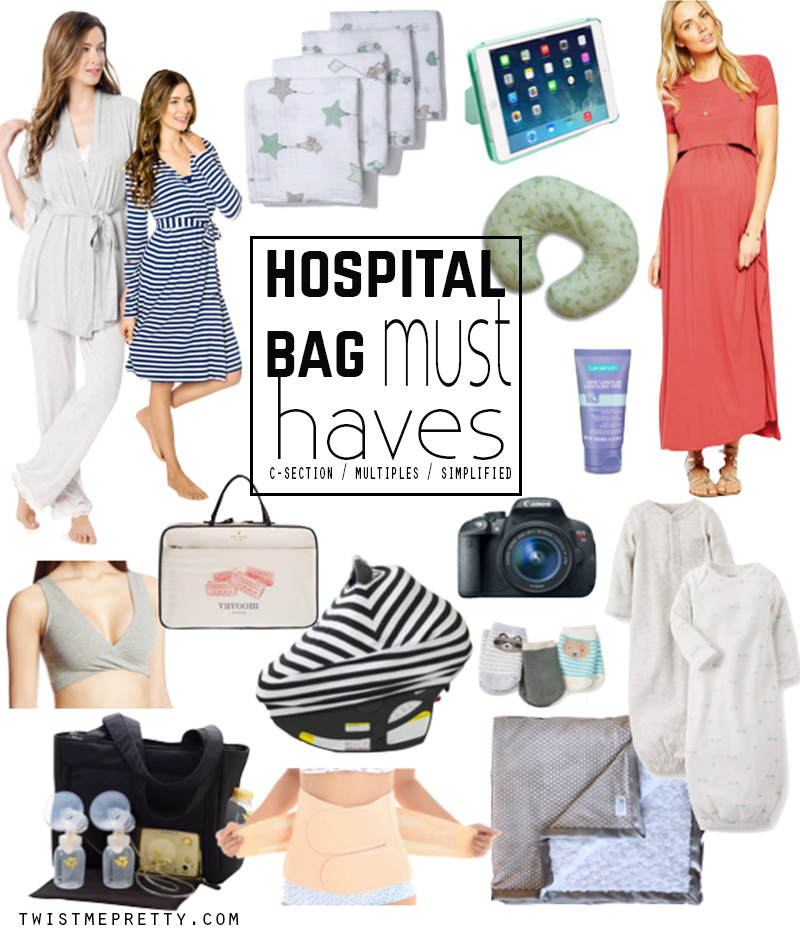 For Mom:
1) A good robe and nightgown + comfy pajamas. If you're having a c-section you'll definitely want a nightgown vs leggings/pj pants that sit right on the incision. I'm bringing this and this one and craving this one here. Note: If you bring a nightgown make sure you can nurse in it… if you plan on nursing that is! It should have buttons up the front, a stretch neck or having the nursing clip straps. Just something so you're not ripping your gown off every time your baby needs to be fed!
2) Toiletries. You'll want to get semi-ready for when family comes to visit so bring the basics, you'll be glad you did. I always loved having yummy body wash, a razor and lotion. Taking a shower after having a c-section – just sitting under the hot water was so relaxing for me. I didn't ever do much with my hair but I did wash and dry it. Even if it's going to be up in a bun two seconds later, at least it won't be wet and stuck to your head.
3) Postpardum Belly Belt. I've never actually used one of these before but they've been recommended over and over and have great reviews so I just purchased the one linked. I almost pulled the trigger on this one but thought I'd try to cheaper one before spending $30 on a belt! I'll let you know if I like it or not in a few weeks.
3) iPad/computer. Just in case you find yourself with some downtime, you're going to want a couple shows to binge watch or a good book to read. I just downloaded the healthy sleep habits happy child because I can't remember any of it and it's the best book ever! In retrospect I should have brushed up on my baby skills months ago but whatever. Nothing like just diving in head first!
4) Your camera/video camera. Is this not an obvious one?! Try to use as much natural light as possible when taking pictures of your babe, it'll make them turn out much nicer. And when all else fails, turn the pics black and white. This is the camera and lens and video camera I'm bringing.
5) Going Home Outfit. Unfortunately you'll look like your still six months pregnant when you leave the hospital. At least I do. And if you've had a c-section you aren't going to want to be wearing jeans. I'd go for a simple nursing maxi dress like this one or this one here. Seriously click on those links — they're super comfortable, easy to nurse in and waaay cute.
For Nursing:
1) A Breast Pump + accessories. When your milk finally comes in you're going to have a lot of it and chances are you'll need to express it or a) you'll become straight up engorged which is NEVER fun and b) the baby won't be able to latch on because your so ginormous. Who knew that could ever be a bad thing haha! If you don't want to invest in a pump, make sure you at least rent one from the hospital while there if you need it!
2) A good nursing bra. At the hospital I go for straight up comfort – leave your clasp/padded ones at home and opt for the comfy night time ones! Mine are all trashed from my last two kids so based off reviews I just purchased this and this one.
3) Lanolin cream and nursing pads. I don't like to use either of these too much because I feel like they keep me too moist and prevent my you know what's from callousing (sexy huh?!) but they are still great to have when you need them. Quick tip: A few months before giving birth take your towel after getting out of the shower and semi-vigorously and fairly quickly rub your you know what's (c'mon, this is a family blog hahaa) back and forth. You can get them nice and calloused before the baby comes and yes it'll hurt the first couple of weeks but better now than when you've gotta feed someone with them every two hours!! Doing this with Savy changed my life!!
4) A boppy pillow or if you're having twins – a twinz pillow! Just trust me on this one.
5) Burp Cloths.
For Baby(ies)
1) Nightgowns. These are my ABSOLUTE favorites. Buy a few sets for when they're super newborn because a) you aren't going to want to deal with snaps or zippers with as many diaper changes you have coming your way b) they have built in mittens which are a MUST when they're at the hospital. My babies would have scratched off their entire face if we didn't put mittens over their hands and c) they usually come with a little cap to keep their heads warm. Bam. DONE.
2) Socks, mittens, going home outfit. With Boston (my first) I brought a million different clothes, onesies and jackets to the hospital. I ended up using none of it. These babies going home outfit will be their little nightgowns, some socks and a swaddling blanket that works with their car seat. This is my third and fourth though and I've just learned to simplify. If you have the space and want to bring a bunch of outfits for your baby then do it, it's always fun to play dress up!
2) Swaddling blankets. The hospital will provide blankets and hats but I like to bring my own! A few of my favorites right now are these, these and these.
3) A warm blanket. With each of our kids we've had a special blanket for them. My absolute favorite shop ever is Heartstring Things on Etsy. She does a fabulous job and they're so affordable. Check there before spending $80 on a blanket from Nordstrom or Minky Couture.
4) Car Seat and Cover. Don't forget you've gotta take them home eventually! We just purchased two of these car seats and these covers from Milk Snob are the best!
So there ya have it. What I'm packing in my hospital bag! There are many lists out there that are pretty extensive… I mean they even suggest bendy straws and fiber rich snacks! The list I've compiled is pretty basic but I hope it helps if you're trying to remember what's important to have. Just remember that you're going to want to rest the majority of the time and PLEASE take advantage of the nursery. You won't be sleeping for a long while, it's fine to let the nurses watch your baby(ies) during the night instead of having them in your room with you. Keep things simple and you'll be outta the hospital and at home with your baby(ies) before you know it! Ahhh, now I really wish they'd just do me a solid and come tonight… I can't wait to meet them!