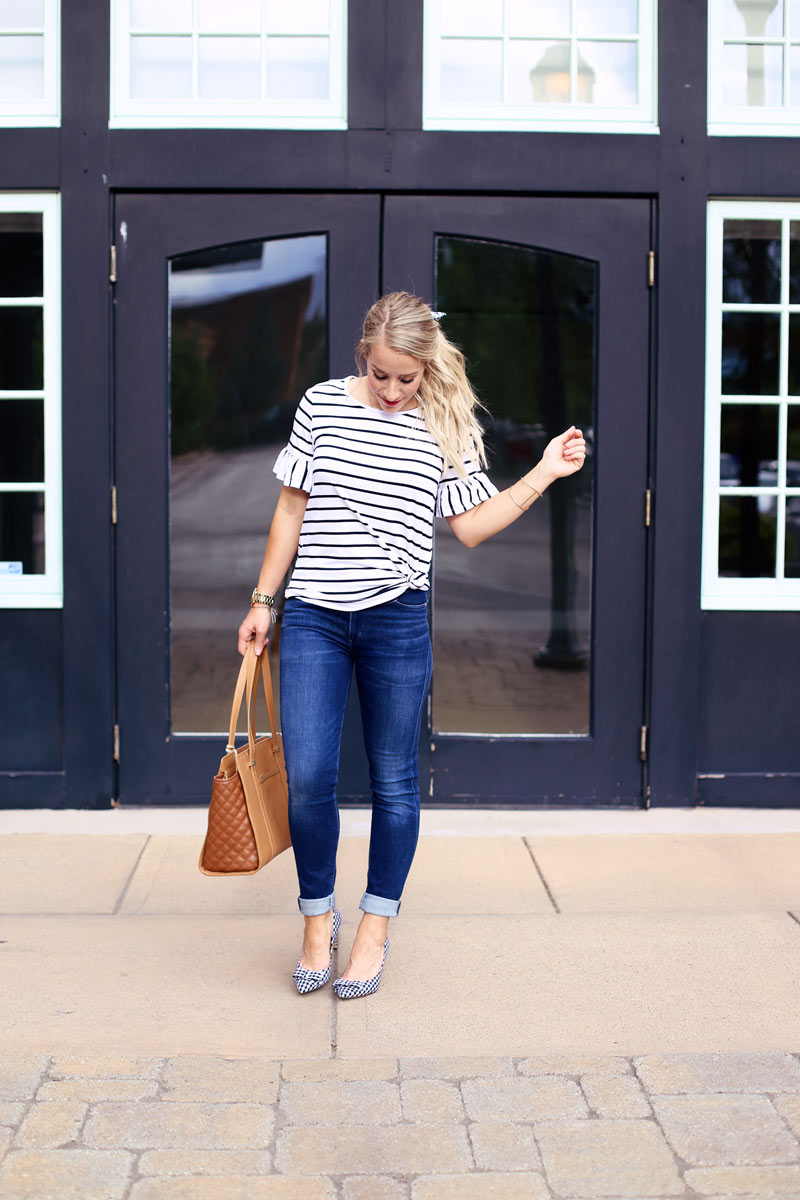 I remember walking through the isles of the fabric store with my mom, I was maybe 15 or so. We were giving my bedroom a much needed makeover and she was throwing all sorts of fabric into the cart. She had stripes, florals, checks, she threw some weird fluffy textured fabric in there and I thought she was seriously insane!!! But then I saw how she put all the patterns together and ever since I've had a fond love for mixing patterns!
But it can be a little bit tricky. And if you've never had anyone show you how to properly play with your patterns, you might find yourself totally unsure if what you're putting together goes. So today I thought I'd share three easy ways that have helped me mix patterns!
1. Choose one main print. In this case, my striped shirt is the main print but a floral dress or polka dot sweater could be your dominate pattern. My dominate pattern usually has a larger scale but that's not a rule I hold fast to.
2. Mix patterns of different scales. Because my shirt has fairly large stripes, I'm going to look for something in my closet with a smaller print. It could be a small floral print, a small check or even a polka dot. The important thing though is to make sure the patterns have different scales. You don't want two overwhelming patterns right next to each other! It was easy to add a pop of check in the shoe because they're completely different scales!
3. Keep your fabrics in the same color family. I don't stick to this rule all the time, but it sure makes playing with patterns much easier if you're still getting the hang of it. Using my outfit today as an example, I have the black and white striped shirt and then the black and white checks in the shoe. They're different scales and patterns but in the same color family and they work!! Now if the shoes would have been hot pink checks or even florals, they still would have worked so that's when you've just gotta play around with what you have and like.
4. Your safe with stripes and florals. Stripes and florals are the easiest way to mix patterns because they almost always work! If you have skirt with a large floral pattern all over it, it will more than likely look amazing paired with a striped shirt. Just make sure the scales are different and you're golden!
I added a third pattern into my outfit with the hair tie. It was such a tiny pop of color and pattern and the rest of my outfit was neutral so I went with it. That's one thing that I love about mixing pattners, is you get to show off your personality. You can be bright and overwhelming one day, and more subdued and neutral the next. But if you choose one main print, mix patterns of different scales and keep your fabrics in the same color family, you honestly cannot go wrong!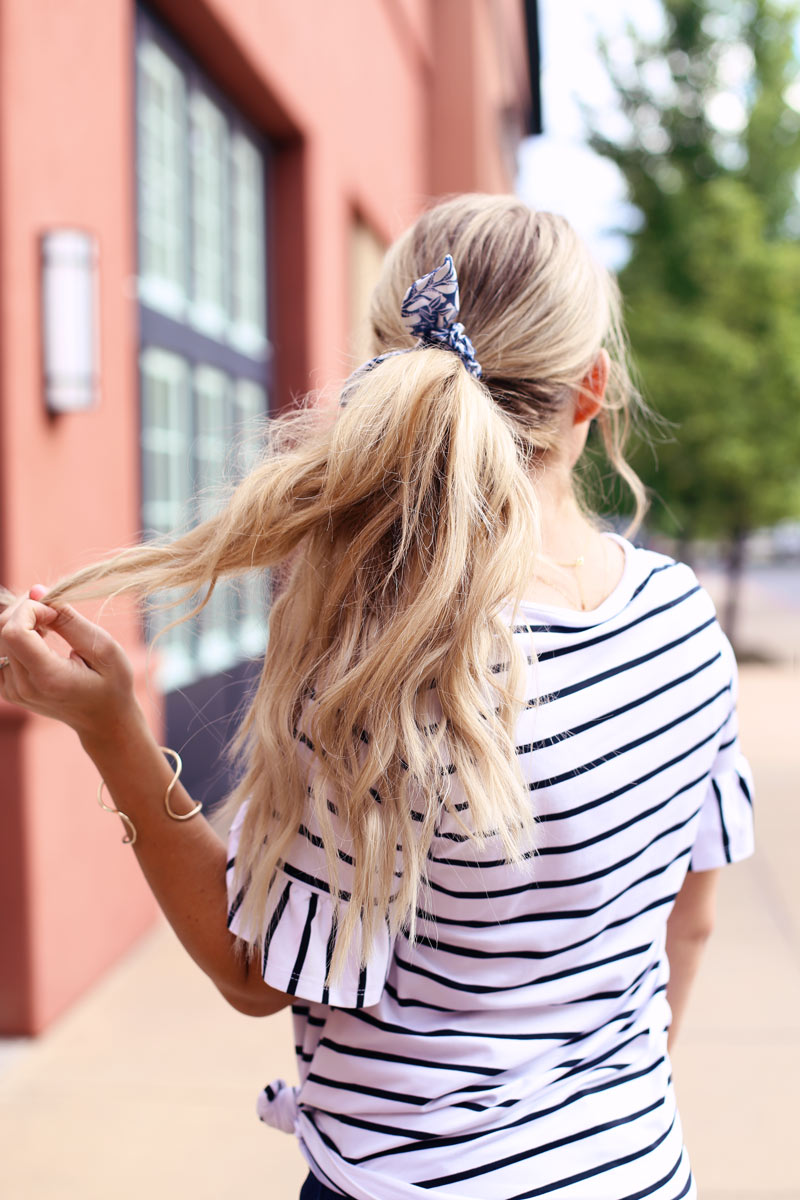 I love the detailed bell sleeves on this striped shirt! This particular one is one out of stock, they have blue and black left, but I found some other cute striped tees that have really cute details.
These heels are from Jcrew Factory a couple years ago, I couldn't find anything similar, but keep your eyes out because a smaller print heel will always go to use!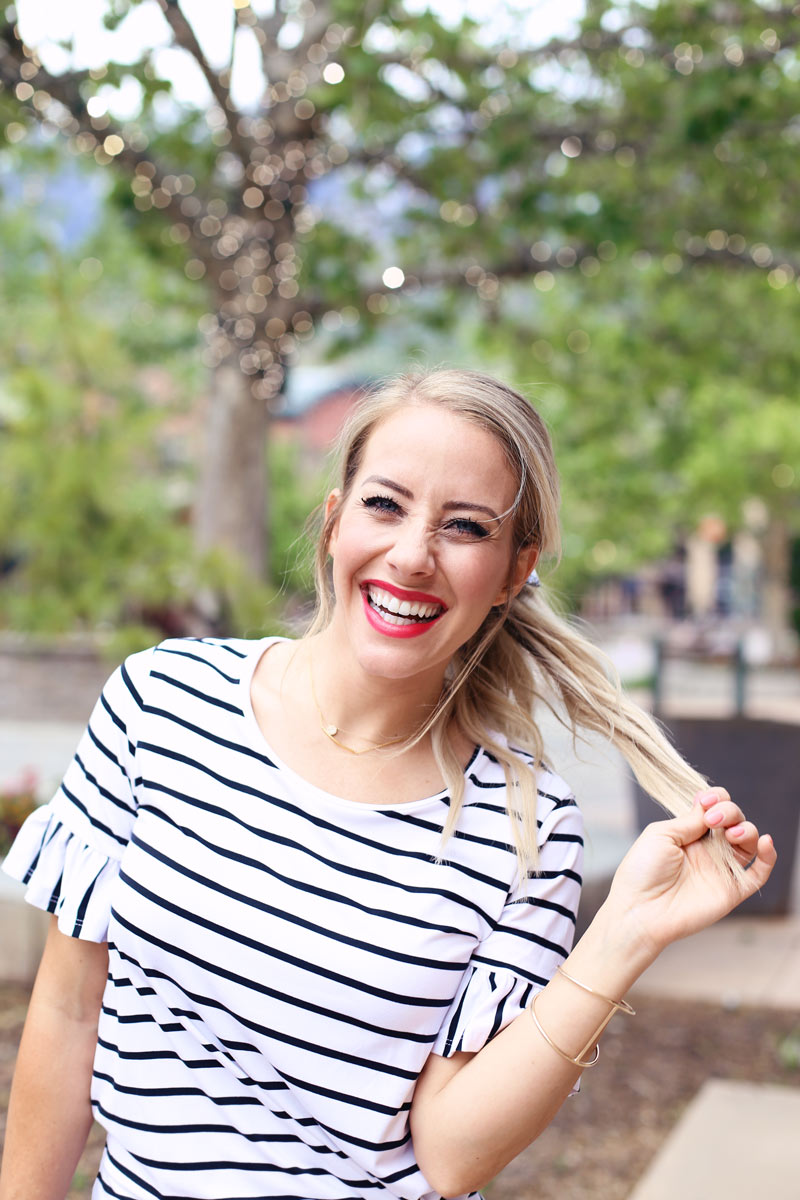 Bell Sleeve Tee: stripes are sold out but they still have black and blue! Similar stripes here and here | Jeans: the ones I'm wearing are here and they're suuuper expensive ?. I'm kind of embarrassed haha! I totally splurge on my jeans because I get so much use out of them and have a hard time finding a pair that fits! Some similar, more affordable options are here and here | Heels are old, the bow scrunchie is sold out | Necklace | Lip Color: LipSense Fusica | Bag: c/o Spartina 499, similar splurge and save.