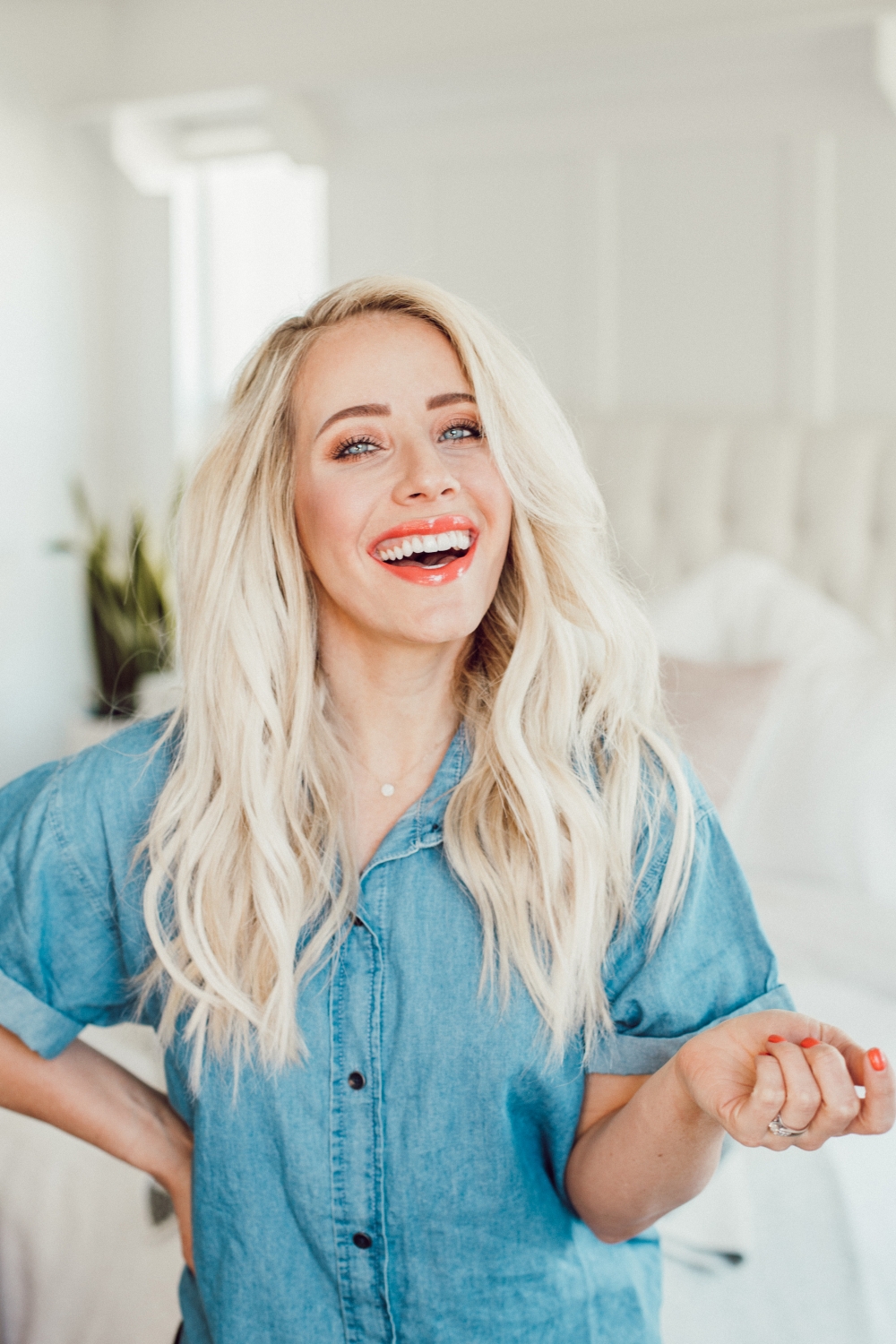 Wellll hiiii!!! Welcome to my TEN minute makeup routine! If my brows didn't take me a few minutes to fill in, it'd be much faster than that. I've really sped up my routine lately, have totally ditched the eyeliner and literally have one color all over my lids. So I hope you guys are excited for me to finally dish the products — sorry for not answering all your dm's. I knew this video was coming and there were lots of them!
And I apologize in advance for my giant face in all these photos. It gets kinda awkward cause you're like SUPER close to my face but I guess that's just how it has to be if imma show off my makeup haha!!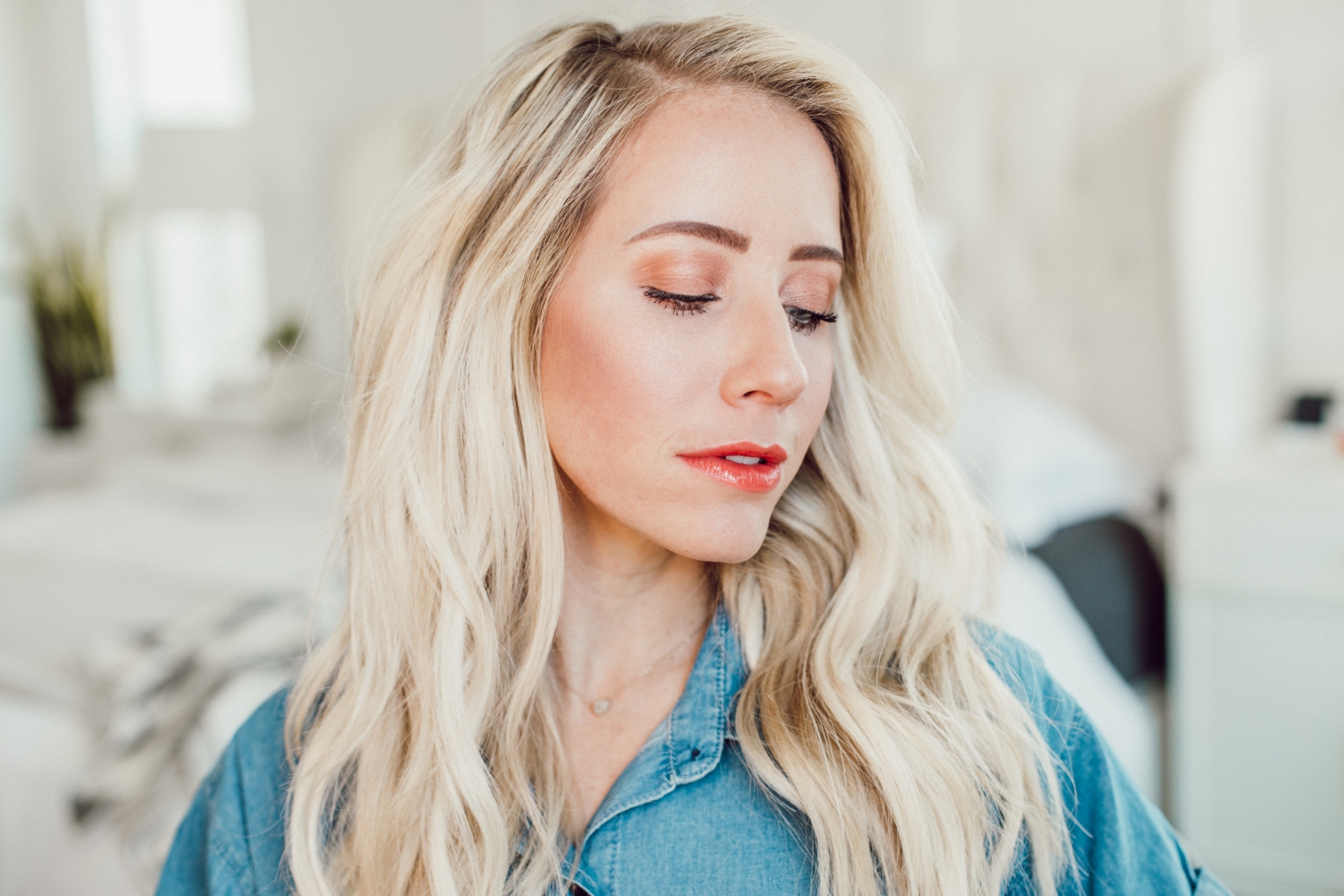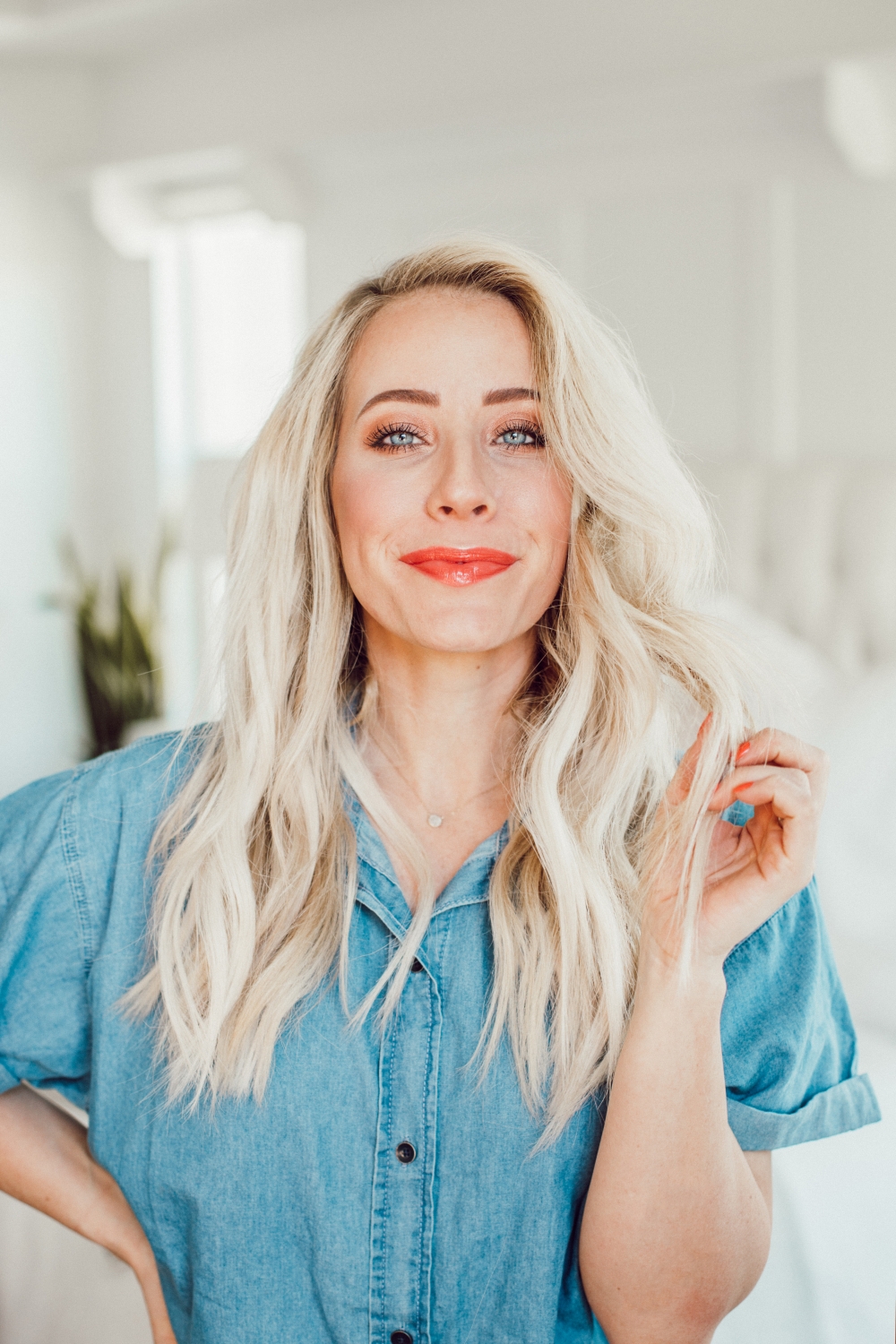 KAYYYYY here are the products in order of when I use them:
HourGlass Veil Mineral Primer. My love for this product is FIERCE. It goes on so silky smooth, helps reduce redness and minimize pores. I can tell a huge difference in my skin and the way my makeup wears when I use it. It's PRICEY but will last you forever
MakeSense Anti Aging Foundation color creme beige. Blah blah I sell SeneGence, WE GET IT!!!! I have to tell you though. I didn't use any of their other products besides LipSense for over a year. I was just happy with doing my thing and I didn't want to hate it and then have this weird opinion about the other side of the company. But then I tried it. Reluctantly mind you. And I've just fallen in love. You guys know I've struggled with acne. It's been a long road to recovery to get my skin clear — these photos aren't touched up at all. I haven't had even one zit in so long!! But I have a lot of redness from old acne, scars, and discoloration in general. And when I did have acne, this foundation covered it better than any other I had tried.
It's truly my holy grail, #1, must have favorite product in the entire universe. It covers everything so well but it always wears like nothing I've ever used before. I don't have to touch up my skin one time throughout the day and that's something I've never been able to say about other products. Again, it's pricey but it lasts FOREVVVVER.
You must apply it with a dense brush that'll buff the product into the skin — I use the It Cosmetics #702 Skin Perfecting Brush
Maybelline Instant Age Rewind color fair. I use this to cover my microblading and to conceal under eye circles. I use the Lexie 512 Small Contour Brush and just blend it all out. I blend this product onto my eye lid, to prime the lids, and then pull it down around the nose to conceal redness. I think the Candelight Shadowsense does a better job at concealing the microblading, but when I'm in a hurry that's just one extra step that I don't have time for!
Shadow Sense – Garnet and Moca Java. Again, these are SeneGence products and I'm so mad I didn't try them sooner. Have you heard of Shadow Sense? A lot of people don't know what it is. Anyway, I spent so much money trying every single waterproof brow product under the sun and then it finally occurred to me to try the ShadowSense! I have zero tails post microblading… it's a whole thing I chat about in the video and I've chatted about on IG. I'll spare you the details and save them for another post about my experience when I'm all the way through it, but needless to say my brows are a hot mess right now.
So I put a little bit of Garnet and Moca Java on the top of my foundation lid, one little swipe of each color, and then I take the Anastasia Brow Wiz (taupe) and I just mix them together. I use the brow wiz because the point is so fine that it's easier for me to draw on the ShadowSense and get nice looking strokes over an angled eyebrow brush.
I just use a super light hand and move pretty slow and steady. When it's filled in how I like, I press the spoolie into the product and then comb through the brows. This actually adds pigment to the hairs which is so helpful for me because where they use the laser, the hair has turned white! I'll get them dyed in another week or so and they'll look a lot better but brushing product into the hair works great! And the reason why I've really fallen in love with the shadow sense is because they're totally waterproof! I can't have my brow fading throughout the day or coming off when I swim, I'd look insane. The product doesn't move around at all and there are so many uses for them!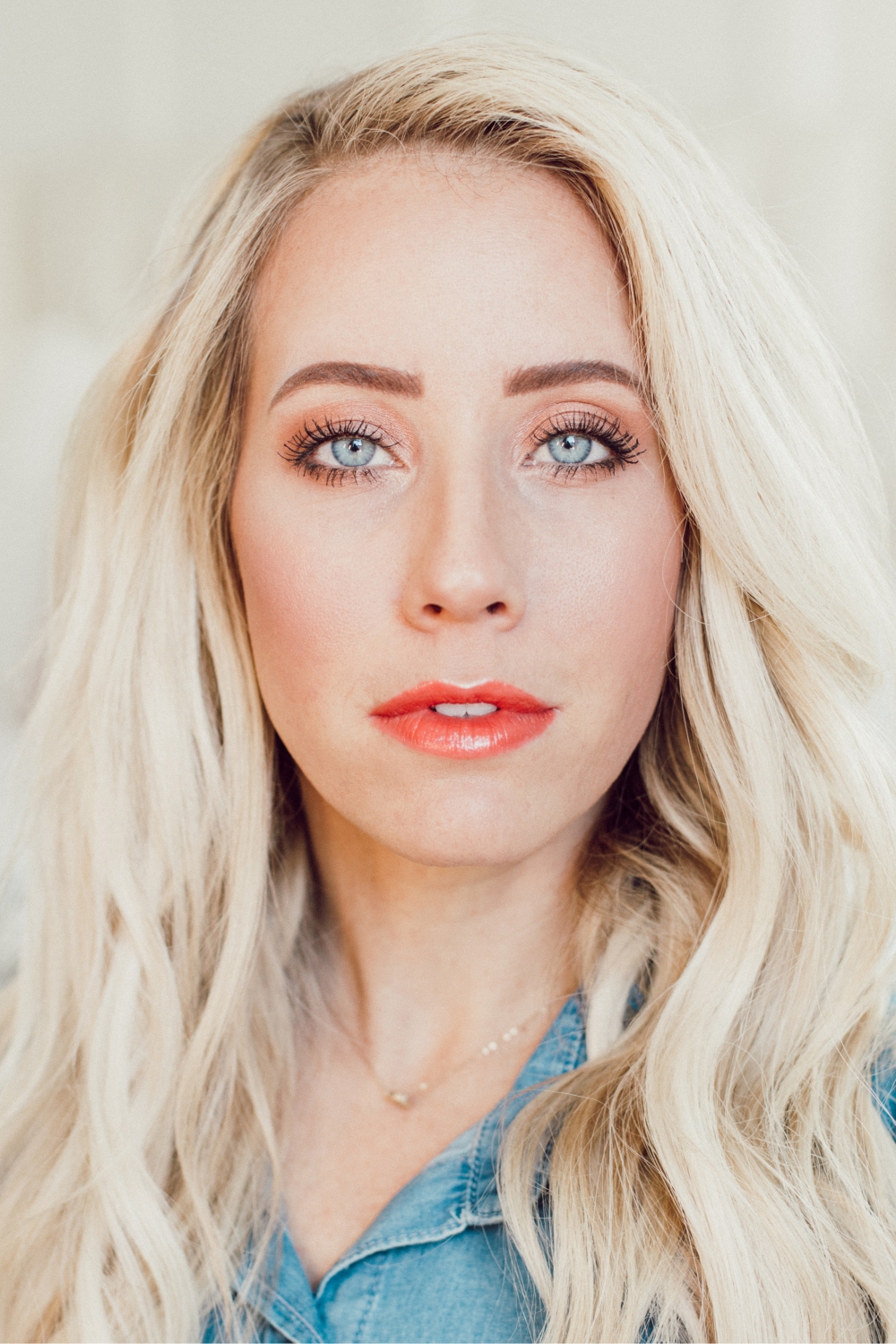 After I've finished my brows, I take the Sigma Angled Kabuki brush and start contouring. You want a brush that is very dense because the shadow sense doesn't blend as easily as say the Smashbox contour sticks I used to use. So you want a brush that will move product around. The reason why ShadowSense is awesome to contour with is because they don't move throughout the day! I seriously look like I just applied my makeup 10 hours later because the product stays put so well.
Just lightly dip the brush into the leftover product and start contouring the cheeks! Shadow sense dries a bit quicker than other products, so you want to make sure the area you're working on looks perfect before you move onto another area! So instead of putting the product all over my face and then blending it out, I'm going to focus on one section at a time!
I spend the majority of time on my skin and brows because that's where I need it the most. If you use a BB cream and don't care to contour, you can just pick up on the rest of the routine here!!!
It cosmetics celebration foundation powder to set any liquids. Even when I'm not getting all the way ready I still set the skin with this powder. I'm just taking the Airbrush Powder Wand #108, holding it at the end of the brush so the pressure is light, and softly dusting it over the skin. This just sets the makeup and gives the skin a really nice matte finish + it has a 50 spf in it so I keep one in my purse too!
Urban Decay Sin Afterglow palette — I'm just a tiny bit obsessed with this one right now!! It's so pretty and I use it for everything! I'm taking a soft blush brush and dipping it into the first color and lightly applying it to my cheeks. Then with the same brush, I'm patting the brush into the highlighter and tapping the blush onto the skin right above my cheek bones.
Then I take a tapered blending eye brush, and put the PSA color over the entire lid and below the lower lashes.
For the lashes, I use the Fully Charged Magnetic Mascara. It's the best mascara out there! I've been using it for years and I love that I can build it up without the lashes clumping together. And yes, my lashes are real, I've been using Latisse which I talk about here.
On to the lip! I got this Urban Decay Sheer Lip (100 degrees) in the mail the other day and love it so much!!! It's super moisturizing, kind of goes on like a soft chapstick. It doesn't last all day but the pigment is really pretty!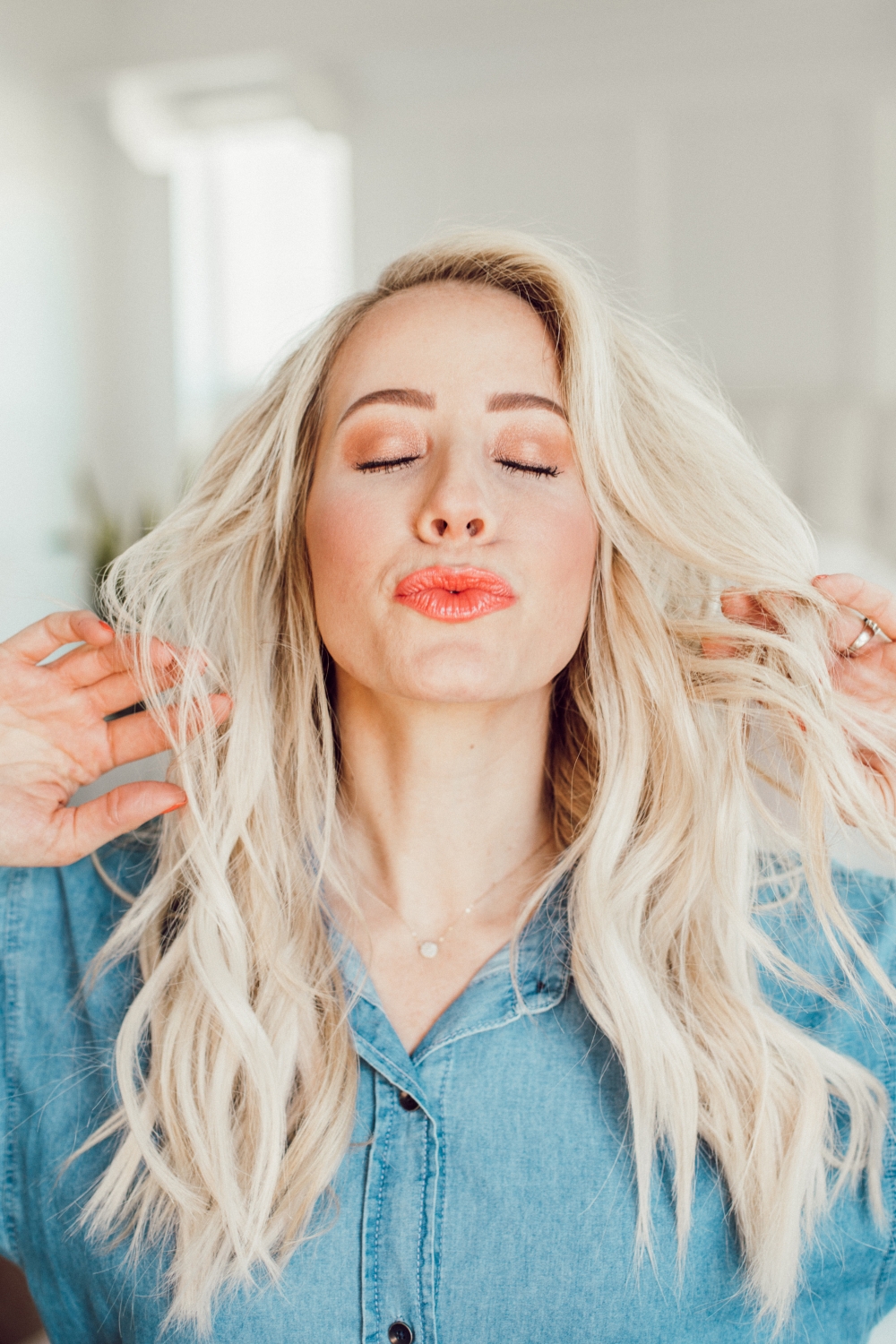 And that's it! Sounds long and tedious, but I swear it takes me less than ten minutes to do! What do you think? Is there a product in my routine that you use to? Have you tried any of the products I mentioned? If someone were to give you one product, what would it be?
Thanks for reading babes! Let me know if you have any questions!
MakeSense Anti Aging Foundation color creme beige
It Cosmetics #702 Skin Perfecting Brush
Maybelline Instant Age Rewind color fair
Shadow Sense – Garnet and Moca Java
Anastasia Beverly Hills Brow Wiz in Taupe
Celebration Foundation with 50SPF
Sin Afterglow Highlighter Palette from Urban Decay
Lexie 205 Tapered blending Eye Brush
Fully Charged Magnetic Mascara
Urban Decay Beached Vice Lipstick 100 degrees