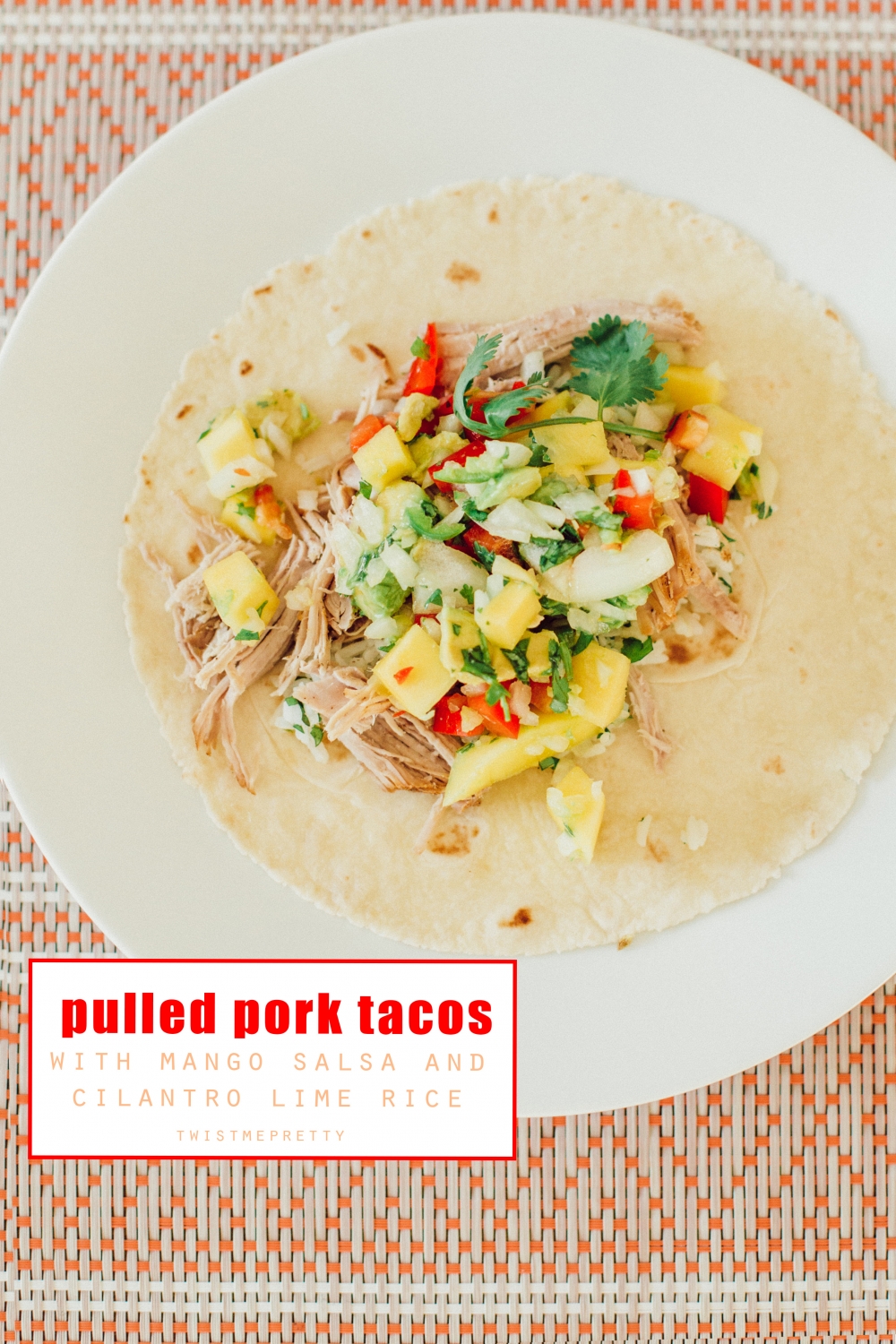 PULLED PORK TACOS!! I love this meal so much. It's one of those dinners that doesn't take too much effort but it tastes like you've been slaving away in the kitchen all day! It took 35 minutes from start to finish and while the meat was cooking in the instant pot, I was prepping the salsa and rice. I've had my instant pot for over a year and have just recently started using it. My goal is to find realistic dinners for my family that are not only quick and easy, but healthy. If it's okay with you, I'm gonna start sharing our very favorites with you! I came upon this Pulled Pork Tacos recipe from The Organic Kitchen awhile ago and I gotta tell ya — we are in love!
My family loves Mexican food, these make great leftovers and they're easy to disassemble for those picky eaters who don't like their food to touch. Yeah, you know the ones.
You're gonna first start with your meat, and don't mind the scary backsplash… we're in the middle of a small little renovation! What you're going to need:
PULLED PORK RECIPE
INGREDIENTS:
1 tsp of Sea Salt + Pepper
1/2 tsp of Garlic Powder, Cumin and Chipotle Chile Powder
1 large yellow onion, thinly sliced
1 cup of chicken broth
1-4 lbs of a pork shoulder.
My grocery store didn't have a pork shoulder that wasn't 400lbs of meat haha so I asked the Butcher what else would work and he recommended boneless pork Sirloin Roast and it was just as delish and half the price.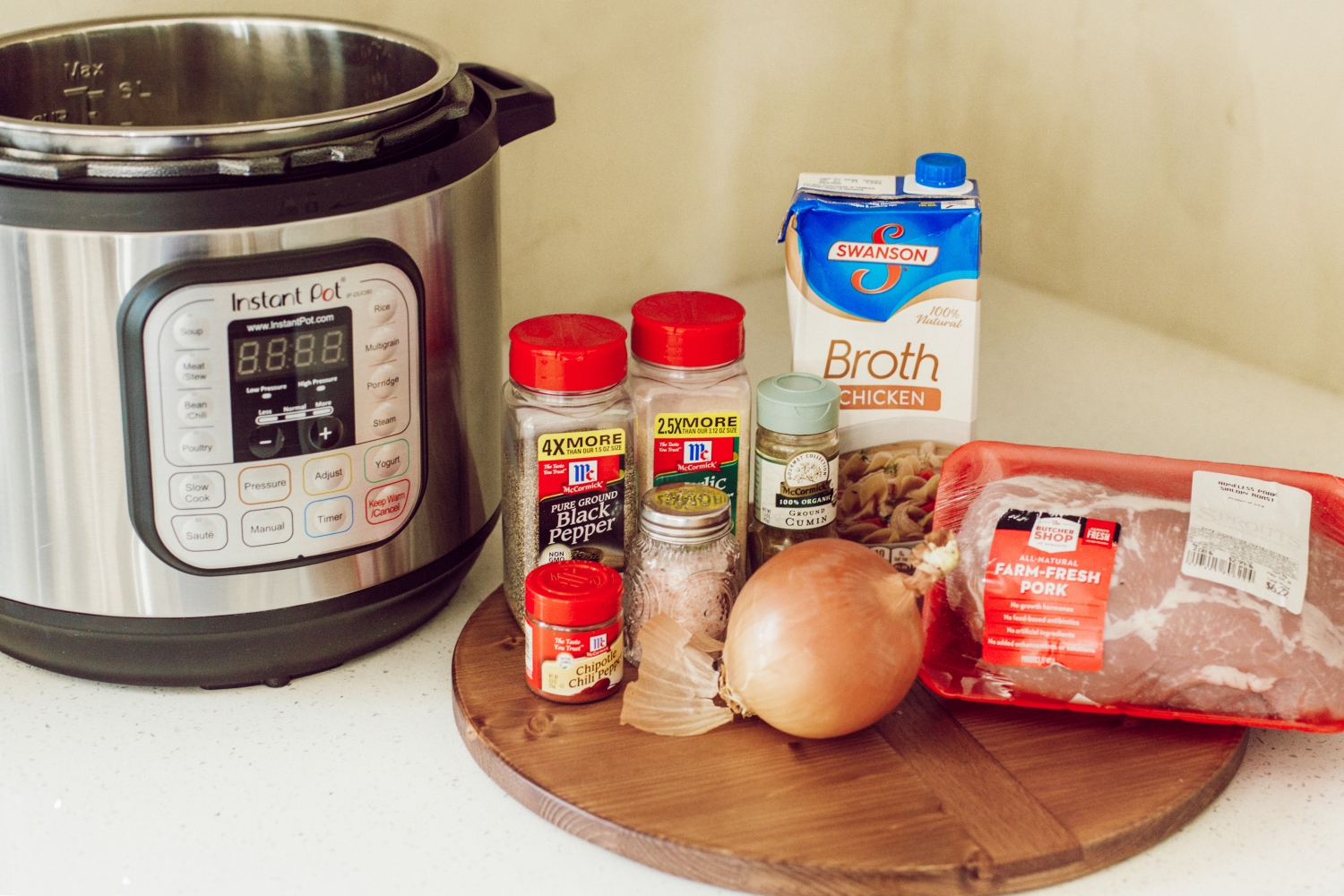 INSTRUCTIONS:
1. Place onions and broth in your instant pot (crock pot would work too)
2. Combine all spices
3. Put your rub all over your pork and then add it to the instant pot
You're gonna close the lid, press the meat option and set to 60 minutes. If you want browned edges, sear it in a hot pan for a few minutes before shredding.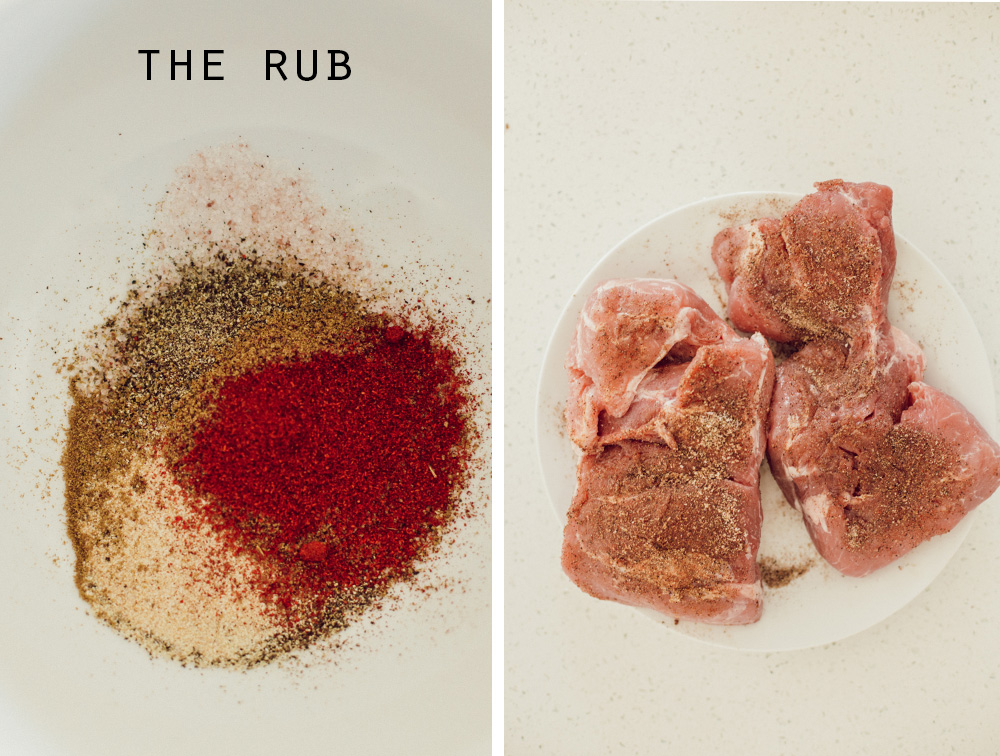 I let this go and 20 minutes before we are ready to eat I start cooking the salsa and rice! When it comes out of the instant pot though, you're just gonna shred it with two forks and it'll fall apart super easy!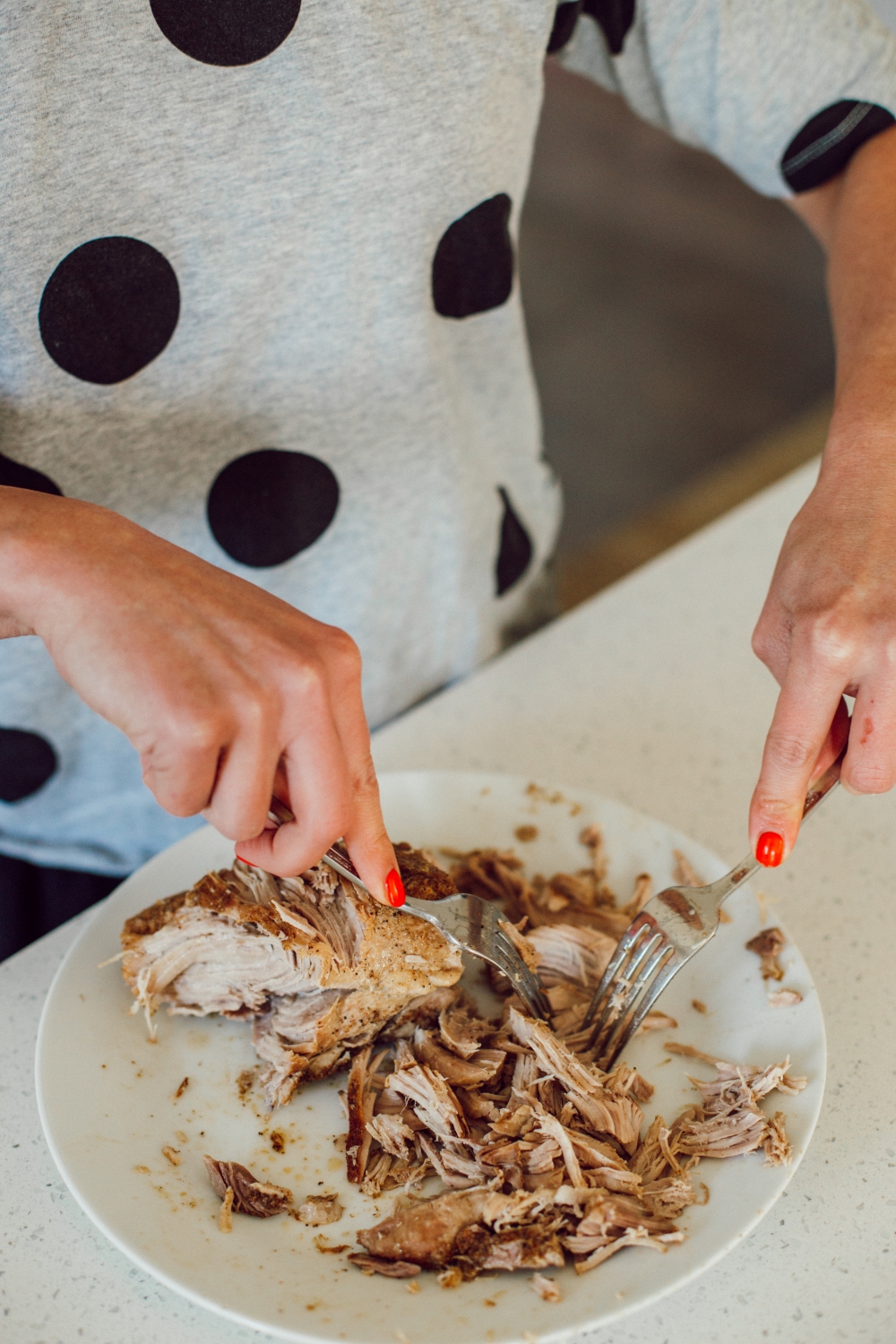 CILANTRO LIME RICE RECIPE:
We usually have left over rice but if you don't have any on hand, cook some up and then add chopped cilantro, lime and sea salt!! It's honestly super easy and makes the most delicious leftovers.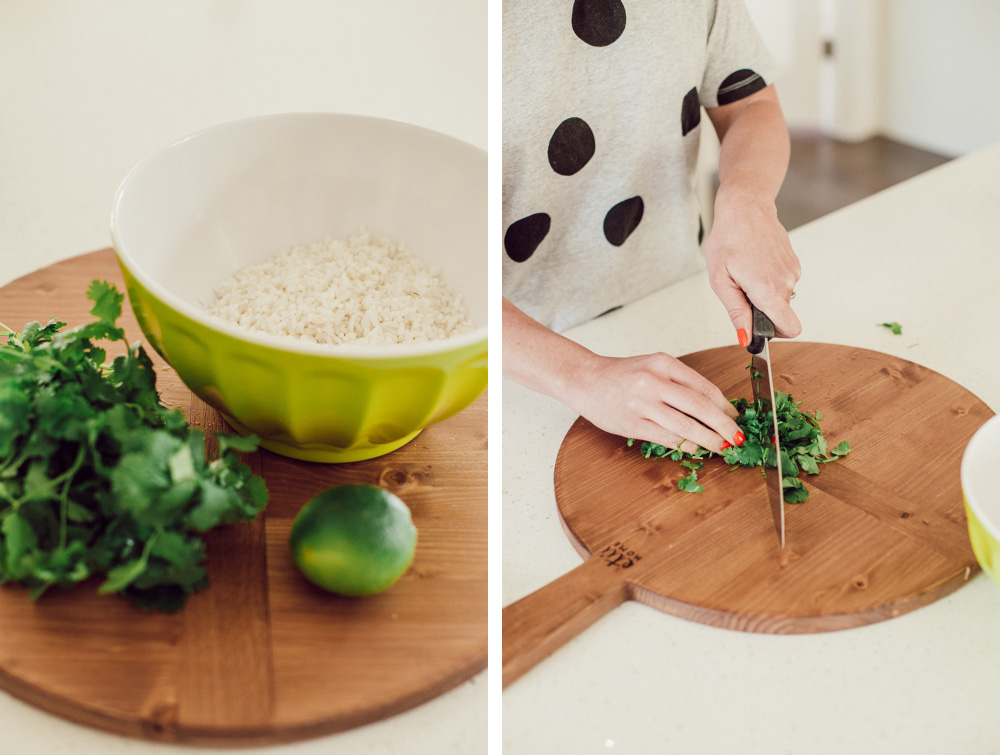 I don't have a lime press, is that even what they're called? I've just always used my tongs to get the juice out of my lemons and limes, works like a charm!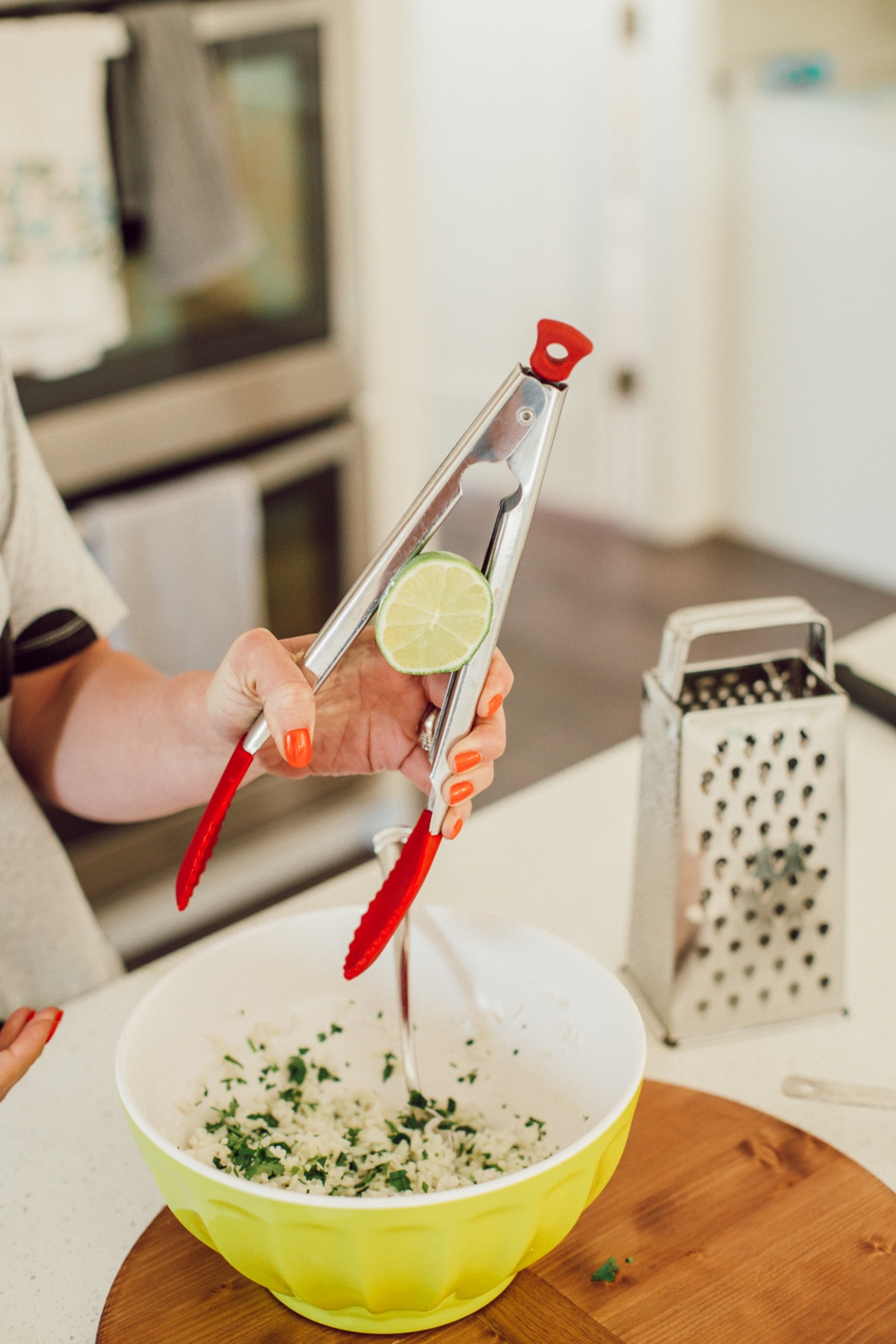 And then for Mango Salsa!! I didn't take any pictures of this because the kids were getting hangry haha but you need is:
MANGO SALSA INGREDIENTS:
1 large mango, peeled, cored and diced. If you've never done it before watch this video
1/4 of a medium red onion, finely diced
2 tsp cilantro, chopped
juice of one lime
tsp of a serrano chile, less if you can't handle the heat
1/2 of a small red bell pepper, diced
pinch of salt
Mix it all together with a spoon and then I like to also add an avocado. This will go brown if you're saving it for leftovers so you can always just cut yours up and serve it in a bowl to the side.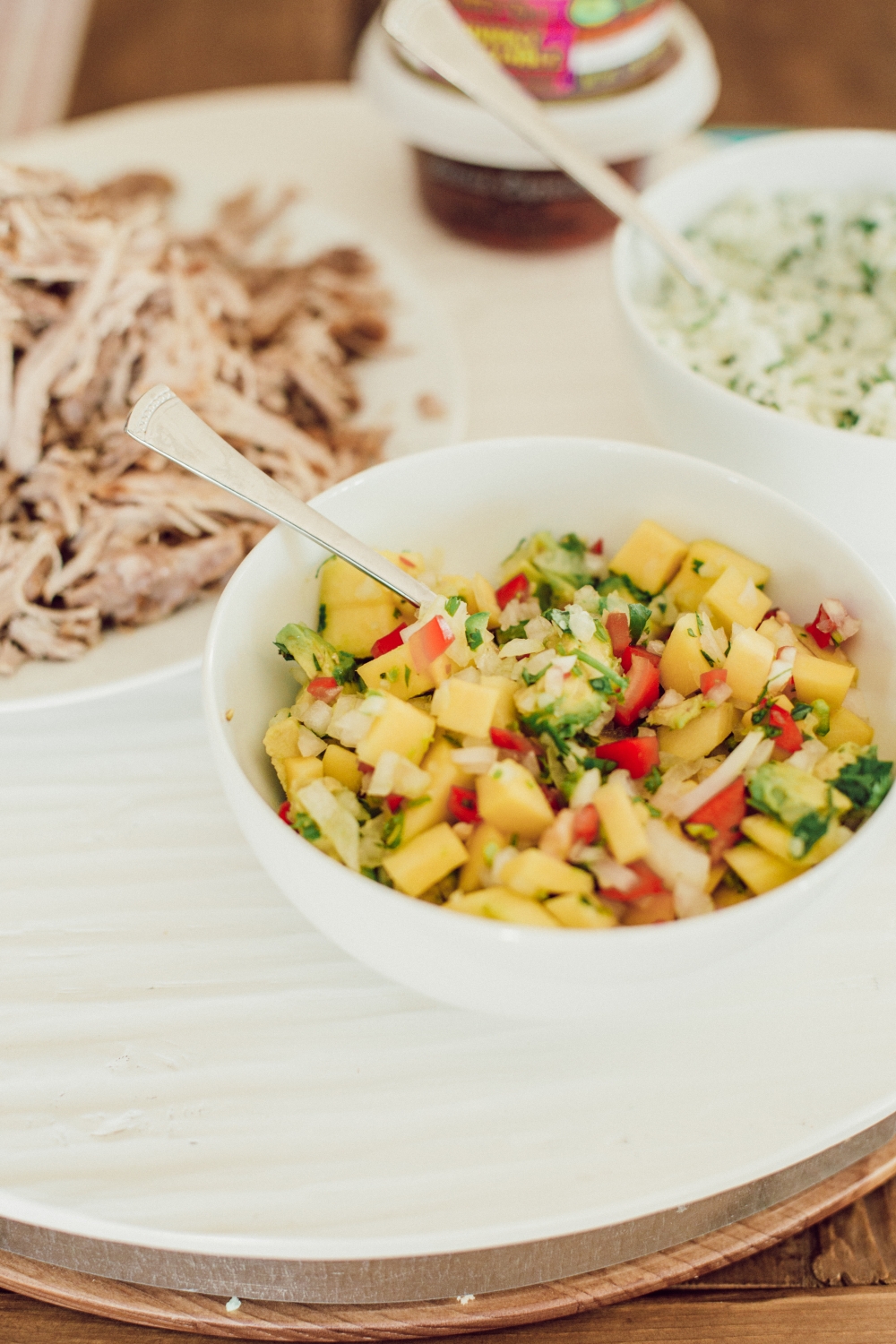 We also put the Trader Joe's Chunky Guacamole and some salsa out for those who want something different. The Organic Kitchen has some great recipes for home made versions here.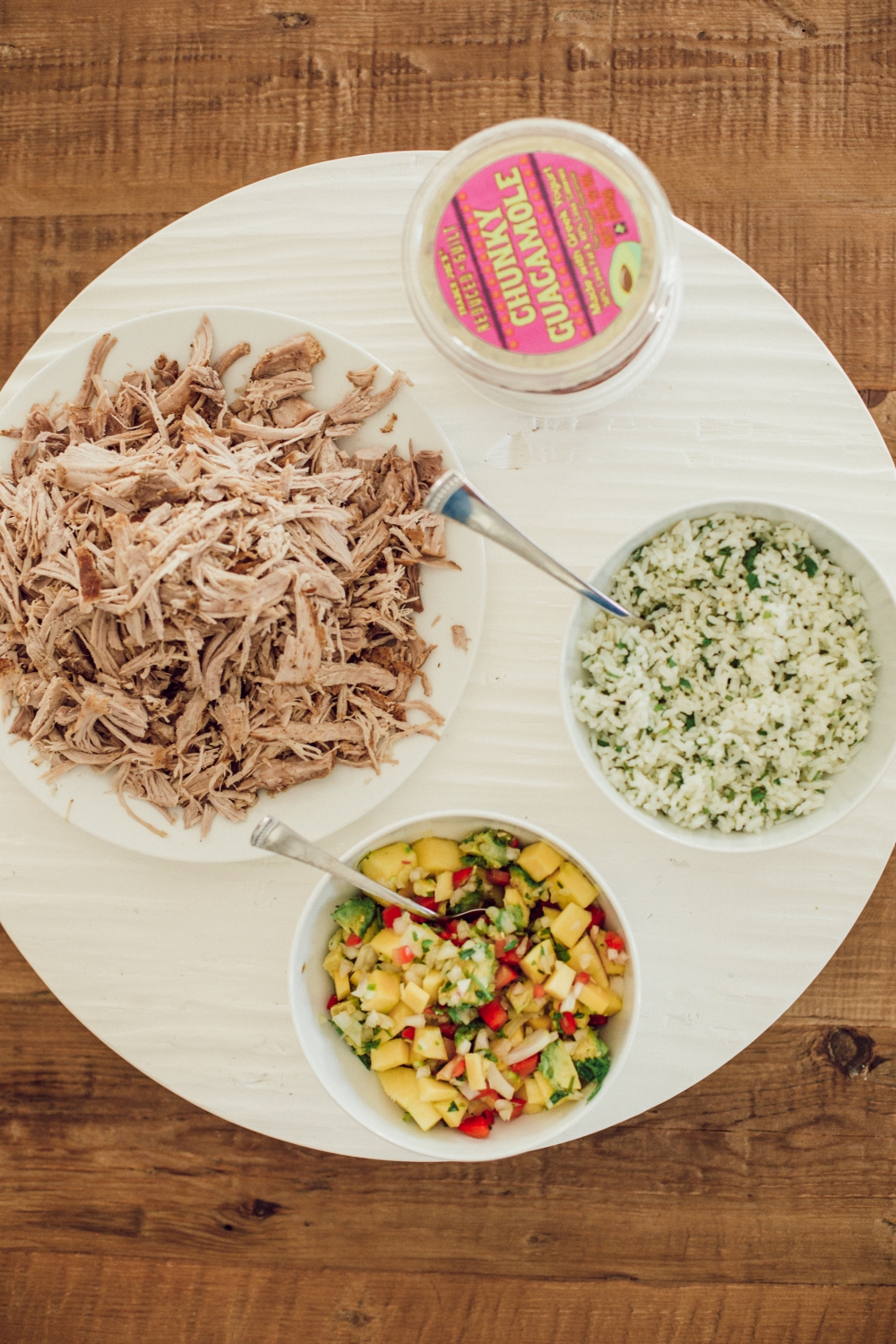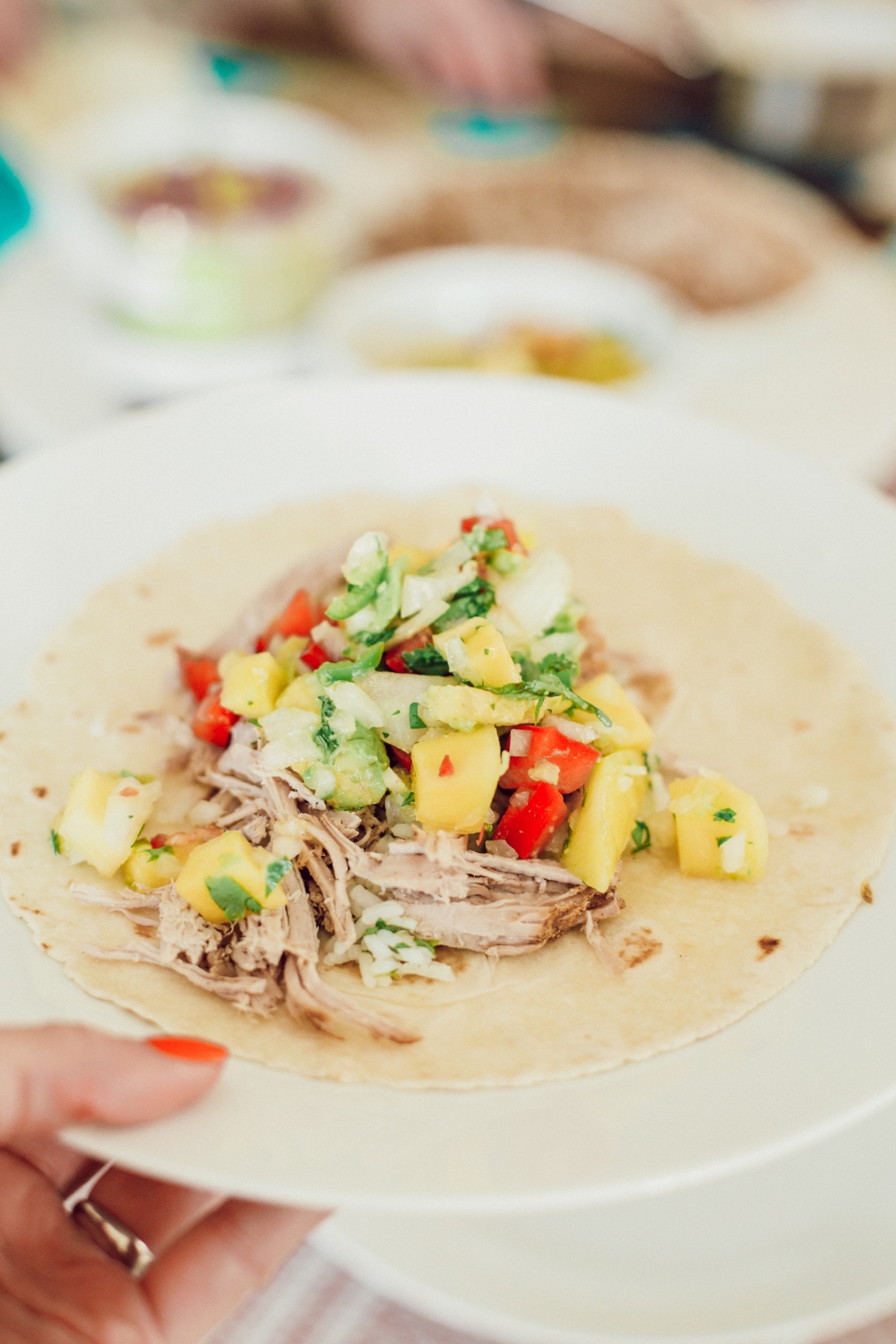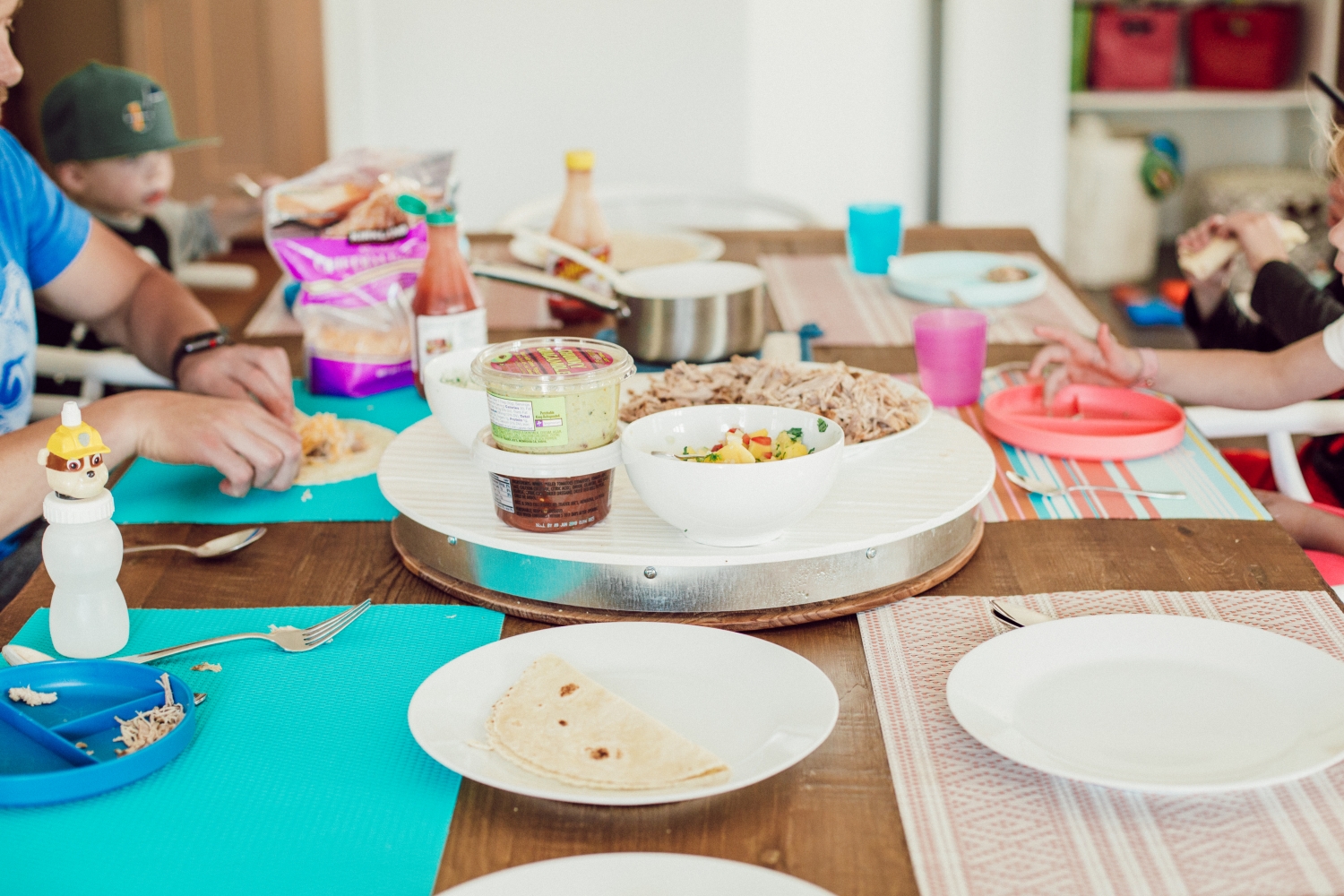 We're using gluten free tortillas, sprinkling a little bit of cheese on top and look, the babies are having just cheese, corn and the meat haha! Little stinkers still don't like their food to touch!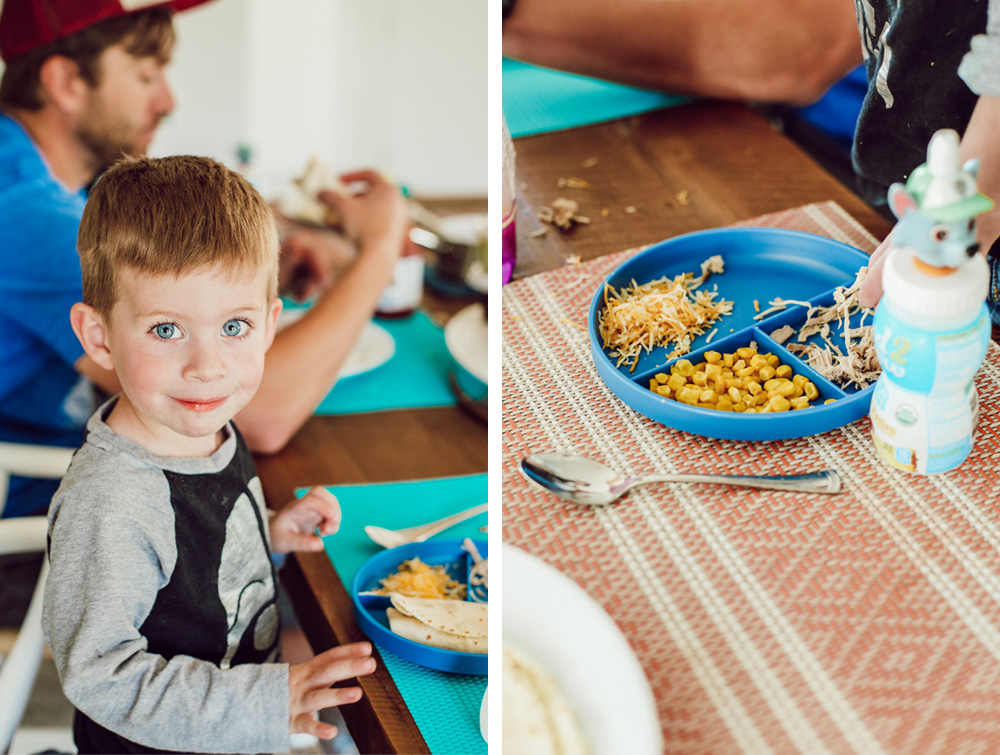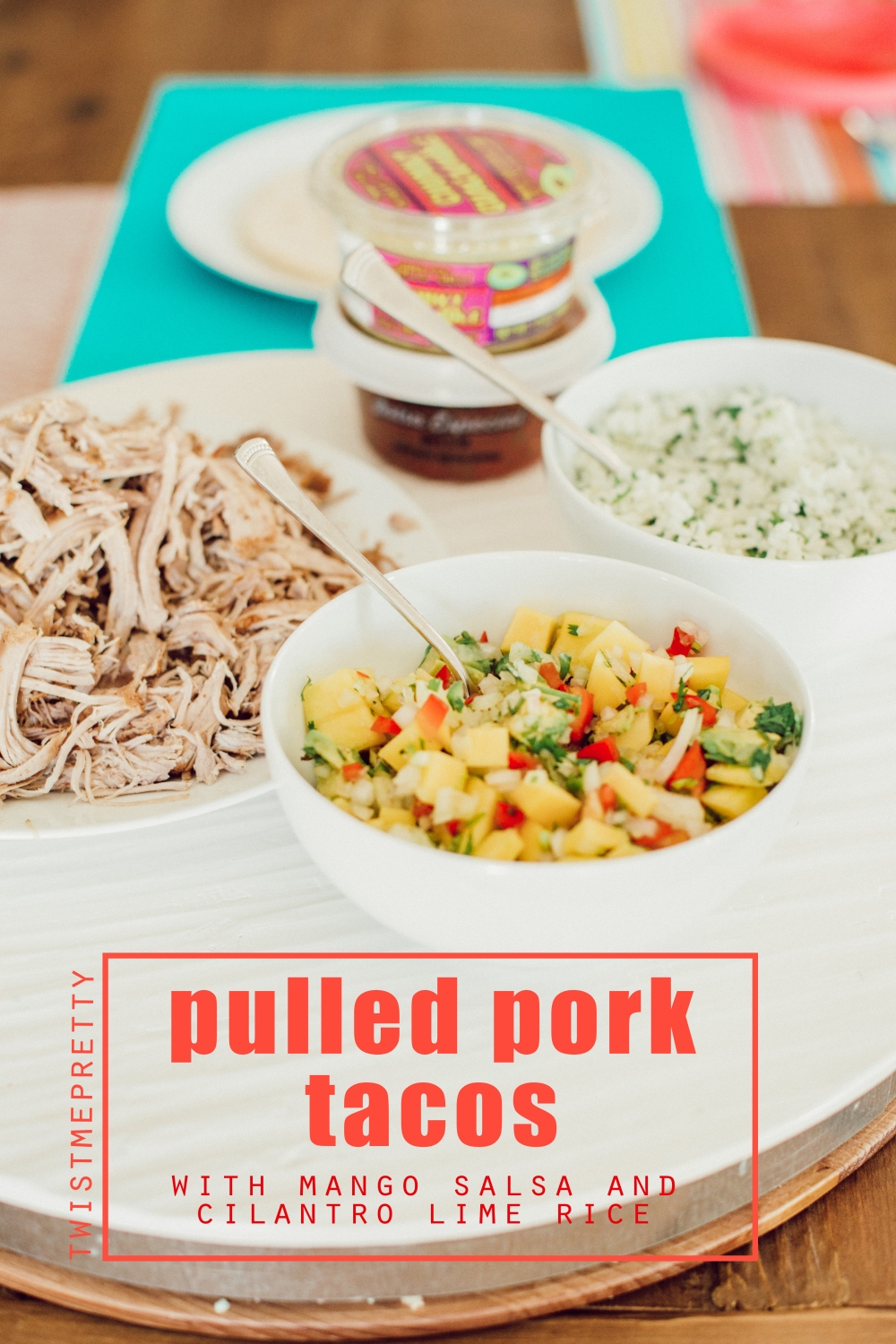 Have you tried this recipe before? If you haven't, you need to make it ASAP! What are you guys eating for dinner lately? Give me some more ideas in the comments!