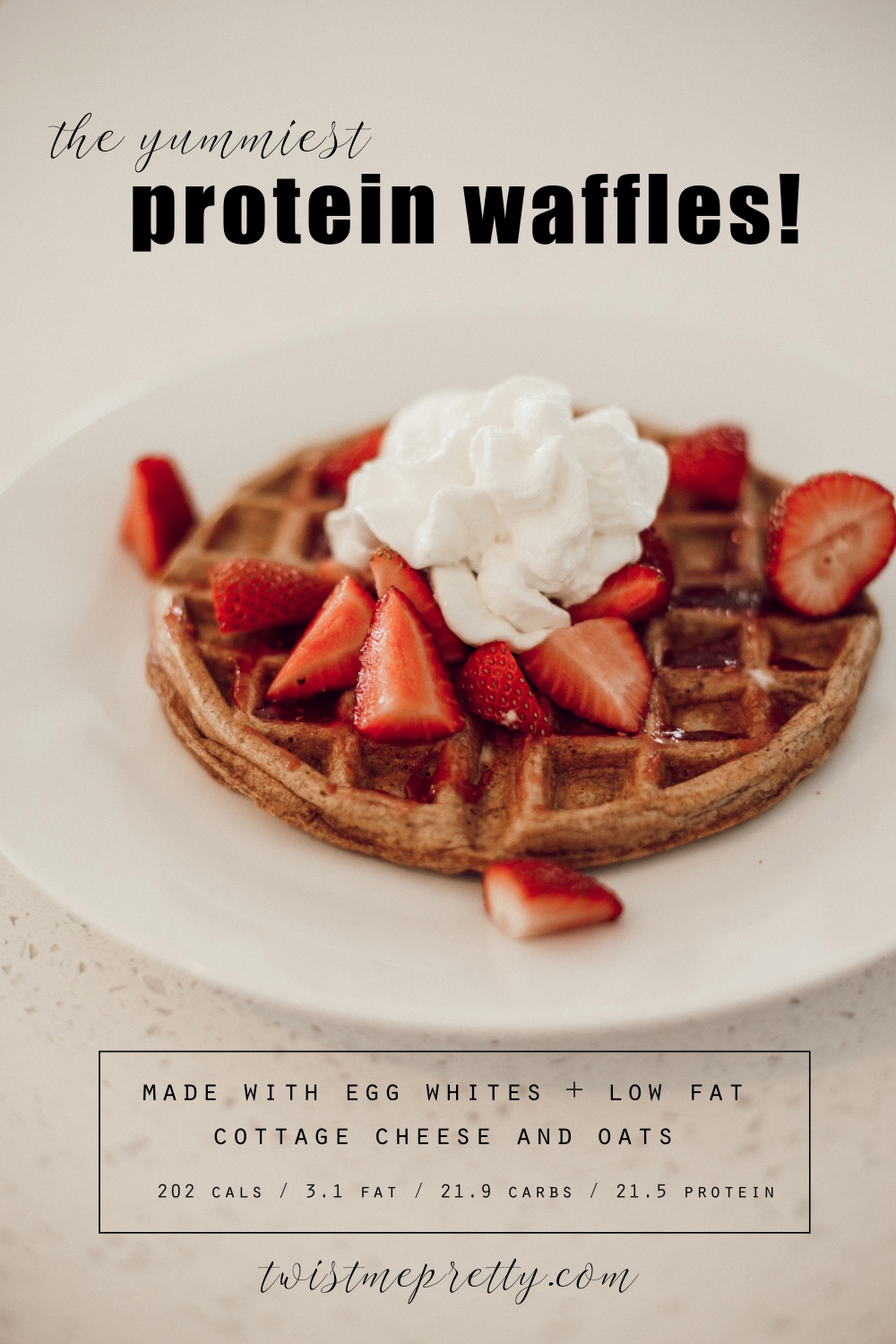 HOW TO MAKE PROTEIN WAFFLES!!!!! Oh man, can I just say that these babies have single handedly kept me on plan with my macros? I've been craving sweets somethin' fierce lately and before binging on an entire batch of cookies, I thought I'd give this recipe my sister told me about a try. I'm not sure where it came from or who invented it but they're stupid easy to make and each waffle has 3 grams of fat, 21 grams of carbs and 21 grams of protein. Not to bad, eh?!
Now you don't need to load yours with strawberries and low-fat whipped cream like I do. I have more carbs than fat in my macros so I've nixed the butter and syrup and opted for a tiny bit of jam, strawberries and 20 grams of low fat whipped cream. These are delicious though with peanut butter and bananas on them or maybe you'd rather some lite syrup with eggs and bacon. However you choose to eat your waffle is up to you, what's important is that you know how to make them and store them so when those cravings hit you're covered with something delish.
Here's what you're gonna need…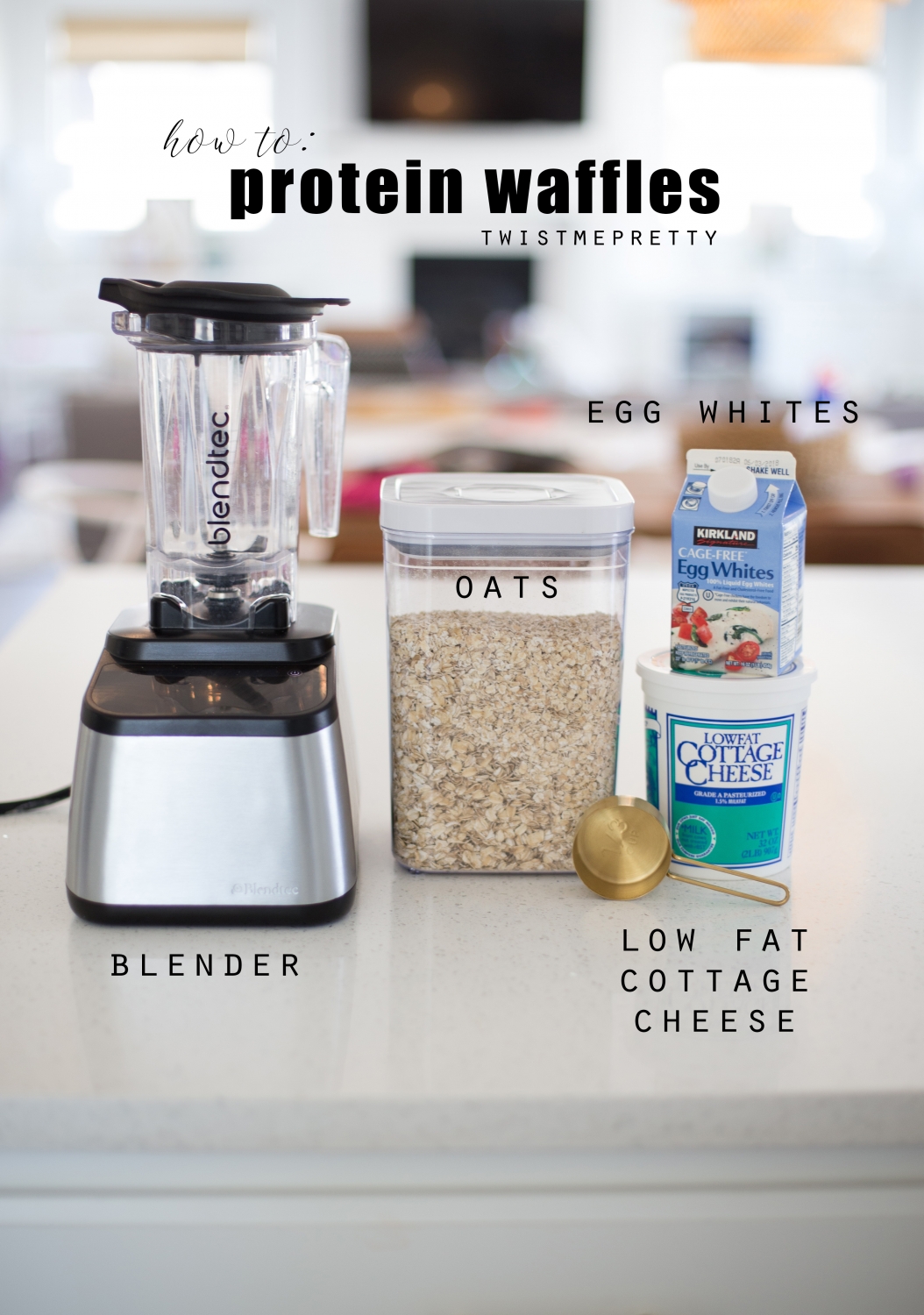 A blender, oats, egg whites, low-fat cottage cheese and then you'll want some cinnamon and vanilla for flavor.
First, add 1/3 cup of egg whites and 1/3 cup of low fat cottage cheese to your blender.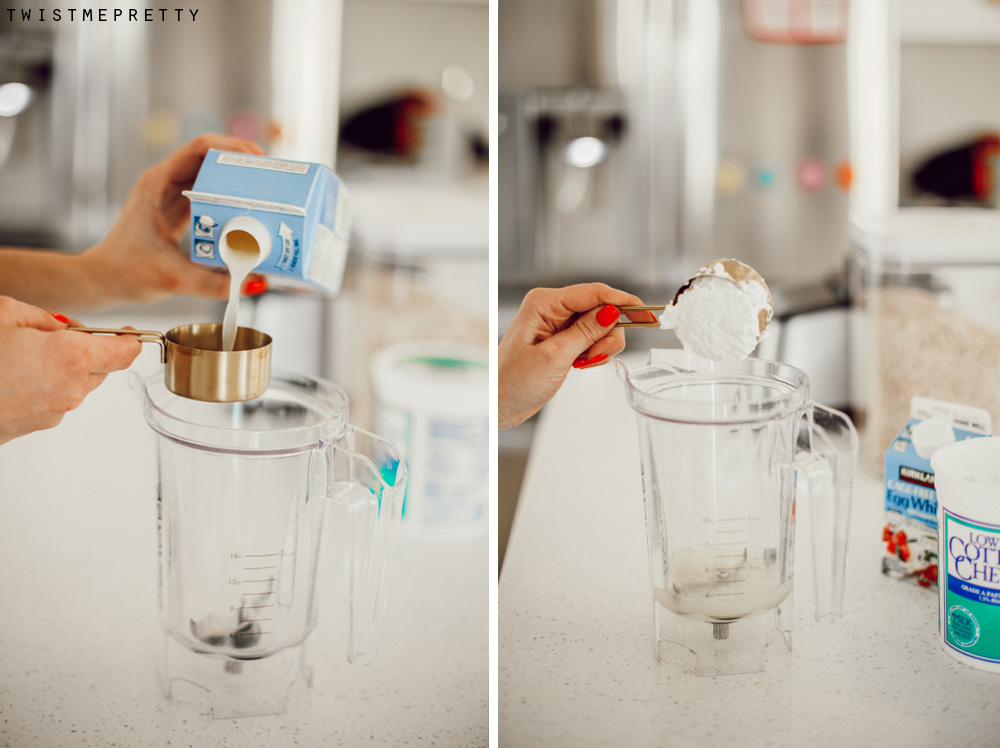 Then you're gonna add your 1/3 cup of oats…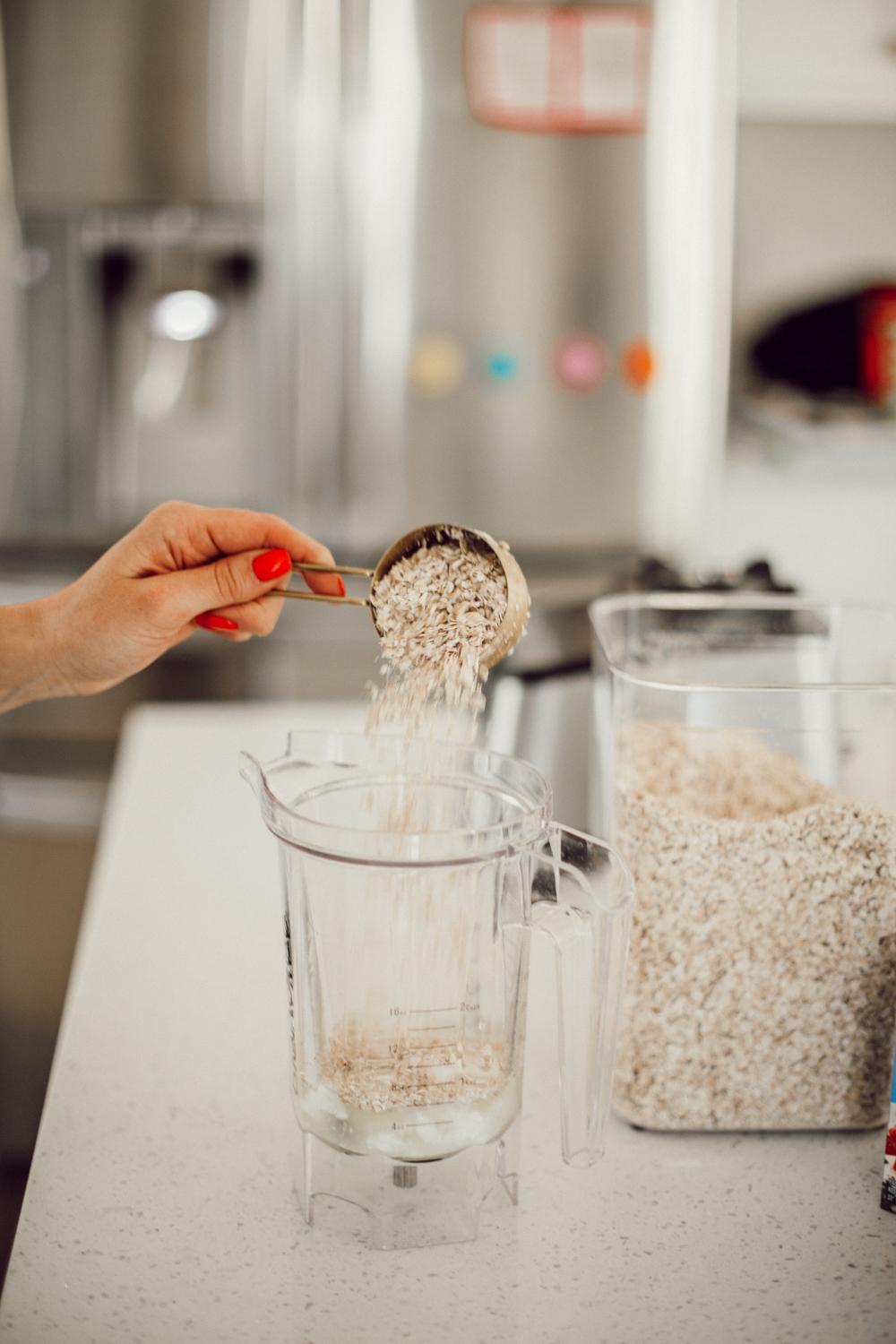 and before you blend it, add a dash of cinnamon and a splash of vanilla extract.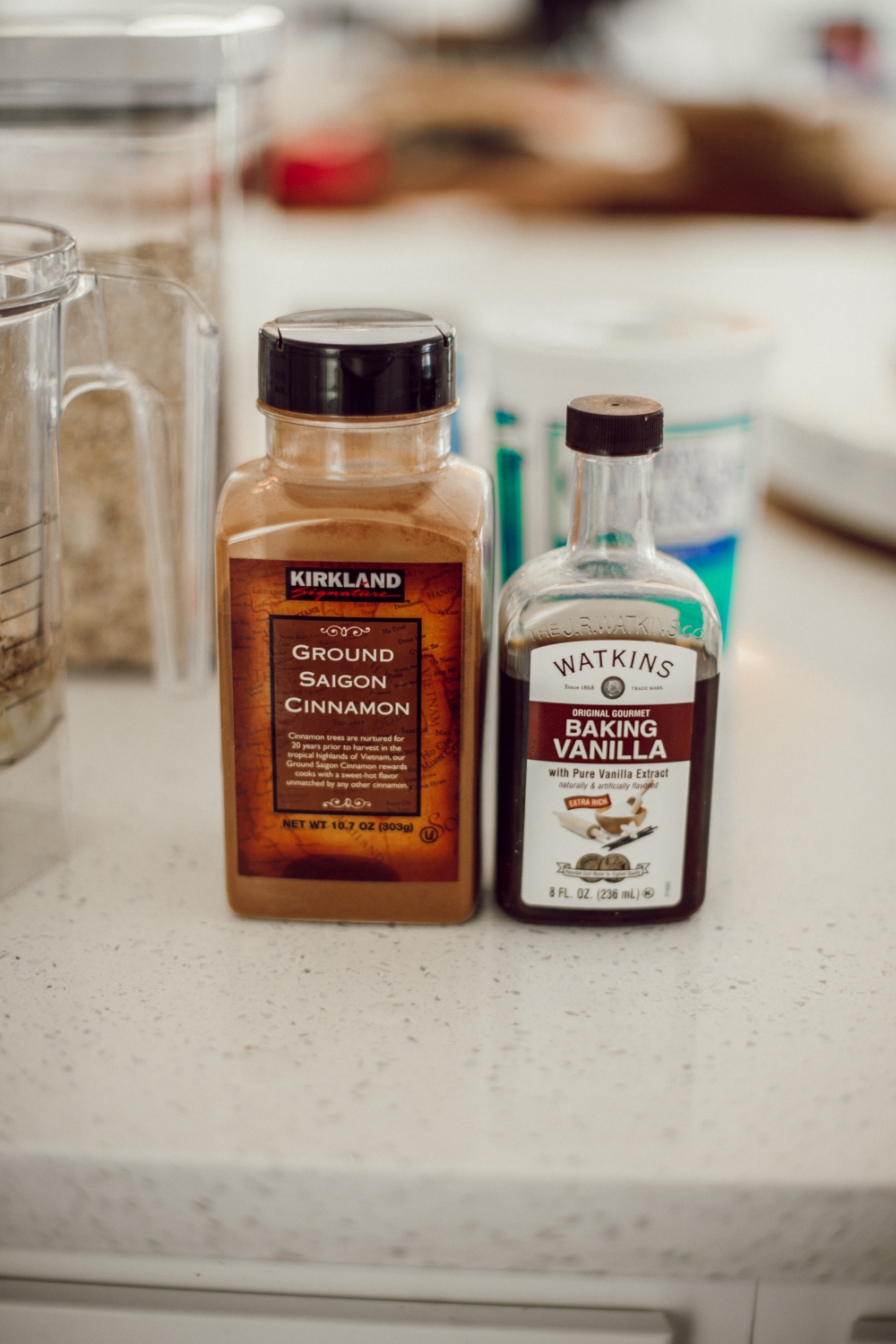 Now blend it up! I usually let my Blendtec run for about a minute or so and while it's mixing I'll prep my strawberries and turn on my waffle iron. I told you they were stupid easy. I made a quick video of the whole process over on my instagram account I've started with my sister. We are sharing our favorite healthy meals and workouts, if that interests you go check it out, it's @2sisterstrong.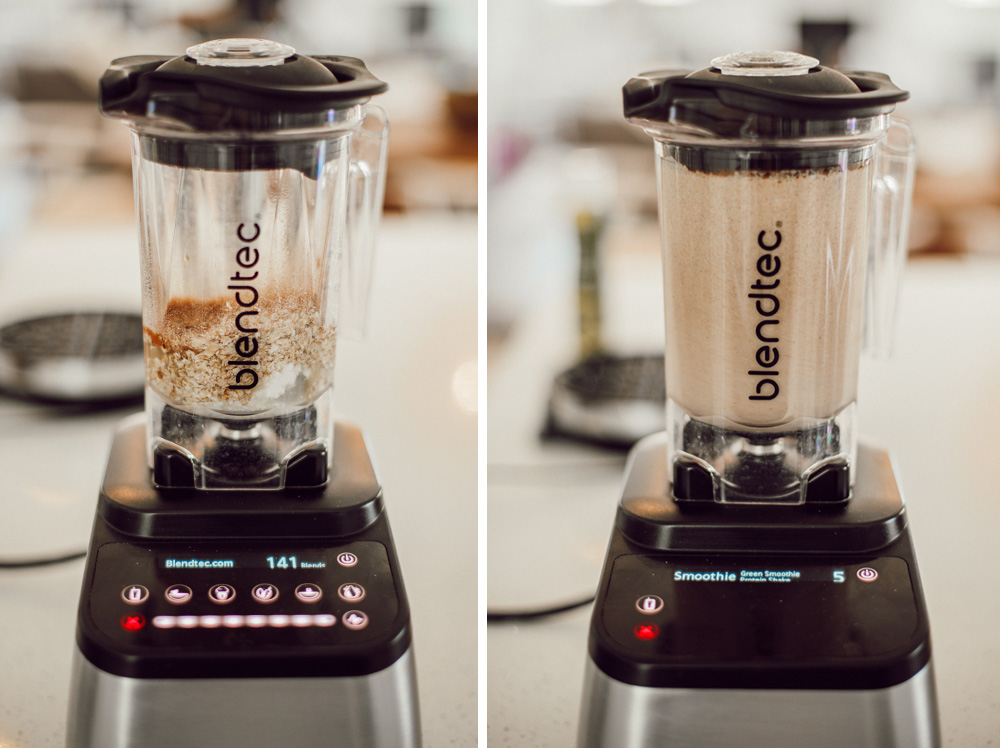 I really love the olive oil spray from Trader Joes. It's zero calories and the only ingredient is olive oil.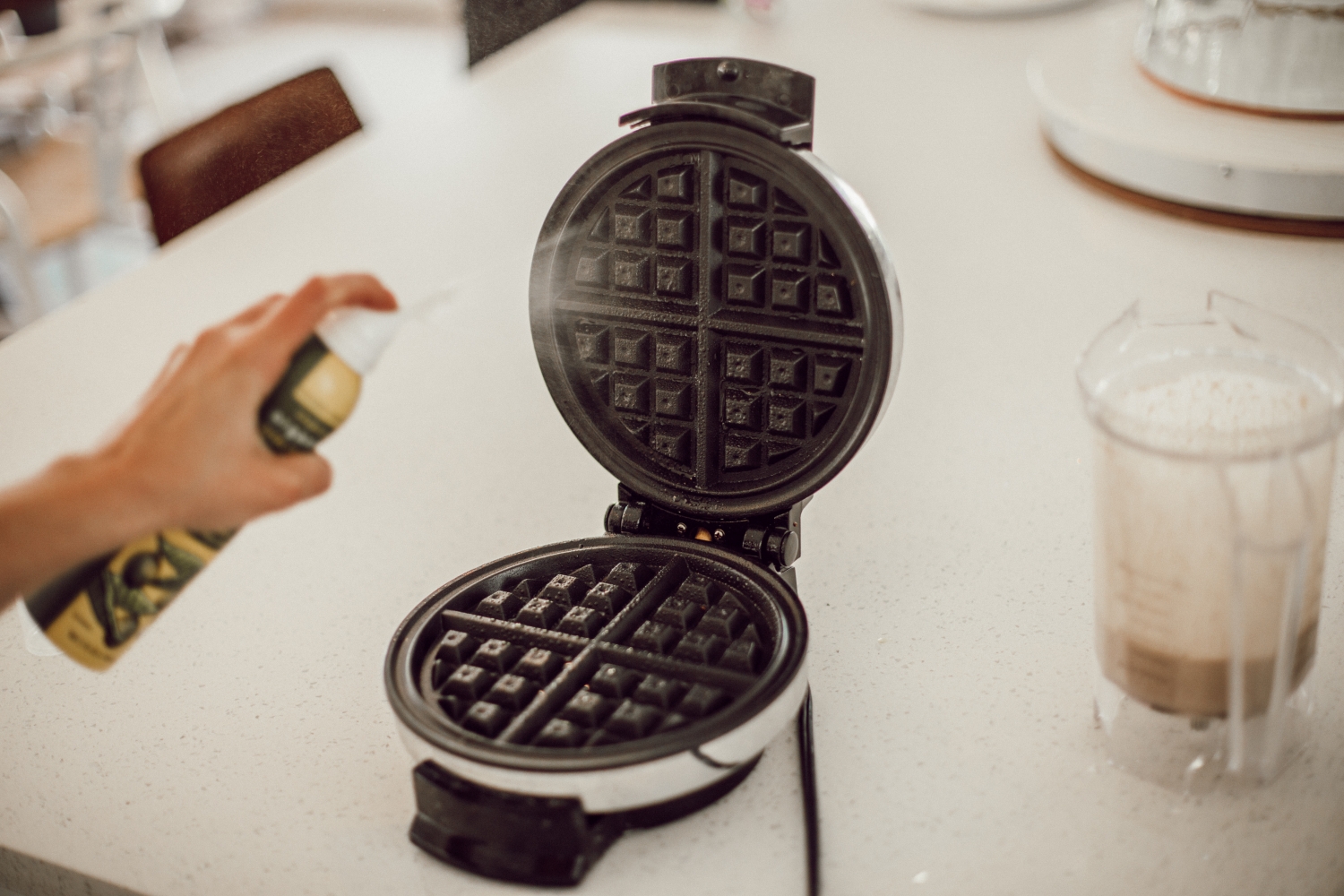 Then I pour my batter in slowly so that it doesn't run over the sides and this entire recipe should yield one waffle.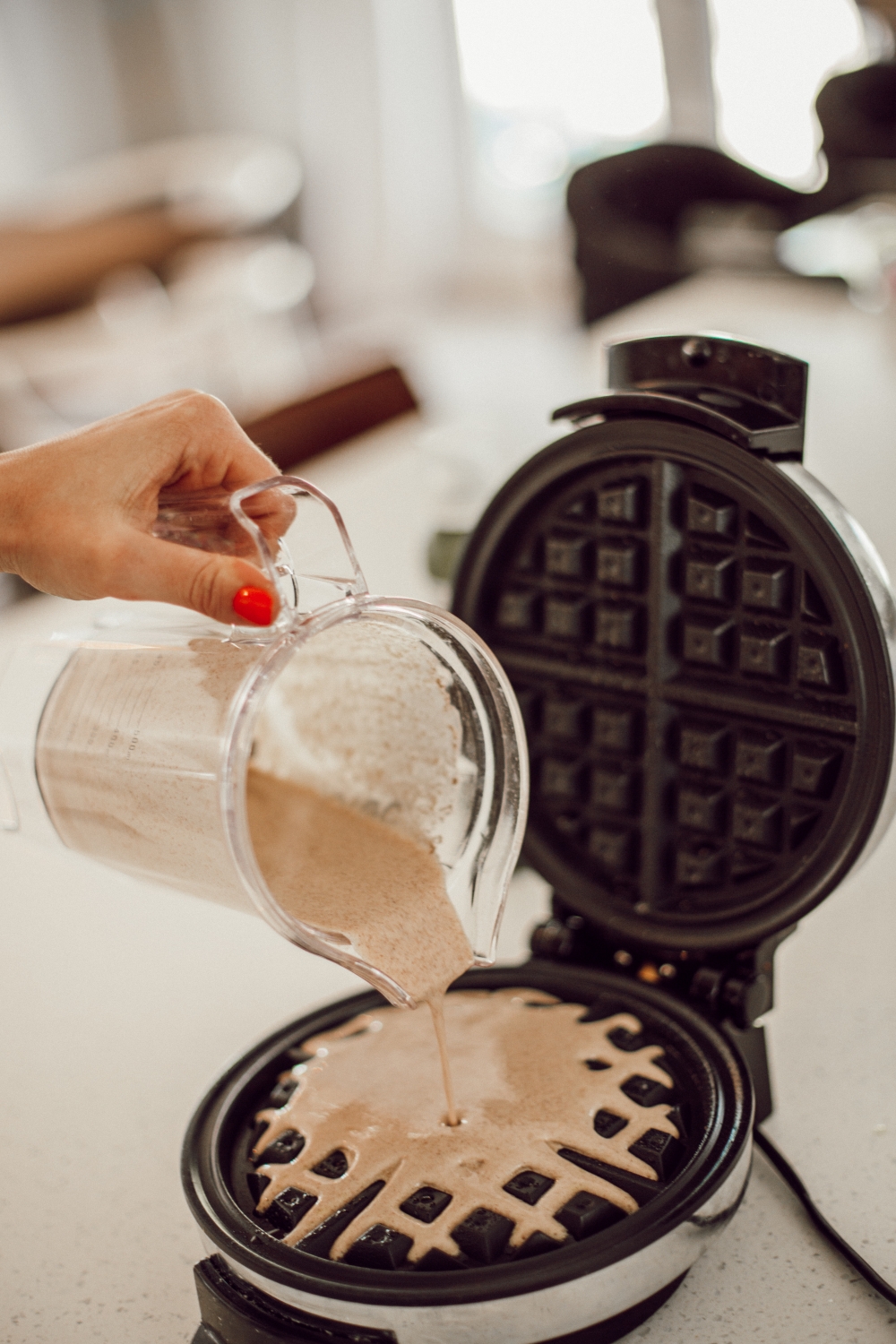 I like mine to be crispy so I leave it in my iron for a good while.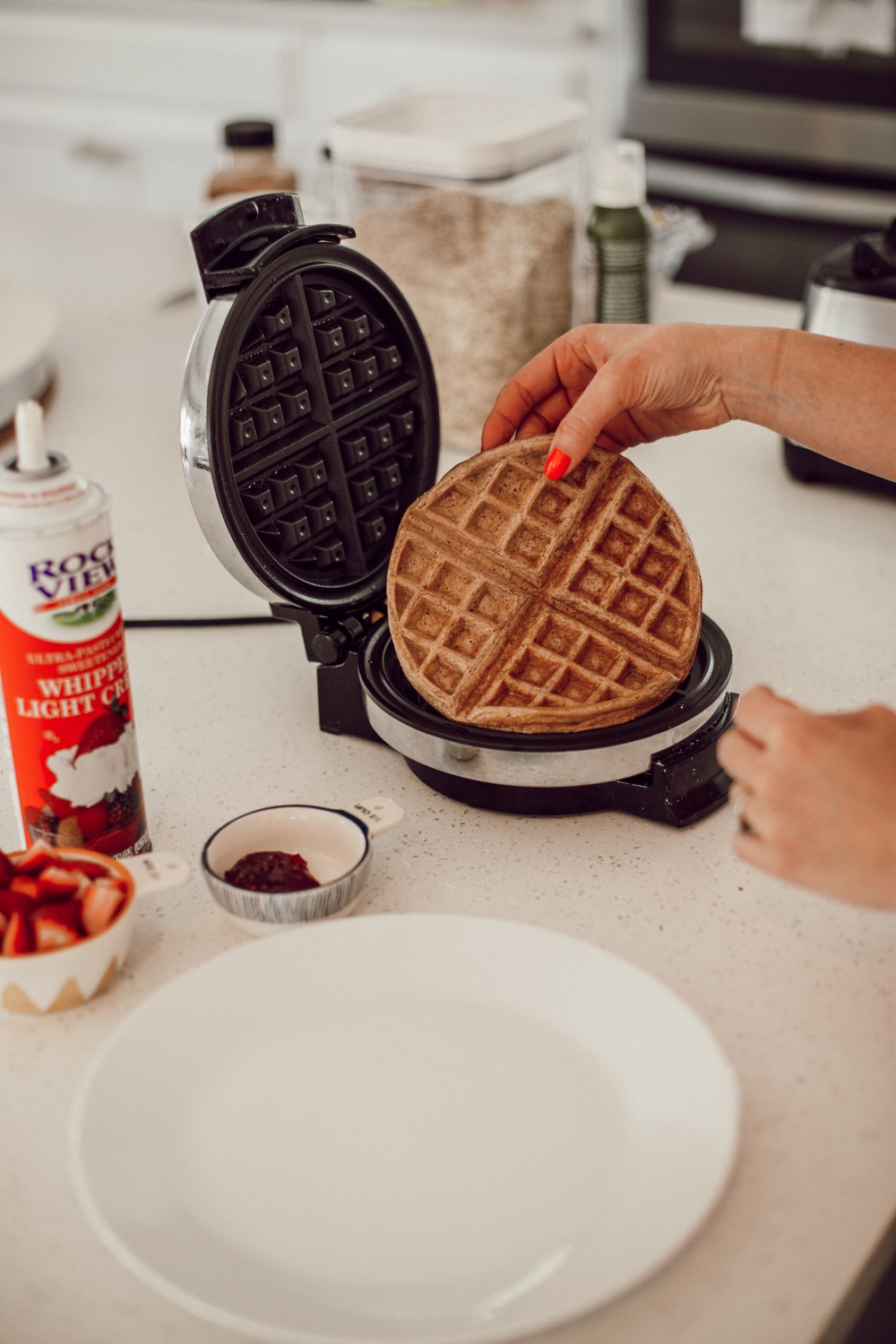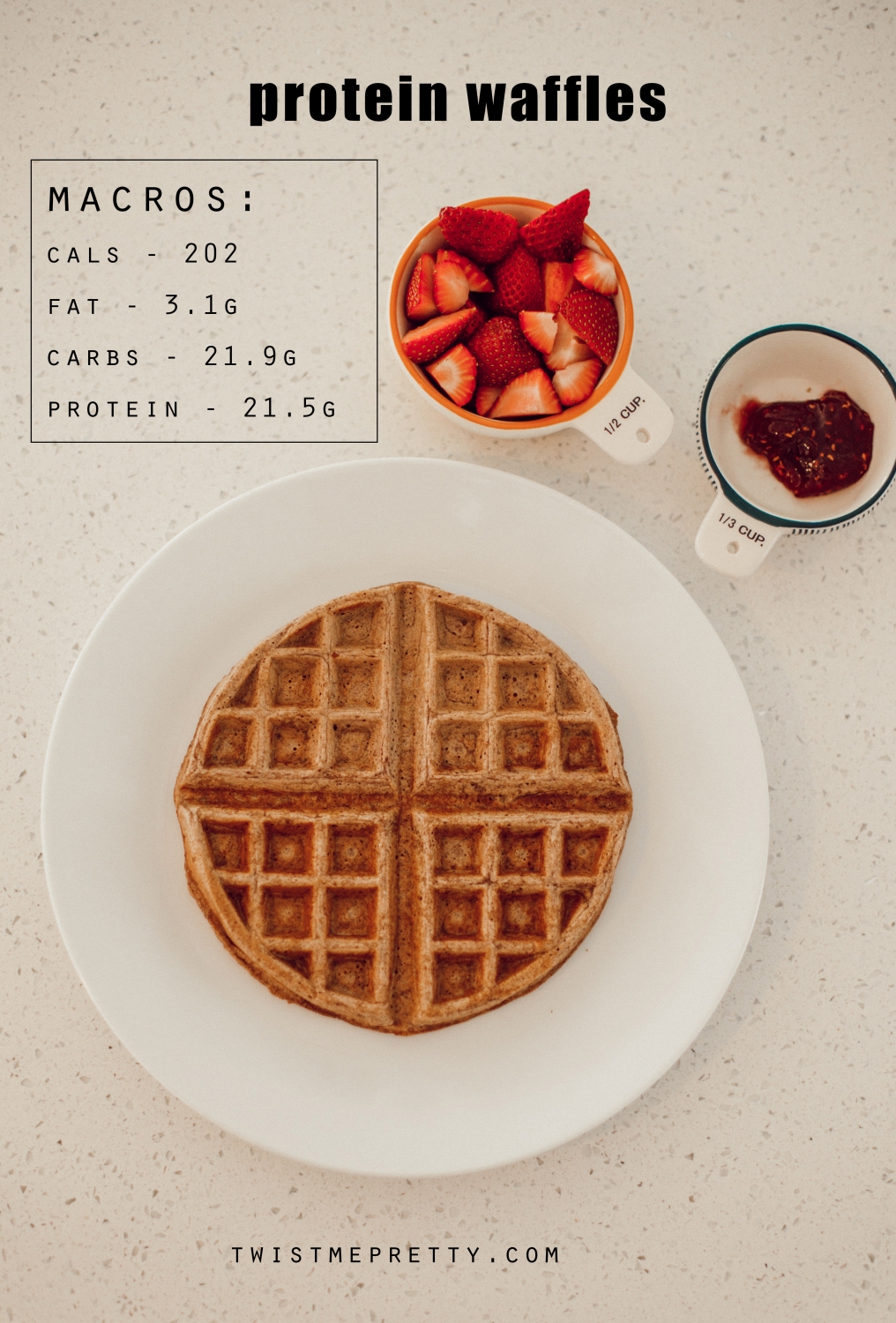 These are my favorite toppings:
g
Walls Berry Farms Red Raspberry Preserves from Costco. 2 TBS is 70 cals / 20 carbs
Strawberries. 4 oz is 36 cals / .3g fat / 8.7g carbs / .8 g protein
and Rock View Whipped Light Cream. 20 grams is 57 cals / 4.3g fat / 2.3g carbs
I just plug this recipe into my macro app, I prefer the Lose It! app and then every time I want to have these waffles as a snack, I just add the recipe to my meals which is a lot easier then entering each item separately over and over.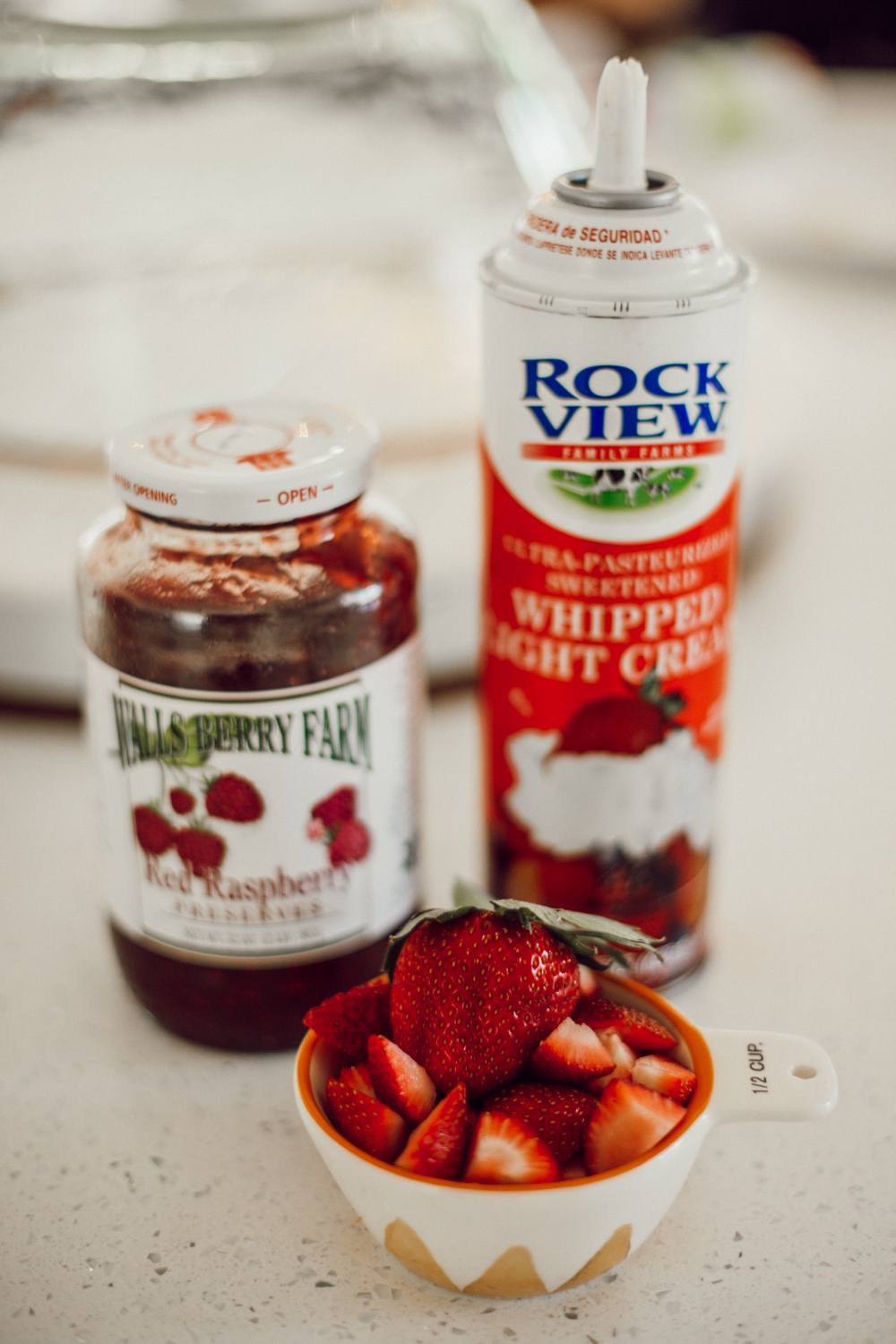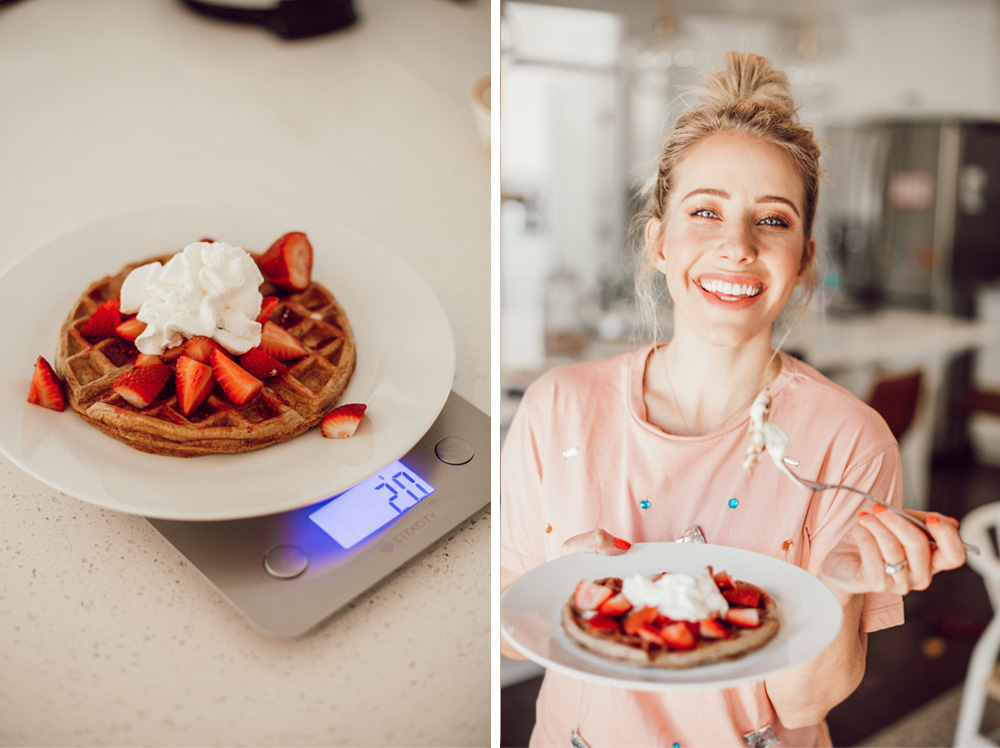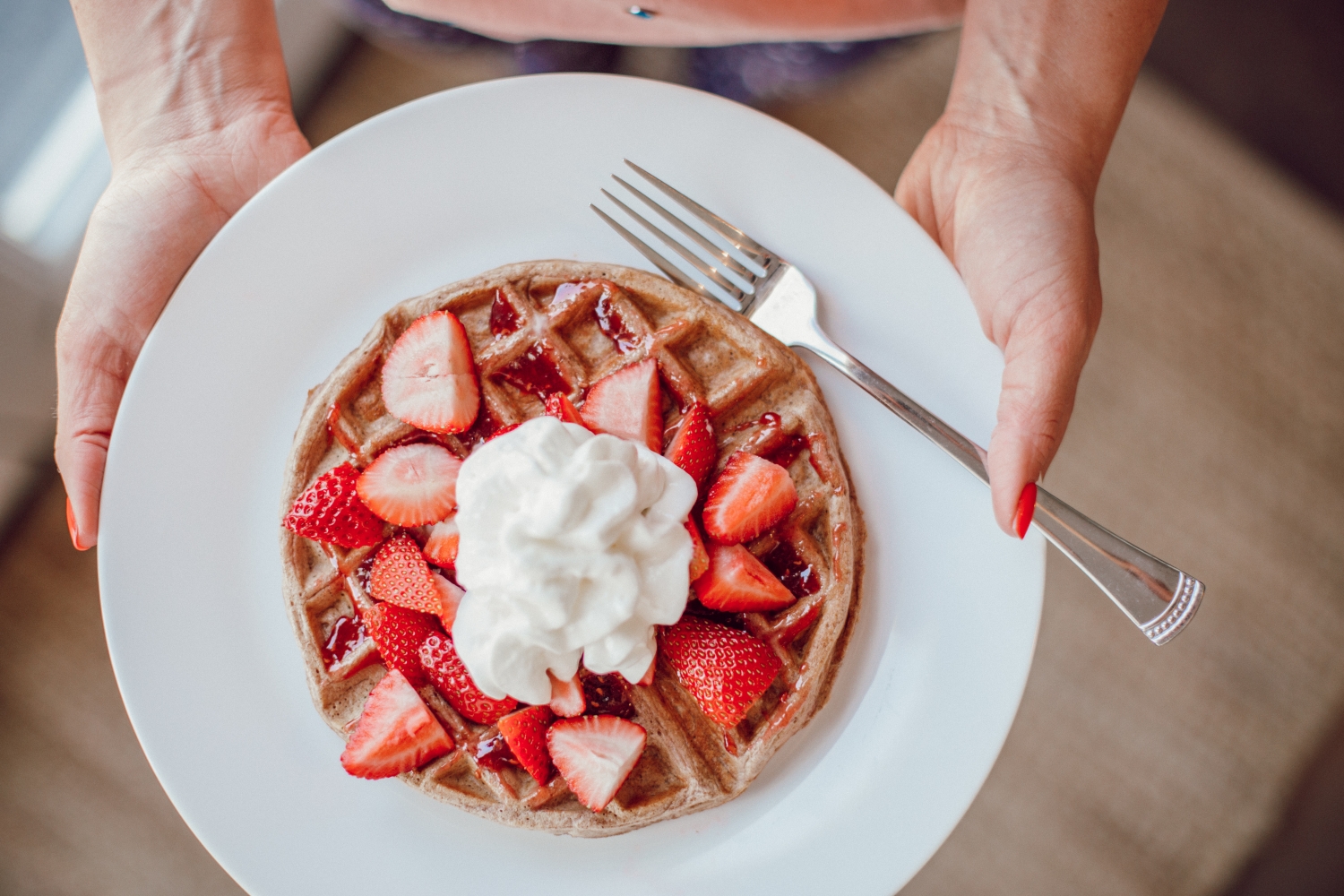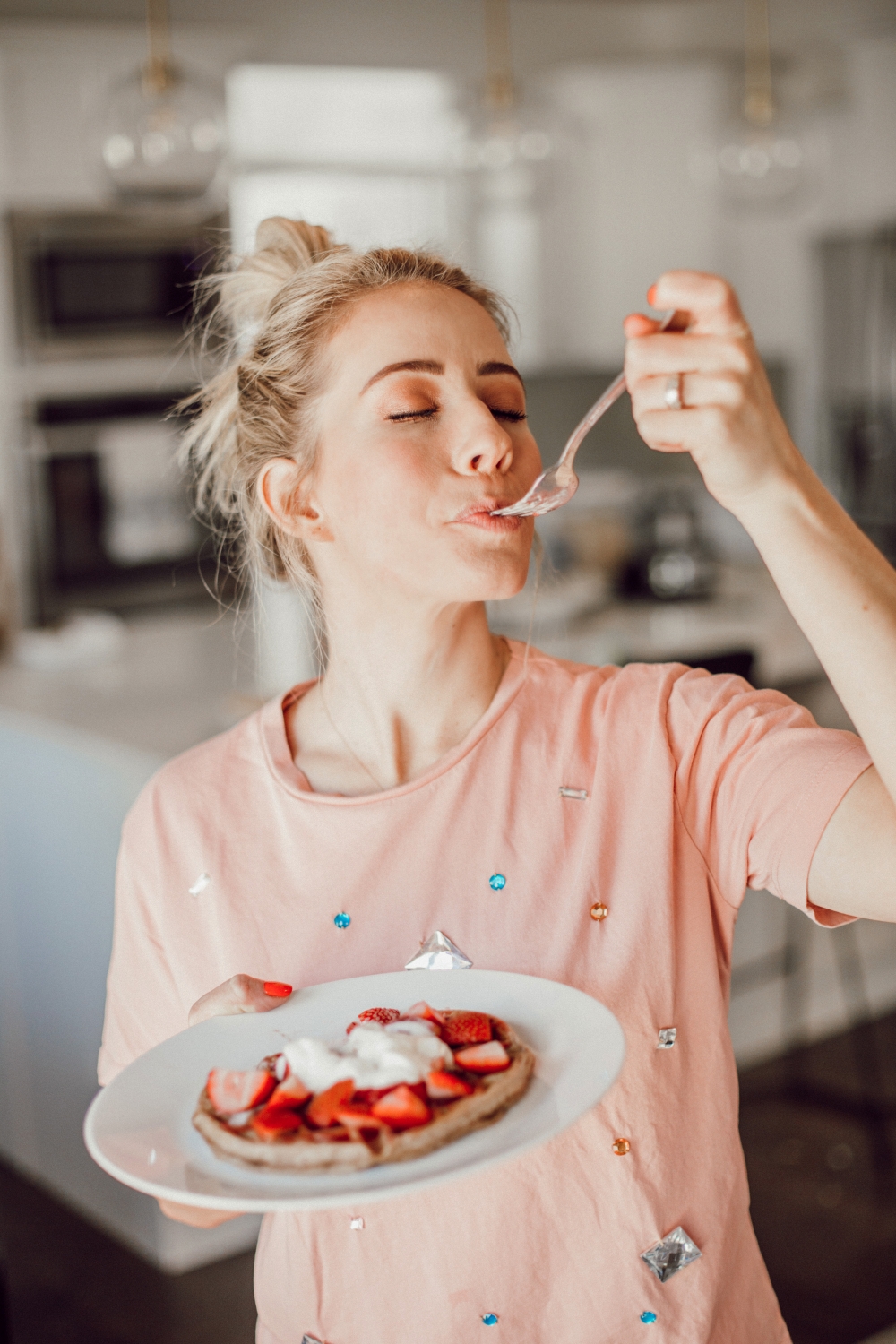 And that's it! That's how you make and enjoy the yummiest protein waffle you'll ever eat in your life! Are you counting macros? Or just trying to live a healthier life? On Sunday's I'll make a big batch and cook several waffles. Then I'll just store them in the fridge so they're handy when those cravings strike!
What snacks are you loving right now?!