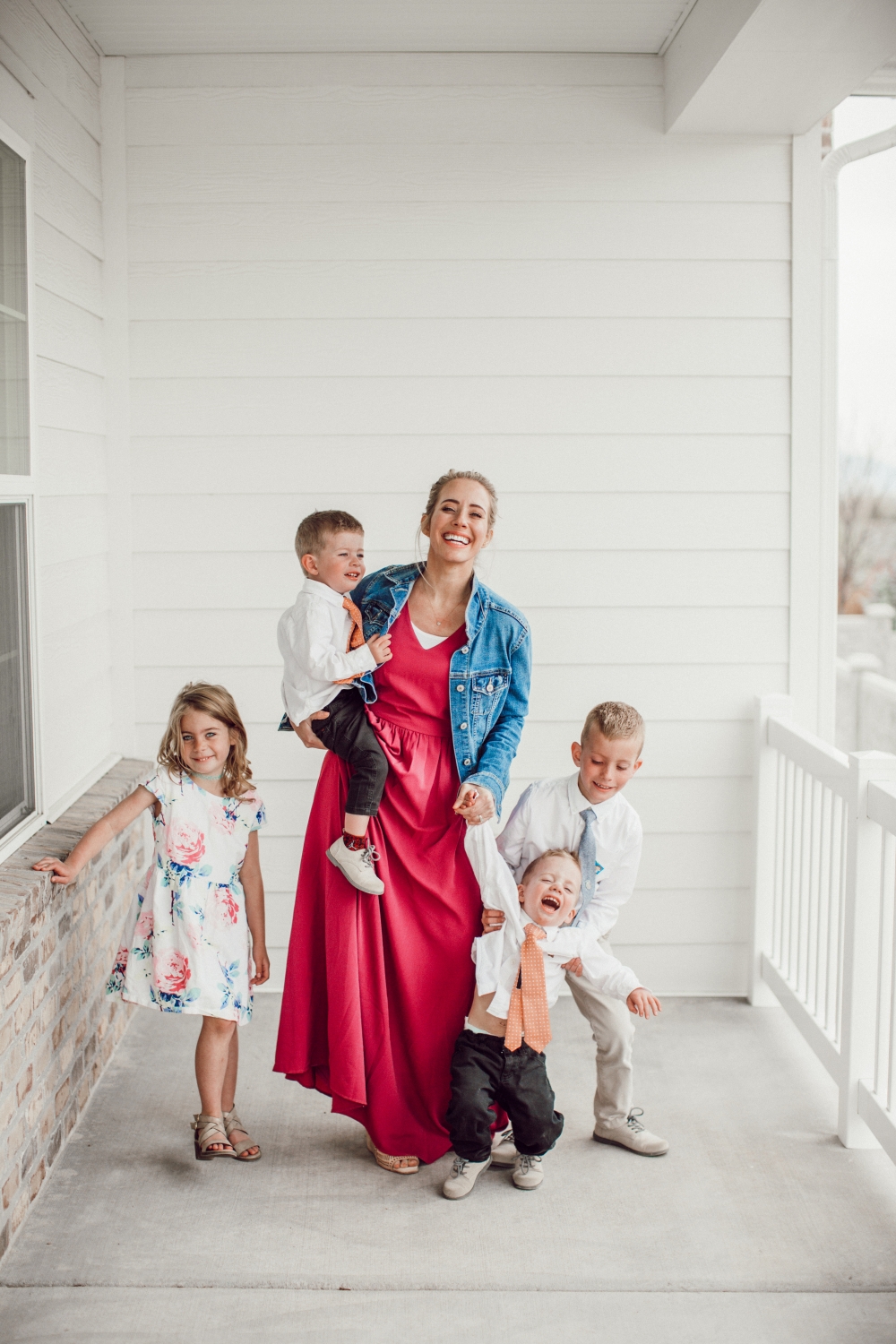 What's up, loves?! I hope you guys had a wonderful Mother's Day! I wanted to share something that's been on my heart lately, a question that I'm asked a lot and not always entirely sure how to answer. How are you such a happy mom? It makes me feel a little bit weird because I'm not always a happy mom. And I'll admit, there's a little bit of guilt when I get that comment! My instagram feed and stories are just a piece of my life, and often times my highlight real. We are all moms though, trying to get through this crazy life in one piece. Despite what it looks like, we've all got a messy house and piles and piles of laundry. I've got the dirtiest floors you've ever seen right now with more food on them than in my kids' bellies! I've got two insane toddlers, one creative little dreamer that's harder than all the others combined, and a sweet 8 year old who is taking up so much time right now!
Life can be full. But it's full for all of us!
So what is it that makes a happy mom? If I think about it, there are a few habits I've made over the years that have really helped me chill out and enjoy the ride. By no means am I even slightly implying that I'm a perfect mom. Motherhood is the biggest challenge and there is so much I feel I'm failing miserably at, but being happy is luckily not one of them. Here are some things that have helped me learn to be happy through the chaos and challenges of it all!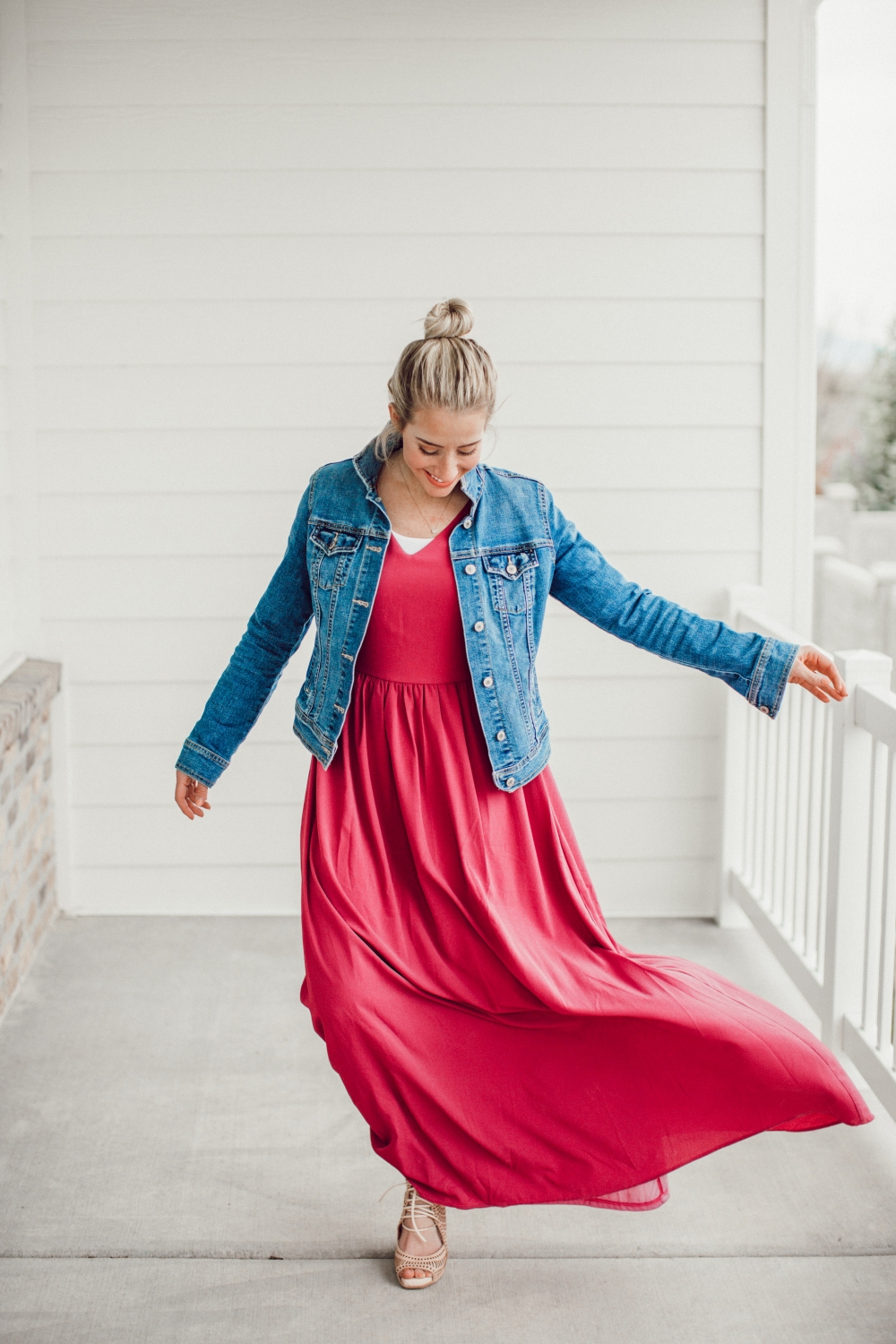 1. Make time for yourself. I am a firm believer that when your bucket is full, you have more to give. You cannot give and give and give without ever filling your bucket and doing something for yourself. I had a really hard time with this years ago when Boston was little. I felt like whenever I did something for myself I was being selfish and it was distracting me from my true calling as a mom! Through some really rough challenges, I learned that it's exactly the opposite!
Boston was not even two and I "selfishly" auditioned for Annie at a local theater. I couldn't believe I had even considered doing something that would take me out of the home every night for months. But Brian kept pushing me to do something for myself and I missed the theater so much! So I did it. Over the next few months I remembered that I wasn't just a mom. I had completely forgotten what I loved and what made me unique as a person. I had forgotten how happy the theater had made me and how much I enjoyed being around other people. It was a quick wake up call for me to not give up the things I loved just because I was a mom. That I can be a mom and still be great at other things too!
Have you noticed that when you have a girls night with your friends or you get a baby-sitter and go on a date with your spouse you come home just a little bit happier? Like a small weight has been lifted off your shoulders? I'm always in such a better mood when I get home from doing something I love and taking a little bit of time for myself. It makes me a happier, more fulfilled and more energetic mom! I notice this about Brian too. When I let him play golf and fill up his bucket, he's such a better husband and Dad!
2. LAUGH! I can't tell you how many comments I've gotten over the years from people that were giving me a hard time for laughing at my kids being naughty. "You're such a terrible mom for never disciplining your children" or "Maybe if you didn't laugh at them being bad they'd start being good". I mean, over and over and over I'd get comments like this. Which was a little bit funny because we always discipline the kids, I just don't show them screaming in time out on insta-stories. Well, usually anyway haha!! Sometimes I'd come downstairs and quickly snap what was happening in the kitchen… both boys on the table swinging the pendants with all their breakfast on the floor. I had literally left them for TWO MINUTES to walk upstairs to get my phone. All I could do was laugh at them. Or the time they dumped out all the cereal and I walked in on the SCARIEST scene of my life. I just laughed. I laughed and I laughed because if I wasn't going to laugh — I was going to kill them. Okay not literally, but I was going to yell and swear and punch the wall and get so mad that in two seconds we'd all be crying. Sometimes you just have to laugh to get through the madness and sometimes it's better for everyone when you laugh instead of discipline. OBVIOUSLY there is a time and a place for everything, but remembering that your kids are just kids and that they're going to be naughty sometimes will help you chill! Your kids are going to make messes and climb all over things and ruin furniture and that's just part of raising kids! Laughing through the craziness of it all has really given me a chance to appreciate the moment and gain perspective.
3. Eat and Exercise. This goes back to making time for yourself but sometimes these things just need to be spelled out! When you're a mom, you're so busy worrying about everyone else that it's so easy to forget yourself. To forget your basic needs like eating and showering!!! Take a few extra minutes and make yourself a lunch that doesn't consist of leftover nuggets and mac and cheese! When you're nursing babies and running kids to and from practice or taking everyone to the park, don't forget you need food too. I found that setting aside leftover dinner from the night before helped me to remember to feed myself! It sounds silly but I'm sure you can't even count how many times you've neglected to feed yourself and then you wonder why you don't have patience with the kids or are freaking out over all the messes.
I also believe I'm a happier mom when I'm exercising. For a long time carving out the time just wasn't in the cards for us. My husband was in school 100% of the day and we had ZERO money for a gym pass. I was up all night nursing and I wasn't going to wake up before the kids. BUT. When I'd get them up and we'd go jogging in the stroller before breakfast or I'd workout to something on the TV while they played in the toy room, those were the days I was the happiest. And now, if I can wake up before the kids and workout, I feel so fulfilled during the day! Honestly it helps me to be a better mom, more attentive to my kids and willing to listen to their problems instead of just talking over them.
4. ASK FOR HELP! When the twins came along it was a lot. We were by ourselves in Ohio, far away from friends and family and I was overwhelmed. I realized that I needed to ask for help. We moved things around in our budget and hired a girl to come over during nap time and help me fold the laundry and clean up the kitchen. While she was there I had a minute to run to the store and grab groceries or answer emails or to just take a long bath and get in that me time I so desperately needed. It was the best money we ever spent and instead of worrying about dishes and laundry and the disgusting house, I could focus on spending quality time with my kids who were going through just as much as I was!
5. Forgive yourself. I can't tell you how many times I've regretted a parenting decision or really lack thereof. I often react to certain situations without even thinking and I'll scream at the top of my lungs or say something I immediately regret. I'll pick fights with my husband just because I need someone to be mad at. Sometimes life just sucks and all of these helpful suggestions on how to be happy mean nothing because all you feel is anger and pain. In those moments — just let it ride. That's when I say, "hi honey take the kids I'm leaving!" and I go get my nails done or sit in my car to a gallon of ice cream blasting music that makes me forget how hard life can be! But then pick yourself up, forgive yourself for throwing a tantrum and start over. Go home to your kids who love you, to your spouse who adores you, and just be a little bit better for them.
I feel like a lot of the things that helped me have to do with being a little bit selfish. But hear me out, as a mom you're literally serving other people all day. From the minute you wake up you're getting other people dressed, fed, entertaining people, grocery shopping for other people, helping other people with homework or teaching them how to share. Or how to read or use a fork. Or to poop in the toilet. I mean, the list goes on and on and on and it's always about someone else. If you do not take time for yourself, if you neglect what makes you happy and if give up on yourself as a human with goals and dreams, then you lose yourself! And when you lose yourself, you forget how to be happy. And all of a sudden it's a lot harder to laugh through the chaos, to be patient with your kids when they're being COMPLETELY UNREASONABLE and it's nearly impossible to see the silver lining in pretty awful situations. But when you personally feel fulfilled, that's where the magic happens. That's when it becomes easier to carve time out of your day to discipline your kids the way you should, with patience and love and understanding. That's when it gets easier to sit down and practice piano with your 8 year old who is throwing a massive tantrum over not wanting to play. That's when it becomes easier to not scream at the top of your lungs when the kids bring in a bucket full of mud and dump it out all over your cream rug.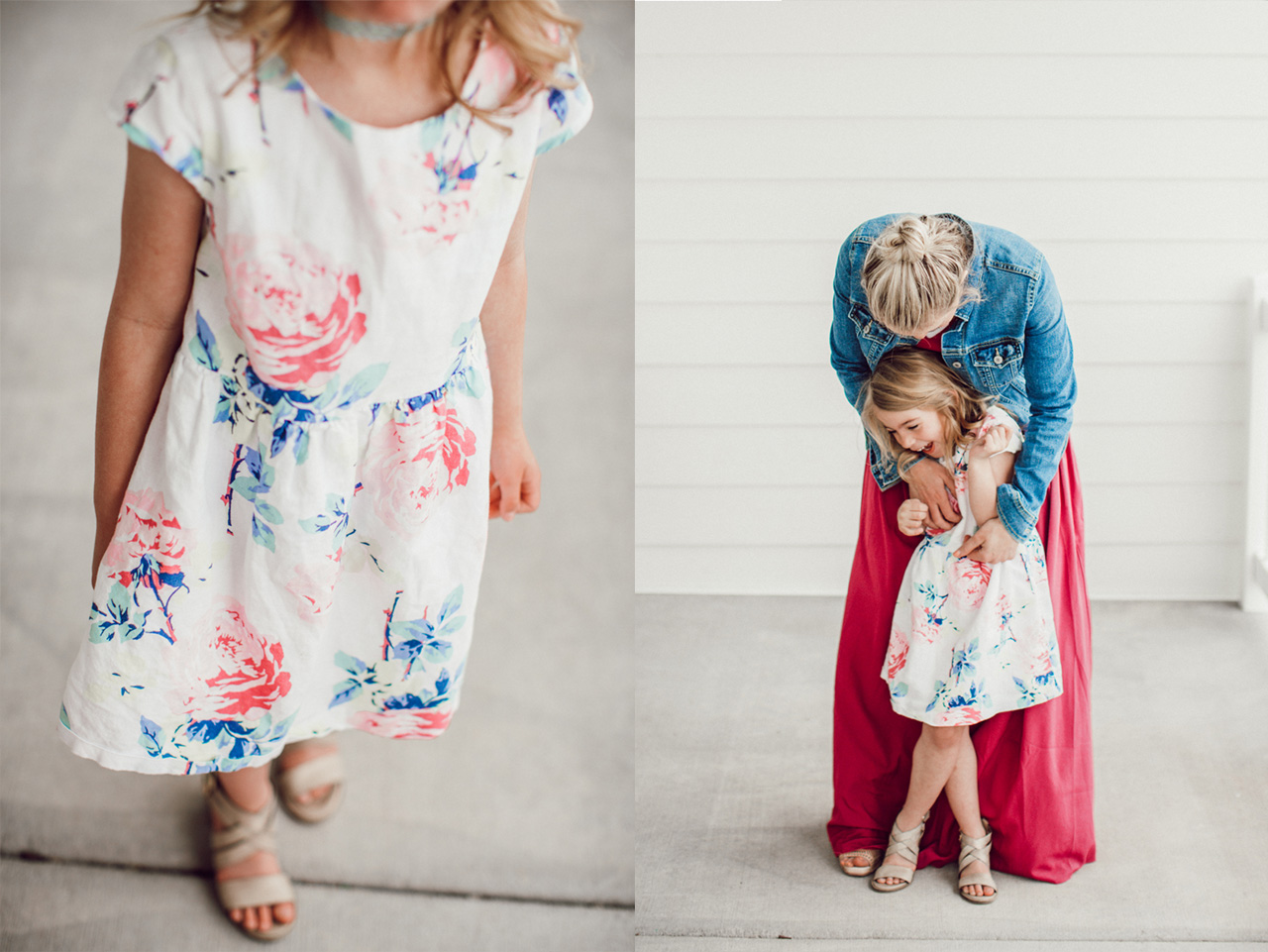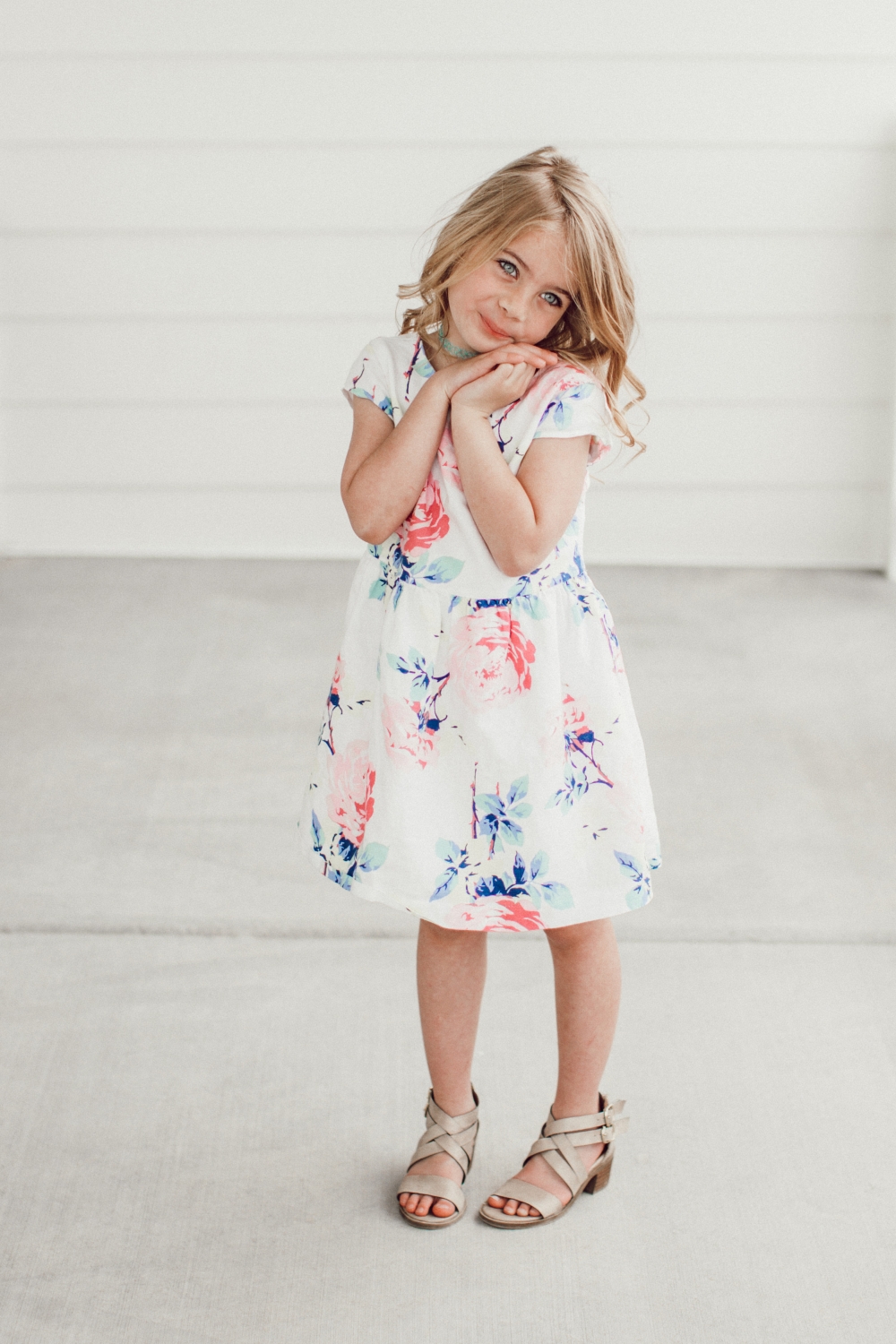 Dress: c/o Ashley Lemieux | Denim Jacket: Old Navy (old) | Savy's Dress: Baby Gap| I like to buy the boys' shirts from Gap and then our favorite ties are from trendy ties!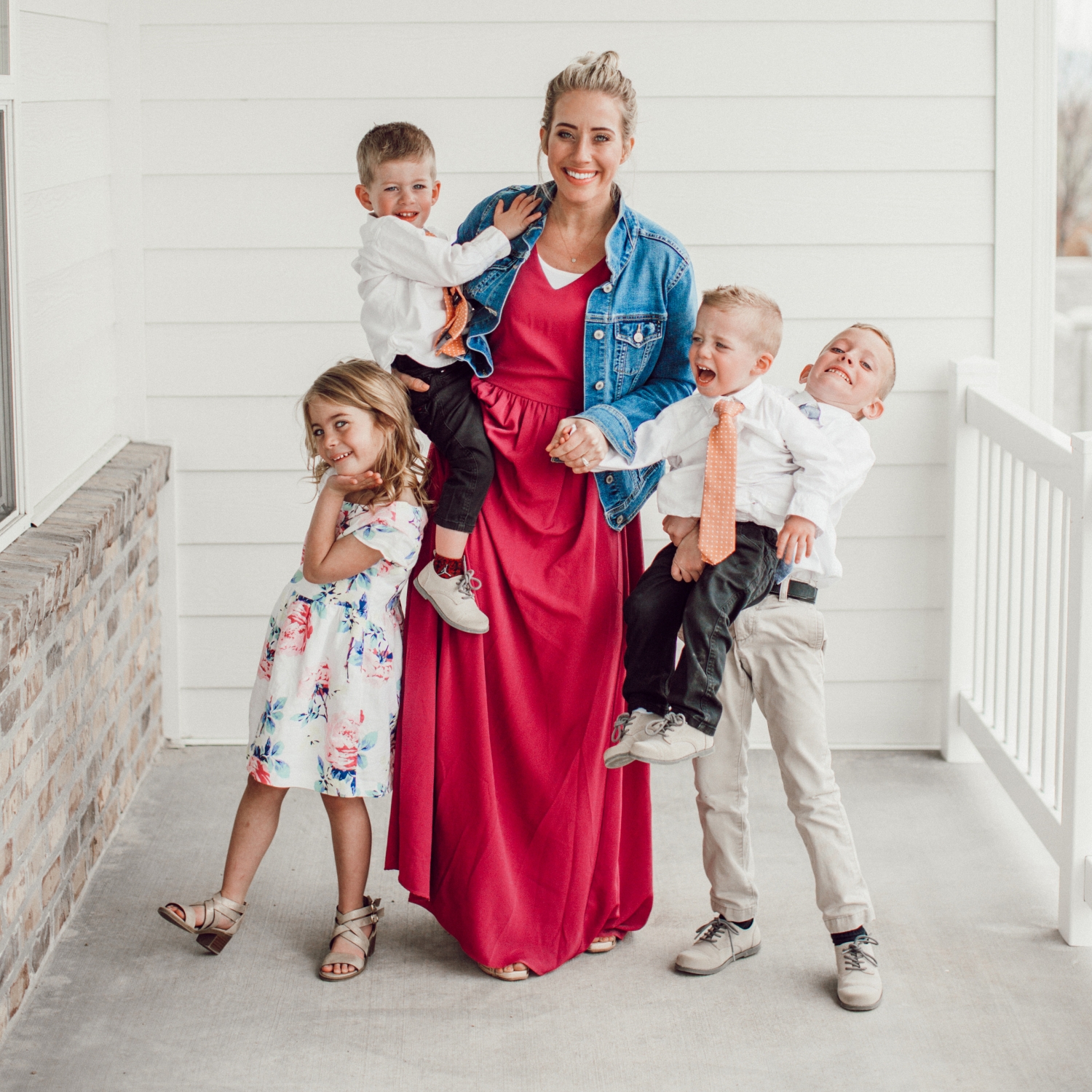 Being a happy mom is one of the most important things in my book. My kids aren't going to remember a lot of what I taught them and we've talked about this before if you've read previous posts. They're just not going to remember much! But they'll remember the way I made them feel. The way I believed in them. The way I loved them through all the hard moments and how I tried to carve out time to hear them and get to know them. So take care of yourself! Get a babysitter to help around the house. And if you can't afford one, trade with someone. And most importantly, give yourself grace when you make mistakes. These years are so short and in the blink of an eye they'll be over. Enjoy them!
I'd love for you to add your voice in the comments! Are you an overall happy mom? Why? Are you struggling right now? What are some things you do to take care of yourself? And to leave you with one of my favorite quotes of all time, "However late you think you are, however many chances you think you have missed, however many mistakes you feel you have made or talents you think you don't have, or however far from home and family and God you feel you have traveled, I testify that you have not traveled beyond the reach of divine love. It is not possible for you to sink lower than the infinite light of Christ's Atonement shines." – Jeffrey R. Holland
– Abby