Back to school? Wasn't that like a month ago?! K I'm SURE someone has started school recently… right? I know BYU just started last week so c'mon, I'm not thaaat late ?! I wanted to put a video together of back to school hairstyles though because for some reason back to school implies that they're going to be super super cute and relatively quick which is MY JAM. These hairstyles I have planned for you today are really pretty and look a lot harder than they are and I'm soooo excited to dish!
Hairstyle #1 – Mixed Half Up
For this style all you need to do is pull your hair half up and leave out a section near the front on both sides. You're going to make two three-strand braids, one on each side, and pin them over each other in the back. Then with the remaining sections of hair you're going to make two twists, twisting away from your face and then twisting them over each other in the back. I've used all bobby pins to secure everything and the waves were done with a 1″ wand! If that confuses you make sure to watch the video!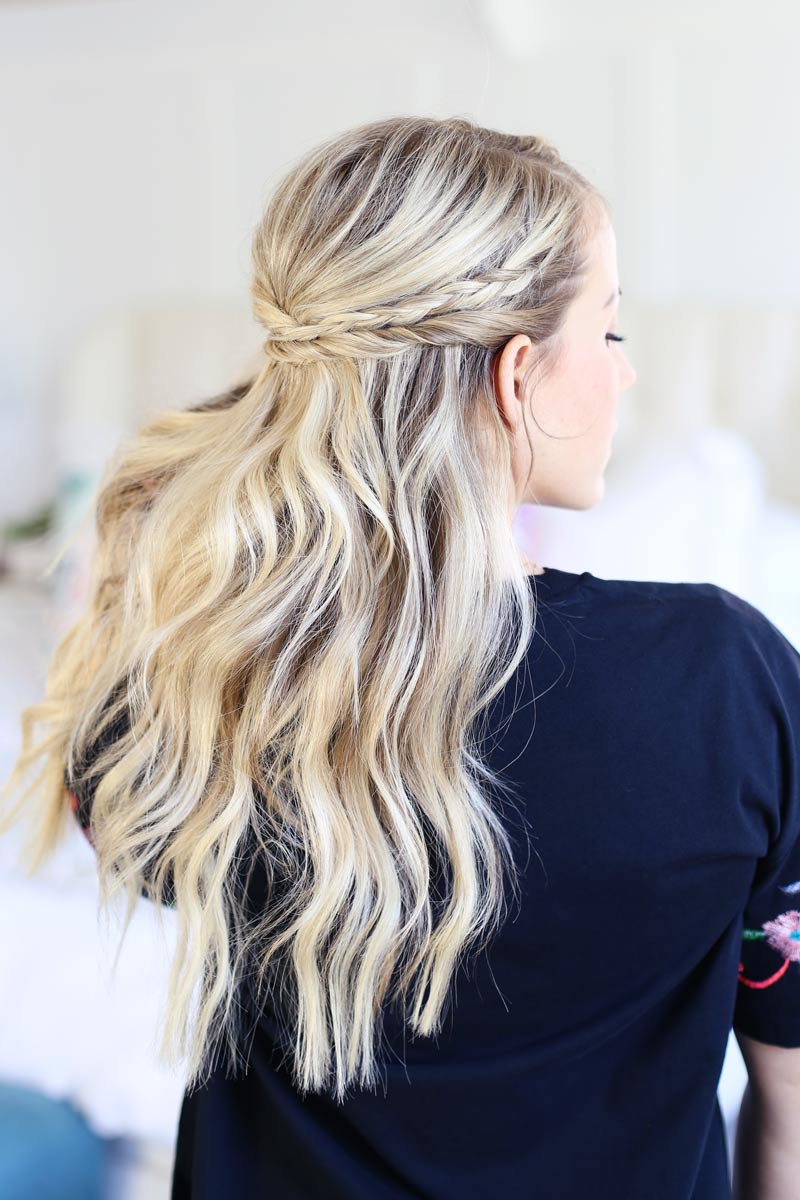 Hairstyle #2: Edgy Twists
No joke, I wore my hair like this ALL the time in high school. Except I would put the twists on the other side too ha ha! I had no boundaries in 10th grade ?. I shared a tutorial similar to this for New Years, except this one is easier because we aren't braiding anything.
All you need to do is twist four sections of hair back and thread a bobby pin through each one. Spray and done!
You can also shop my shirt here and my lipsense color is fire n ice which you can buy here!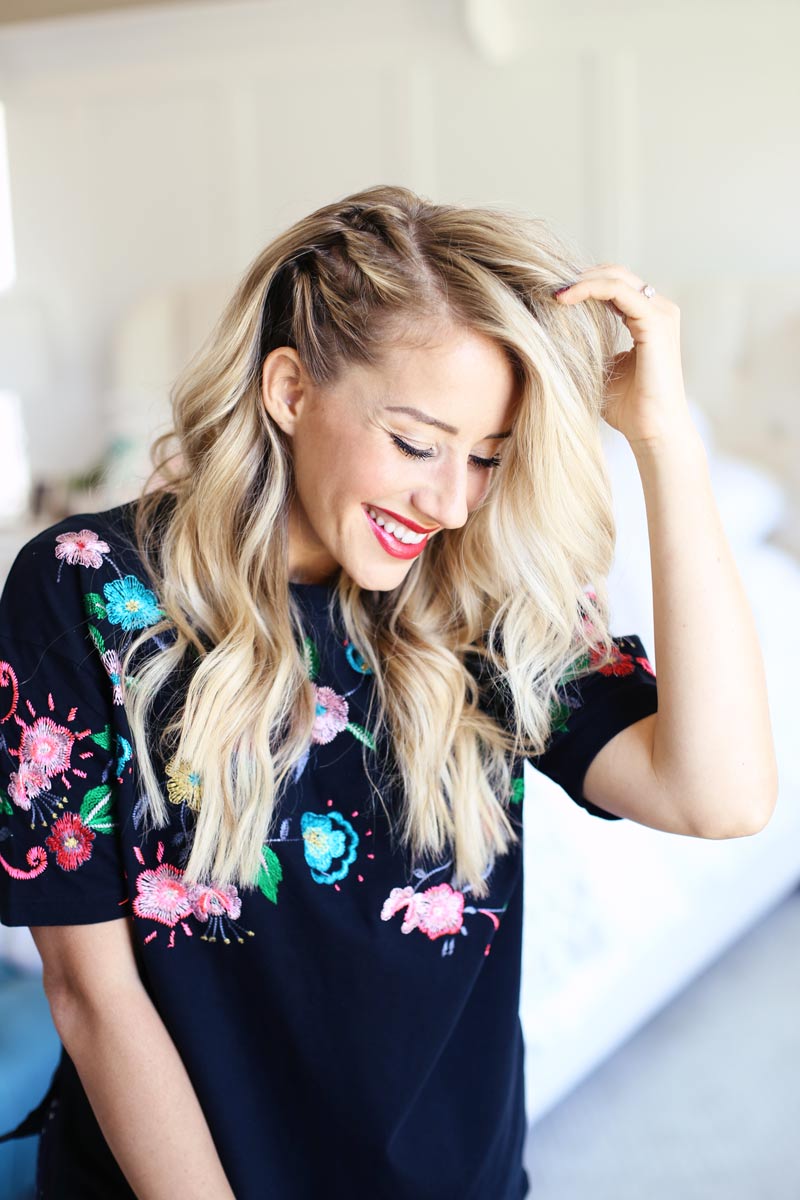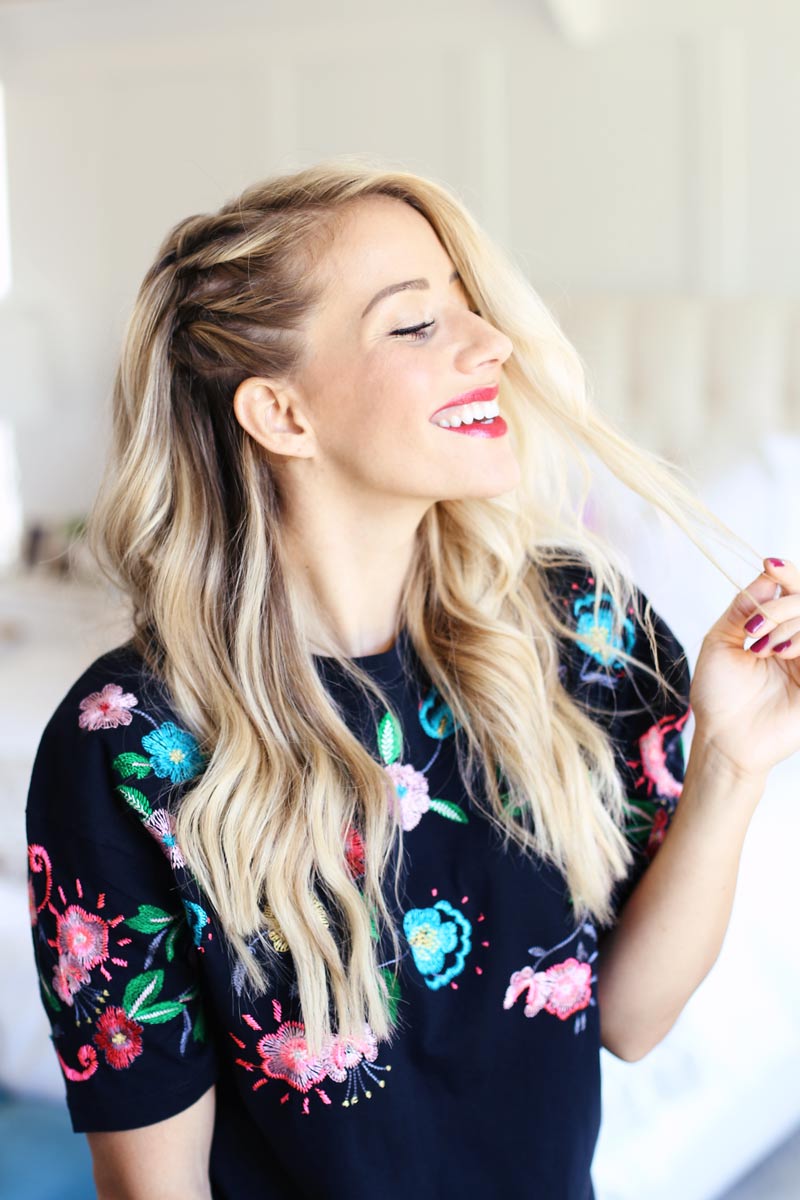 Hairstyle #3: Knotted Ponytail
I've gotta be honest, I'm obsessing hard core over this ponytail right now. I mean, I knew I had it in me but sometimes I surprise even myself with my creativity ha ha ha!!!!
Okay back to the hairstyle. All you need to do is pull your hair half up (I used a bobby pin) and then take one small section on each side and knot it. Then push a bobby pin into the knot to secure it and repeat one more time so you have two knots. Then take a clear elastic and put the rest into a ponytail. If you cinch that ponytail tight, it'll tuck underneath the knots and you'll find a little bit more volume in the tail too!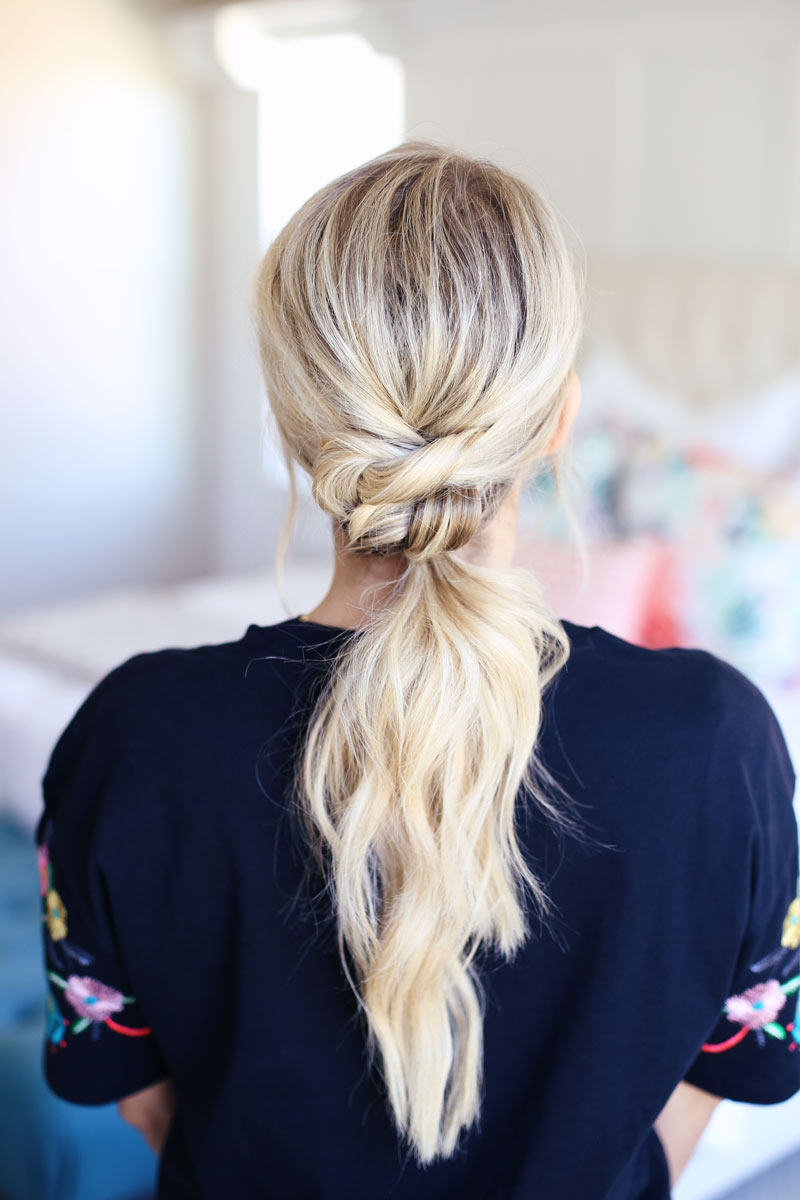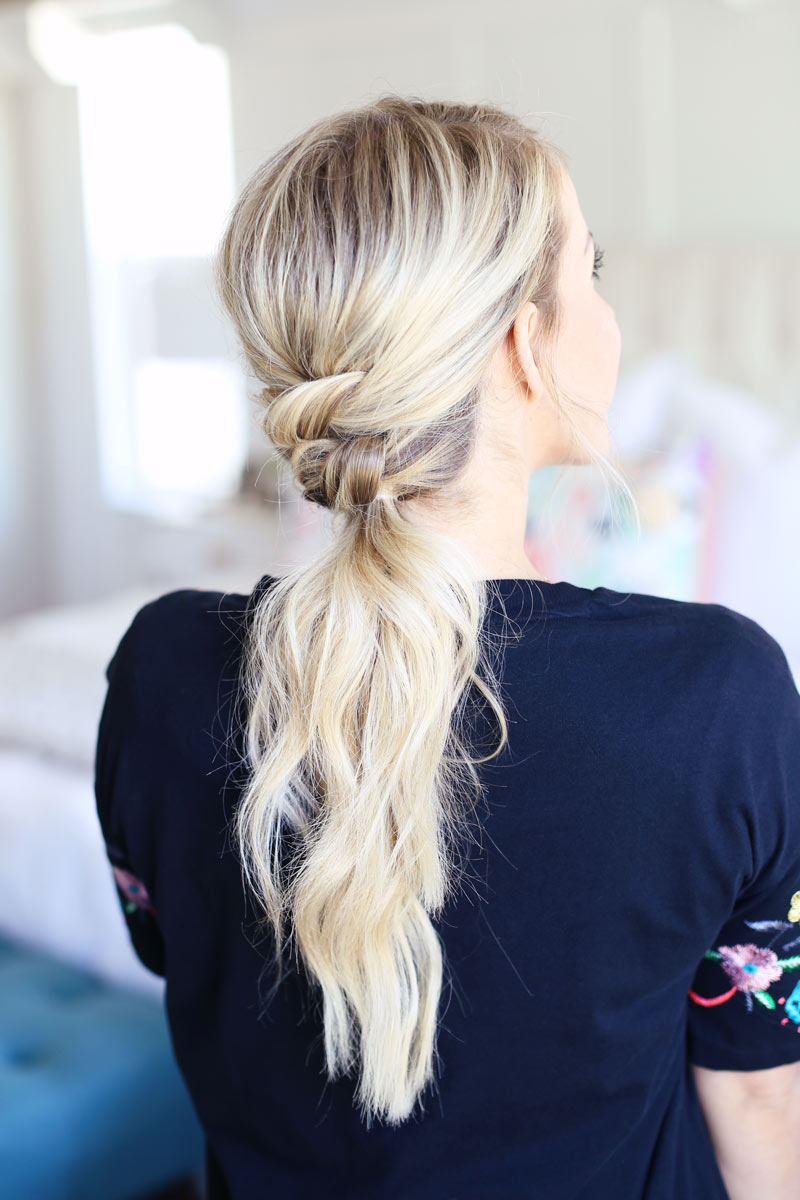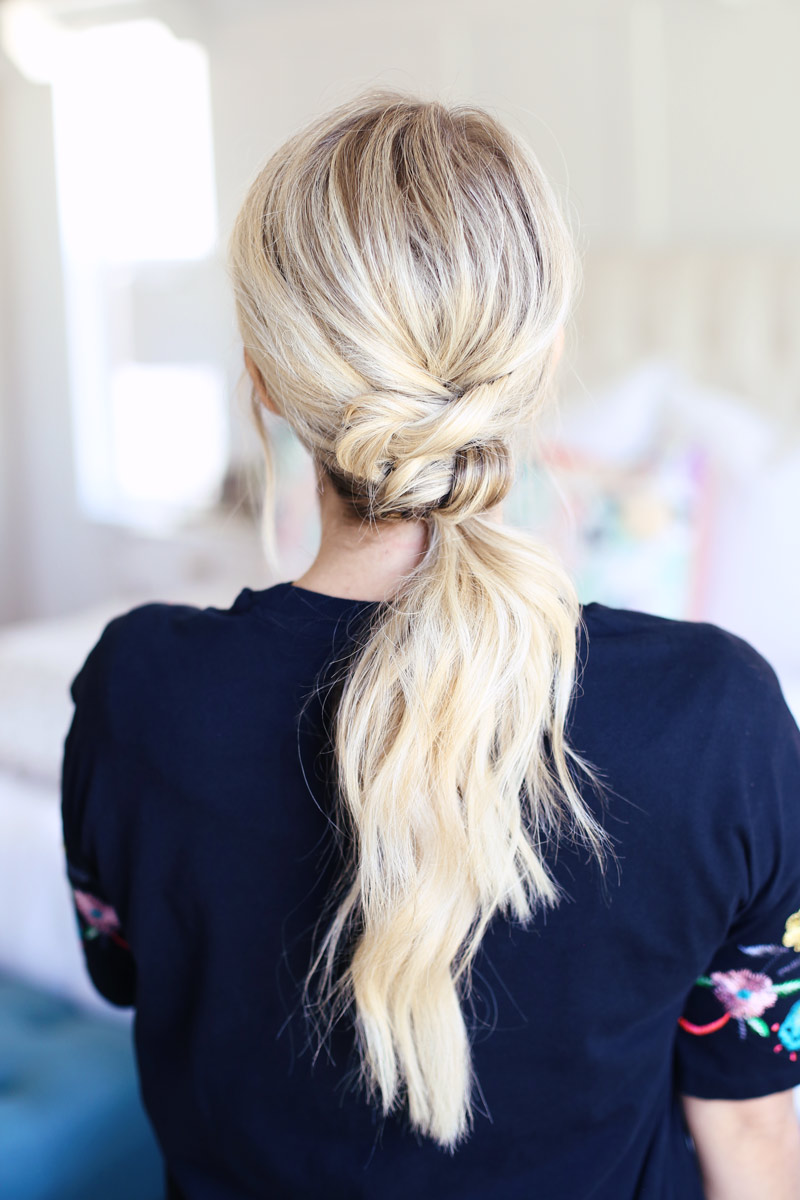 And that's it! Three super easy, super cute back to school hairstyles. Better late than never, am I right?! Do you have a favorite one? Make sure you've subscribed to my YouTube channel! And if you love it and wanna tell a friend about it too, I totally wouldn't be me mad ?.
Video Tutorial ??: Head over to my channel and subscribe! We are SO close to 300K!

You can shop my shirt here and my lipsense color is fire n ice which you can buy here!