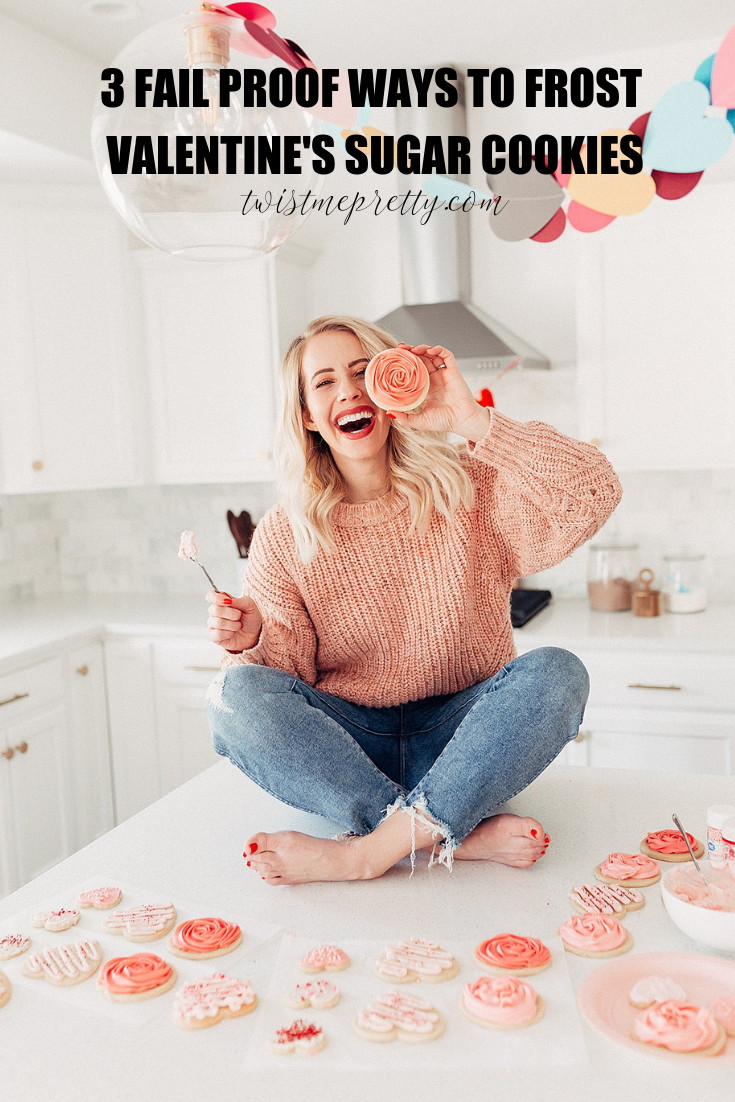 3 failproof ways to frost Valentine's Sugar Cookies
What's up pretties? The count down is on for Valentine's Day and because Sugar Cookies are one of our favorite V-day traditions I thought I'd share one of our favorite sugar cookie recipes + my 3 failproof ways to frost Valentine's Sugar Cookies.
Every good sugar cookie starts with a great recipe. I found this recipe from Alice and Lois and absolutely loved how easy and perfect the cookies turned out.
Sugar Cookie Recipe
1 C. butter room temperature
1 C. Sugar
1 1/2 tsp vanilla
1 egg
1 tsp water
3 C. flour
1 1/2 tsp baking powder
1/4 tsp salt
Sugar Cookie Recipe Instructions
Cream butter, sugar, and vanilla. Add egg and water and beat until light and fluffy. Combine flour, baking powder, and salt. Sift together. Mix dry ingredients with the cream mixture. Split into half and wrap in Saran Wrap and let chill in the fridge for 1 hour.

Roll out to about a 1/4 inch thick and use cookie cutters to cut shapes. Bake at 375 degrees for 6-8 minutes.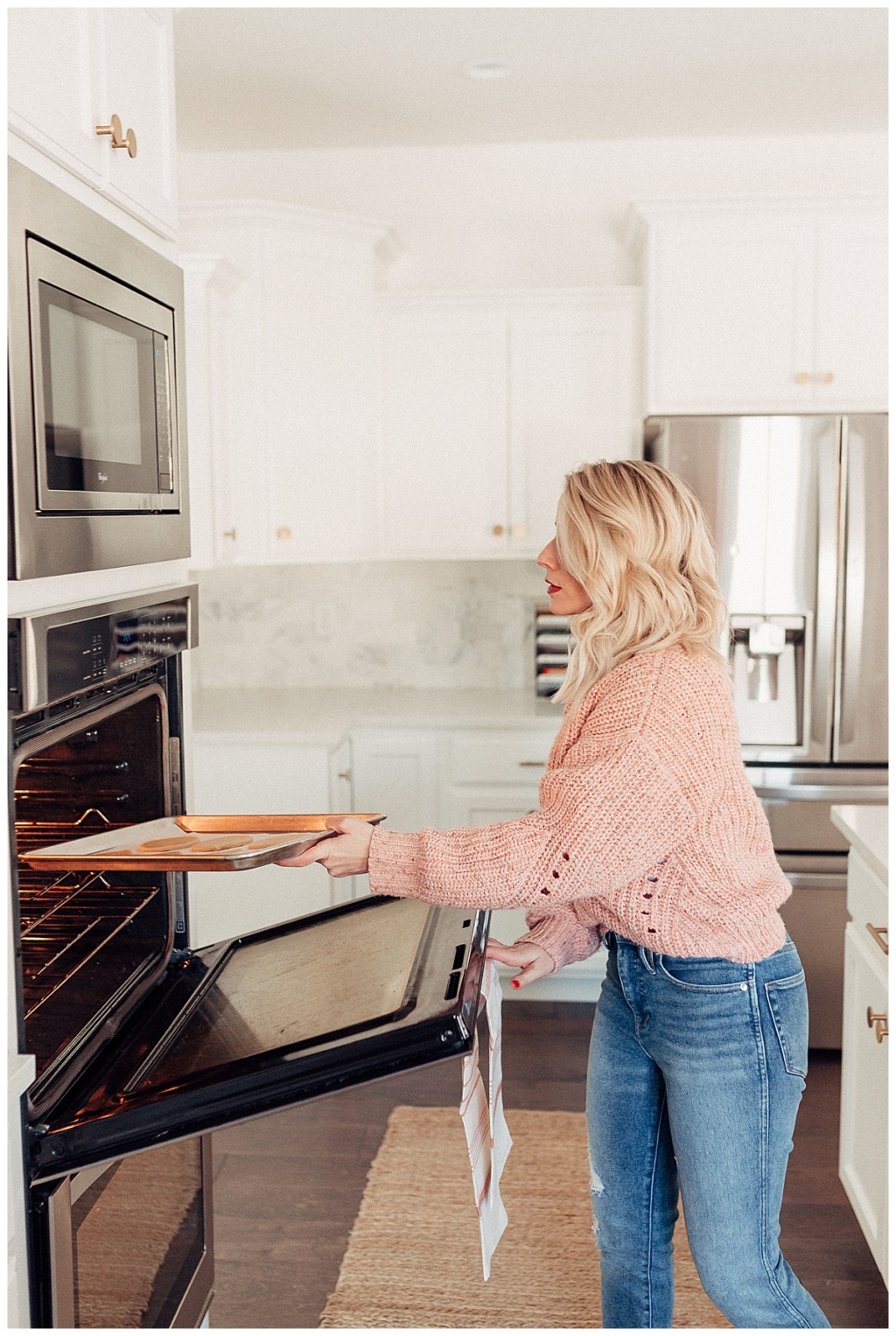 Check out another favorite sugar cookie recipe here. These ones aren't great for cookie cutters though because they spread, but they are quite literally the softest and best tasting cookie I've ever had in my life.
And no cookie would be complete without a yummy buttercream frosting. Here is my favorite recipe from Two Sisters Crafting. This recipe turns out perfect every time!
Buttercream Frosting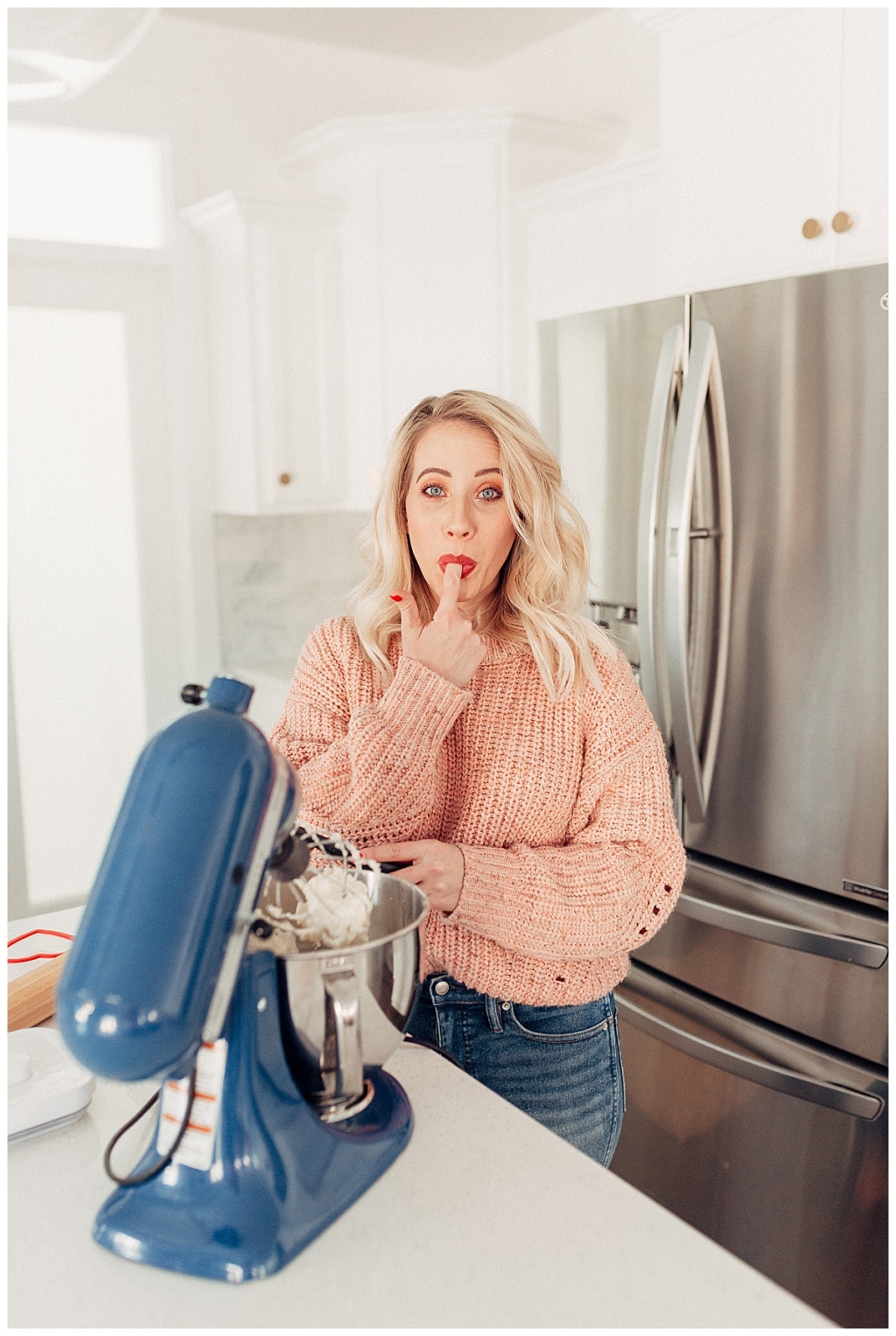 INGREDIENTS:
4 cups Powdered Sugar (or 1 pound)
1 cup Butter (Softened Salted Sweet Cream)
2-3 teaspoons Vanilla
1-2 tablespoons Milk
DIRECTIONS:
Add softened butter and vanilla to the mixing bowl and mix until completely combined.
Add Powdered Sugar and beat on low until it is incorporated. Then move mixer up to medium-high speed. Scrape sides and bottom of bowl often. When completely mixed the frosting may appear dry.
Add milk a little bit at a time until frosting is the proper consistency.

Ready for my 3 failproof ways to frost Valentines Sugar Cookies! Here they come!
Technique 1: Piping
The first failproof way to decorating your Valentine's sugar cookies is to fill a Wilton frosting bag with frosting. I usually put my fresh bag in a cup, drape the excess bag over the top and spoon the frosting in. This helps me keep the frosting under control.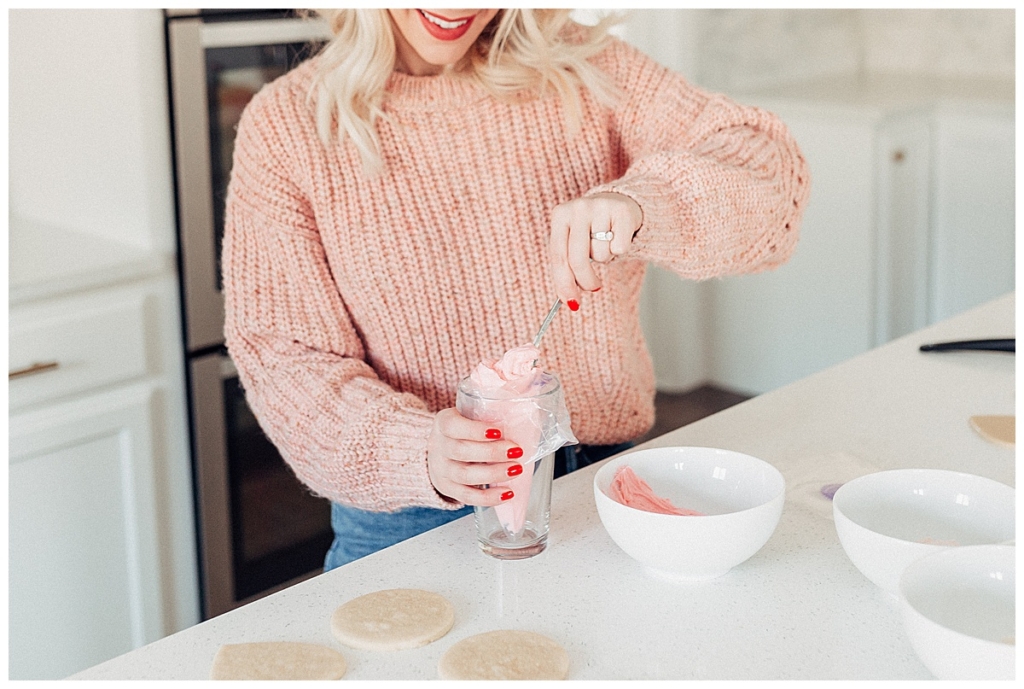 Then I take my scissors and make a small snip at the bottom of the bag. The bigger the snip, the bigger the lines of frosting will be.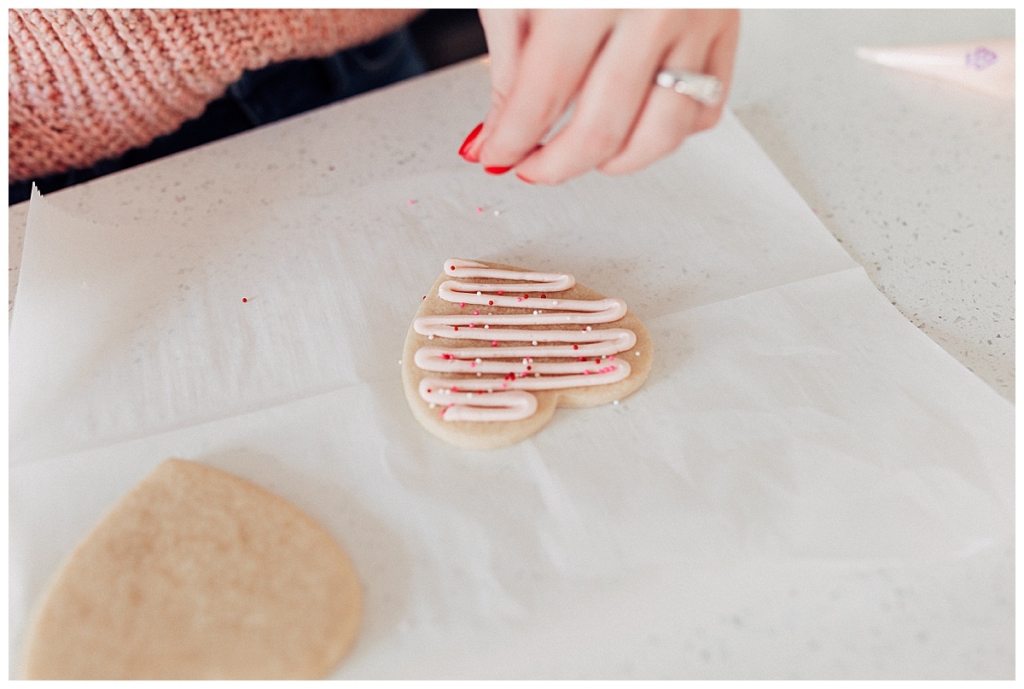 Drizzle the frosting back and forth in a zig-zag pattern. Then don't forget to add sprinkles, because, well, sprinkles.
Technique 2: Frosted Rose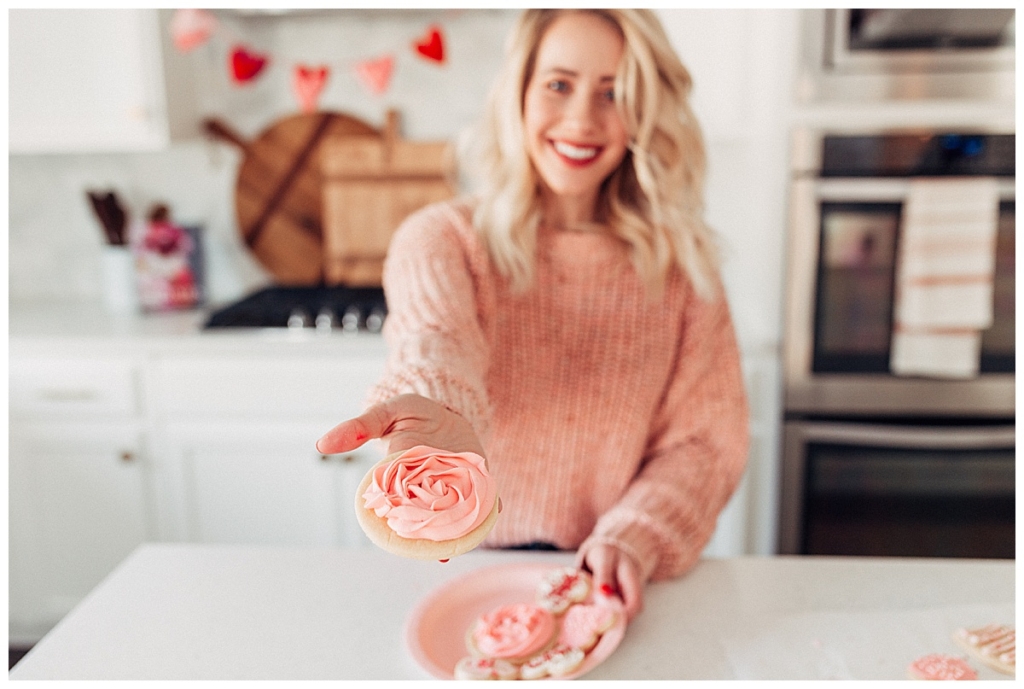 This one is probably my favorite because it looks super cute and it gives you the most frosting. Yum.
To frost these, you will need a Wilton cake bag, coupler, and tip. Start frosting in the middle and circle around the cookie until you have filled the whole cookie with frosting. No need to be perfect!
Technique 3: The Classic Sprinkle

In this technique, the sprinkles steal the show. Just frost your cookies with your knife as smoothly as possible and finish off with your favorite sprinkles. (This is the one that I have my kids help me with)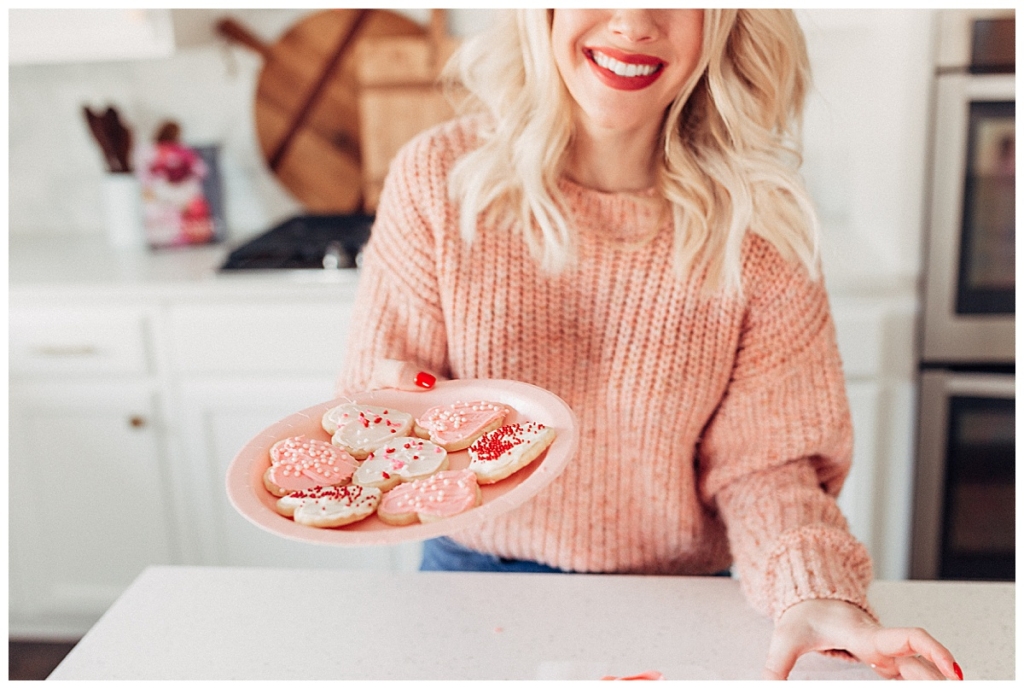 And that is it! These 3 failproof ways to frost your sugar cookies are a sure fire way to show your favorite people how much you love them on this Valentine's Day!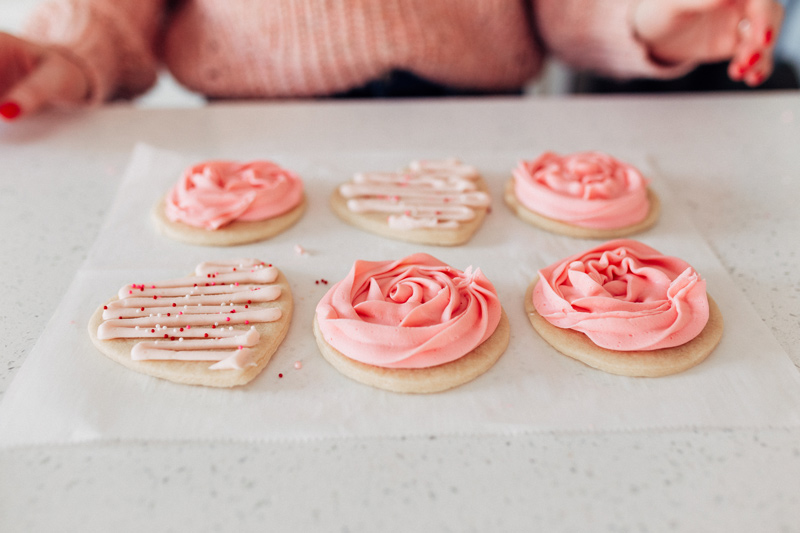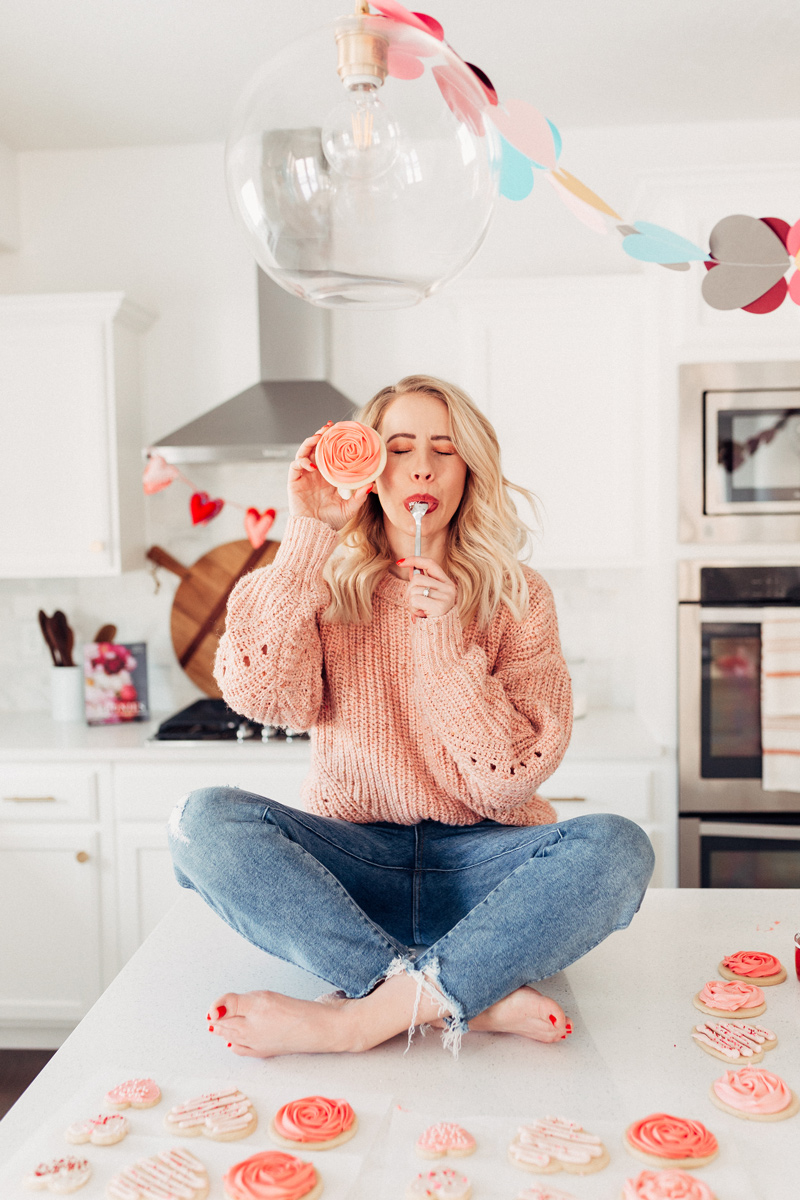 Links to my favorite tools
full set of bags + tips | food coloring | Wilton bags | Cake tips | Kitchen Aid (blue willow) | Cookie cutters + sprinkles | Edie Dish Towels | Valentine's Day towels |grey stripe
Let me know! Which one is your favorite? When you try these out, I'd love for you to share them on Instagram and tag me in your post so that I can come over and cheer you on!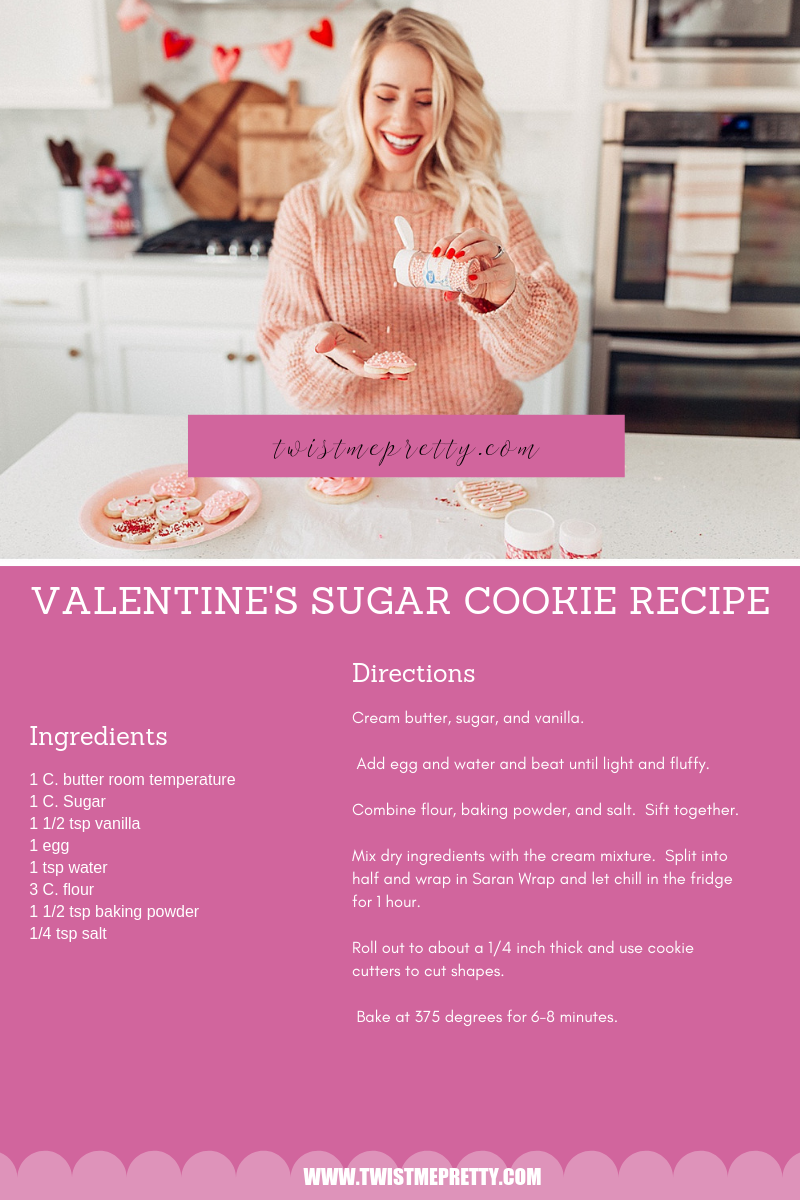 Images by lifestyle and wedding photographer Jordi Rae Photography