First off, I just need to tell you — YOU ARE MY PEOPLE!!!! I was so overwhelmed with support during our Black Friday sale. We had over 300 orders!!! And now I feel like we just have this special bond!!
Now that there's this little army of women out there who need to know how LipSense works, I'm taking this responsibility very seriously. I want to make sure you guys know exactly how to wear it because there's a slight learning curve to LipSense. If you've tried it, and you don't love it, chances are very high you're applying it wrong. I know this because I wore it wrong for months and it's why I wasn't totally obsessed with the stuff from the beginning. Luckily I have a very pushy good friend who loves me enough to make me wear it right. Bless her heart, I'll love her forever.
If you have no idea what LipSense is, it's a long wear lipstick that is AMAZING!!! You can find my shop here, my latest post here, and an older video of me applying it here (5:10ish). I've since learned better ways to apply it, but the demonstration is good!
Alright, let's break this down, shall we?! Let's learn how to apply LipSense! I'm going to be using the Coral Reef color + Matte Gloss.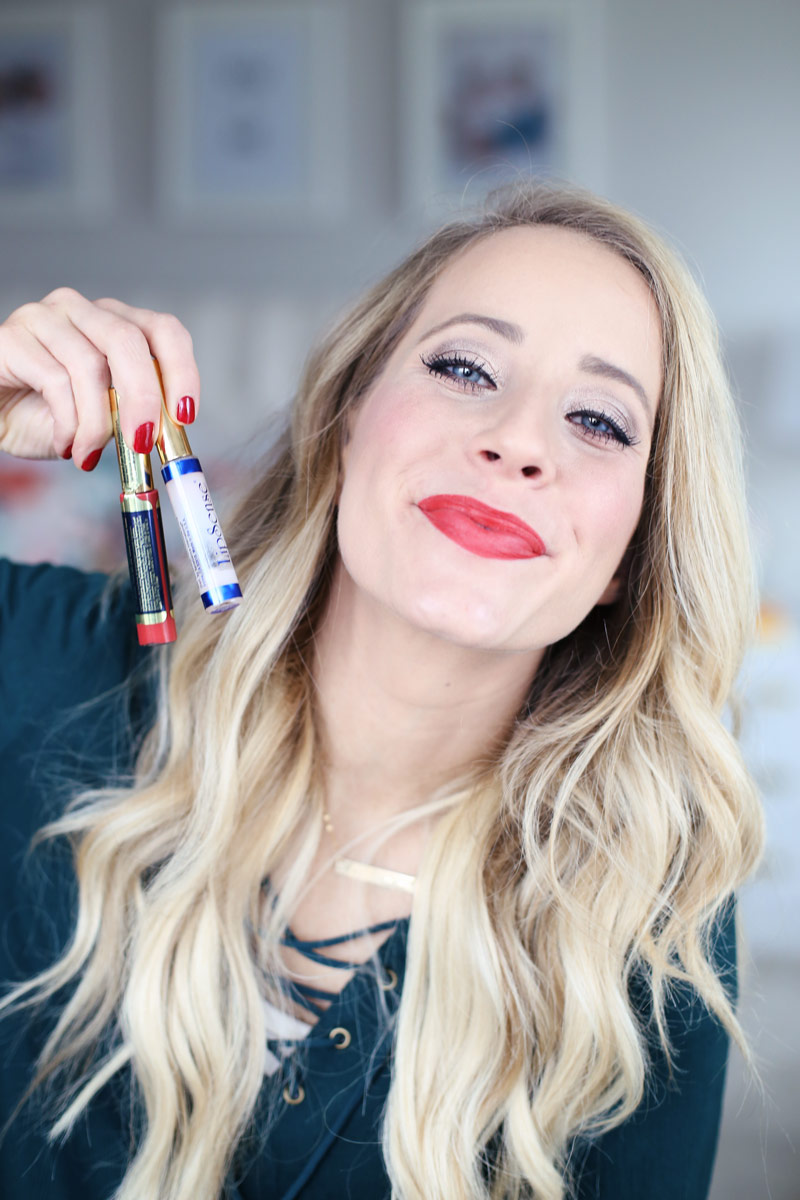 Step 1: You MUST have healthy lips! LipSense molecularly bonds onto your lips — which is why it lasts all day! So before I apply my LipSense color, I like to give my lips a good scrub to ensure my lips are nice and exfoliated. There are two ways I usually do this. One way is I'll dab some LipSense lip balm or coconut oil (don't use other products like Carmex or Vaseline) onto my finger and then dip it into a little bowl of sugar I keep next to my sink. Then scrub scrub scrub! Do this right after you shower so that by the time you are ready to apply your lip color, your lips are completely dry.
The second way is using a dedicated toothbrush to exfoliate. This seems to be what I do most often because… well, I'm really lazy like that.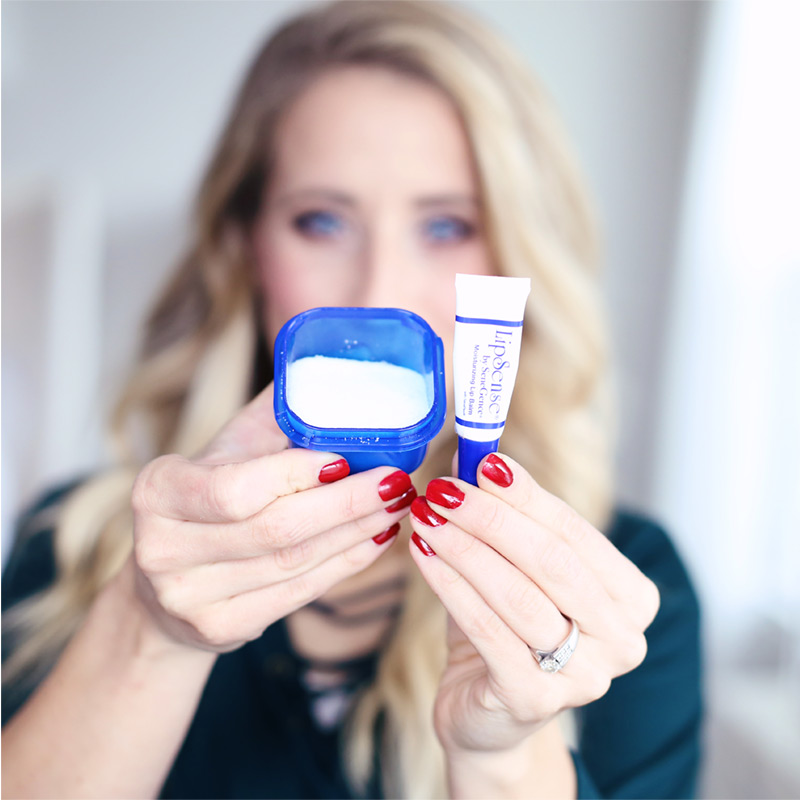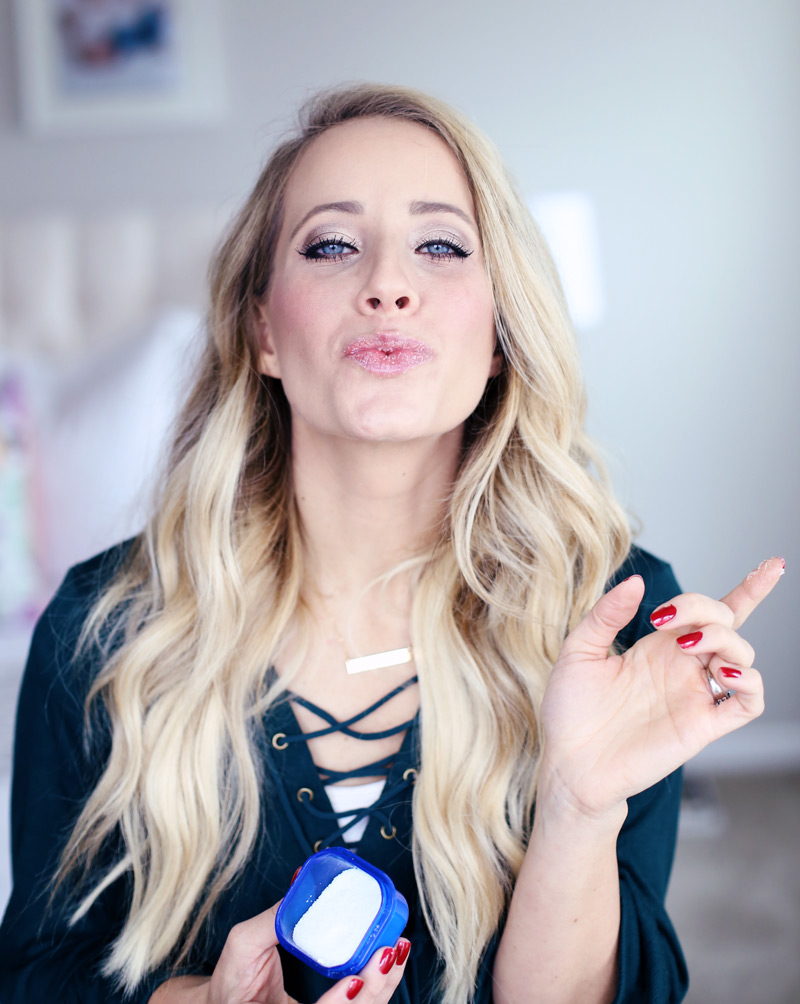 Step 2: Make sure your lips are COMPLETELY dry. I like to take some toilet paper and dab the waterline of my lips to make suuuuuure there's no moisture left on the lip.
Step 3: Shake your tube of color!
Step 4: Start at your cupids bow and draw down the corner of your lip.
Step 5: If needed, get more color on your applicator and then fill in the center of your lips and then draw down to the other corner.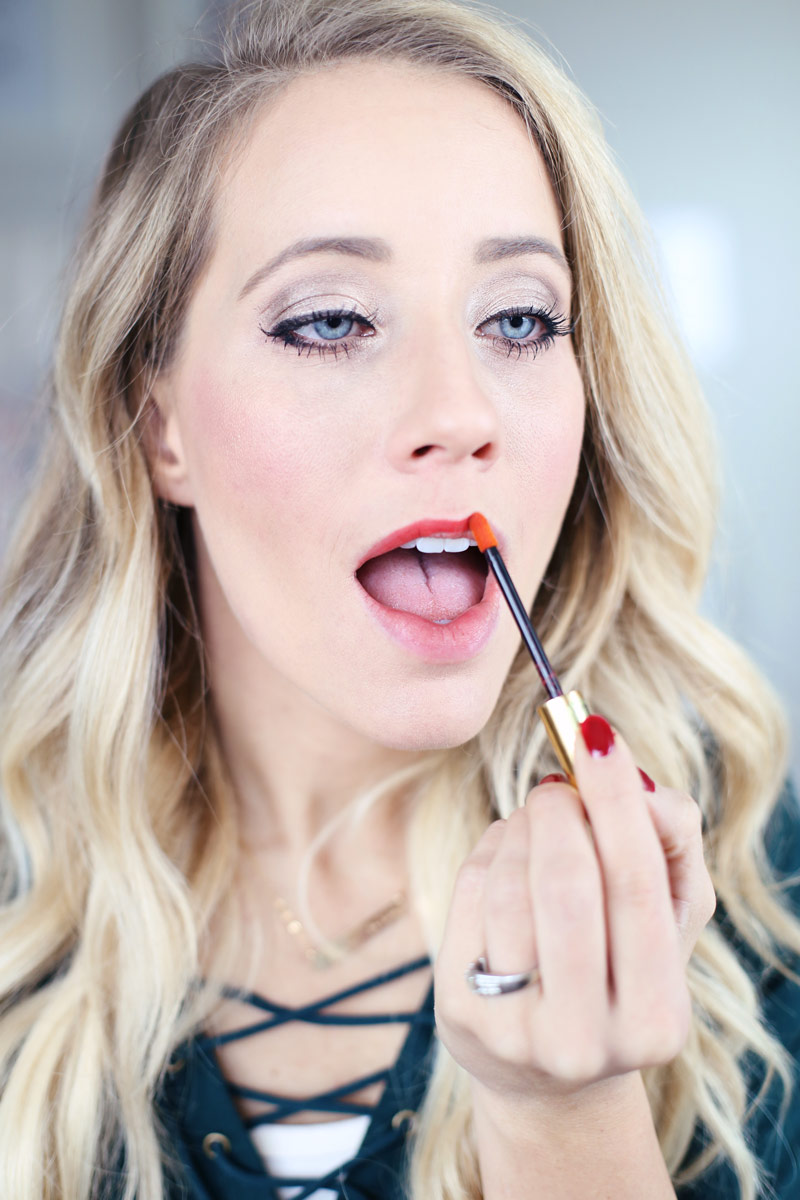 Step 6: This step was hard to get a good picture of, so this photo is actually my second layer but still the same. You're going to now fill in the waterline of your upper lip – in one pass.
You know when you draw with a dry erase marker? If you go over the same spot twice, the first layer will lift a little bit? It's very similar with LipSense. Try not to layer the passes until they're completely dry!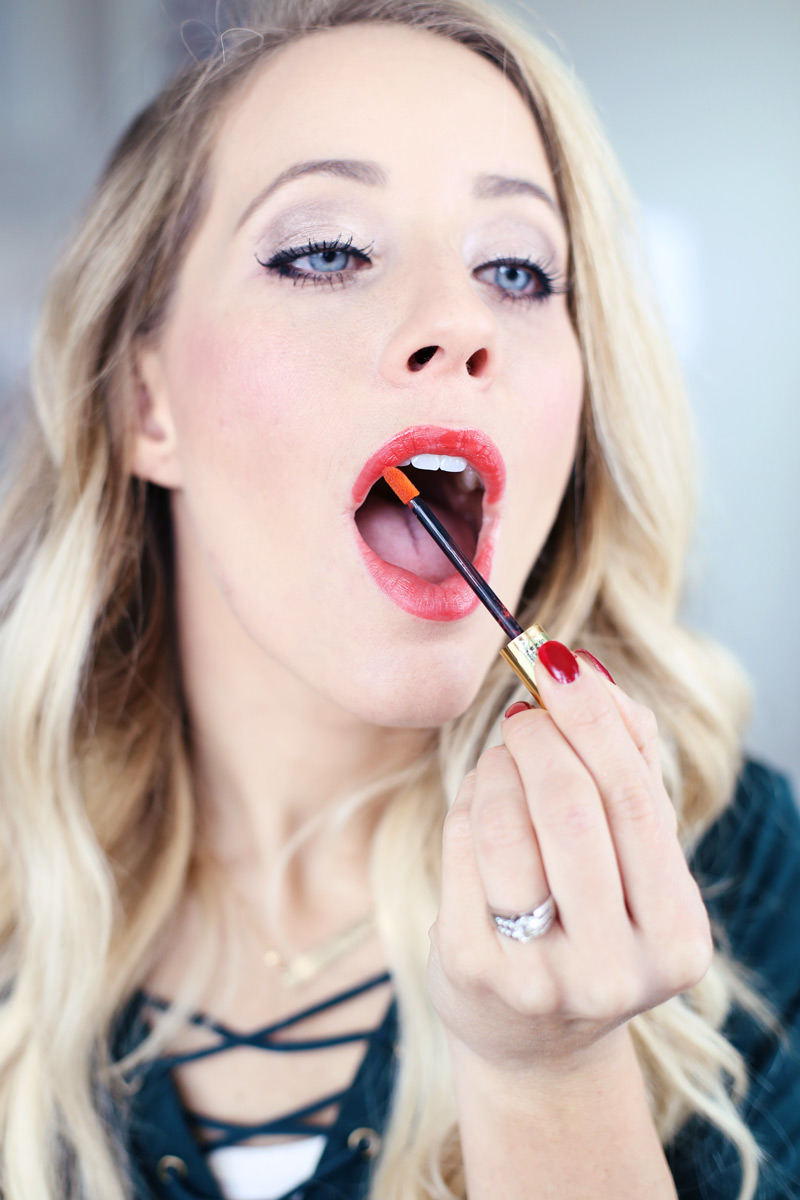 Step 7: Get more color on your applicator (if needed) and draw from corner to corner on the outside of your bottom lip.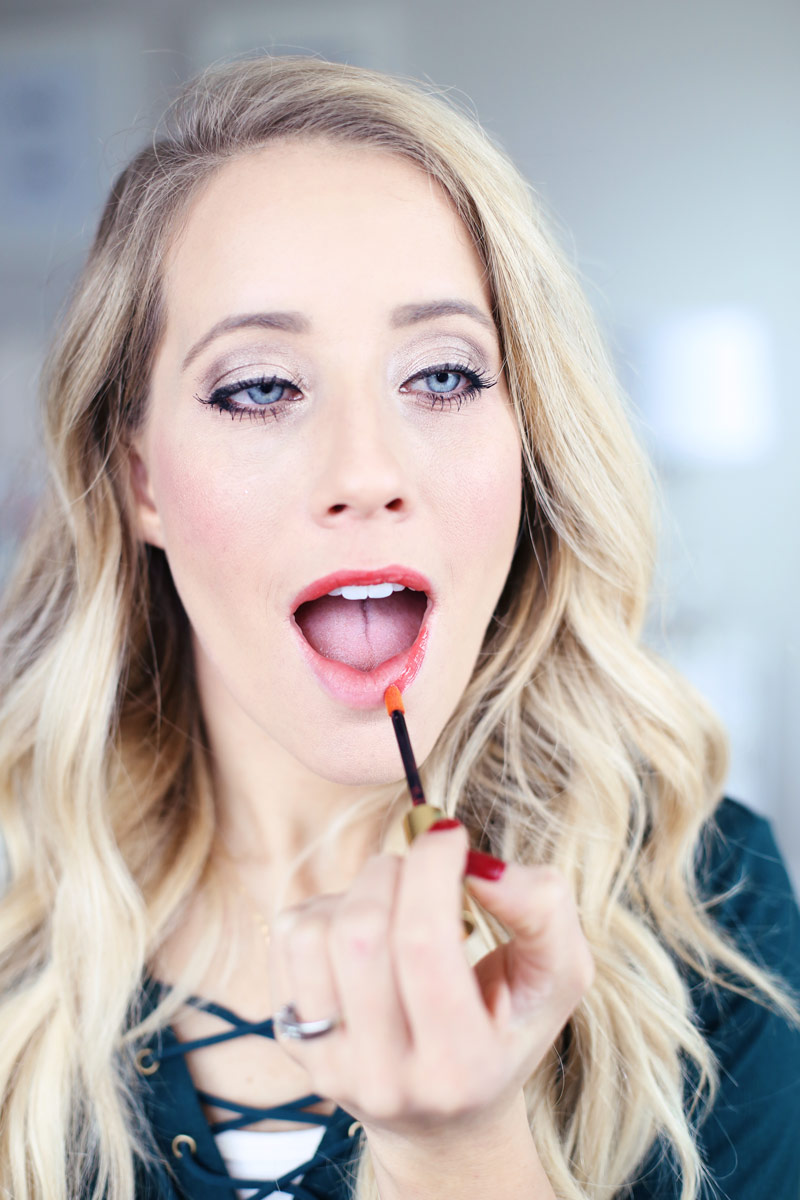 Step 8: Fill in the waterline of your bottom lip.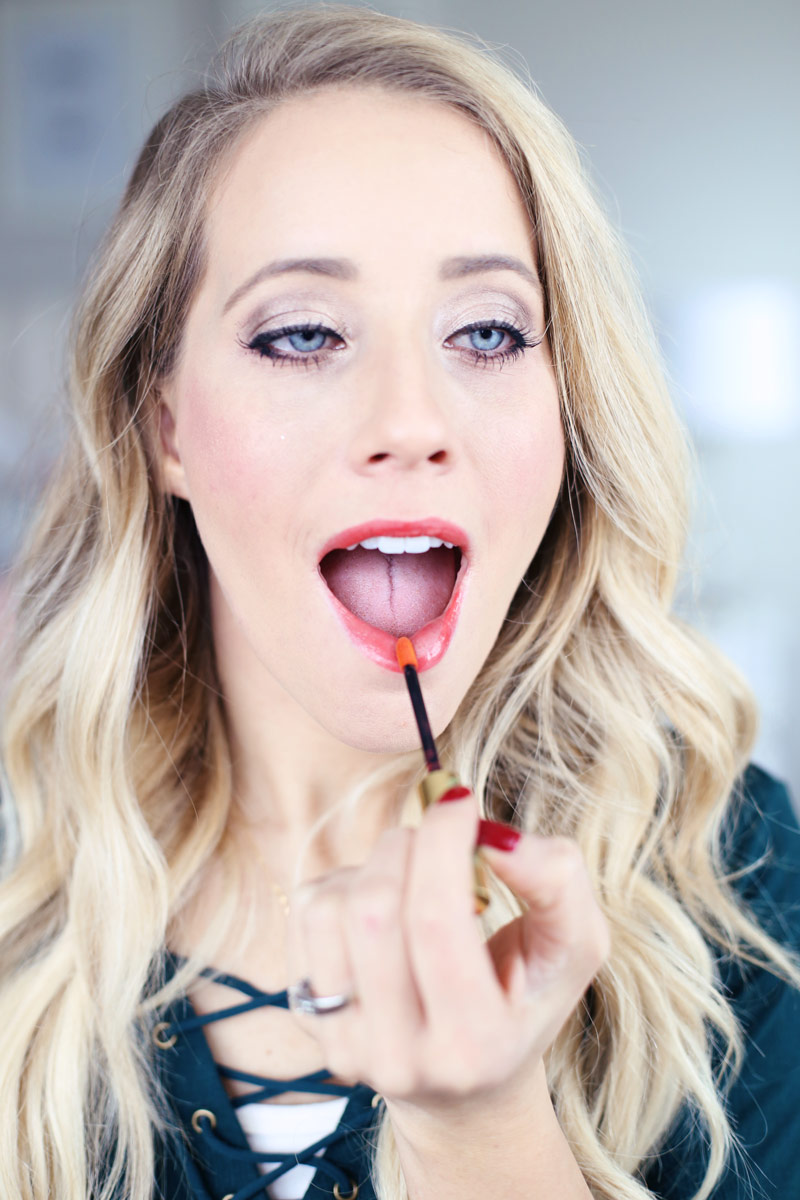 Step 9: Let this first layer dry COMPLETELY before applying your second and third layer. It's also kind of like painting your nails… you know how if you go over wet nail polish, you sometimes smudge the first layer if it's not completely dry? That's exactly what this will do. The new layer can ruin that first layer if it's not completely dry, so just be patient and wait. It's going to be tempting but I believe in you. It should only take a few extra seconds.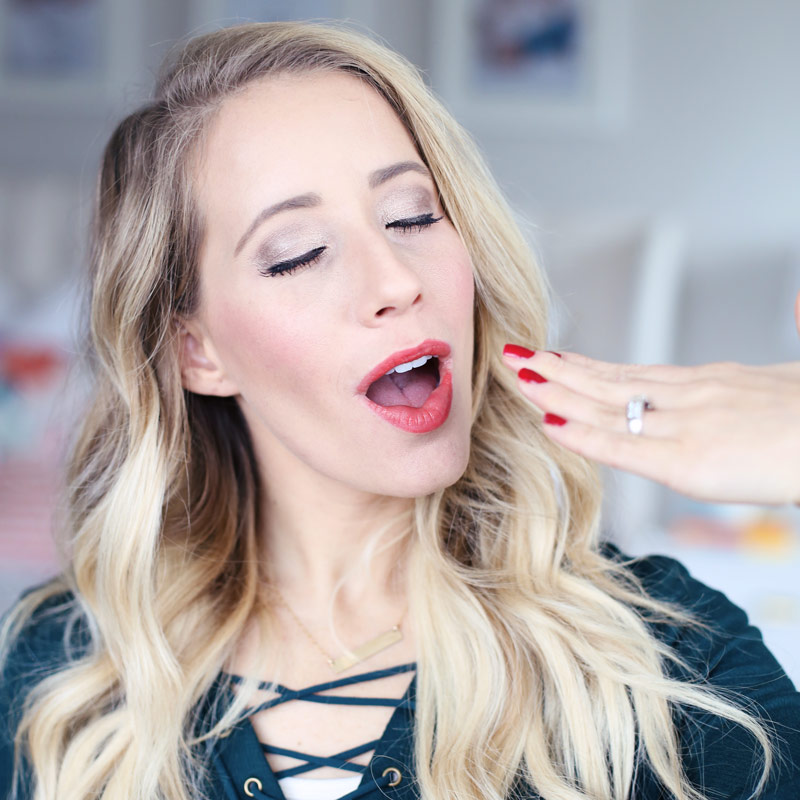 Then you're going to REPEAT that 2 more times! You can use different colors or you can use the icicle color if you don't want to deepen the first layers color, but you NEED three layers of product. It's just the way it works. For a long time I'd only wear one layer because I didn't want to darken the color any more, or I wouldn't exfoliate before hand and I'd be surprised to see my color was flaking off a few hours later.
If your color is coming off, or it's looking splotchy, it is not the product's fault. I thought it was. But, in all honesty, it was mine. If you are used to wearing chapstick and vaseline, other waxy lipsticks, you will go through an exfoliation process. It will take a couple weeks.
Here's the deal. LipSense has medical grade alcohol in it. This exfoliates the lips over time and it's actually a great thing because it keeps your lips healthy! But if you're constantly wearing waxy products, the LipSense is busy working on that wax build up instead of on your lips. It's not able to molecularly bond to your lips the way it should. IF you are having trouble, give it two weeks. I was very resistant — I don't have time for that!!! It took me 6 months to realize that I was the one missing out. But this doesn't happen with everyone, so don't be apprehensive, there's just a slight learning curve!
Step 10: When your three coats are dry, you're going to seal your color and add some moisture back into the lips with your gloss. There is zero moisture in the color and it will feel tacky, kind of like gel nails, until you seal it with the gloss. Glossy gloss is the most hydrating of all the glosses. If you're new to the system, it's the one that's recommended to start with and I absolutely recommend starting with it. It's a little bit on the stickier side and I really hate sticky lip gloss. So what you can do is apply the glossy gloss, rub it in nice and good to add moisture into the lips, and then go over it with a different gloss, like the matte.
My favorite gloss is the Bougainvillea gloss (why did they have to name it that?! Every time I go to spell it I have to google it haha) which has a tiny bit of a sheen to it but it's not sticky and it's more hydrating than the matte. If you've been a LipSense girl for a while, go ahead and give the matte lipgloss a try! It's one of my favorites!
You can find my shop here and if you need help with colors, request to join my private Facebook page here!
And that's it!! Throughout the day, you'll want to apply the LipSense gloss as needed but you shouldn't need anymore color. If you do need more color, say it's fading in the waterline or is flaking a bit (it shouldn't after a couple weeks of dedicated use) just wipe off the gloss, make sure your lips are dry and then apply the color.
I am planning on putting together a video soon but we've been so busy with moving I haven't had time to film it yet. I will continue to do Facebook lives though, so make sure you're following along here!

FAQs:
Can I wear lip balm over my color? No way José! The lip balm is the bomb. However, it must be worn when you aren't wearing LipSense! It will break down the color. LipSense is a system and must be worn with the gloss—any other gloss/balm will break down the color.
Why doesn't my color last long? It is exfoliation, that is ALL!! LipSense is so awesome it works to take off our dead, nasty, wax built up on our skin! Who wants that to stay on anyway, right? If one's lips are dry and have wax build up (from waxy lipstick, Chapstick, etc.) there may be an exfoliation process. This is a good thing!!! Continue to wear only LipSense products, anything else will interfere with what LipSense has done! Toss that Chapstick! Gloss at night or wear balm to speed up the process!
Does LipSense have an SPF? Not chemically BUT LipSense has a mechanical shield that is equivalent to SPF 15!!
What are your favorite colors? I've not tried them all — although I just purchased a whoooole bunch more and I'm way excited to try them out! So far, my favorites are:
Nudes: First Love, Caramel Apple
Pinkes: Aussie Rose, Fluer De Lisa, Plumeria, Sheer Pink
Reds: Blue Red, Coral Reef, Plumeria
Plums: Sheer Berry, Nappa, B Ruby
I will update these favorites and start sharing selfies in all the colors as I get them — that way you'll have a better reference for what the colors actually look like on.
If you are super intrigued by LipSense and want more information or need help picking out colors, come over to my private Facebook page, request to join, and come party with us!! There's nearly 1,000 girls in there who are having a blast and sharing favorite colors, asking questions and becoming friends.
Or, you can find my shop here.
I think that's all I have for ya!!! Can't wait to start seeing your selfies in that Facebook page!