This bi-polar weather here in Utah has me dreaming of hot days at the pool, vacations at Bear Lake on my parents boat and hopefully a healthy color on my skin! I dream of summer all winter long and I can't believe it's finally around the corner. To send happy summer vibes to mother nature I've put together a quick, off the neck messy bun tutorial that's perfect for my favorite time of year. What do you guys think? I was inspired by this viral photo on pinterest.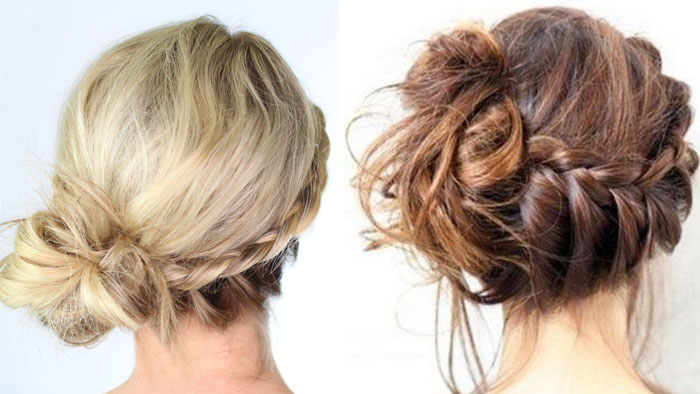 The differences: Her hair is much thicker than mine so her braid looks more full. You could pancake the braid, which she probably did because it's falling out a bit. I chose not to pancake my braid this time around but obviously it's gorgeous pancaked. Next, she brought her braid around the back and then angled it back up. The high side messy bun wasn't super flattering on me so instead I kept the braid angled down so that the messy bun had a pretty shape from the front. Your hair is an accessory, it's there to enhance your beauty. If a style isn't working for you what do I always say? Modify it! Her bun is much fuller and looser than mine which I absolutely love but 1) doesn't fit my lifestyle, I don't want to have to redo the hairstyle every few hours and 2) she has thicker hair than I do so it might just be a product of that.
I wasn't aiming to get my hairstyle to look just like hers, I wanted to put my own Abby spin on it 🙂 But the process is the same. It's a lace braid wrapped around the head and secured into a messy bun! So pick which one you like and make it work for you!!
Step-by-steps Instructions:
Take a small section from the front and divide into three sections
Braid the hair once
Then start a lace braid (only add in a new section of hair to the bottom section)
Wrap the braid around the head and secure it with a clear elastic
Pull the rest of the hair into a messy bun and fix with bobby pins if needed
Spray with hairspray
I hope you guys like this hairstyle! Let me know what you'd like to see in the future! Also, I'll be doing a Q&A video in the next little bit so if you have any questions you'd like to ask me let me know below!!