What? I'm not weird. Why would you say that? I'm FUN! hehe! I saw todays hairstyle on Albion Fits homepage months ago and immediately knew I needed to figure it out. It's simply a waterfall braid with the falling pieces falling back instead of down. Genius right? I wish I could take credit. I love that the braid is flat against your head, it doesn't poke out which leaves your face shape in tact. I tend to shy away from styles that frame my face weird or give me an awkward shape. This one is just perfect. It's fun and flirty, it'd be great to wear to the gym, to soccer practice, cheer practice, and when you're running errands being mom.
Step-by-step Instructions:
Section off a chunk of hair from one inch behind the ears and up. Tie the rest of the hair into a clip
Divide a one inch section next to your part into three sections
We are going to braid the front section over the middle section and then braid the back section over the middle section
The new back section is going to be clipped back onto the ponytail. We just want to get it out of the way.
Then replace the section we just dropped with a new section from behind the braid
That new section is going to go over the middle section, all three sections will be transferred into the back hand and then add a new section of hair to the front section
Braid the front section over the middle section, and braid the back section over the middle section
Drop that back section into the clip and replace with a new section.
Continue these steps until you've wrapped the braid around to your ear. Tie off with a bobby pin
Tie the hair up into a messy bun and spray with hairspray
This hairstyle is much easier to understand when you watch the video! The video is at the bottom of this post — MUAH!
Todays sponsor is the fabulous Do-Da Wraps. Do-Da Wraps are handmade with love from jersey knit so they're nice and comfortable yet snug enough to stay put. You can find fabric wraps and turbans all made to order in the prettiest fabrics. I'm crushing on this one like crazy. With summer right around the corner I think it's a must have don't you?! I'm in love with the trend going on right now where you randomly tuck your hair up into the wrap. A tutorial just may be in order!
Do-Da Wraps also makes the cutest children's wraps. Seriously?! I can't wait until Savy has longer hair!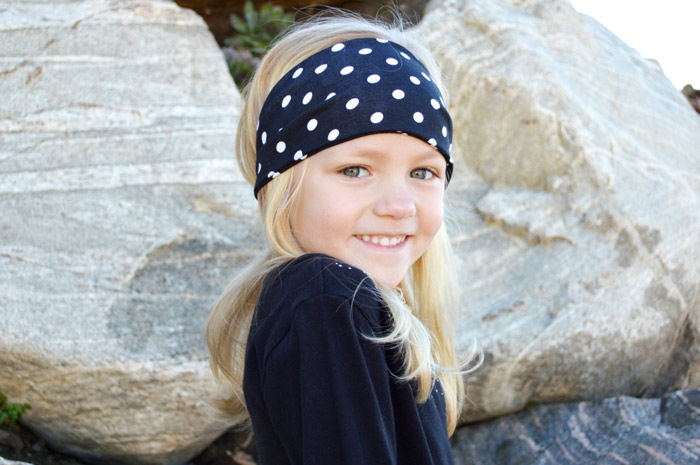 So if you're looking for the perfect accessory to throw on your mop this summer, make sure to checkout this adorable shop! Right now if you purchase 3 you get 1 FREE! Make sure to follow Do-Da Wraps on instagram @dodawraps to keep up on the latest fabrics and the occasional deals and giveaways!