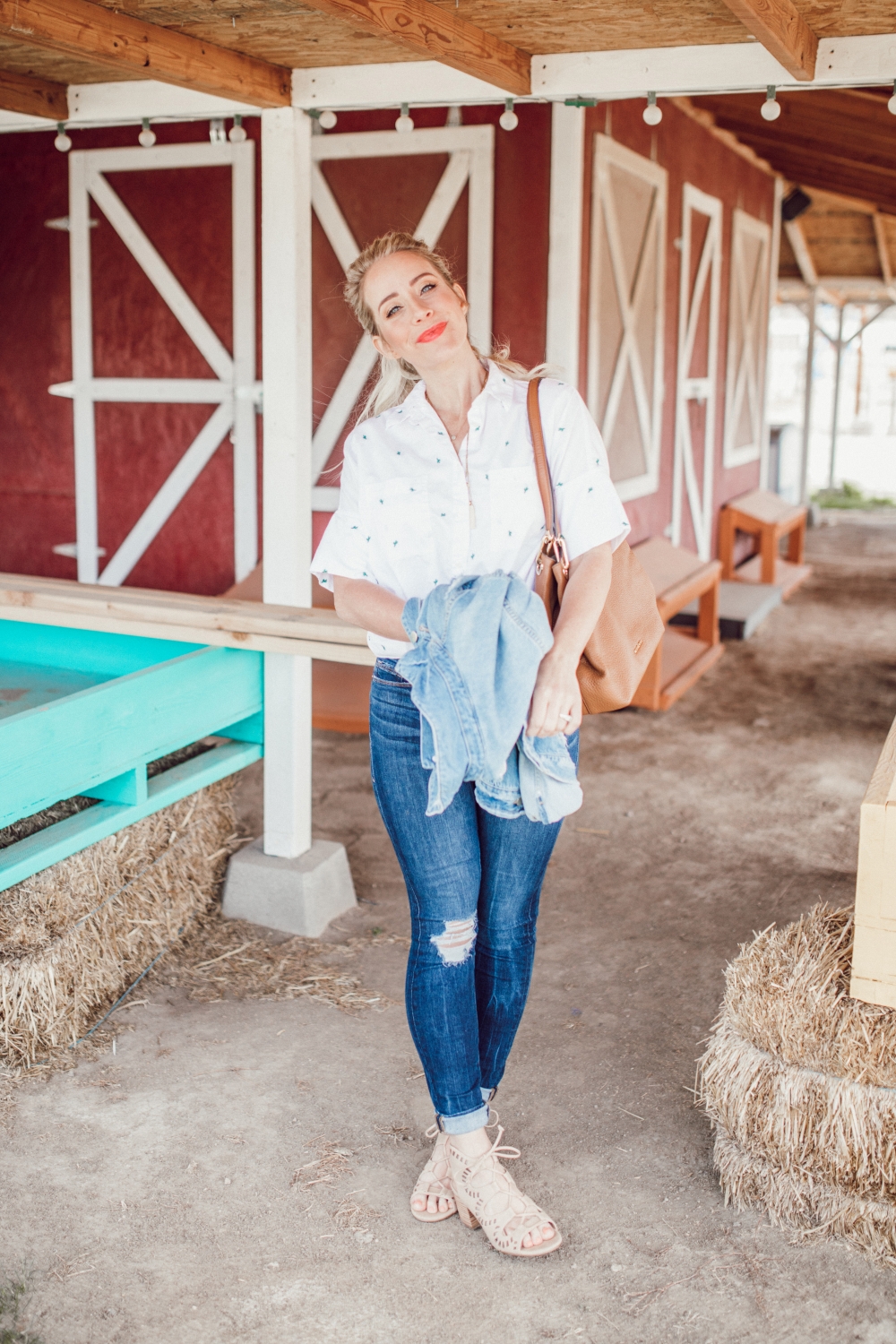 Hey guys…who's ready for some of my favorite finds?!!! Okay first of all, yes. I'm in a barn. Well, it's more of a cute little produce shop down the street from me. It's fine, it's totally normal to take pictures in a random barn like atmosphere. I'm wearing a cactus shirt, so I am basically one with nature right now haha!!!
I've got so many awesome things to share with you today!!! Last week was Brian's birthday and his parents took the kids for a day so we could just hang out. It was AMAZING!!! I wanted to clean the basement and do chores, he wanted to relax and do nothing. Because it was his birthday he won and we found ourselves at the mall half way throughout the day! I found some of THE cutest things on sale at Old Navy and American Eagle, you've gotta hurry your buns to snag them though because they're gonna be sold out soon! *We also got a TON of cool clothes for Bri — would you guys be interested in a post about men's clothing?
Alright let's get into it.
American Eagle: I snagged a bunch of stuff from AE including this blush shirt you've seen me wear the past three days in a row. Their soft and sexy collection is amazing! You just gotta watch out for the length of their clothes, they tend to run really short.
I'm loving these Tee's — the Aerosmith Baseball Tee, the navy Rugby Tee and the It's Better in the Desert Tee! And then I bought this blush hoodie and have been wearing it with a distressed denim jacket. The one I have is from the Nordstrom Anniversary sale last year, it's the BP brand. This one from AE though is super similar and I just bought this lighter colored one too!
This bell sleeve top is SO CUTE, they didn't have it in the store or I probably would have snagged it, and I bought this embroidered top in the blush color. It looks short, but with high waisted jeans it fits perfectly! I also snagged a couple purses and have been wearing this flap bag NON STOP. This blush one also goes with everything, they have it in a few different colors at well. They're expensive bags but on sale right now for cheap, around $30!

A few favorites from the Old Navy sale include this Cactus shirt which is nearly identical to the madewell one I'm wearing. My friend was wearing this shirt a year ago and after wanting it for months and months I finally splurged, but spending $70 on a shirt is a little bit crazy. I LOVE IT and I wear it all the time, but if I had seen the Old Navy one, I probably would have gotten that one instead. The sizes are going fast, I think there is only Mediums and Larges left, but if you want it oversized like the madewell one, and you want to tie it, I'd probably say a medium is what you'd want if you're my size. That way it'll be a little bit slouchier and there will be enough tails in the front below the buttons to tie it up.
A couple other shirts from Old Navy I'm loving is this striped tie-front top, this tie-sleeve top and this chambray top is super cute!

My very most favorite brand of jeans are the Good American jeans. These jeans seriously fit like leggings, it's the softest most butteriest (is that a word?) jeans in the entire world! And then fit girls with a bootie so I love them even more! Here are a few that I really love: The blue 107's and you can't go wrong with a class high rise.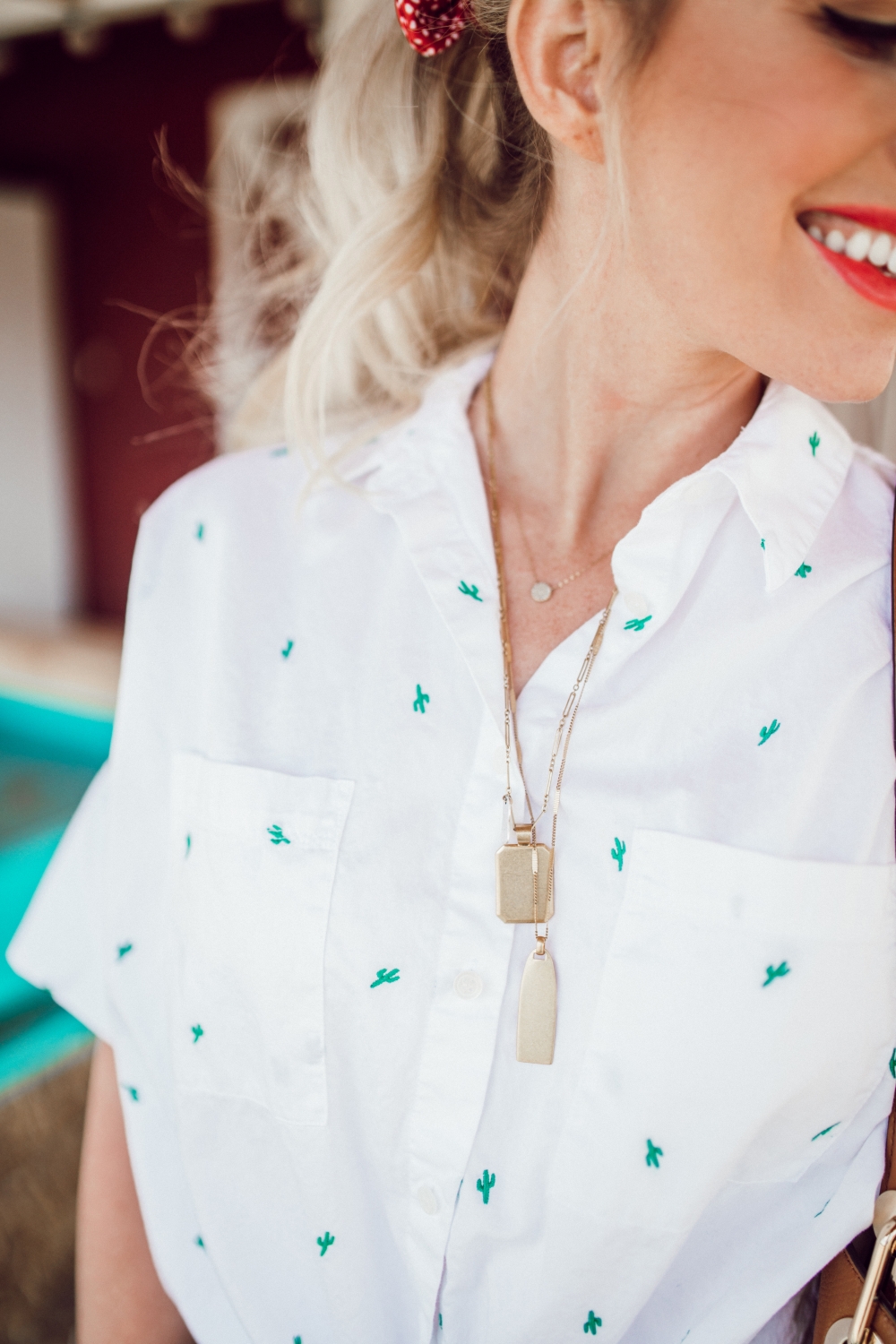 These necklaces are from Madewell! They were actually in my March favorite things video if you want to watch that here. I love them because they are three nice pieces of jewelry and you can either wear them all, or choose just one or two. The very top necklace is the Geo Necklace from Nordstrom. I haven't taken it off in over a year. It's hands down the best necklace I've ever owned. It's only fifty bucks too, you need to treat yo self and just get it already!
And I'm still a huge fan of these power gemstone bracelets from Nordstrom. I have a few different colors that I like to wear with my gold watch. I've had this one for a couple years now and it's still a favorite!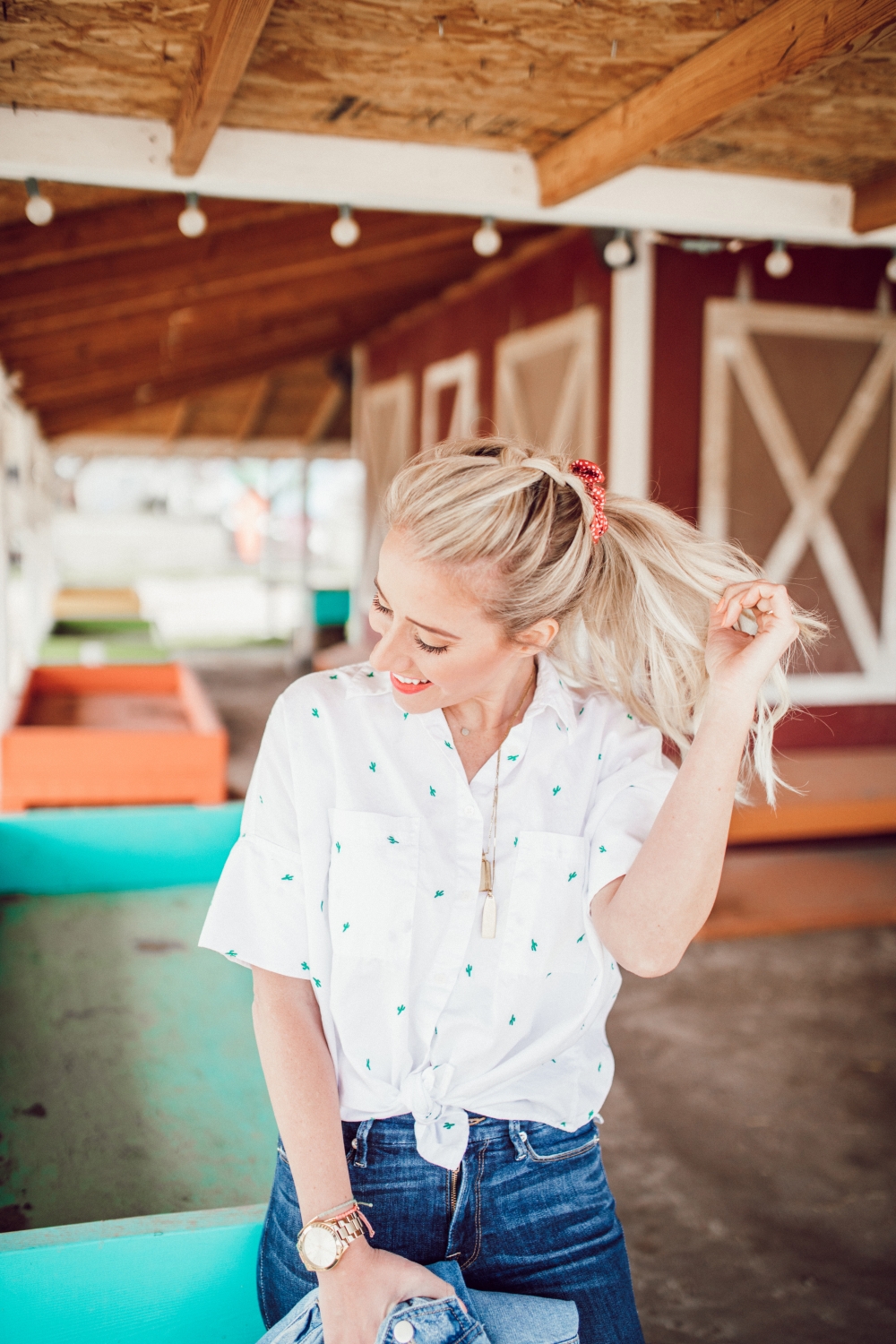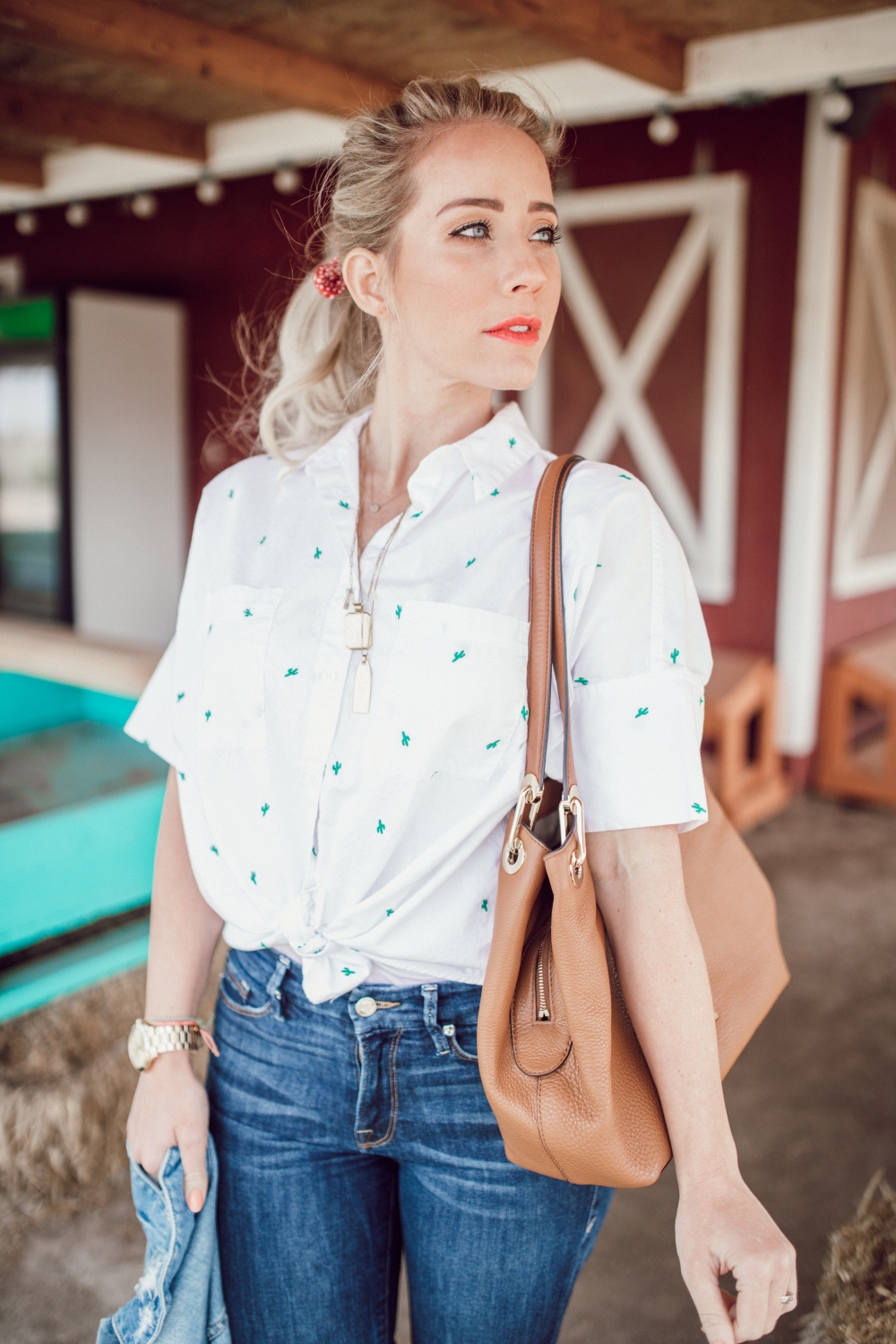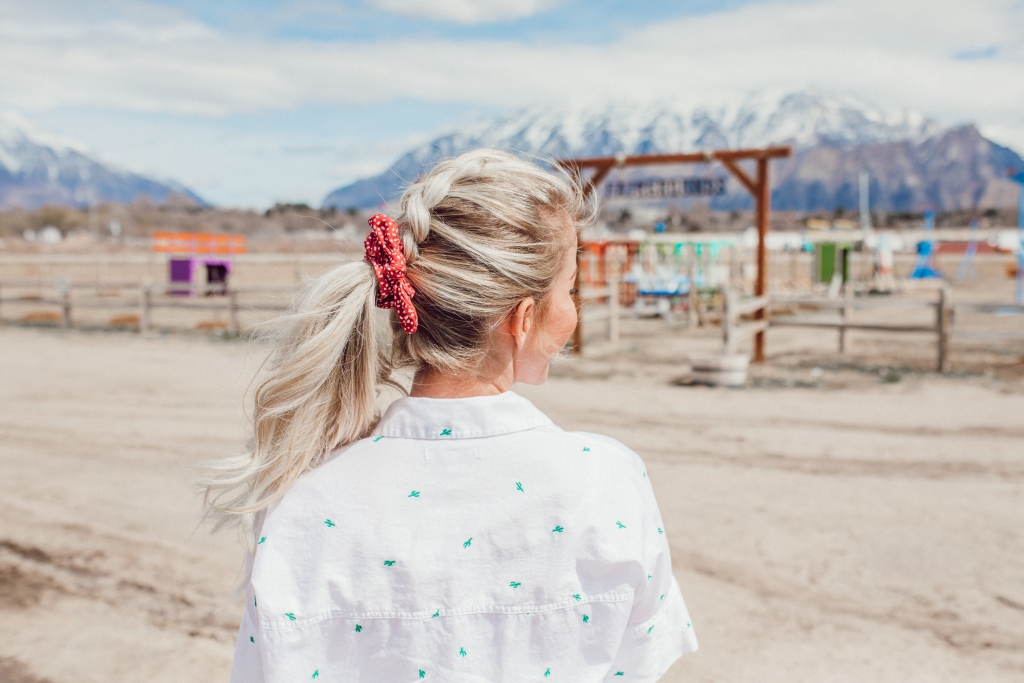 This braided ponytail is in my 7 ponytail hairstyles video — go watch it! Give you some easy inspo when you're hair needs to be up and out of your face!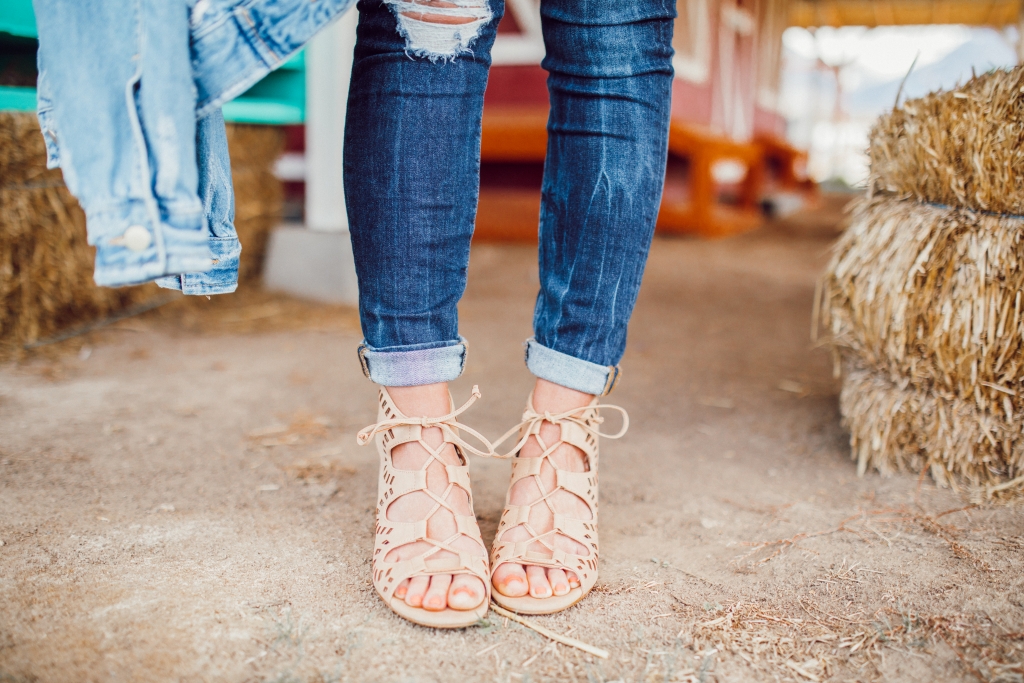 I spotted these wedges for less than $60 at Nordstrom. I like them because they're caged so they're easy to wear and the wedge is also low so I can wear them for several hours without even feeling it. UPDATE: The ones above are kid ones haha! They looked just like the ones I purchased last year! Anyway, don't get them. Found a few similar options here, here, and here. I also love these wedges, they're half the price of these ones that I bought last year and honestly I think they're cuter haha! And then I just bought these sandals, I feel like they'd be good sandals to wear all summer with the kids and they'd go with everything!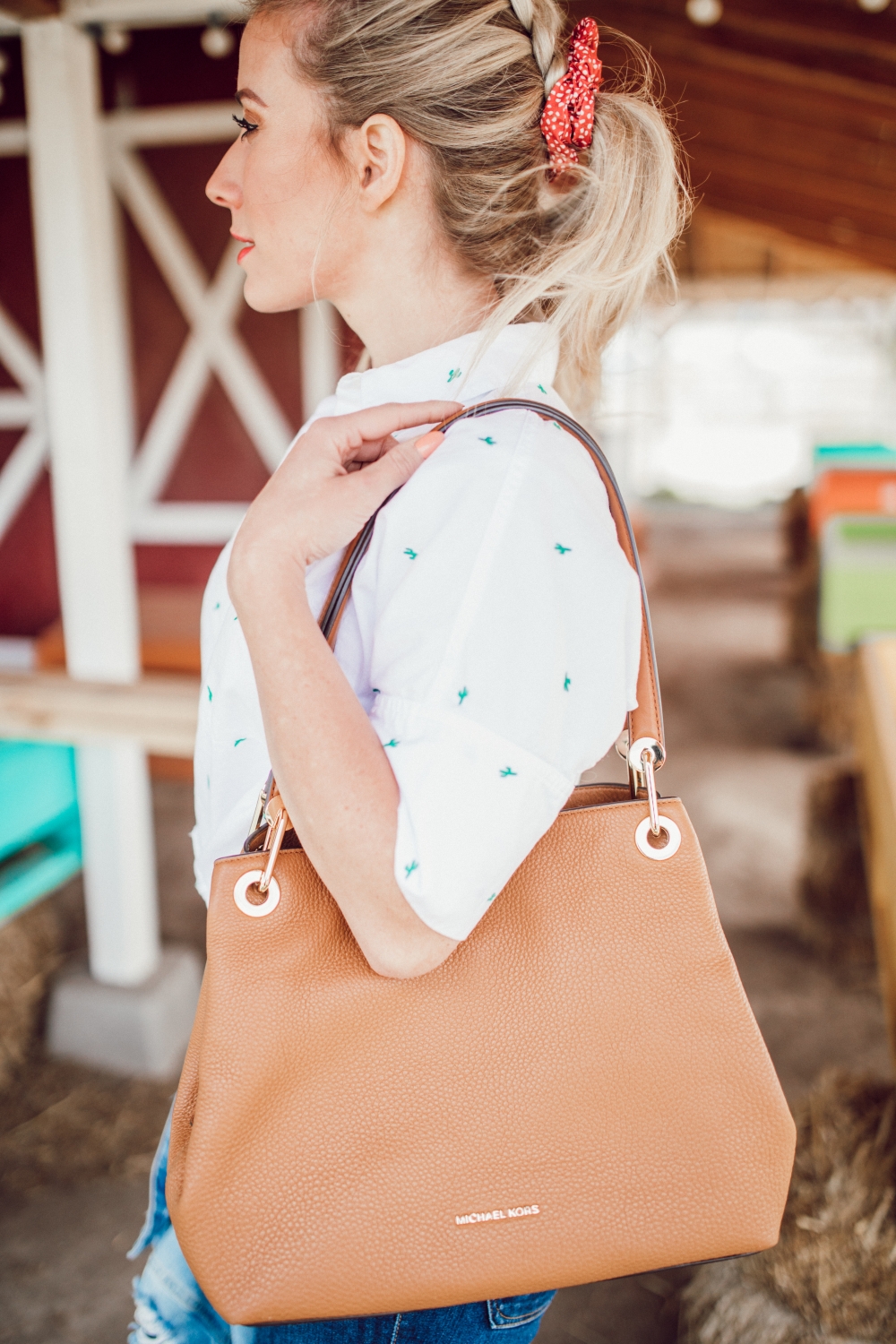 I snagged this bag during the Nordstrom Anniversary sale last year. Anything similar is too expensive, I can't even list the links. I think I paid under $200 for this one and I wouldn't pay more. I have this bag, and the Freshly picked diaper bag, that's it for nice bags! The rest I find on sale at places like old navy and american eagle.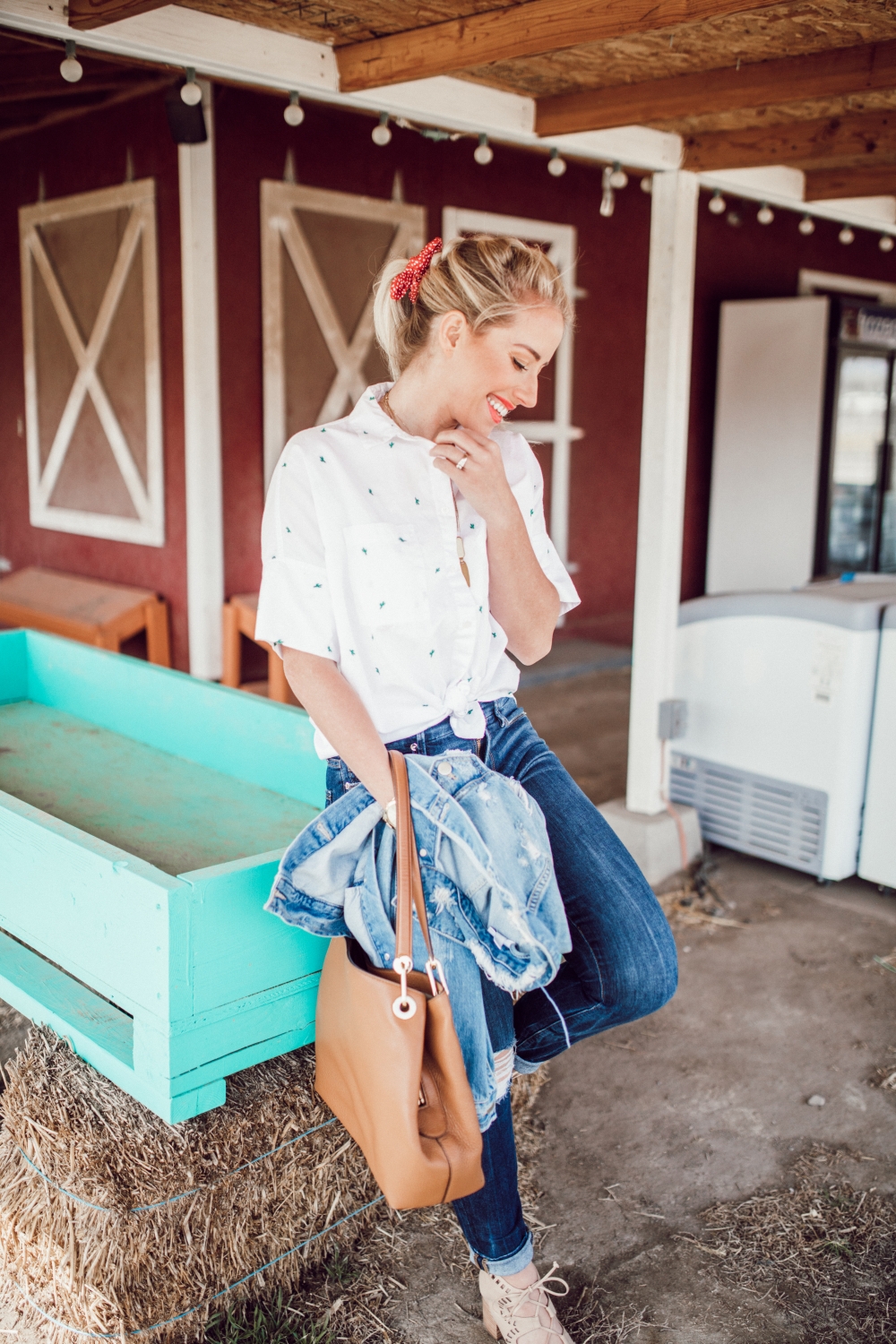 Okay PHEW! I think I got it all! Did I miss anything?! For these outfit posts I'm gonna start sharing more sales and affordable options. We made a goal to really work on our budget and start saving more for things that matter. Trends change so frequently that it's just not worth it to spend a bunch on clothing. Unless it's a staple piece I'll wear season after season. Have any of you heard of a capsule wardrobe? I've been looking into those like crazy and feel like maybe it's time to put in the time and make one for myself. Have you done a capsule wardrobe? Tell me all the things!
Until tomorrow babes!
XO