Fashion doesn't come to me naturally.  When I'm not wearing a tee shirt, skinnies and toms it's because I've tried on every single piece in my closet and I've tried really really hard to throw something creative together.  Fashion is something I feel like I'm constantly trying to figure out.  I have to think hard about accessorizing and while I know how important layering is, I sometimes shy away in fear of it looking too bulky.  I haven't done many fashion posts that are conducive to mom life.  I'm usually in heels or high wedges and I'm also wearing accessories that would just annoy the crap out of me at the park!
This summer I'm going to focus on a more casual style.  I've run into the problem that I have a lot of nice clothes that I can wear outside of being mom, but zero cute mom clothes.  I just have such a hard time spending money on clothes that will most likely get stained, clothes that I'll have to wash after each wear because they'll smell like outside and clothes that no one but the kids will see me in!  Here's the thing.  There are different stages of motherhood.  I feel like I'm just now getting out of the baby stage.  We're all sleeping through the night, I'm not nursing, my kids can pretty much feed themselves (when they choose to eat) and our routines are pretty solid.  It's time I start investing in casual clothes that I can wear out to run errands in, go grab lunch with friends, or to simply just take the kids to the park.
In my attempts to find a creative, casual style, I've put together two outfits that I'd wear while at home with my kids or out and about.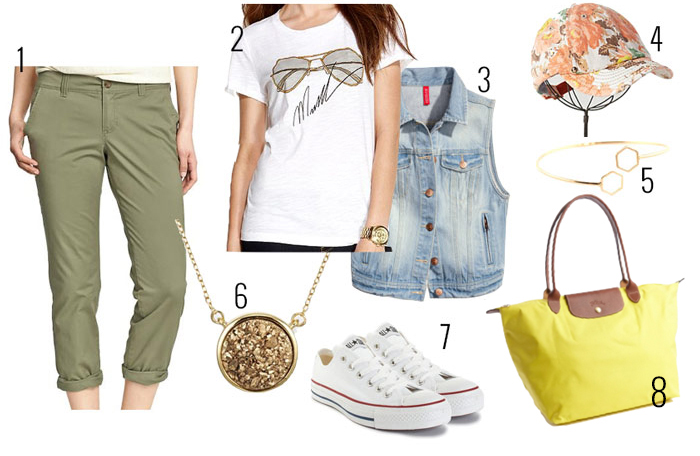 There's nothing more casual than a graphic tee and a baseball cap.  To make it more "creative" I've layered it with a denim vest, a bright tote and some simple jewelry.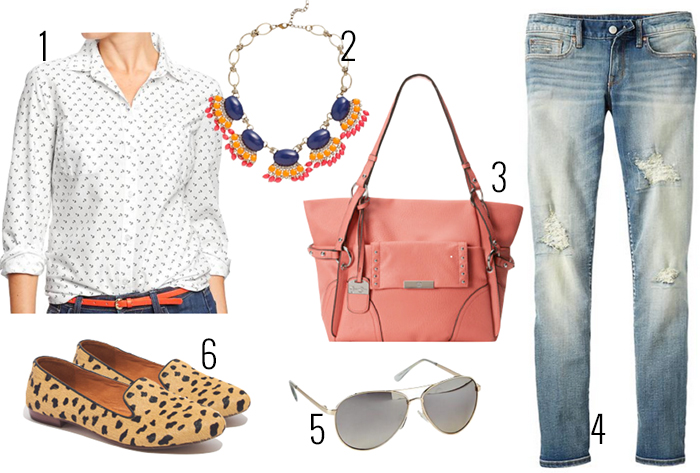 This look is a little fancier but I seriously love it.  That bag?!  AHHH!  I love that bag.  The loafers are just like wearing toms and the jeans basically fit like leggings.
I'm excited to start looking for new pieces to freshen up my mom-iform.  Do you have any casual pieces in your wardrobe that you can't live without?