Click here to watch the video. While your there make sure to SUBSCRIBE!
The past few weeks have been nuts! As soon as I'm able to spill the beans (and no, I'm not pregnant… or am I? haha jk) you'll be the first ones to know! It's literally been one thing after another. When those busy days or weeks come it's important to have a couple quick go-to hairstyles up your sleeve. I've found that if I have a hairstyle in mind before I hop in the shower it takes me half the time to get ready. While in the shower I also figure out what I'm going to wear… is that weird?! It seriously streamlines my morning though. My mind is made up, I don't waste time trying to figure anything out, and as a mom if I can squeeze in 15 extra minutes sometimes that makes all the difference. I love how simple this braided bun/chignon is and how it takes less than two minutes to style. It works with clean or dirty hair, curly or straight and you pretty much can't mess it up. Now that's what I call the perfect hairstyle!
I filmed this exact tutorial last week only with straight hair. For some reason the video didn't turn out so I did it again today with curly hair. Thought I'd throw in these pictures so you can see what it looks like with straight hair. It's still so cute, the texture just isn't there.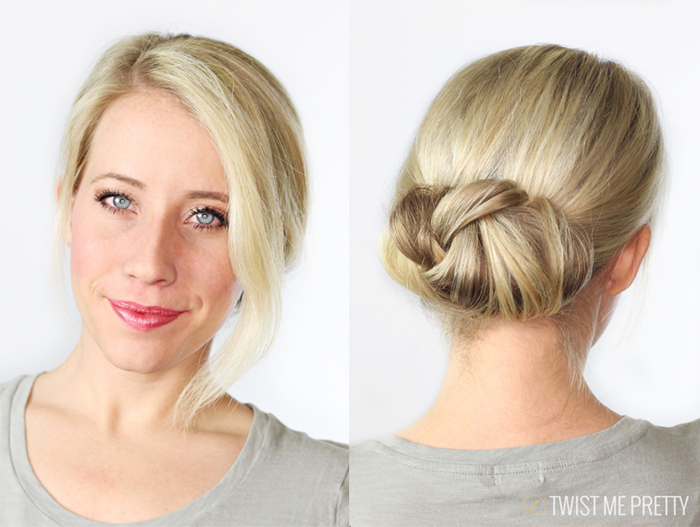 Click here to watch the video. While you're there SUBSCRIBE to my channel! Oh and you don't want to miss this video because I have a suprise guest for you…
We're going to Disney Land next week and I bought a couple princess dresses for Savy. She is obsessed with twirling around to the music that the little broach plays. I got a couple dresses from Kohls and decided to spend the extra $8 for the Disney brand. WELL worth it. They're much higher quality and that music box is seriously the cutest thing! You can bet I'll be blowing up your instagram feeds, so just know that you have been warned haha!!
Any tips or secrets I should know about Disney Land? What are your kids favorite rides? xoxo