Photos by Trina Harris Photography
Shirt: Target | Jeans: Gap | Wedges: TJ Maxx | Bag: Macy's (old) | Necklace: Forever 21 (old)
Right this very minute I'm on a plane heading to Cleveland, Ohio.  Brian's been offered a job near Avon Lake and the company is flying us out to visit before we make our final decision.  Any readers from Ohio?  It's scary to think about leaving Utah… Our families live here, our traditions are here and all the things we love are here.  I'm so excited for the next chapter in our lives and so grateful he's been offered this amazing opportunity, but it's definitely overwhelming and so scary to think about leaving the only place I've ever called home.  
The other day I was at Target and came upon this $12 polka dot tee.  I had to share it with you because it's one of my new favorite pieces.  And it was $12, so that's always awesome.  I naturally gravitate towards tee shirts because they're safe.  They're easy to wear, they're usually a decent price and they can be dressed up or down depending on the event.  I quickly threw a little collage together of how I'd style this tee shirt three other ways.  What do you think, what outfit is your favorite?  The polka dots are fairly large so I didn't want to pair the tee with another large pattern.  A small floral pattern, thin stripes, even small polka dots would be so cute to mix with this tee.  I think my favorite style is the middle one.  Layering the tee over a short sleeved chambray shirt, tucking them into a bright skirt, adding a belt, a clutch and some wedges makes for the perfect outfit!  How would you wear this tee?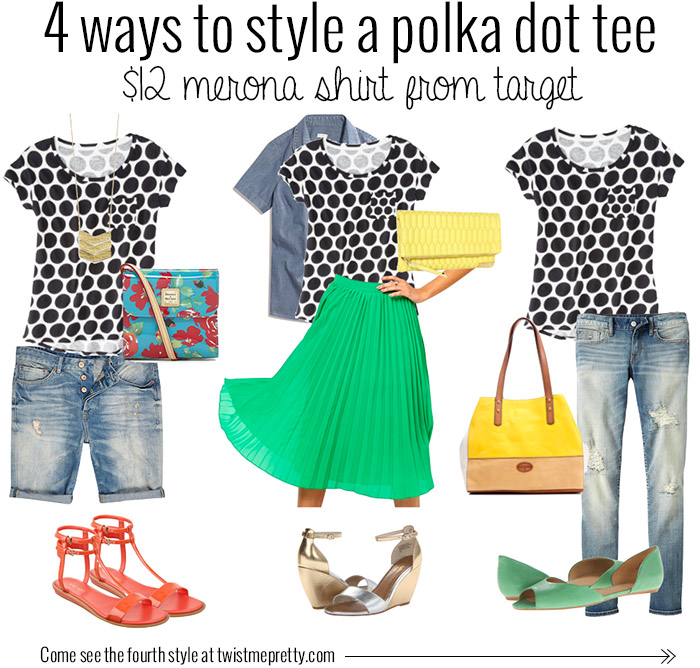 Outfit #1: Polka Dot Top | Distressed Shorts | Coral Sandals | Necklace | Floral Bag
Outfit #2: Polka Dot Top | Chambray top | Green Midi Skirt | Sandals | lemon clutch
Outfit #3: Polka Dot Top | Gap Jeans | Green Flats | Yellow Bag