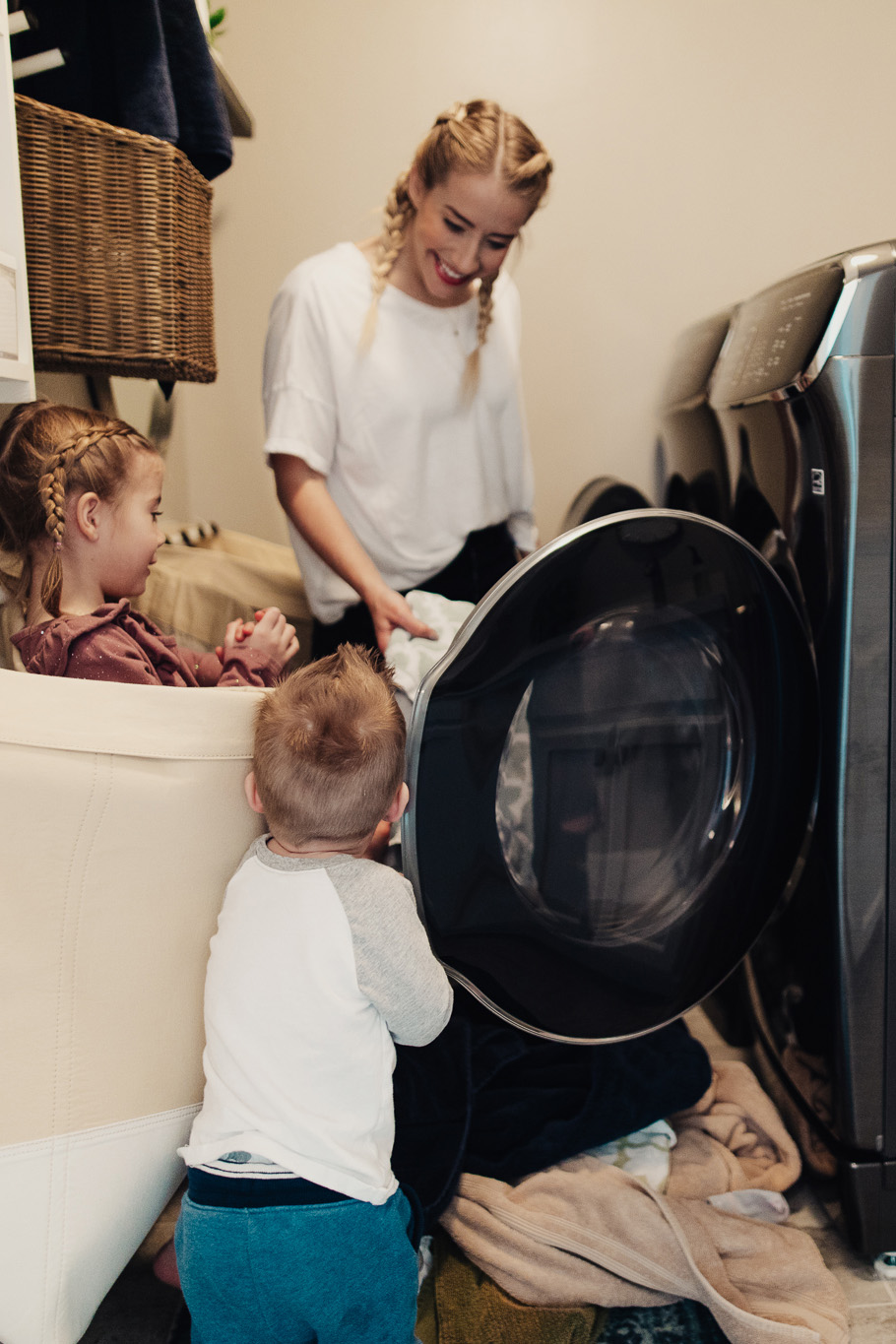 Hey everybody!!! A while back, I snapped little bits of my laundry room, the beautiful painting I ordered, and the hanging organizers on my wall, and my most favorite part – my new washer and dryer. I thought I'd do a little reveal of sorts and also share how I stay on top of my laundry.
First off, this space was really challenging to figure out. It's extremely narrow and fairly long + there's absolutely zero natural light near the space, so it just feels dark and ominous. I had such a hard time when we moved in because our laundry baskets took up too much floor space and I couldn't keep piles organized and laundry moving to save my life! I'm really happy with how it turned out and can't recommend the Samsung Flex Washer and Flex Dryer + the Gabrielle Laundry System from Pottery Barn enough. So, let me show ya around!
From this photo, you can see just how narrow the space is. Eventually I'd like to paint this room a bright white so that it brightens up the space. I'd also like to have some contractors come in and pop that wall behind the FlexWash and FlexDry back just a bit so that they're flush with the cabinets.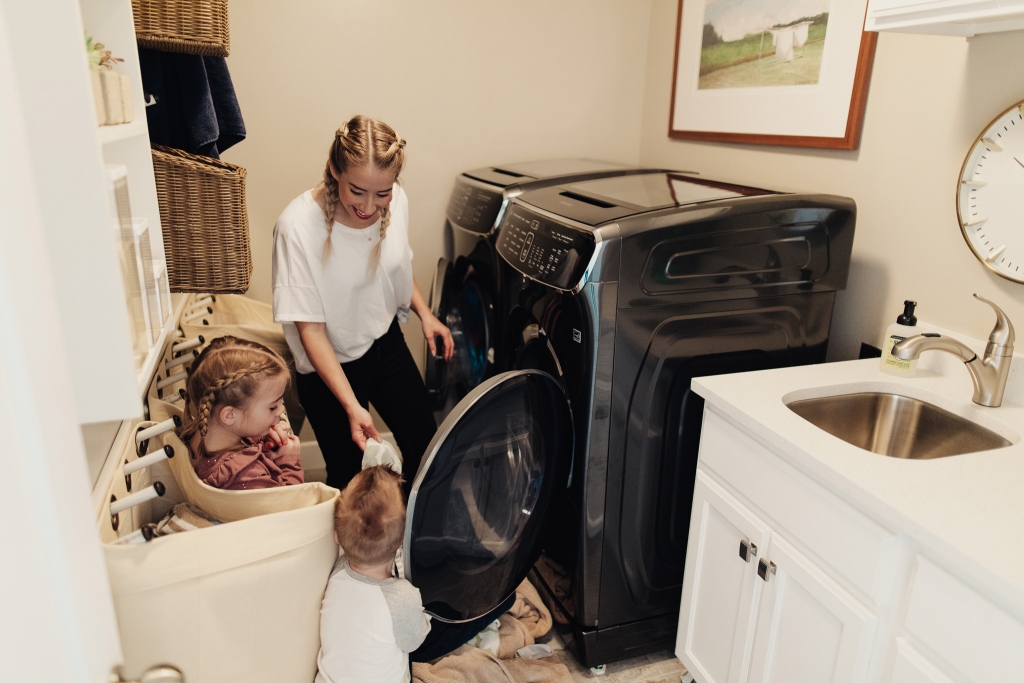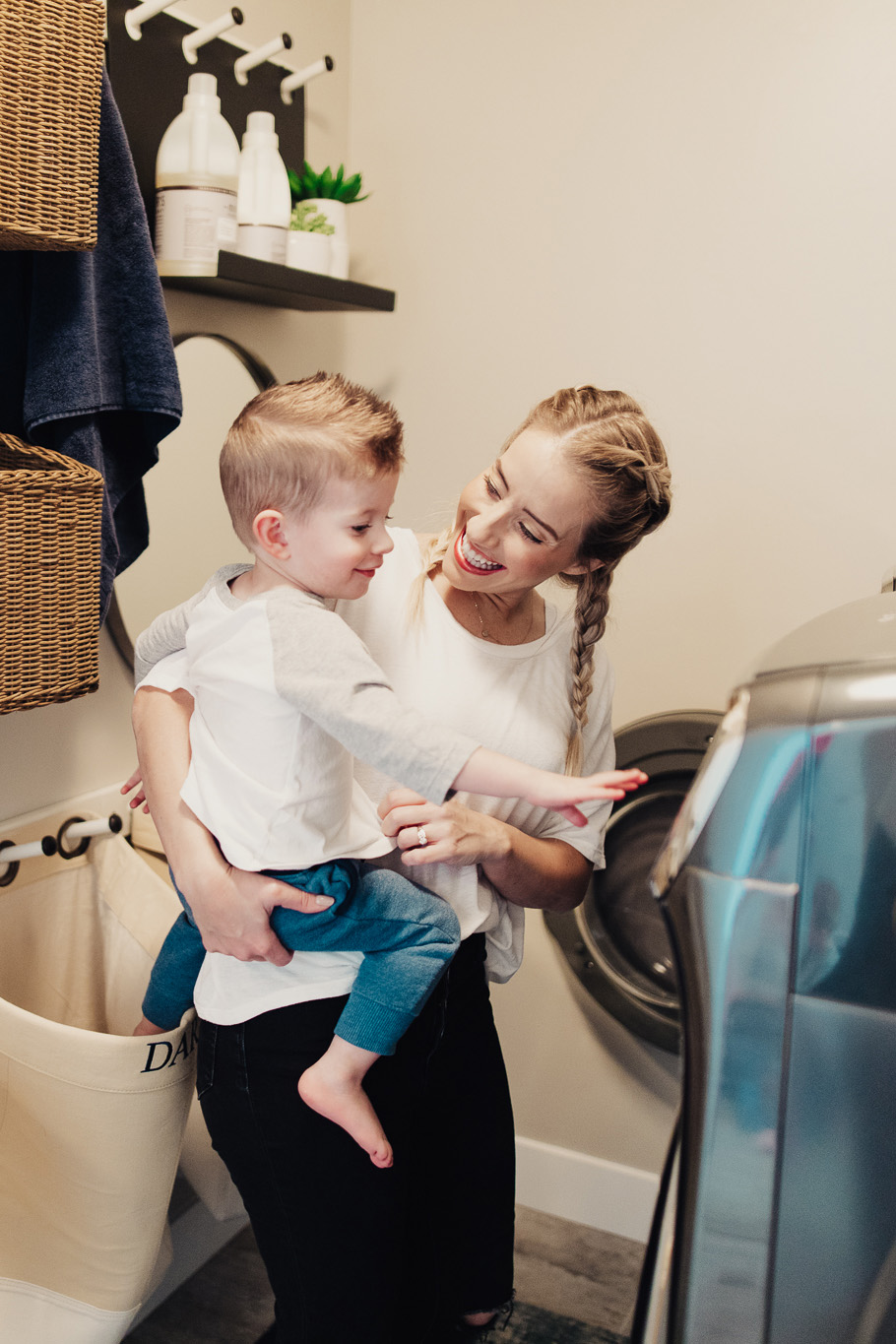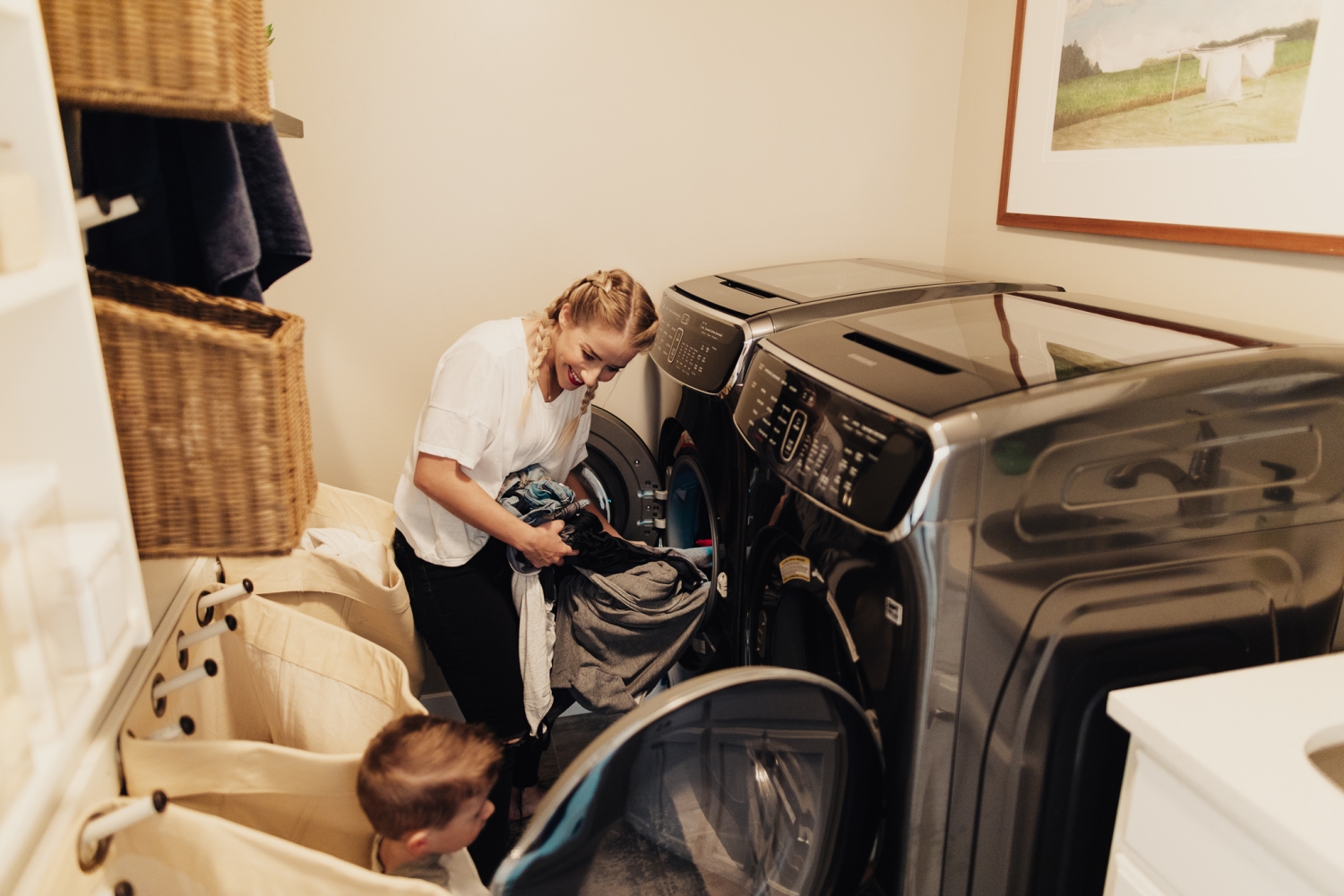 So let's talk about my washer and dryer + how I manage our laundry. When we bought our home I wanted to fill it with nice appliances that would last me a lifetime. After researching online I came across the Samsung FlexWash and FlexDry. I was immediately IN LOVE! Like, the type of love that keeps you up at night; the kind of love that has you gossiping to all your friends and daydreaming of when you would be together. No joke. So when Samsung gifted this duo to us, it was like a dream come true!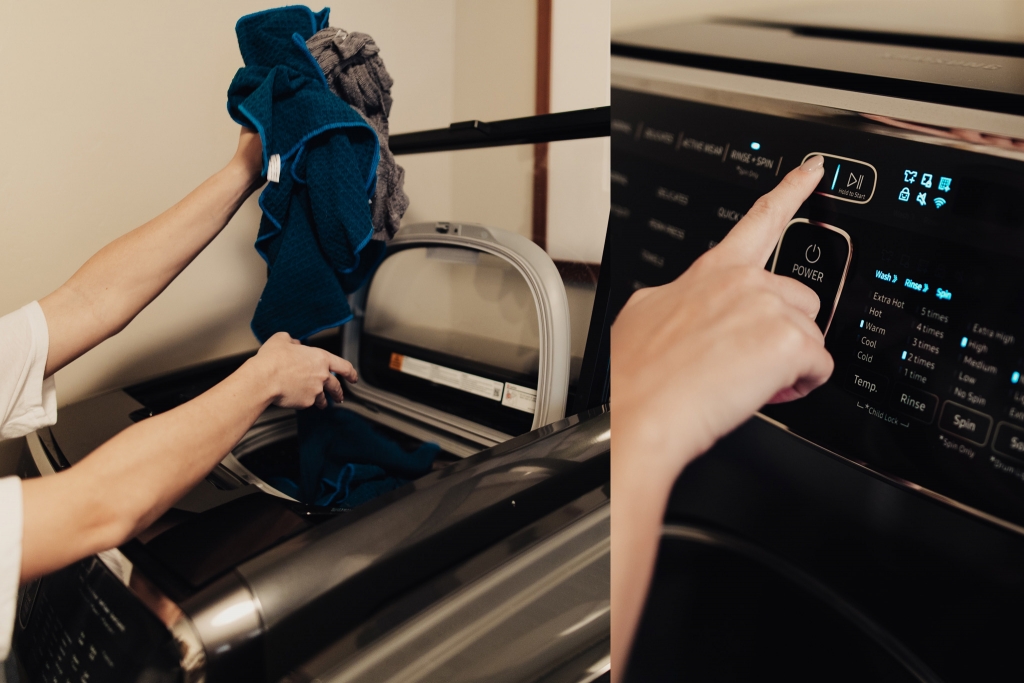 Let me tell you a few reasons why it has stolen my heart. First of all, it's got two washers and two dryers in each unit. I'll let you try to wrap your mind around that one for a second haha!!! So there's a small washer on top of the main washer, which has a HUGE capacity by the way, which is so perfect for our family. Sometimes I just need to wash a small load of rags, but the washer is already working on a large load of our whites! It's perfect for when I have a bra or sweater, swimsuits, blankets, a stuffed animal, or uniforms that need to be washed but won't take up an entire load. I love that I can finally get those smaller loads of laundry out of the way but keep our main laundry progressing.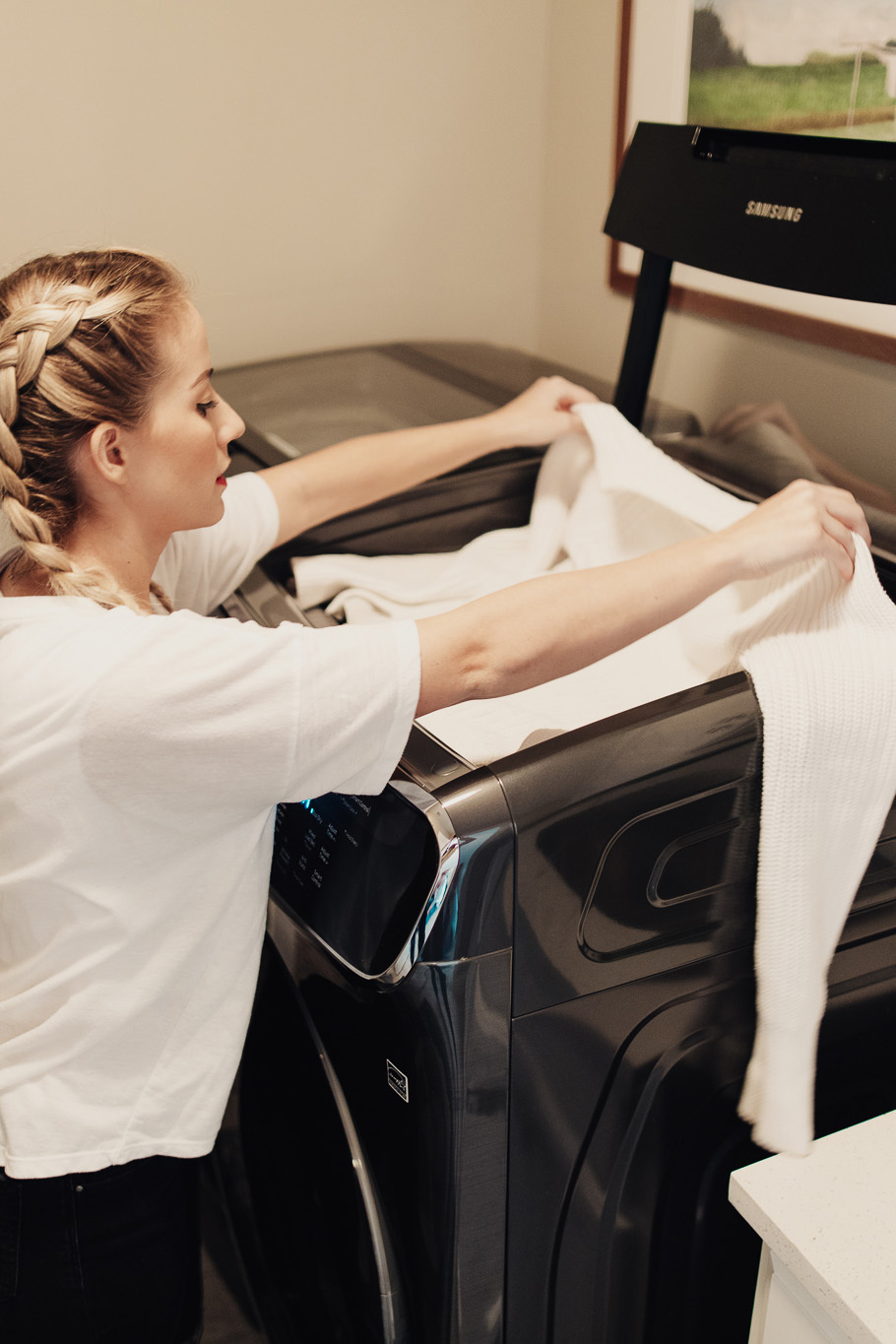 And then there's the second dryer, which Samsung calls the Delicate Dryer. If you air-dry a lot of your clothes, you'll be obsessed. It's not a tumble dryer; rather it's a place where you can lay items flat to be dried. So I use this space for my sweaters or blouses that I usually air-dry. It's also perfect for things like stuffed animals, bras, swimsuits and hats!!! It's great for any accessory or delicate item that could use a little bit of heat to dry.
I also love being able to control our FlexWash and FlexDry from my phone. I can monitor remaining cycle time, get alerts when the cycle is complete, and schedule cycles from anywhere!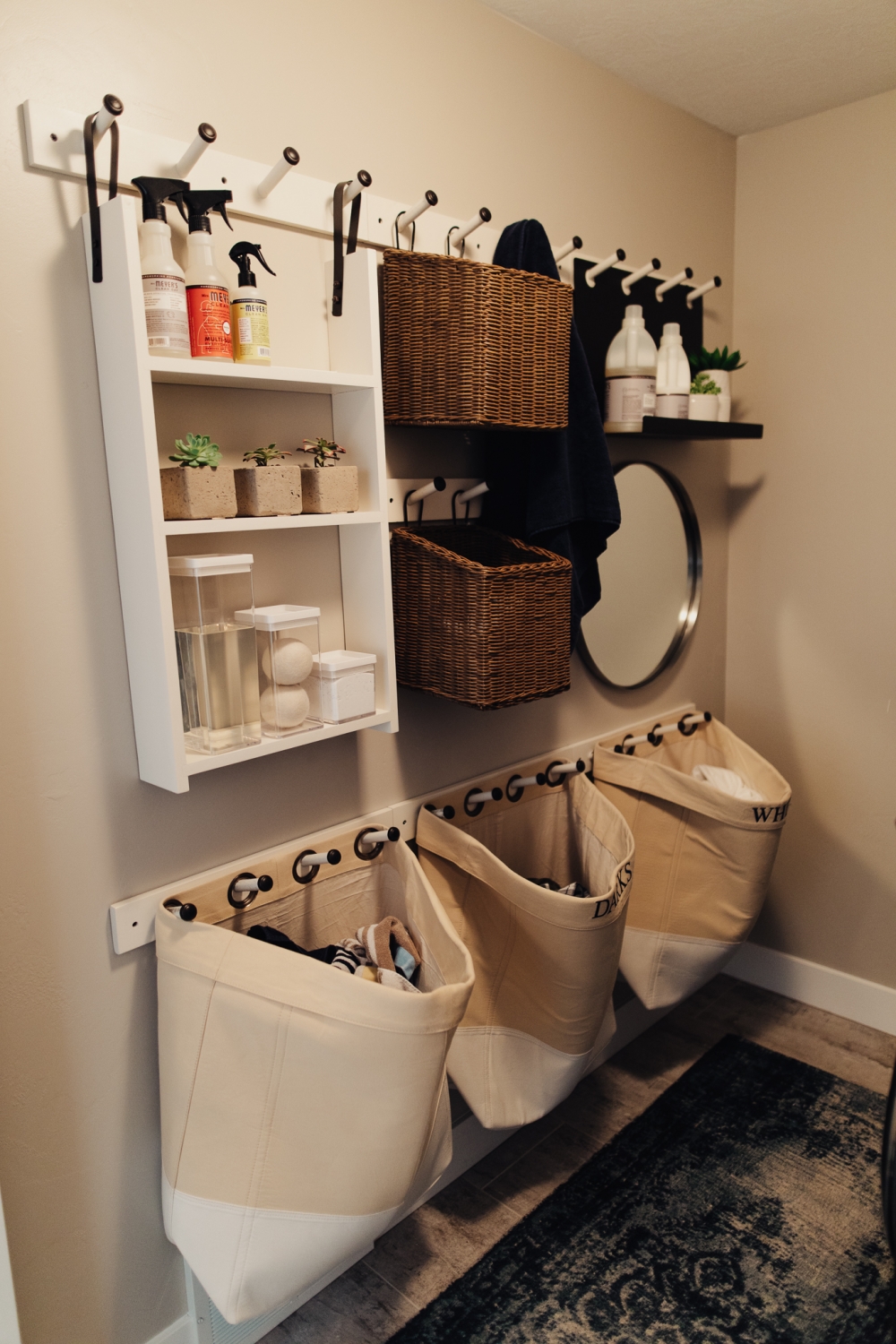 While trying to organize this space, and searching Pinterest for inspo, I happened upon the Gabrielle System from Pottery Barn. IT WAS PERFECT!!!! I had tried taller baskets but everything just took up too much space on the floor, and that's something we're lacking in this room. I ended up getting several peg rails, three canvas hanging hampers, the metal shelf on the far right, two hanging utility baskets to organize socks + underwear, and the wood multi shelf. I left a spot open for my silver Ikea mirror, in hopes it'd make the room look bigger, or for the occasional scare when I see myself after a long day of kids and messes haha! I had actually purchased the hanging tray basket but it's a lot deeper than the utility baskets. So I returned it and ended up loving the free pegs to put towels on or shirts when the dryer is done so they don't wrinkle.
I've been so happy with not only how this space functions, but how sturdy the hampers are! I was nervous they'd pull off the wall if we filled them too full but they're great! I liked the peg system so much I ended up putting a similar set up in our master bathroom, I have 8 pegs to hold two hampers and then 8 pegs above it to hold all of our hats!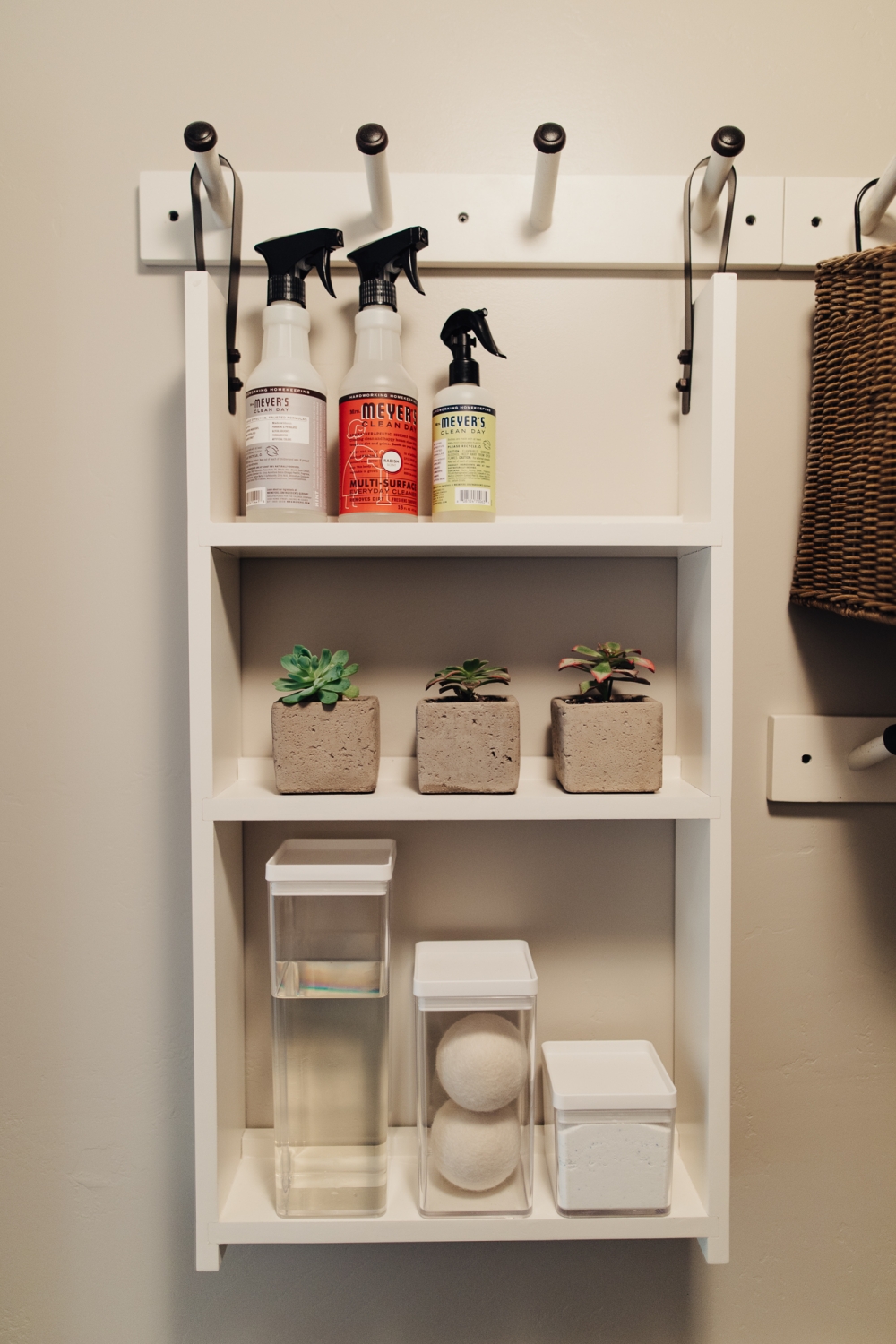 In terms of cleaning products, I genuinely love Mrs. Meyer's products. The All Purpose Spray in the scent Radish is one of my favorites! I actually have a subscription to the Grove Collaborative, a site that auto ships products we use a lot. The deals are better than buying them anywhere else and they have some really cool products like the wool dryer balls (there in the middle on the bottom shelf). I use those dryer balls when I'm drying our sheets and quilts; they prevent everything from wrapping up together and never drying. The little clear containers are from Target and I have detergent on the left side and oxy-clean on the right side. I like to make a paste out of the two for stains. I also really love Shout to help with stains!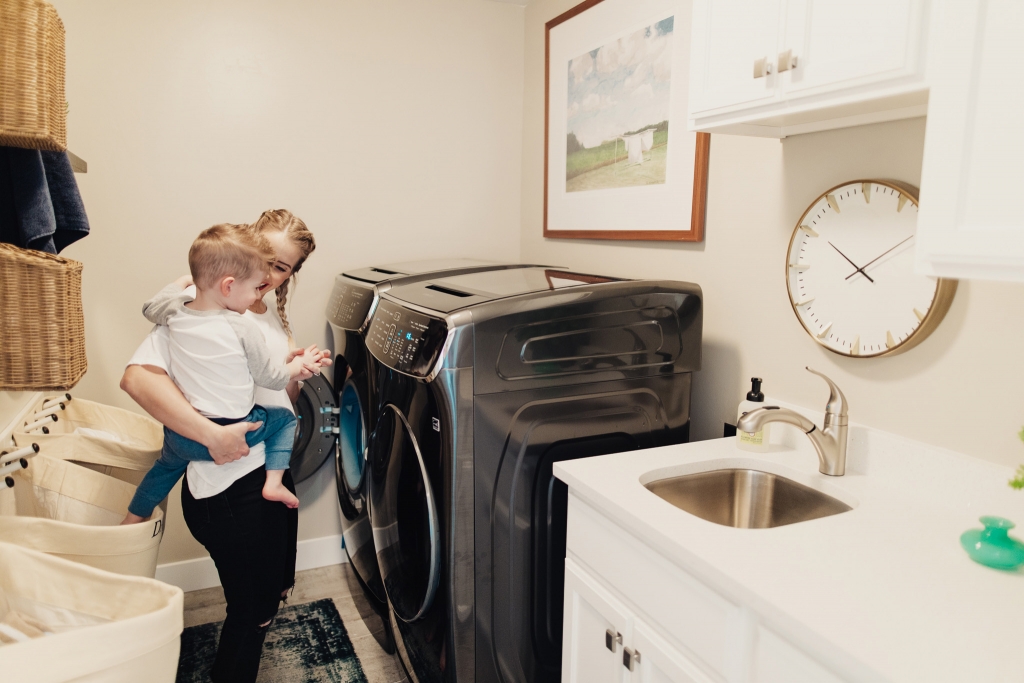 My little clock is from Target and my most favorite painting is from the sweetest shop on Etsy, The Naptime Artist. I had it framed by Framed and Matted and when it came I was so excited! It was such a peaceful painting… thought it could help calm me down while managing 4 kids and mountains of laundry? It wasn't a bad idea at least haha!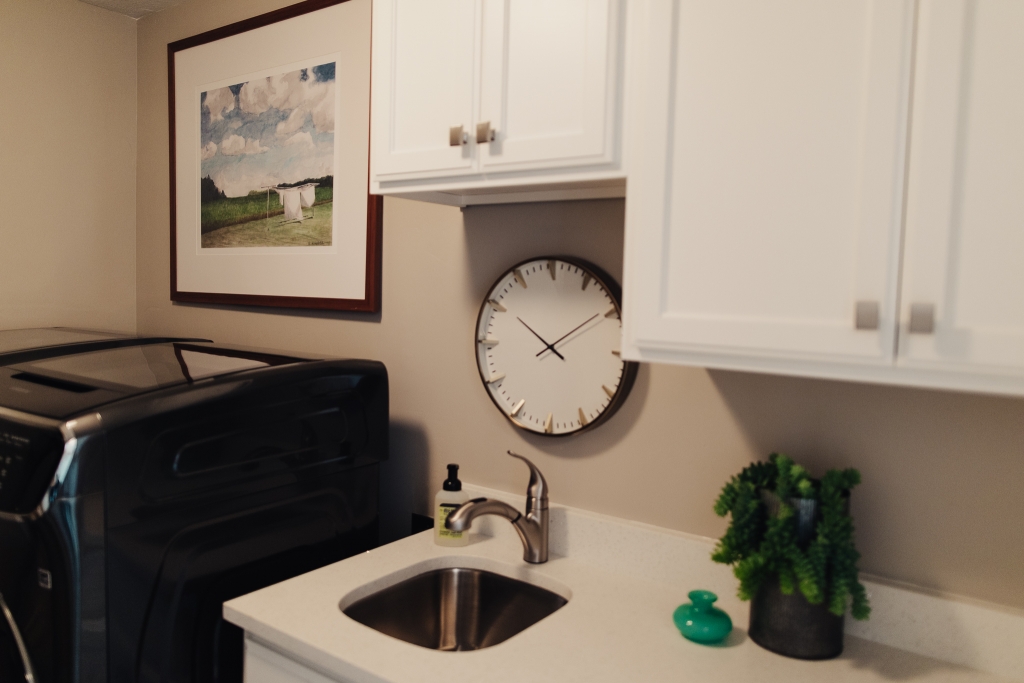 Now that I've talked about the décor and the washer and dryer, it's now time to chat laundry. We have so. much. laundry. I've found that doing mass loads vs. a load per day works better for our family. I do one giant load of whites, and the main tub in the FlexWash is ENORMOUS so I can usually get away with just one load of whites. In any other washer I'd have to split it up into two loads. Then I do a giant load of darks, reds, towels, and sheets. When everything is dry I just throw it on the floor. I know, can you believe it?! So I'll have maybe 5-7 giant loads of clean laundry on the floor. Meanwhile, I'm washing all those smaller loads in the top washer. But at this point I'll call the cavalry for backup. I have Boston and Savy help me sort it. We usually do this when the twins aren't around because let's be honest, they're crazy.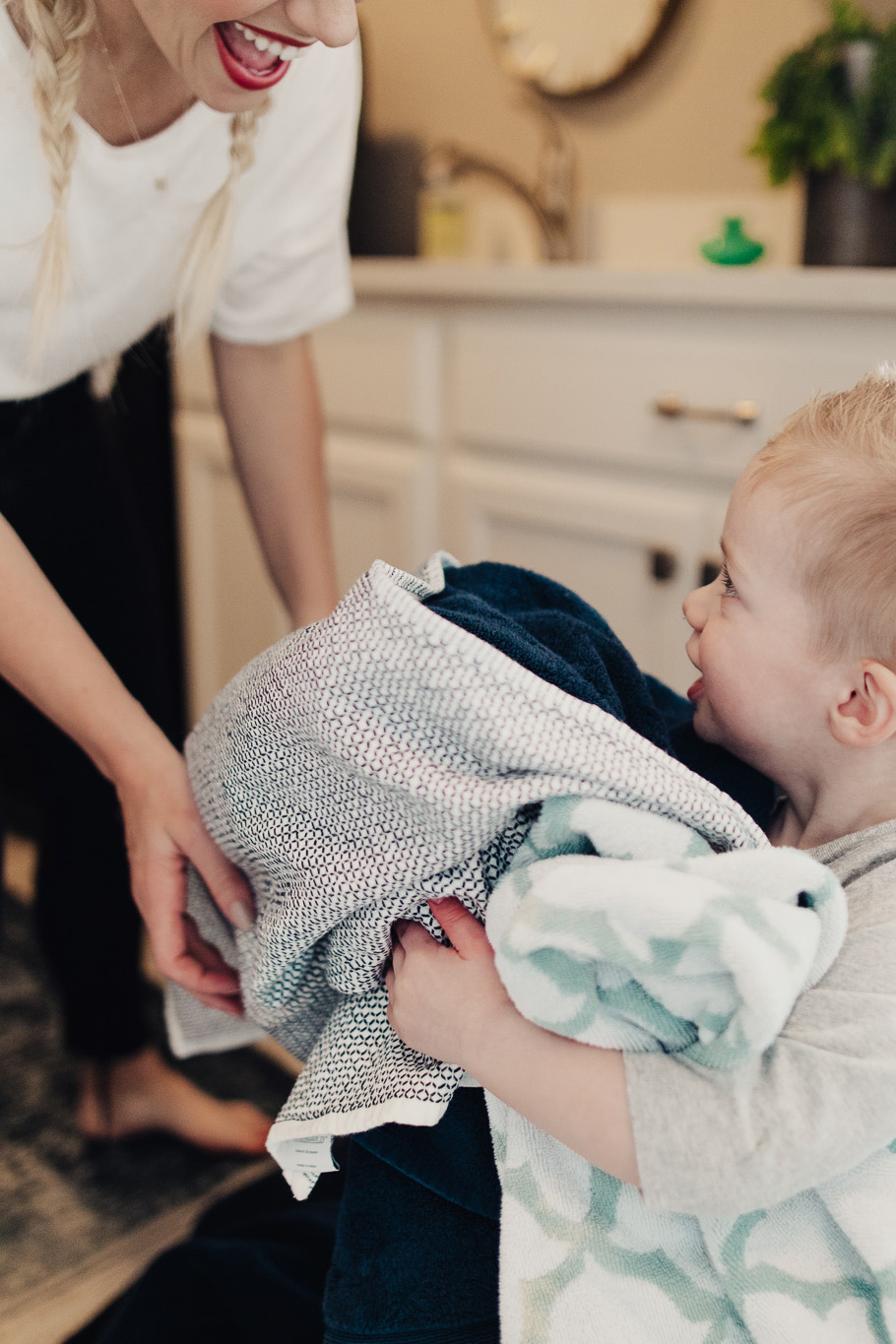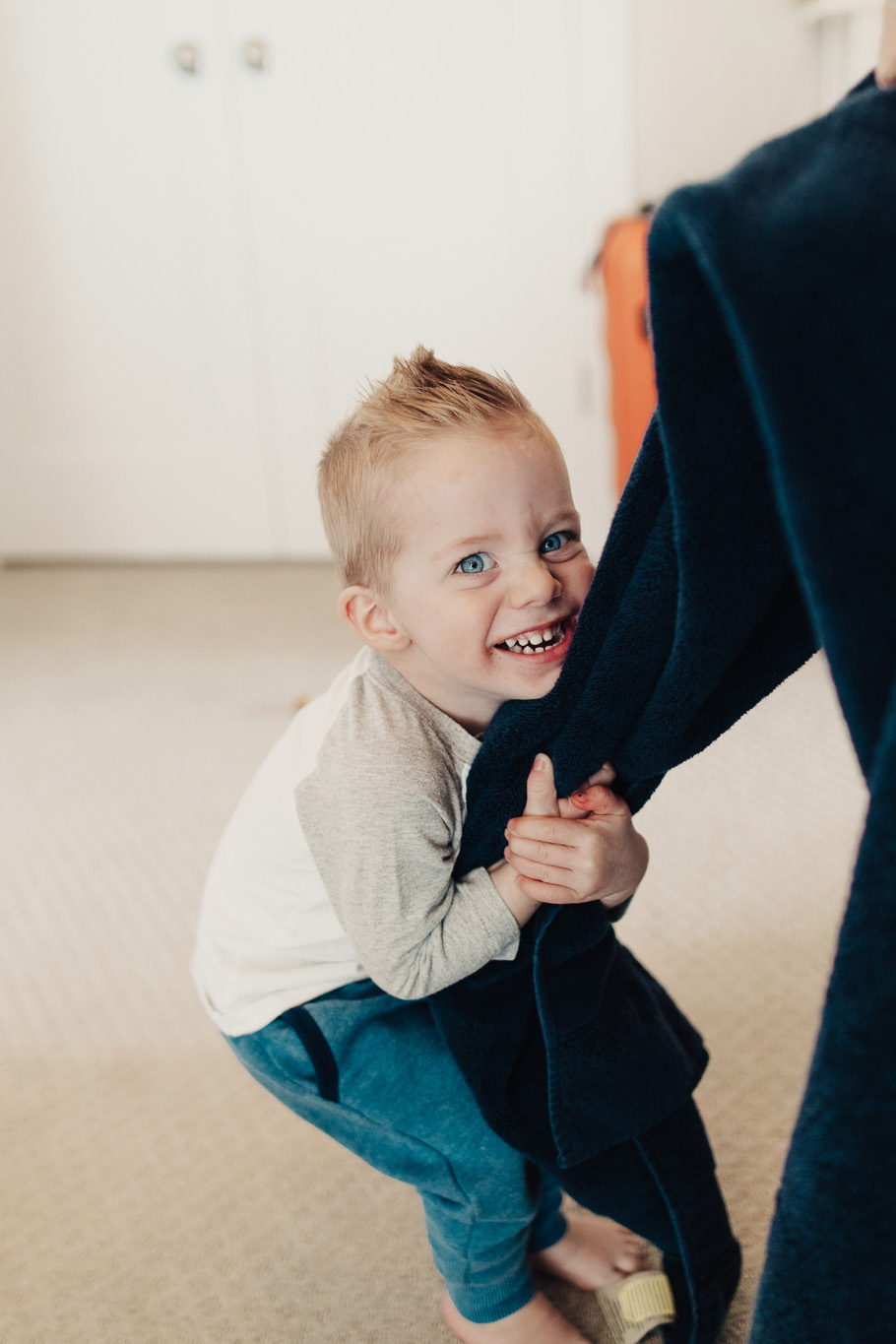 But so cute.
So we pull all the clean laundry out of the laundry room and onto our rug that's by our couch just right outside the hall. Then we sort. I start the piles for them and make one for me, Brian, Boston, Savy, the twins, and then towels and rags. It's honestly such a great activity that helps them learn how to sort, and it's something super easy that they can do and feel confident in. So once or twice a week we just move everything out of the way and make a mess with the laundry!
And then I'll either fold it while they play, one pile at a time, or sometimes I'll do it at night when they're asleep and I'm binging Netflix. Or I'll have Sydney help me fold it during naptime! Sydney is seriously part of our family – we love her so much!! She goes to school here in Utah County and comes over a couple times a week during naptime to catch me up on the dishes and laundry. She'll clean up the toy room and just help me organize my crazy life. I remember the days when I had no one and every day she comes I'm so so grateful. It's also great having her around, because if I need to run to the grocery store or volunteer in Boston's class at school, I can do it while she's here and the twins are asleep.
One thing about being a working mom is trying to manage the house and all the chores + take care of and spend time with the kids + work somewhere in between!!! It's been so great to have a little bit of help with the house, because where I won't sacrifice is time with my kids. Also having a great laundry system like the Samsung FlexWash + FlexDry makes staying on top of our family's laundry needs an absolute breeze!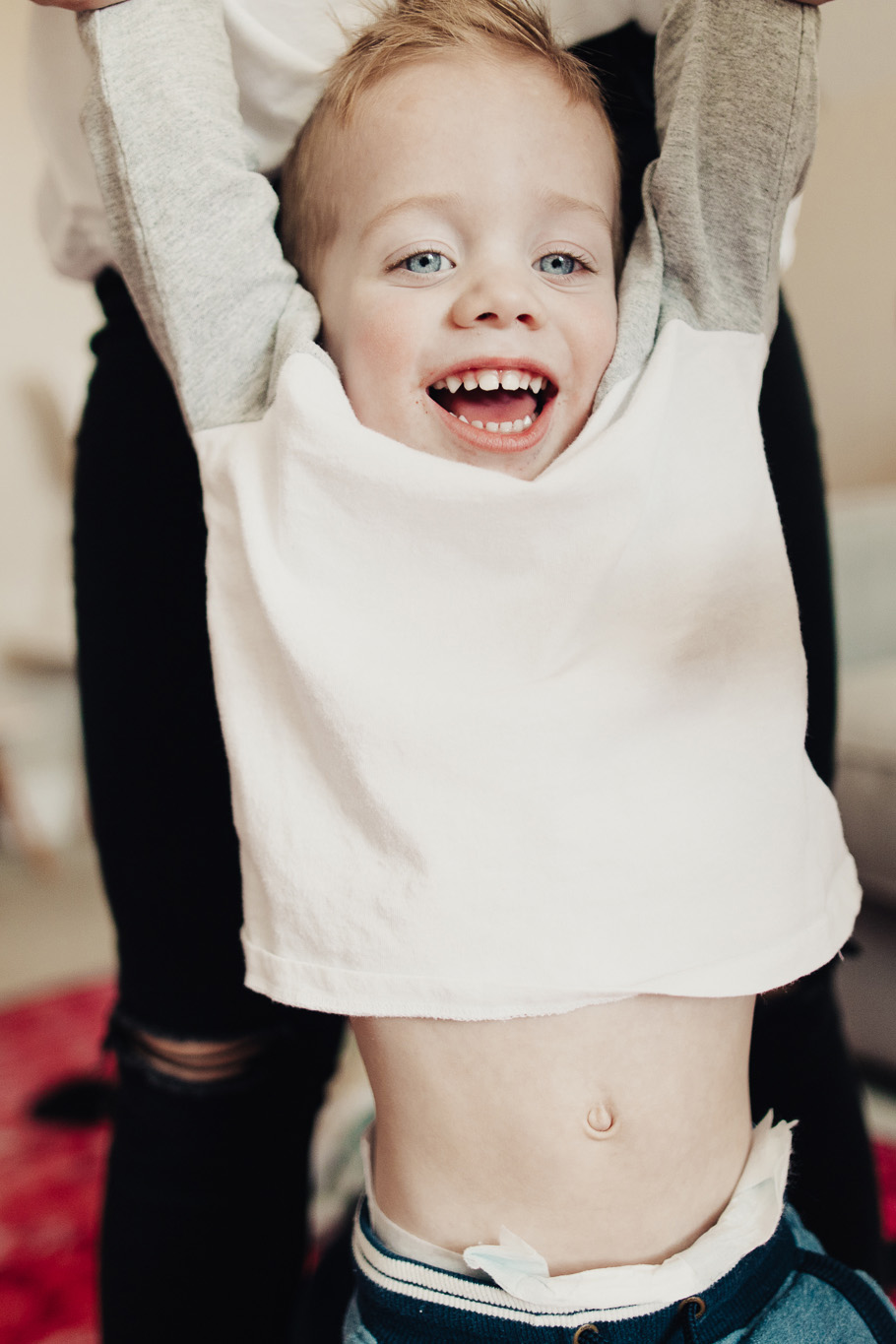 How do you stay on top of your laundry? Do you save it all for one specific day, or do you do a tiny bit at a time? I have so many friends who prefer to do one small load a day to stay on top of it, but I'd rather just binge fold for an hour while relaxing to some TV!!!
Thanks to Samsung for sponsoring this post. All thoughts and opinions are my own!