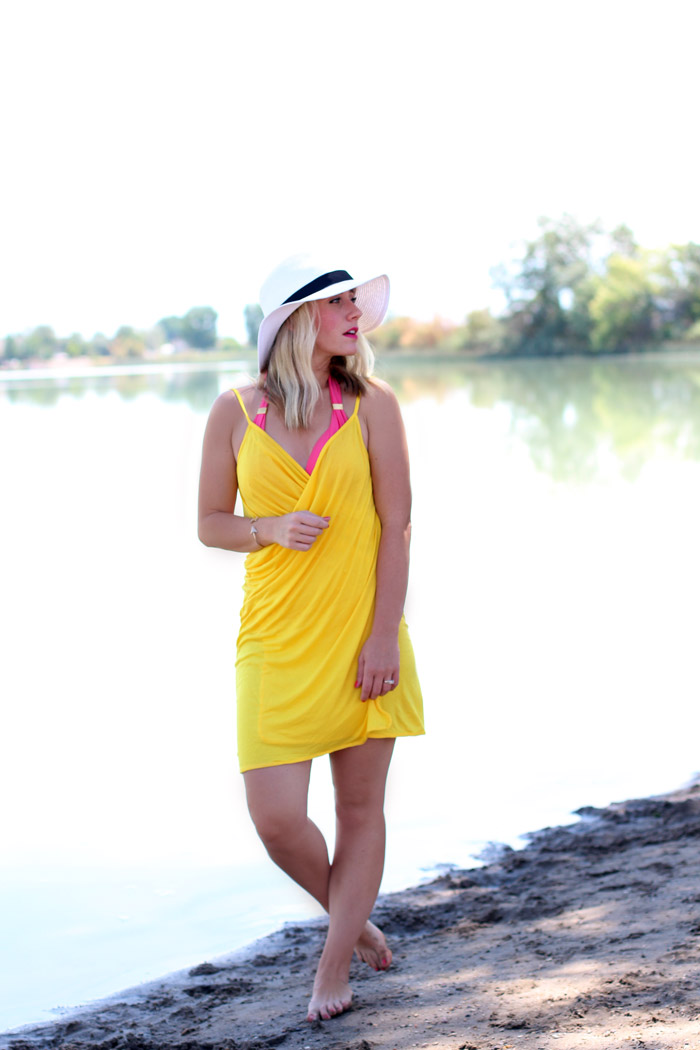 swim suit: c/o Coral Reef Shop | coverup: c/o Coral Reef Shop | boater hat: c/o Recycled Consign & Design
Oh hi. Don't mind me just hanging out in my swim suit. But seriously, how am I supposed to show you guys the cutest suit and coverup without modeling it for you? I didn't think a photo on a hanger would do this fabulous coral one-piece justice so I put on my big girl pants and suited up! Ha, get it… SUIT-ed up… haha-ha!! Coral Reef Swim is a shop owned by a husband and wife and they sell high quality, affordable swimwear. All swimsuits from Coral Reef Shop are $15.99! Yeah, this suit, the one that fits like a glove, has perfectly round padded cups that make you look bigger than you are (cause let's be honest, that's a must), the one that's bright, has detail above the straps and ruching around the waist, yeah this one — it's $15.99! I'm not sure how long the sale or quantities are going to last, so if you're wanting a suit or looking for one for next summer, now's the time to pull the trigger!
This past Saturday my little family decided to hang out at the reservoir where Brian's from, or the rez as they like to call it. It wasn't the ocean, but there was sand and the kids had a blast digging and building. I remember hating the beach when Savy was little. Boss refused to play by himself and I had to monitor Savy AT ALL TIMES because she liked eating the sand. For as much effort as it was back then to get everyone ready for the beach, there just wasn't enough of a fun payout. Fast forward though two years and the kids are amazing at the beach. They play so well together and I love listening to them dream and pretend, it's honestly the cutest. Brian and I sat on a towel and talked about life in the shade while they happily played for a good two hours.
Have you had a chance to soak up the sun this summer? This week I'll be sharing some photos of my trip to Mexico, I gotta get it done before summer is over! Man, I'm so behind. It's hard though to have a schedule in the summer. It's too fun to play and visit family, everything else can just wait 🙂