Cream Blouse: c/o Novae Clothing | Jeans: Asos Maternity | Leather Jacket: c/o Choies similar splurge here similar save here | Caged Heels: Nordstrom, similar here and here | Lips: Mac's Russian Red | Necklace: c/o Kenra Scott | Ring: c/o Sole Society

Harnessing my Cara Loren… HA! Who am I kidding. I can't take myself serious to save my life. This blogging thing is quite awkward sometimes and I hope the second picture up there clearly shows how I feel about this whole posing in the middle of the freezing street while pregnant (even when not) thing. It's quite ridiculous. Or hilarious. Or however you want to look at it it's probably that too! I promise I'm not super vain and care only about my clothes and hair. And I only get ready twice a week soo… there's that too. Ha ha the problem with reading blogs is you sometimes forget that this is just a tiny part of a persons life and everything you see has been edited and made to look picture perfect. Heaven forbid I actually take a picture of my real life… sweats, no makeup, messy top knot. Now I'd like to see some of that goin' down with a camera in the middle of the street! Alright, nuff said about that!
Before I move onto more important matters, I HAVE to tell you about this AMAZING giveaway White Plum is doing. I was introduced to White Plum this summer and it's the most adorable boutique. They're giving away a free wardrobe for an ENTIRE year! $1200 worth of product and the giveaway runs now until the 22nd. Just click here and join their mailing list and your name will be put in the pot. It's pretty awesome and if you need new clothes… well, now's your chance! Merry Christmas – Happy Birthday. Just go enter already 🙂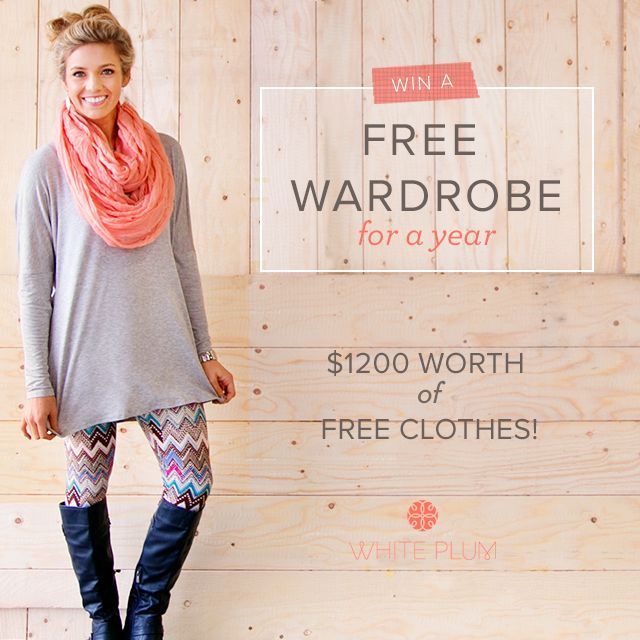 Many of you have been curious how this twin pregnancy has been different than my first two. Mostly, until now at least, it's been quite the same. The first trimester I was a little bit insane. We had just moved to Ohio when I got pregnant and I thought I was just depressed out of my mind to be here. I could barely get off the couch, I could barely take care of the kids let alone myself! I was a hot mess. Turns out I was pregnant with twins so that was encouraging news – I'm not crazy! It was sad though, Brian would come home from work and I'd be asleep on the couch and the kids would still be watching TV in their jammies and he'd be like "babe… I'm worried about you. Do you need to see someone"?! At the time I was like, maybe… I have no idea what my problem is! So yeah, twins. That was the problem. Also my skin got REALLY bad. It's still pretty bad but it was TERRIBLE that first trimester! I don't get that pretty glow when I'm pregnant ever but my skin hasn't ever been this bad. I'm chalking it up to hormones. I'll just have to ride it out and that'll be fine. Thanks photoshop. If you look closely in my videos (which you absolutely shouldn't) you can see it. I've tried to wash myself out reeeaaaal good for those though ha! Just turn up the lights! And really the only other thing that has been different is just that I'm measuring the size I would normally be at.. maybe 350-ish weeks? Everything has just been heightened. I'm seriously feeling like a small semi-truck these days. And don't misunderstand this as complaining – I'm so happy to have these babies fattening up in this ever growing belly of mine. I found out on Friday that they're both one pound! I'm starting to feel them roll around more and more in there so I'll keep you posted on how it goes. Apparently I'm entering the fun part!
I hope you guys had an amazing Valentines Day and I'll see you here Wednesday for a new tutorial!