If you've ever wondered what products I swear by for my hair, this post is for you! I realized recently that I've never written up a post that goes through my favorite hair products and tools. I love to try new products, but there are a few things that I always come back to, time after time.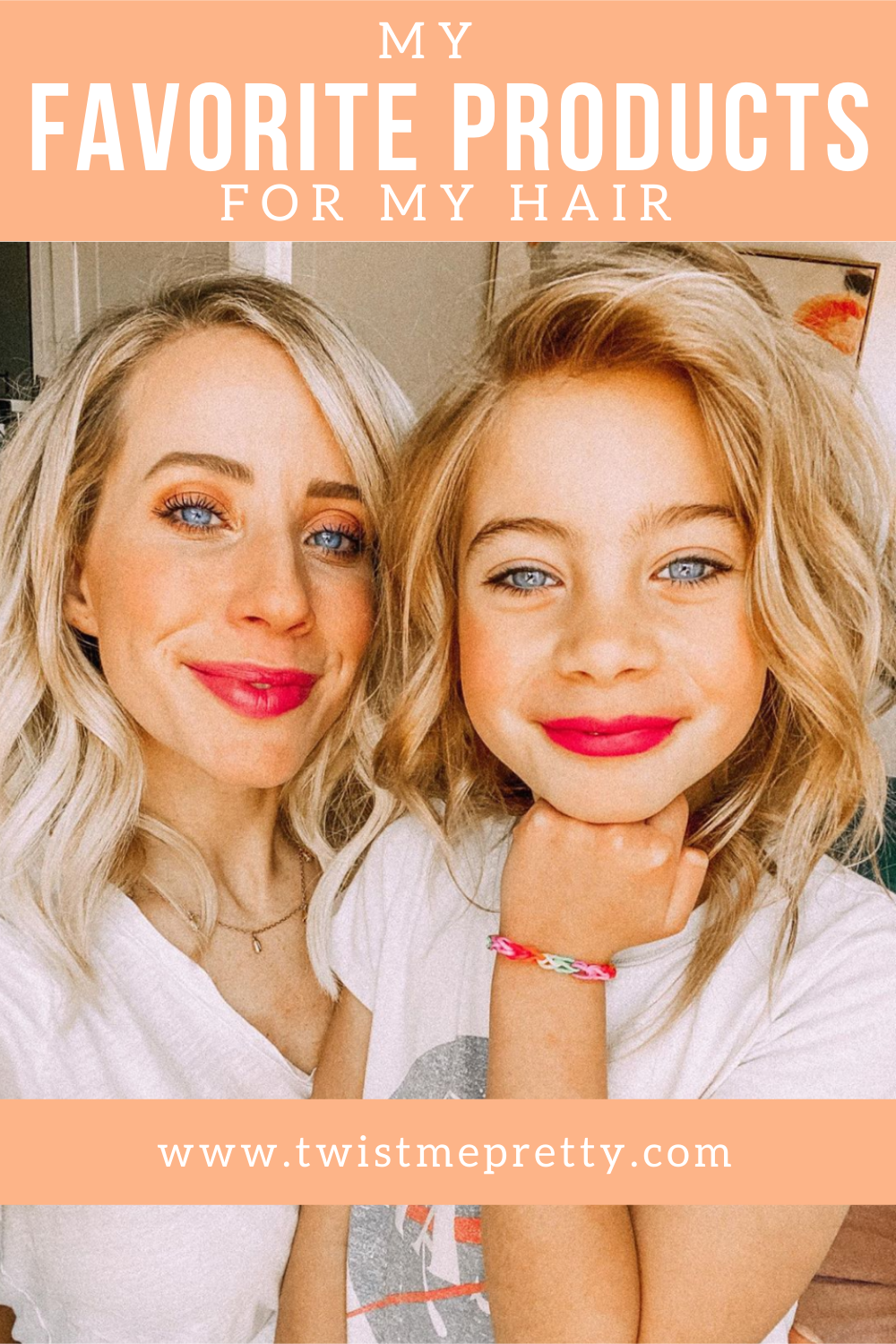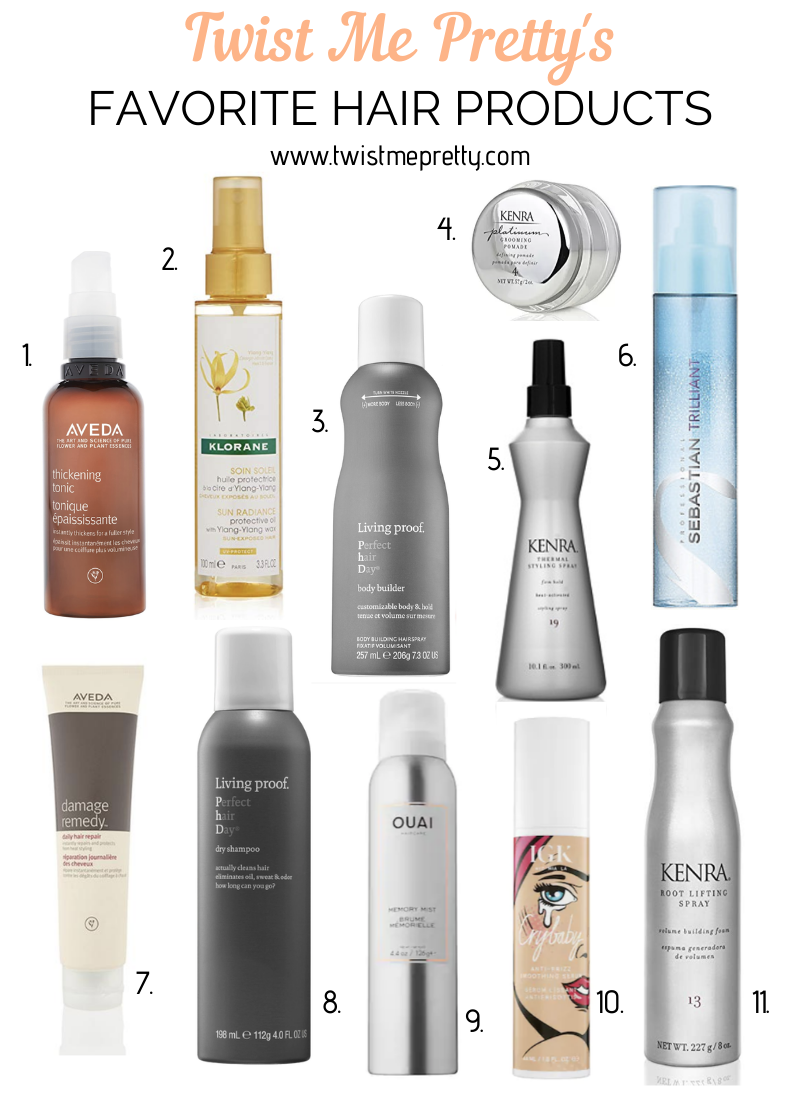 Favorite Hair Products
1- Aveda Thickening Tonic– Aveda is famous for it's products. If you want thicker-feeling hair, try this tonic!
2- Klorane Protective Oil– I love using this to protect my hair from the sun, chlorine, and saltwater when I'm outside.
3- Living Proof Body Builder– Living Proof can't be beat for their body building products, have you tried this one yet?
4- Kenra Platinum Grooming Pomade #4– Pomade with a lightweight, workable hold
5- Kenra Thermal Styling Spray #19– This Kenra spray gives you great hold without that sticky, crunchy feeling.
6- Sebastian Trilliant– Trilliant spray is your key to shiny hair with luscious body.
7- Aveda Damage Remedy Daily Repair– Everyone wants healthy hair. This Aveda daily repair will help you get the hair of your dreams.
8- Living Proof Dry Shampoo– If you haven't heard of Living Proof's dry shampoo, where have you been? This dry shampoo may just change your life for the better.
9- Ouai Heat Protection Spray– If you are using heat on your hair, you need a heat protectant. Try this one for top of the line protection.
10- IGK Crybaby Anti-Frizz Smoothing Serum– When I do my braids, I don't like having flyaways. This smoothing serum keeps my hair where I want it to be.
11- Kenra Root Lifting Spray #13– Kenra's root boosting spray is perfect for hair that needs a boost and some body at the roots.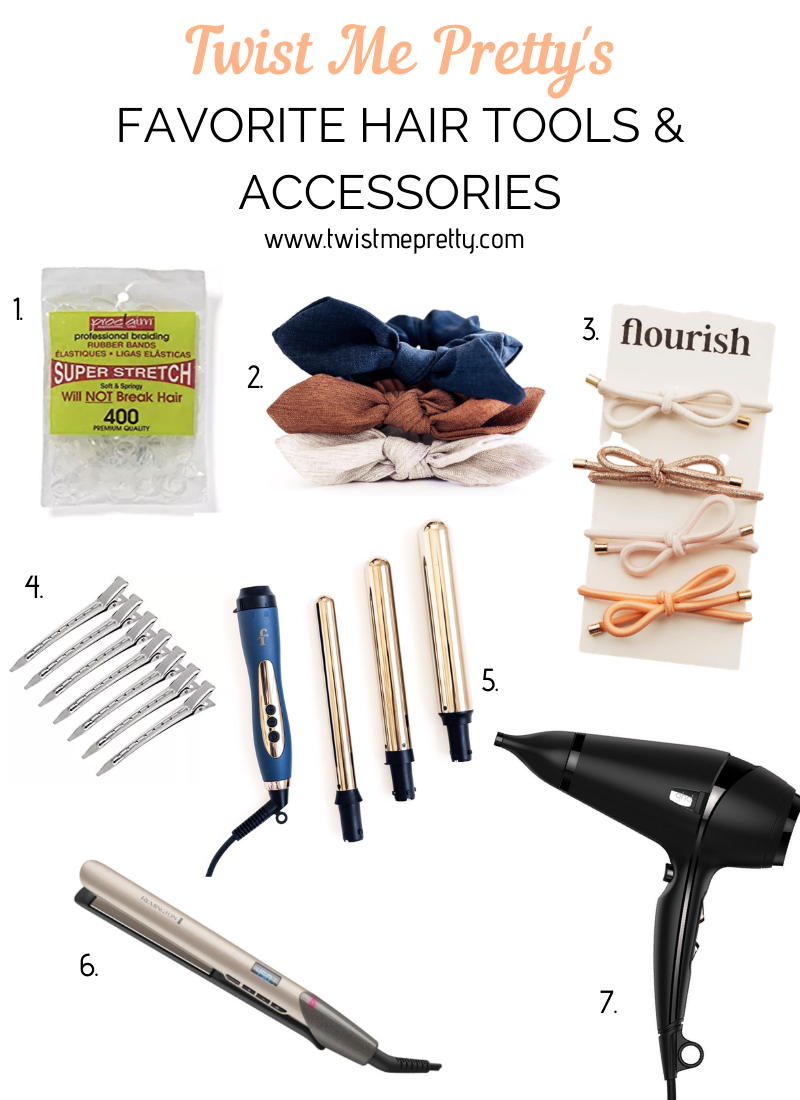 Favorite Hair Tools & Accessories
1- Super Stretch Clear Rubber Bands– These rubber bands are great for doing braids and anything else you need a small rubber band for. I love that they are clear, small, and easy to cut out of my hairstyles.
2- Flourish Scrunchies– These scrunchies are so cute! I love the color varieties that are available in the combo packs.
3- Flourish Bow Hair Ties– These small elastic bow hair ties are great for smaller braids and ponytails. They hold your hair great and are cute to wear on your wrist.
4- Alligator Hair Curl Clips– I think everyone should have some of these alligator clips in their hair arsenal. They are so versatile. You can pin up your curls to help them hold their shape as they cool, you can section your hair to braid or blow dry it, and they're great for getting your hair out of your face when you're taking off your makeup, too!
5- Flourish Trio Interchangeable Curling Wand– I can't rave enough about this interchangeable curling wand. There are 3 different wand sizes to choose from and it makes beautiful curls.
6- Remington Hair Straightener– You need a good straightener in your bathroom, and I love how this one straightens my hair.
7- Air Professional Performance Blow Dryer– If you blow dry your hair every day, you need to invest in a good blow dryer. This one is high quality and won't fry your hair.
Now that I've shared my favorite hair products and tools, what are yours? Do you have a heat spray, dry shampoo, or straightener you love? Share it with me so I can check it out!