Father's Day is next week! Can you believe it? I feel like March lasted about 4 years, and now that things are slowly opening back up, time is flying by. I know I've shared a few Father's Day gift guides on here this year, but I wanted to also share a few ideas for things your kids can make for the Dads in their lives. With that in mind, I've rounded up some fun Father's Day crafts that you and your kids can make!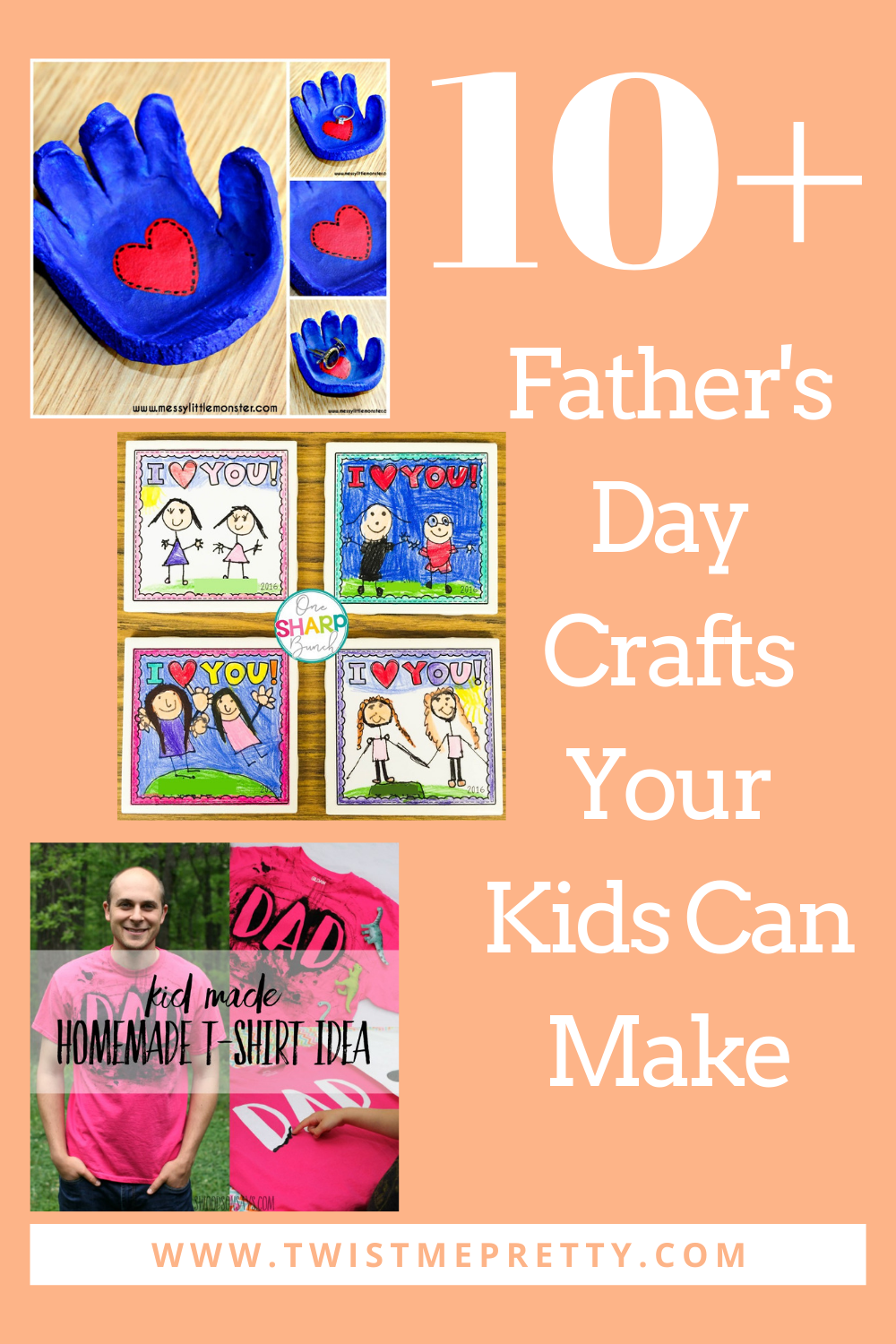 Personalized Father's Day Crafts
1- Freezer Paper Stenciled T-shirt: Have you done a stencil out of freezer paper before? They're so fun! To make one for Dad, you can use a nickname or his official Dad name and let the kids have fun painting the t-shirt.
2- Scribble Dad Mug: I love how easy this craft is, and that it's also something that Dads can use every day. If he doesn't drink coffee every morning, he can use the mug to store pens at his desk.
3- Mod Podge Coasters: This tutorial is technically for kids in a classroom setting, but I love the idea a lot. Have your kids draw themselves with Dad and create a coaster out of it!
4- Personalized Serving Plate: Give Dad something he will use all summer. Let the kids paint designs around a plate or platter and then use it the next time you are having a bbq!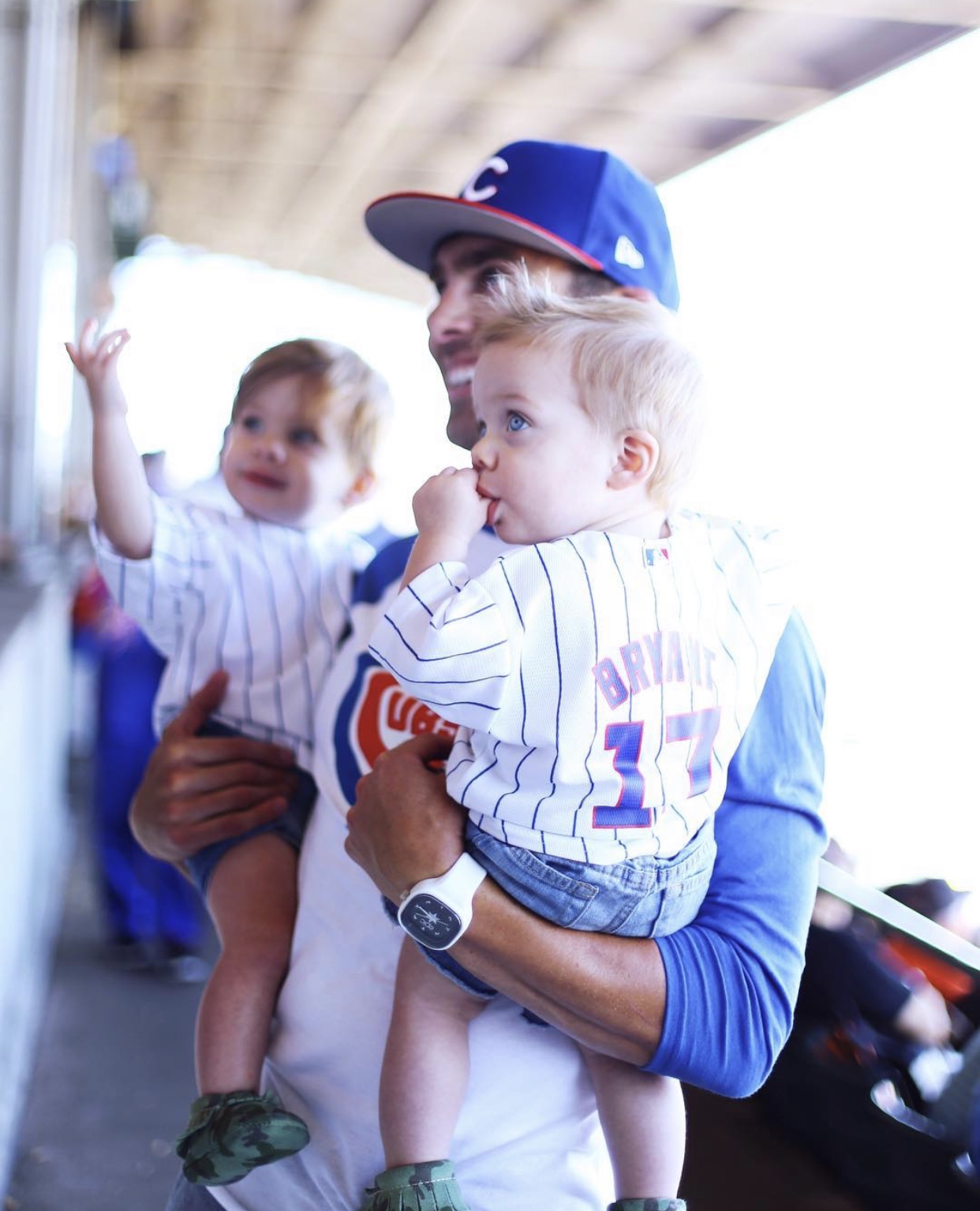 Fun Father's Day Gifts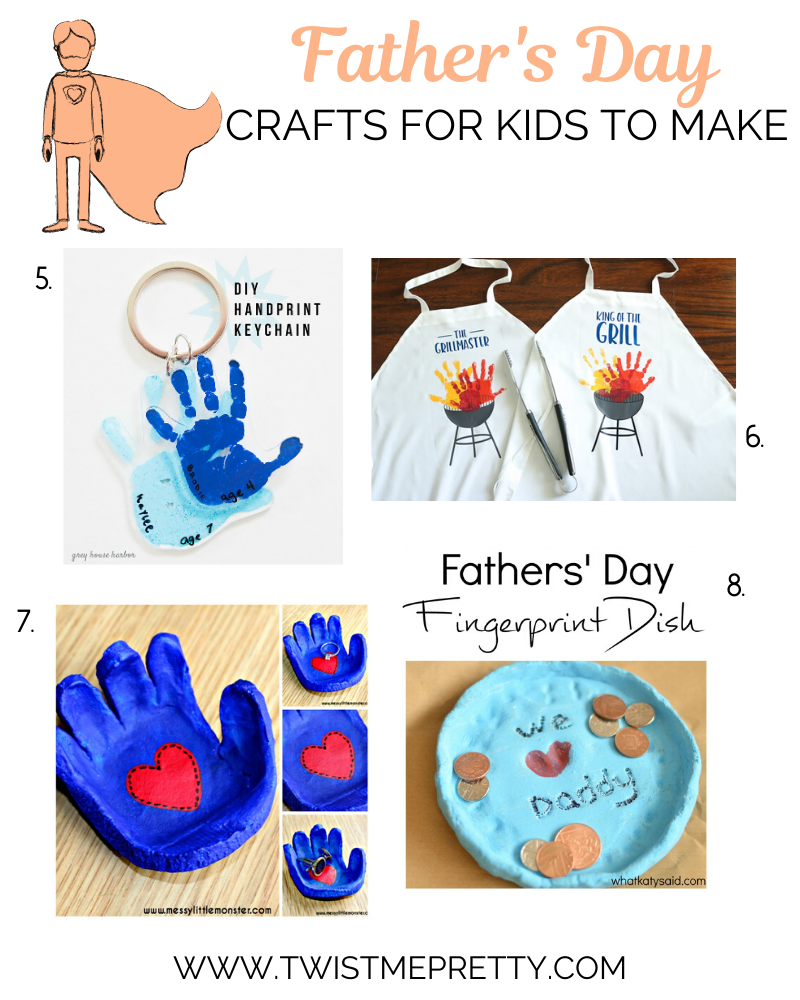 5- Handprint Keychain: How cute are these? The great part about this keychain is that you can add as many hands as you need to for your individual family.
6- Personalized Apron: These aprons are perfect for when Dad is in charge of dinner and doesn't want to get his clothes messy.
7- Kid Hand Salt Dough Trinket Dish: Kids grow up so fast, preserve their little hands by creating one of these change dishes. They're really simple to make and your kids will love personalizing it for their Dad.
8- Simple Change Dish: This change dish uses clay instead of salt dough, which makes this Father's Day craft even easier to make!
Easy Crafts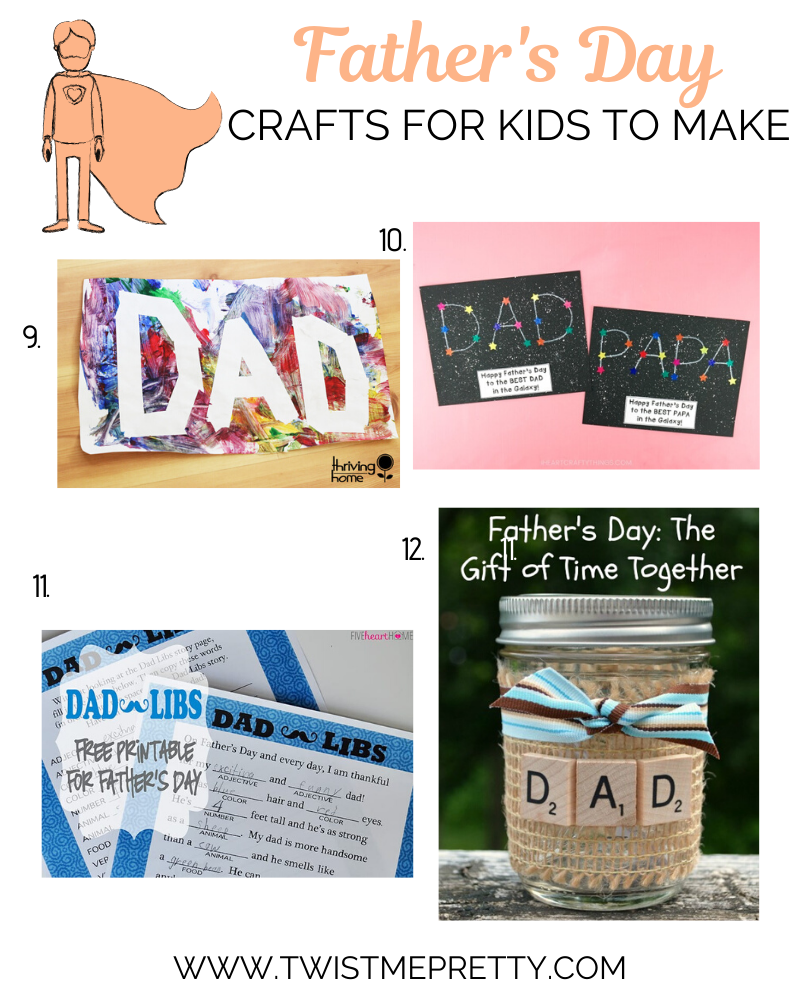 9- Painter's Tape Dad Painting: This craft is perfect for smaller kids who aren't ready for full crafting yet. You can apply the painter's tape and then let your kids do the rest!
10- Dad Constellation Craft: You might want to do this one outside, since it will involve splattered paint. But, I love the result!
11- Dad-Libs Printable: If you have older kids, they will get a kick out of creating a silly story with their Dad in it!
12- Dad Activity Jar: I love this idea for kids who live with their Dad and for kids who don't get to see their Dads as often. Ask the kids their favorite activities that they love to do with Dad and put them all in the jar. Now you'll always have something to do together.
Do you have any fun Father's Day plans this year? My kids are looking forward to spending some good time with their Dad this weekend. I'm so glad they are able to spend lots of time with him. What fun Father's Day crafts have you made with your kids? I'm always looking for new ideas to do with my kids!