If you've been following me on Instagram recently, you've seen how much my kids and I love to go camping with my fiancé and his kids. I've gotten lots of questions recently about what camping gear we use. My fiancé, Matt, has agreed to share his favorite items for a successful camping trip.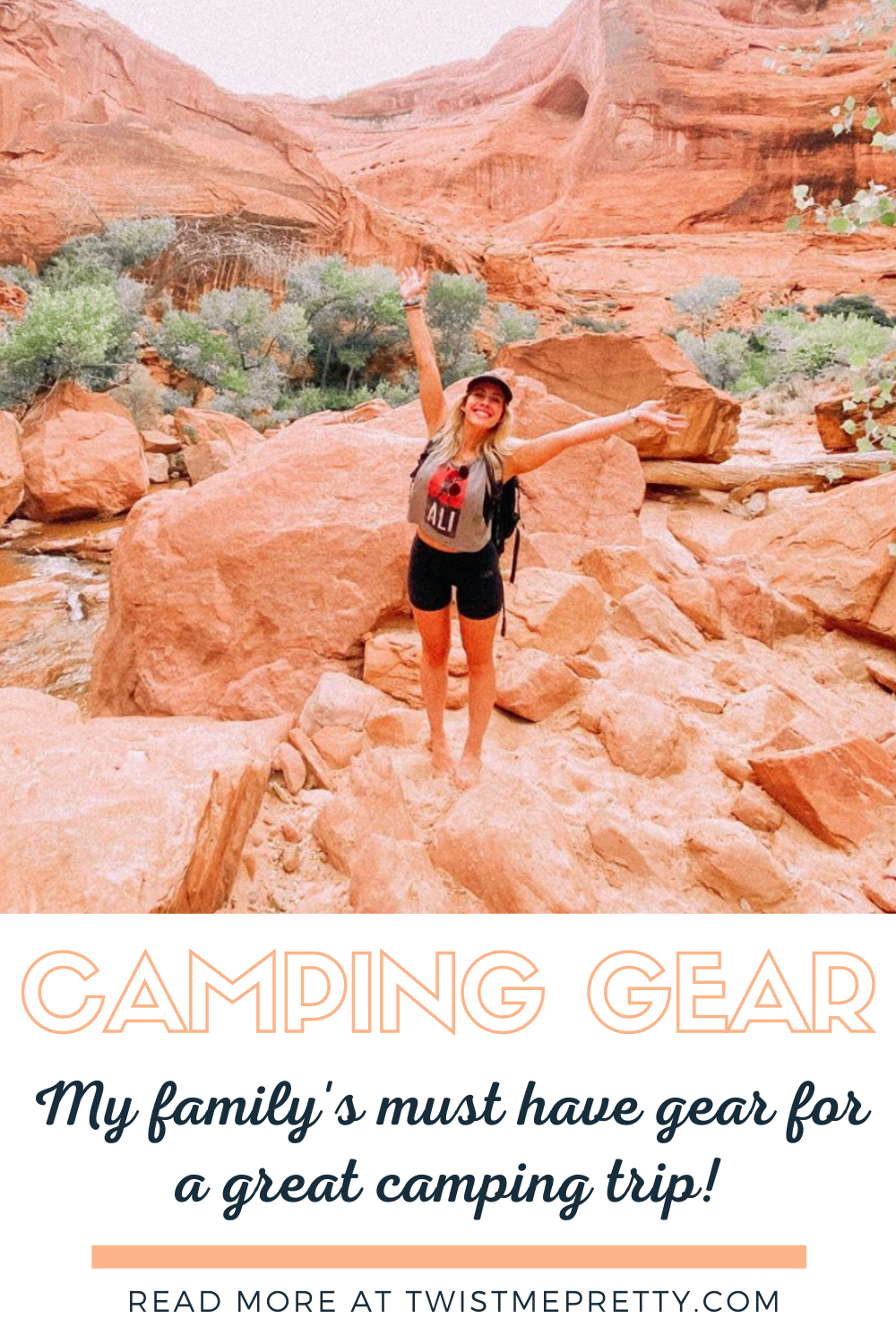 Some of these items are more expensive and are definitely investments. But, if you think about what you would spend on a weekend away at a hotel or resort versus how much a campsite costs for a weekend, you can see that you're really saving money by camping!
I love how camping gets everyone out of their comfort zones. The kids play differently when they are outside in nature without the distractions of every day life around them. I also love how relaxed I'm able to be. Do I love getting really dirty? Not necessarily. ha! But, I've come to know that my soul needs to be out in nature on a regular basis. I'm so glad that Matt feels the same. We are excited to continue to give our kids these outdoor experiences on a regular basis as they grow up.
*I'm linking every item so you can find it easily.*
Camping Gear- Where will you sleep?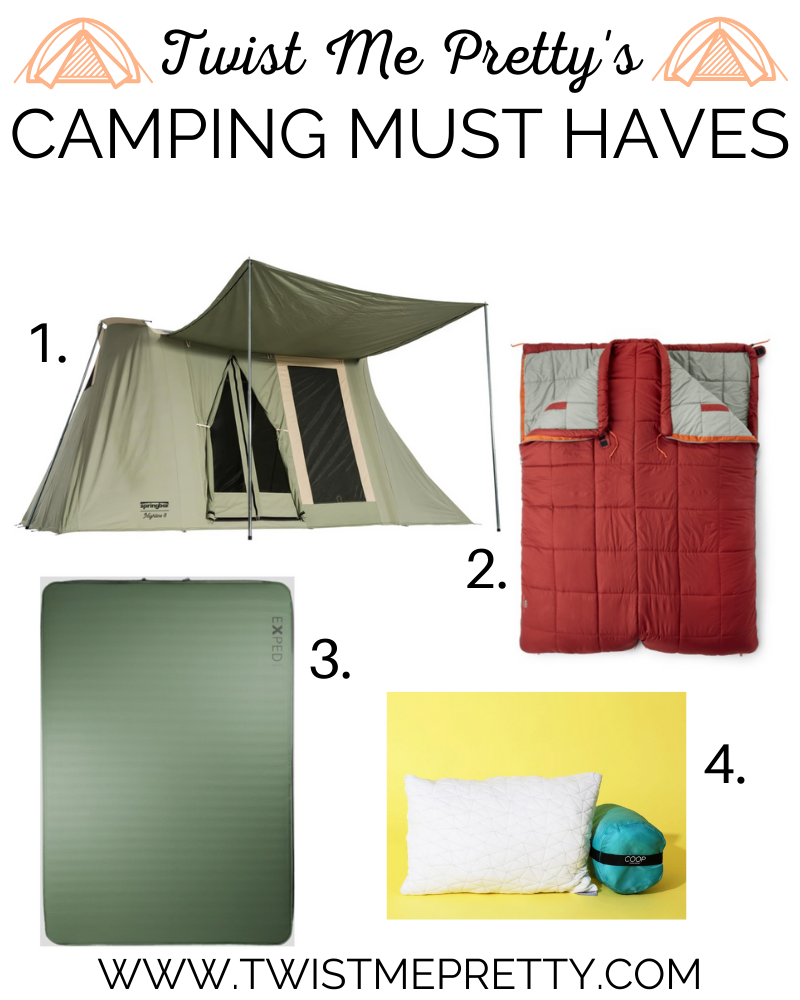 1- Springbar Highline Tent: Matt says this tent is spendy, but it's the best tent around for room and quality.
2-REI Co-Op Siesta 30 Double Sleeping Bag: The really nice thing about this sleeping bag is that each side zips separately so if one person is warmer, they can unzip their side easily to cool down.
3-Exped Mega Mat Duo 10 Sleeping Pad: Nobody wants to sleep straight on the ground. This mat is small enough to travel with easily, and it fits the double sleeping bag perfectly.
4-Coop Camping Pillow: This is hands down, the best camping pillow ever. Trust us. You won't regret getting one!
Camping gear for food prep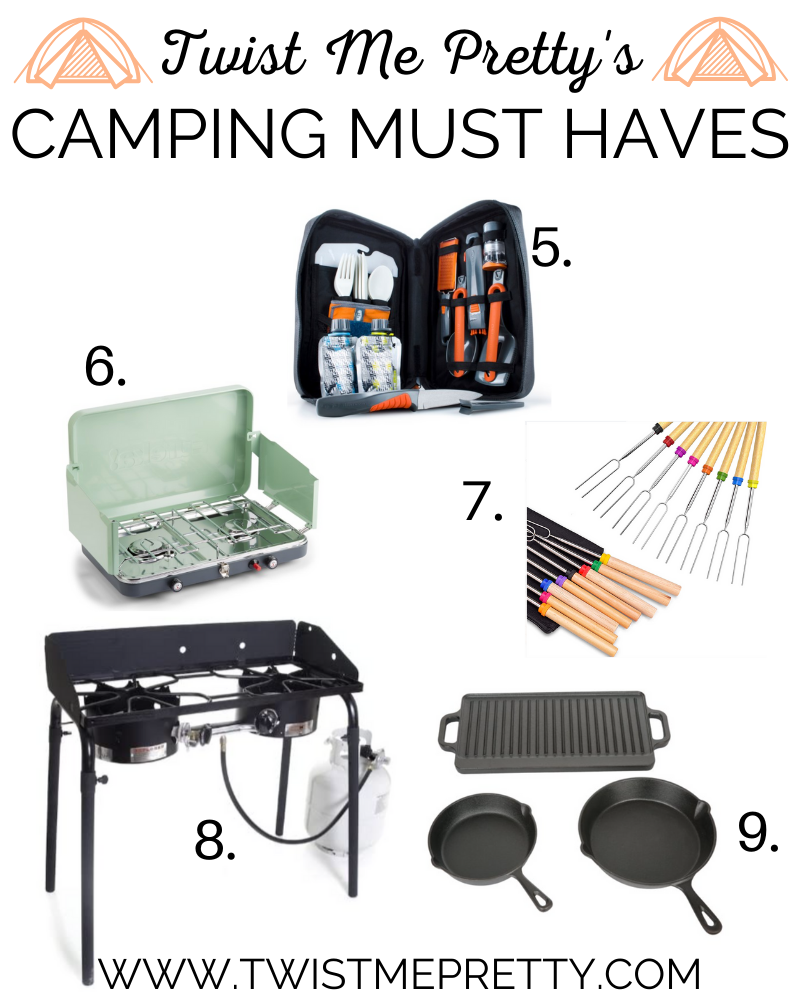 5-GSI Outdoors Destination Kitchen Set 24: What I love about this kit is that it not only has silverware for 4 people, but it also has a cutting board, spatula, spoon, condiment bottles, and it all comes in a zippable pouch to keep it organized!
6-Eureka Ignite 2 burner stove: I'm including 2 stoves on this list because sometimes you have different needs depending on where you are camping. This stove is great if you need something that is small and easy to carry.
7-Marshmallow Roasting Sticks: Is it even possible to go camping and not eat S'mores? My kids are pretty sure that S'mores are a requirement on every camping trip. Get some of these skewers to make your marshmallow roasting easy!
8-Camp Chef Explorer Double Burner Stove: After having some bad luck with stoves in the past, Matt decided we should invest in a good one. This is perfect for large families who are needing to cook meals quickly and easily.
9-Ozark Trail Cast Iron Set: Cast iron pans and griddles are the best investment you can make when it comes to camping cookware. They are virtually indestructible, last forever, and you can cook with them on a camp stove or over an open fire. This is a great set to get you started if you don't have any yet.
Camping accessories you'll be glad you brought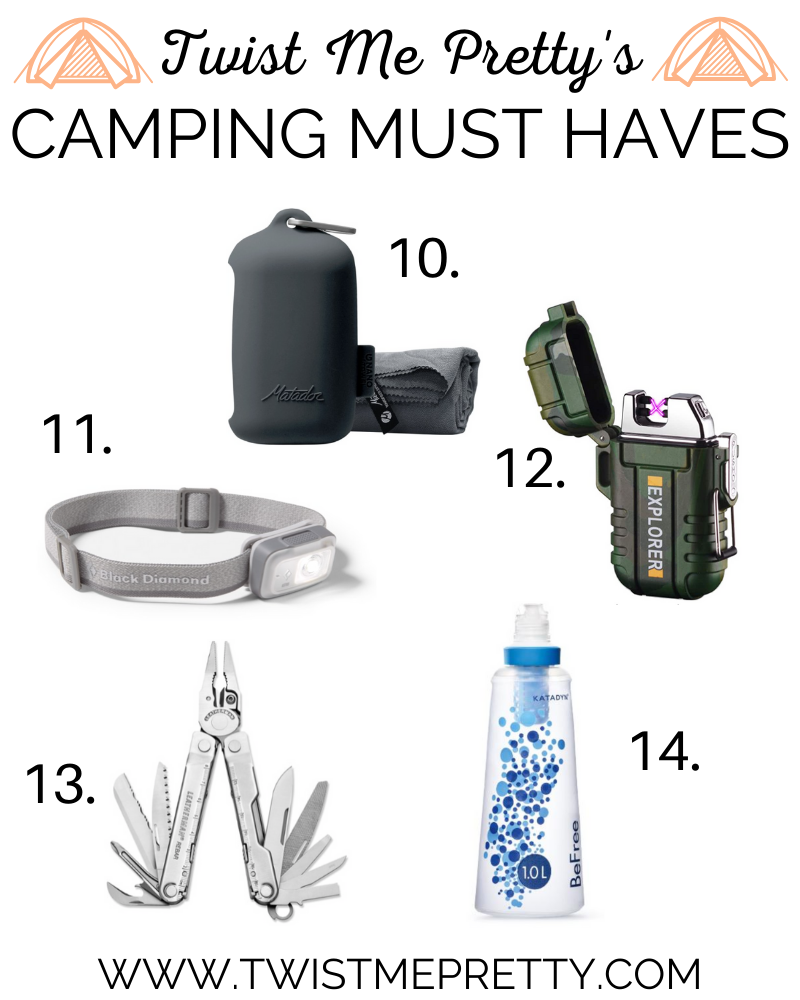 10-Matador Nano Dry Towel: This towel is pretty ingenius. It's a shower sized towel that folds up and stores in it's own carrying case that can be clipped to your backpack. Bonus- It can absorb 2.3 times its own weight in water!
11-Black Diamond Astro Headlamp: Headlamps are the way to go nowadays. Especially when camping with kids! They can feel safe when walking in the dark and you won't have to worry about losing flashlights. Matt doesn't recommend spending too much on headlamps since they seem to get lost after the camping trips. This is a great price point for a good headlamp.
12-Waterproof/Windproof Lighter: There is nothing more frustrating than trying to build a fire only to have the wind blow your match out! This lighter can clip onto your pack, its case is waterproof, and it's rechargeable.
13-Leatherman Multi-Tool: Think of a Leatherman as a swiss army knife, but better. I'm linking to a bunch of versions of them because you really can't go wrong!
14-BeFree Collapsible Water Filter Bottle: Depending on where you are camping, you might not have access to clean, fresh water. With this water filter bottle, you can filter up to 2 liters of water per minute. Plus, it's easy to use and carry with you.
Camping Gear to help you be comfy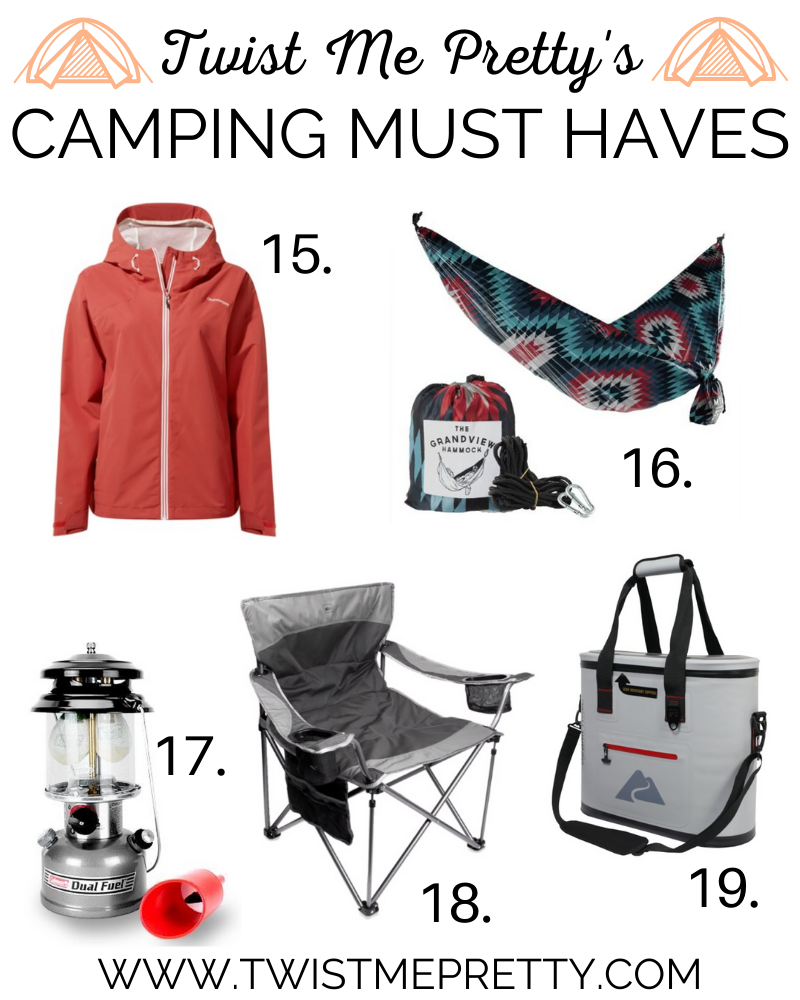 15-Toscana Jacket: I have this jacket and it's come in handy so many times on our camping and backpacking trips! It keeps you dry and warm, while not adding bulk.
16-Coala Tree Hammock: These hammocks are so cool. They have a weight limit of 450lbs so anyone can use them. Plus, they come in really cool colors and designs! They're made from parachute nylon so they're easy to carry with you no matter where you are heading outside.
17-Coleman Lantern: We love the retro look of this lantern, and you can't beat the light it puts out at night.
18-REI Camp Chair: Everyone needs a good camping chair. I love how sturdy these are!
19-Leaktight Cooler: Matt has had good luck with these coolers from Walmart. They are way less expensive than the other brands, and they perform great.
Camping Backpacks for the family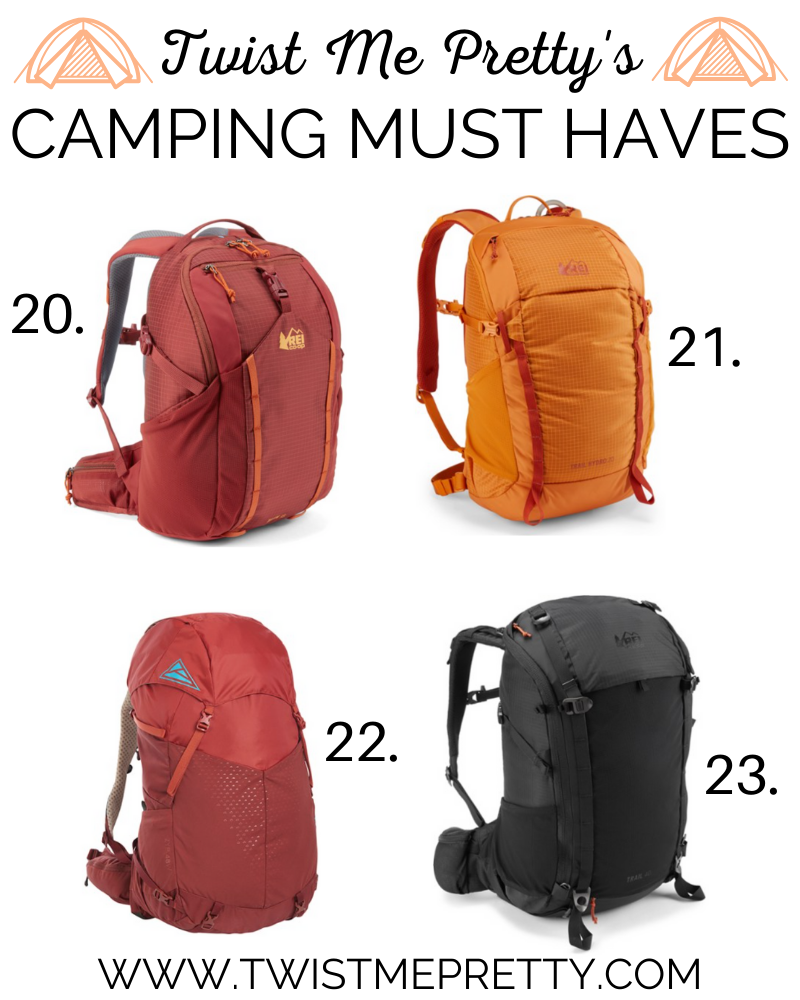 20-REI Co-op Kids Pack: If you plan on doing much hiking or backpacking with your kids, you'll want to get them a backpack that is sized for them. This pack is perfect for 8-12 year old kids.
21-REI Co-op Trail Hydro 20L Men's: This pack is perfect for the men in your life who want to do day hikes. It comes with a 2 liter water reservoir with a flexible straw that you can access from the straps while hiking.
22-Kelty Zyp 48 pack Women's: This lightweight women's pack is comfortable and still holds all of your hiking gear. If you're doing any backpacking, you'll want a pack like this!
23-REI Co-op Trail 40 Women's: This pack is perfect for day hikes, camping, and traveling. It's strong but not too bulky.
Now that you've got the camping gear, what's next?
I hope this list of camping gear that we love is helpful for you as you plan your next camping trip! I'm going to be sharing more about where we love to camp and how we camp with 6 kids soon. What do you want to hear? Let me know your questions, so I can answer them in my future camping posts!