Father's Day is coming soon! I asked my fiancé, Matt, to put together some Father's Day gift ideas for the men in your life, and I love what he's come up with! There are so many different gifts for guys, it can be tricky to come up with a Father's Day gift that you know he'll love. Matt is helping us to take some of the guess work out of picking out a Father's Day gift, and the best part is that they're all available on Amazon!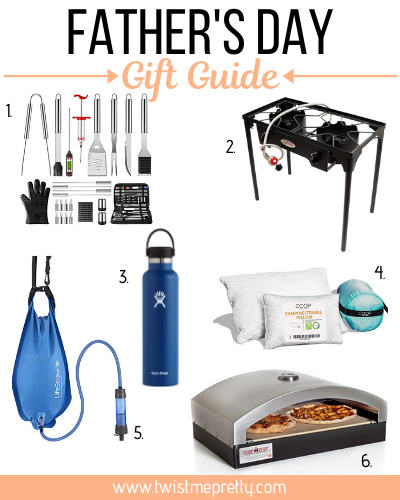 This kit is everything you need to get your grill on! From tongs to a heat proof glove, this kit is perfect for anyone who loves to grill or wants to start grilling. The only thing missing from this kit is the grill!
Does your man love to be outdoors? This 2 burner propane stove is the perfect setup for those camping trips he wants to take (even if they're just in the backyard!). Bonus- It's under $100!
If you haven't gotten on the insulated water bottle train yet, what are you waiting for? Your guy will love that his water or energy drink stays ice cold all day with this water bottle!
This is one gift you may want to steal for yourself! This camping and travel pillow comes with a travel case that helps to compress the pillow down super small so that it's easy to throw in your car or suitcase when you're on the go. No more neck pain from traveling without a pillow!
This water filter makes backpacking and primitive camping a breeze. It can filter up to 2,000 liters of water over it's lifetime! That's a lot of water!
I love that this pizza oven fits perfectly on the camp stove in the number 2 spot on this list! Your man will be the hit of his next camping trip with his buddies if he brings this along.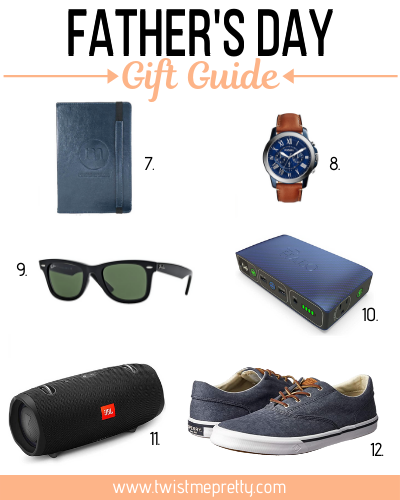 Think of this as the boy version of your mindfulness journal. The leather cover is gorgeous, right? Now your guy has the perfect place to write down his goals and dreams!
A good watch never goes out of style. For the men in your life that love to look good, this watch is the perfect gift!
You can't go wrong with a pair of classic Ray Ban sunglasses. Bonus- They come in women's, too!
This charger can do it all! From phones to laptops this charger can give anything a jumpstart. It will even jumpstart your car or lawnmower with the included jumper cables! How cool is that?!
If your guy is always singing and dancing, he needs this speaker. Give him the ability to take his tunes wherever he goes with the carrying strap. And he will love the 15 hours of playtime the speaker can do!
Peel those grubby Nike's off his feet, ladies, and give him some shoes that are perfect for date nights! These Sperry's are so comfortable and they go with anything.
Time to Shop!
What did we miss? I know I've got some great ideas for the men in my life thanks to Matt's list. Thank you, honey! Let me know if you'd like to see more gift guides from Matt here on the blog. Now, get shopping so the gifts can arrive in time for Father's Day!