We are nearing the end of our Level Up Challenge! How have you done? How do you feel? I can't believe that 3o days is almost over. It's been a blur, but in a good way! I'm excited to continue on with my goals for Leveling Up my life. I've got big plans and some bigger life changes on the way this year and I know that the good habits I've been working on this past month will only help me to reach my goals. One thing I've noticed as I've been actively working on improving my habits, is that I'm noticing when my environment is working against me. Have you felt like this? I'm discovering the power of decluttering. Specifically, I'm discovering how important it is to declutter my bedroom.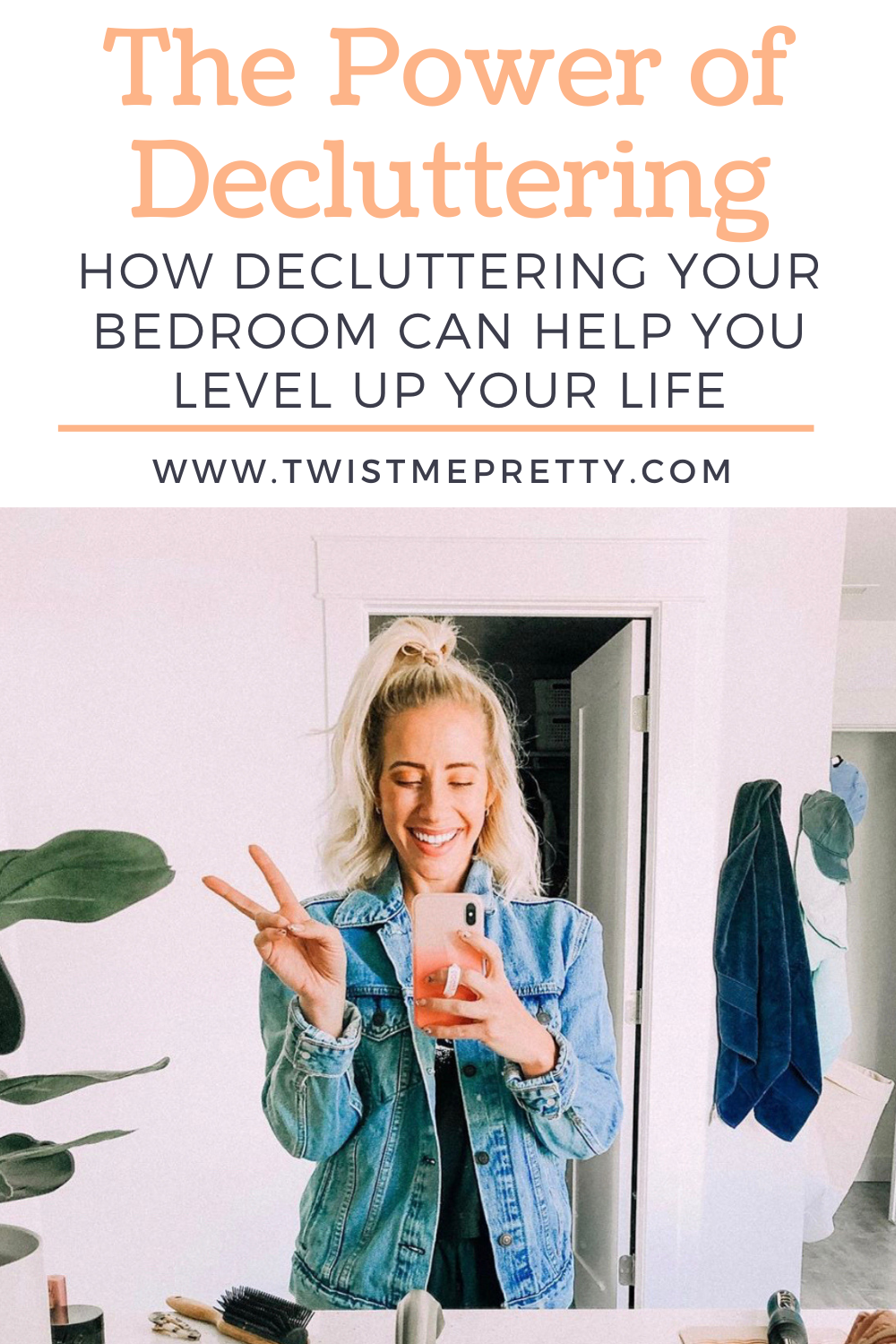 Have you noticed that when you are stressed your house tends to be more cluttered and messy? To help me be more organized, I've given myself a new challenge. I've decided that my next challenge is to keep my personal spaces free of clutter. This might seem like an easy task, but with kids around my room seems to become their favorite place to drop off toys, socks, and anything else they are carrying! Please tell me I'm not the only one who struggles with this.
The Power of Decluttering
Because I'm determined to harness the power of decluttering in my life, I've decided to make a goal to keep my bedroom decluttered. My hope is that by keeping my room clutter-free, I'll be able to think more clearly about my goals.
Over the past month, we've been working on establishing good habits. We've talked about drinking more water, meditating, keeping a journal, taking care of our skin, etc. Decluttering my bedroom is the last piece to this puzzle. I've noticed that when my room is clean and free of clutter, I sleep better. My anxiety is lessened, and I'm able to focus on the good things that are happening in my life. It also helps me to be a better mom. If I have a place that I can escape to at the end of a long day of parenting, it makes a huge difference. Have you noticed this in your life?
If you would like to join me on this quest, here are some tips I've found to help us all unleash the power of decluttering:
10 Bedroom Decluttering Tips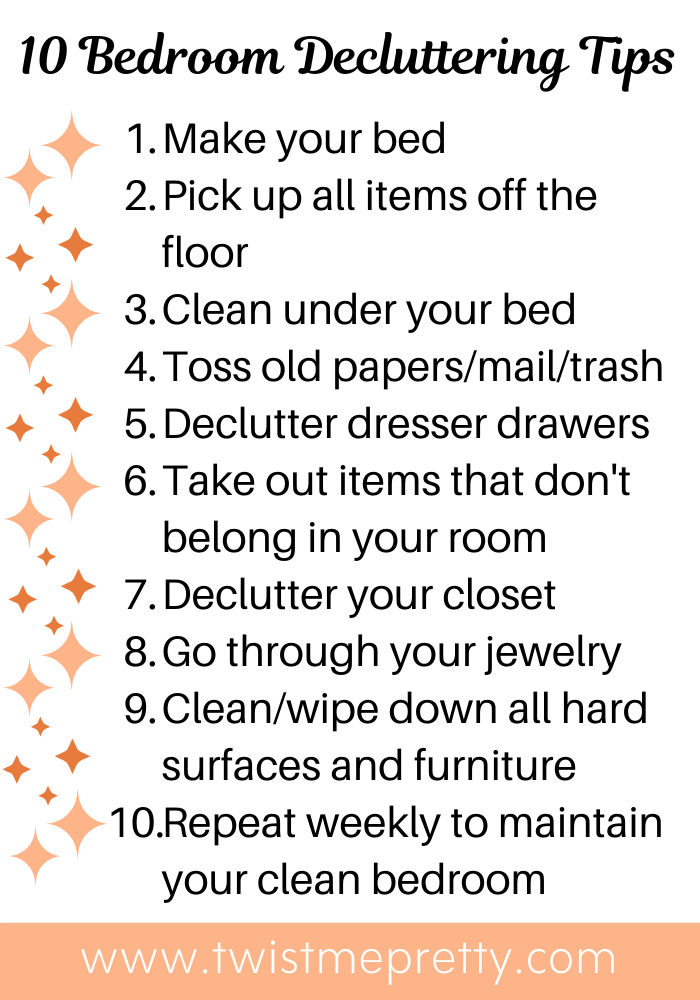 These are pretty simple tips to follow, right? I like to keep things doable for myself. I'm going to go through this list and complete these tasks on a weekly basis. This way it will be easier to stay on top of the inevitable clutter that creeps into my bedroom.
Once I get on top of my bedroom clutter, I plan to start tackling the rest of my house! The past few months being stuck at home has really shown me how much stuff I've accumulated since we moved here a few years ago. It's amazing how much stuff you accumulate, isn't it? It's definitely time to do some serious organizing and decluttering. Brittney from Homegrown Traditions shared some awesome tips for organizing your house in this post, and I'm going to use her tips to get me started!
Have you been decluttering lately? What tips do you have for me? Share them here or on my Instagram page! You can find me @twistmepretty. Be sure to tag me in your Level Up Challenge posts! And check out our hashtag #letslevelup for lots of inspiration!