Fun Family Activities To Do Together
Is anyone else running out of ideas of things to do with your kids at home? (No? Just me? lol) To keep us from all going crazy and binge watching YouTube videos, I've searched out some new ideas for family fun. I know things are starting to open up again, but from the looks of it, we will still be spending quite a bit of time at home over the next few months. To save our sanity, here are 10 fun family activities to do together!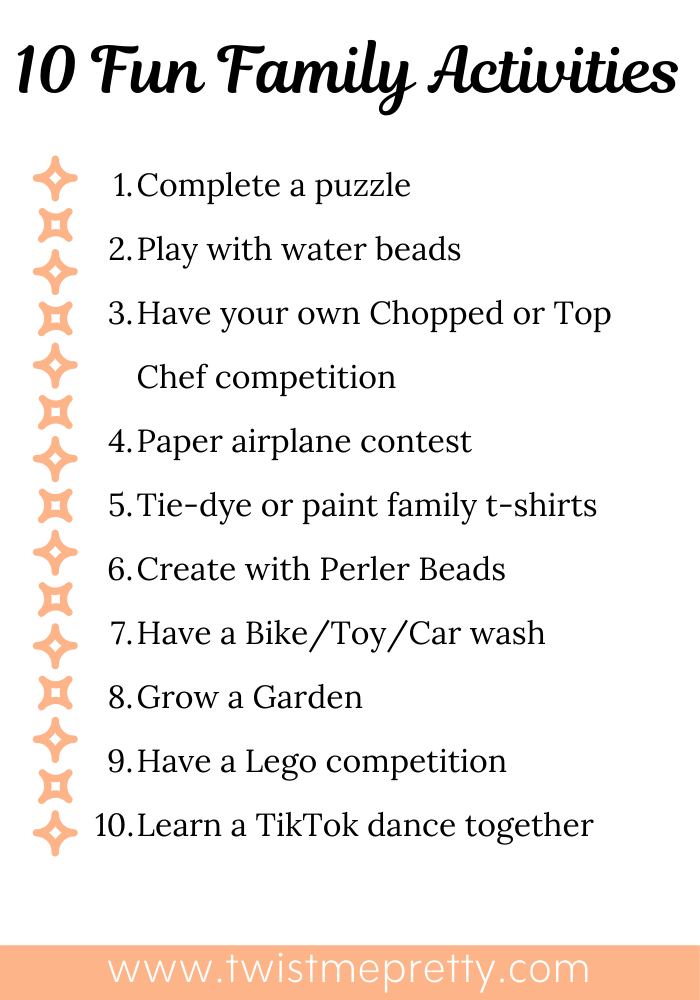 1- Complete a puzzle together.
This can be tricky if you have young kids because they don't have a long attention span. But here are a few awesome puzzles for different skill levels!
2- Play with water beads.
These water beads are so fun for kids of all ages. Fill a bath tub or even a baby pool with them! Find them HERE.
3- Have your own Chopped or Top Chef competition.
This is one of the most fun family activities, especially with older kids and teens. You can use what you have in the house for your mystery ingredients, or send someone to the store and see what they come back with! Make it a themed food night- desserts, Italian, etc.- for even more fun.
4- Paper airplane contest.
Paper airplanes aren't just for kids. Look up a few tutorials on YouTube or Pinterest for some fancier planes and see who's can fly farthest or do the best tricks.
5- Tie-Dye or paint family t-shirts.
Come up with a family slogan or color scheme and create a memory with matching shirts! Get a tie-dye kit HERE to make it easy on yourself.
6- Create with Perler Beads.
Did you play with these as a kid? You can create so many different things with perler beads! Check out Pinterest for design ideas, and make sure to watch the kids around the iron. Find a kit HERE.
7- Have a Bike/Toy/Car wash.
It's spring now and quickly approaching into summer, so it's time to get everything cleaned up and ready for the warm weather! Let the kids go to town washing their bikes and toys while you wash the car.
8- Grow a garden.
You can start plants from seeds, or head to a local nursery for seedlings, and get to planting! Whether you have a large yard or not, everyone can grow something. Kids love to grow their own food and you might even get them to eat more veggies this way! (We can hope, right??)
9- Have a Lego Competition.
Legos are a classic toy. You can build just about anything with them! I love this Classic Brick Box because you can build just about anything with the included Lego bricks. Set some rules, and get creative!
10- Learn a TikTok dance together.
Kids love the dances on TikTok, learn one together and record it! Or, turn it into a game and see who can come up with the craziest dance moves.
Have you done any other fun family activities? Tell me in the comments!
We are halfway through our 30 day Let's Level Up Challenge. Are you doing the challenges with us? Find out more and sign up HERE!