Is life starting to open up where you are? Here in Utah, things are slowly starting to open up again. It's a little surreal, still. Since we are all still mostly stuck at home, I thought it would be fun to share some indoor date night ideas!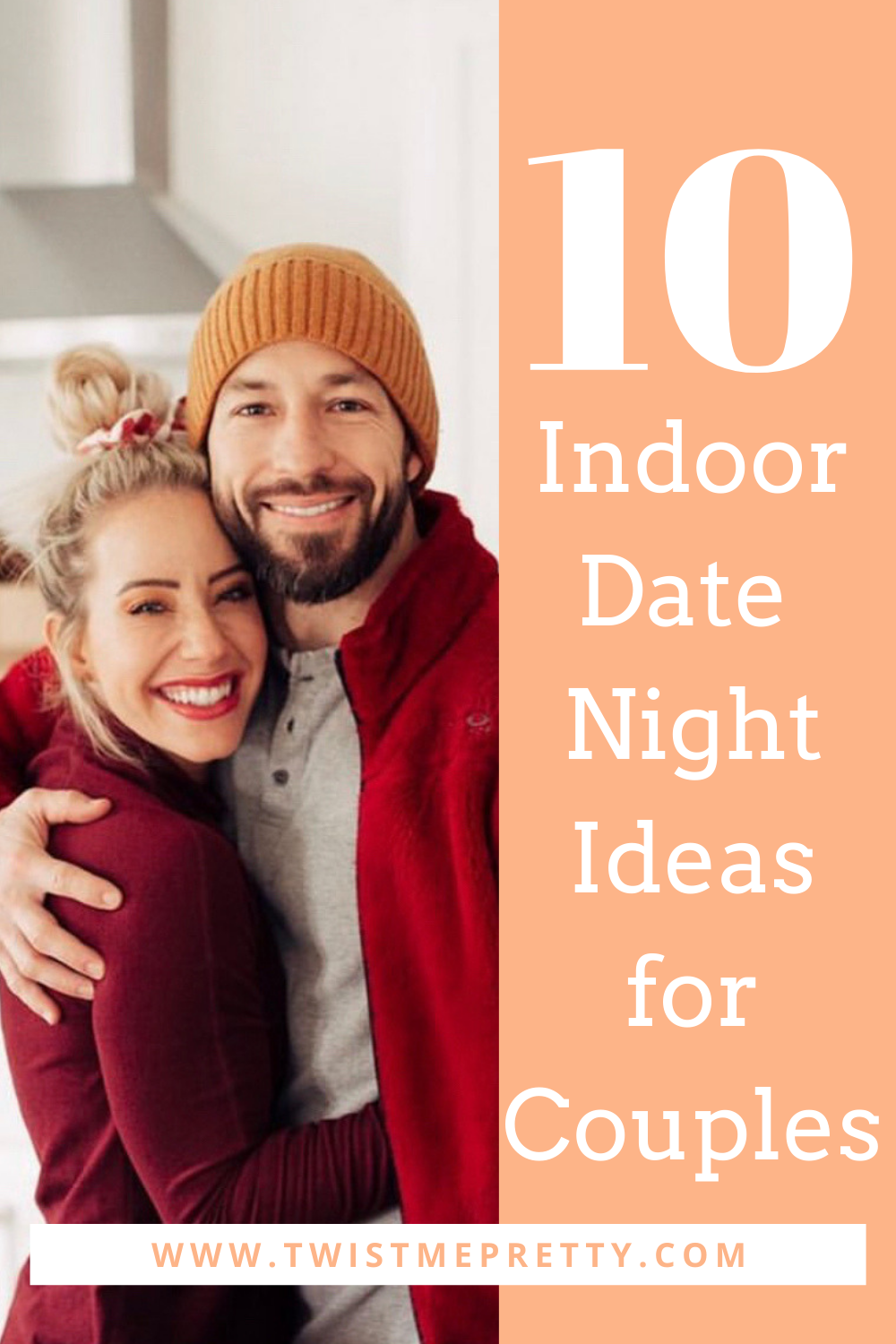 Having an indoor date night can be as simple as watching a movie, or more involved like a scavenger hunt! It all depends on what you want to do, your imagination, and your energy level. One of the great things about doing a date night at home is that you don't have to find and pay for a babysitter! My fiancé, Matt, and I have been doing a lot of at home date nights lately. It's a great way to really get to know each other and also save some money.
Here are my 10 Indoor Date Night Ideas for Couples
Camping– Put up your tent in the living room, basement, or backyard and get cozy!
Cook dinner or dessert together– Try a new recipe. Make something that is fancier than your usual dinners. Or go international and try out a recipe from another country!
Play video games together– Have a Super Mario tournament, or try out Fortnite. I mean, if our kids can figure these games out, they can't be too hard to learn, right?!
Have a Nerf Gun fight– You may need to take this outside so you don't wake the kids up if you are really competitive.
Watch a movie outside-Set up a screen outside with a projector, or just grab an extension cord and your laptop. Watch a movie outside under the stars. Bonus points for building a fire, too!
Try out a subscription date box– There are subscription boxes for everything! A simple google search will show you options for romantic, fun, and even murder mystery date boxes you can subscribe to!
Have a tasting together– Whether you drink wine or not, you can have a tasting of anything. Try out different chocolates, sodas, or cheeses together!
Play a game together– Whether it's a board game or a card game, have some fun playing a game together. And, if you're feeling really spicy, do a strip-tease version. 😉
Have a fondue night– What's better than melted chocolate or melted cheese with your favorite things to dip in them?
Dance together– put together a playlist of your favorite songs from your relationship and dance in the living room. Want to level up your dancing? Search for an instructional ballroom dance video and learn some new moves!
I loved putting this indoor date night ideas list together. I'm excited to try out more of these! I think the most important part of having a date night is connection and communication. When we intentionally date our spouses/partners, we show them that we care enough about our relationship to put in some extra effort.
Have I missed any indoor date night ideas? What have you done with your spouse/partner that I should try? Share your ideas here, so I can check them out!
There's still time to join the Let's Level Up Challenge! Click the button below to learn what we are doing and join us! I'm loving the things I'm seeing on my Instagram feed from all of you who've joined the challenge! Check out the hashtag #letslevelup and tag me @twistmepretty on Instagram when you participate!