Now that the weather is warming up and the school year is starting to wind down, it's time to get outside and burn off some of that cabin fever we are all experiencing! I know my kids live for outside activities when the weather is nice. The bonus is that it helps everyone sleep better at night!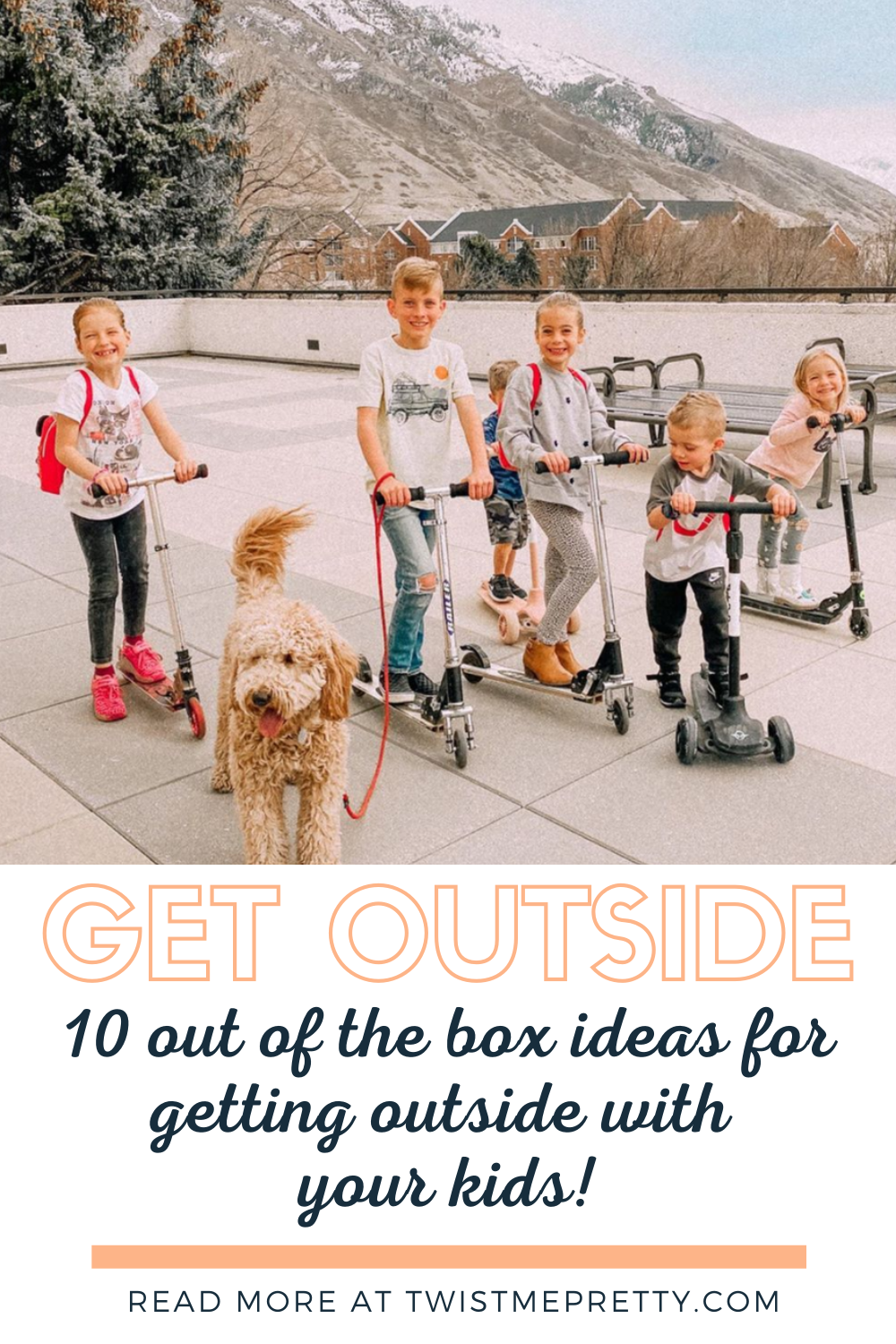 Spring sports may have been cancelled, but that doesn't mean my kids don't need some outside activities to do to keep them busy. I wanted to think outside the box on this list of 10 outside activities to do with your kids, so I looked for things that I hadn't thought of doing. There's always the classics– throwing the frisbee, playing catch, or flying a kite. I've got a few classics on my list, but I've also added some new ones I'm excited to try!

10 Outside Activities To Do With Your Kids
I'm linking the outside activities that I found on Pinterest so you can see how to do them, too.
1.Sidewalk Chalk Obstacle Course- Little and big kids will love creating courses for each other to challenge themselves.
2.Color or Nature Scavenger Hunt- Print off the printable from the site that's linked, or make your own list!
3.Old School Playground Games- How many of these did you play growing up?
4.Water Balloon Volleyball- This game is probably best when it's in the 80's or hotter. It's a great one for teens and adults, too!
5.Make a Bird Feeder- Once you make the bird feeder, keep track of what animals come to eat off it. (hint–this can totally count for science schoolwork!)
6.Family Bike Ride- If you don't have bikes for everyone in your family, be creative! Think of other things you can ride together.
7.Make Rainbow Bubble Snakes- I love the idea of adding food coloring to the bubble mixture so the bubble snakes are multicolored!
8.Capture the Flag- This is one of those games that can be played anywhere, anytime.
9.Go On a Hike or Trail Walk– Everyone has access to different levels of nature/outdoor space where they are allowed to be during quarantine. In Utah, where I live, we are free to be outside in the mountains and country-areas, as long as we practice social distancing. It's been such a blessing to be able to get out in the mountain air!
10.Go Roller Blading- How long has it been since you dusted off your roller blades?
Don't these look like fun? I'm looking forward to doing these activities with my kids soon. I know that spring weather isn't all sunshine and warmth, so I'm adding a few ideas for indoor activities to get those wiggles out of your kids!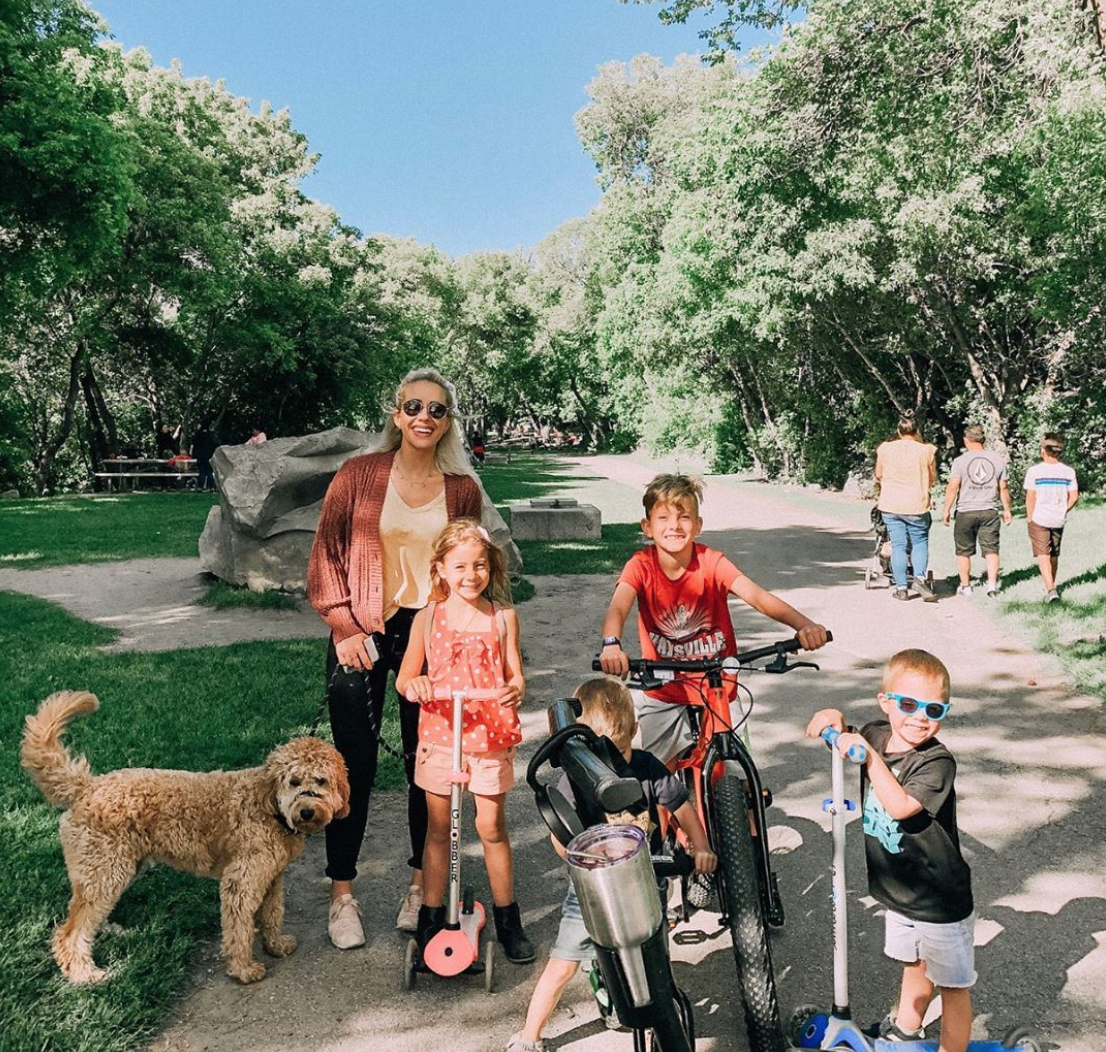 In Case of Rain, Try These Indoor Activities
1.Homemade Indoor Croquet- This is a game that your kids can play again and again.
2.Learn To Juggle- I've always wanted to learn how to juggle!
3.Sumo Wrestling- I can see my boys loving this game. Especially the twins!
4.Build a Road- So simple. A roll of masking tape and some imagination.
5.Living Room Camping- We just did this last week with my fiancé and his kids, it was so much fun!
I hope these lists give you some good ideas to get started with! If you have any more ideas, let me know!
How are you doing with your goals lately? Have you joined my Let's Level Up Challenge? I love the community we are creating as we re-establish healthier habits, and take care of our minds, bodies, and souls. Click the button below to get in on the action!