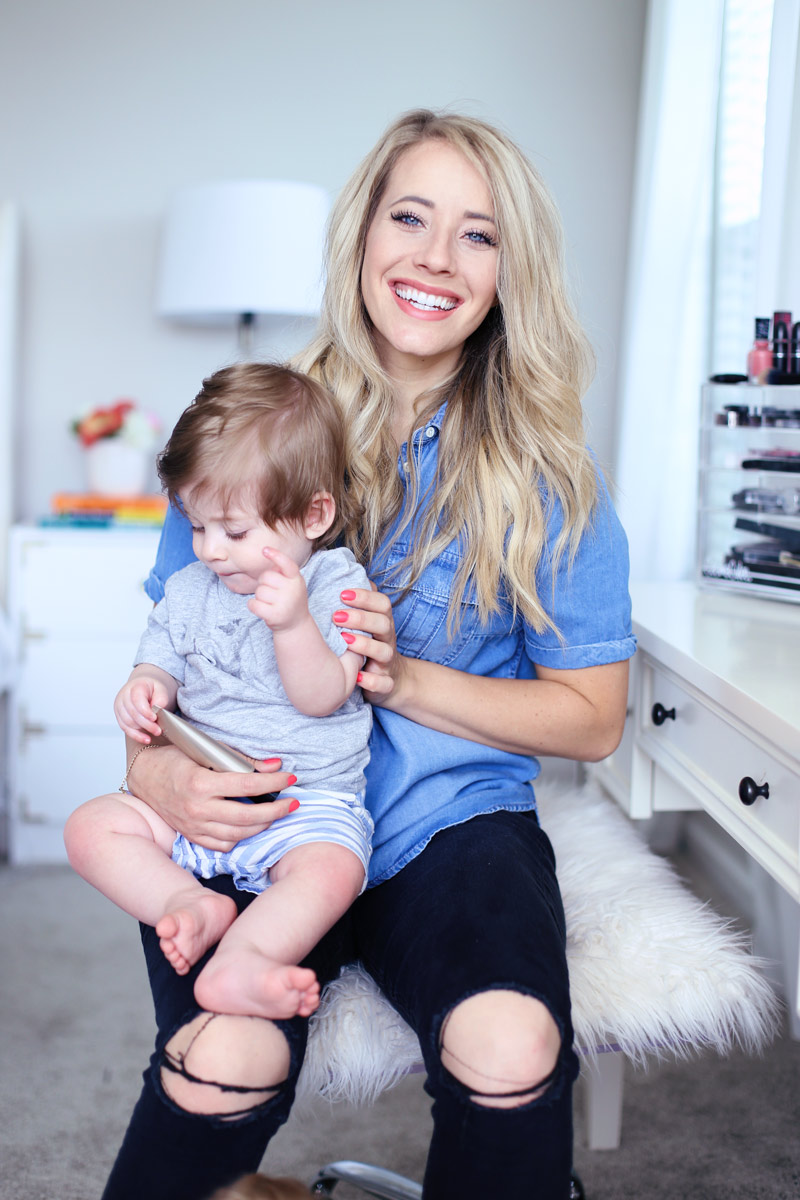 Let's get real for a second. I have like three and a half seconds to get ready in the mornings and unless I'm wearing left over curls from the day before, my hair is usually in a messy bun or braided back and I'm wearing leggings. It's just the way life is right now. I'm at home all day, my kids are the only ones who see me and I want to be comfy and casual in my space. But being comfy and casual doesn't mean I need to look like a slob! I feel it's really important, especially for young mothers, to spend a few minutes on getting ready every day. Your entire world is full of taking care of little people, cleaning up messes and navigating tantrums and life lessons. You can't afford to neglect yourself or everyone around you ends up suffering! So even if it is just three and a half seconds, do something for you that makes you feel just a little bit put together. Cause we all know that laundry room ain't!
Over the past few months I've been reviewing a bunch of different foundations, bb creams and moisturizers. My skin has FINALLY cleared up (for all those that have been asking, I've been taking Spironolactone and it's been working wonders) but I have some little scars and sun spots + some hyper pigmentation I need to cover and blend out. Doesn't everyone? I bought the new Bare Minerals Complexion Rescue, it just came in the mail last week for those who saw it on snapchat! It's pretty awesome stuff and I wanted to share my three minute morning rescue routine using it + how I find the time to get ready with four small kids!
My tee is from Target!! It's $25 and the softest chambray shirt I've ever owned!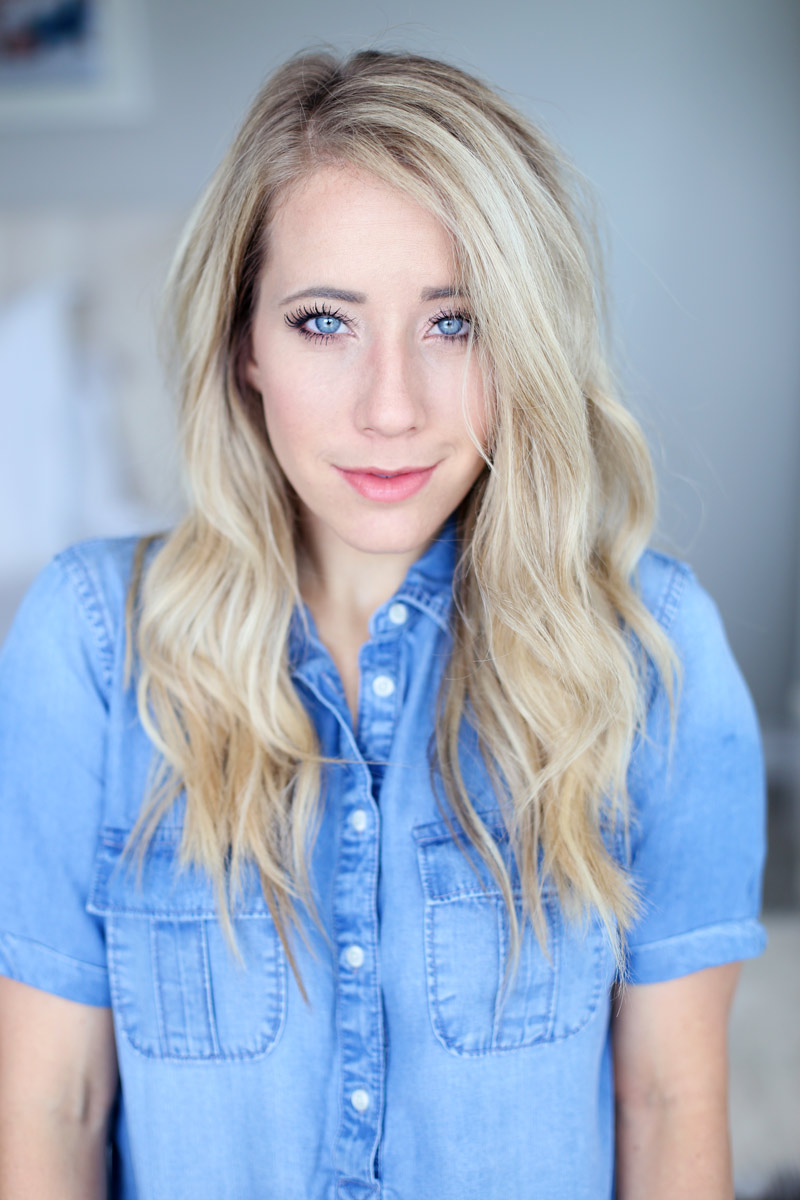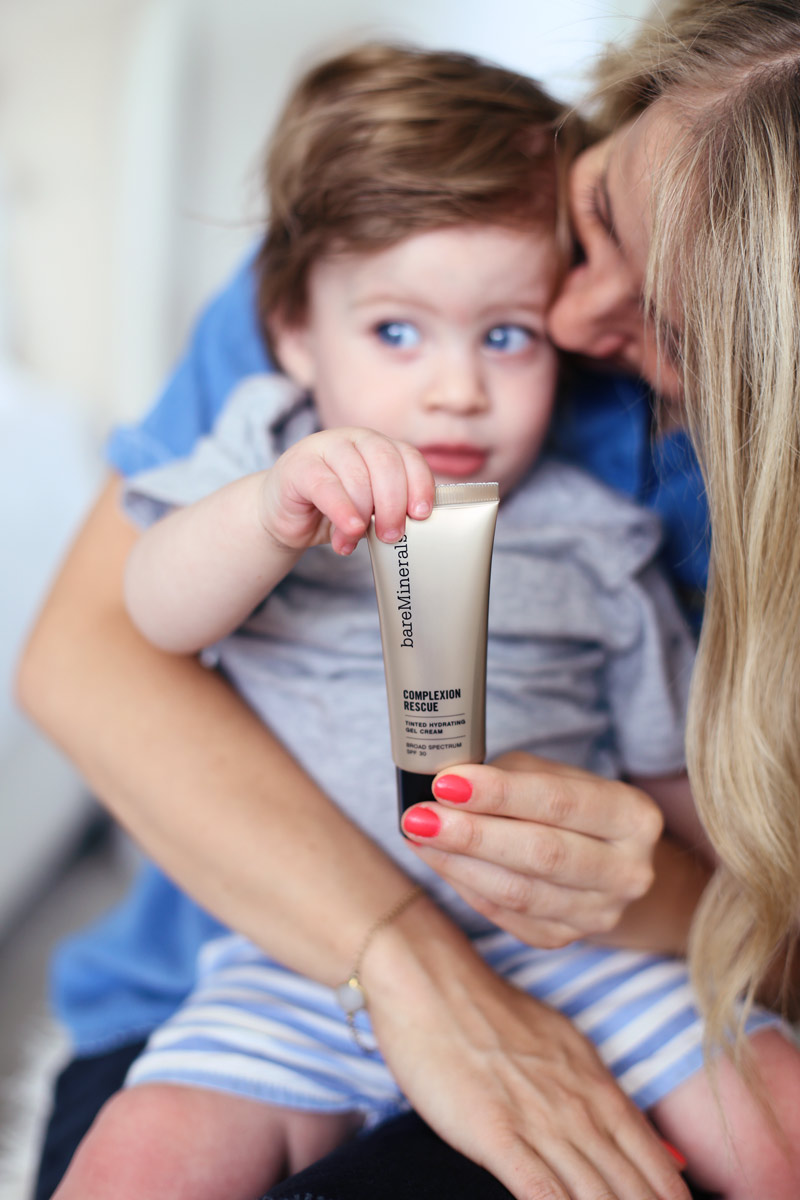 Oh Coop. You're the cutest! So this complexion rescue is a pretty awesome product. It's a bb and cc cream + tinted moisturizer all in one. So it goes on light and really hydrates the skin. It adds a tint of color and evens out your skin tone but it's also infused with extra skin care benefits like mineral electrolytes to help energize the skin and an SPF. If you have acne, I'd maybe go for something a little more full coverage. This is a sheer to medium coverage and it does a great job making the skin look soft and radiant.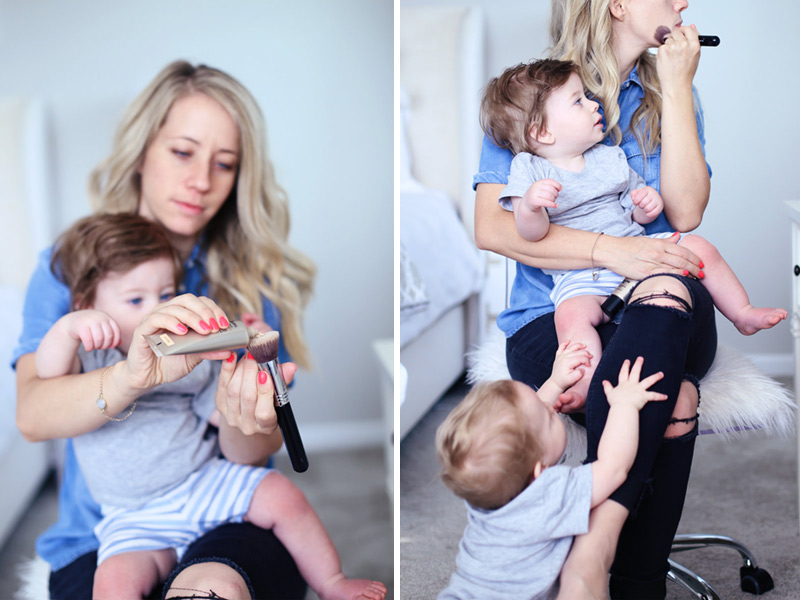 For some reason I was expecting more of a thicker foundation type consistency. I used it a few times with my flat kabuki brush that I apply my foundations with but have found that blending it into the skin with my fingers works even better!
Because this is a moisturizer I don't find it necessary to use a primer before applying it. Put a dab of it on the tips of your fingers, or a brush if you want, and blend it into the skin and over the eyelids.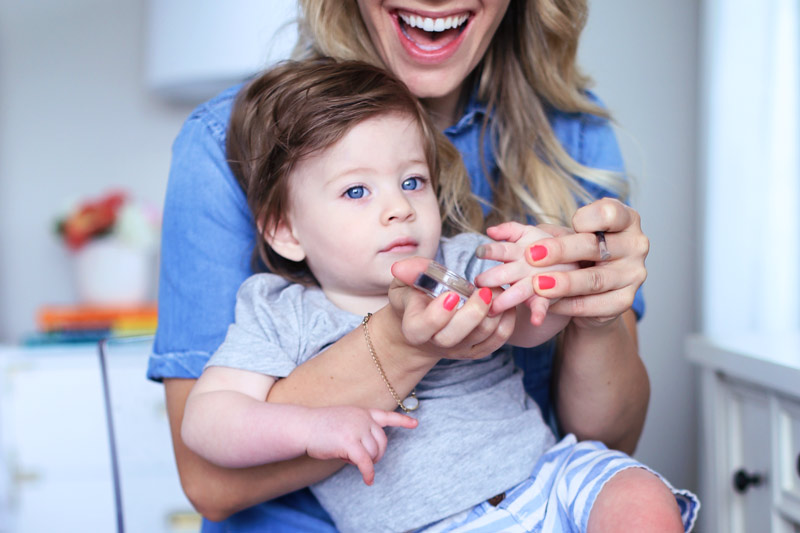 Next I fill in my brows. He's being so mischievous here… blank stare as if he's doing nothing wrong! If you look closely you can see eyebrow gel all over his finger! ha ha! Filling in the brows is super important for me because I'm so fair. Skin, brows, mascara and gloss. My four must haves when getting ready in a hurry.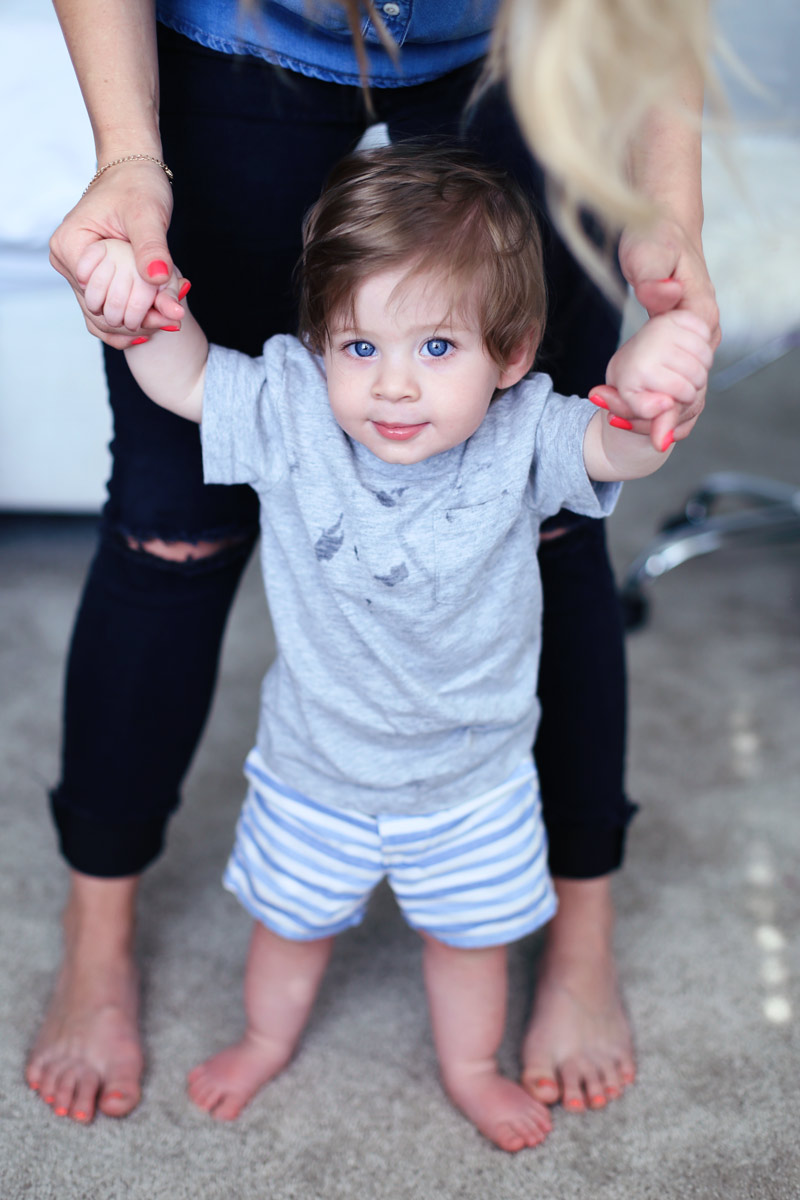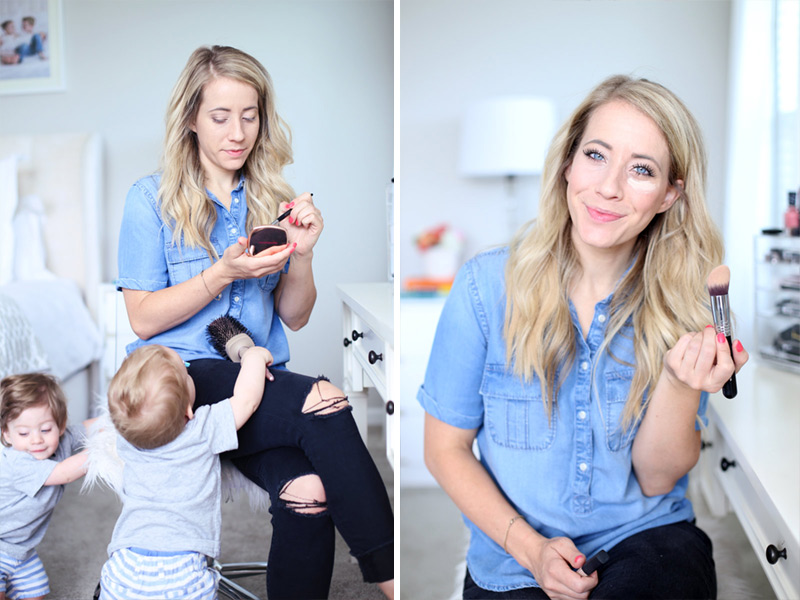 And then I'm using a bare minerals palette that's similar to their new neutral palette. Mine was a holiday one they don't offer anymore. But I really like little palettes like this when I'm in a hurry because I can quickly grab a few different colors. I've used a bronze sheen over the entire eyelid and then I've added a little taupe in the crease.
Because eyeliner takes a little more concentration, when I'm in a hurry I always skip it and go straight to the mascara. I have a few favorites but in keeping with the bare minerals theme, you guys know I've always loved their lash domination. It's literally THE best stuff ever and I've been using it for years.
Next up I add just a little bit of under eye concealer to brighten the eyes and finish it off with a neutral lip!
Bare Minerals released a super cute video on a mom getting ready while holding her baby, it's so cute! I feel like I need to add this to the list of videos I want to do with my kids, would you guys be interested in that at all?!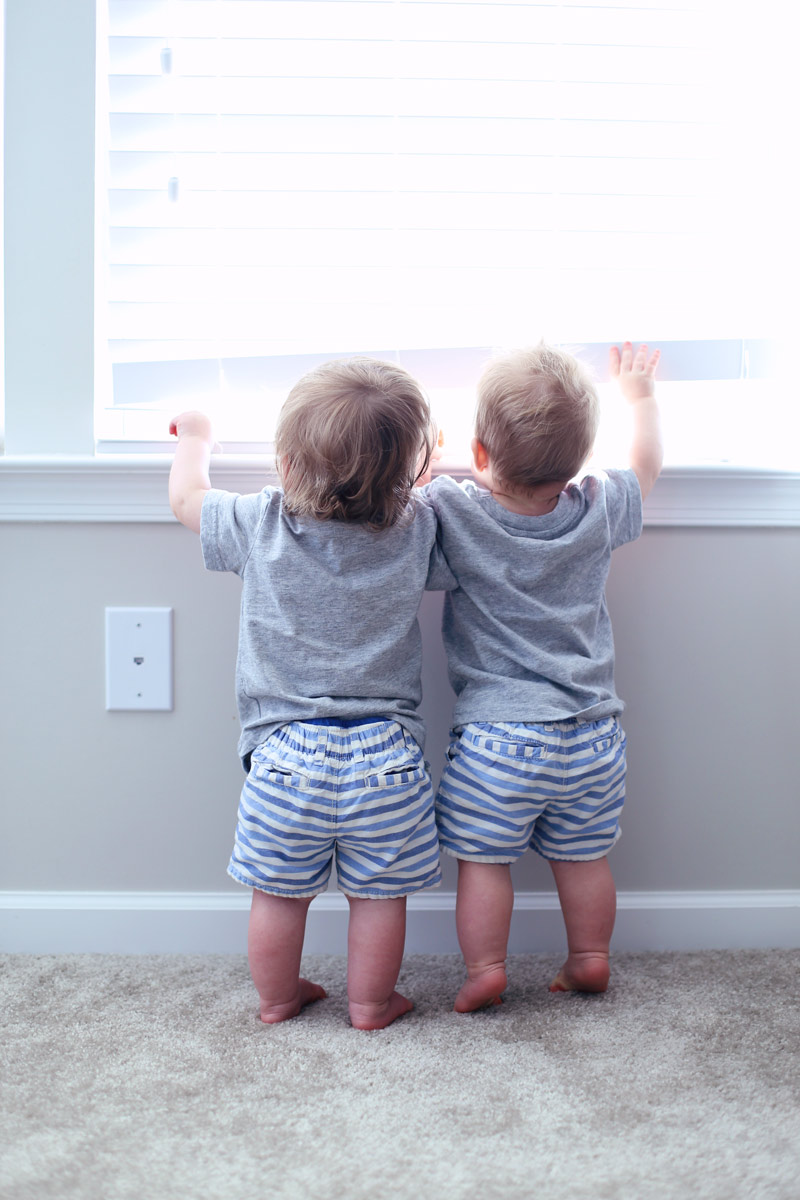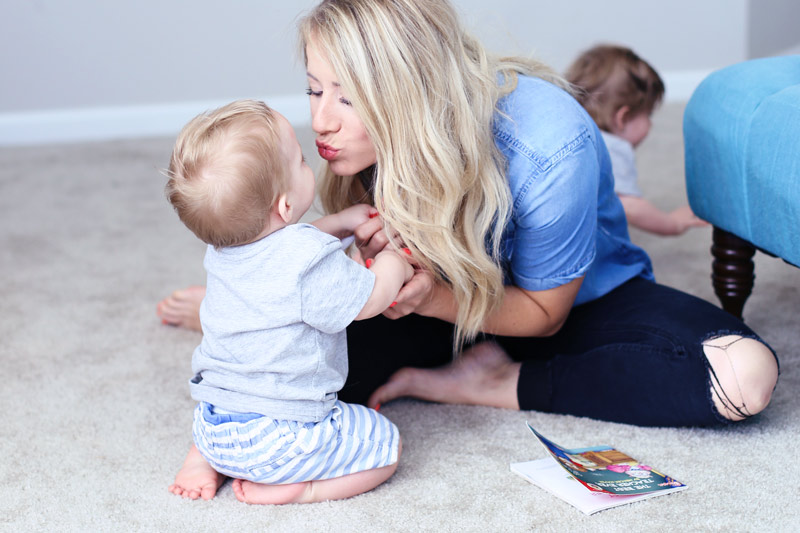 And as promised, a few quick tips on how I find time to get ready in the mornings! Let me know if you'd be interested in a more dedicated post to our routine!
Tip #1 – Be quick and don't waste time. When I cut out browsing instagram and facebook in the mornings I find I have a few spare minutes to organize myself.
Tip #2 – HAVE A SCHEDULE! My babies take naps from 9-11:00 and 1-3:00 every day. It's what keeps me sane! After breakfast the babies go down for a nap, the big kids and I finish cleaning up the kitchen and tidy up and then we exercise. It leaves me with just a few minutes to hop in the shower and get ready before the babies wake up. If I adhere to tip #1 I can cram so much into those two hours!
Tip #3 – Have a game plan for your day. I like to write down a few things I want to accomplish and I find I'm much more focused.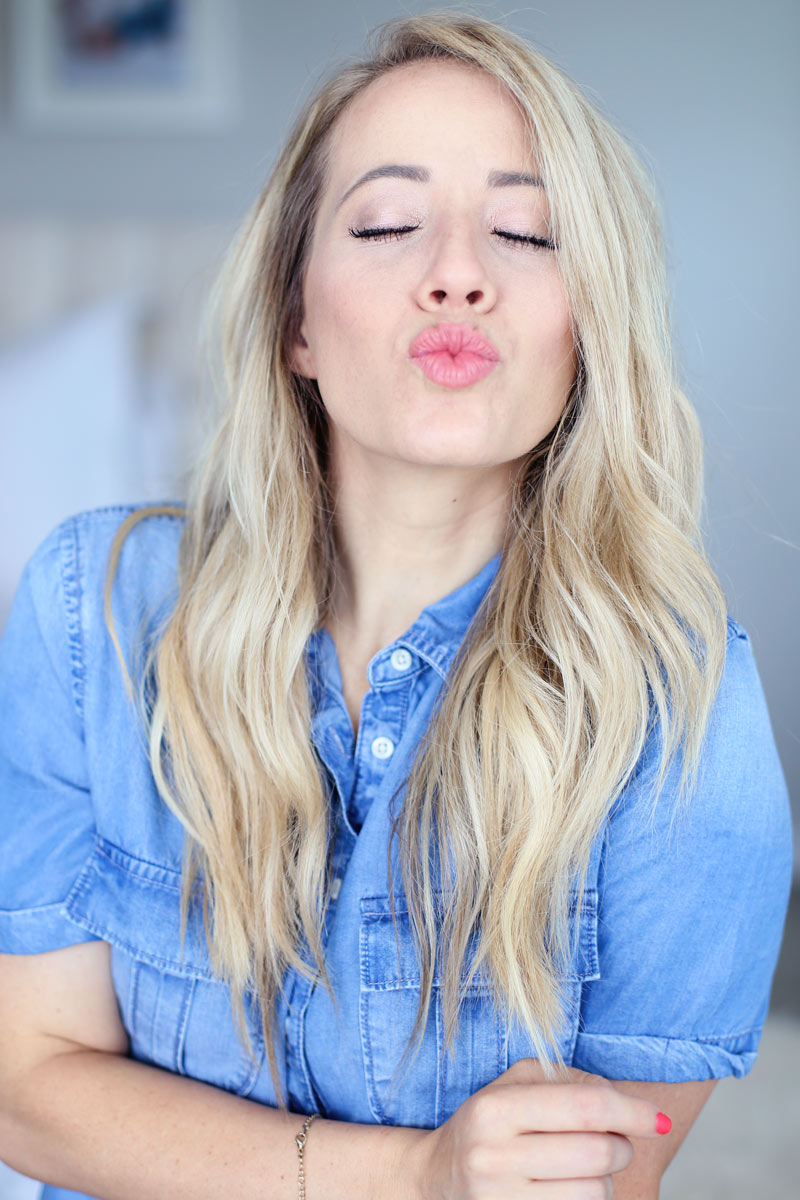 Thanks for reading guys! I'm so grateful for all your support and interest in my life. I feel like I have the best community here and you're the reason why I'm so passionate about coming back!
xo
This is a sponsored conversation written by me on behalf of bareMinerals. The opinions and text are all mine.