Like most of you, I feel like I am always busy with one thing or another. From the moment I wake up until I fall asleep at night, there are children to feed and clothe, food to prepare and put away, chores to do, schoolwork to check on, etc. The list seems to never end! Since I became a single mom last year, I have tried hard to not let all of my responsibilities take over and make me forget to take care of myself. One of the ways I fight this tendency to forget who I am, is with my simple makeup routine.
*Disclaimer- Some of the links in this post are affiliate links. I earn a small commission if you purchase the products I recommend. I only recommend products that I love and use regularly.*

Why a Routine Is Important
I've talked before about how I've been trying to spend more time exercising and focusing on my physical health. (Read more about my exercise routines HERE.) And I've talked about the ways that Therapy has helped me and my kids as we adjust to a new normal HERE. I think it's important to also remember to take care of your appearance. Especially when things in your life feel heavier than usual, or you are struggling to remember who you are outside of being a mom or a wife.

Since I've gotten a few questions on Instagram about what makeup products I use in my simple makeup routine, I thought I'd put together this quick blog post about what products I'm loving right now and how I quickly apply them. I don't like to feel like I have a heavy face full of makeup most days, so this quick routine has been a lifesaver for me. I'm linking all of the products I use, so you can find them easily and give them a try!

Laneige Lip Glowy Balm in Grapefruit
Step 1- Skin Prep
I've learned that the biggest thing to remember when talking about makeup is to make sure that your skin is prepped correctly. For me, that includes moisturizer on my face and lips. I love the Glam Glow Glowstarter Mega Illuminating Moisturizer because it's not only a great moisturizer, it also leaves my skin with a subtle glow! It's so fun. For my lips I have been loving the Laneige Lip Glowy Balm. If you have fallen in love with their nighttime lip sleeping mask, you will love this daytime lip balm! I find myself reaching for it all day when my lips start to feel a little dry.

Milk Makeup Lip+Cheek Stick in Dusty Rose
Laura Mercier's Translucent Loose Setting Powder
Step 2- Foundation
The next step in my simple makeup routine is to apply my foundation, contour, blush, and concealer. Since I am no longer 23, I really like the It Cosmetics Bye Bye Lines Foundation that helps my skin look younger. I always use my favorite It Cosmetics Skin-Perfecting Brush to apply it, too.
After I apply my foundation, I grab my Fenty Beauty Contour Stick to add some dimension into my face and to make my cheekbones pop. I love how this product is so easy to use no matter what your makeup skill level is! After I've blended my contour, I apply my blush. The Milk Makeup Lip + Cheek Stick is awesome because I can use it as a blush or as my lip color. The dusty rose shade is my current favorite because it's just the right amount of color on my cheeks.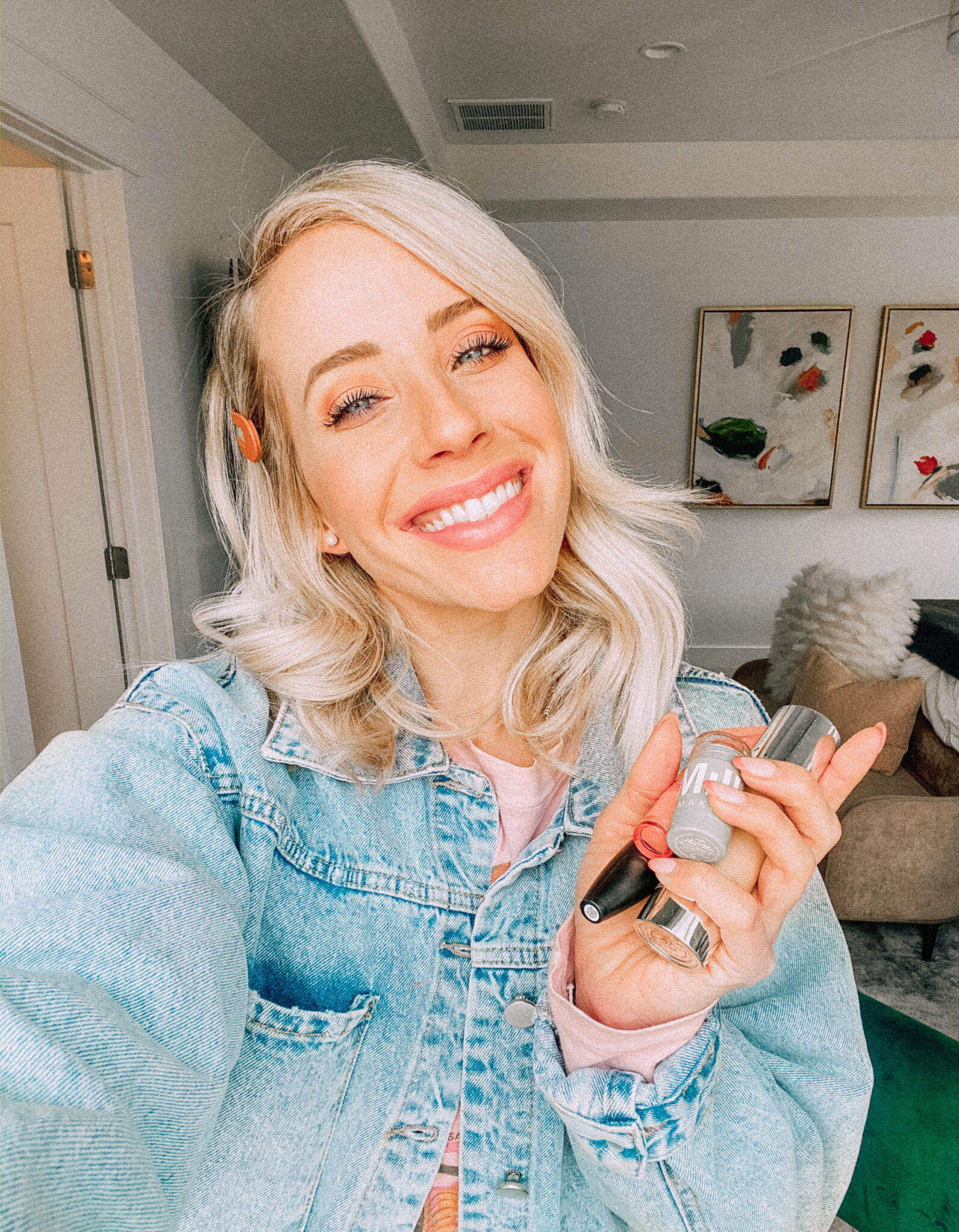 Finally, I apply my concealer under my eyes and set everything with loose powder. The NARS Soft Matte Concealer is great because I don't need a brush to apply it. This helps me to not use too much under my eyes, since I just use my fingers to lightly tap it onto my skin. When I have had sleepless nights or sick children, this step is my saving grace for not looking exhausted! To set my concealer and foundation products, I have loved Laura Mercier's Translucent Loose Setting Powder for a long time. It may seem pricey, but it is so worth the money! It's a really fine powder, and it lasts on my skin all day. I love that I don't have to worry about my makeup after I set it with this loose powder.

Colour Pop Double Entendre Eyeshadow Palette
Maybelline Lash Sensation Mascara
It Cosmetics Brow Powerful Eyebrow Pencil
Step 3- Eyes and Brows
I love making my blue eyes pop with eyeshadows. However, I don't want to spend a ton of time choosing eyeshadow shades and creating intense eye looks. The Colour Pop Double Entendre Pressed Powder Shadow Palette has all of my favorite neutral shades in one compact. I can create so many looks with this one palette! For my lashes, I love to use Maybelline Lash Sensation Mascara every day. It's quick and easy to apply and makes my lashes really pop. To finish my eyes, I always fill in my brows with It Cosmetic's Brow Powerful eyebrow pencil. This is a great product because it is double ended. I don't need a separate eyebrow brush to fill in my brows! It gives me just enough color to fill in my brows while still helping them to look natural.

CoverGirl Melting Pout Liquid Lipstick
Step 4-Finishing Touches to My Simple Makeup Routine
To finish my simple makeup routine, I always use a little color on my lips. CoverGirl's Melting Pout liquid lipstick in shade 105 is my go-to color right now. It's so easy to apply, and I love that I can grab it at my local Wal-Mart! I can't forget my Highlighter, either. Once again, Fenty Beauty comes to the rescue. Their highlighters are so pretty, I'm obsessed with how they look on my skin.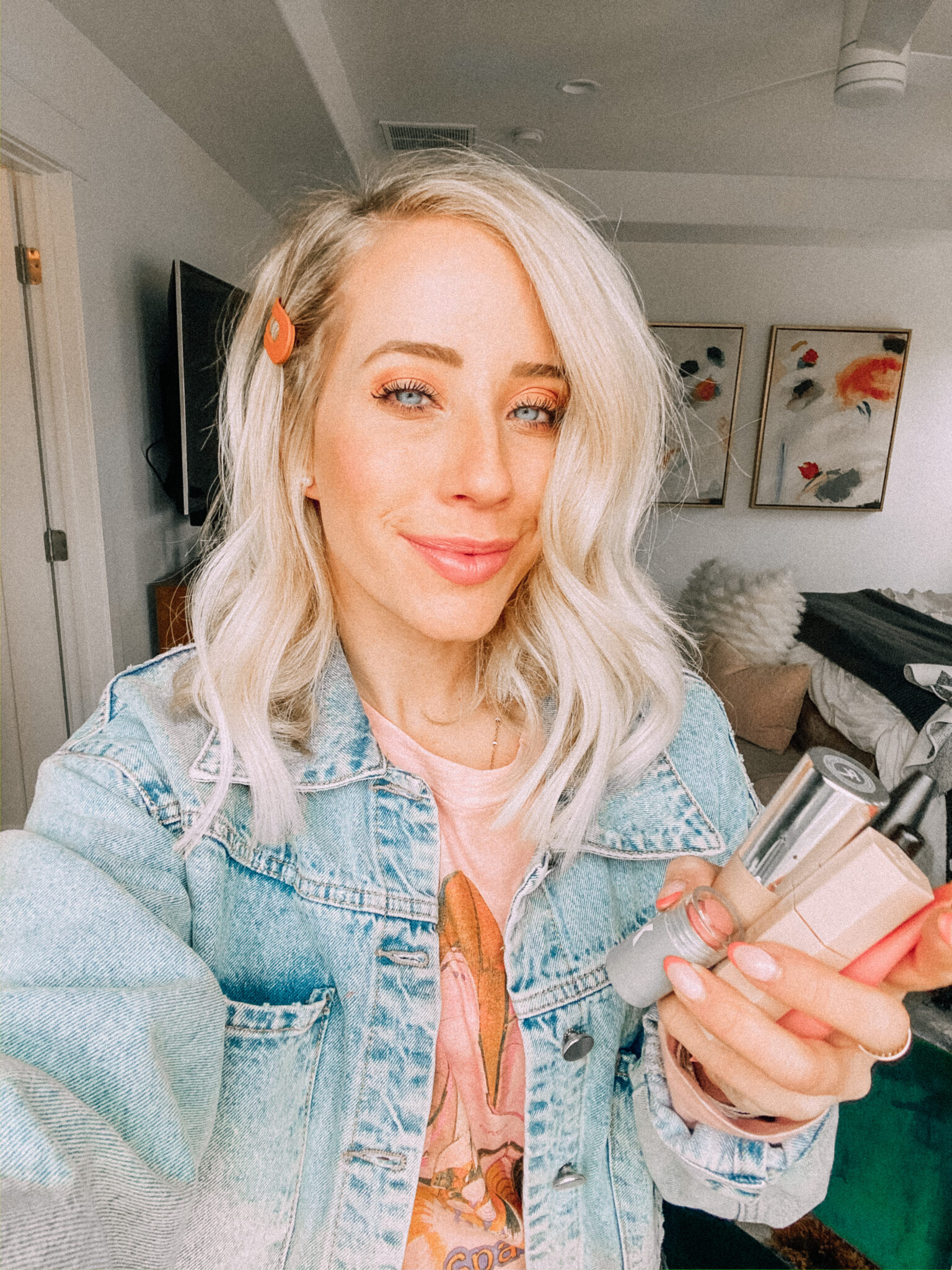 That's it! My simple makeup routine takes me less than 20 minutes to do each day, and I always feel more productive when I take that time for myself. I really believe that taking care of ourselves physically and mentally is so important. What makeup products are you loving right now? Anything I need to try? Let me know in the comments!