I've felt for a while that I needed to update my family's emergency preparedness supplies. The first thing that was on my list to get completed were our 72 hour kits. When Utah recently had an earthquake, it made me realize that I needed to listen to my gut and get my emergency supplies in order quickly! I'm so relieved that I have these basic supplies put together now.
Have you ever made a 72 hour kit? Do you know what is in one? I'll be honest, there are so many lists and recommendations out there, that I was initially overwhelmed with what I should include in my 72 hour kits. Basically, a 72 hour kit is meant to keep you or your loved one alive for a period of 72 hours in the event of a major emergency or natural disaster. Traditionally, they are kept in a backpack or other small bag that you can pick up and carry on your person if you cannot drive a car. I plan to pull a wagon with a few extra items for myself and my 4 children along with carrying our backpacks full of our emergency supplies. This will allow me to carry extra water.
Sorting Through the Recommendations
I turned to my Mom for advice for what to include in our 72 hour kits, and she was an invaluable resource as I sorted through all of the recommendations from the different emergency agencies. Here are a few websites that I used as reference for building our 72 hour kits:
Ready.gov– This is an official U.S. government website with lots of good information about emergency preparedness.
Red Cross Store– If you prefer to purchase a pre-made 72 hour kit, you can get one here from the American Red Cross.
To make things easier to follow, I broke up my list and separated out the different categories of items I packed. Most of the big items I purchased on Amazon, and the smaller things I purchased at Walmart or my local grocery store. I've also linked all of the items I purchased on Amazon at the end of this post so you can use it as a reference!
*Note– Some items were hard to find in the current pandemic situation that I am dealing with in April 2020, so if you are struggling to find a certain item, just do your best to make a substitution. Also, you should go through your 72 hour kits every 6-12 months and make sure everything is up to date and isn't spoiled. If you want to know what I packed in my kids' 72 hour kits, click HERE.
Ok, let's get down to business.
72 Hour Kits for Adults:
For my backpack, I'm using a Nitro Pack that I had from a few years ago. It's a nice large bag with a lot of pockets. Unfortunately, I wasn't able to fit my clothes, shoes, the flashlight, or the radio in my backpack. I will put those items in another bag and either carry it in my wagon, or sling it over my first bag.
FIRST AID BAG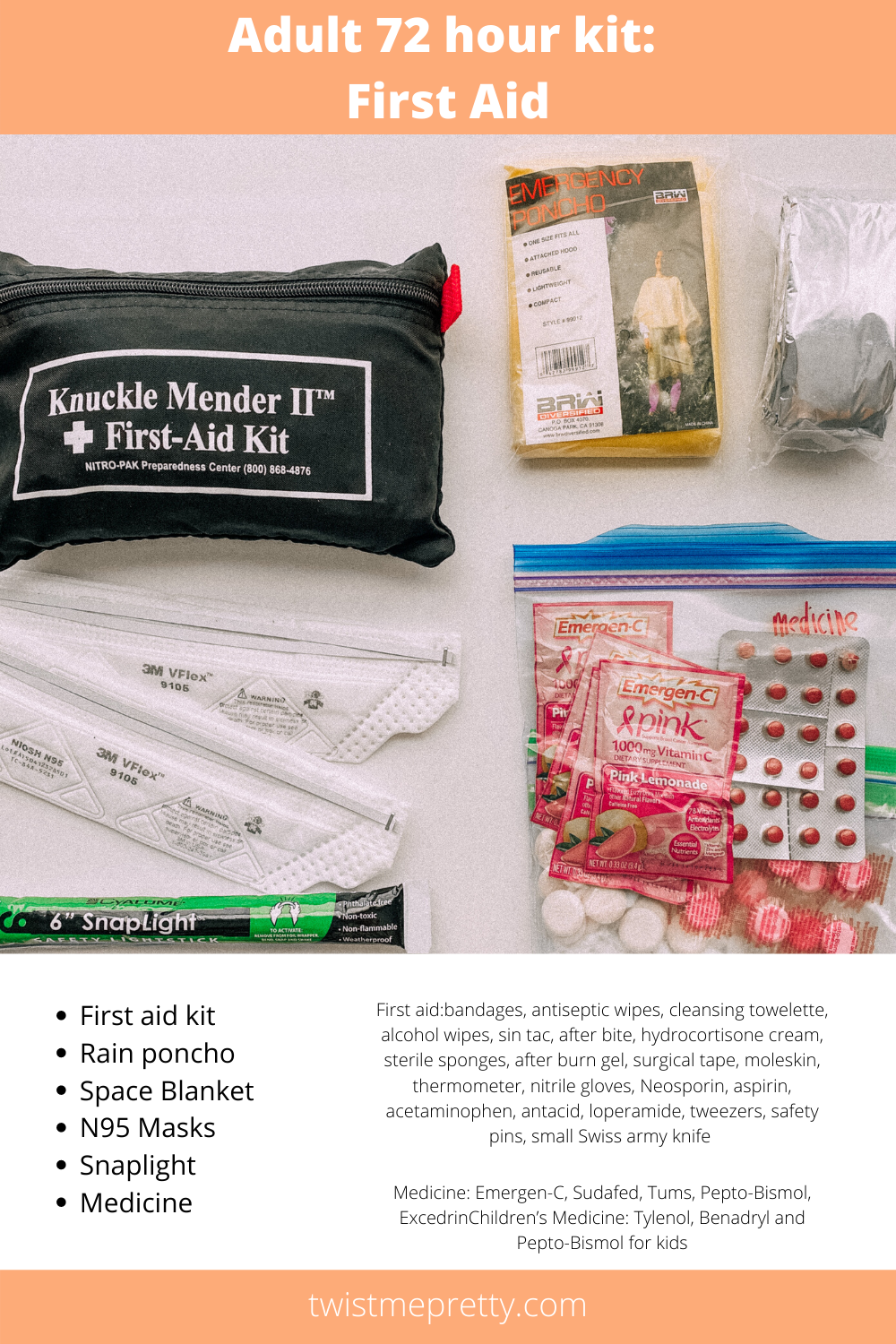 For my first aid supplies, I purchased a larger self-contained first aid kit online (linked below), and I'm also including a few other things in my first aid ziploc bag.
First aid kit: bandages, antiseptic wipes, cleansing towelette, alcohol wipes, sin tac, after bite, hydrocortisone cream, sterile sponges, after burn gel, surgical tape, moleskin, thermometer, nitrile gloves, Neosporin, aspirin, acetaminophen, antacid, loperamide, tweezers, safety pins, small Swiss army knife
Rain poncho
Space Blanket
N95 Masks
Snaplight
Medicine: Emergen-C, Sudafed, Tums, Pepto-Bismol, Excedrin
Children's Medicine: Tylenol, Benadryl and Pepto-Bismol for kids
UTILITY BAG
For the items in this bag, I'm including survivalist items I will need to keep my family safe, prepare our food, and clear an area for shelter if needed.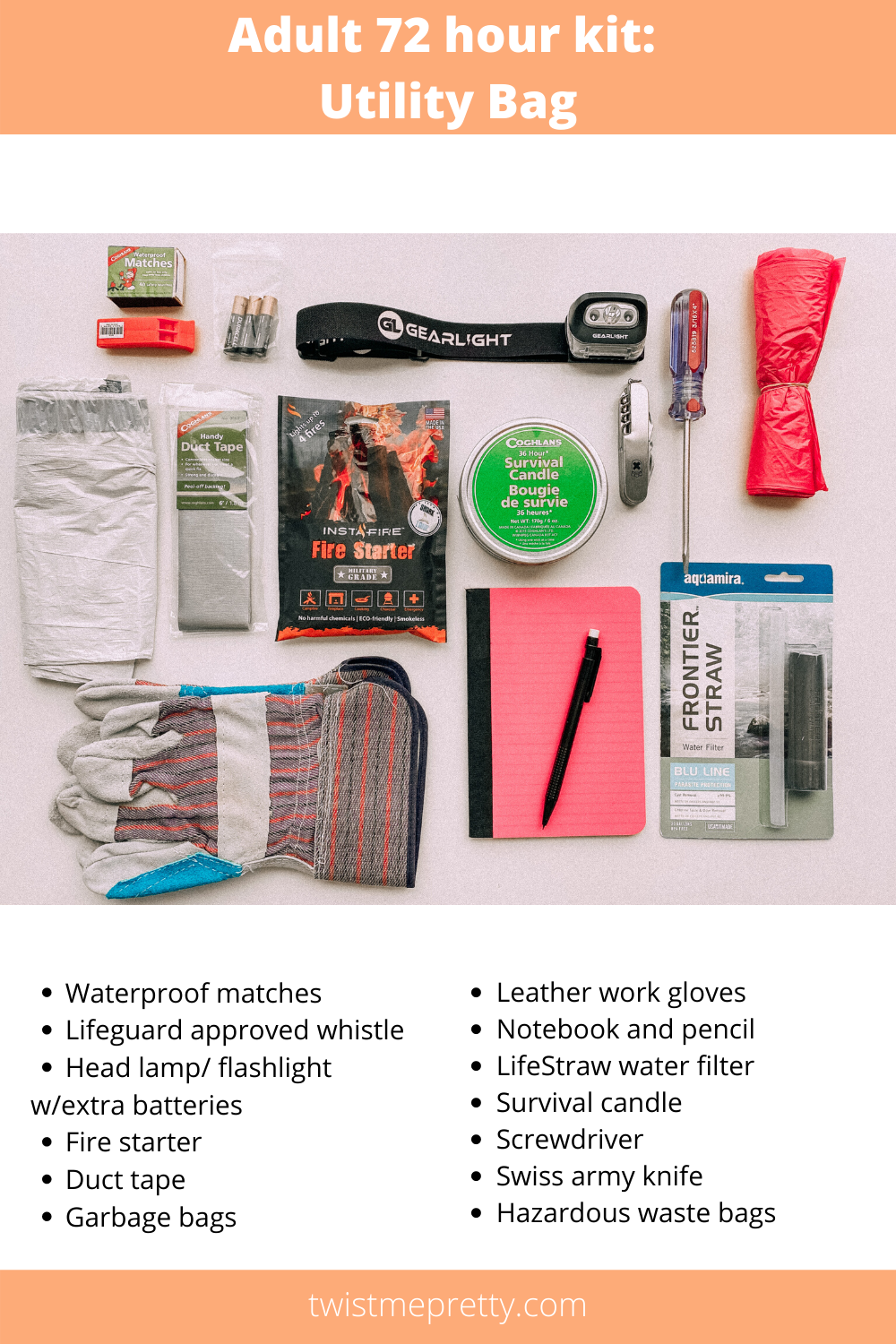 Waterproof matches
Lifeguard approved whistle
Head lamp/ flashlight and extra batteries
Fire starter
Duct tape
Garbage bags
Leather work gloves
Notebook and pencil
LifeStraw water filter
Survival candle
Screwdriver
Swiss army knife
Hazardous waste bags
HYGIENE
For my personal hygiene ziploc bag in my 72 hour kit, I included items I'll need to keep myself and my kids relatively clean and sanitary if we need to make our own bathroom facilities outside.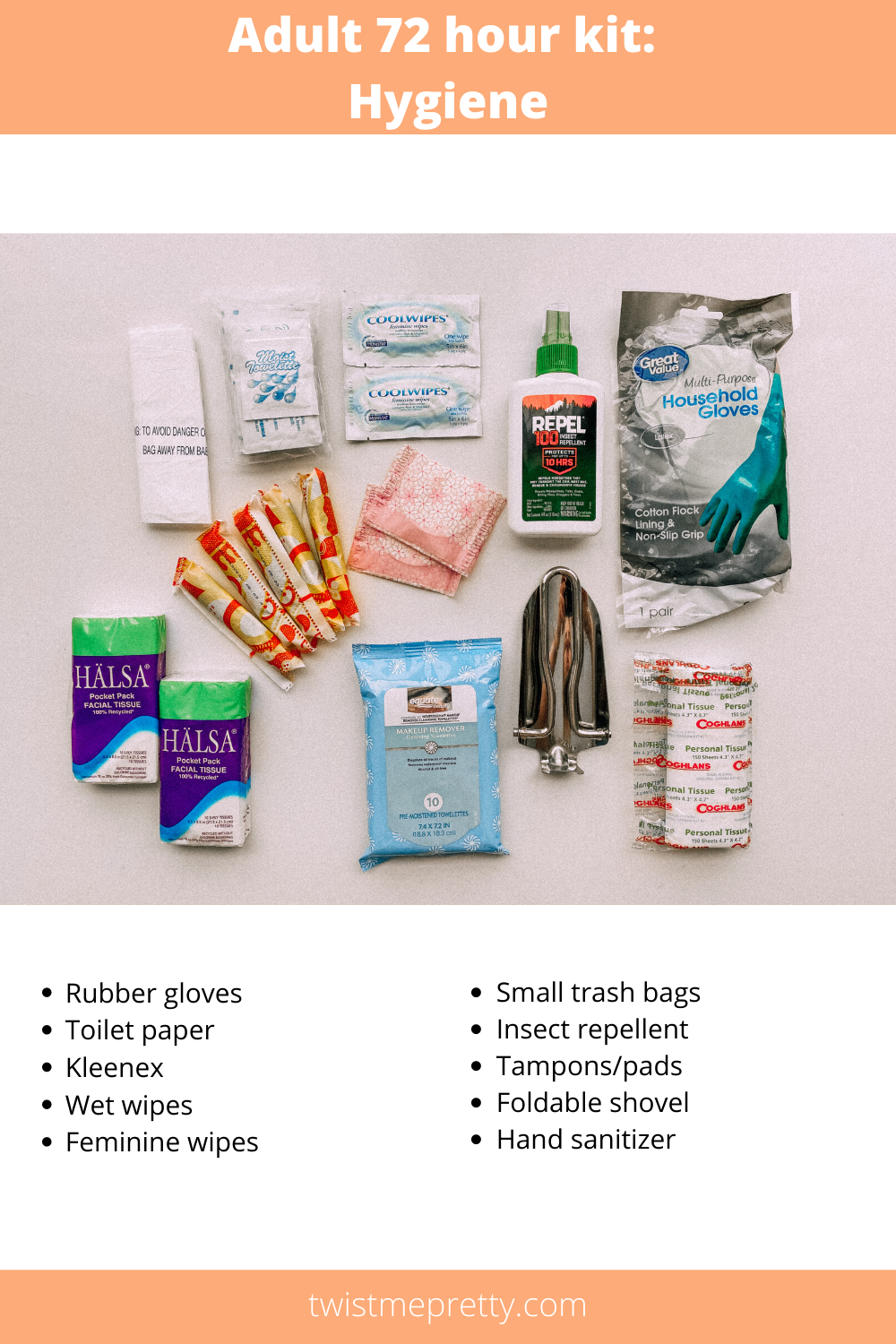 Rubber gloves
Toilet paper
Kleenex
Wet wipes
Feminine wipes
Small trash bags
Insect repellent
Tampons/pads
Foldable shovel
Hand sanitizer
COSMETIC BAG
I know that the title of this bag might sound high-maintenance, but it's really not. Everyone needs to feel semi-human no matter what the conditions are that they are dealing with.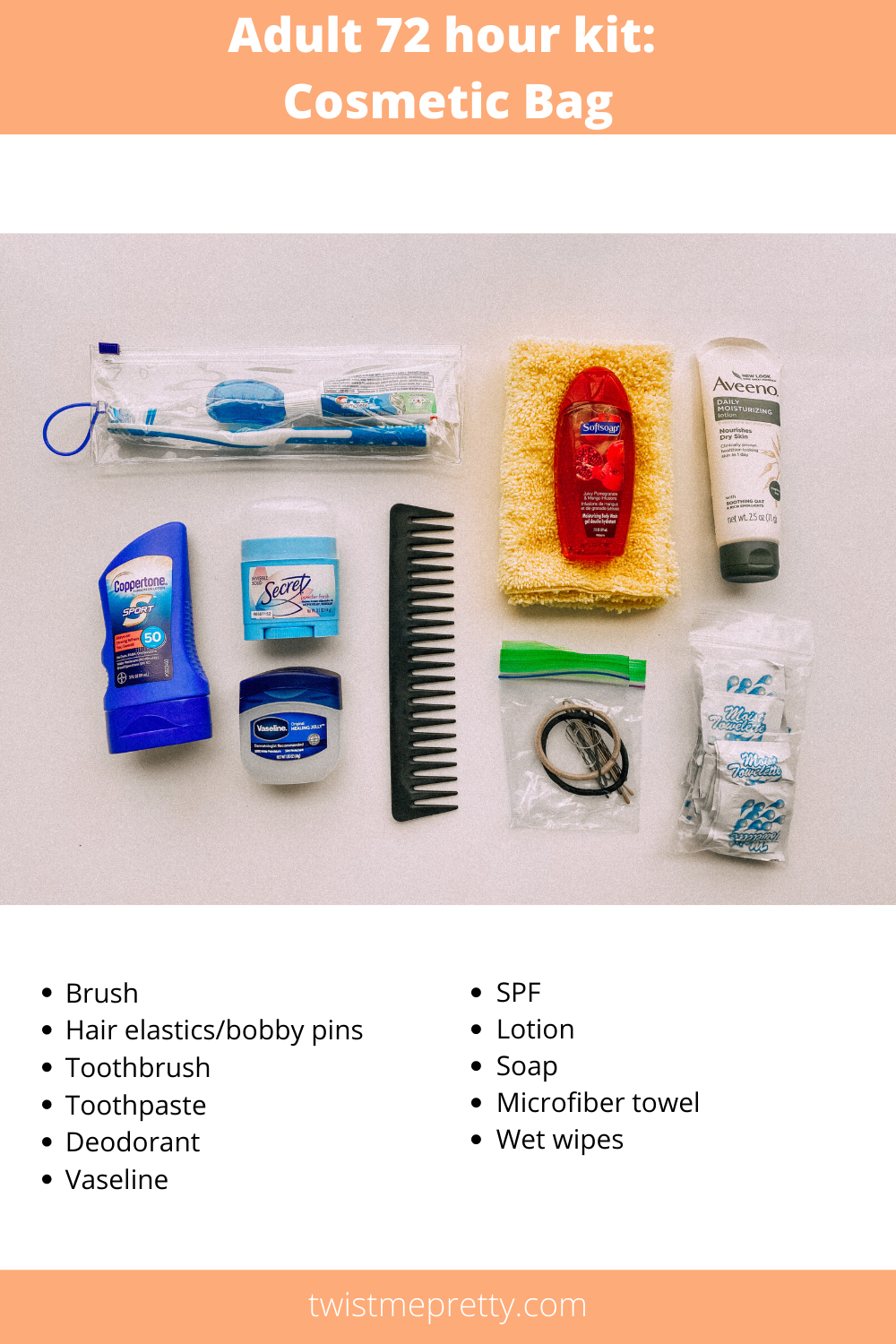 Brush
Hair elastics/bobby pins
Toothbrush
Toothpaste
Deodorant
Vaseline
SPF
Lotion
Soap
Microfiber towel
Wet wipes
FOOD BAG
For the food, this is a matter of personal preference for everyone. Be sure to pack a mixture of protein and carbohydrates to keep you from getting hungry. It's also important (especially for kids) to have a few treats in the food bags. To prep our food, I have waterproof matches and also a Jet Boil for cooking the oatmeal and hot chocolate. You will also want to check your food about every 6 months to make sure everything is still good and not expired.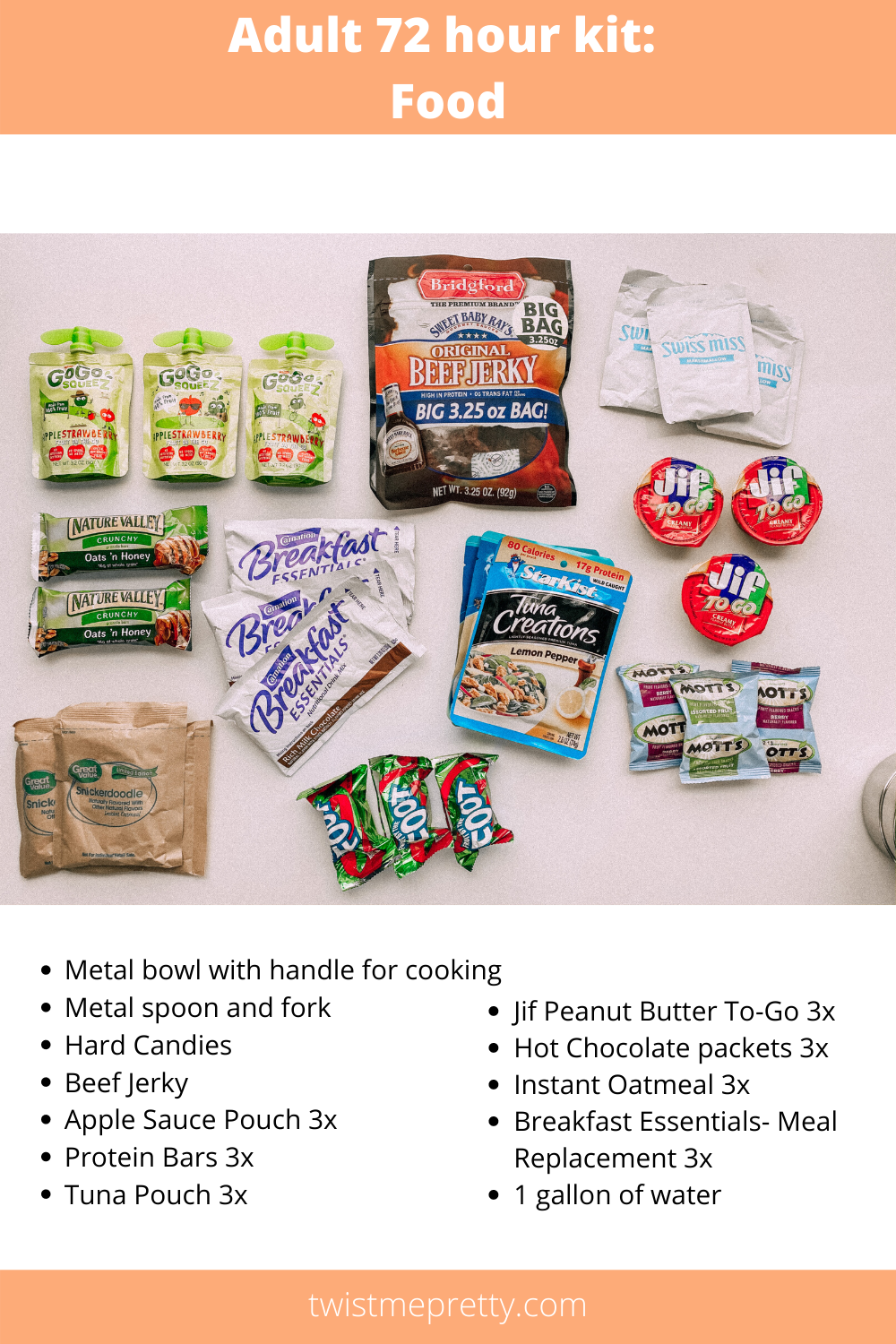 Metal bowl with handle for cooking
Metal spoon and fork
Hard Candies
Beef Jerky
Apple Sauce Pouch 3x
Protein Bars 3x
Tuna Pouch 3x
Jif Peanut Butter To-Go 3x
Hot Chocolate packets 3x
Instant Oatmeal 3x
Breakfast Essentials- Meal Replacement 3x
1 gallon of water
EXTRAS
These extra items are things I've seen recommended on many sites. The am/fm radio is especially good to have in areas where you may have tornados or other natural disasters happening. I also love that I was able to find a solar powered charger and a rechargeable spotlight/lantern that can be charged with the solar charger.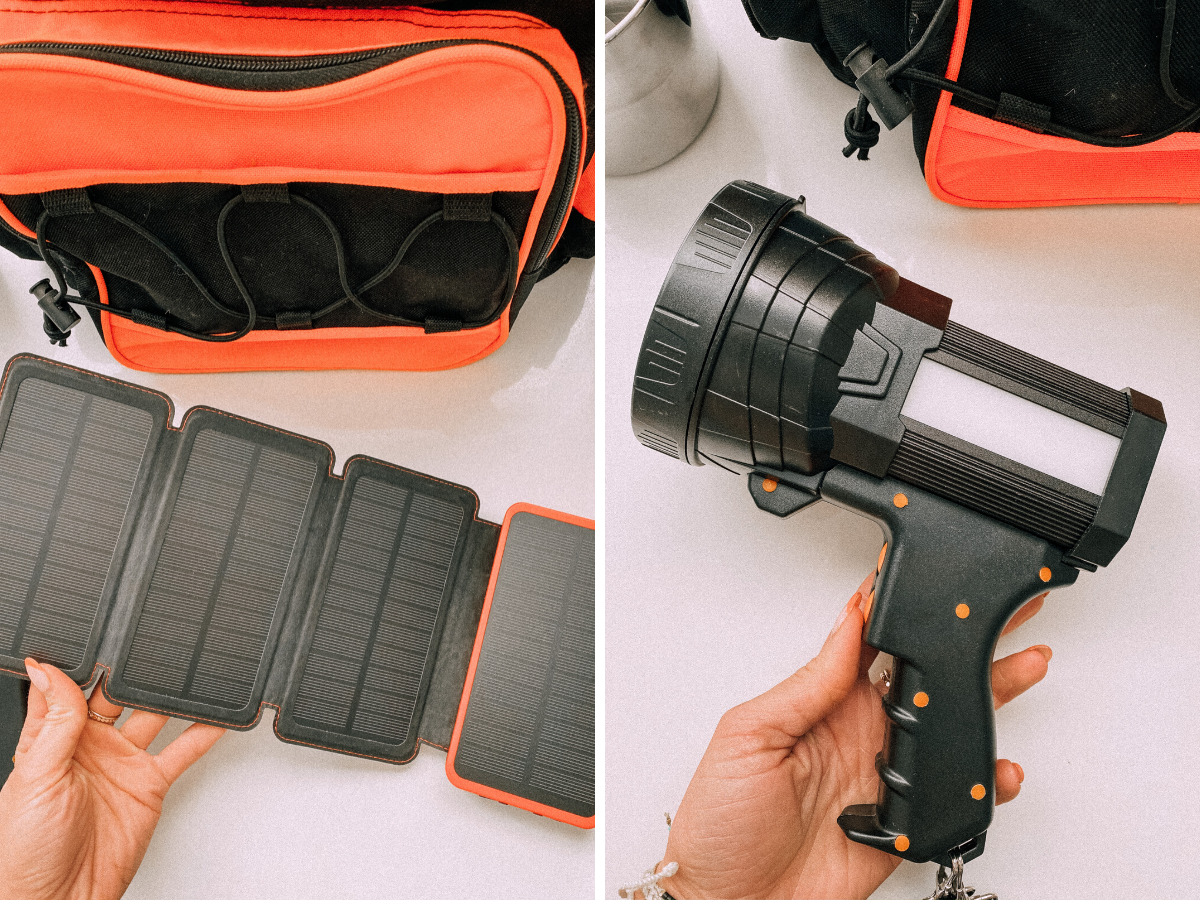 Also, it's always a good idea to have cash on hand in case of an emergency. You may not be able to get to an ATM in an emergency situation, and the ATM's and credit card machines will not necessarily be working if there is a power outage. I'm keeping a copy of my drivers license in my bag, too, so I don't have to worry about where my wallet is when I'm trying to leave the house quickly.
AM/FM Radio
Solar Charger
Rechargeable spotlight/lantern
Tube Tent
Water
Copy of House and Car Insurance (number to reach them and policy #s)
Copy of Drivers License
$100 in small bills
CLOTHES
For clothing, keep in mind the weather where you live. If you live in a warmer climate, you will not necessarily need wool socks. But if you live where it gets colder, you will want them!
Wool socks
Jacket
Underwear
Shirt
Jogger pants
Running shoes
SUPPLIES FOR PETS
If you have a dog or cat that you will want to bring with you in an emergency, be sure to include supplies for them in your emergency 72 hour kits. You can even create them their own bag.
Dog/cat food
Collapsible bowls for food/water
Leash
Hiking backpack for dogs (if you have a larger dog that can carry weight on their backs)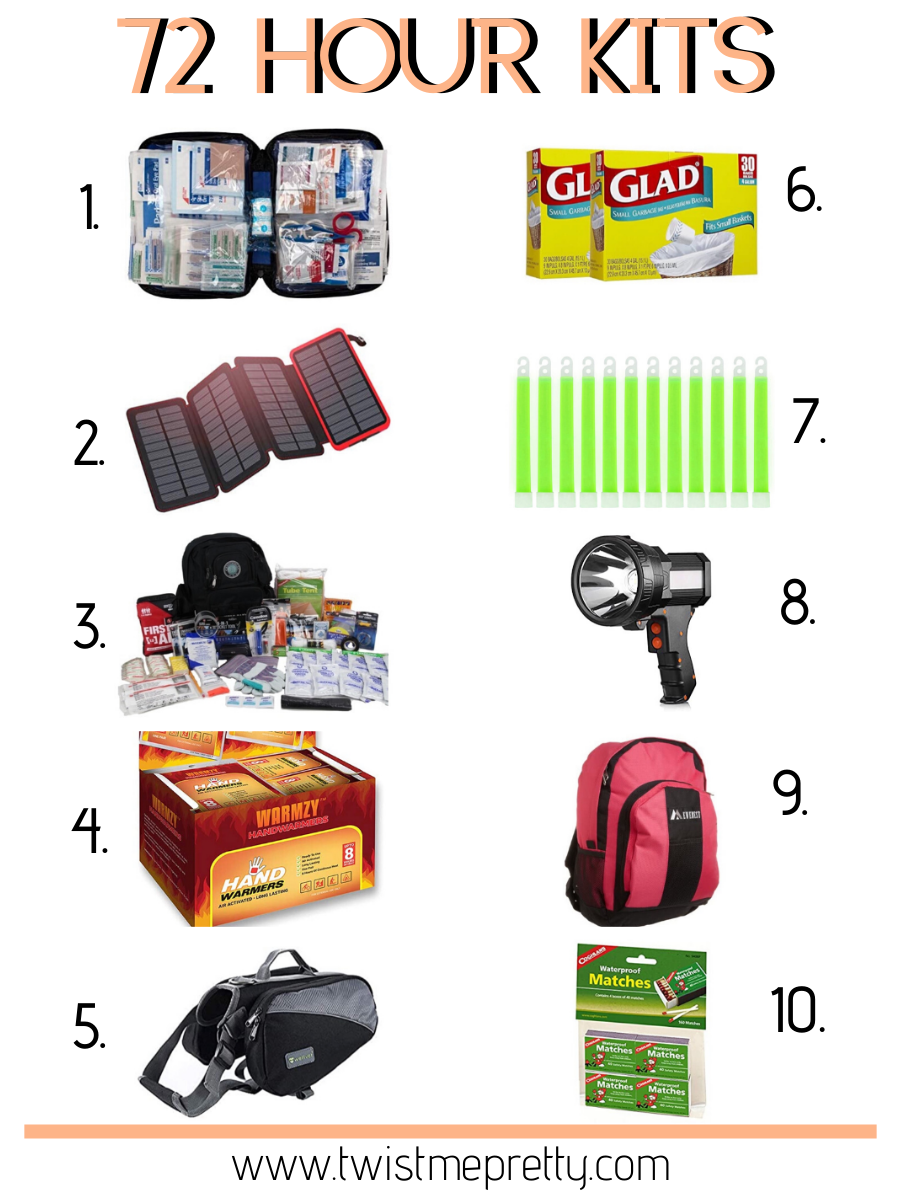 Supplies for 72 Hour Kits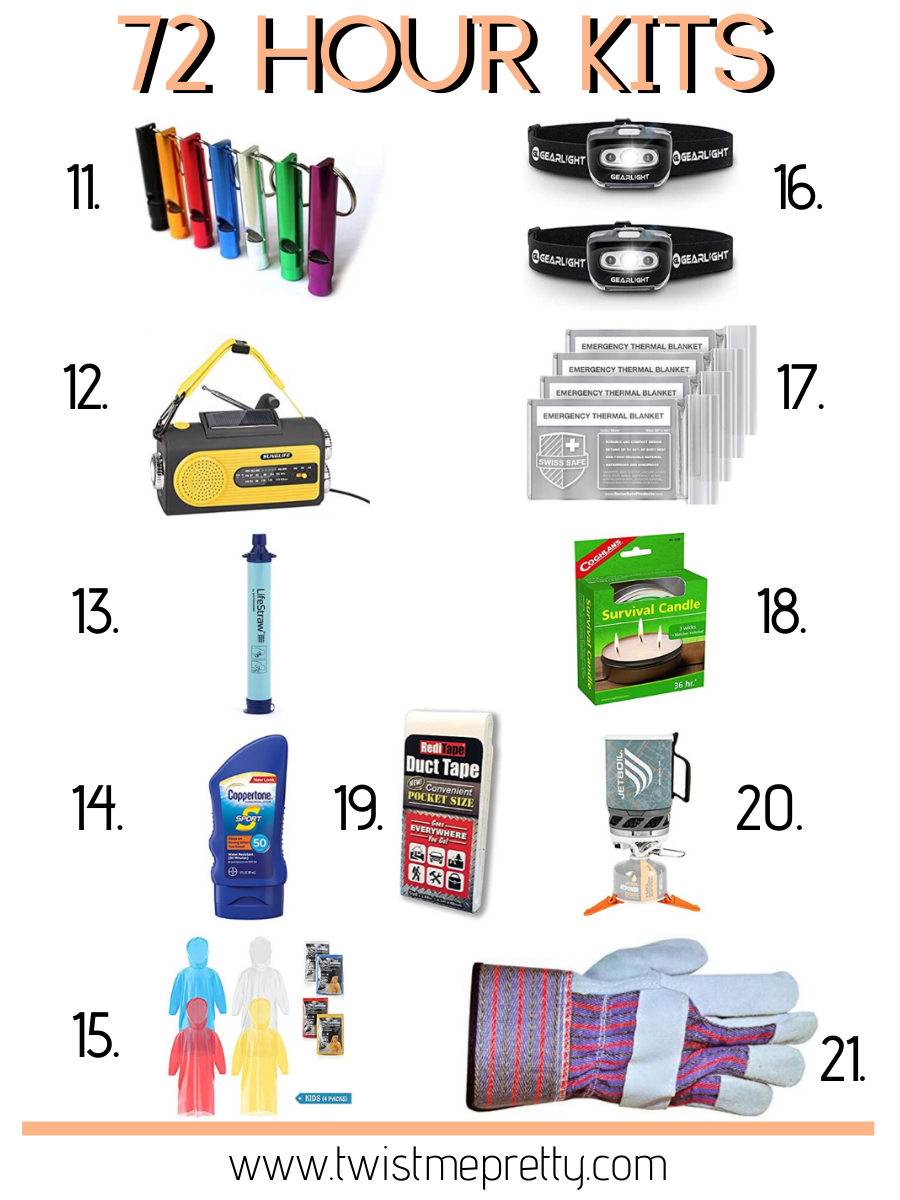 Be prepared with 72 hour kits!
I feel really strongly about the importance of being prepared in an emergency. I'm so relieved to have all of this ready to go. I'm keeping it in an easy to access spot in my home so I can quickly grab it and leave with my kids. I've also duplicated all of these supplies for my kids at their dad's house in case they aren't with me in an emergency.
I know that it may seem overwhelming to look at this huge list and try to sort our what you need for your family. It is an investment of time and money to get all of these items gathered and purchased. Do what you can now, and continue to build up your 72 hour kits as you can. The important thing is to be as prepared as you can possibly be for the emergencies that you may have to deal with.
To get your own printable list of all of the supplies you need to build your own 72 hour kits for your family, just click the button below to get my printable list and as a bonus, I'll send you printable ID tags for you and your kids to put in your backpacks!