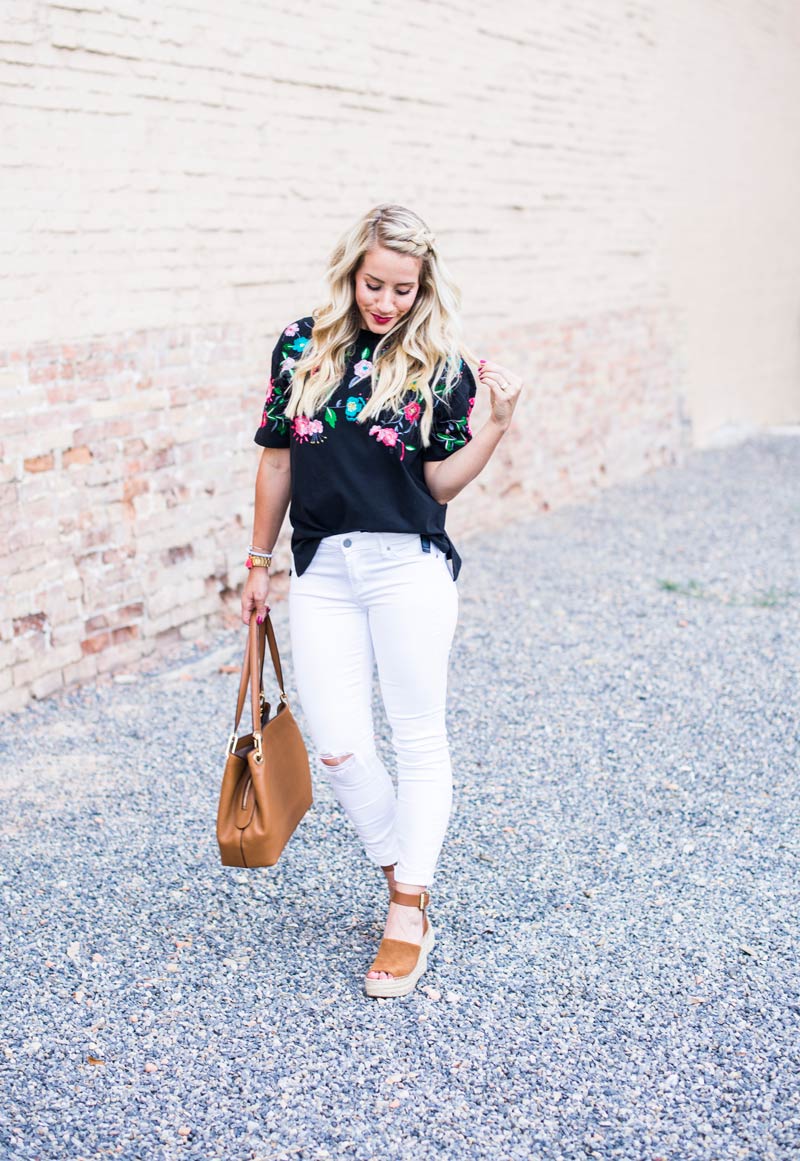 Hey babes! Today I'm sharing a simple outfit I've been wearing a lot lately. The embroidered tee (under $35!) is still in stock, which if you read my blog a lot you'll know this is a rarity! Not because I'm super awesome and help sell them out super fast ? but because it just takes me so long to get my posts up these days! Which BTW, school started today. Boston is in second grade and my sweet Savy just started Kindergarten. I'm reminded of a quote: "She is delightfully chaotic; a beautiful mess. Loving her is a splendid adventure". I'm not sure if it's that she's a girl, or the middle child, or just needing more attention than we can possibly give her right now, but she has been so hard this summer! She totally thrives on attention… ? wonder who she gets that from! And I know God put her in the middle to teach us something? We try to do little one on one dates with her and really give her all we can, but man I just feel like we're constantly failing her. Does one of your kids just take all your energy?
Okay, sorry… tangent! My point was that school started and that leaves me with two uninterrupted hours a day while the twins nap and I'm literally feeling on top of the world. TWO HOURS!!! Do you know what I can get done in two hours? Well this post for one! I'll be able to shower. I'll be able to make beds and cook dinner! Fold laundry, edit videos. I mean, the things I have planned you guys!! But let's stay on track and get back to this outfit ! I wanted to tell you about these jeans because it's taken me 5 pairs sitting in a return pile to find them. White jeans can be tricky. They need to have enough stretch so you can move in them, they need to be thick enough so they don't show the world you didn't stick to your diet at all the past few months ha ha and I personally like a pair with a little bit of distressing and a higher waist. These jeans are totally that. Do you know what the best part is? They're only $64 ??. It's pretty impressive because I have some that are over $200 sitting in my return pile. These ones are still my favorite! Proof that expensive does not always mean better.
I did just splurge on a new bag, though ?. I don't usually spend this much on a purse… I'm feeling a little bit of guilt. I don't mind spending money on jeans or shoes, but for some reason spending money on bags is so hard for me! Is that how you are? I just needed a bag that didn't scream mom, something that would go with every single outfit, something that held up for years and I was looking for one that fit nicely on the shoulder. This is a little bit slouchier of a bag which I like but it is a little bit annoying that it doesn't stand up when I set it down. Anyway, I'll let you know how it wears but it has three huge pockets on the inside which I'm obsessed with! Have you splurged on a bag lately? Which one? I literally have commitment issues with bags you guys! ?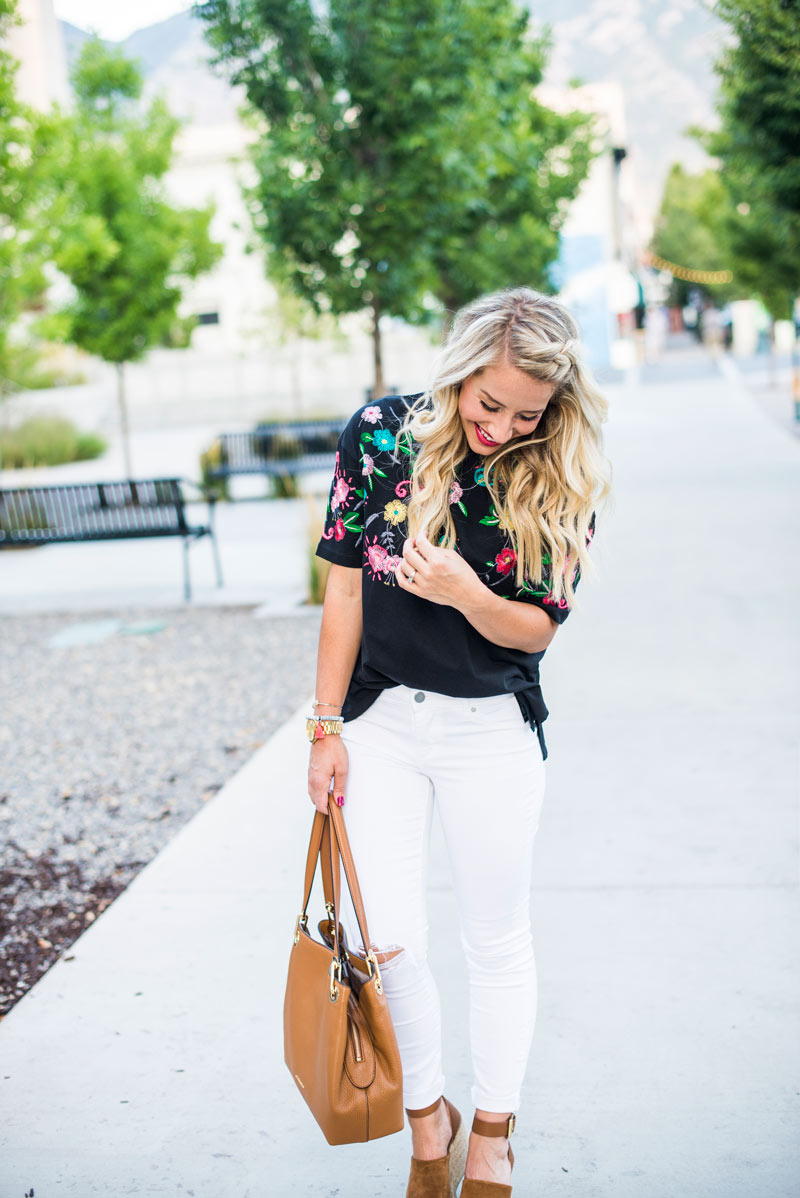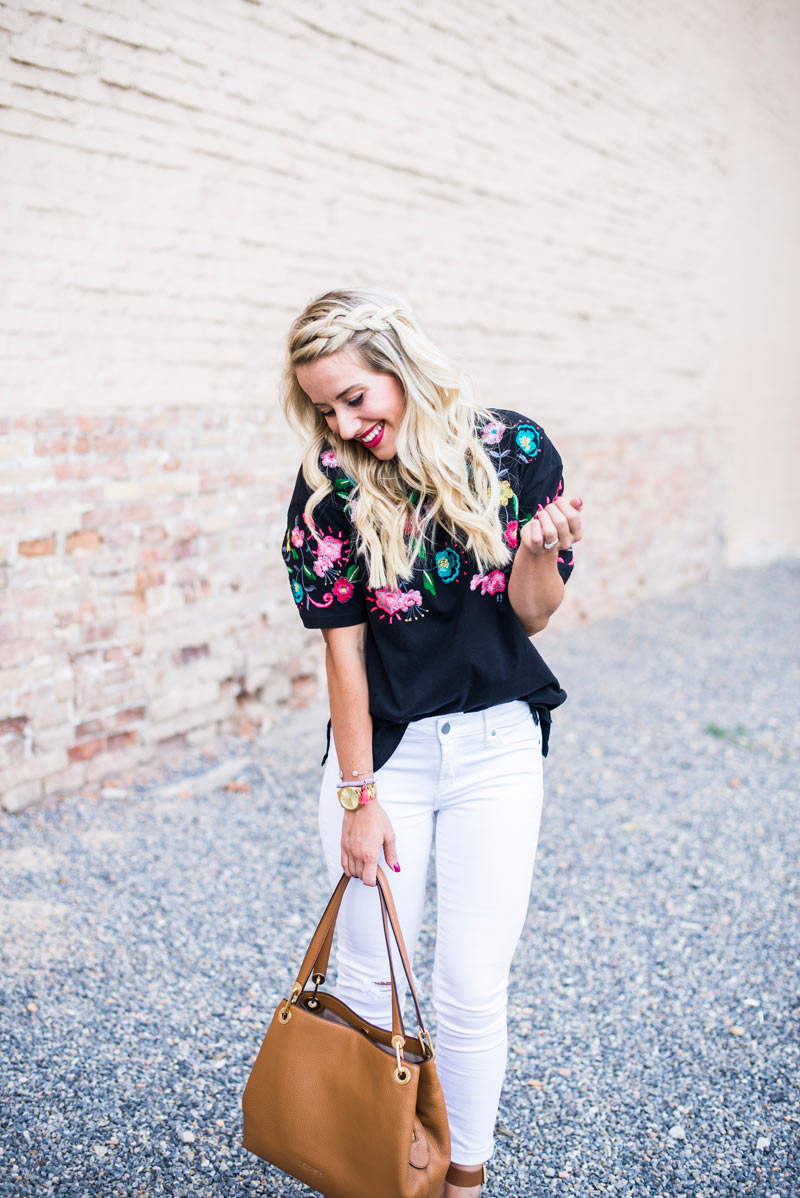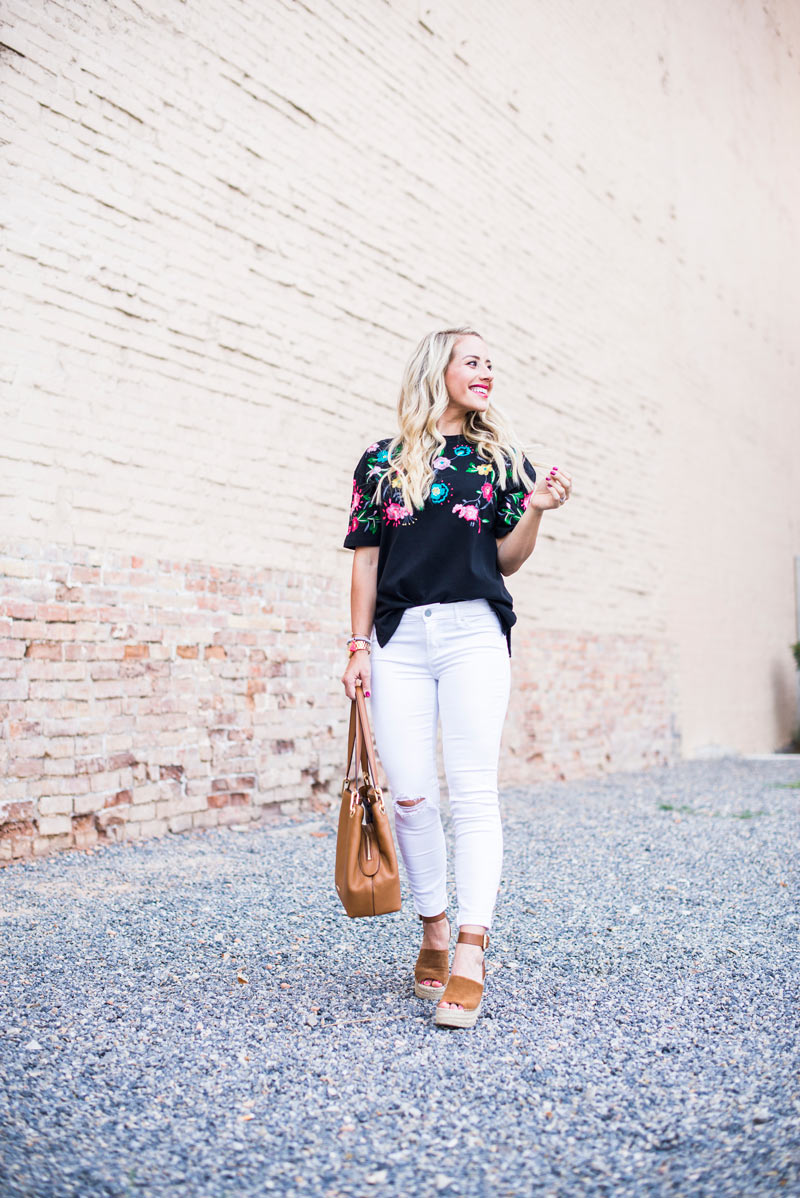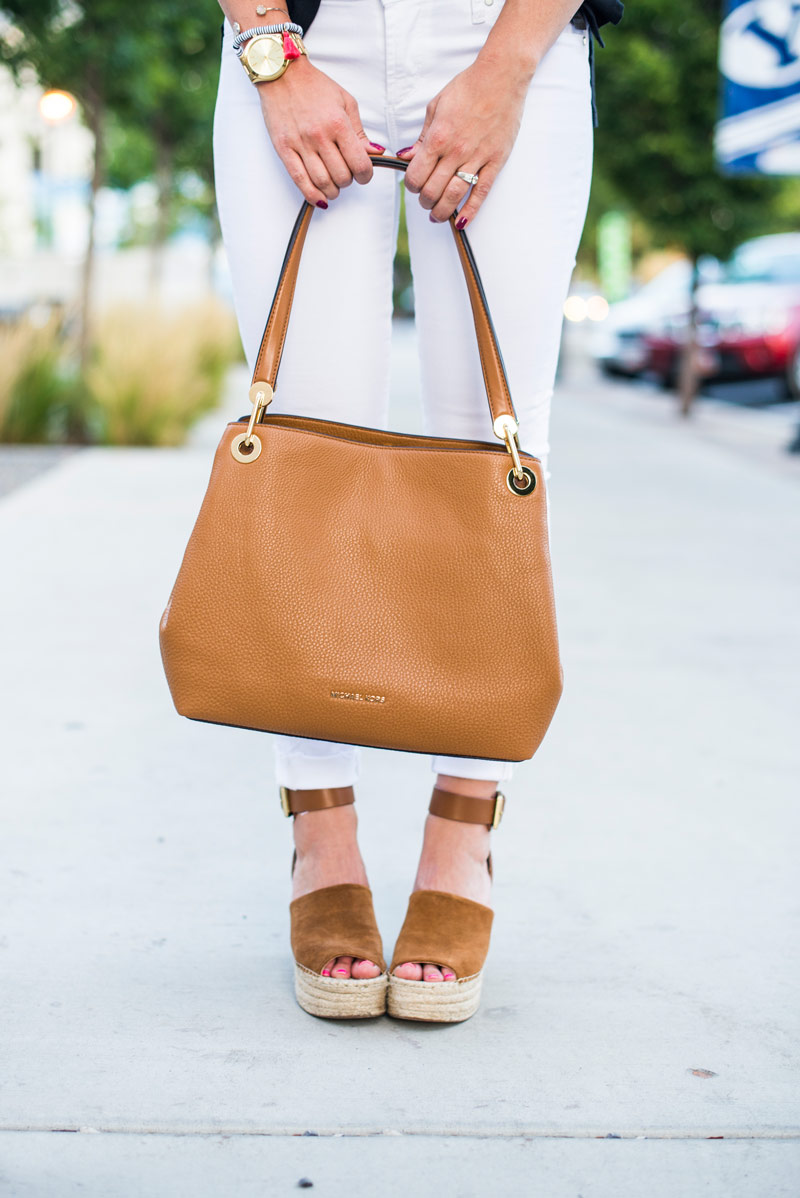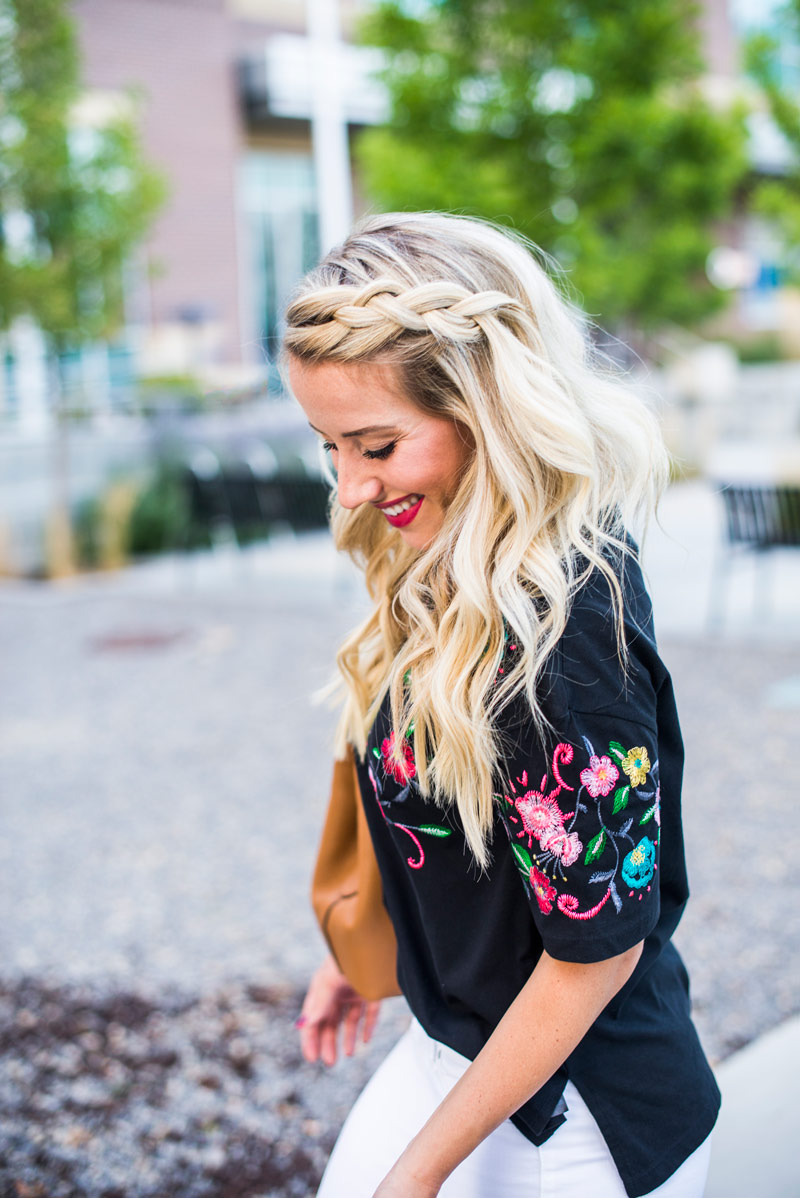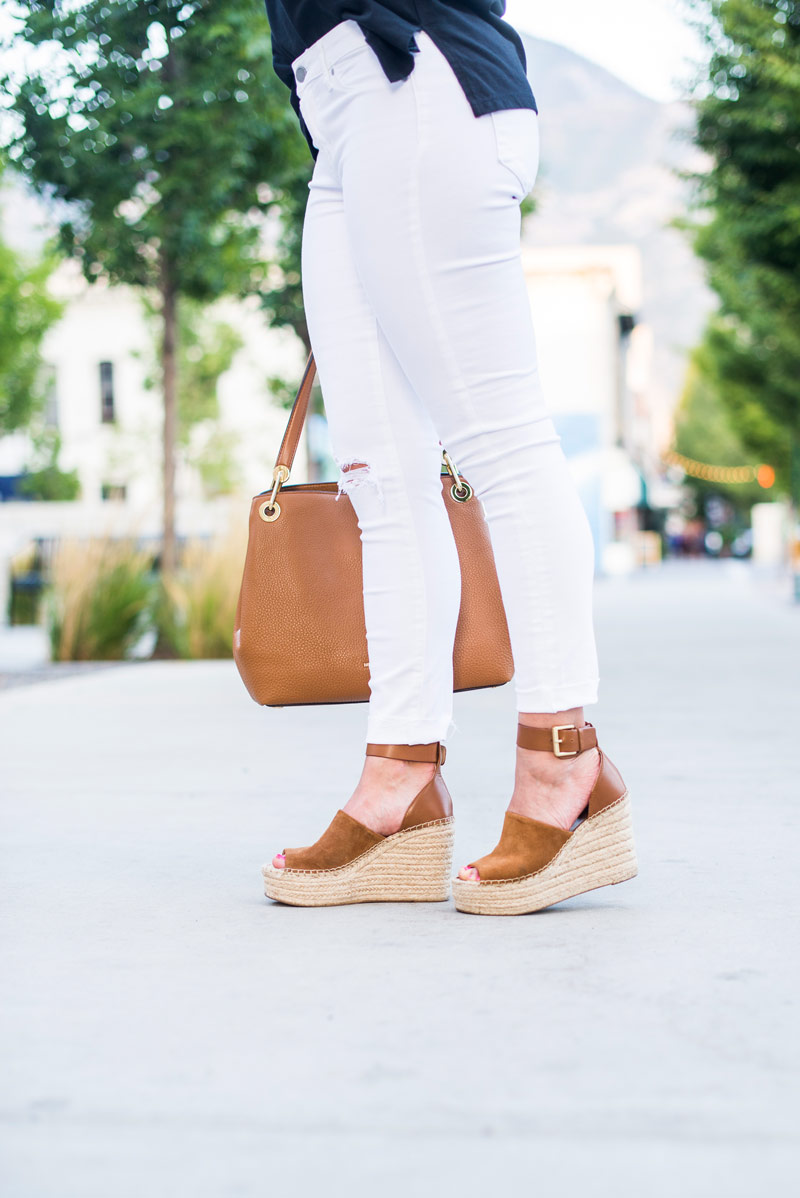 Top | Bottom | Shoes | Bag | Watch | Earrings | Necklace or Similar | Lipstick (Strawberry Shortcake)
Similar Bracelets ONE | TWO | THREE
Dry Shampoo | Spray | Pins
Photography: Trina Harris Photography Blog | Facebook
Alright well, I love you, thanks so much for reading. I've honestly just craved typing out random thoughts on this keyboard. I feel like this summer I've been spinning my wheels. Working so hard to keep up with the house and the kids and the vacations that it's left me running on empty at the end of the night. I'm so excited though, for new beginnings! I'm excited for new goals and a routine that can keep us all happy and fulfilled. Do you have kids starting school? Are you feeling that same boost of energy I am?! Until next time babes!
xo