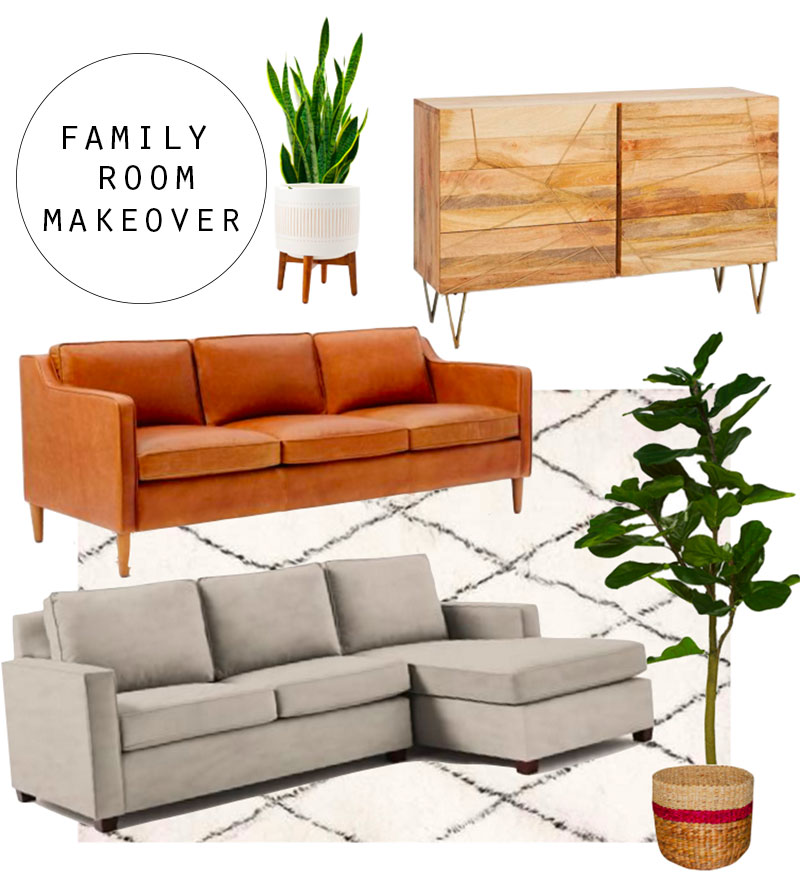 Hey guyyyys! So I did a huge story on Instagram the other day of us finally getting our big pieces of furniture set up in our house. I've been getting a lot of questions on all the details so I thought it'd be easier to just direct everyone here. Without revealing TOO much, here are the plans and what we've purchased so far.
Grey Couch: Henry 2 Piece Chaise Sectional in performance velvet dove gray. I ended up getting the pull out bed because c'mon, how do you say no to a pull out bed?! I sacrificed the back cushions being reversible and with little kids I'm hoping I didn't make a mistake. Only time will tell! The fabric though is amaaaazing. I tested all the samples they sent me, the performance velvet is indestructible.
leather couch: Hamilton Leather Sofa 81″ in Sienna. This couch isn't the most comfortable just because it's not super deep but our plan is to keep this room fairly formal because our basement is going to be where we lounge! So I'm okay that it's not a lounging couch, it wasn't purchased to be one. The color though is gorgeous and I'm full on obsessed with the style of it!
Rug: Tuscan Moroccan Shag Rug in a10x14. I've read all the reviews and am a little bit nervous it's going to NEVER STOP SHEDDING but goodness gracious it's gorgeous. And it's perfect for the space and just what I was looking for. Please someone tell me it eventually stops shedding?!
Fig Tree: I got this fiddle leaf fig tree from QVC for $50. It's only 5 feet tall so I might end up using it in the babies room and get a different one if it's too small. It hasn't come yet so we will see what the quality is like but the reviews were good!!! And how do you beat $50?!
Planter: I got this planter for right next to the front door
Dresser: I've had my eye on this dresser for ages now and it was so hard to spend the money on it BUT it's going in the front entry space and it was seriously the perfect fit. So I closed my eyes and just bought it.
We've honestly been saving for this space and this house for quite awhile now so I'm really grateful that we're able to get what we want. We're definitely splurging on all the big pieces because I don't plan on remodeling for many many years… it's too exhausting! But I'm totally fine with saving too, like the Ikea ranarp pendants we just put up in the kitchen. They look amazing!
I'll keep you updated on the window seat, and how the kitchen space starts coming together! So far we've purchased this chandelier and these barstools. I think I have a problem with West Elm… I just love their style so much!
Anyway, hopefully this helps some of you make some decisions of your own and I'd be happy to answer any questions if you have them!