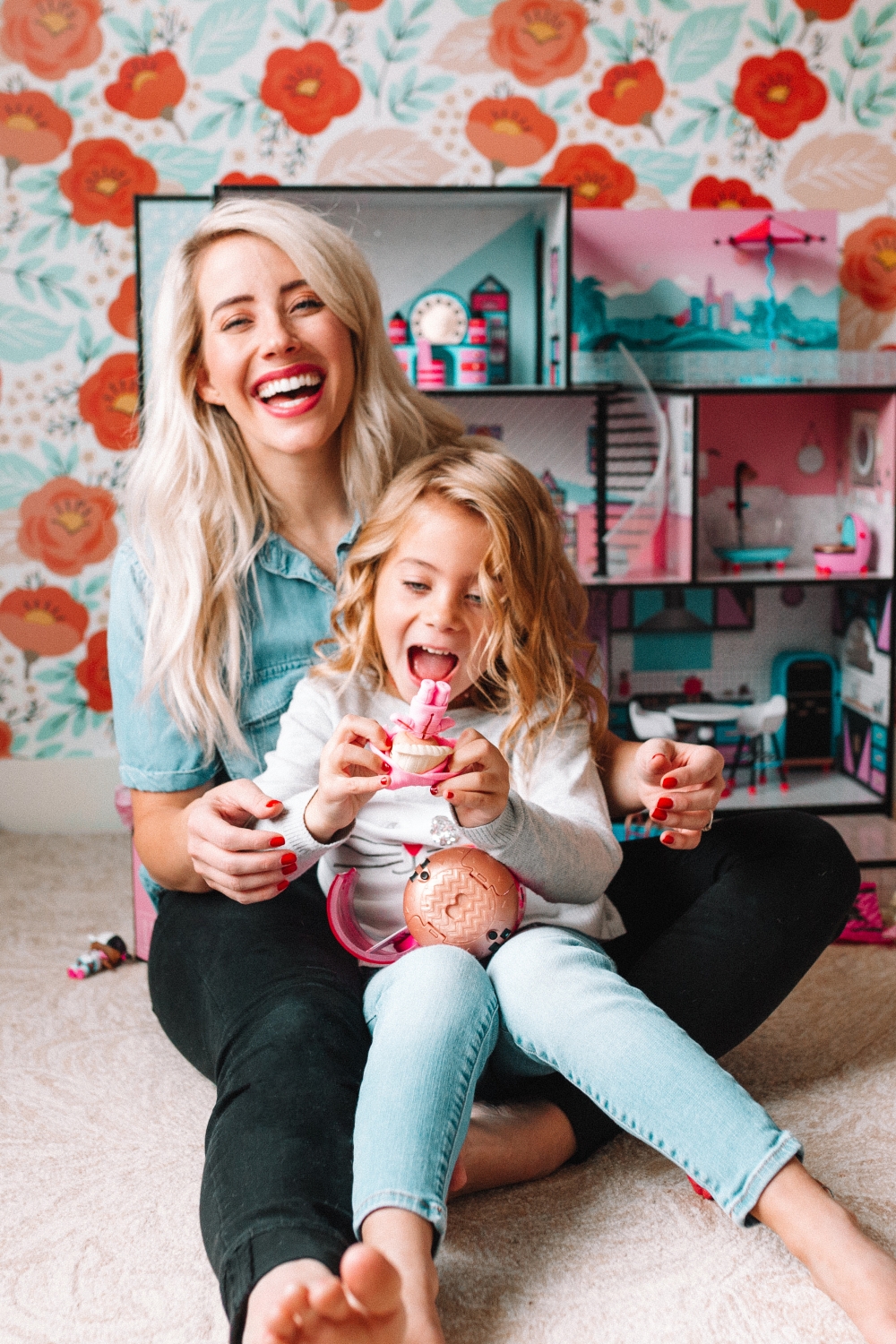 I have four kids: three boys and one daughter. She's the sassiest queen I've ever met! She's gonna move mountains one day with her bold ideas and strong personality and I'm so excited to be a part of it! Savy is 6 years old and one of her very favorite things to do is dress up and play make-believe. She's obsessed with L.O.L Surprise! Dolls and we've got a decent sized collection happening. L.O.L Surprise! Dolls are just about the hottest girls' toy brand right now. They're little collectible dolls that come packaged in plastic balls. They're shrink wrapped in a few different layers that you "unzip" and each layer reveals a new surprise for your doll that's inside the ball. They're adorable and FULL of personality. Savy has such a fun time collecting all the bags, shoes, clothing and hair accessories. There are even pets, lil sisters – which Savy LOVES – charm fizz and the list goes on and on!
With the holidays right around the corner we thought we'd share the 3 newest L.O.L! Surprise collectible toys from Walmart. They're going to be all the rage this season and I'm telling you right now, you're gonna want to hop on the wagon because these babes are gonna go FAST!
The first is the new L.O.L Surprise! DOLLHOUSE —- FINALLY!!!!! Savy has taken over an entire cupboard in my kitchen for all of her dolls and I've been dreaming of the day when the brand would finally release a doll house. Mama wants her kitchen back! My friends, the day is finally upon us…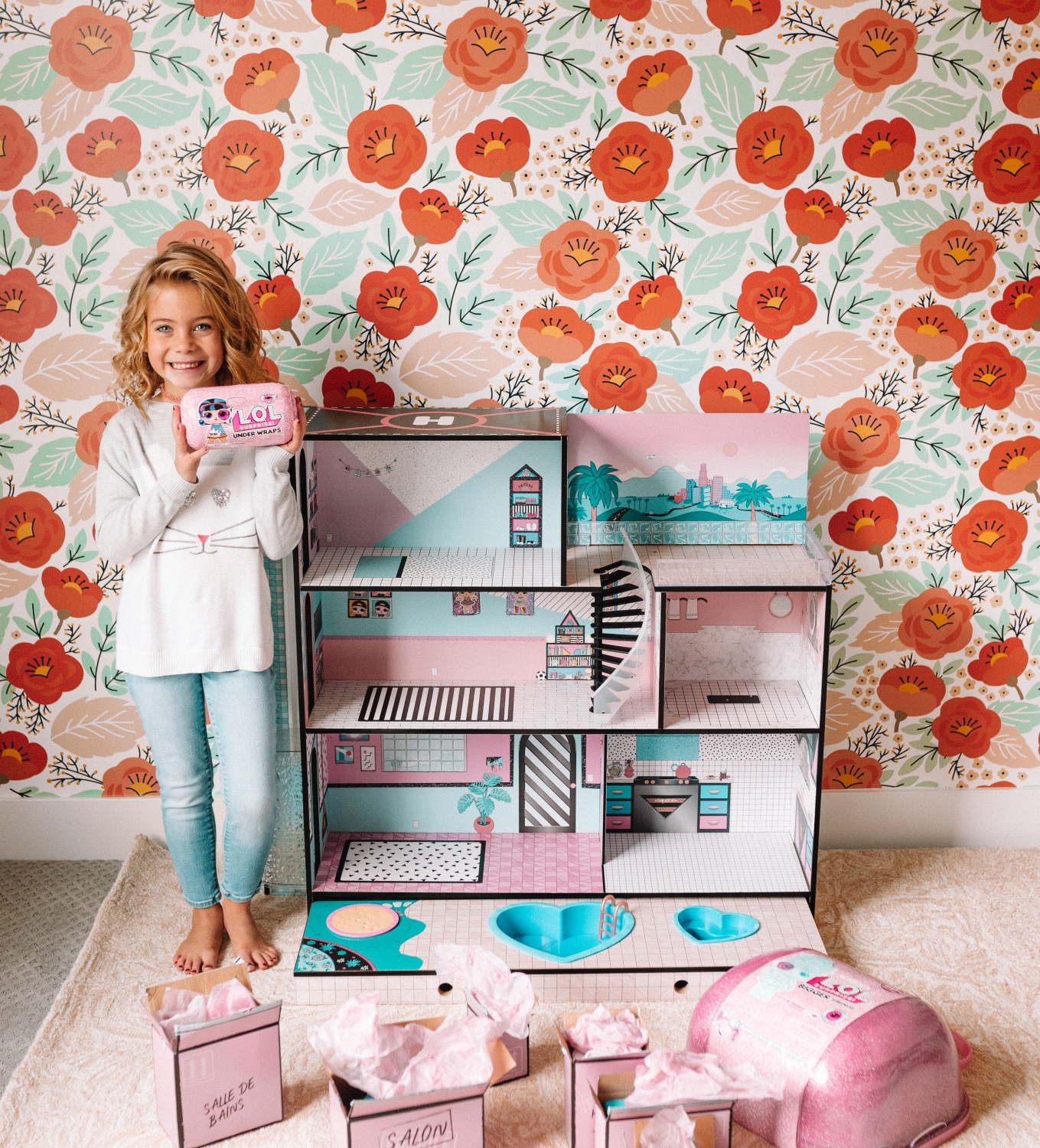 It's THE cutest little house with 85+ surprises and it took maybe an hour to put together. The furniture and accessories are delivered in an adorable delivery truck that my twin boys quickly confiscated…sorry Sav but good luck getting that one back! Each room has its own box that you can open and unwrap and Savy had so much fun setting everything up and decorating her new house.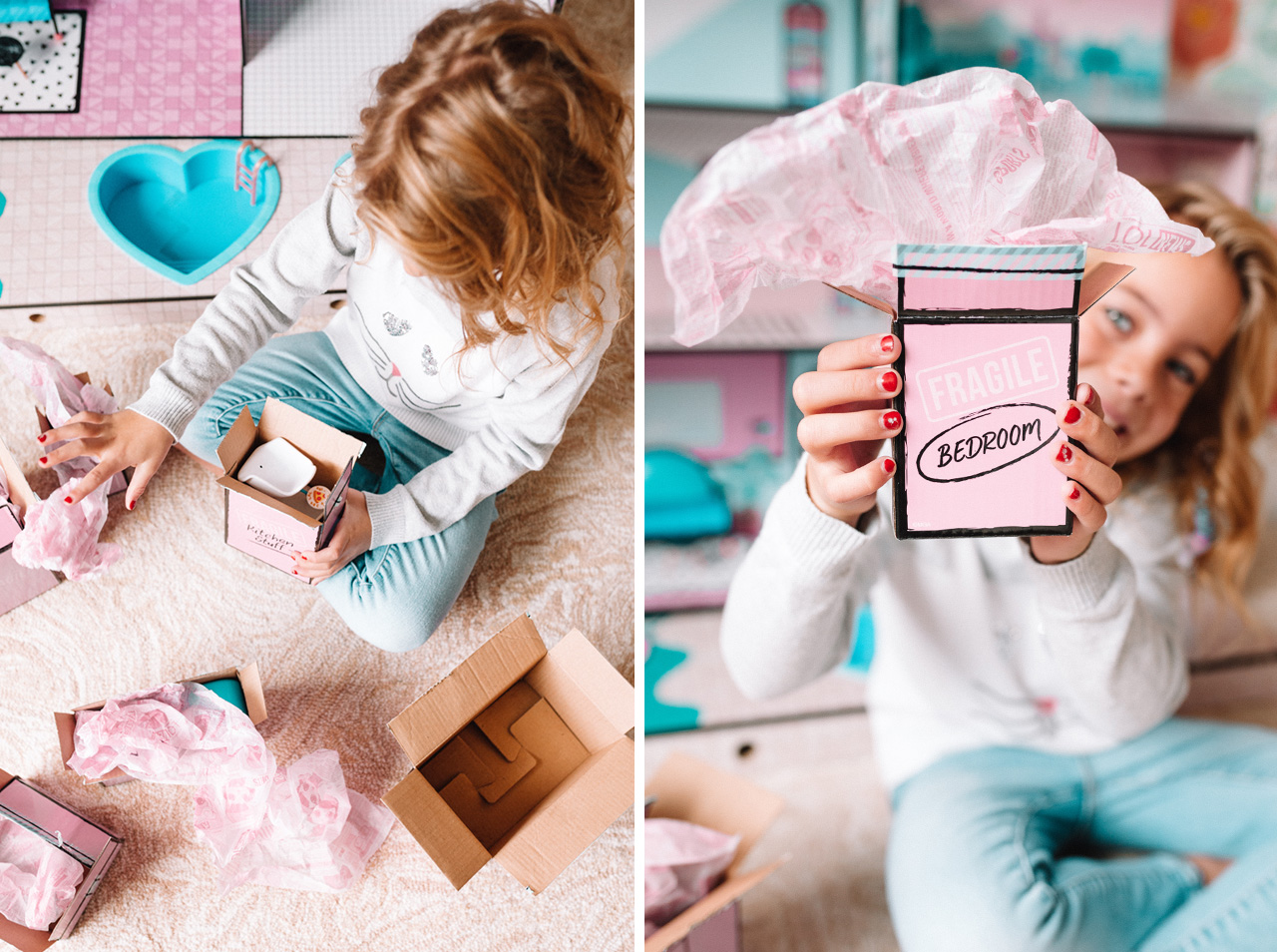 The detail on the house is pretty spectacular. There's a winding staircase, a working elevator, a helicopter pad, a sandbox and pool that can be pulled out like a drawer and then of course all the matching furniture and decorations to match.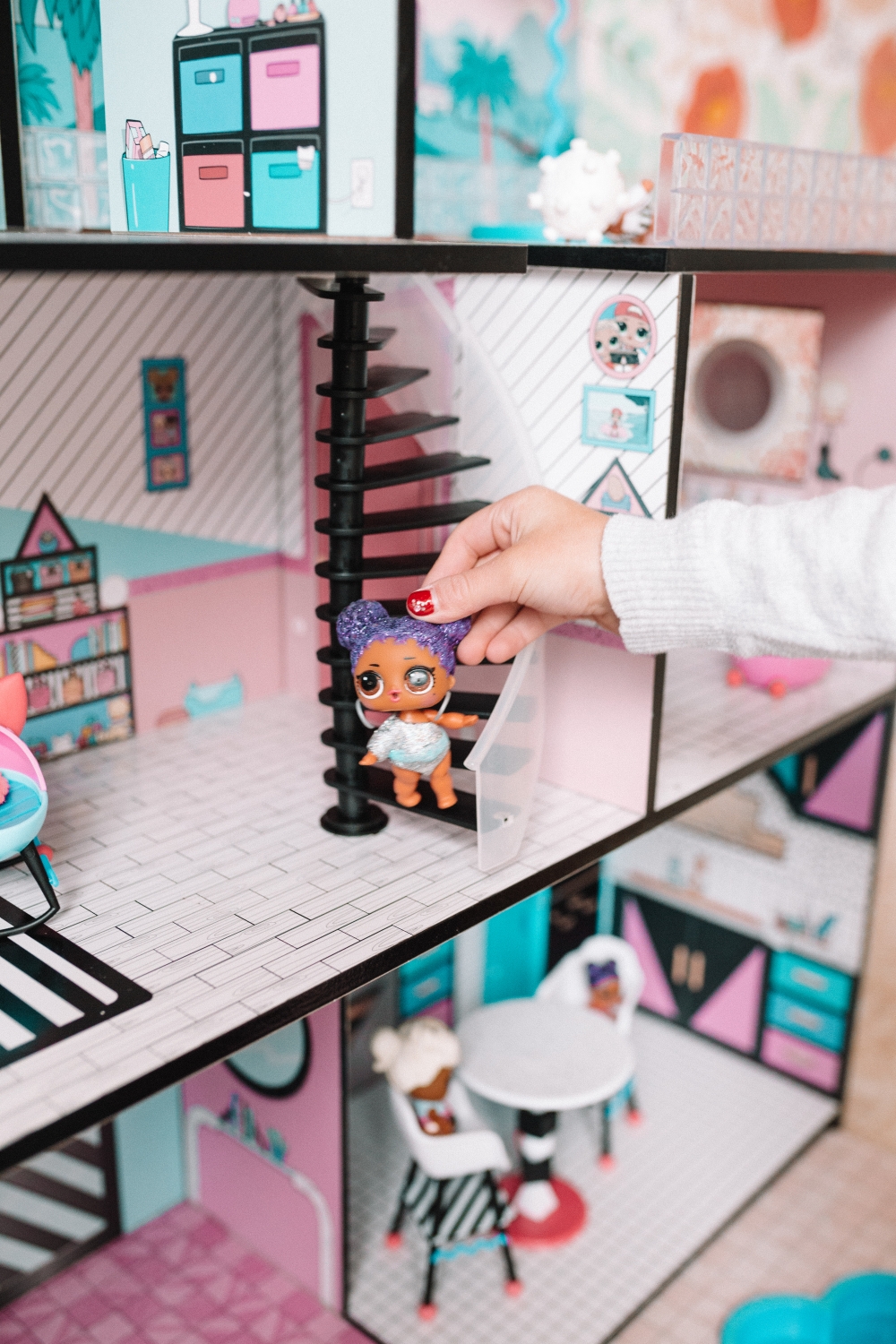 Along with the house, furniture and accessories, it also comes with a box full of a few L.O.L Surprises!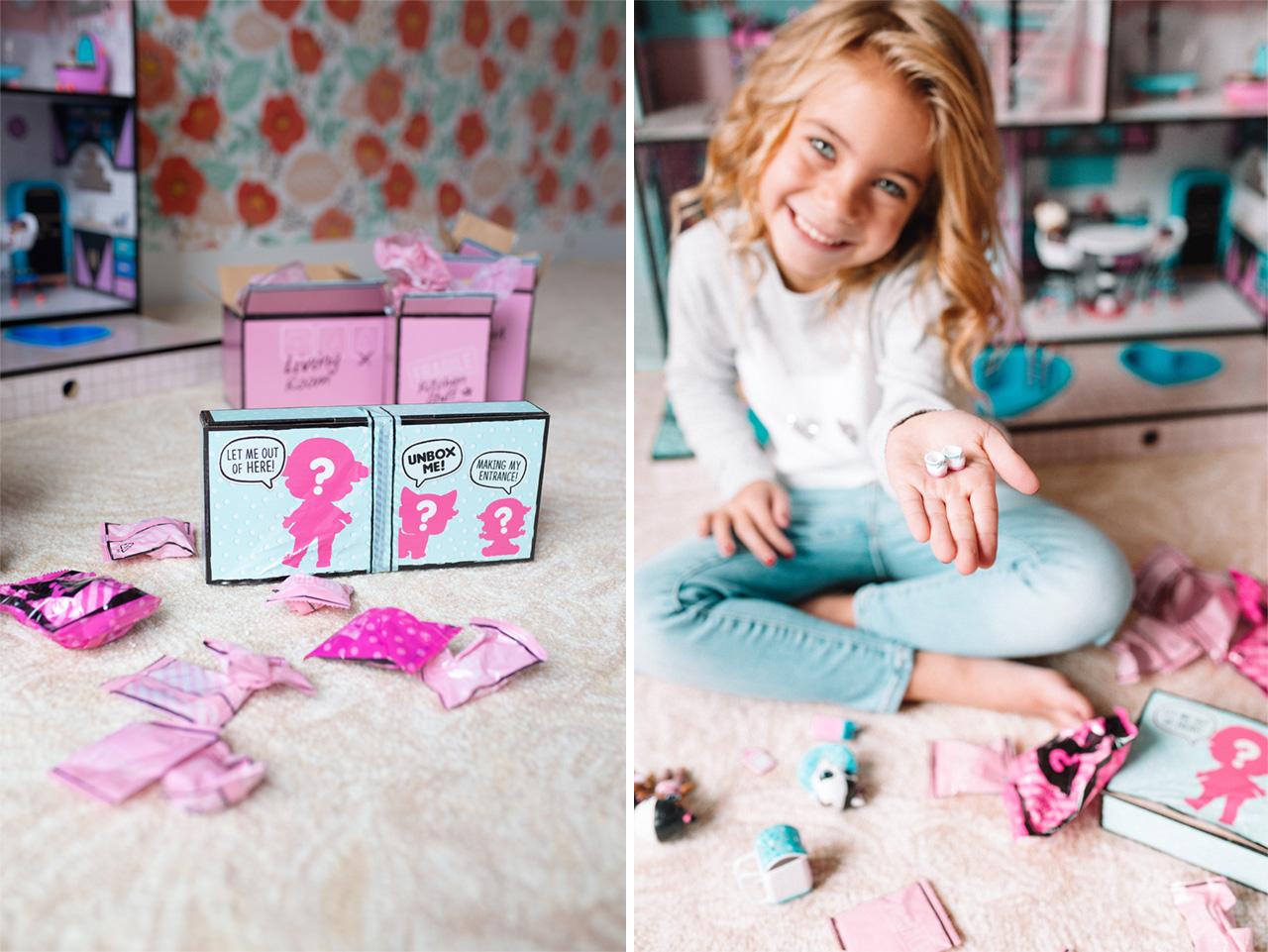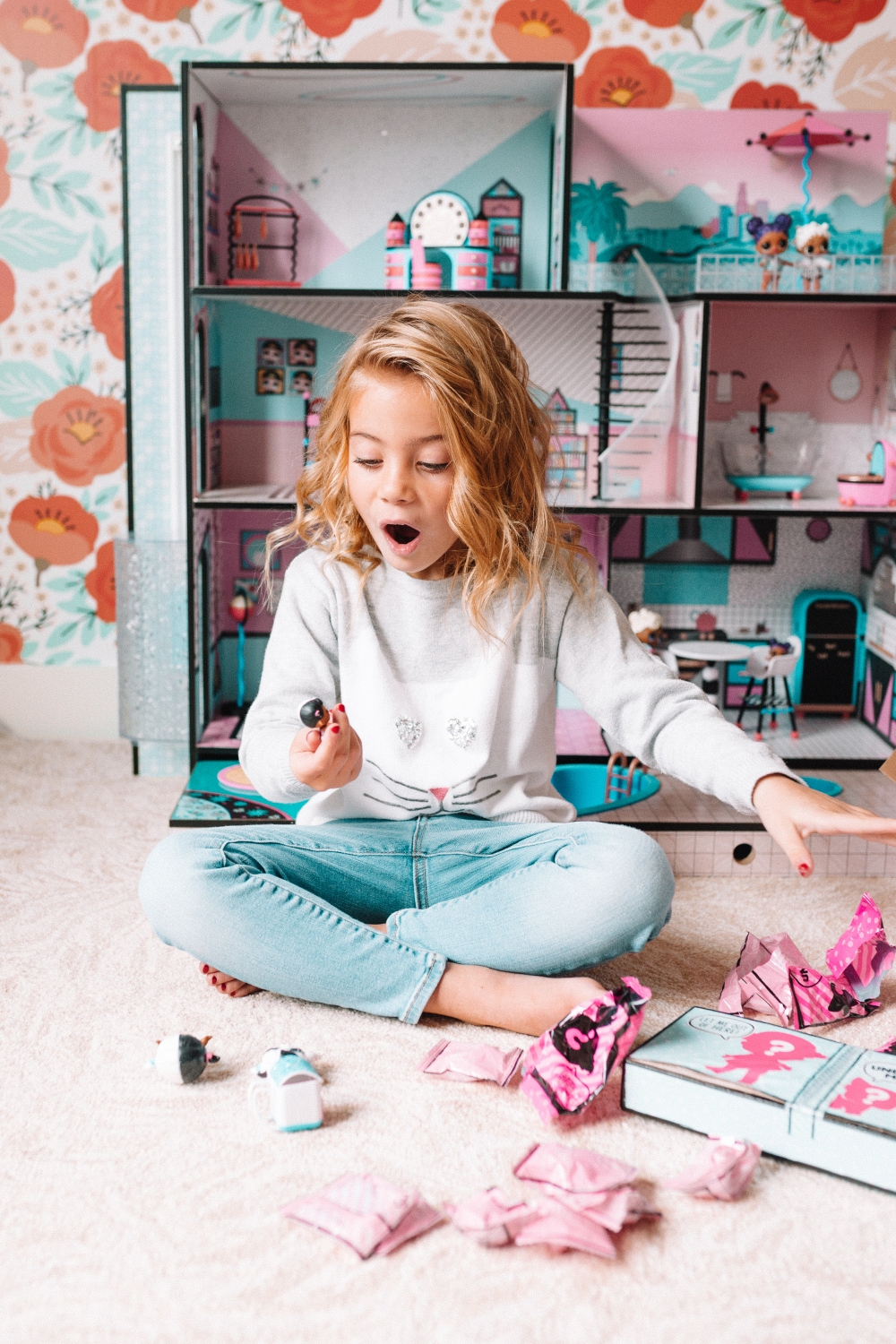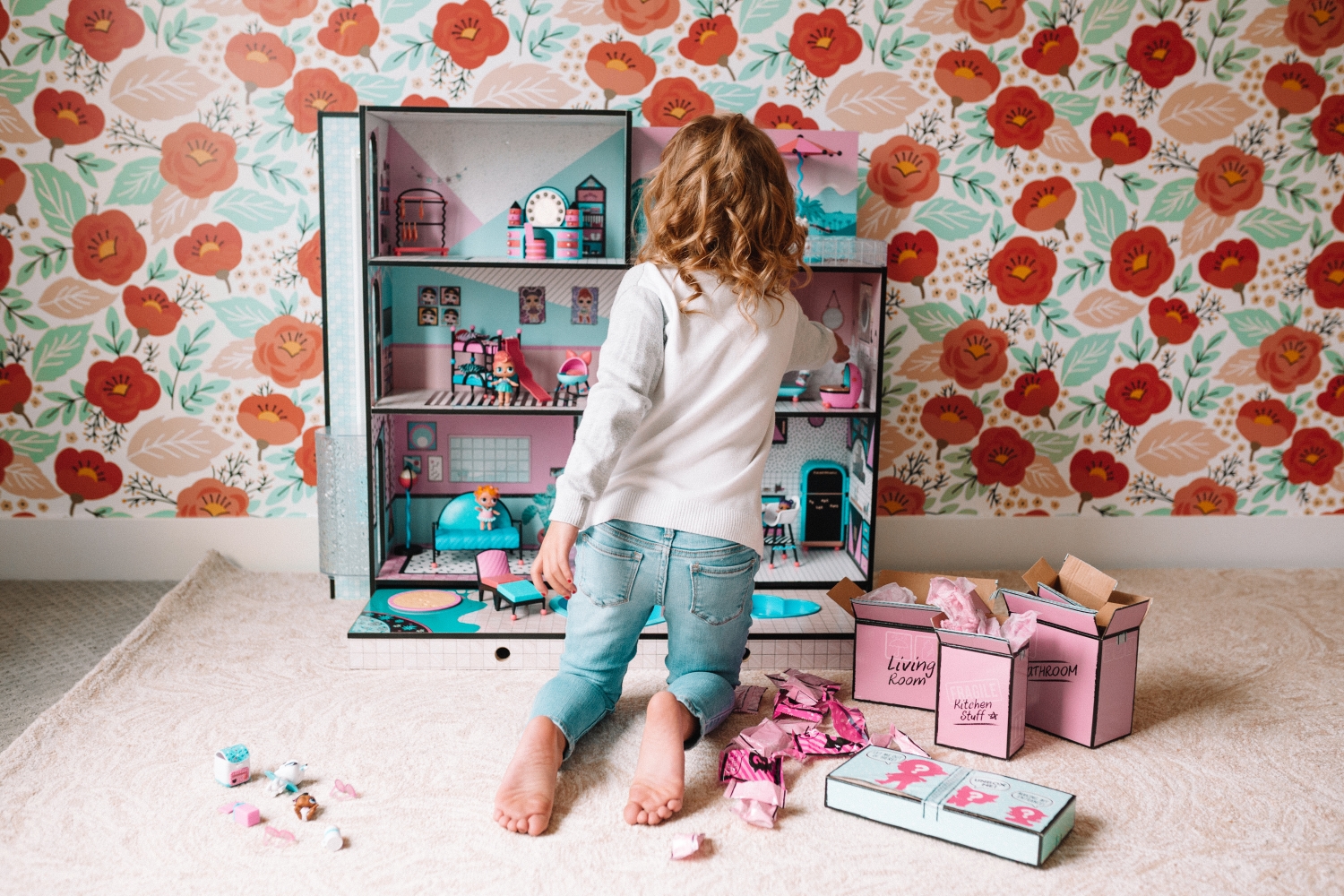 Savy is beyond excited about her new house and we're so excited to have found all these items at our local Walmart. If you're looking for a gift that's going to knock it out of the park this holiday season, we can't recommend the L.O.L Surprise! Doll House enough. It's affordable, it's detailed and it all comes in the cutest delivery truck that's fun to open and exciting to share!!
Along with the dollhouse, Walmart also as the new L.O.L Surprise! BIGGER Surprise that's a limited edition this holiday season. IT IS AMAZING!!! Savy's been given a few kits like this in the past either for Christmas or a birthday and this one rivals them all.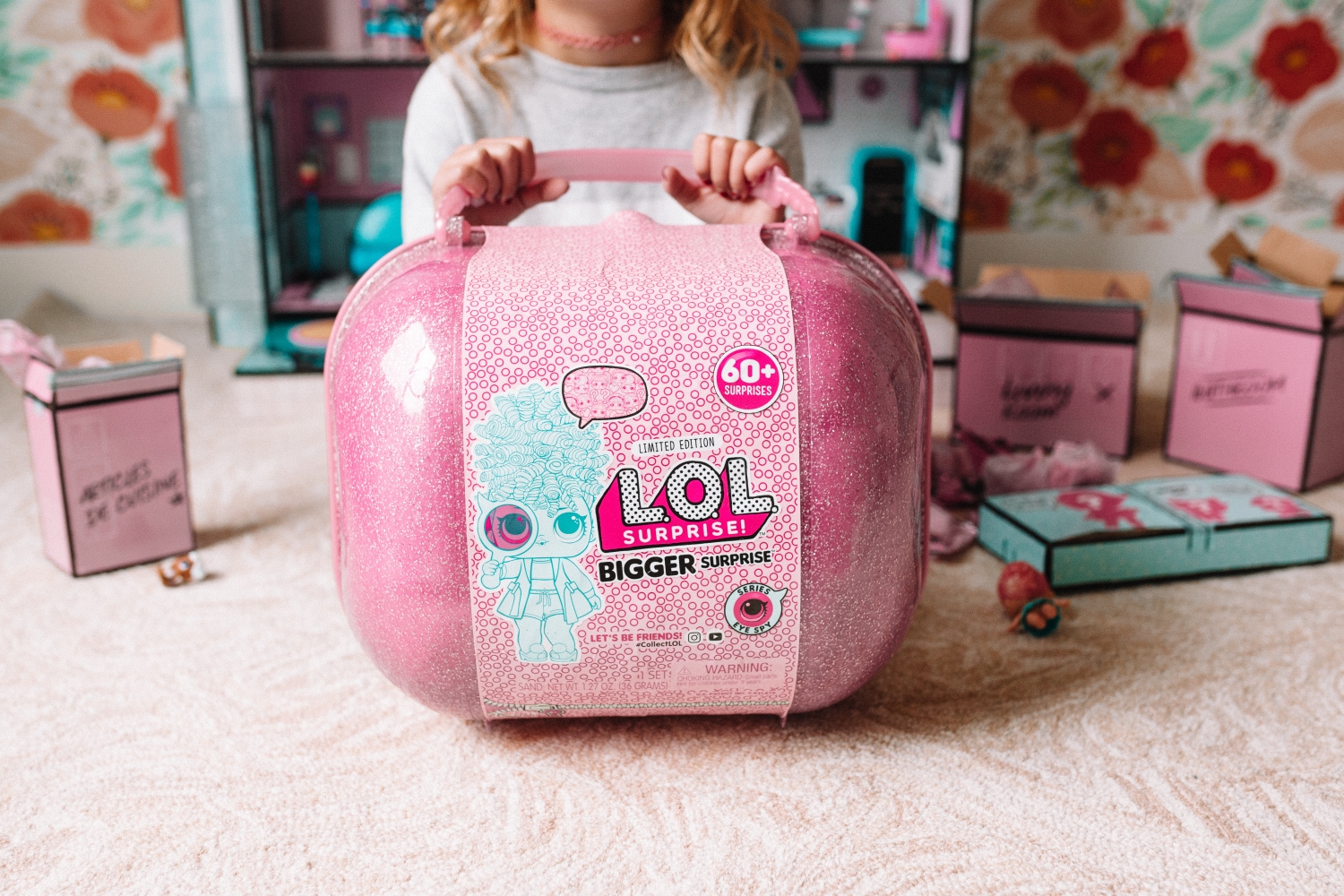 It comes with 60+ surprises and would literally take all of Christmas morning to open! So much shrink wrap which is so fun for the kids because not only does it make them super excited with anticipation but it takes them a minute to open each layer all while they're honing their fine motor skills. I'm telling you, the people behind this brand are geniuses!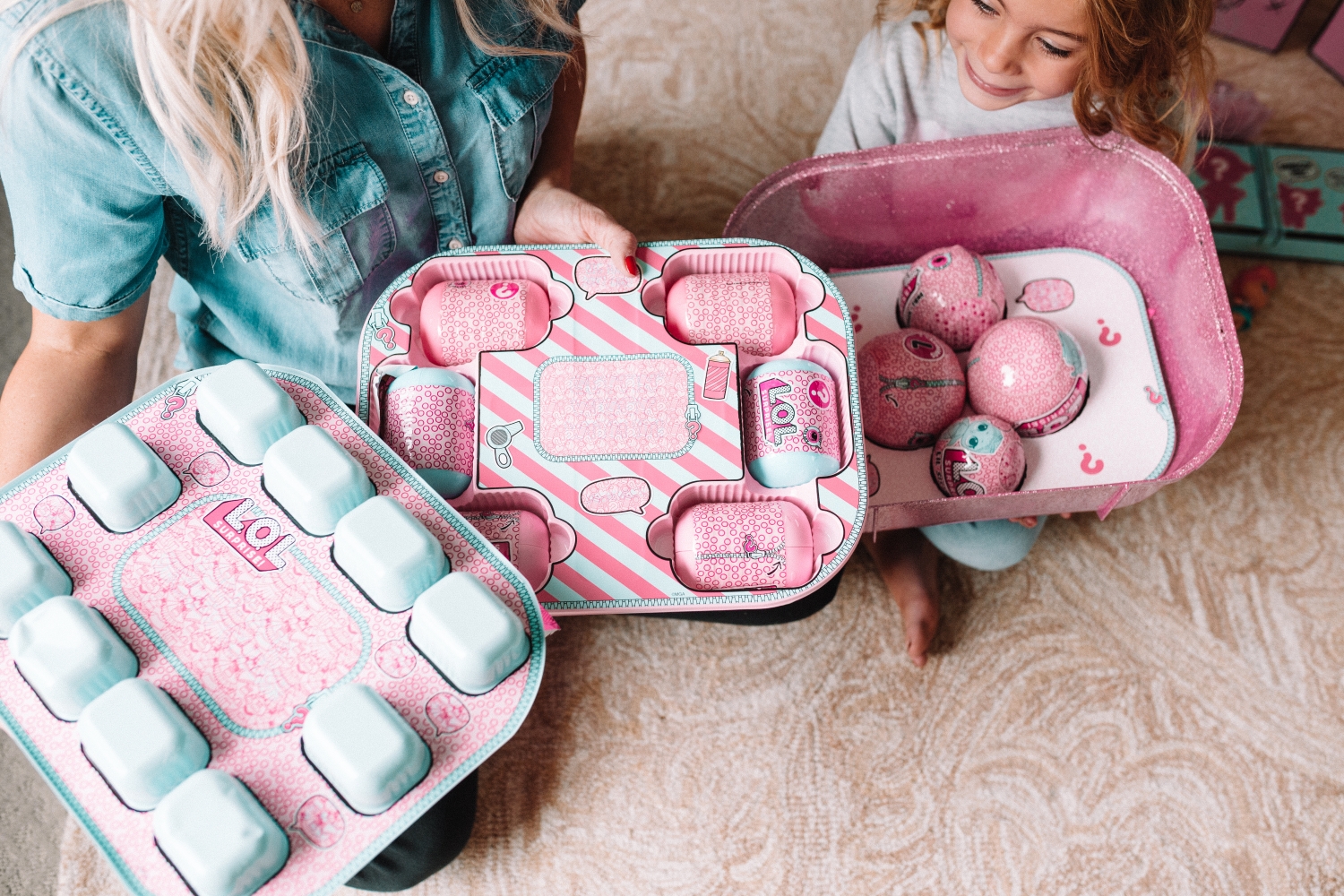 I only had her open up a few things out of this one because we're gonna save the rest for when she's earned them.
And then last but not least is Walmart's new L.O.L Surprise! Eye Spy Series Under Wraps Dolls. I hadn't seen these before… because they're new… but Savy already knew all about them!
You start with unzipping the wrapping, see the zipper there?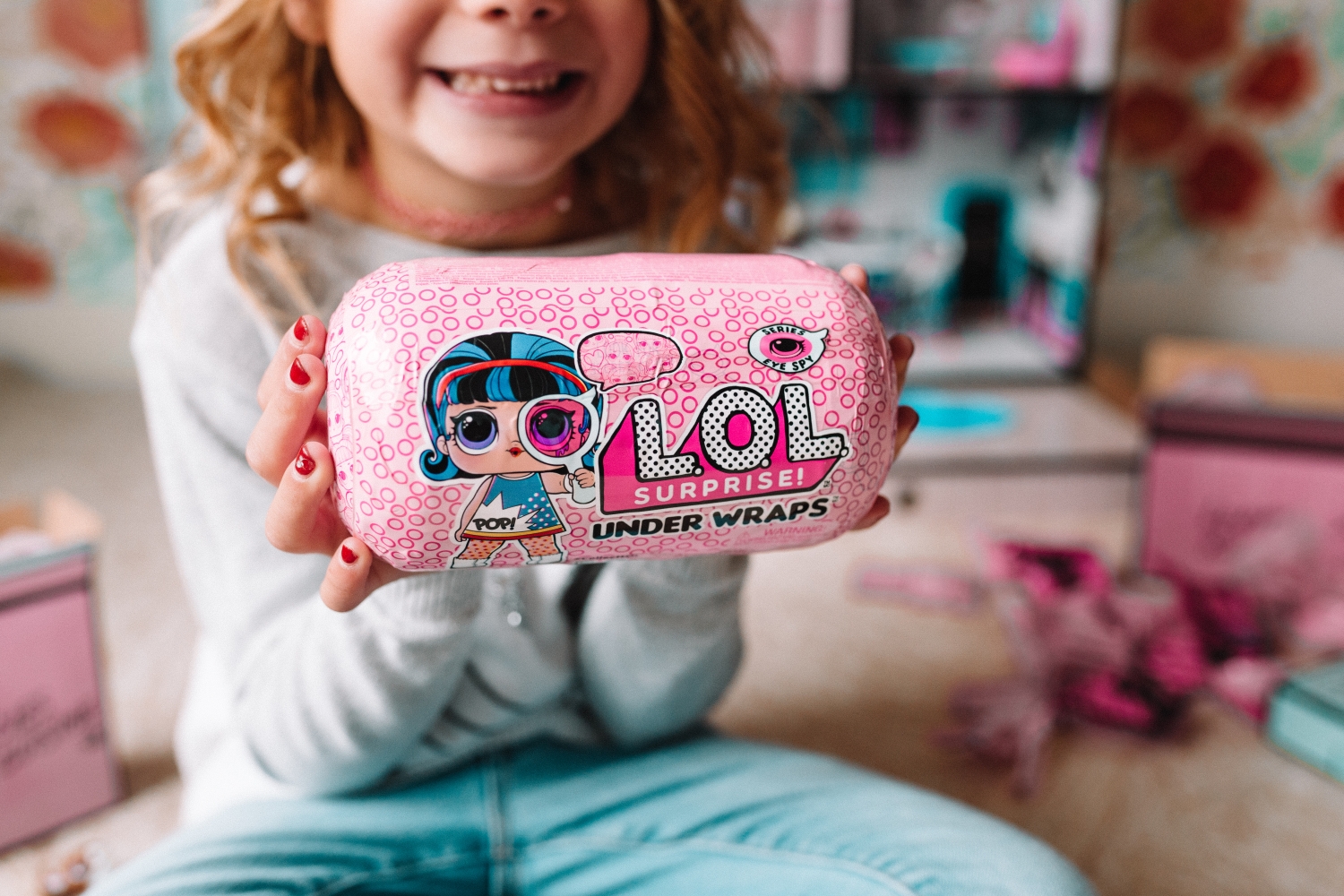 You start with unzipping the wrapping, see the zipper there?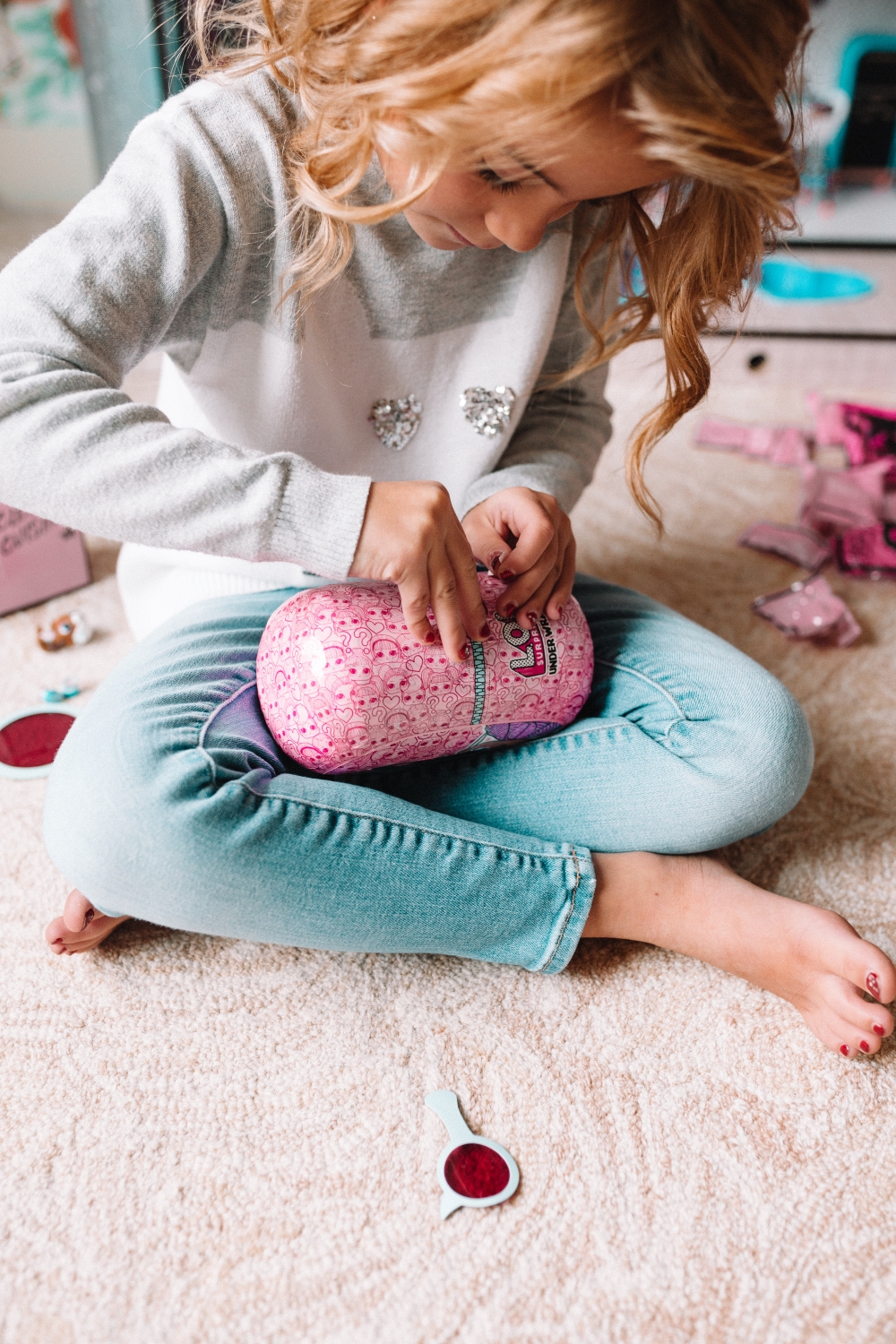 There are three layers and each layer reveals a different clue. You have to use the clues to figure out the code that'll then unlock the box.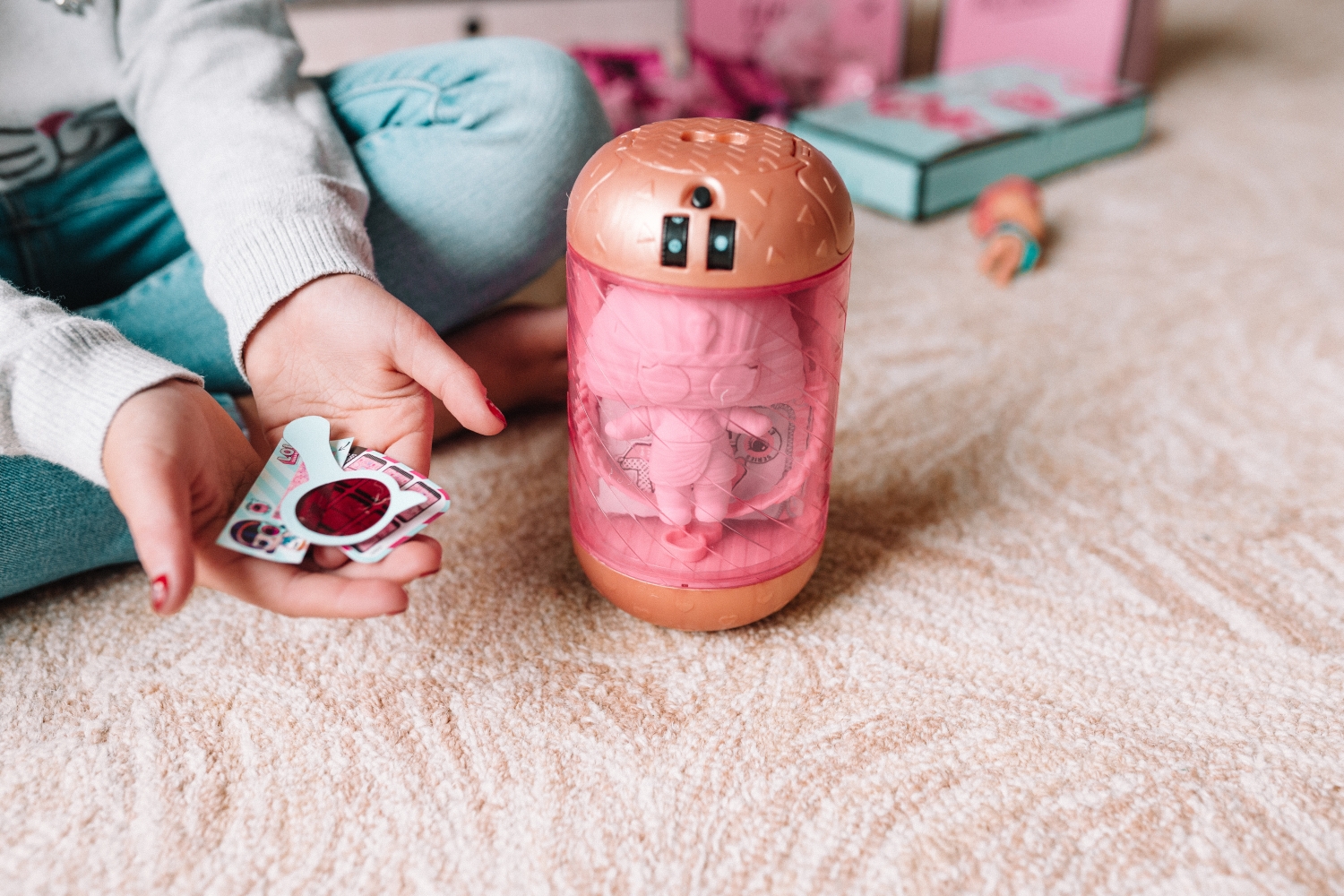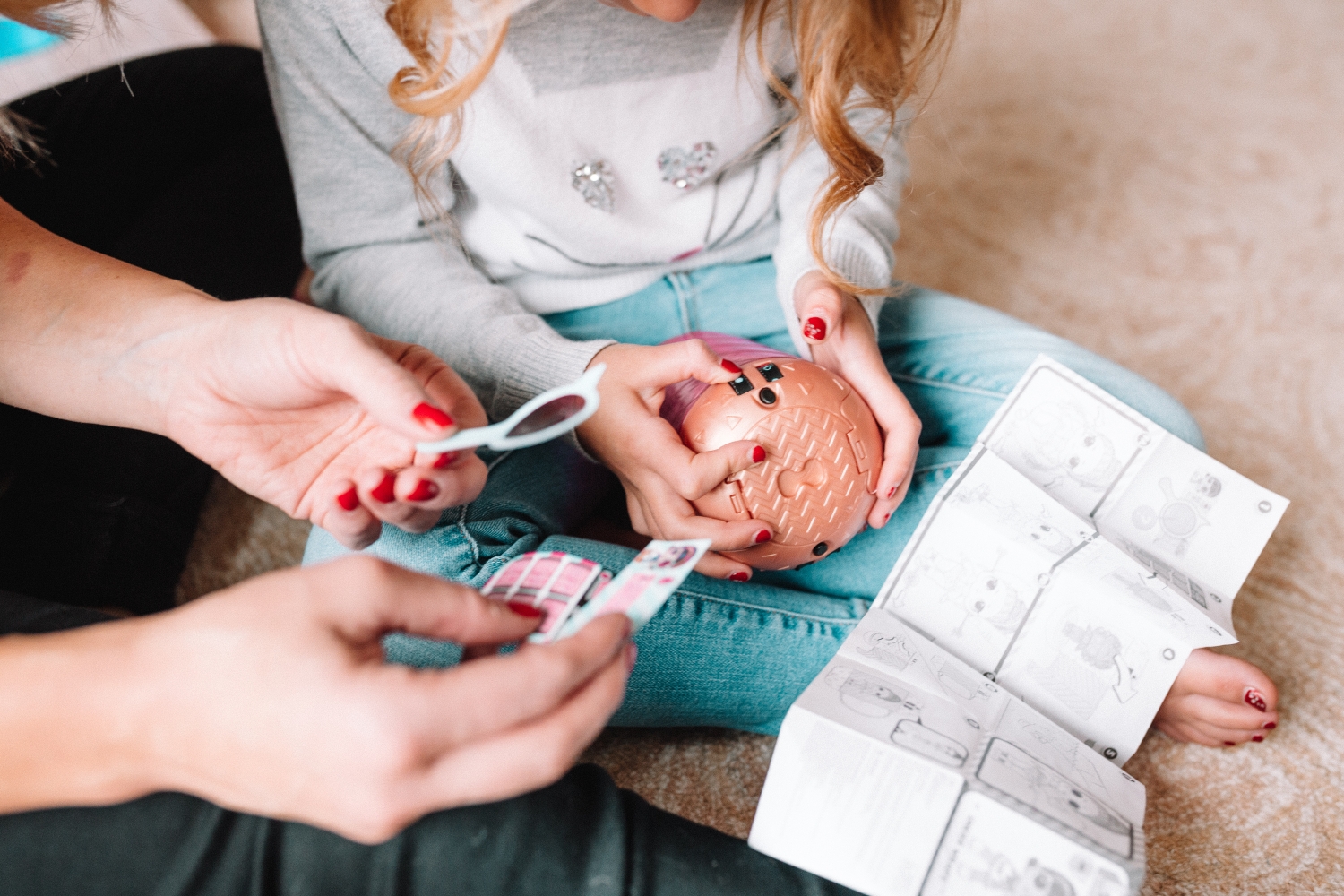 It took us a minute to figure out the clues but once we got them right the case opened and inside the pink Egyptian Princess wrap was a rare doll she's been wanting for a long time!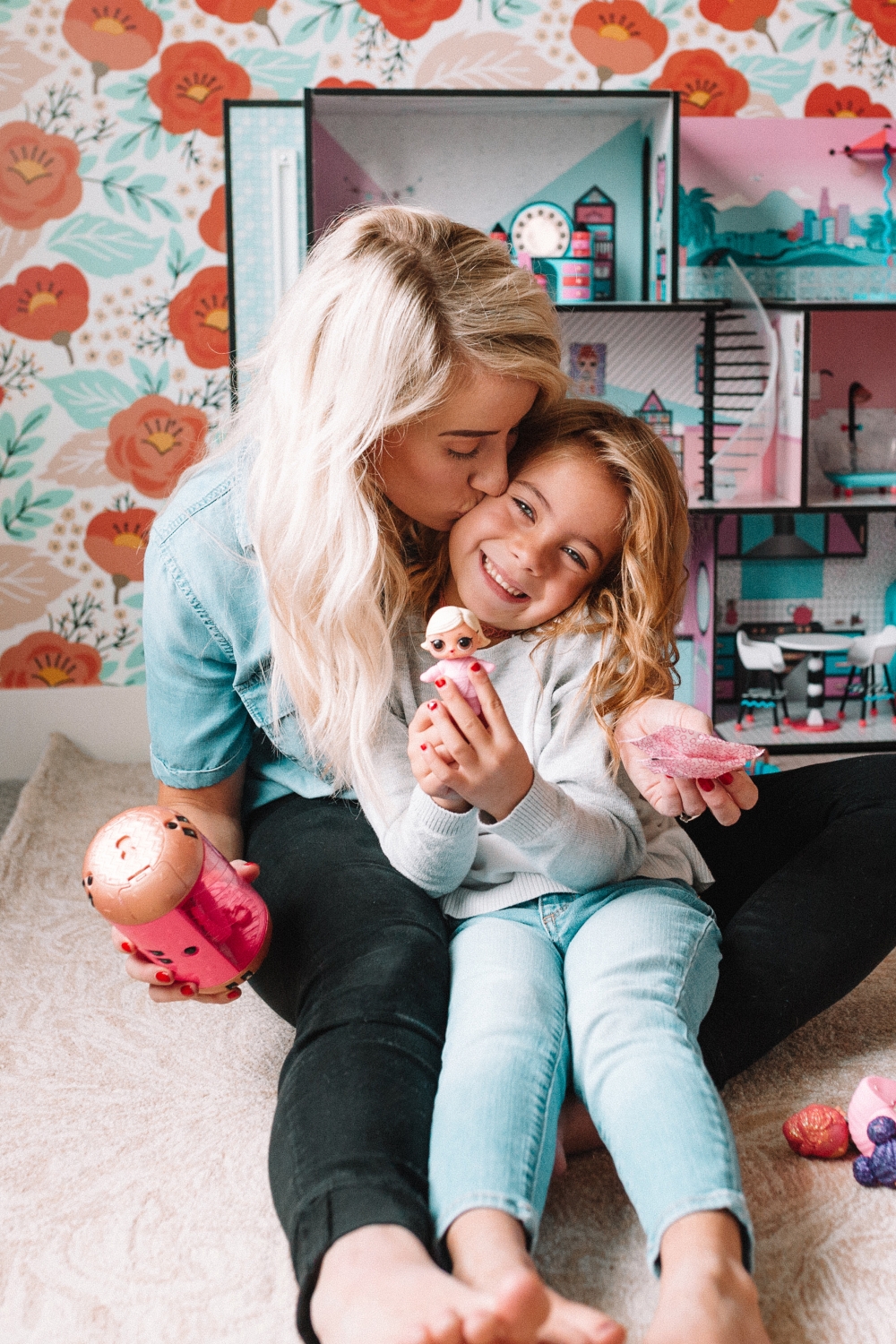 I genuinely love all these little toys and dolls and I can remember playing for hours and hours with my own. I believe there's something very valuable in play and while these are just toys, they're also tools that help our kids unlock their creativity and imagination. Before I started blogging I actually taught preschool and we used imaginative play to help the kids explore the world around them. I love hopping on the floor with Sav and just letting her dream up scenarios and seeing where those few minutes take us. It's also a great time to throw in small life lessons on being kind, what it's like to be a good friend and sister and how we can share and serve those around us!
Kids grow up so fast!! I know that soon Savy will be out of this stage and instead she'll be stealing my makeup and car keys haha. So we're slowing down and enjoying the little things in life and right now, for her, it's this! So while you're out shopping this holiday season, know that you can find all the new L.O.L Surprise! Doll collectibles at Walmart.
Do you have daughters? Have they been drawn into the L.O.L craze? What are some toys they're enjoying right now?
Thank you Walmart for sponsoring this post, all thoughts and opinions are my own.