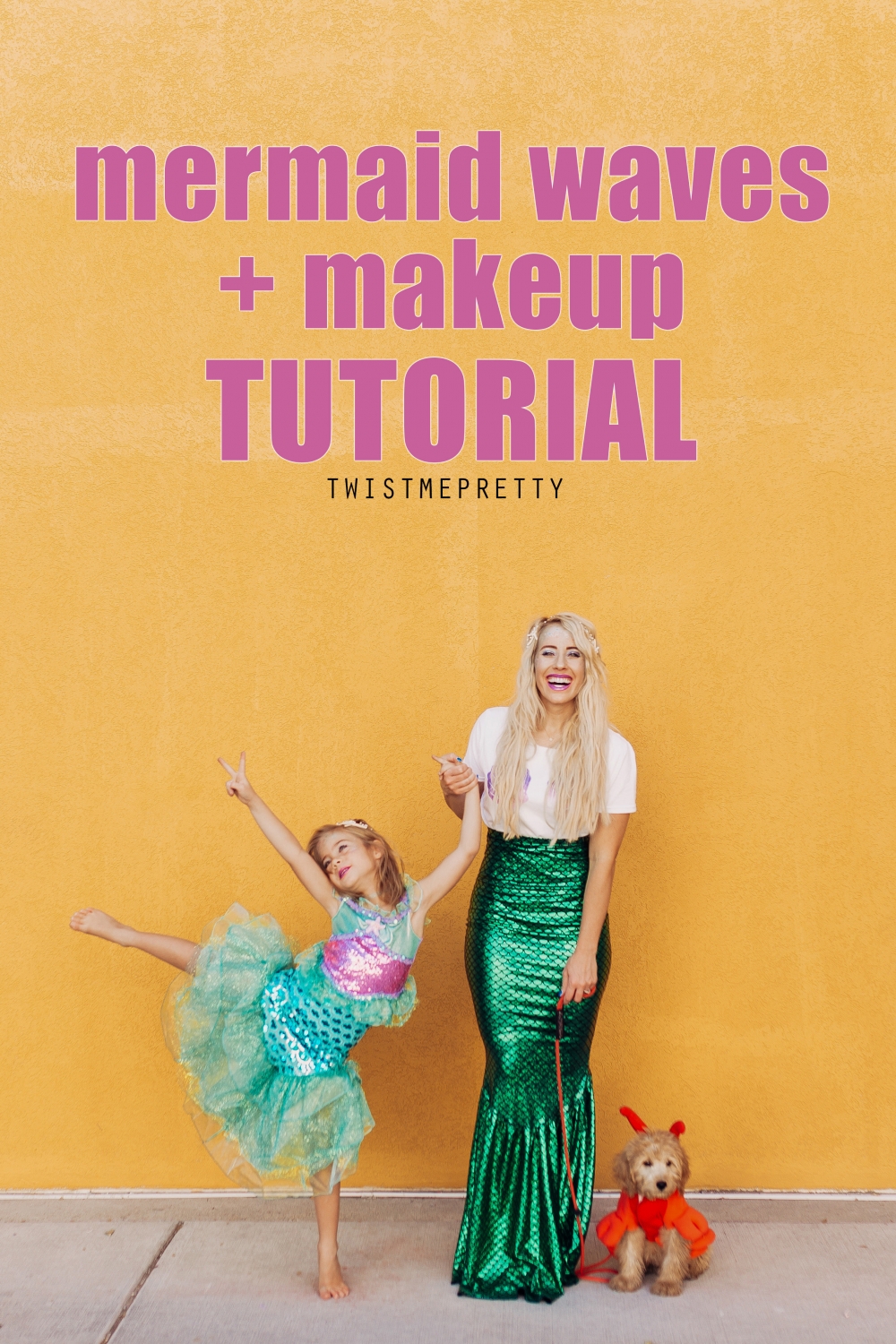 Photos by the wonderful Jordi Jerae Photography
Always be yourself. Unless you can be a mermaid. Then always be a mermaid!!!
I've been so excited to share these costumes with you, does it get any cuter than mommy/daughter mermaids and a CRAB PUPPY?! No. Not it does not! Today I'm sharing how to get these gorgeous mermaid waves and also a super easy makeup tutorial using a couple bright colors and some fishnets. I hope you have some time to kick back and relax for a minute because Savy is also sharing the story of the Star Queen Princess… which is amazing. You won't want to miss it!
Costume Details:
Mermaid skirt — I ordered four different skirts and this one was the best one and so flattering!
Mermaid tee — I cut the hem off the neckline but overall this tee was perfect!! Have you searched for a conservative mermaid costume? They don't exist. I had to get creative and thought this turned out so cute!
Sea Shell Hair Accessory
Feather Boas
Savy's Mermaid Costume
Savy's Mermaid Shoes
Lobster Costume – Severely underestimated the size of my pup but we weren't gonna let that stop us!
Keep in mind the closer you get to Halloween, the more expensive the costumes. I ordered all this stuff back in September and the prices were a lot lower! Tip for next year, shop early.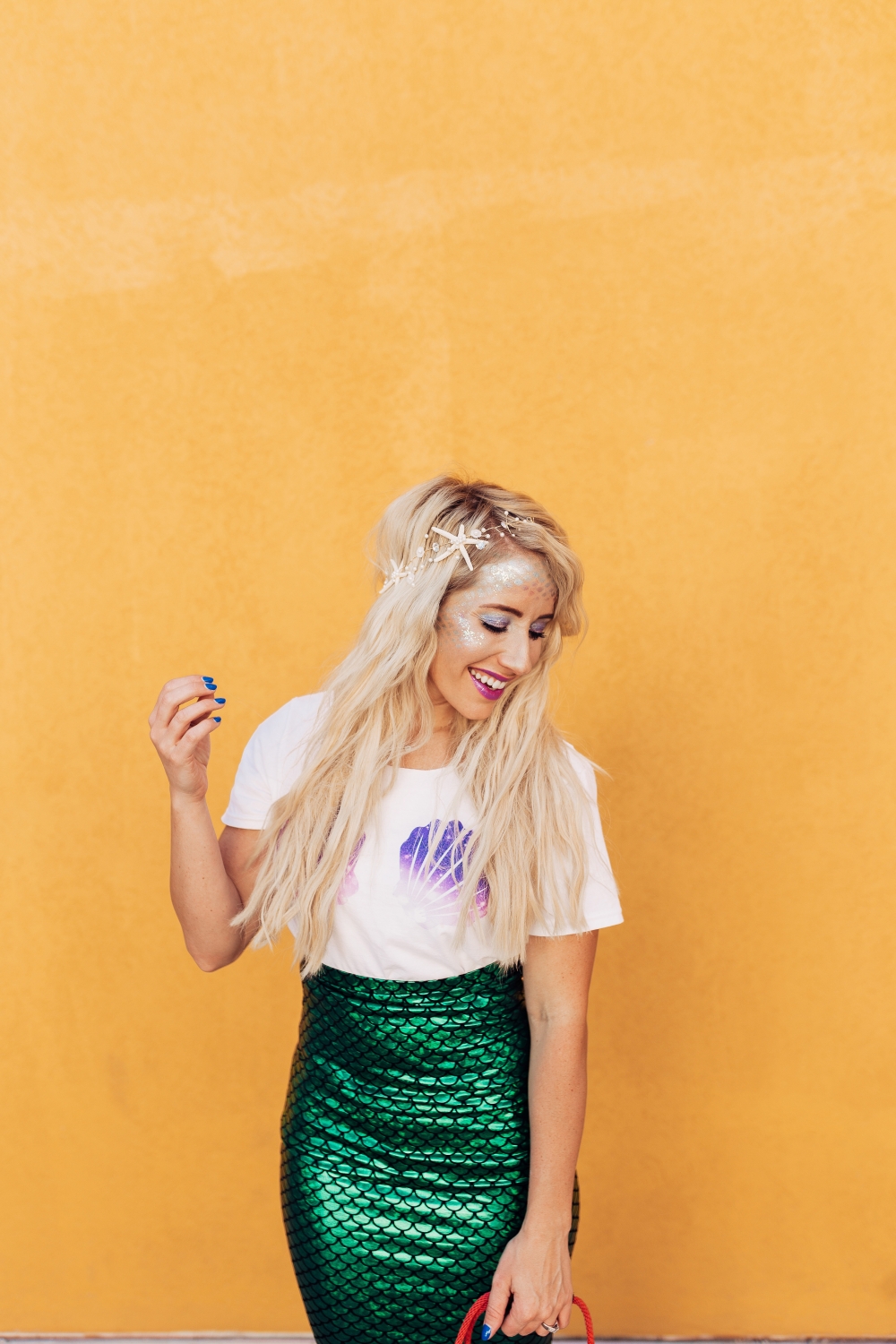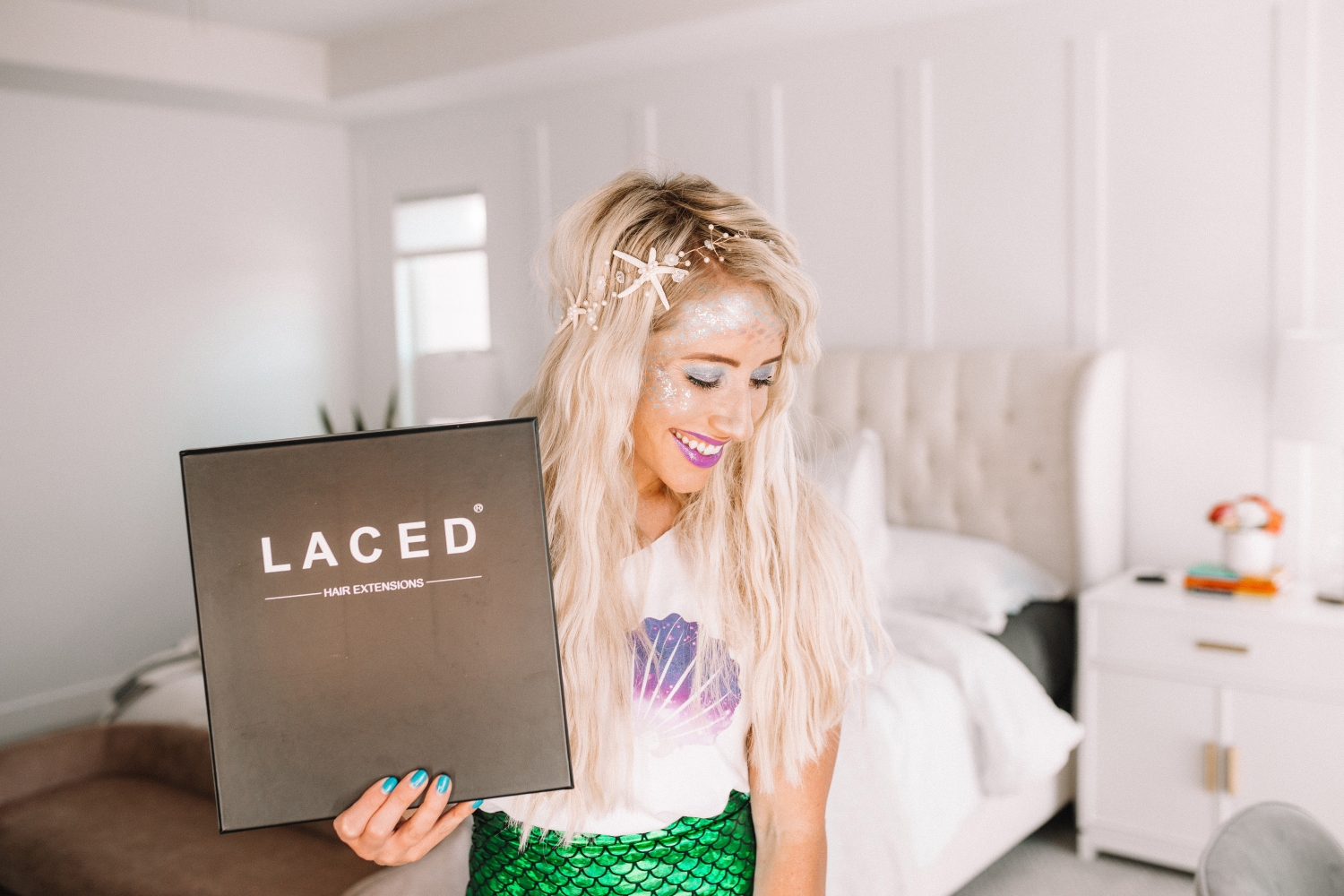 Let's chat about this long mermaid hair for a second. OBVIOUSLY it's not all mine! I'm wearing the clip-in extensions from Laced Hair and they come highly recommended from yours truly. I wanted to share some quick advise on extensions. Please don't buy cheap hair!!! It's worth the investment to get quality hair because they'll 1. last you forever. I wear extensions quite often and have had the same set of clip-ins for over a year. Quality hair won't mat or dull over time and you can also dye it. My big secret is to take my bag of extensions to my stylist and have her smudge the roots. She'll also tone the blonde with the same toner she uses on my hair. I also have her trim up the hair and blend it with my own. It'll cost you a bit more but I promise you'll feel more confident wearing your new extensions. They'll blend flawlessly and the color will be exact. If your blonde, the smudge will help hide the tracks and I rarely put extensions in above my ears. There's nothing wrong with wearing a head full of extensions, but you better make sure NO ONE can see the tracks!! So my advice is if you're going to buy some extensions, just do it right and buy a nice set that will last you forever and spend the extra $ to really make them your own.
Hopefully that helps some of you. I know there are so many options out there and I've just always loved the clip-ins from Laced. I've tried tape ins and the hand tied wefts as well and I just didn't love always having hair in. I like being able to take it out at night or when I shower or swim, and I like the versatility of only using one weft of extensions or the entire bag!!! Ask your stylist for some help though, they're usually a great resource!

For the makeup, I just used the Pur Cosmetics My Little Pony Palette, which is on sale right now for $14!! I use this palette all the time, surprisingly enough! There's a a knock off you can buy at Smith's but the pigment isn't as great. Then I used some of the Stila Glitter and Fully Charged Mascara. The makeup tutorial is SUPER easy, I'm not a makeup expert by any means so all my tutorials are pretty easy and straight forward cause that's all I know haha!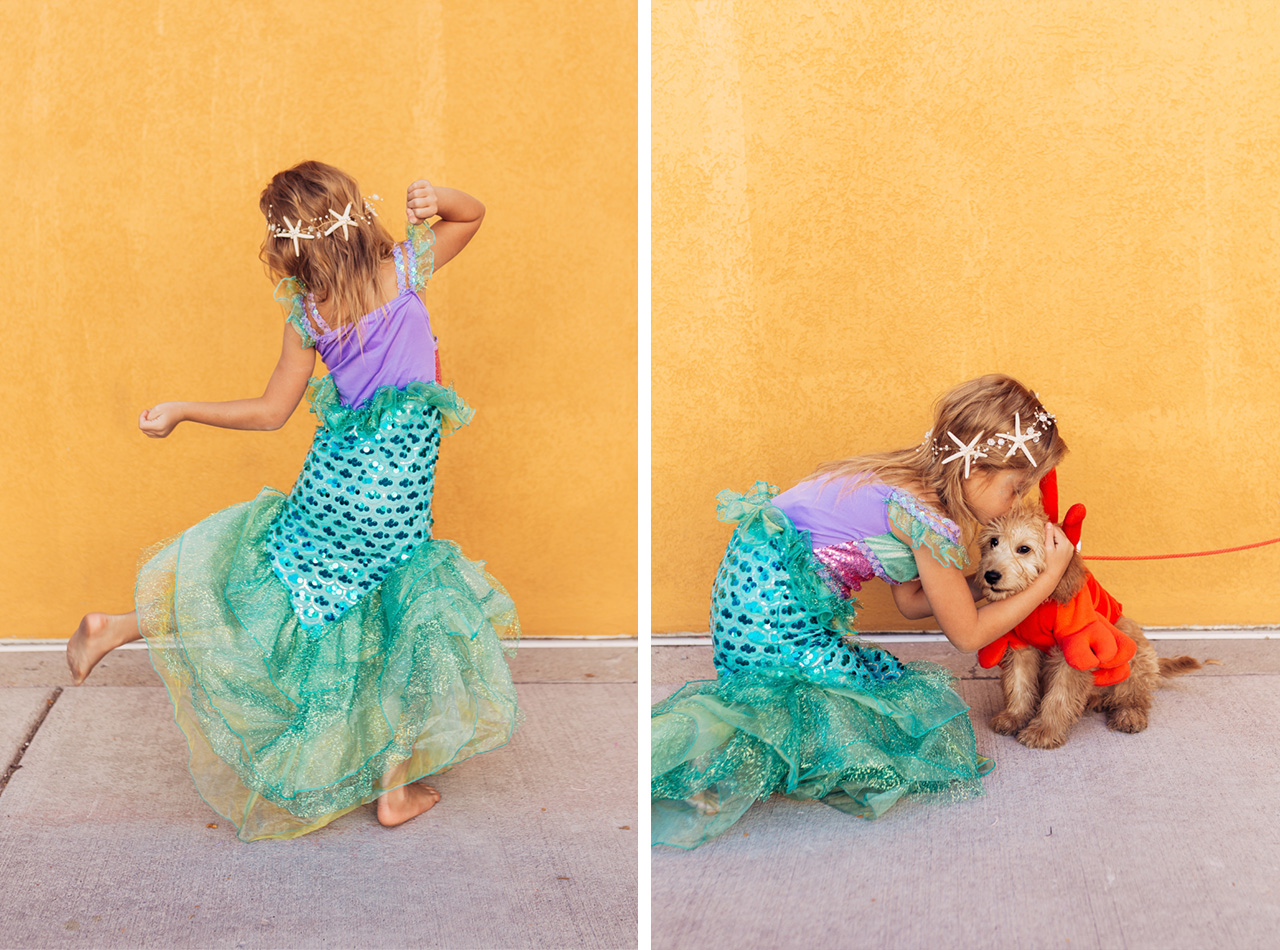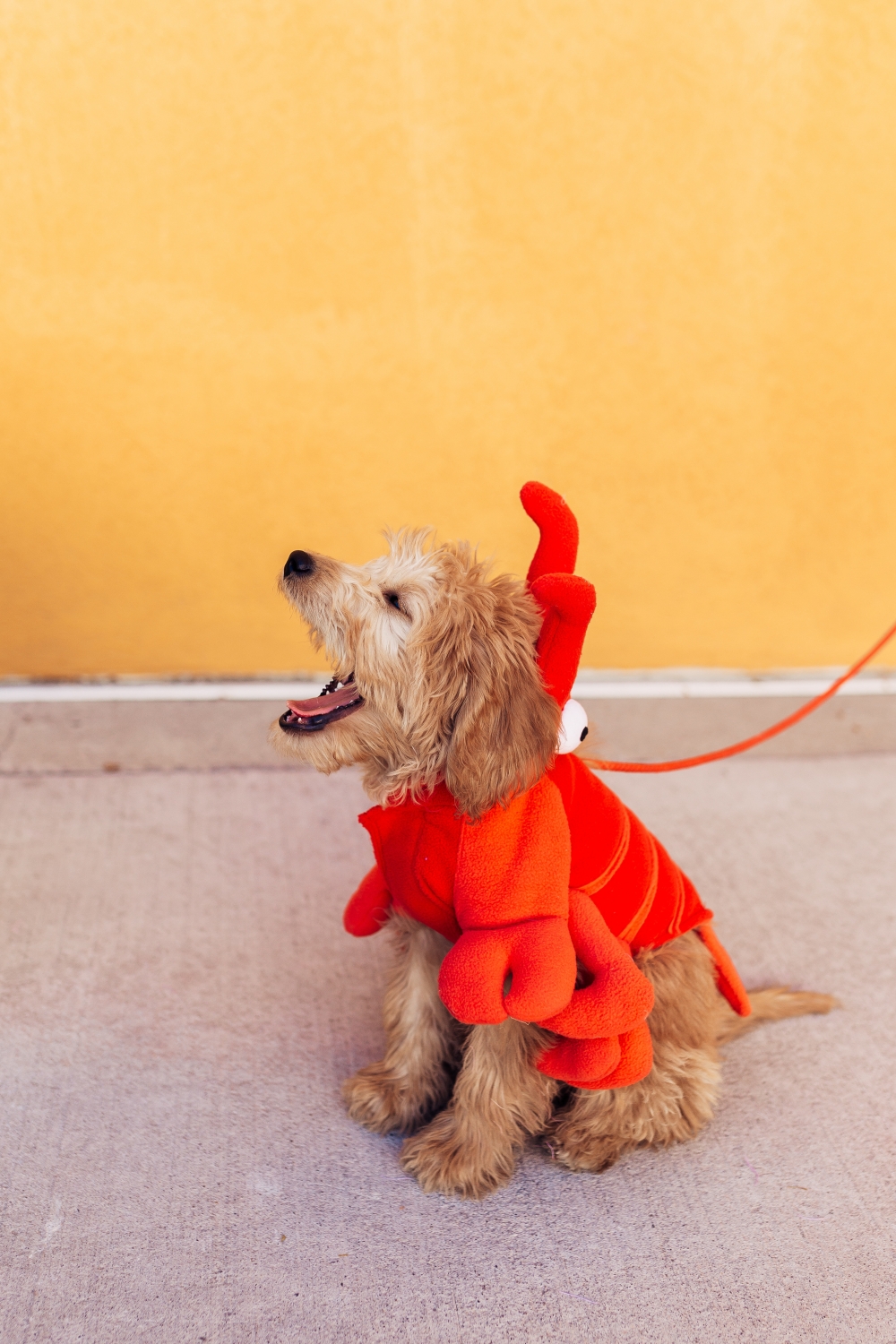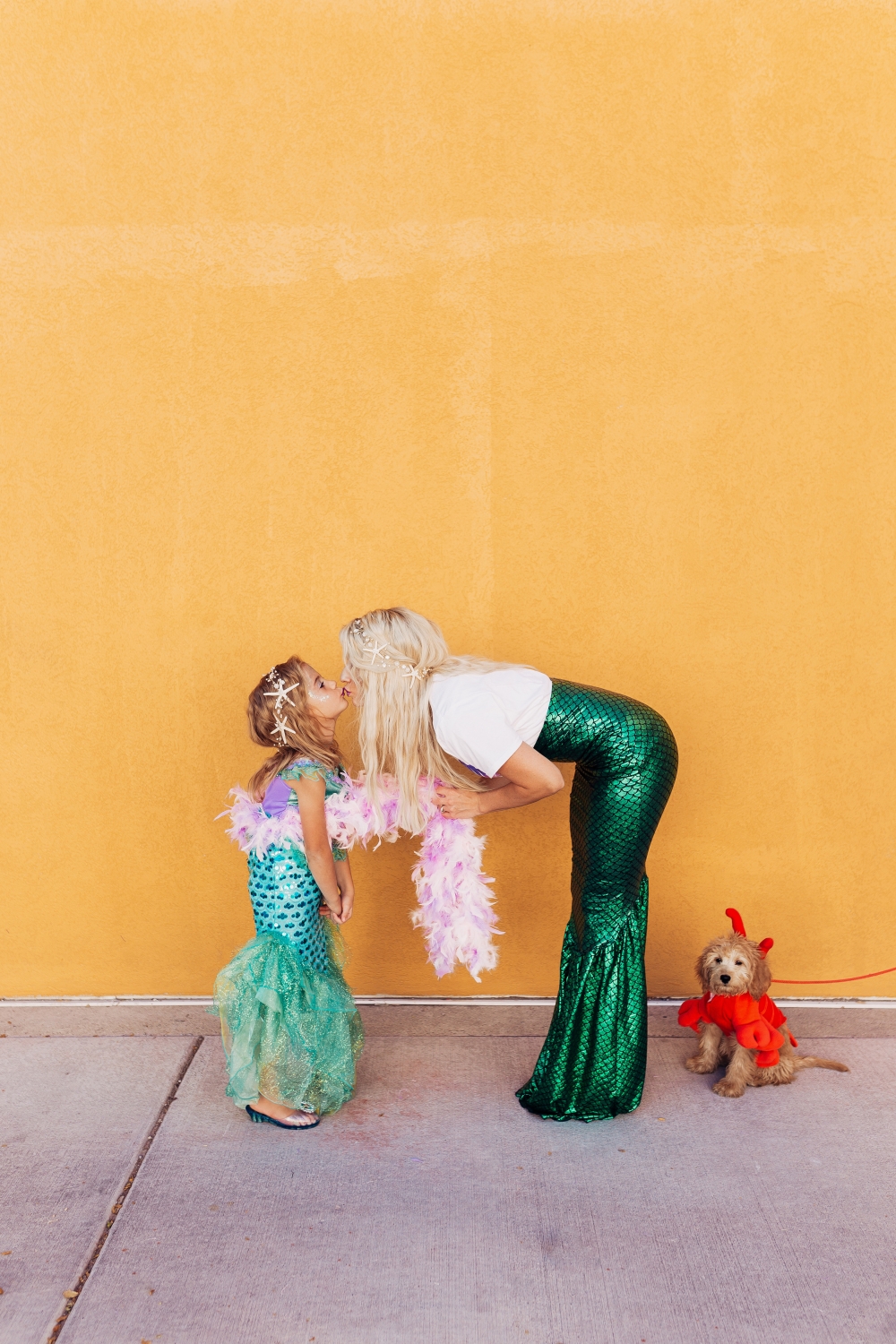 Thanks for scrolling guys, I know I know there were so many pictures! Enjoy the tutorial though and don't forget to watch to the end — I promise it'll brighten your day! If you'd like to see more of our Halloween tutorials, click here.
<iframe width="560″ height="315″ src="https://www.youtube.com/embed/pj3IbbwUhGY" frameborder="0″ allow="autoplay; encrypted-media" allowfullscreen></iframe>