The one question I'm asked all the time is how have you lost the baby weight?! I've been meaning to share my weightloss journey with you guys – I have some before and after bikini shots that you would DIE over!!! I've had a hard time sitting down though and just writing it all out… because truthfully it hasn't just been one thing. It's been a culmination of things and it's something that I'm constantly working on, something that I'm sure I'll be working on for the rest of my life. Losing weight is hard — so. dang. hard! But being healthy day in and day out isn't a walk in the park either, it requires a lot of work and effort, it requires patience with yourself, sacrifice and self-control — UGH. Just give me all the donuts mmmk?
So a quick recap on how I lost the weight. I'll hopefully revisit this soon, maybe hop on periscope and answer your questions? For now though, here is the condensed version and then we'll get onto what I'm doing now.
I lost the initial 15 pounds doing Take Shape For Life — which I LOVE. I'm so obsessed with that diet for so many reasons. The changes are fast, you don't have to meal prep or workout and it's just the best when you have a million kids to take of care and no time to spend on yourself. Its drawbacks are that it's not real life. And if you don't know how to eat healthy after you finish it, you'll gain all the weight back. There are no quick fixes. You can read my super embarrassing post about it here, keep in mind it was published in 2013 ha ha but the results and story are basically the same.
After the 15 pounds I went straight into Beach Body programs. With four small kids at home and 2 new babies, going to a gym just wasn't an option. The twins had started taking longer morning naps though so I forced myself to workout at home. I started with the 21 day fix (you can buy the challenge pack here) and used the containers religiously – that's when I started meal prepping. Honestly the meals I'm eating now aren't too different from what I was doing then. Having the containers kept me honest – it was really the first time in my life I had understood portion control. After finishing the program I moved onto Hammer And Chisel (you can buy the challenge pack here) which is my FAVORITE!!!! I love love hammer and chis! I was so in love with the program that I became a Beach Body Coach and a few of us did a little challenge together. I'm still a coach but just for discounts on products – it was too hard for me to follow up with all of you but it was something I enjoyed so much and hope to revisit again in the future! Beach body gets a bad rap but don't let that deter you because the programs work if you're consistent and I love shakeology. K moving on.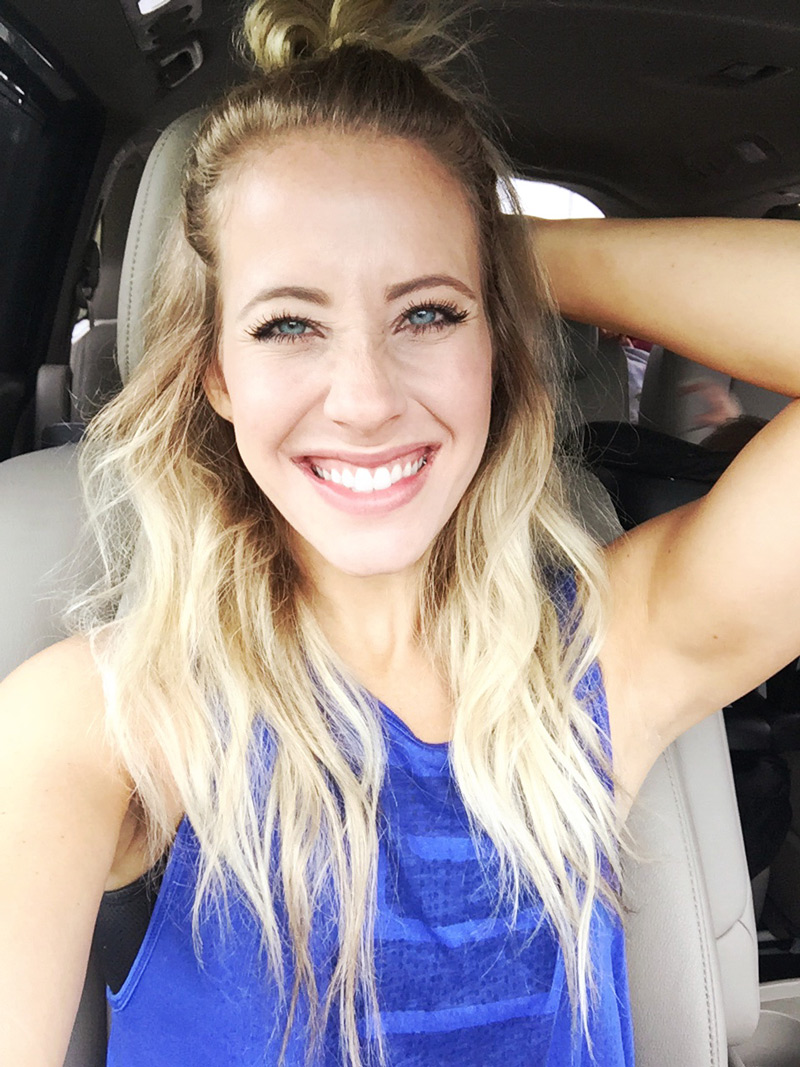 So what are you doing now? I finally got to a point in my fitness journey where I needed some help. I was down to a good weight that I'd been managing, I was in shape and eating healthy but just needing and wanting a little something more. The babies were starting to grow out of their morning nap and I frankly just wanted to get out of the house! So I found a trainer who came up with a meal plan + exercise routine for me and for the past three weeks I've been following it to a T. It's pretty hard core at the gym, like so hard core I want to die every day ha ha! I do 30 minutes of resistance training, he has me working out certain muscle groups every day and then I finish it off with 45 minutes of the elliptical or stair master. 3 minutes of sprint, as hard as I can go and then I slow down and get my heart rate to 150 and go back up again for 3 minutes. It's basically 3 minutes sprinting, 1 minute slow.
And this is what I eat in a day. Keep in mind the calories I'm burning at the gym and the size of my body (120lbs 5'2″). I'm not sure these amounts will be what you need — but it's always helpful for me to see how someone else is eating so hopefully this gives you a good idea of little changes you can make in your own life. And when all else fails, the containers from beach body are a favorite!
Breakfast: 1 omelet + oatmeal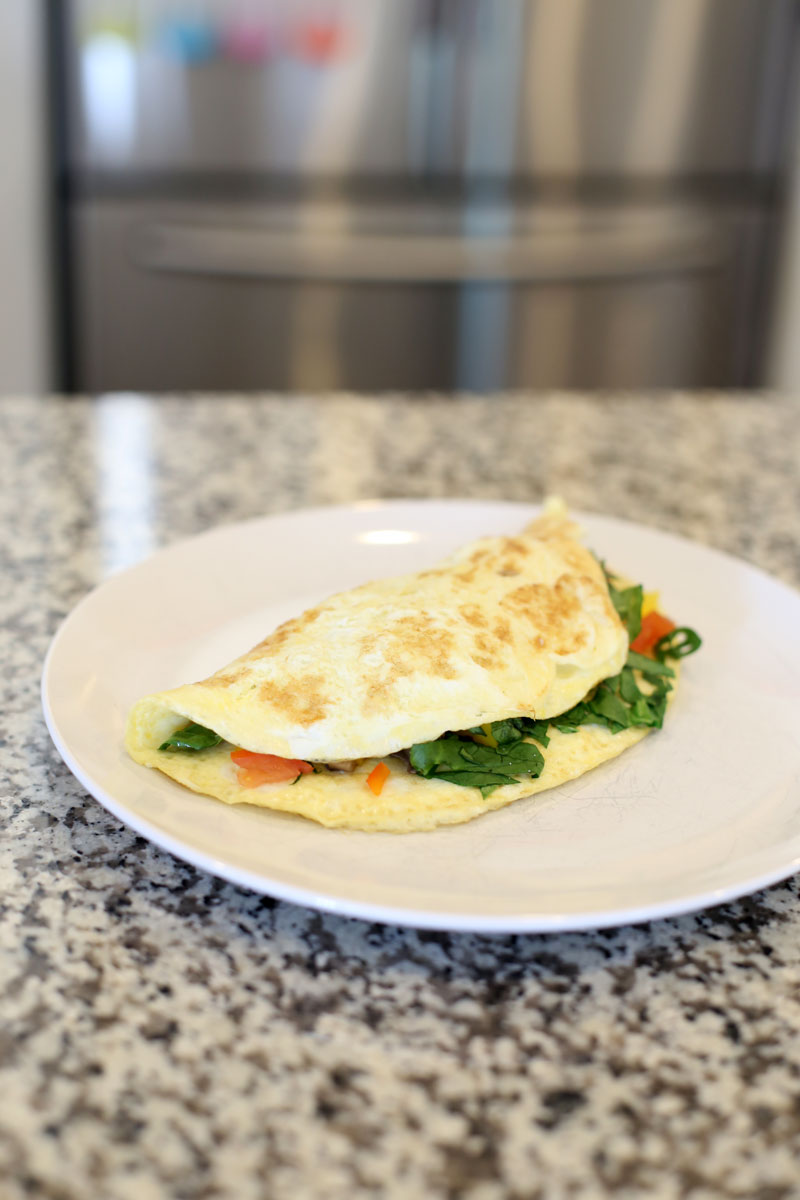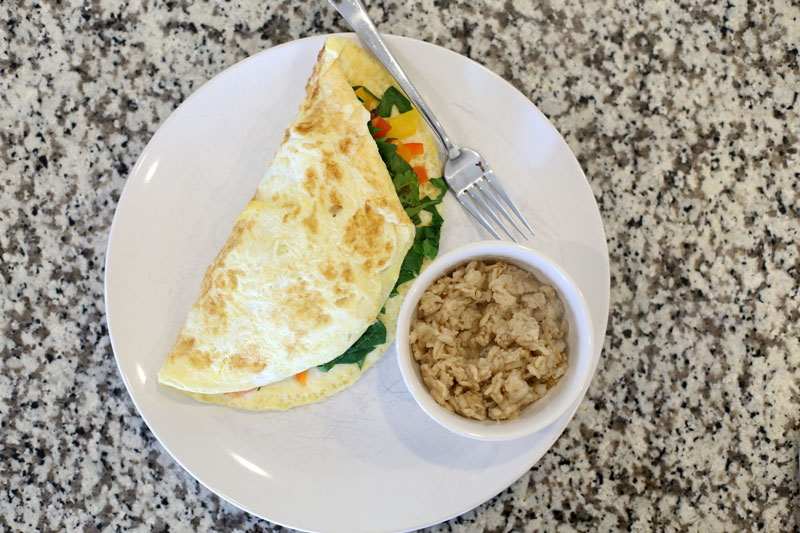 How I make my omelets:
I put a little bit of water in the bottom of a pan, turn the stove on medium high, grab a handful of mushrooms and bell peppers (already pre-chopped so it's super easy and fast) and throw them in. Then I cover the veggies with a lid and start cracking my eggs.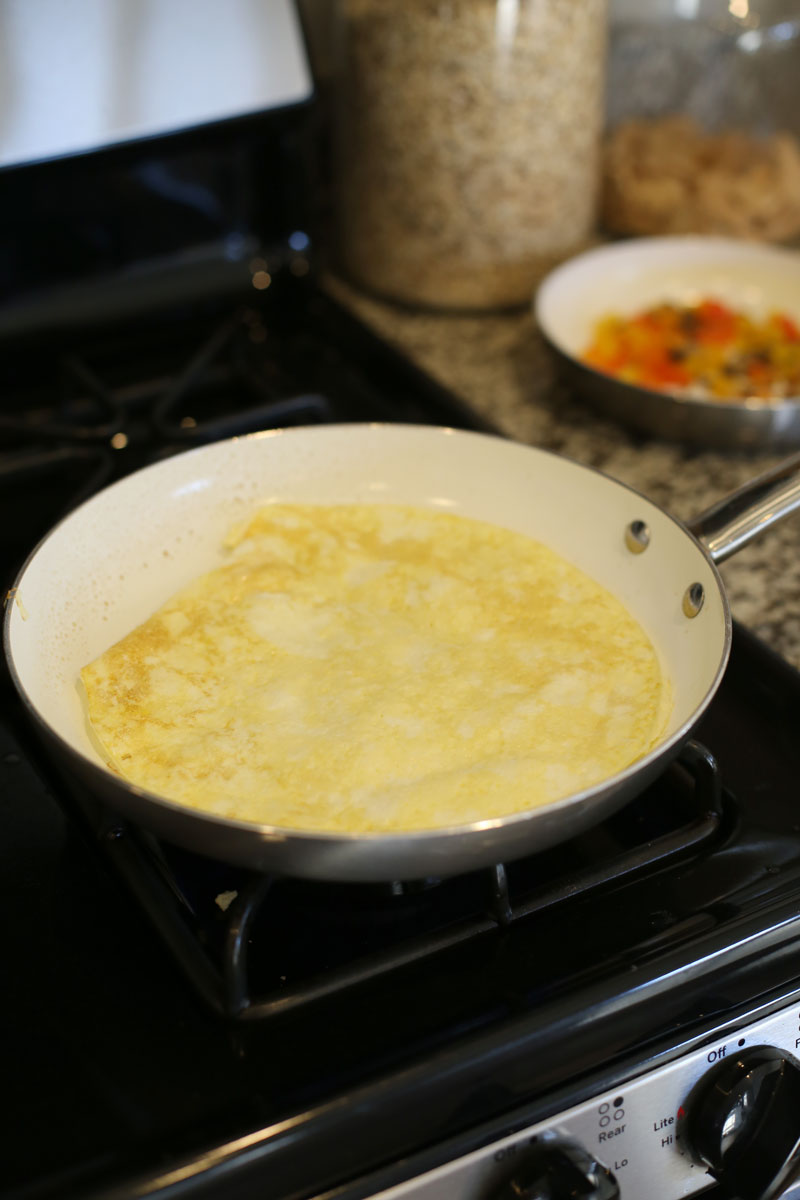 For the meal plan I'm following now, I've scaled back a ton and leave out the cheese, bacon/sausage and I use mostly egg whites. So it's not as delish but it's still something I look forward to. So I do 1 whole egg and then 3-4 egg whites depending on how much protein I need for the day. I spray some pam on the pan, turn the stove on medium low and then while the pan is warming up I mix up the eggs in a bowl and then add them to the pan. Flip it when it looks safe – usually the eggs are bubbling and you can easily slide your spatula under the eggs. And sometimes you ruin it and eat scrambled omelet instead ha ha!
Drain the veggies, add them on top of the egg with 1/2 cup spinach and then plate it.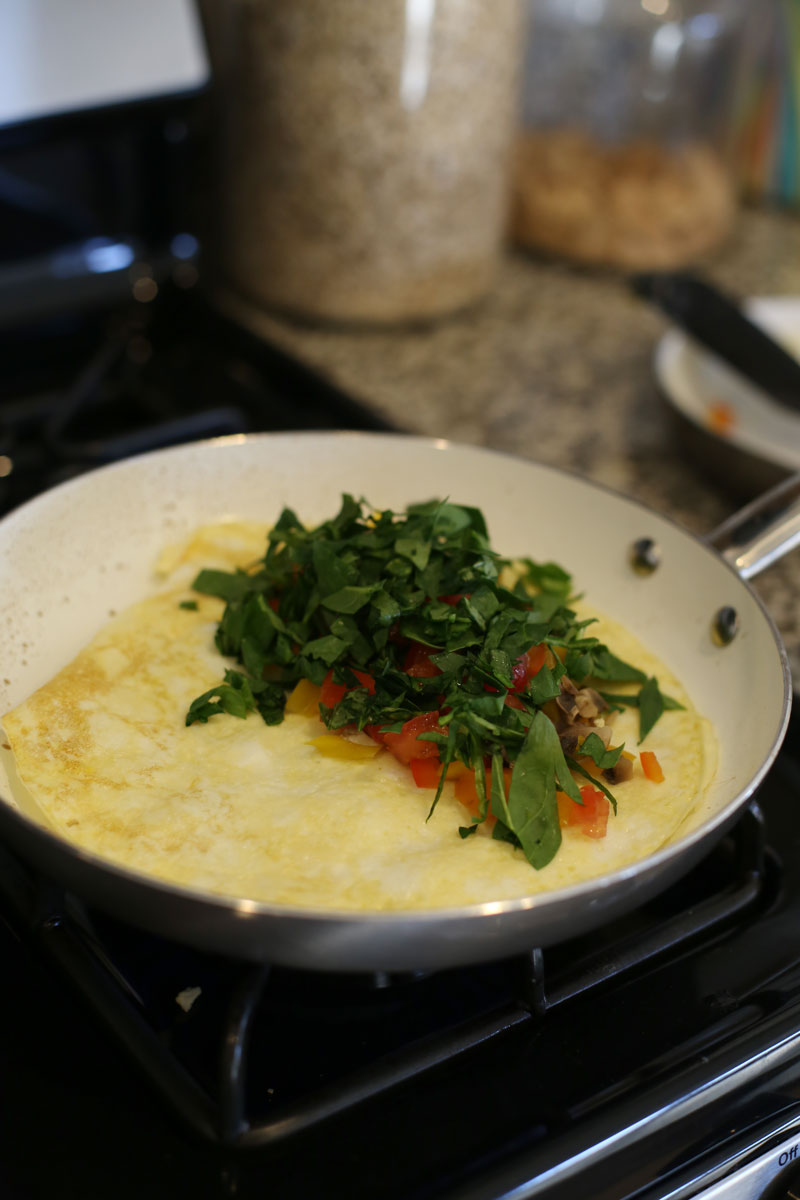 These are the pots and pans I have — I'm freaking obsessed with them. They're amazing.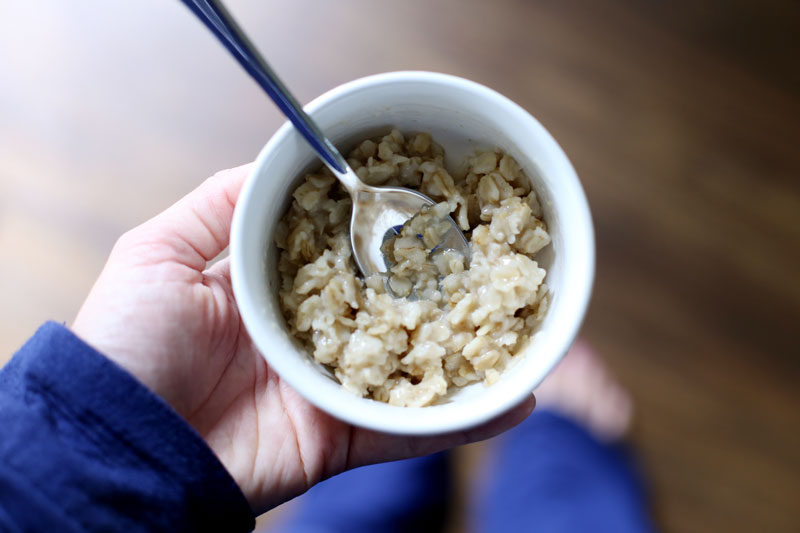 I eat 1/4 cup of oatmeal with 1 tbs agave OR 1 piece of ezekiel bread with honey.
LUNCH: 4 oz chicken breast + 1 1/2 cup broccoli and 6 oz potato + 2 tsp simply butter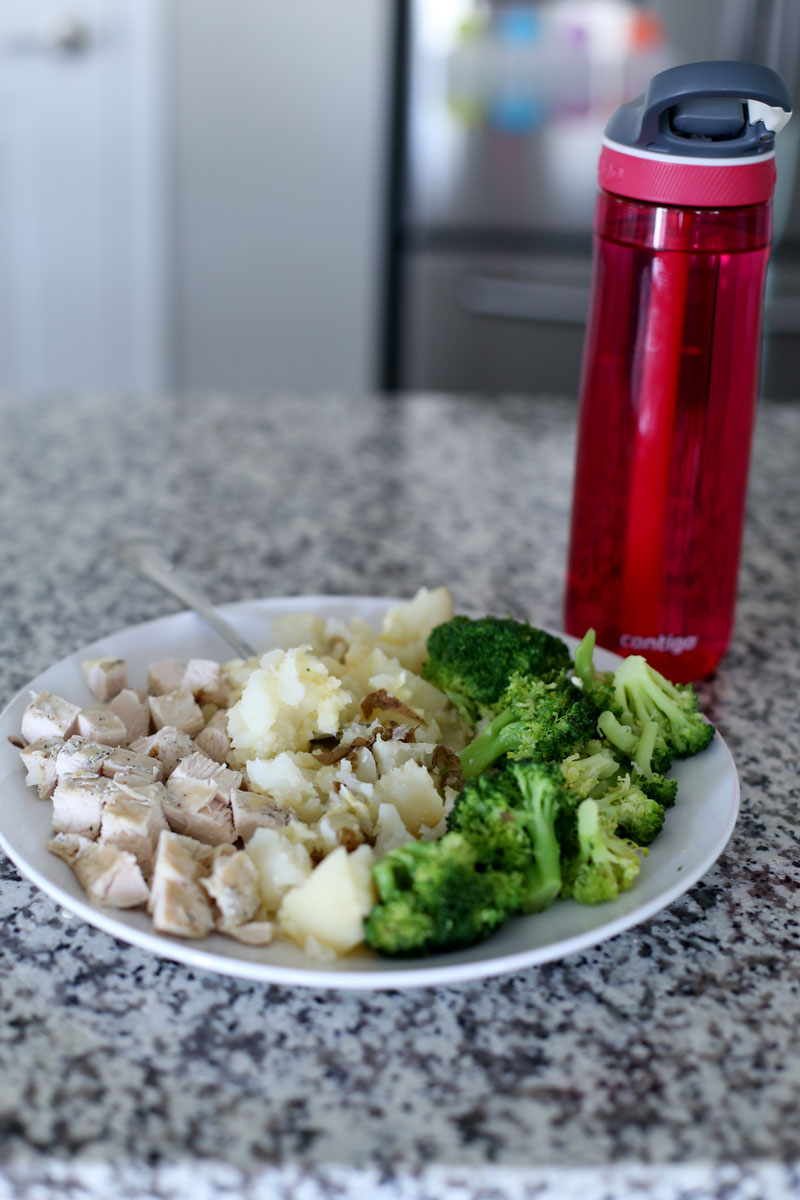 You guys have seen me eating this on snapchat. IT'S SO MUCH FOOD!!!!! It's actually not that much food, but it's food I'm not thrilled to be eating to it takes everything in me to finish it.
AFTER SCHOOL SNACK: Chicken Pita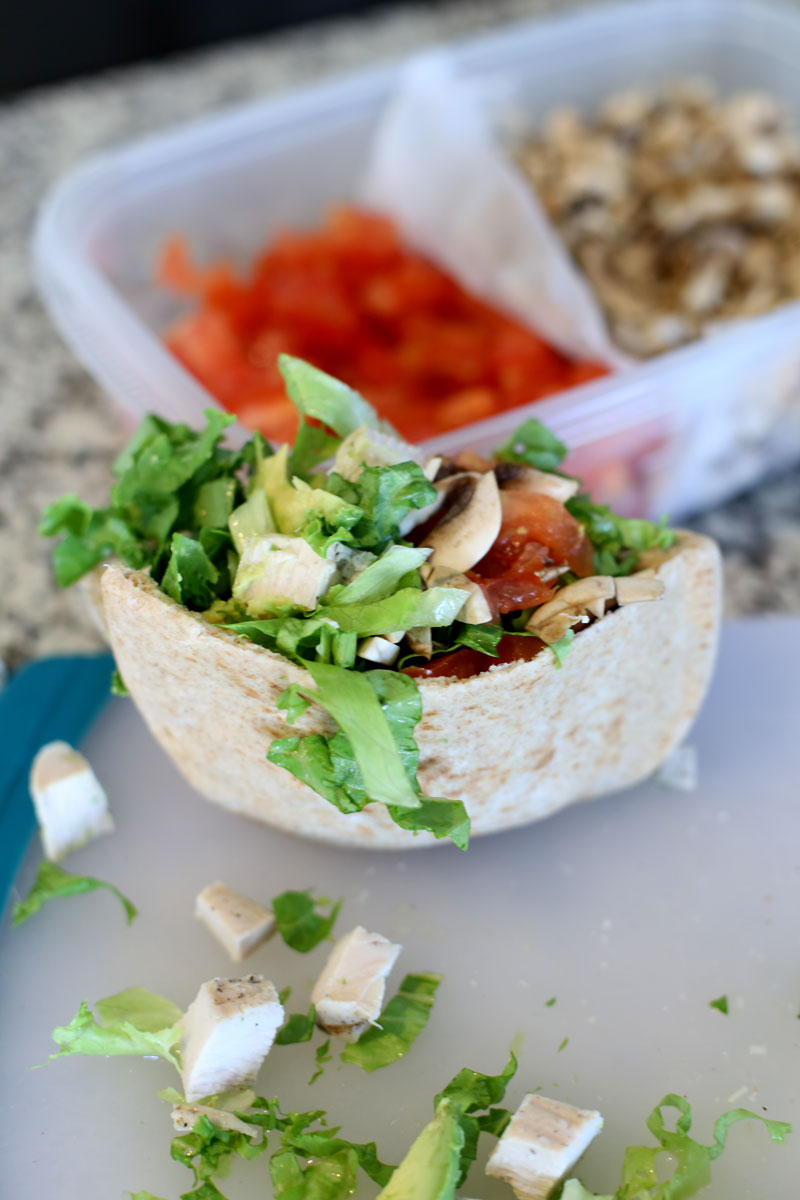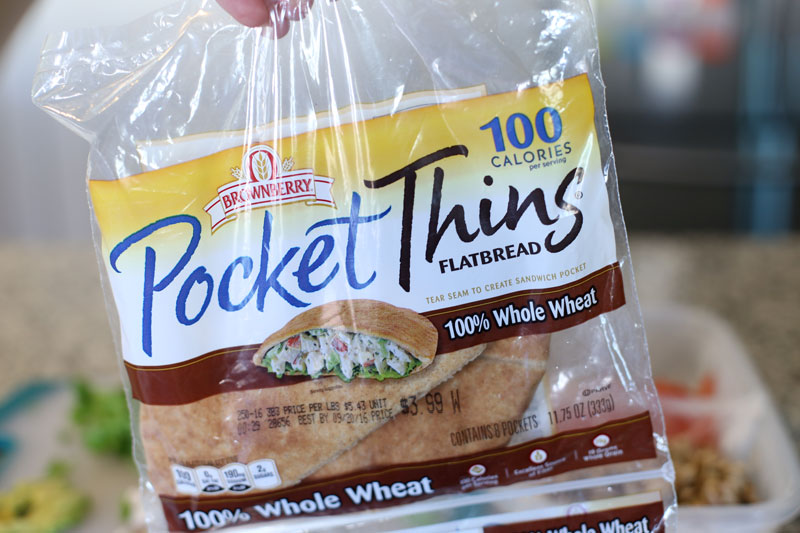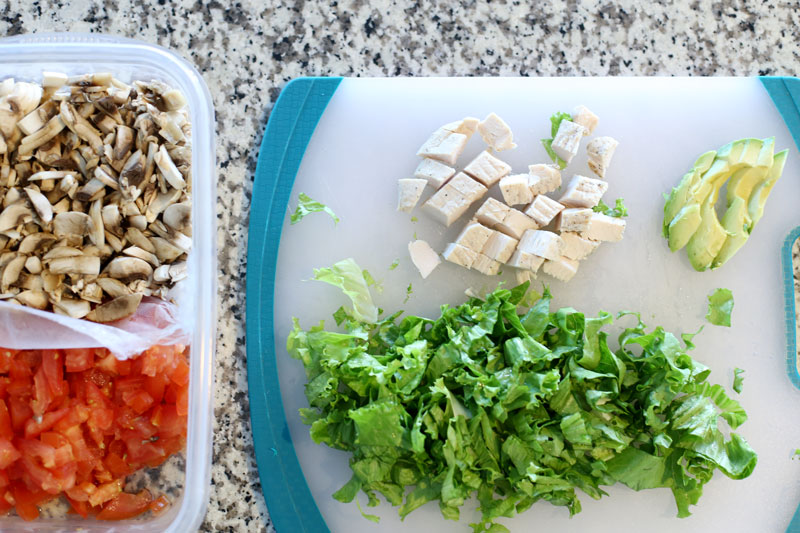 This is the most delicious thing EVER! I pull out my pre-chopped veggies (we'll chat about this further down) warm up 3oz of chicken + chop up 1/4 of an avocado and then assemble the rest after I get Boston his after school snack and it takes me two minutes to snarf down cause I love it so much. Ugh avocado — so good!
Dinner: I don't have a good picture of this one cause I always eat dinner so late but I eat 4 oz of steak + 3oz starch so sometimes it's potato and other times it's rice + 1 1/2 green vegetables.
MEAL PREP!
The key to eating healthy is meal prep. I feel like I've been fairly consistent this entire year eating healthy so this wasn't anything new for me. It's the ONLY way for me to be successful at eating healthy. If I don't have food ready to go I put off eating and then I'm starving and then I binge on 17 bowls of cereal. Anyone else!? So this is what I've been doing and it takes me 30 minutes to do and I usually do it Saturday afternoon after our Costco run.
So I pull out all of my ingredients, I left out a few things from the photo but it looks something similar to this.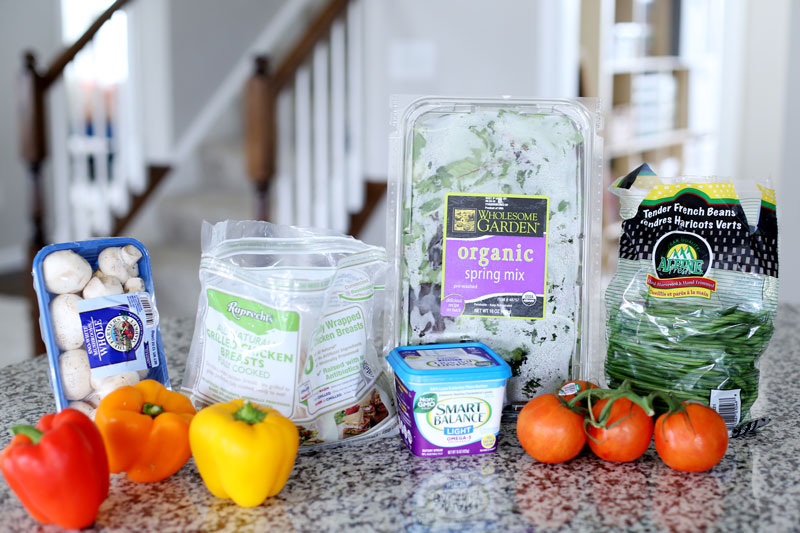 This is the chicken that I buy at Costco and YOU GUYS! It's saved my life. It's a little bit more expensive than grilling your own but I love it because it doesn't get dry. And there's nothing worse than having to gag down dry chicken!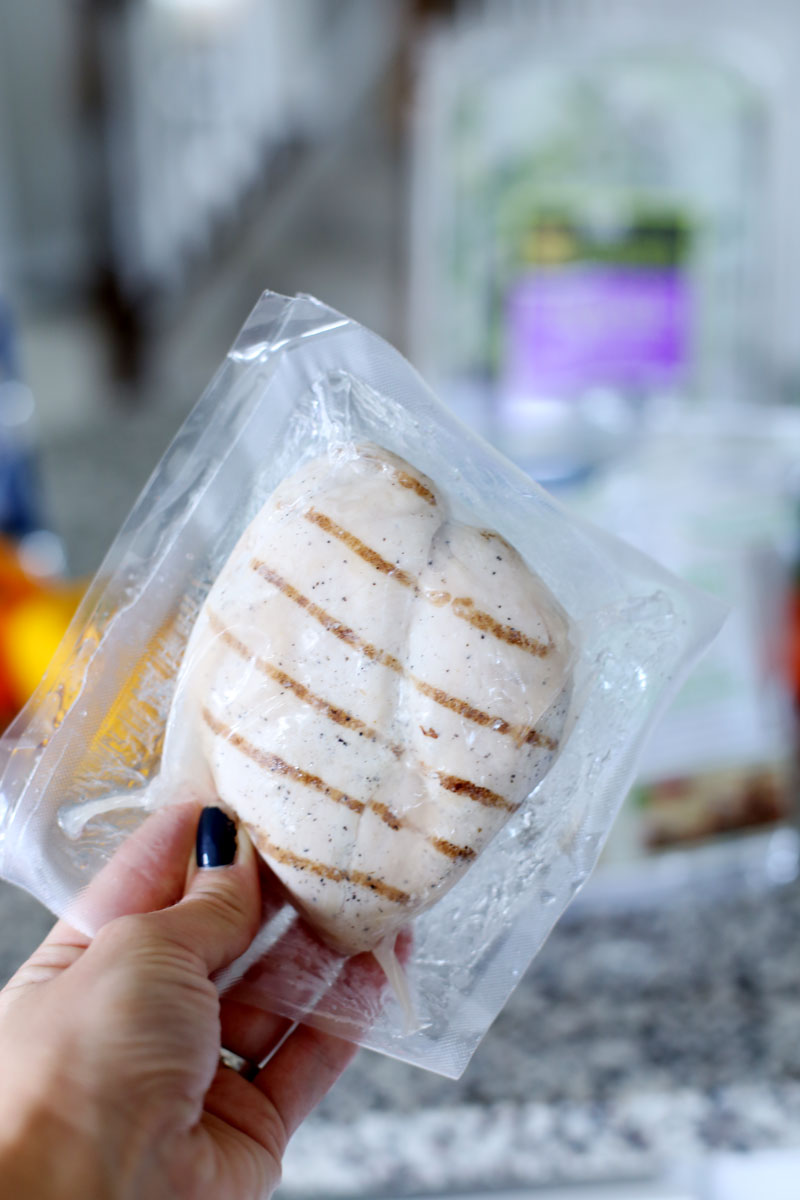 So it comes like this and you pop one in the microwave for 1.5 minutes and then it's done. And it's moist and delicious and I've never dreaded eating my chicken ha!
Okay so onto the prep.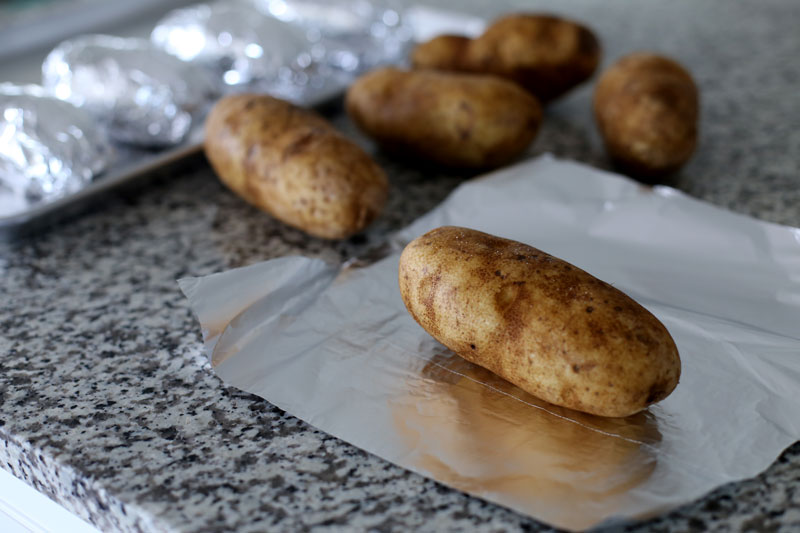 I get out 10 bakers potatoes, wrap them up in foil + stick them in the oven at 350 for… a couple hours. I just check in on them every now and then and when a fork goes in easily I pull them out, let them cool off and shove them in the door of my fridge or wherever they'll fit.
Then onto the broccoli. I don't make all I need for an entire week because I HATE soft smushy nasty ole' broccoli. So I put in about half the bag from Costco and I make sure to cook it … al dente? Yes. Al dente. Because I warm it up in the microwave during the week, it cooks a little longer when I reheat it so just make sure it's not too soft or you've over cooked it and it'll be nasty when you go to have it for leftovers. While the broccoli is cooking I start on the oatmeal, but let's just stay here for a second. When the broccoli is done, I measure out 1.5 cups worth and baggy them. I know this isn't the "green" way to go but it's what's working for me right now and it's how I save room in the fridge. I can shove a little baggy in all the cracks and crevices of our loaded fridge, tupperware is harder.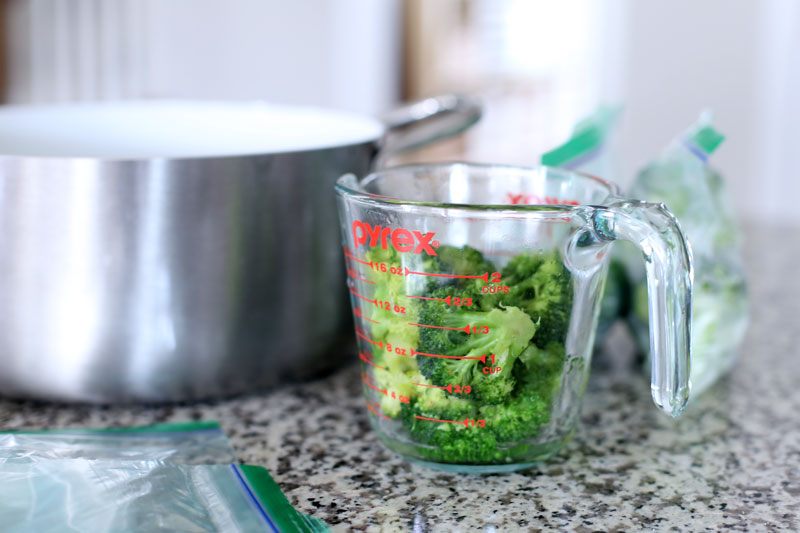 I make… oh how many servings is it… I don't know. Just a bunch of oatmeal ha! I eat 1/4 cup every morning so it's honestly not THAT much but I also give some to the kids so we just make a nice bath of it. When it's done cooking I measure 1/4 cup into baggies + 1 tsp of agave and throw them in the fridge. Again anywhere I can find room.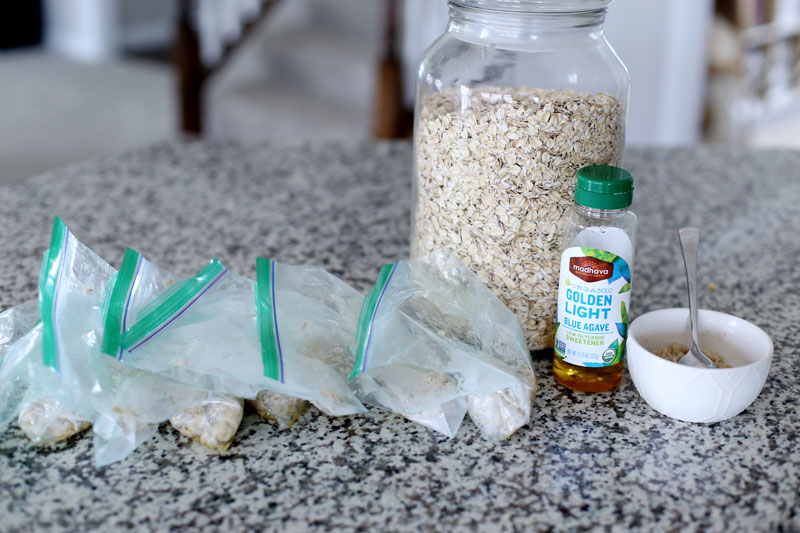 Once the potatoes, the broccoli and the oatmeal is out of the way there's just a few things left. The chopping!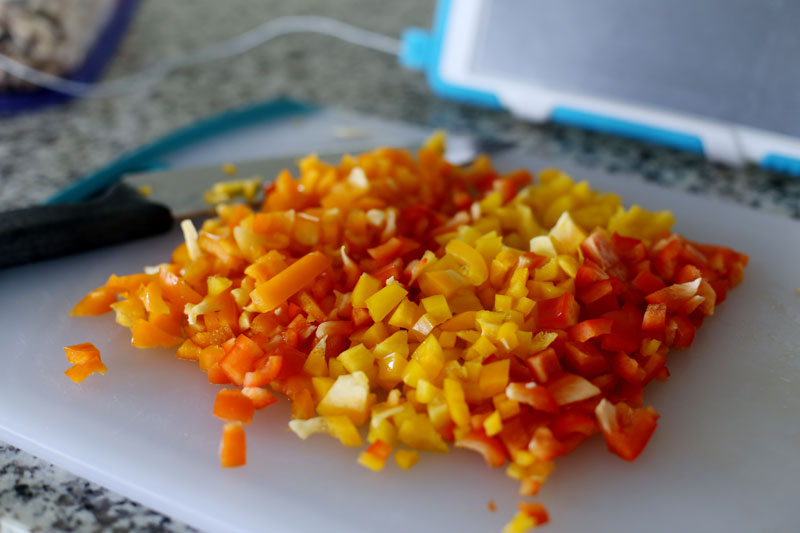 I chop up three bell peppers + an entire thing of mushrooms. I use the mushrooms in my salads, my pita chicken salad and omelets so it looks like a ton of mushrooms but I always go through it.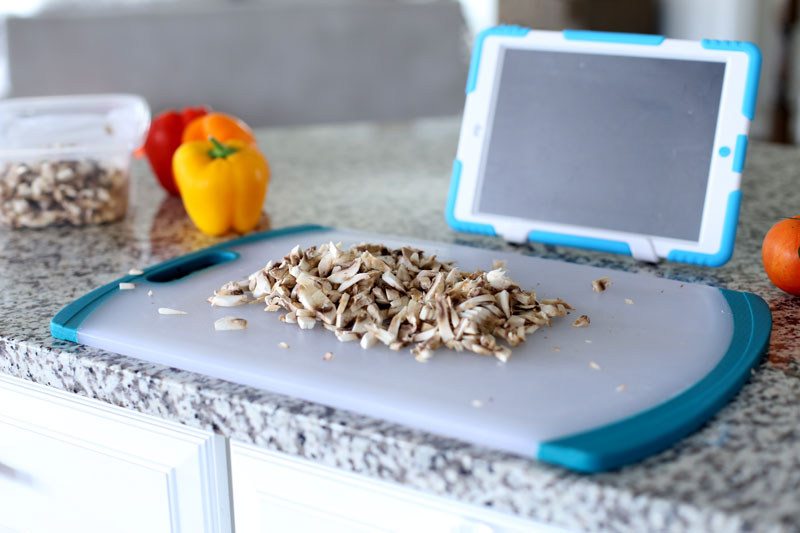 Then I chop up a bunch of tomatoes, some lettuce and spinach. I have two big containers and it looks like I'm totally ghetto but instead of using one container per vegetable, I've used some press and seal and turned my big container basically into two. I do this for a few reasons 1) it's less things I have to get out of the fridge, less lids I have to take off + less dishes. I put the peppers and spinach in one because I use this container for my omelets and I put the mushrooms and tomatoes in the other one because I use that one only for my pita chicken salad. So I pull two containers out in the morning to make my omelets, and then one in the afternoon out to make my pita salad.
This is the ipad case we use for the kids — love it and this is the one I have on my mini (in the dark green color).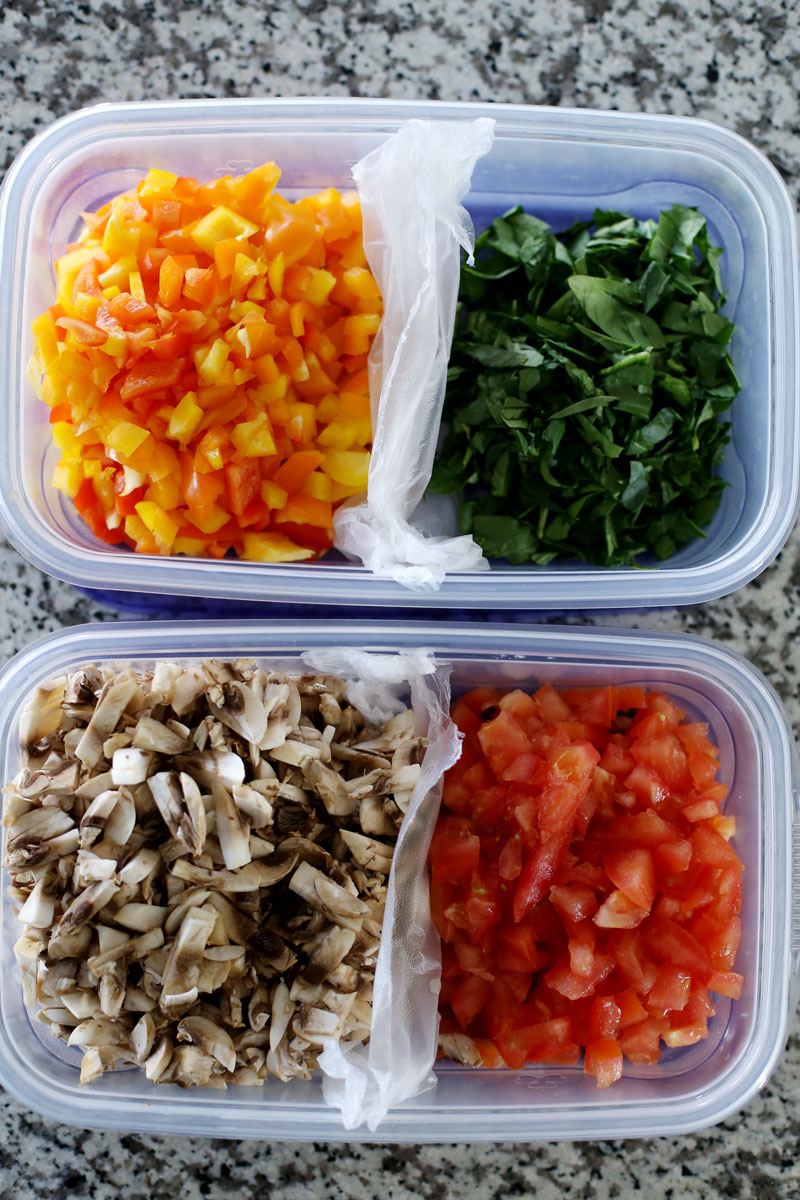 And that's it! I buy the spring mix for my salads at night and I just add whatever vegetables I feel like. If I have fats left for the day I'll add some cheese and then I'll eat it with either steak Brian grills up or I have leftover roast from Sunday. Things that I also eat but that don't require prep – 6oz of grapes or 1 large apple and 2 protein shakes spread throughout the day. I'm taking a few supplements that my trainer has recommended, a pre-workout drink, a post-workout drink + vitamins and lots of water. Based off my pictures I send him each week and my goals, he tweaks my diet and gives me things to change in my workout routine. I'm super excited to see what happens and I'll make sure to keep you guys updated. I've been taking pictures throughout this entire process and when I get a little closer to my goal, I'll share them.
One final thought before I let you guys go – you're good enough. We are so hard on ourselves. Whether you have five kids or no kids, a full time job or a trust fund — be kind to yourself! As a mom it's been really tricky for me to find that balance. I felt so guilty for sitting down to a meal for 10 minutes when there were so many other things that needed to be taken care of. But I just learned that when I feel fulfilled, when I spend a few minutes exercising, getting ready and taking care of my body, I have that much more to offer my kids. If you're looking to make some changes in your life, now's the time! You're worth it. The people around you are worth it.
Have you ever meal prepped? I'd love to hear your weight loss story if you have one, things that worked for you and how you've stayed the course.
Love you guys!
And a couple links to things you guys have been asking about! xo
-These are those cups we have hanging on the fridge you guys have been asking about!
-These are the pots and pans I have — I'm freaking obsessed with them. They're amazing.
-This is that weird thing on my phone case that I'm obsessed with — it's called a pop socket and you need one
-This is the ipad case we use for the kids — love it and this is the one I have on my mini (in the dark green color).