Yes. It's a throwback to the 30's. I just HAD to throw it in! This is the hairstyle I used in "Annie" this past month. The show closed Friday- so sad. I thought in honor of the show, the people and the memories and everything else that's amazing about performing, I just had to put the hairstyle in my 30 days! Hope you like it!
How did I make those? Knots my friends, knots! We'll learn a little bit about them later!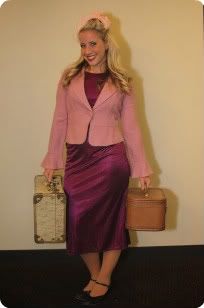 Ha. I just had to!! Oh I'm gonna miss it so much! I was the "Star -to-be". She's got this wicked awesome belty solo in NYC. Pretty fantastic. The song, I mean the song!
And here's the video- just in case!! I am going to start making videos of all the hairstyles. Because that's how much I love you!! And because I won't be doing this one for, um... awhile, I thought I'd just make the video in case. I'm sorry that it's really long and there really is no great place to take videos in my house. Too many mirrors and windows. So just bare with me!
In order to view this video you must have the password which you can find in my hairstyle ebook. I'm sorry these videos are no longer free. I've spent a lot of time making these tutorials and would love your support!

xoxo
Throwback to the 30's
from
Abby smith
on
Vimeo
.