I love everything about the month of October. I love the cooler weather, I love my booties and sweaters. I love the corn mazes, apple picking and pumpkins. But absolutely most of all, I love Halloween. Total sucker. Because this is my favorite month I will be celebrating by giving you guys a bunch of makeup and hair tutorials. It's the least I can do haha! Today's tutorial was inspired by the gorgeous pin up girls in the 1940's. I came down from filming and the first thing my little four year said was, "mom… I hate that hair" haha!! It's definitely much more high maintenance than styles today but I love the vintage vibes going on.
Video tutorial and step-by-step images are after the jump!
To achieve this hairstyle, you'll need TRESemmé's TRES Two Spray Hairspray and if you're hair is squeaky clean or more on the fine side, TRESemmé's Volumizing Dry Shampoo. The dry shampoo will absorb any excess oil and give you grit and texture so that the bobby pins will hold and the TRES Two Hairspray will help keep fly-aways and frizz down and also help hold the style so it lasts all night!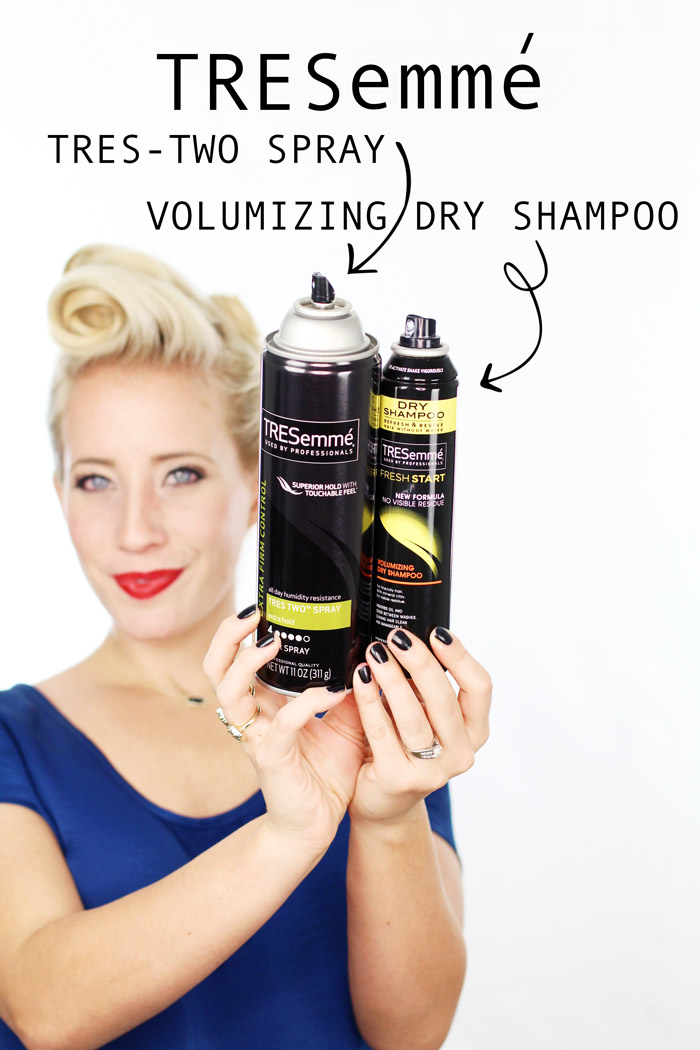 And, because I extra super, duper duper love you. I've created some step-by-steps PLUS a video. Seriously, how awesome am I? You can just thank me by pinning it like crazy… um… k thanks 🙂 Here is the 1940's Pin Up Girl Hairstyle Tutorial::

Hopefully you don't mind I haven't written out the step-by-steps. If I didn't have a thousand other tutorials to get to I'd spend the time. Please forgive me?! Enjoy and make sure to subscribe to my You Tube Channel. I'm trying to get to 100K subscribers by Christmas. MUAH!!
This post was sponsored by TRESemmé, a product of Unilever. All opinions are my own.