Can you believe it's already fall? Where is the time going?! I've just started swapping out my sandals for booties, and hopefully soon the weather will cooperate and I can start layering, wearing jackets, adding chunky sweaters, and scarves! Oh how I love this time of year! These booties I'm wearing are SO COMFORTABLE. They're the new Kerri booties from Børn footwear that I snagged at Dillards. This deep cherry color is a huge fall trend right now and I'm treating it as a neutral. It seriously goes with everything. The next outfit I wanna pair them with is my black skinnies, a striped tee, and denim jacket!
I love Børn footwear because they're the perfect shoe for those mamas on-the-go. I'm constantly feeling the need to sacrifice style for comfort – chasing the babies around in cute wedges or heels just is not even an option anymore! But Børn footwear has gone out of their way to make sure their styles are comfortable, wearable, and so dang cute! They keep my feet comfy from our morning errands, to our afternoons at the park, and even nights out on the town.
Bow: c/o Macey Made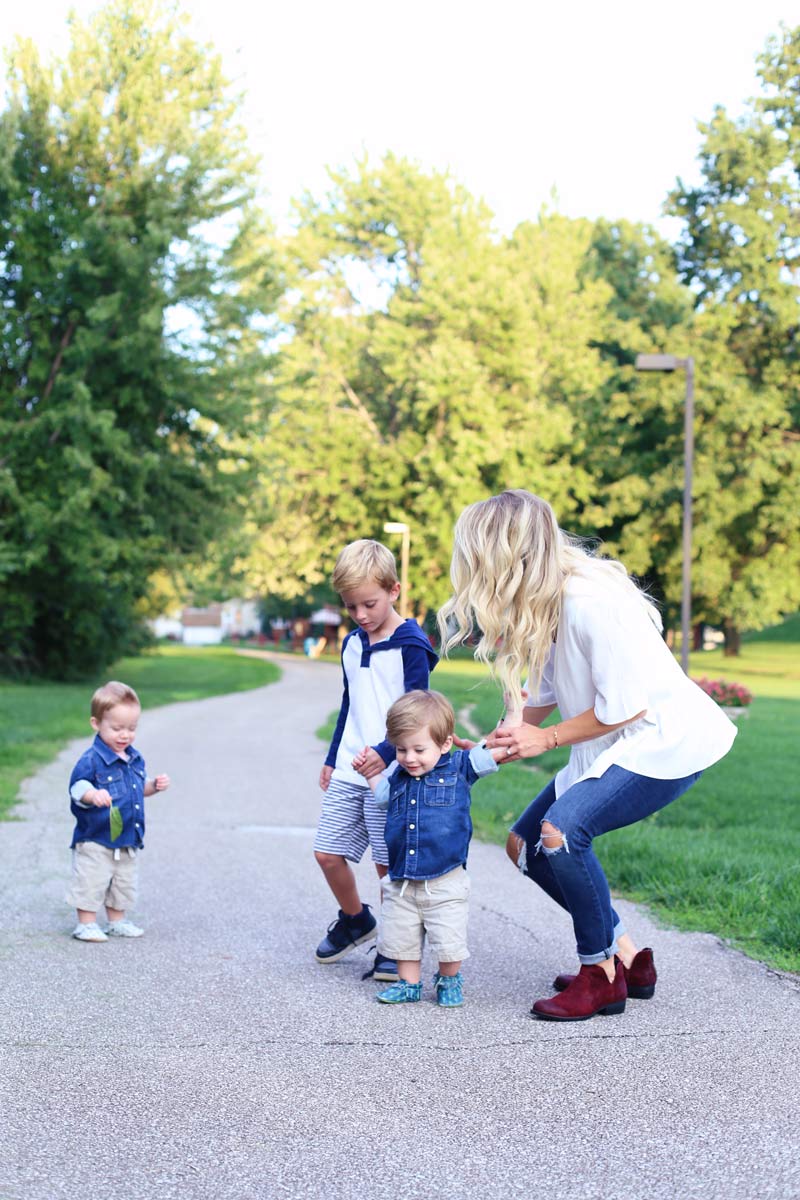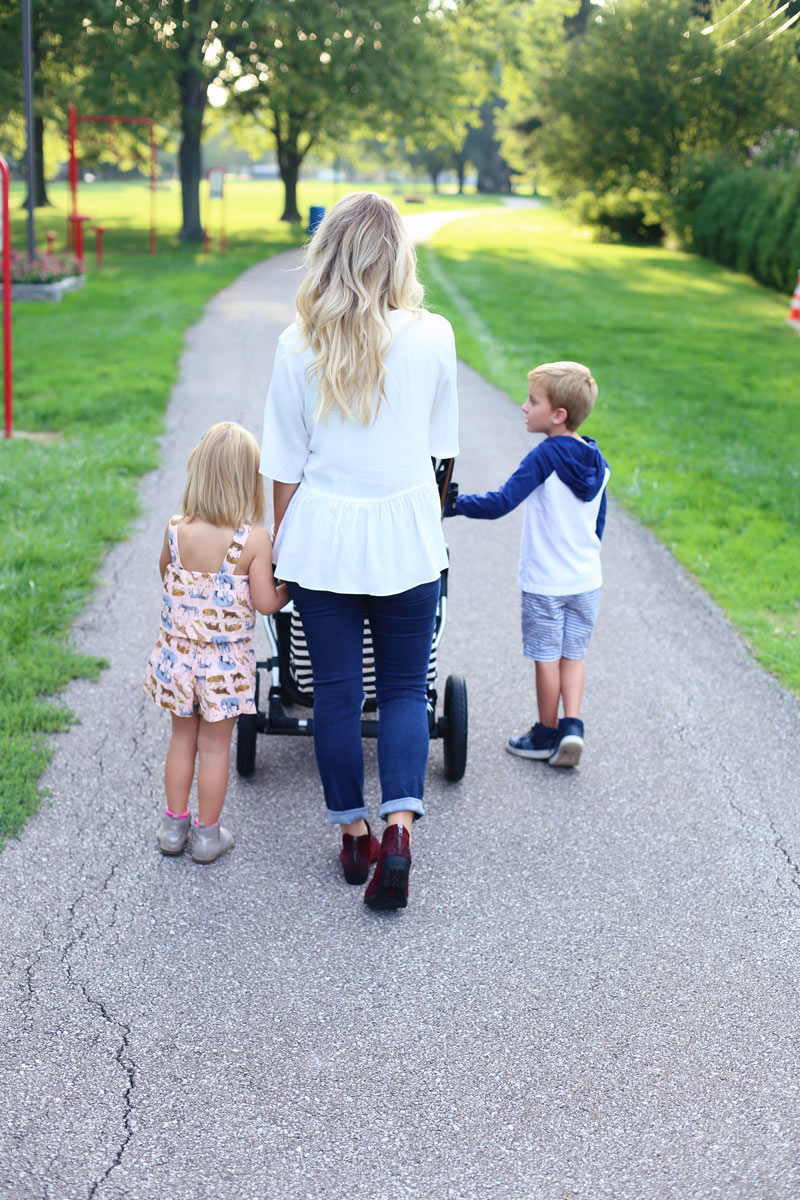 I sometimes can't believe I have four kids! Like – there's four of them. It kinda freaks me out! I don't feel old enough to have four kids… I don't feel responsible enough to have four kids, rich enough to have four kids, and half the time, I don't feel capable enough to have four kids! But here we are. These little munchkins have my emotions all over the map.
Motherhood is funny that way. Sometimes I love them so much I just cannot even contain myself and I wanna kiss their faces off, wake them up early from their naps to hold them, tickle them all day and just snuggle the crap out of them. And the other half of the time, I wanna run away. Hide in the bathroom, lock myself in a cabin where no one can find me, eat all the food because they're driving me crazy! If you're a mom, I'm sure you've been through the emotions!
If there's one thing I've learned over the years though, it's to appreciate the small moments. I wanted to share with you guys 3 ways that I've learned to enjoy motherhood. I hope this helps some of you see the joy in those every day moments!
1) Relax and let go. Let go of ALL your expectations – and I mean all of them. Let go of the clean house, let go of the idea that the laundry needs to be perfect, that the kids need to wear certain clothes, or eat the healthiest food, and just RELAX!!! So they eat an old chicken nugget off the van floor. Who cares! So they wear the same shirt to school three days in a row… I checked it and it doesn't smell, so go right ahead. If it makes you happy, wear the dang shirt! I've learned that if I can just relax and let go of all those perfect expectations, I'm able to be such a better parent to my kiddos.
2) Don't forget to play. I have to remind myself every day to play with my kids. It's hard! It's not that I don't want to, it's just that there are a million things that need to get done around the house. The laundry needs to be folded, the dishes need to be done, the floors need to be vacuumed (like a week ago), and with all those chores that never seem to end, it's hard to sit on the floor and play cars with your little ones. Or dress-up or house or superheroes. If you can set aside 20 minutes every day to just play with your kids, you'll find you have so much more patience and love for them.
3) Take care of yourself. This one was really hard for me… I felt like if I took time away from the kids to exercise or shower, or get dolled up, or — heaven forbid — relax and watch Netflix during nap time, that I was the worst mom ever! That if I wasn't always going and doing things for them, I was failing them. What I quickly learned was that I was failing myself. I had nothing left to give because I hadn't taken time for myself. To breathe. Do things I enjoyed. Get ready and feel pretty!! Remember who I was and what my goals were before I became a mom. Take care of yourself!!! And if you can find time for yourself and fill your tank, you're gonna have so much more to offer your children.
Have you had to learn any of these things the hard way? I'd love to know what you do to enjoy motherhood, to keep your tank full, and your kids happy!! Leave me a comment below so I can be inspired to continue loving motherhood.
Shop this post!
Me || Booties: c/o Born Kerri Bootie | Tee: From the Nordstrom Anniversary Sale, sold out. Similar here, here and here | Jeans: 811s from Nordstrom. I got these at the Anniversary Sale but I'm not even kidding you, I'd pay full price for them. They feel like leggings. And when jeans feel like leggings, you buy them! A similar save here | Necklace: c/o BaubleBar | Watch: Michael Kors | Sunglasses: Kate Spade | Bag: Sold out, similar here | Lipstick: c/o Mac Cordovan
Babies || Button up: Gap | Moccs: c/o Freshly Picked. They don't sell these cactus ones anymore, but I'm loving the camo ones!! | Shorts: Cargo Shorts
Savy || Bow: c/o Macey Made
xo
This post was sponsored by Born, all thoughts an opinions are my own!