I've been online shopping a little bit (it relaxes me while binging Netflix – haha don't judge I have 18-month-old twins hahaha!) and I've run into THE cutest pieces. I thought it'd be fun to round up a few outfit inspos for you guys that are perfect to take from Winter to Spring! Each outfit is so functional, classy and has the perfect mix of layers and patterns! If you're looking to add a few pieces to your wardrobe, hopefully these ideas will help ya out! Which look is your favorite?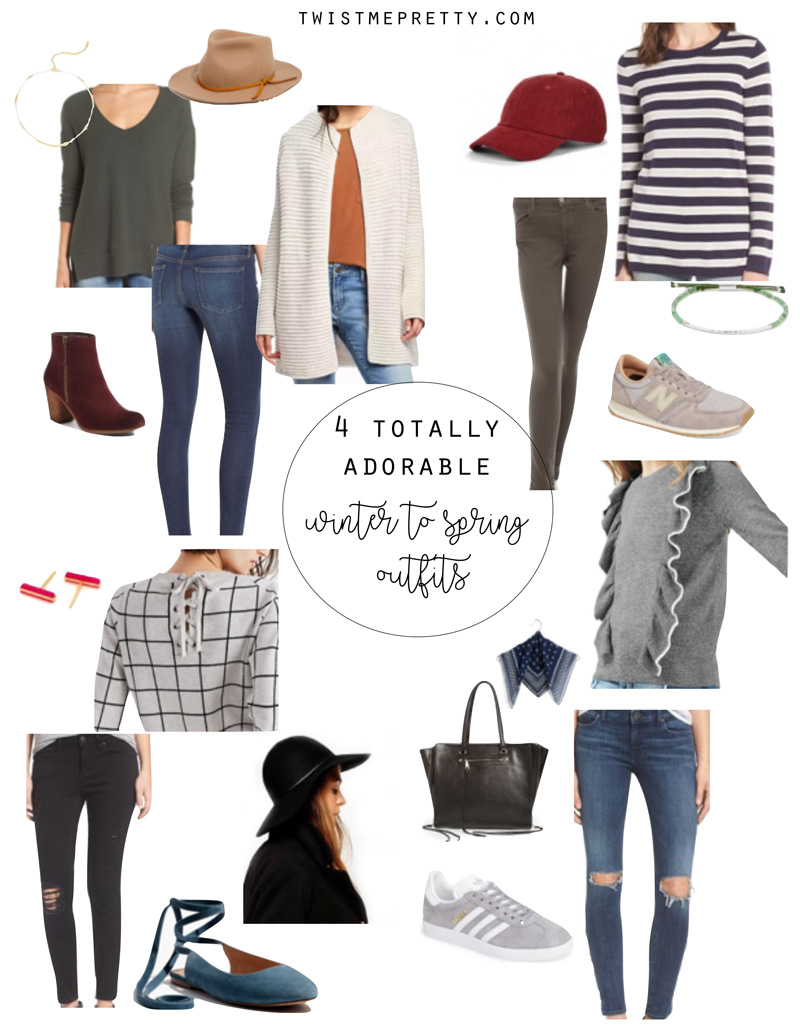 I'm also doing a little sale on these four lip colors. 10% off + free shipping with code ABBYSFAV!! You can order the collection of colors here. First Love is one of my favorite nudes and it's literally the perfect layering color. It's very similar to the Kylie Jenner nude. Brick is a really pretty red that's not too bright. It has gorgeous warm undertones. Violette is a beautiful pink, has cool undertones and an ever-so-light iridescent shimmer. And Lexie Berry, one of my favorite berries, has a little bit of a purply undertone but trust me, it's gorgeous. Head over to the shop to see what these colors look like on. They vary a little bit with skin tone so we've included a few different shots for you to look at!

Remember if you're new to LipSense, check out the posts in the shop to understand how it works. You need to start off with a collection first! This is just the color.
Outfit #1:


This outfit just gives me all the feels. I love a good basic tee, and the sweater is the perfect layering piece. This one is structured enough that you look put together, but it's still a comfy and functional outfit. Plus the hat… that means you don't need to do your hair. Just sayin' haha!
Outfit #2:

This outfit has my name all over it. The sneaks and cap make it the perfect on-the-run momiform!
Outfit #3:

This outfit is a perfect mix of casual and dressy. The sweater is light, perfect for Spring, and has the prettiest detailing! I also love mixing the ripped denim and adidas shoes!
Outfit #4:

The lace up detailing on this blouse is everything! And the blue ballerina slipper with the coral earrings? A subtle pop of colors and completely refined. Also those black jeans feel like leggings so this outfit also makes for a very functional/classy outfit!
I was working on rounding up outfits from the Old Navy sale, did any of you see it? It was a good one! I realized by the time I'd have time to post it though, it'd be over. So I promise to find some great sales for you soon!! Where are you favorites places to shop? Are you more of a Nordstrom girl, willing to spend a little bit more money for classic pieces, or Target/Old Navy all the way? I like to think I'm both!!
xo