7 Tricks to Get Flirty Curls Full of Volume for Short Hair
If you're getting used to your new short hair, I've got 7 tricks that will help you style beautiful curls. I'll tell you my favorite texturizing products, barrel sizes and styling tips for babes with short hair!
A couple weeks ago I found myself at the salon (possibly going through a mid-life crisis or just needing some sort of a refreshing change), and on a whim – I chopped my long locks and wanted short hair.
I was so nervous, but figured it's just hair and will either grow back or I can use extensions whenever I missed the length. Turns out – it was just what I needed! It's been a fun change and I feel like this shorter length is so flirty and fresh. Take a look at the new tricks I've picked up!
1. Use the tip of the barrel!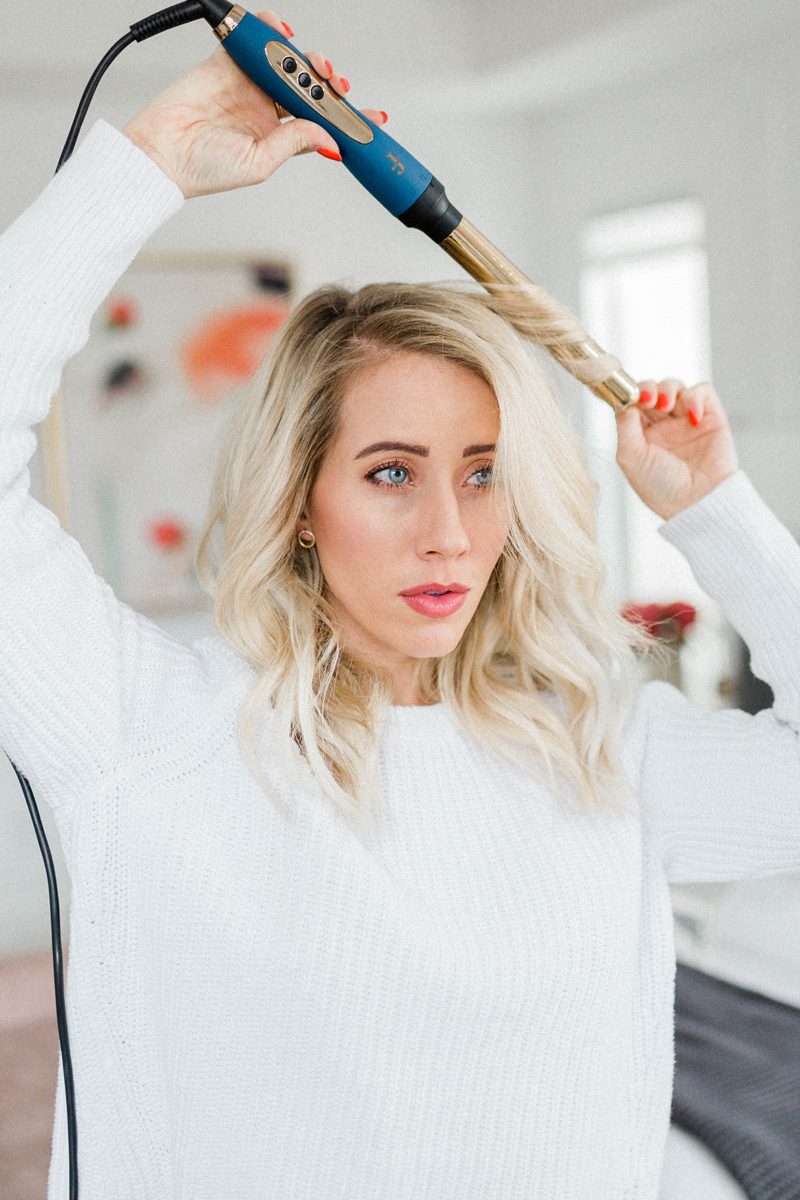 Start your curl in the middle of the barrel instead of the base.
Concentrate on keeping the curl closer to the tip. This will help prevent you from burning yourself while curling. This way, while you're wrapping your shorter hair around the barrel, the length of the barrel isn't going to get tangled up in your arm. The long length of the Flourish Trio curling wand is still super convenient, even with shorter hair. It makes it easier to curl those harder to reach pieces in the back.
It's a different experience curling your short hair as opposed to long hair, but it's something you just have to get used to. Focus on keeping your curls towards the tip of your barrel and kiss any of those burns goodbye!
2. Use pomade to define ends of your hair.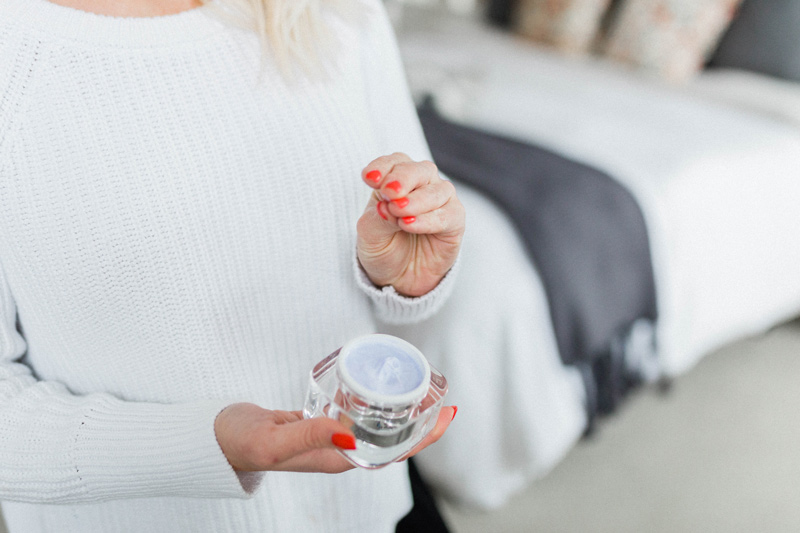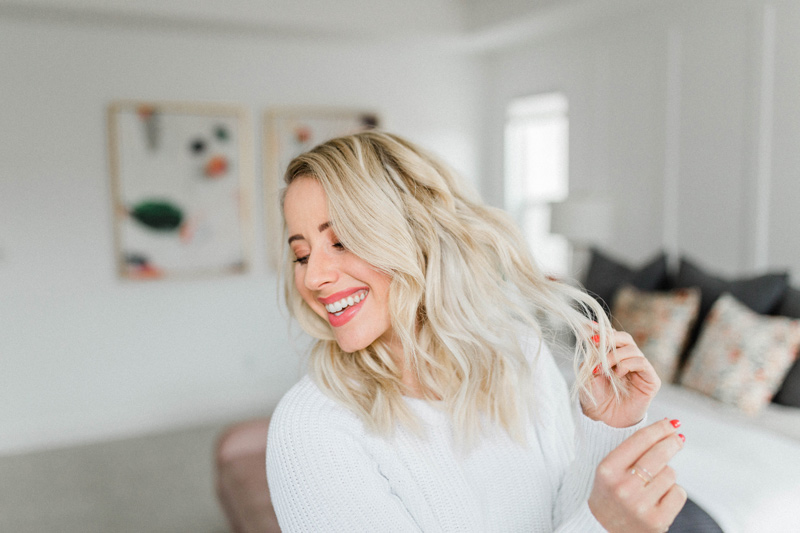 I love the Kenra Taffy – this stuff smells divine and will last you ages!
Just rub a little bit in your fingers and work it through the ends and wherever it's frizzy like the whispies right next to your face. Before I chopped off my length, I'd only use pomade when I had fly-a-ways that needed a little extra help or when I was braiding. Now I seem to be using it more often because it makes my ends more piece-y and defined, which is super cute with the shorter length!
3. Use a root lifting spray to add volume to short hair.
Take advantage of your length and make sure you're using a root lifting spray or mouse.
The beauty of short hair is VOLUME!! So much volume! I love using the Kenra Dry Volume Burst and the LIVING PROOF Full Dry Volume Blast. I just put a little bit in my palms before I blow dry the top section of hair and spread it through out my roots. Then as I'm blow drying my hair, I focus on drying the roots as I'm lifting them up with a brush. After my hair is curled, I'll even take a little teasing comb and just add a tiny bit of volume back into the roots with the curls.
4. Make sure you're using the right size curling iron/wand.
Make sure you can wrap your hair around whatever size barrel you choose at least of couple times.
This will help display the curl pattern and create a prettier looking curl. There are always exceptions, but make sure you're selecting the right size barrel for your hair length and curl preference!
Here's what I recommend for you babes when picking which sized barrel to use:
Long hair: You'll typically prefer the 32 or 25 mm barrels.
Short hair: You'll be reaching for the 25 and 19 mm barrels.
I used my Flourish Trio with the 25 mm barrel in this picture. Next time, I wash my hair I'll use the 19 mm barrel so you can see the difference between them.
5. Use your glove and stop burning yourself!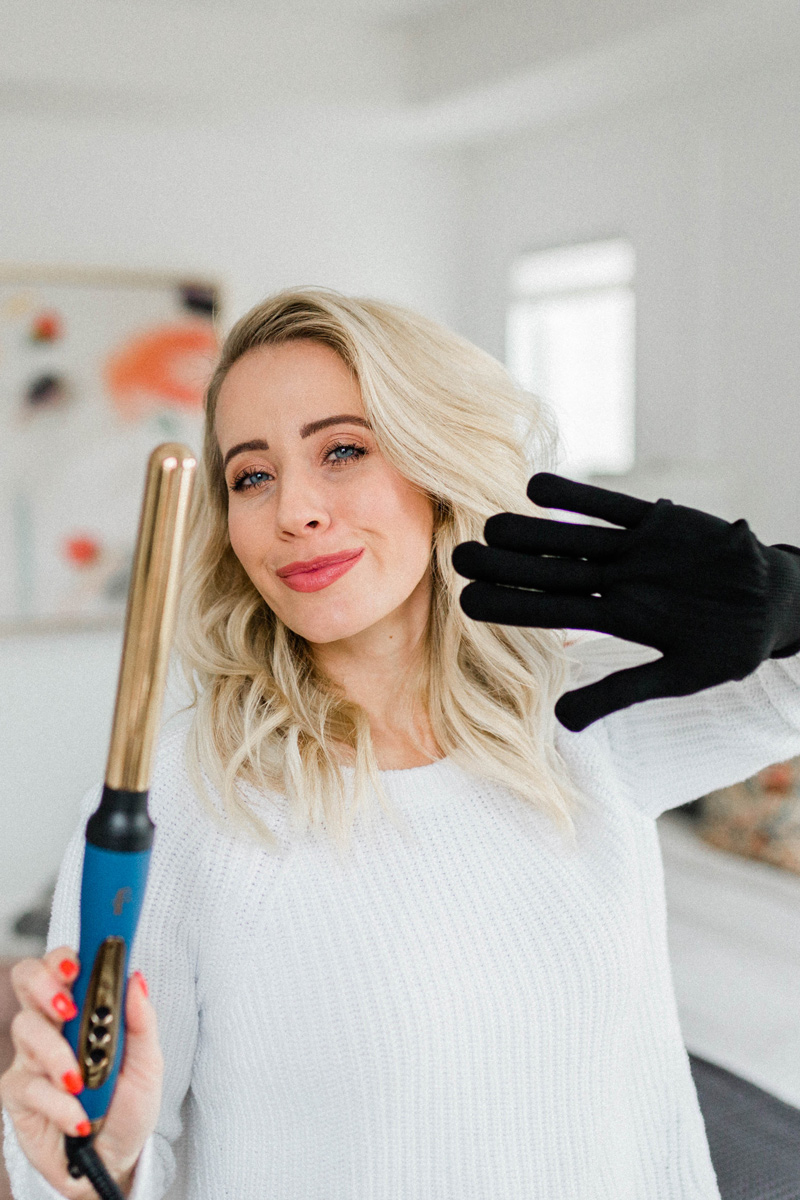 Heat resistant gloves help you get that muscle memory down when curling your hair.
If you're new to curling with a wand, this is important because it'll you babes with shorter hair:
Prevent any anxiety you get about burning yourself.
Helps curl the ends of your hair, if that's the style you want.
Helps you hold less hair at the ends while wrapping.
If you keep burning yourself, use the glove! There's no shame in it at all! Try this feature I added to my Flourish Trio curling wand. Once you get that muscle memory down, you can take the glove off – but while you're still learning, I promise it will come in handy!
6. Use your barrel to give your short hair a lift.
Take the section right in front and push up near the root with your barrel.
This trick will lift up that section and smooth down any fly-a-ways. Once that area has been lifted, go ahead and curl the rest of your hair away from your face. I love doing this trick, especially when it's been a few days since I've washed my hair and I need a little extra volume.
7. You can never have too much texture!
Dry texture spray IS YOUR FRIEND!!! My favorite dry texture sprays is the Oribe Dry Texture Spray.
I've never loved dry texture spray more than when I cut my hair.

See when you have length, you're able to show off and display all those beautiful curls. While volume is still important, most people are more impressed by your length. But when you have short/medium length hair, you LIVE for the added volume and texture! It's what makes your hair so fresh and fun!
Do you have short/medium length hair? I'd love to hear some of your tips and tricks when curling. Tell me in the comments below! It's definitely a new experience for me and I'm learning as I go. I'm always trying to figure out new things and ways to make my hair better, mornings easier and life more fun!
reward style code