This post is sponsored by Walmart and SheKnows Media.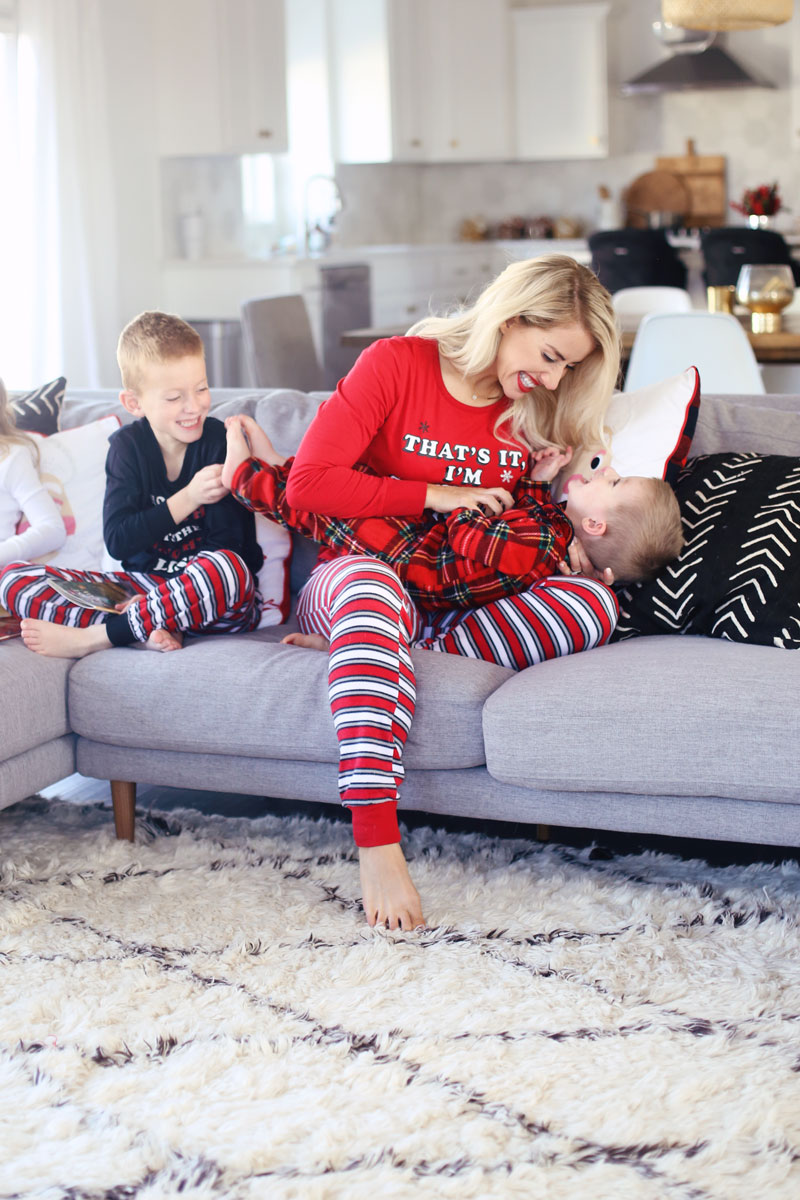 As we've gotten a little further into December I've started realizing just how many fun traditions we do with our kids. I realize people all over the world celebrate this season a little differently, and some don't celebrate it all, but I thought it would be fun to share a few things we do as a family that make this season so special to us! As most kids do, ours look forward to December all year long. It must have something to do with the lights, the magic, the yummy treats and the extra sweet spirit of love they feel at home, at school and from all our neighbors.
So, if you're looking to add a few new Christmas traditions to your home, here are just a few of our favorites in collaboration with Walmart!
1. Christmas Jams. No, not tunes. PJ's! This seems to be a tradition for many but we do ours a little differently! Instead of opening our Christmas pajamas up on Christmas Eve, we open them on Dec 1st or as soon as our tree is finally decorated. They show up the next morning under the tree in wrapped packages with a letter from Santa. It's a different letter each year and reminds the kids that Santa will be watching and noticing their kind acts of service. It's a great way to really start the season off and then they can enjoy their pj's all month long!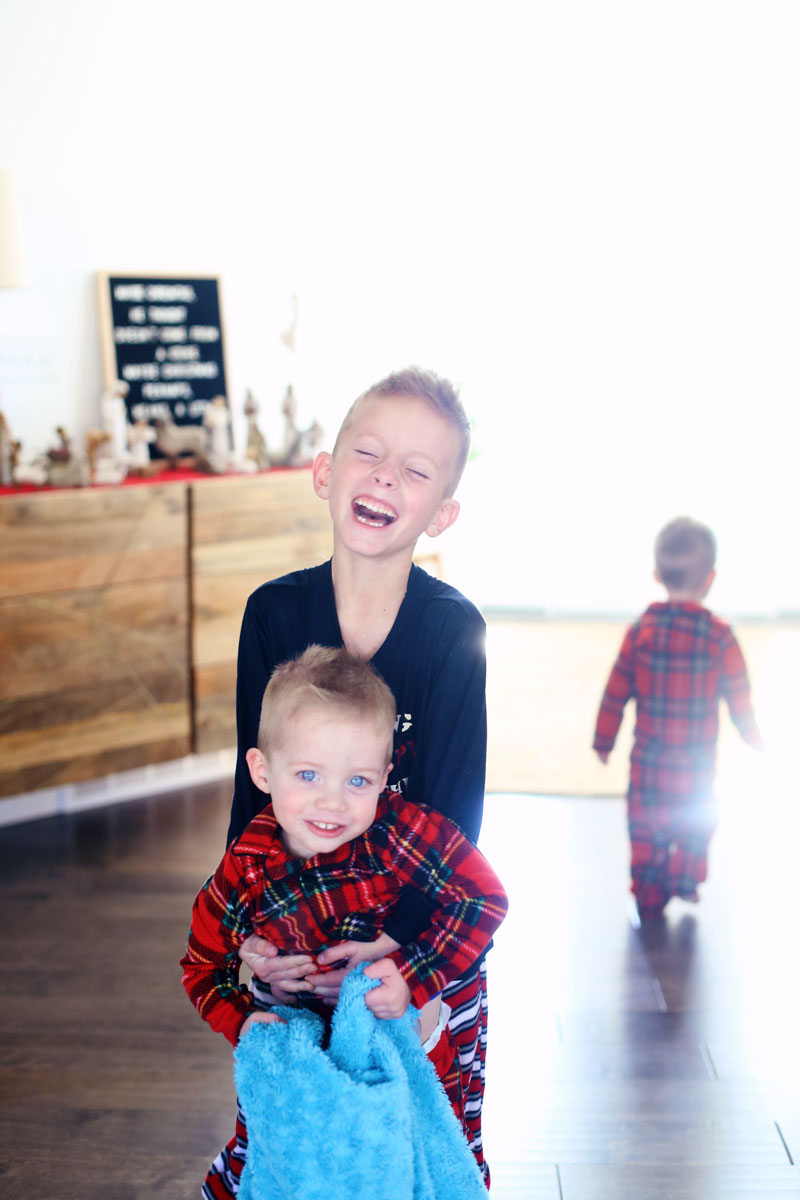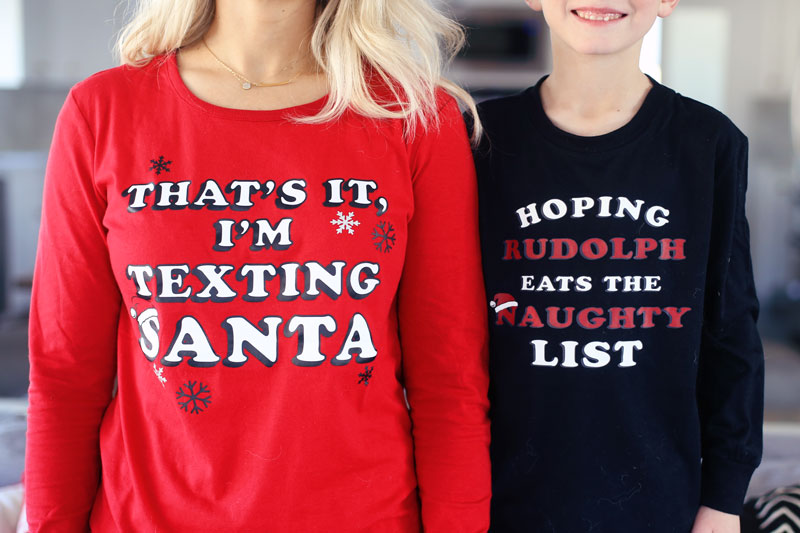 I've had a hard time spending a fortune on expensive Christmas pajamas because we only wear them for one month!! And my kids are still little enough that they don't usually fit into them the following year. This year I snagged them all at Walmart! Aside from being super affordable, Walmart has the cutest pjs for the whole family. Some years we'll all match, and other years I just get whatever I think is cute!! With a wide selection of pajamas both in-store and online, you'll find something affordable and adorable for your family.
Savy's Merry & Bright | Boston's "I hope Rudolf Ate the Naughty List" | Twins Two-Piece Flannel | My "I'm texting Santa" set | Brian's Red Flannel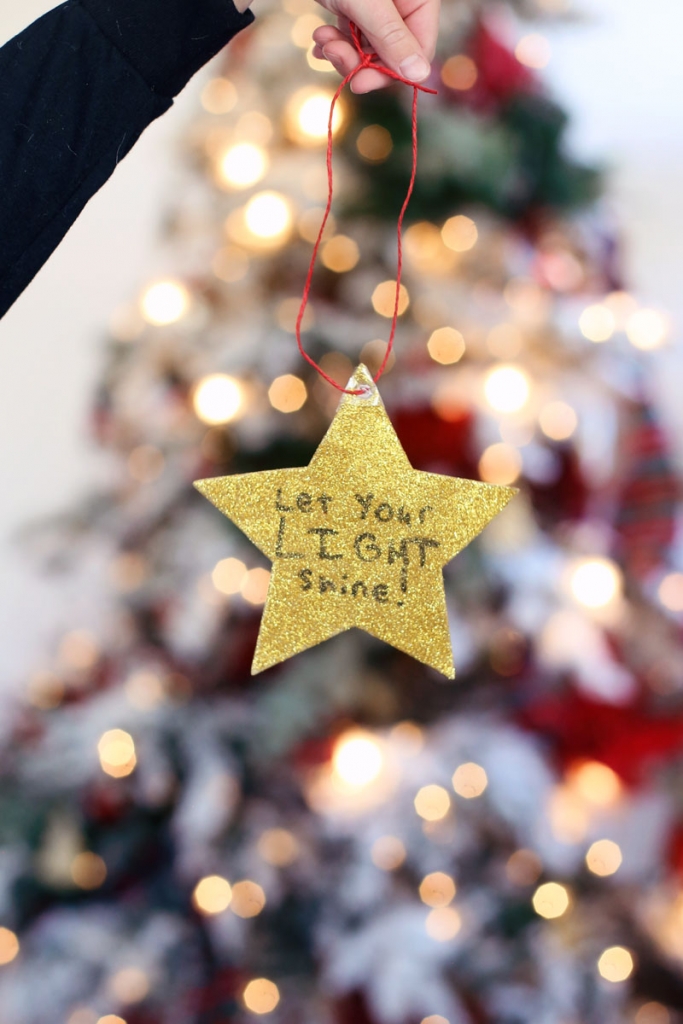 2. Making Christmas Ornaments! Every year we make ornaments together. We'll make random ones for the upstairs kid tree that the kids have full control over and then I'll scour Pinterest to find that perfect ornament that's allowed on my tree downstairs. Let's be honest, I love the homemade ornaments, but I'm a little bit picky when it comes to the nice main tree! In the past, we've done these cute little star ornaments, I just let the kids paint popsicle sticks yellow and when they dried I helped glue them together. And then last year we made some Rudolf ornaments. They helped me make all the pieces and then I helped them assemble them. They're so cute right?! They fill my tree with home made decor from the kids but they're so cute I don't have to sacrifice the aesthetic I'm going for on my tree. Win/Win. We'll be making some cute sleigh ornaments this year, let me know if you want a tutorial! You can also pick up your craft supplies at Walmart.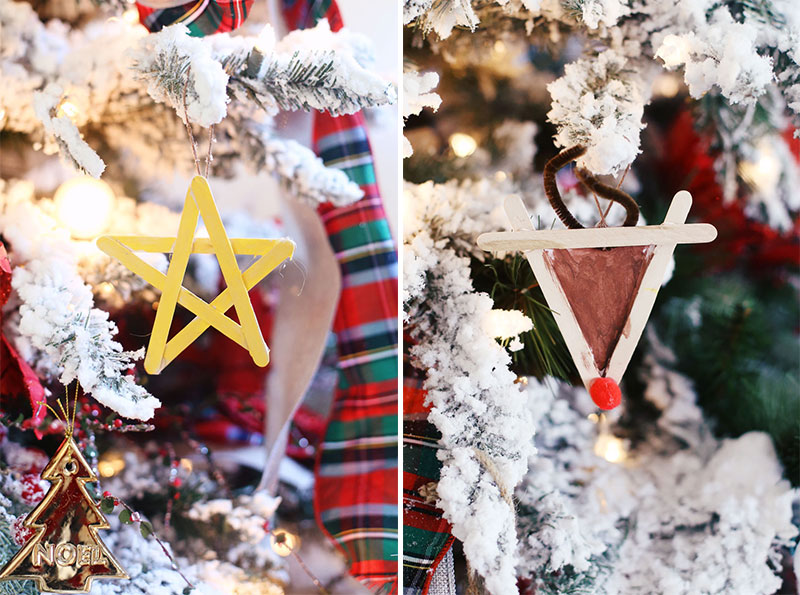 3. The Polar Express! So there are two ways to do this one. You can pick one or do them both! Before we moved back to Utah, we would put the kids to bed (in their Christmas pj's) and then Brian and I would pop popcorn and get little baggies of treats ready. We'd warm up the car and then wake the kids up. Brian would be the conductor and we'd drive around and look at lights while listening to Christmas music! We make one stop on our trip, to Starbucks to get hot chocolate!! This year, now that we're in Utah, we actually went on the Polar Express. It's an old train in Heber that takes you on a round trip to the North Pole to see Santa!! I don't know if any of you saw it on my insta-stories but it was basically the highlight of my kids' year. They got cookies and hot chocolate, a little goody bag with a cute mug and treats from the North Pole. We sang songs the whole time and there were little elf employees running around entertaining the kids and then when we picked up Santa he came back with us so everyone got a chance to talk to him.
4. Decorating our paper tree! This is a new tradition we just started, but goodness gracious it's been SO fun!!! You can print the tree and ornaments out here (it's free) and the ornaments correspond with a service calendar! Each ornament has a verse from the Bible on it so every day we get to read something about the season and then do a little service project that goes along with it. These little service projects don't need to be anything big or overwhelming, just something to invite the spirit of Christmas into our home! Last week my neighbor put together a shoe drive for families in Africa so we went around the house collecting shoes we didn't wear anymore. I got some more friends involved and we ended up giving over 100 pairs of shoes! Other days though we've just baked cookies for neighbors or written thinking of you cards to family we haven't seen in a while!
5. The Lights at Temple Square. Now that we're back in Utah, we get to start back up the tradition of seeing the lights at Temple square. There is nothing quite like these lights in Salt Lake City and people travel from all over the world to see them! There are hundreds of Nativities and thousands of lights scattered all over the grounds. It's the most beautiful site you've ever seen and it's such a fun trip to make with kids!
6. Sledding. We haven't had much snow this year but I'm hoping it'll come soon! Utah has some of the world's most amazing mountains and there are cute, little hills all over the place that cater to tubing and sledding! The hill will usually provide the tubes and then there are even little handles you can grab onto that will pull you up to the top of the hill! There will be loud Holiday music and usually little shops to wander through and grab hot chocolate if you're cold. If you get snow in your neck of the woods, be prepared for a fun family snow day with some new sleds! If you're ever visiting Utah during the winter, this is one of THE greatest traditions and something we look forward to doing every year!
7. Christmas books!! Every year we collect a few new Christmas books and it's so fun to pull them all out in December. I replace all the books in their bedroom with our Christmas books so that every night the kids get to read something new! When we put the tree down after the Holidays are over I also put away the books. That way they're new and exciting each year. We've added some of the most precious books to our collection this year, our favorite one being "Lamb". It's similar to the Elf on the Shelf except the Lamb's purpose is very different. Walmart has a great selection of children's books – worth checking out. Let me know if you'd like a post with a roundup of all our favorite Christmas books!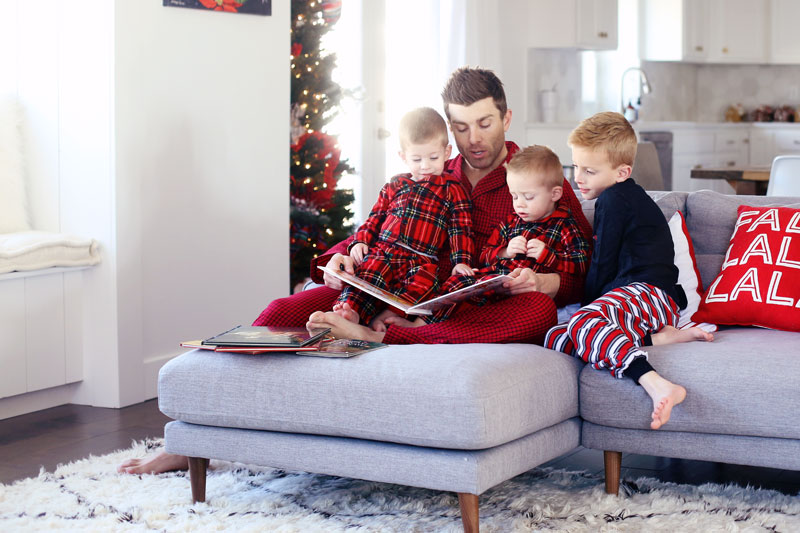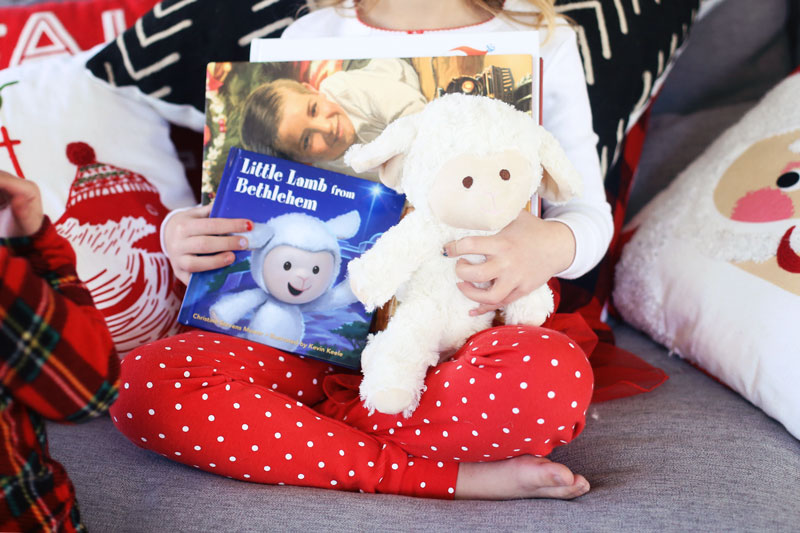 8. Putting up the Nativity! My kids ADORE this tradition. On the first Sunday in December, we'll put the babies down for their naps, turn on the Christmas music and set up our Nativity. I let Boston and Savy unpack all the figures and it's so cute to see them be so careful. We'll set it up, talk about the scene, read a few books and then bake sugar cookies. I love to decorate the scene with a cute felt letterboard with Christmas movie quotes spelled out and a festive red table runner. My kids look forward to this Sunday all year and it's a great way to spark conversation and involve them in something I'd normally just put up myself. Walmart has some really nice Nativity sets available – here's one for under $10!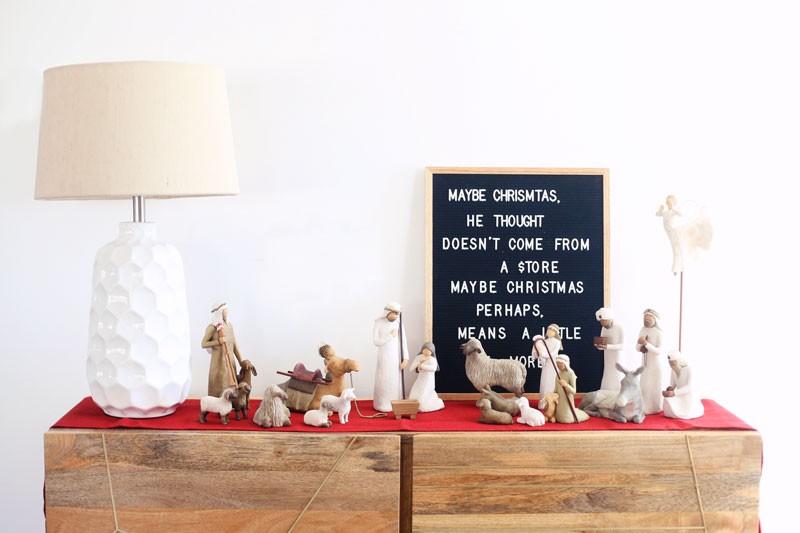 I hope this little round up of Christmas Traditions was helpful for you, and I'd LOVE to know what your favorite traditions are! I think it's so important to set up traditions with your kids. It just adds to the excitement of the season and it helps preserve those cherished memories for years to come! Make sure to leave me a comment below, I want to know what your favorite family traditions are!