I'm so excited to be sharing his and her Christmas favorites from Stein Mart today! Have you ever heard of Stein Mart? They're literally your one stop shop for it all! They have women and men's clothing but they also have jewelry, luggage, home decor, designer handbags, tech, toys and more! I just recently became familiar with Stein Mart, I happened upon their Black Friday sale last week and found so many cool products at the perfect price point. Everything I chose is a little bit random, but hey, so is my family and I'm sure the people in your life that you're looking to buy gifts for are too! Here are a few of the products I snagged: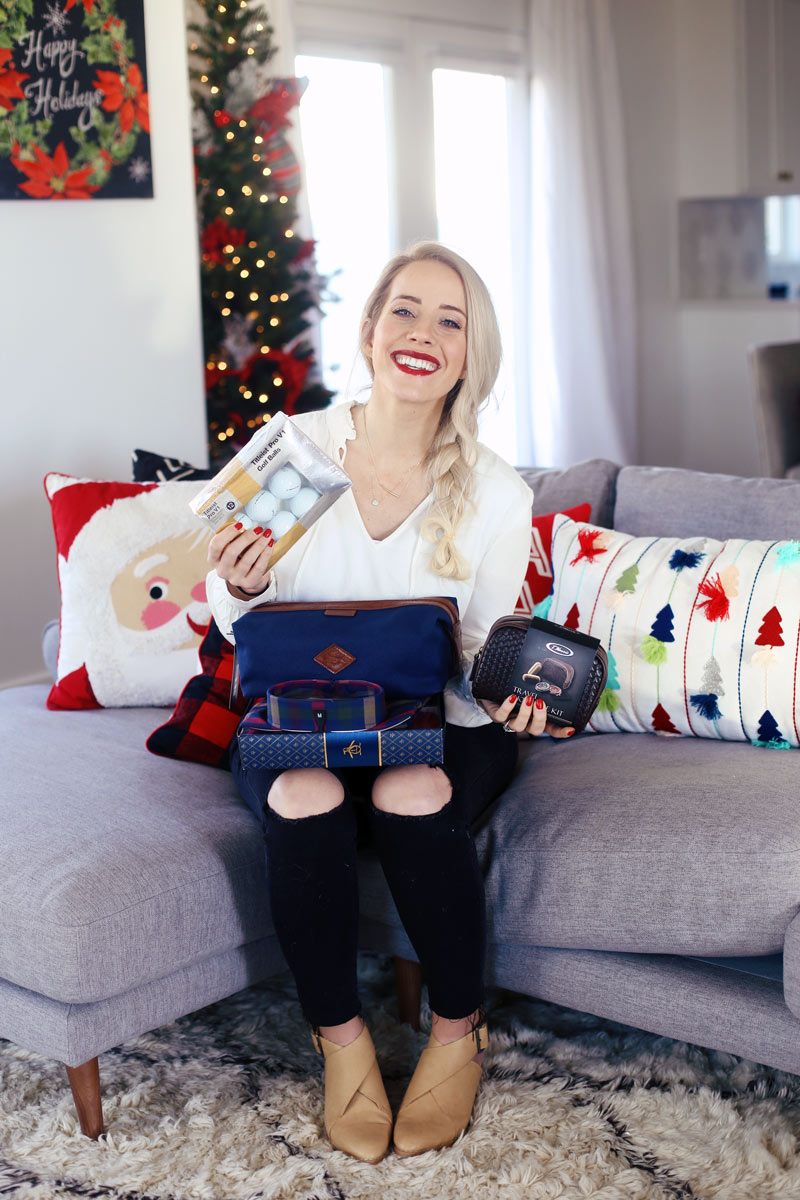 Plaid Print Button Down – I was immediately drawn to this beautiful button down shirt for Brian. It's a really soft twill weave, has the hidden button down collar and I'm just in love the pattern! It's a little bit festive with the Christmas red but can be worn all through fall and winter! It'll be a great addition to his wardrobe!
Titleist Golf Balls I was attracted to these golf balls for Brian because he's obsessed with golf and I know how valuable some nice Titleist balls are! Thought I'd save some money though in the process and try out the refinished. So much cheaper!!! Honestly, I can't tell a difference and I'm sure if I wrap them up without the packaging, he'll never know either! Haha, always looking for a way to save a buck!
Canvas Zip Top Travel Kit – Dop kits! Brian ABUSES his dop kit and I love that this one is made of durable canvas with leather trim. So he can get it wet, spill his after shave all over it or forget to put his toothpaste cap back on (let's be honest, I'm the one who does that!) and he'll be able to wipe it right up. This one is really masculine and I really love the blue color.
Shoe Shine Travel Kit – YAAAS! Brian used to travel all the time when we lived in Ohio. He'd always come home with dress shoes that needed a little TLC. I thought this would make a cute gift because the kit is small and compact so your man can take it with him on his travels!
Tee Shirt and Flannel PJ Set – And there's nothing like getting a nice pair of PJs to carry you throughout the cold winter months! It's a soft cotton v-neck long sleeve with flannel pants. I like this pair because it's not too matchy and they're masculine enough, Brian's going to love these!
Don't let shopping for a man intimidate you! Some other ideas could be a cool pair of sun glasses, cologne, a teeth whitening kit, a leather wallet, a watch + other manly gear… ha ha! Stein Mart has such a wide variety of products, so many cool little gadgets and tech products, make sure to check them out when shopping! Do you have any more suggestions?! Leave them in the comments!
FOR HER!!!
Button Sleeve Poncho Sweater – A cool-weather classic! I thought this poncho sweater was super cute and it'd make the perfect gift for literally anyone with any shape! It has really pretty metal button detailing along the sleeve cuffs and it comes in five different colors, the tibet was my favorite! So if you have a sister or friend that's hard to buy for, you don't know their size or style, this would be a safe bet!
Fleecewear Stretch Leggings – The warmest, softest, yummiest pair of extra-warm fleece leggings you'll ever know! They're made with spandex + polyester so they're fit nice and snug! You could style them so many ways… with tall winter boots, a jacket and pom beanie. You could style them with some booties, a button up shirt and cute utility vest or you could layer them for outdoor fun. Boots, long coat, scarf and winter hat!

Faux Fur Lined Moccasins – I was looking into getting some moccasin slippers and found these Jessica Simpon ones! These would make such a cute gift, and perfect for anyone. You don't have to guess someone's style either – if they like warm feet, they'll love slipping their feet into these plush moccs!
Multi Function Rescue Tool – I thought this was such a cool gadget! It's got 13 tools in one and includes a handful of different things that'll help if you ever get caught in a bind. There's a knife, small blade screwdriver, can and bottle opener, scissors, screwdriver, hex wrench, glass breaker, glass lock, seatbelt cutter, beacon light and more! At $15, buy one for all your girl friends to keep in their car. This is one of those gifts that every woman should have!

17 Piece Home Tool Kit – I thought this was so cute!!! Who needs a man anyway?! This literally has everything you'd need for everyday jobs. Scissors, hammer, flashlight, utility knife, screwdriver, measuring tape, pliers + more. I thought this gift would be perfect for the DIY momma or even the one who needs to learn how to be a little more independent haha!
Giving is a beautiful thing. And saving is too!!! At Stein Mart, you can do both! Make sure to checkout their website, you'll be overwhelmed (in a good way) with how many awesome products there are. From clothes and accessories to the craziest gadgets and tech, you'll be able to find something for everyone on your list!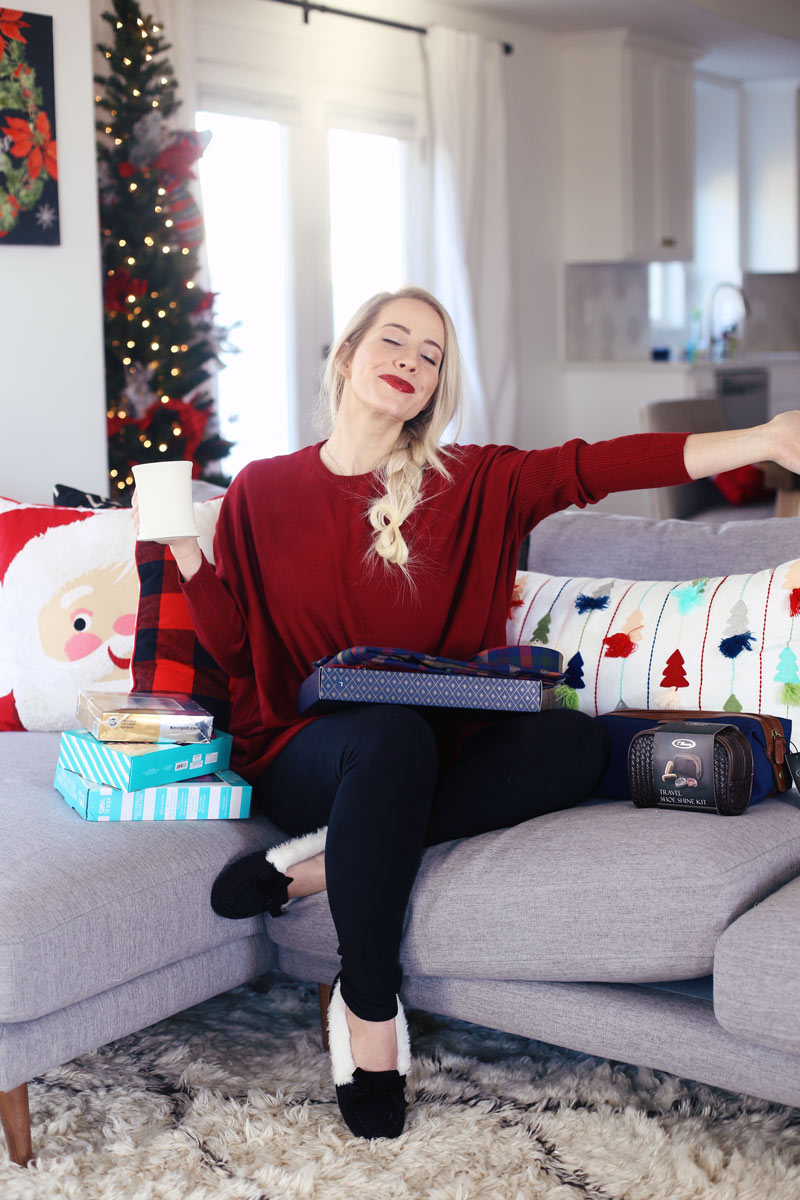 This is a sponsored conversation written by me on behalf of Stein Mart. The opinions and text are all mine.