This post is sponsored by Walmart and SheKnows Media.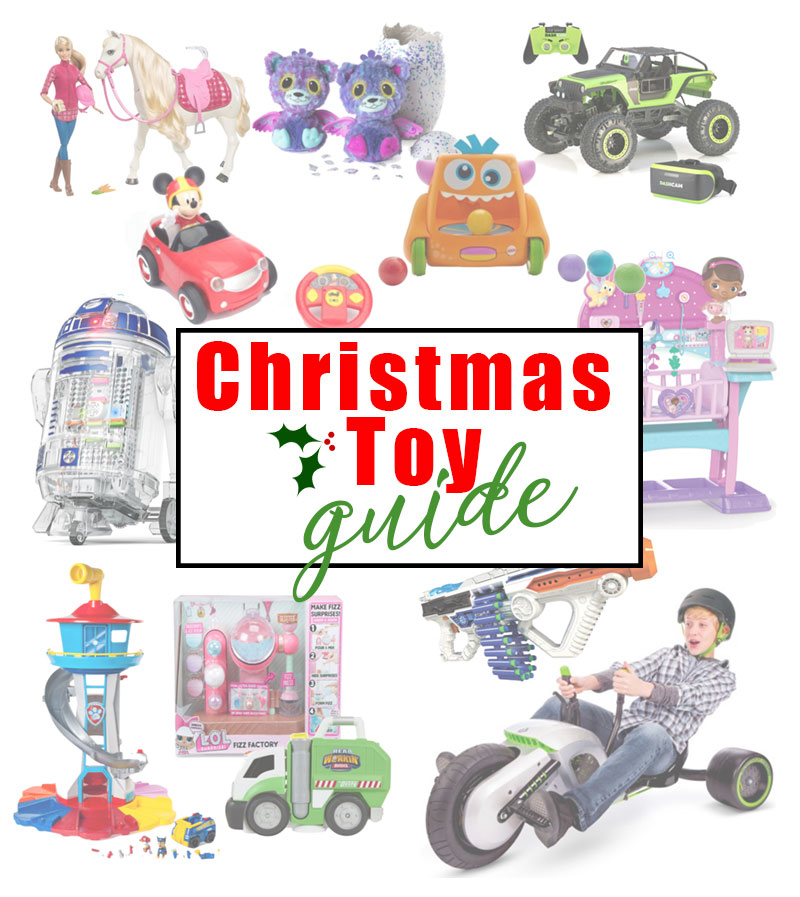 Now that Thanksgiving is over, do you feel that crazy rush of urgency to finish up your Christmas shopping?! Black Friday stresses me out. Anyone else?! There are too many things to buy and so many sales that it just overwhelms me! I've been working with Walmart for a while now, testing out some of the hottest toys with my kids, in hopes to relieve some that stress. We've rounded up our favorite toys this year so that you can sit back and relax when it comes to Christmas shopping for your kids! I'm coming out with a non-toy list for you soon, but today we're just talking toys. I've narrowed down the top 4 toys for girls, boys, and toddlers and while my list is a little specific to my kids' ages, I think it covers a broad enough range to be useful for most everyone. Many of these popular toys sell out quickly online, so be sure to check your local Walmart store too!
Let's dive in, shall we?!
The top 4 toys for little girls!
My daughter is 5. She loves crafts and making things with her hands and mother. Make believe is huge for her right now and she loves taking care of her dolls and little animals! If that sounds like your five year old, here are my top 4 favorite toys in no particular order.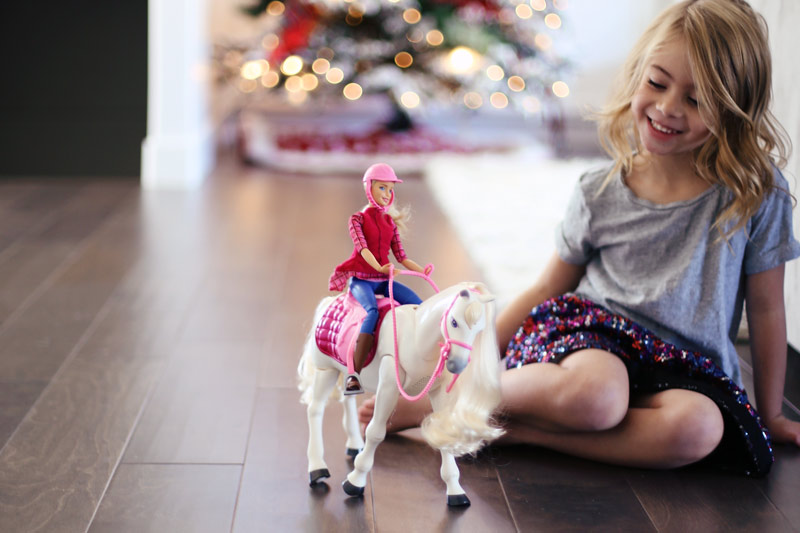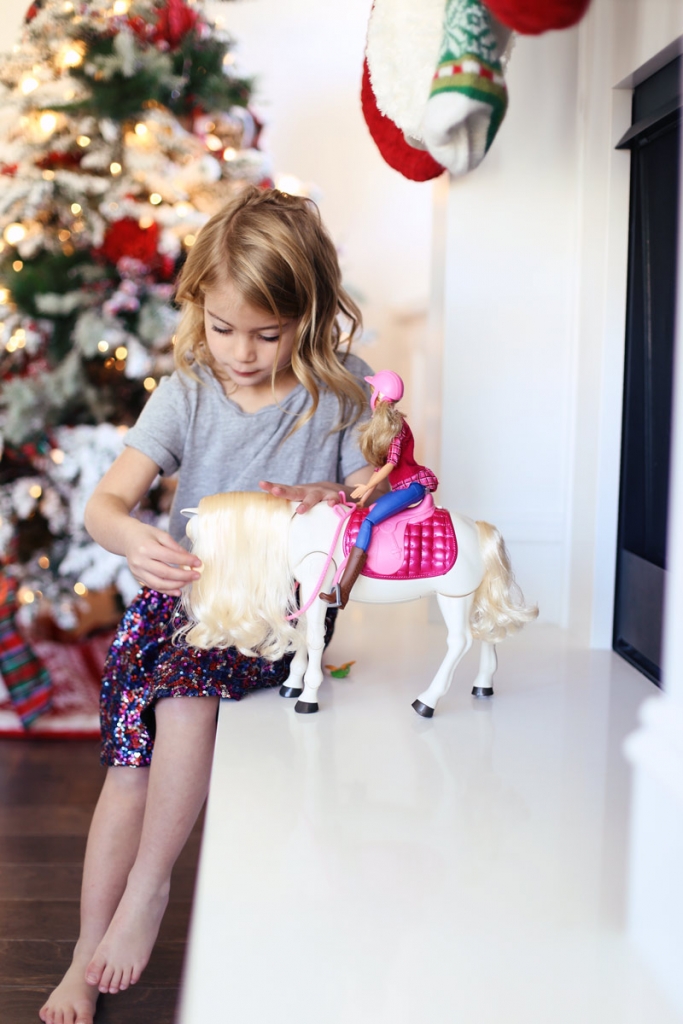 1. LOL Surprise Fizz Factory – This toy makes little fizz balls with surprises inside! Have you seen the commercials?! It comes with everything you need to make your own surprise fizz and a few charms to place inside. I was drawn to this toy because Savy LOVES crafting and creating. I thought it'd be a fun activity to do with her and it's been on her list now for ages.
2. Hatchimals Surprise – Oh Hatchimals. If you have kids, you know these little creatures well. Inside each magical speckled hatching egg are toy Hatchimal twins, ahhhh cute ha ha! They actually interact with each other, say I love you and sometimes they even bicker! They move and dance and repeat what you say and when they're apart for too long, they even start missing each other. If you've got a little mommy on your hands, she'll love these hatchimal twins.
3. Disney Junior Doc McStuffins Baby All in One Nursery – Doc McStuffins does it again! A few years ago we purchased the little vet station for Savy and it was one of her most beloved toys. This year, we're getting her the nursery, she's all about baby dolls right now so it's perfect for her. The set comes with a role-play center full of exciting doctor features and accessories your daughter will love!
4. Barbie Dream Horse with Doll – Savy has just recently become interested in Barbies. I was drawn to this one because of the interactive horse. I remember getting one for Christmas when I was little, and oh man how I loved that thing! This horse reacts to touch and sounds, it features more than 30 realistic reactions, it can walk forward, turn 360 degrees and it neighs when you play! Just watch the video and you'll want it too!! Savy has been brushing the horse's mane + dressing and re-dressing Barbie all weekend! This toy is sure to be a hit for your little doll lover.
The top 4 toys for boys!
My son Boston is 7. Like most second graders he wants in on technology. He loves a motorized anything, racing, building things with his hands and staying active. If this sounds like your son, here are a few gems he will love!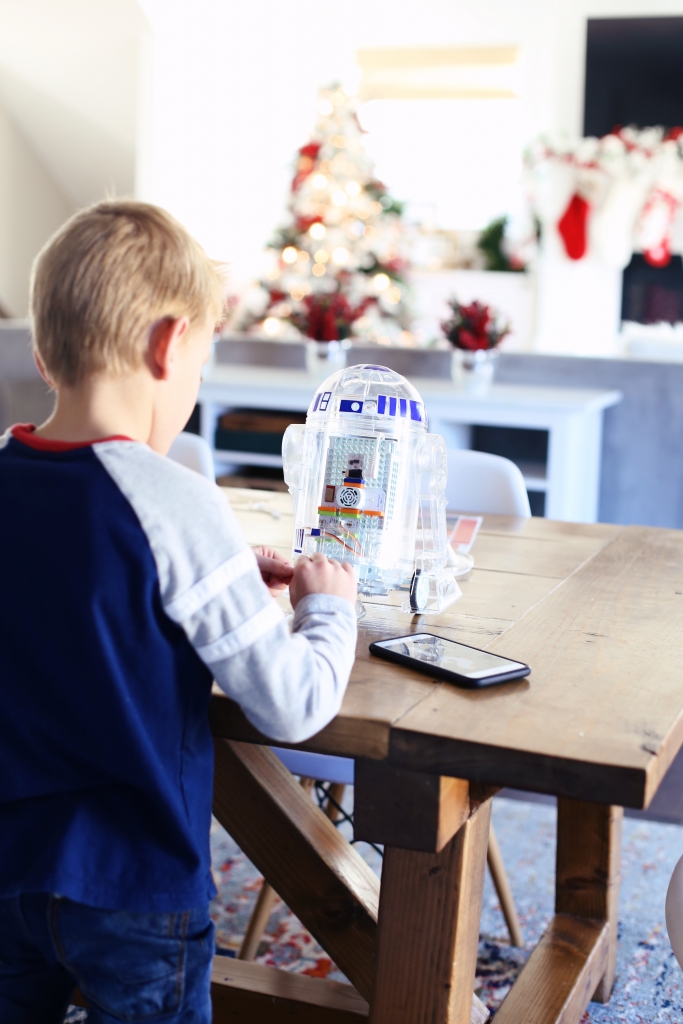 1. New Bright 1:14 RC Dash Cam Rock Crawler – This toy is SO COOL!!!! It's a virtual reality experience that puts you in control of the Jeep Tailcoat from inside the truck. So you put on the goggles, and then it's like you're driving the Jeep. Boston loves these hands-on toys and the Jeep can even capture video and photos while scaling rocks or zooming down a trail.
2. LittleBits Star Wars Droid Inventor Kit – Last year we got Boston a little BB-8 remote control droid, if you follow me on Insta Stories you've seen it! Boston drives it and the twins chase it! We've never gone wrong spending money on a Star Wars toy; all my kids are obsessed with them. This littleBits Droid Inventor is a toolkit that creates a droid. You build it from scratch and then you can control it remotely. Boston loved putting him together and controlling him with your phone has been a breeze. Highly highly recommend the Droid Inventor!
3. Adventure Force Light Command Light-up Motorized Blaster – We're obsessed with blaster toys around here! We actually have a party one night each month with family where everyone gets a blaster, we create teams, turn off the lights and play! This is an automatic blaster that features a 20 dart belt that fires the entire belt in 20 seconds. Boston will for sure be on my team this year!
4. Huffy Electric Green Machine 24 Volt Battery-Powered Ride On Trike – When it's time for outrageous fun, you want the Huffy Green Machine!! Your kids will love this toy – it's soooooo fun! It's got 24 volts of battery power allows for thrilling speed, extreme slides AND spins for an incredible thrill! If your son or daughter loves bikes and living on the edge, this toy will foster fun for years!
Top 4 toys for toddlers
My little twins are 2.5 and honestly are entertained by pretty much anything! They have a few special loves like Paw Patrol, Mickey Mouse and anything that zooms! Hopefully this list can help you find something amazing for your toddler!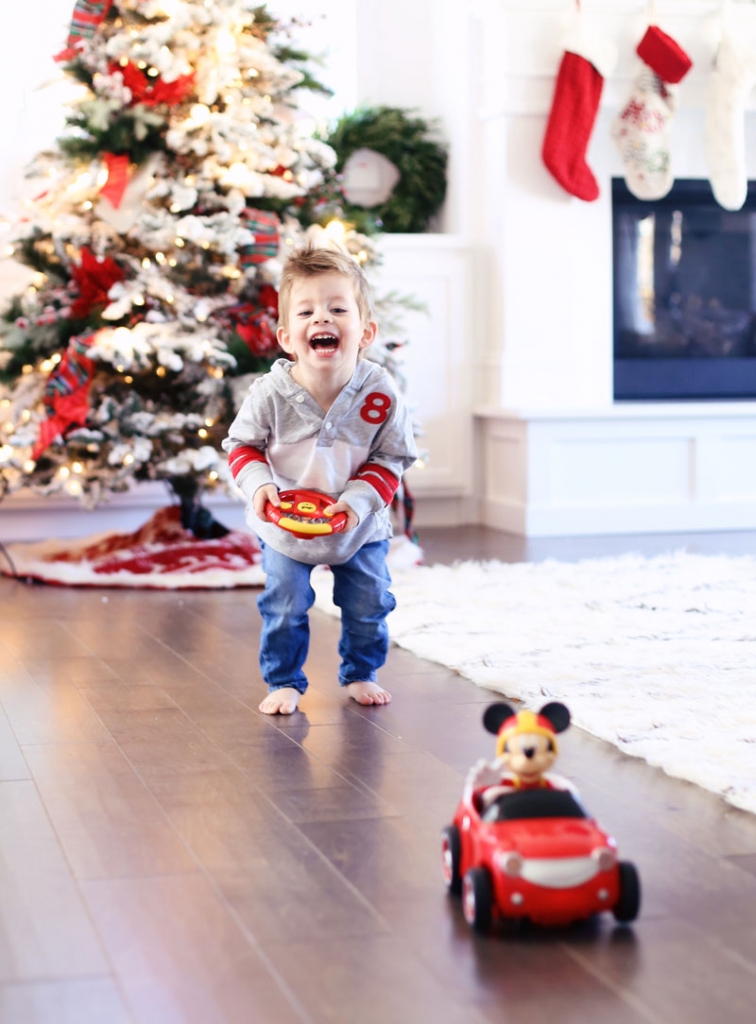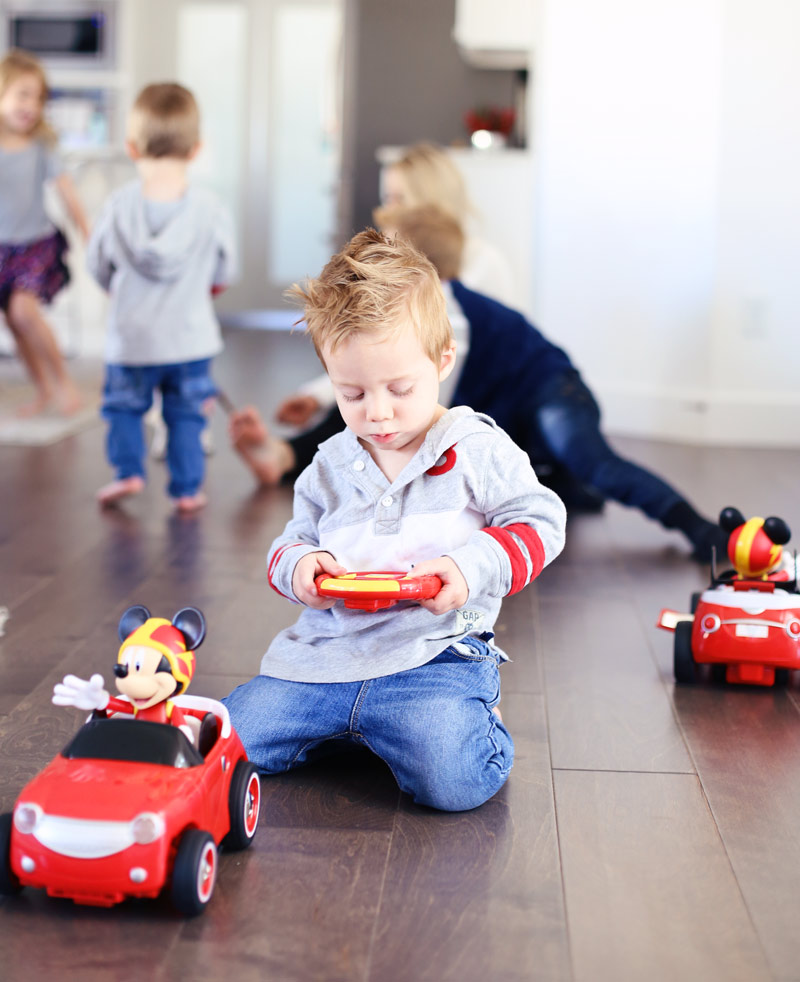 1. Mickey Transforming Roadster RC – Oh man, my boys are OBSESSED!!!!! It's a little Mickey remote control car that you can use indoors or out, and it lights up and emits sound as it whirls by. If your son or daughter has a fierce love for Mickey + cars, this is going to be a huge hit at your house! Coop would cry every time he'd run Mickey into the wall, it was hilarious, but after a while he got the hang of the controls and even Boston joined in the fun!
2. Paw Patrol – My Size Lookout Tower – This lookout tower is over 2.5 feet tall and comes with 1 vehicle and 2 pups. My boys are really starting to play well together and this is the perfect toy to help cultivate that. Not to mention they are totally obsessed with all things Paw Patrol!!! I bet this will be a HUGE hit!!!
3. Real Workin' Buddies Mr. Dusty – One of the challenges we have in our home is getting our kids to put away their toys after they're finished playing with them and BEFORE moving on to the next thing, particularly the little colored blocks that snap together…you know the ones…they tend to rear their ugly heads in the most inconvenient times (i.e. when walking down the stairs with an armful of freshly folded laundry or in the middle of the night when you are half-sleep!!!). Mr. Dusty is a battery powered truck that uses its mouth to "eat" toys! It can be used manually to sweep small pieces into the bed of the truck where they can then be sorted into the appropriate toy baskets. Such a fun way to teach your kids the importance of cleaning up!
4. Fisher-Price Zoom 'N Crawl Monster – This toy is a little bit too young for my boys, but I wanted to include it for those of you with crawlers because it's supposed to be one of the top toys this year! It's a little Monster that your toddler can crawl after to put balls in its mouth! It encourages gross motor, sensory and thinking skills as they chase and interact with this cute little monster.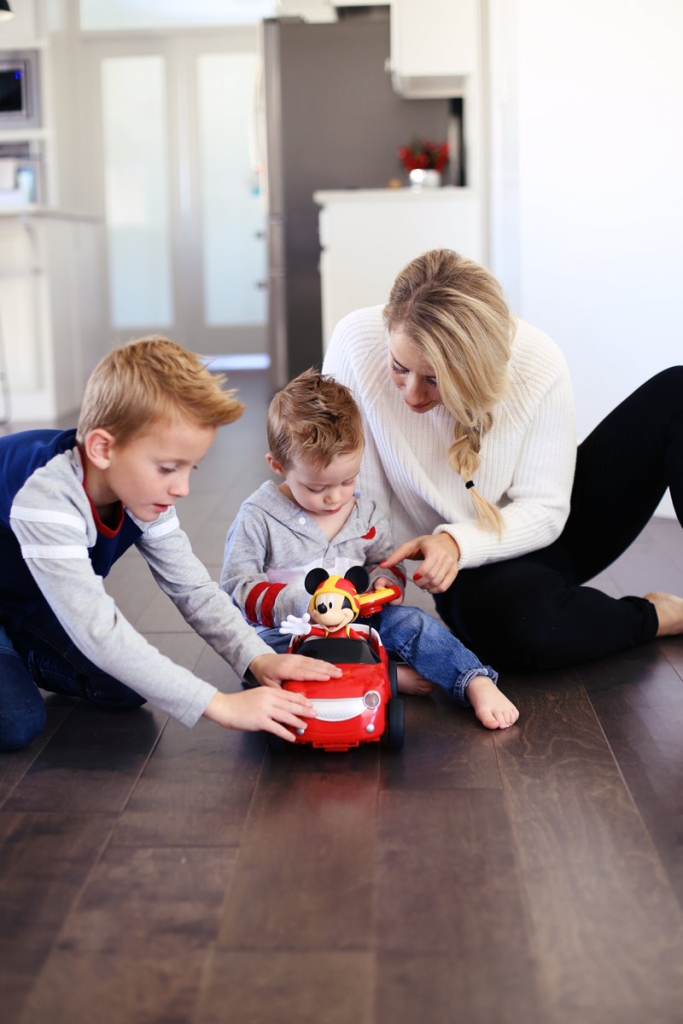 So many toys! But hopefully this list helps narrow down what you choose to buy for your kids this Christmas. Walmart always has great deals and pricing and I've literally scoured ALL OF THE THINGS!!! Christmas wouldn't be Christmas without at least one special toy to open and love for years to come. What toys stuck out to you? Do you already have any of these toys? I'd love to know what you are getting your kids for Christmas this year!
Soon I'll be rounding up a list of non-toy items to balance out that magical tree of yours!
xo
This post was sponsored by Walmart, all thoughts and opinions are my own