It's the holiday season again! Can you believe it? It's been the weirdest year ever, right? Let's end 2020 on a higher note and celebrate that we have made it through this with the perfect gifts for everyone on your list! To start I'll be sharing the items I have been using and loving this year. You can use this holiday gift guide for moms for yourself, your bestie, or you can send it over to your husband so he has some ideas to get him started this year! Also, I'm definitely listening to Christmas music as I put this list together for all of you. #weneedalittlechristmas Let's get to the good stuff!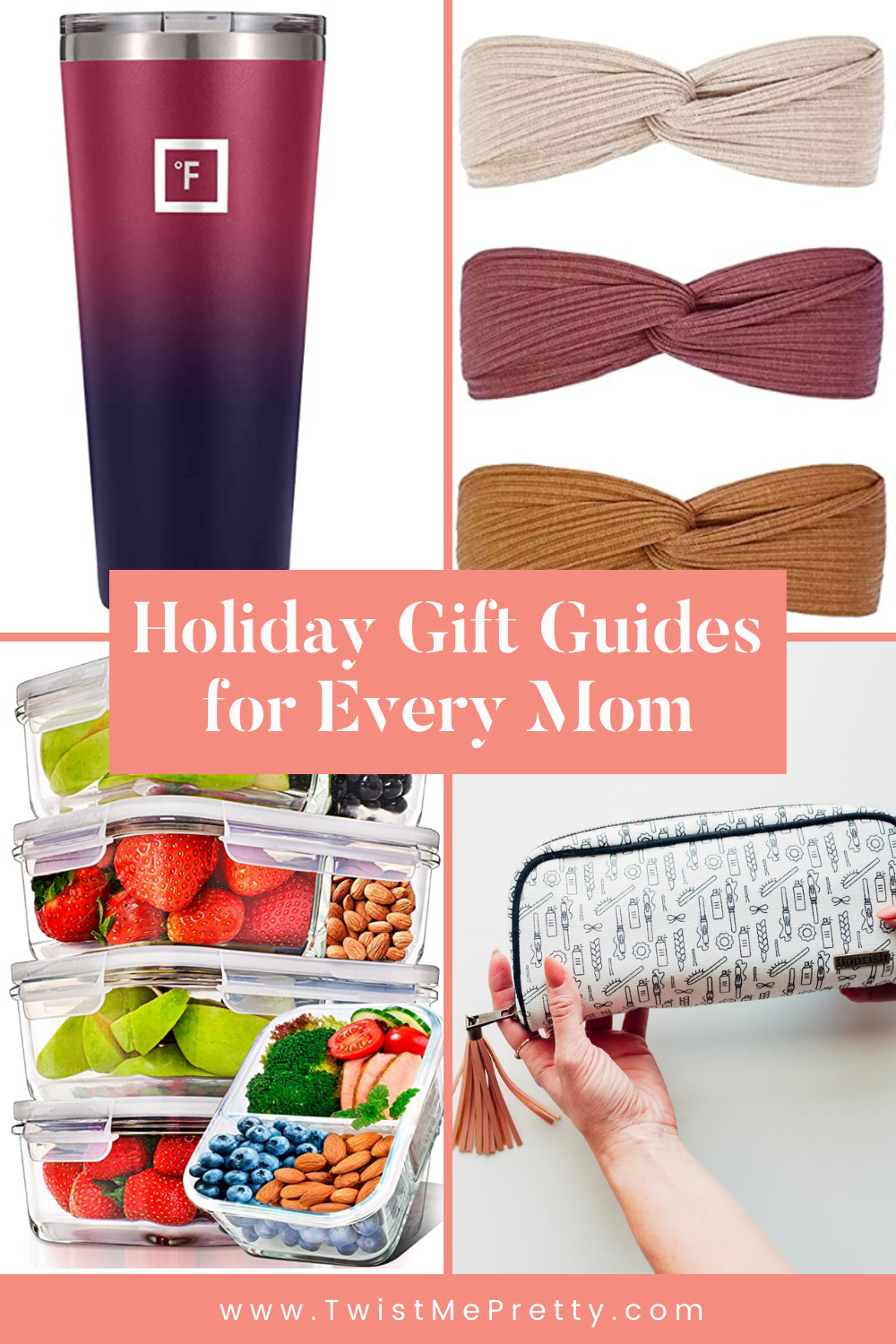 Holiday Gift Guide for Moms
Because I know moms like different things, I've split up the gift guide into different sections:
Healthy and Fit Gift Guide
Hair and Beauty Gift Guide
Ease and Function Gift Guide
Gifts for the Moms Who Love Wellness

Cup and Straw
First up on my holiday gift guide for moms in this category is my favorite cup. I take this cup everywhere. I can't live without it! Don't forget the straw. It's been a game changer for me in getting my daily water intake.
Food Scale and Meal Prep Containers
I've talked before about how I meal prep and prepare my food to stay healthy and strong. (Read that post here.) I wanted to share my food scale and meal prep containers again since I get asked a lot about how I manage meal prep with a family. These tools are a huge key to my success.
Apple Watch, FitBit
There's definitely strong opinions about which of these smartwatch devices is the better choice. I can't tell you which one to purchase, but I can tell you that both the Apple Watch and FitBit are very helpful when you're working out and trying to keep your heart rate in a specific range. I also love seeing those rings close on my apple watch each day!
Workout Clothing, Sock, & Shoes
I've said it before and I'll say it again, Fabletics carries my favorite workout clothes. Hands down. I may be slightly obsessed with this brand, but it really does make a difference when you feel cute while working out. Am I right ladies?? I know I am.
I get asked a lot about which shoes I love for my workouts, too. These Adidas sneakers are my current favorites. They're comfortable, lightweight, and go great with my cute Fabletics outfits. It's a win-win. Don't forget the perfect socks! There's nothing worse than trying to focus on your workout and instead being distracted by your socks falling down into your shoes! Try these and trust me, you'll love them.
FitTrack Scale
I know that many people don't like scales when trying to get healthier. For me, I like to track my progress so I can keep my motivation up. This FitTrack Scale is perfect for that. That's why I'm including it on my holiday gift guide for moms. Be sure to use the code ABBY20 for 20% off!
Energy Drink
There are so many different energy drinks out there. I feel like I've tried them all, but Perk Energy has become my new go-to drink. It gives me energy without the crash a few hours later, tastes great, and I can get it in handy single serve pouches to drink when I'm on the go! Use the code twistmepretty for a discount at checkout.
Gifts for the Moms Who Love all things Hair & Beauty

Head bands, Bejeweled Clips
Headbands are all the rage this year! They're such a fun way to add interest to your hairstyle without a lot of effort. And ok, these clips may have already been added to my Amazon cart, plus a few for my besties. They're so pretty!
Flourish Snap Clips & Scrunchies
I had to add these to my holiday gift guide for moms. Why? Because if you haven't tried my Flourish snap clips yet, you really need to! You can't go wrong with a cute scrunchie, either. They are great for stocking stuffers, and perfect for when you're working out and don't want your hair in your face.
Flourish Trio & Tool Bag
Since we can't go many places right now, it's a great time to teach yourself how to use a curling wand! I love that this wand comes with 3 sizes so you can determine which size works best for your hair. Play around with it and have some fun! And don't forget the tool bag so you can keep everything organized and in one place.
Makeup Mirror Splurge & Save
In my opinion, every mom needs a makeup mirror. Whether your budget is big or small, I've got you covered! You can't go wrong with either of these. Here's the mirror splurge and here's the save option.
Lip Gloss
I know we can't wear lipstick easily right now, because of masks. But, we can still feel pretty under the mask! And with cold weather approaching and arriving in many areas, we all need to keep our lips moisturized. This lip gloss from Shine Cosmetics is moisturizing and long-wearing without feeling sticky. Be sure to use code Twistmepretty10 for a discount!
Under Eye Cream, BB Cream
I can't get enough of this under eye cream and BB cream. They are, hands down, my ride or die makeup products. Get some for yourself and your bestie. She will love you forever.
Slippers
I know that technically these slippers don't fall under beauty and hair, but go with me on this one. It's getting colder outside. Your feet are cold, and you deserve something soft and comfy to wear while you're cutting up a million pancakes for breakfast. #largefamilyproblems
Gifts for the Moms Who Love Function

Water Bottles & Stand
I've got a lot of kids at my house now that Matt and I are married. I love having a water bottle for each kid to drink out of so I don't have to wash a million cups, but the kids kept forgetting where their water bottle was. This water bottle stand has saved my sanity. Trust me, you need it.
Acrylic Containers & Lazy Susan
I've been trying really hard to get my kitchen and pantry organized in the new house. These acrylic containers and this acrylic lazy susan have been game changers! I love that they are clear so I can see what is inside, and they help to corral all of the random items in my pantry.
Amber Soap Bottles
I've gotten a lot of questions about these amber soap bottles I shared in my recent bathroom makeover post. I had to share them in my holiday gift guide for moms because they are working so well! I'm ordering more for the other bathrooms in the house.
Magnetic Charging Cord
If you're like me, you hate the tangle of charger cords all over the house. This magnetic charging cord is amazing. I can loop it around itself on the counter or my nightstand, and it stays put! No more tangled cords to deal with!
Amazon Echos
Do you have smart devices like these in your home yet? If not, these are a great place to start. I love having the Echo Show in a common area, and the bigger kids love using the Amazon Echo Dots (4th Gen and 3rd Gen) in their rooms for alarm clocks.
I hope this holiday gift guide for moms has helped you as you start your shopping this year! This year has been tough on everyone and I know we are all trying to cope with many stresses in our daily lives. Thank you for supporting me and my family by shopping from my links, reading my posts, and sharing your love on Instagram. It means the world to me. If you aren't following me on Instagram already, find me @twistmepretty.