Try-On Haul Favorites
Let's talk about what sparked this try-on haul… So, when I can't sleep I shop. Normally I don't actually check out, because I'm too delirious, so I just add it to my cart to review the next day. Well the other day I added A LOT of clothes to my cart and totally checked out. When all of the packages started arriving on my doorstep I figured that I would turn the fiasco into an opportunity and do a little try-on haul for you guys. You loved it and I think that we are pretty close to convincing Matt that the purchases were all for work, so I thought I would give this glorious Abercrombie try on haul a permanent place here on the blog.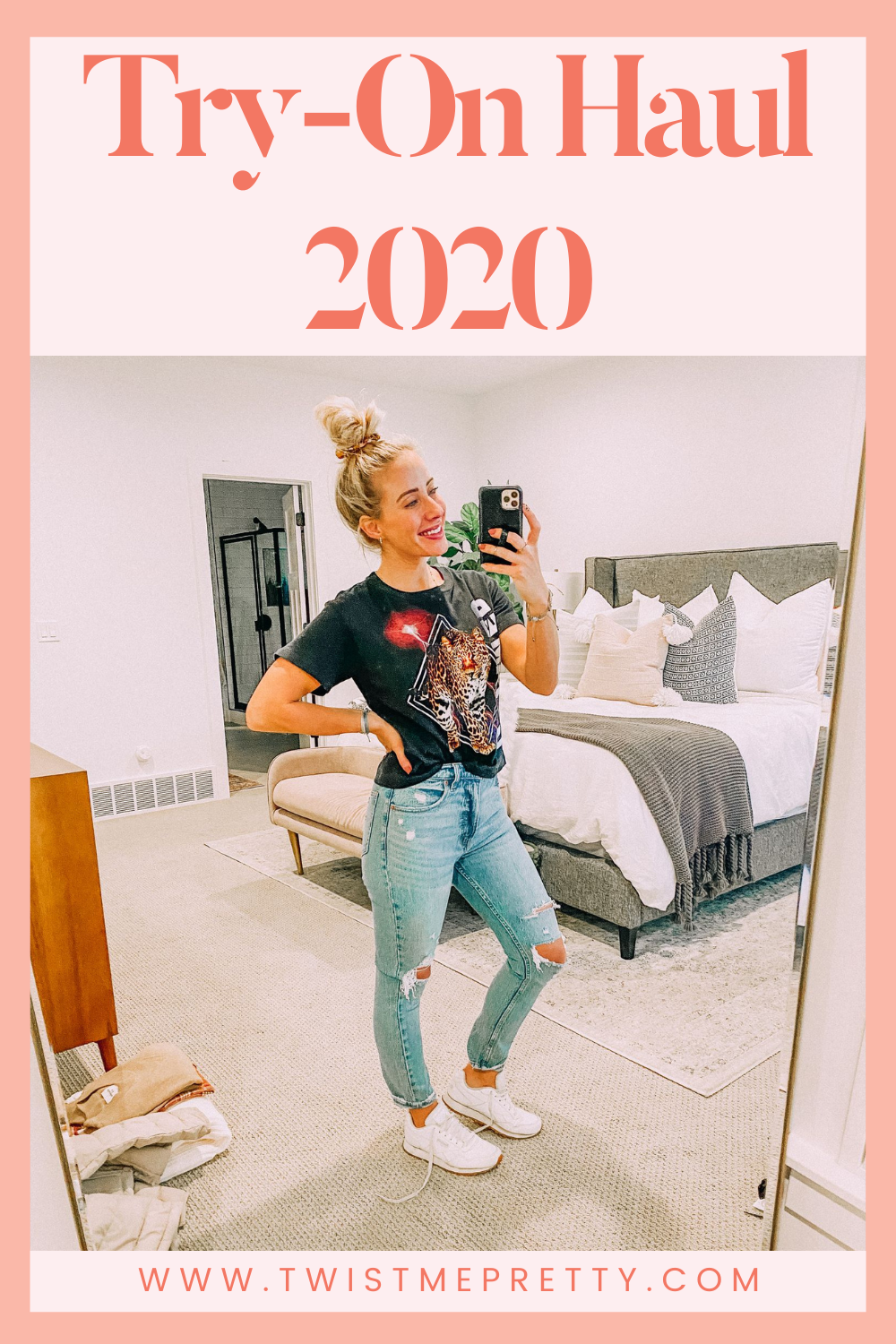 #1 Comfy Crops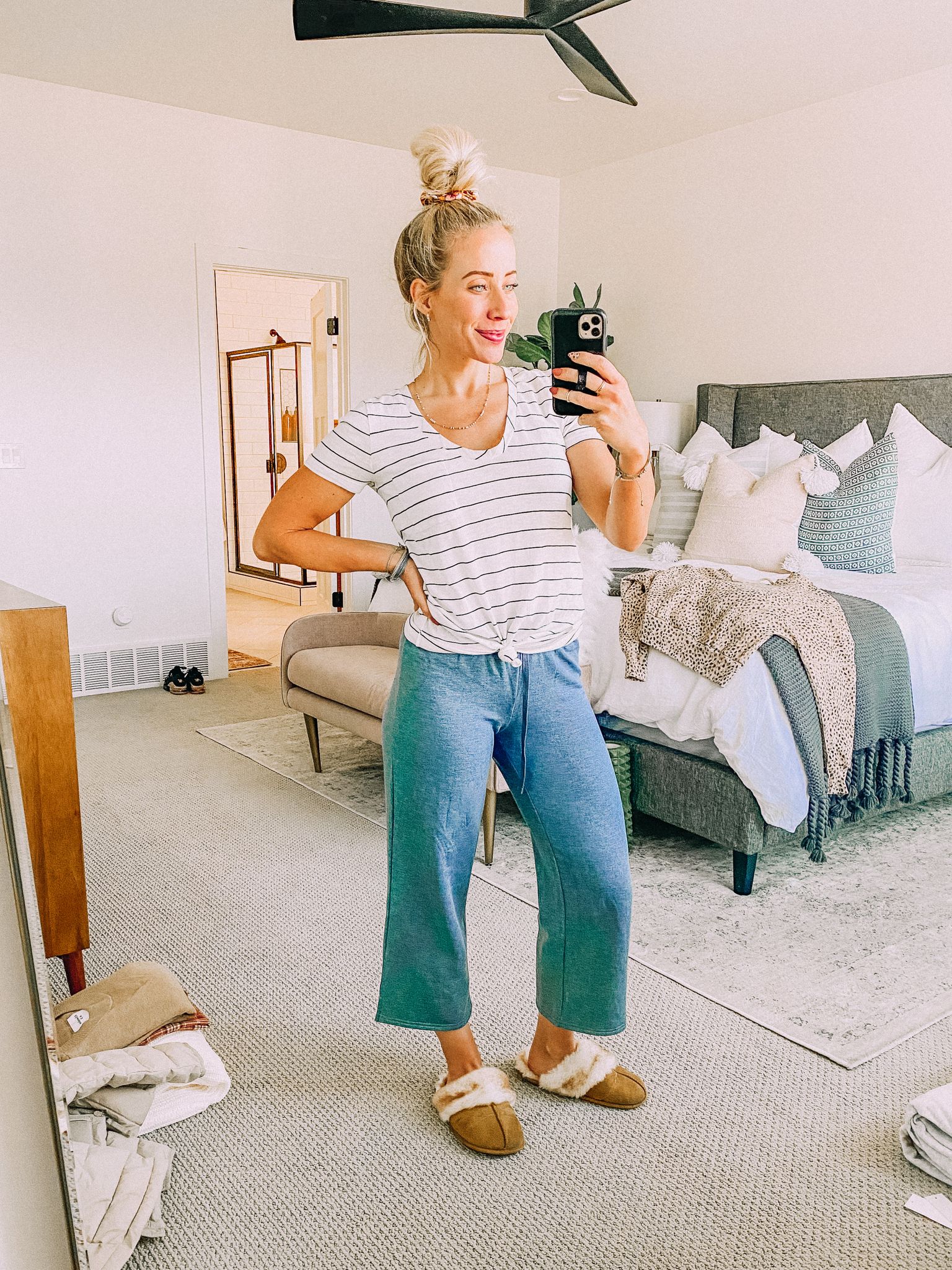 knotted tee | crop pants | slippers
Stripe tee: This stripe tee is EVERYTHING and it's one of my very favorite pieces from the Abercrombie try on haul! It's less than $20 and comes in a lot of different colors. I have been wearing it on repeat because I love the way that it fits so much.
Crop Pants: I didn't know if I would love these pants at first, but turns out that I definitely do. They surprisingly don't make my legs look short like I thought that they might, so you can bet your bottom that I kept them.
Slippers: Thank you Amazon for these little beauties! They are SO soft and cozy. Perfect for the winter months.
#2 The Perfect Everyday Outfit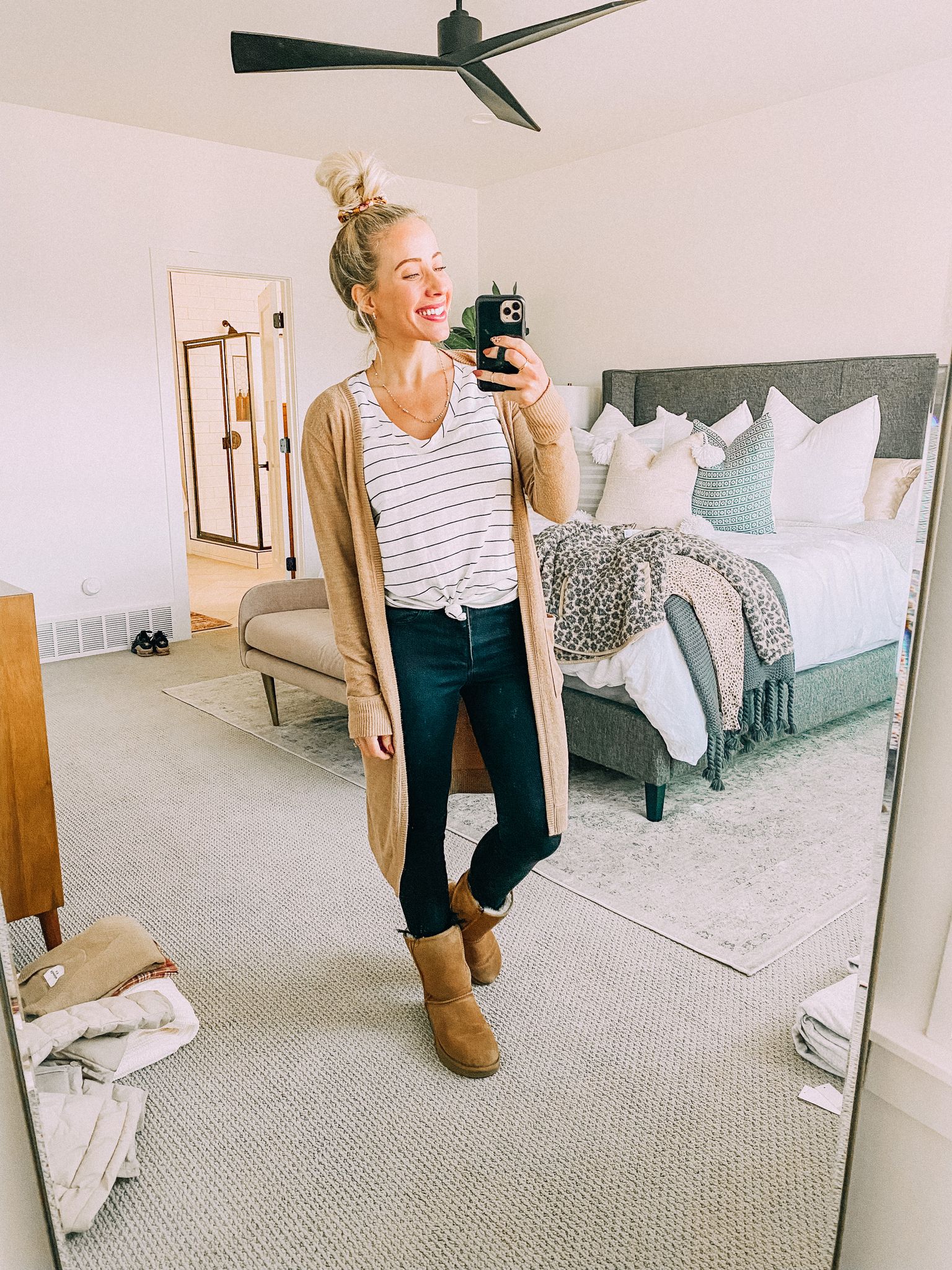 duster | knotted crew tee | black jeans | Uggs
Duster: Because I am so dang short I can sometimes have a really hard time with dusters. But I actually really love this one and it comes in a few different colors. I have already got my cost per wear in this lovely outfit.
Knotted Crew Tee: Here she is again, in all of her glory.
Black Jeans: These are the only black jeans that I own, so if you see me wearing black jeans, it is always these. I ordered a 26 short and love the way that they fit.
Uggs: I don't think that you can live in Utah and not own a pair of Uggs. They are never going out of style and are the warmest boots you will ever put on your feet. They are well worth the investment! I've tried all of the copycats and I promise you they are not as good. They wear out fast and don't last. I am wearing the Chestnut Suede color and they are a few years old.
#3 Animal Print For Every Occasion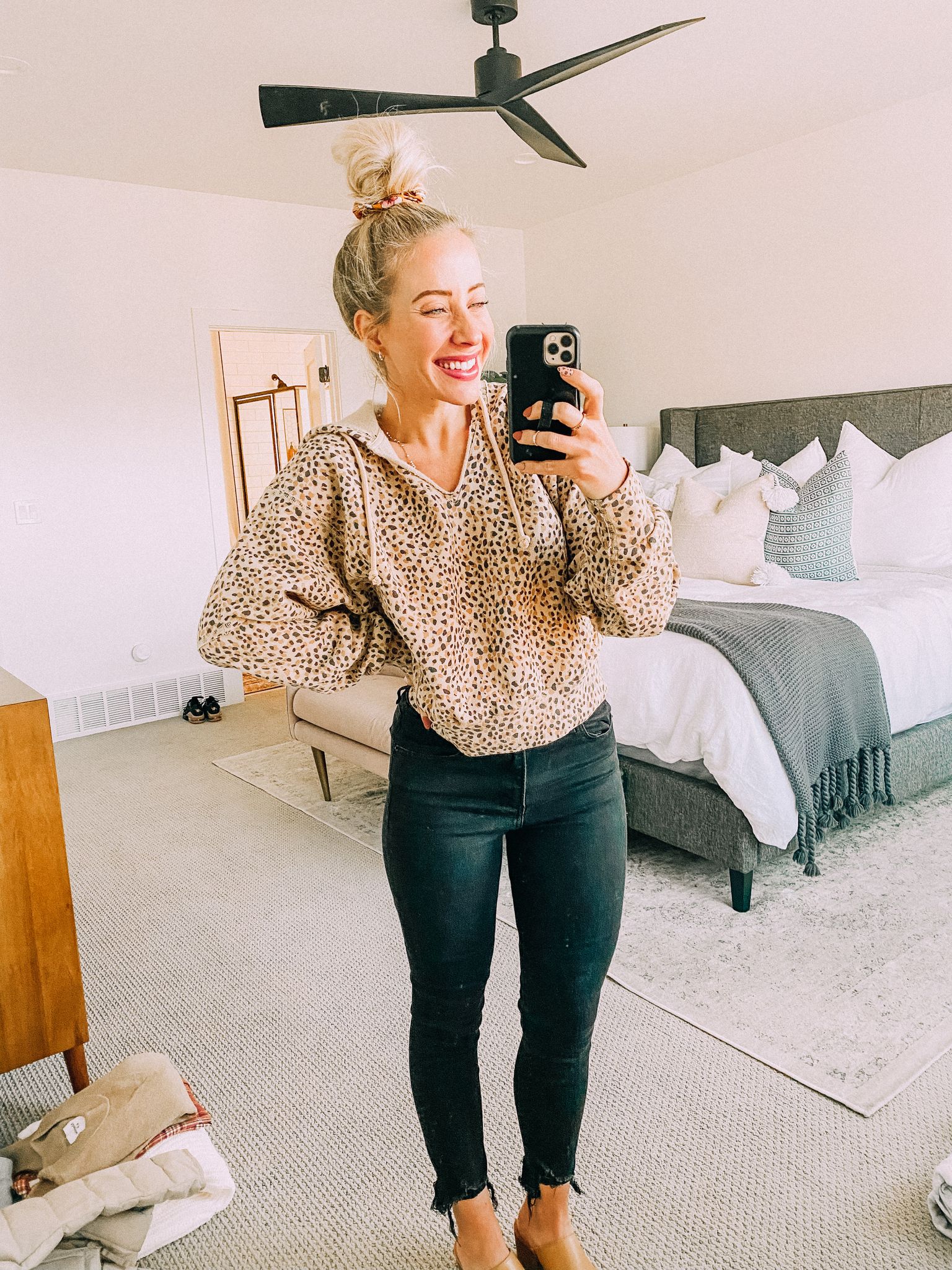 hoodie | black jeans | mules
Hoodie: Oh my gosh this print from Abercrombie is killing me! I'm obsessed with this sweater. It is so flattering and I can see myself pairing it with leggings or the matching sweatpants (yes, there is matching sweatpants) daily.
Black Jeans: These are the same black jeans from above. I told you, I LOVE THEM.
Mules: The color of these mules is what gets me. It is a great neutral shoe that I see myself gravitating too with a wide variety of outfits.
#4 The Sherpa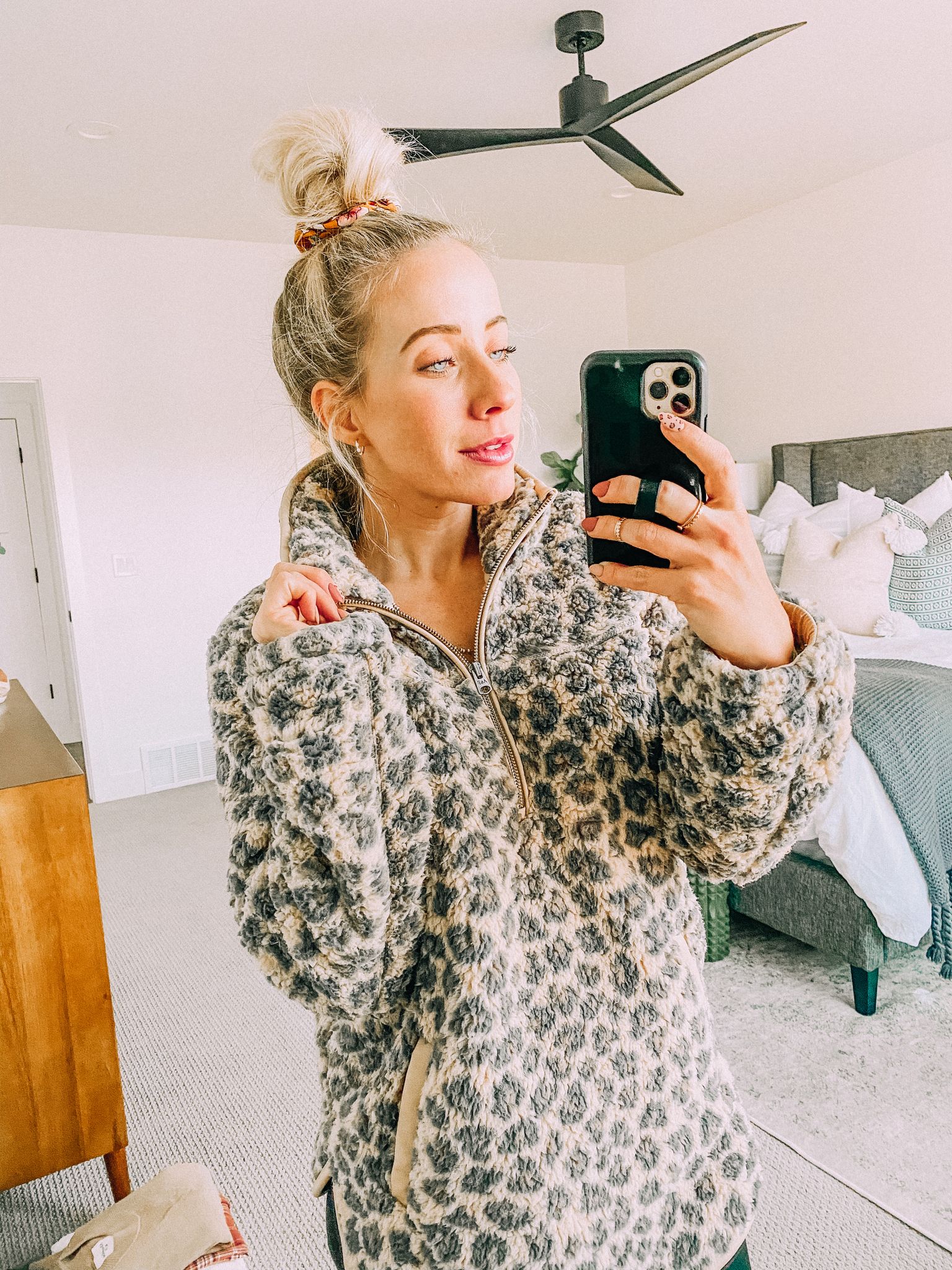 Sherpa: I feel like a Sherpa hoodie is another Utah resident must have. I will do anything to keep myself warm and this baby is Northface quality warm. I love love love this print. It's honestly not my most flattering jacket that I own, but I love the print so much that I don't really care. Even if it's a bit on the bulky side, it's going to be keeping me warm all winter long and I am not one bit made about that!
#5 Comfy Basics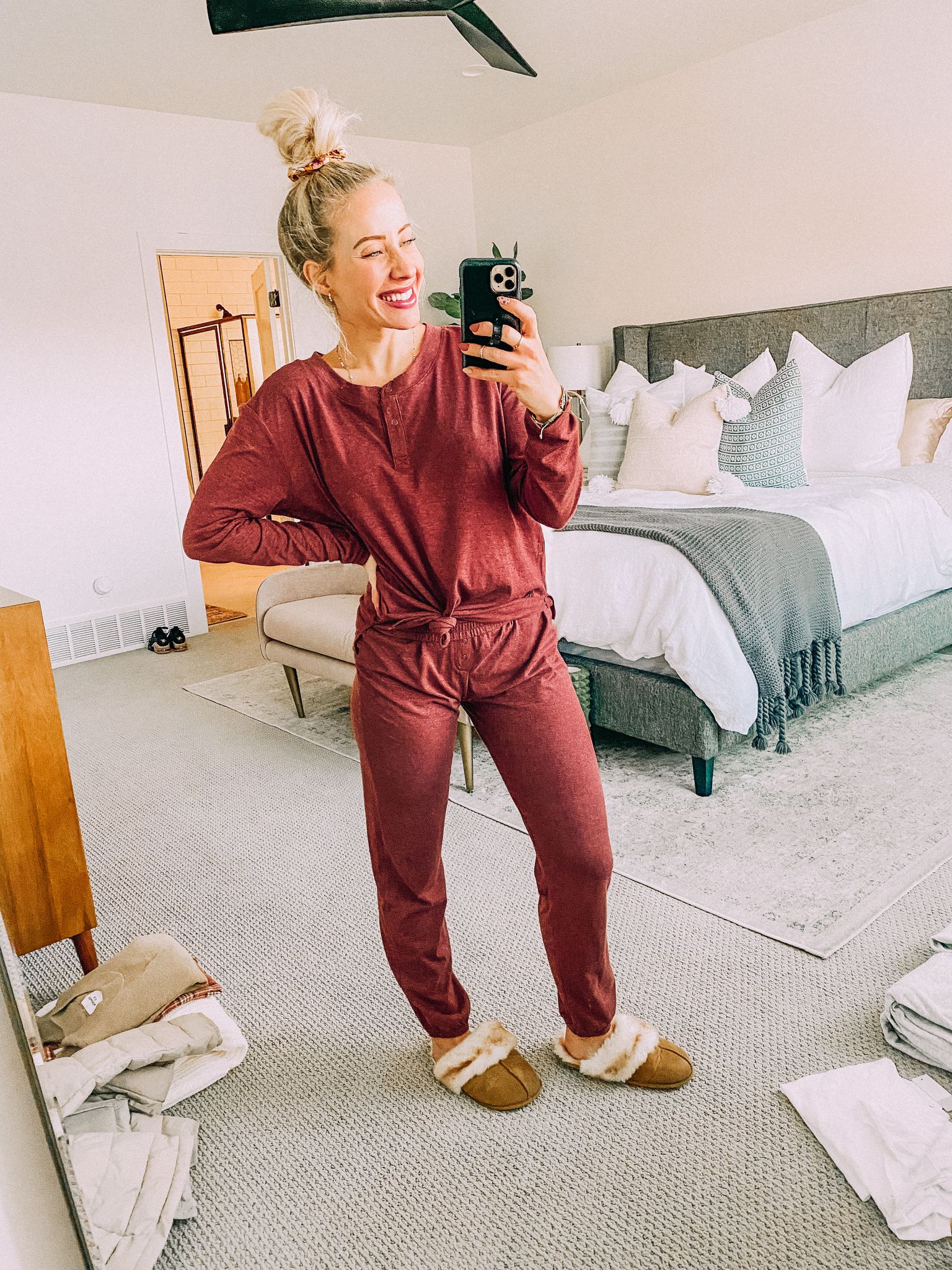 Henley Top: I had to do a little rolling and twisting to make this top fit, but I am actually pleased with the way that things turned out. And let's not discount how stinking soft the cotton is. I'm sold. It's amazing and you can totally pair this top with a cute pair of jeans and dress it up a little bit.
Joggers: I'm barely 5 foot, so these joggers don't fit me quite as well as they would all of you tall gals, but they are soft enough that I decided that I love them. The stretch is great, the quality is great, and the price is great. So, basically you need them! They are out of this exact color right now, but they have a really pretty blue or grey option available.
#6 The Perfect Set
cheetah henley | cheetah pants
Cheetah Henley: You guys! Angels actually sang when I put this outfit on because it is SO GOOD. Hands down my favorite outfit from the entire Abercrombie try on haul. The top is a little spendy, but it is so cute, comes in a wide variety of amazing colors, and is incredibly soft. I also think that it would be darling paired with jeans and a cute jacket.
Cheetah Pants: Too much cheetah? There is no such thing. Again, I love this print. The high waist is so flattering and these pants could not possibly be more comfortable if they tried. 100% you need them immediately!
#7 The Perfect Turtle Neck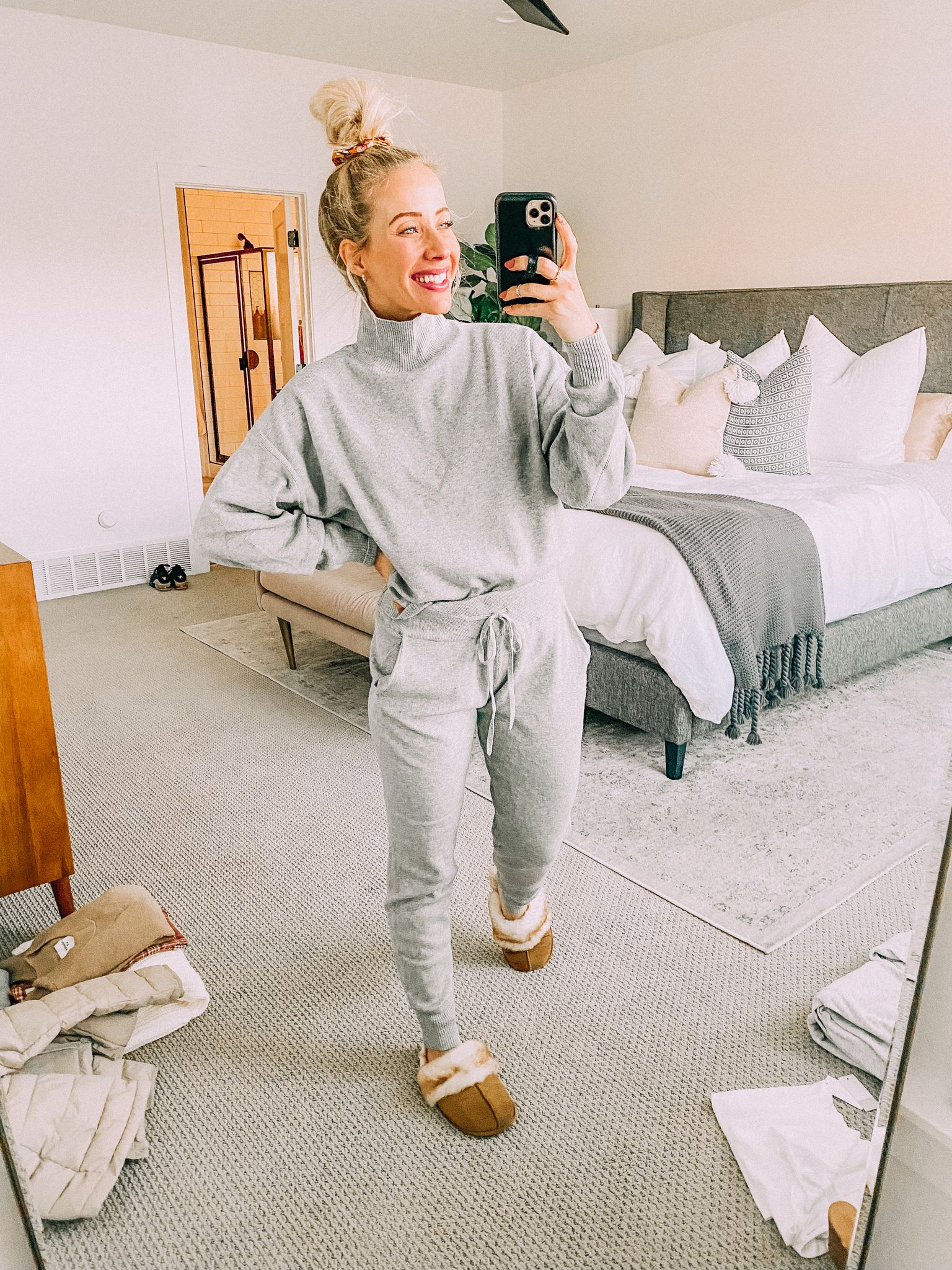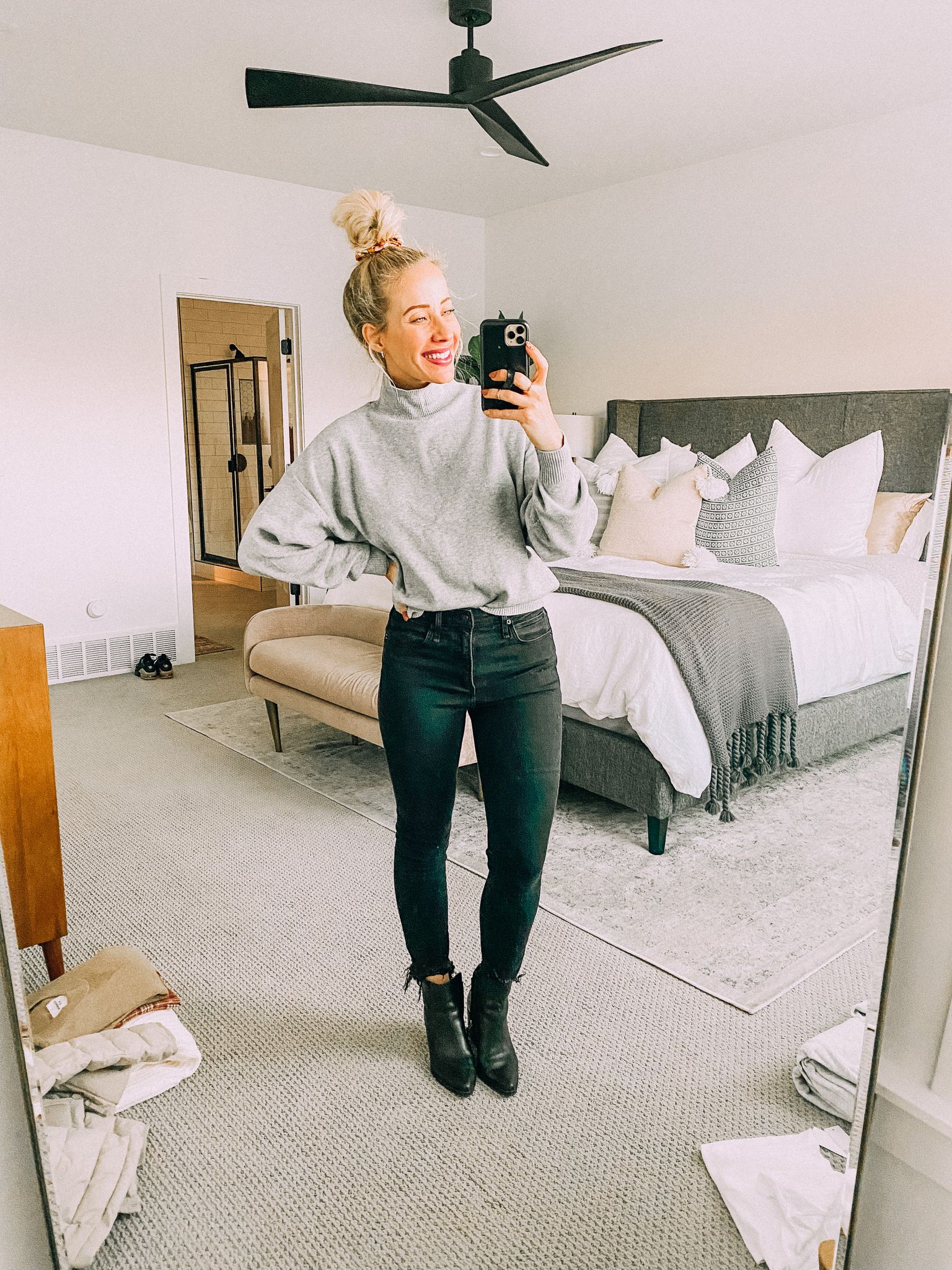 turtle neck | classic sweat pants | slippers | black jeans | black boots
Turtle Neck: This turtle neck is actually really stretchy and soft, which I love. It's a great crop length which makes it easy to tuck and the neckline is beautiful. It can be worn as pajamas or not as pajamas (as you can see pictured), so it serves two purposes. We were about 50/50 on how many of you liked this one during the actual Abercrombie try on haul session, but after wearing it for a while I decided that the comfort level makes it a keeper. You should also know that it comes in other beautiful colors too.
Sweat Pants: You can never have too many sweatpants in your life and these ones are top-notch comfortable! I also really love this color.
Slippers: These slippers are quickly becoming a staple piece in my wardrobe. Did I mention that they are less than $30!
Black Jeans: Here they are again, but this time paired with a lovely turtleneck that is cozy and cropped. I'm telling you, you will get your use out of these babies!
Black Boots: Every closet needs a simple pair of black boots. These are classic and some of my very favorites!
#8 Monochromatic Thermals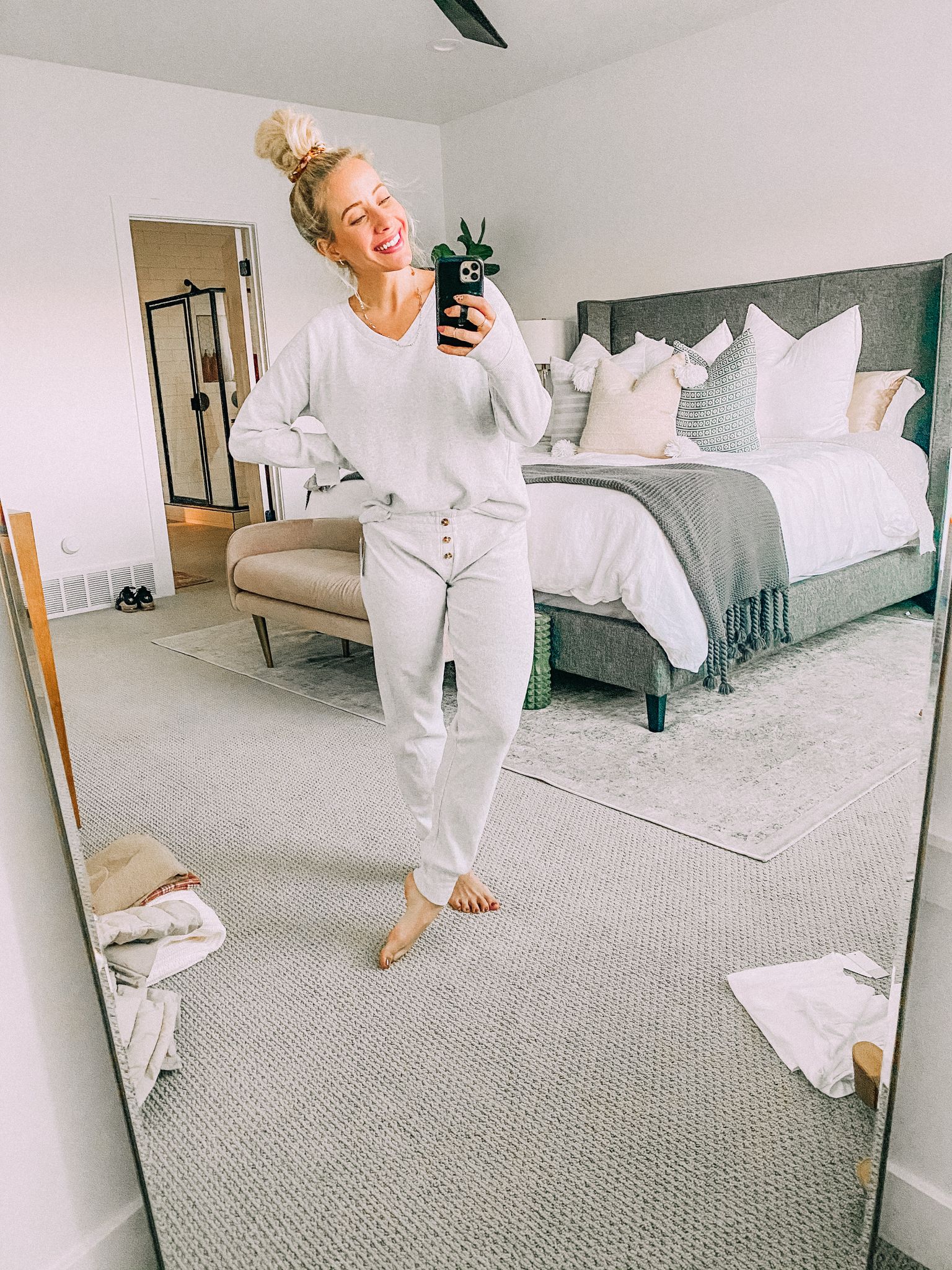 thermal pullover | thermal loungers | white tee
Thermal Pullover: Let's just say, I should probably be a professional late night shopper, because I killed it with this Abercrombie try on haul you guys! This thermal pullover is so cozy, I love the v neck, and I really love the color. Another top that you could wear with jeans and sweatpants.
Thermal Loungers: Matching sweat sets are my jam always and forever. These thermal joggers are just as good as the top, but in pants version! The heather grey is SO good. The top and the bottom are sold separately, so I showed you another fun outfit with a these joggers and the awesome Abercrombie basic white tee. You're welcome!
Basic White Tee: There are just no words for this tee. It's so good and you can't tell me that you don't want to live in this outfit for the rest of your life. This is an awesome shirt for layering.
#9 Jeans & T-Shirt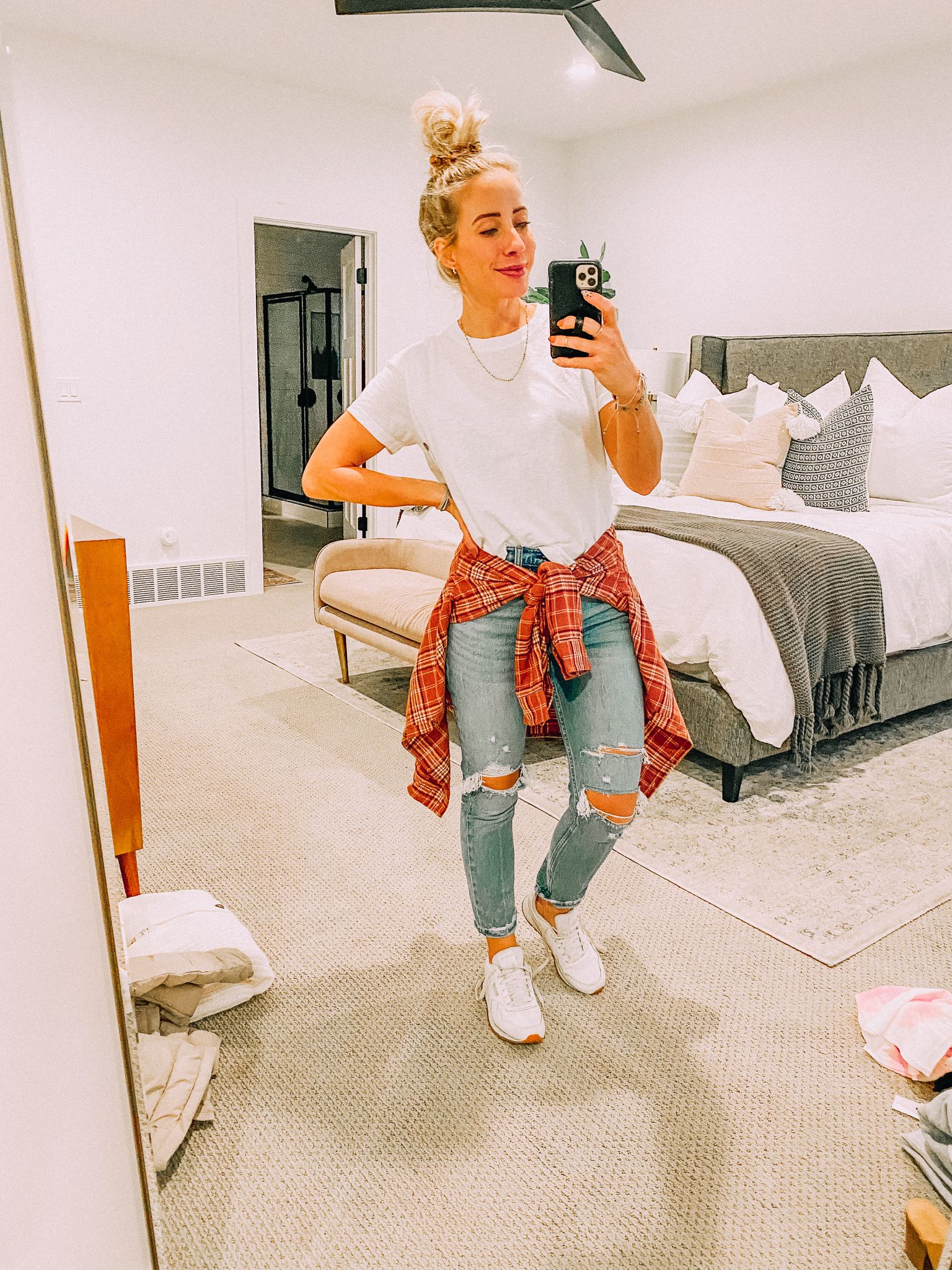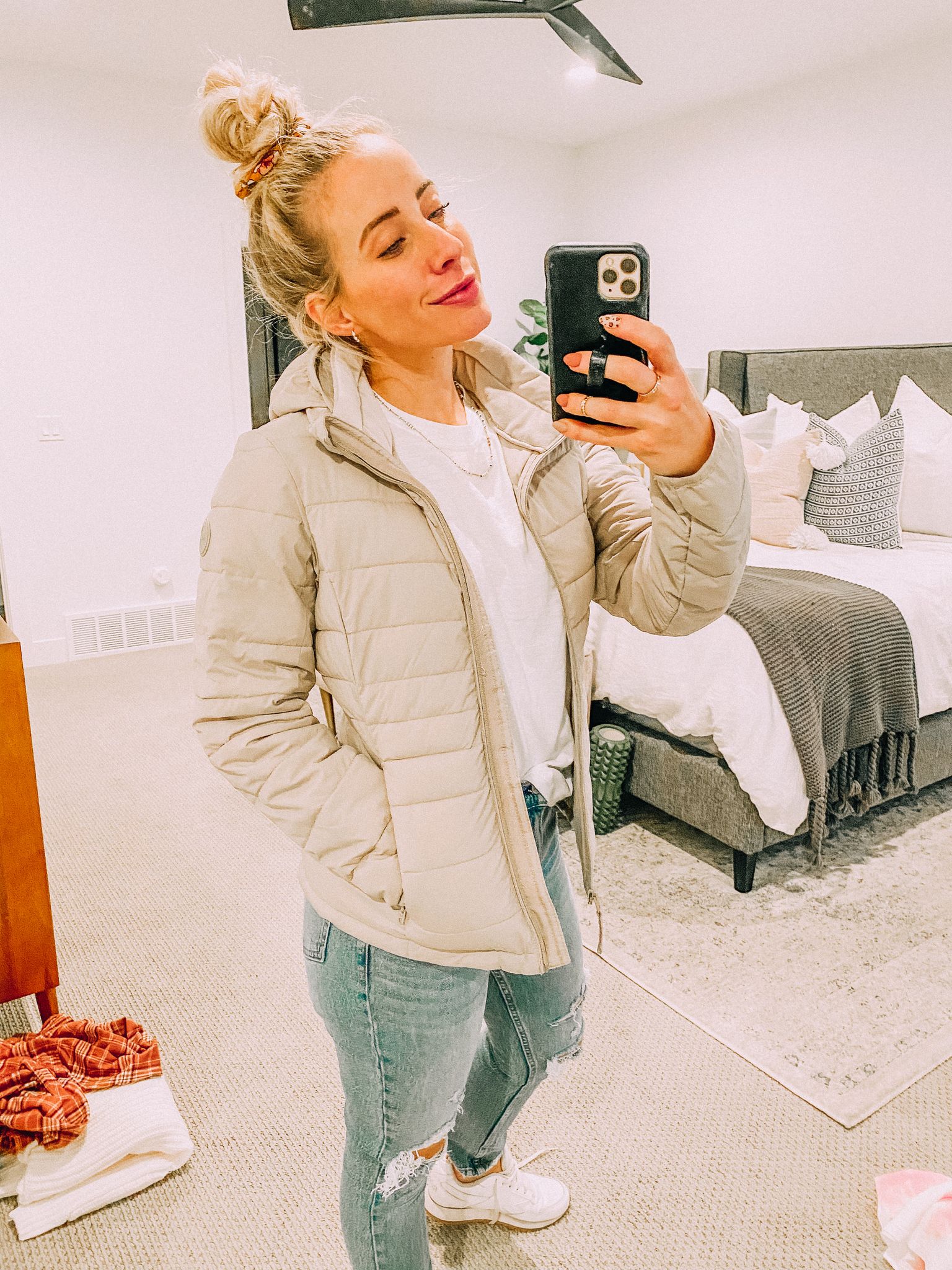 tiger graphic tee | love your mother tee | flannel | jeans | Reeboks | jacket
Tiger Graphic Tee: Who doesn't love a good graphic tee? I know I do and this one is under $10 right now! It's a great crop length and the graphic is so fun. I think that it would be really cute paired with a cute leather or denim jacket.
Flannel: Flannels are perfect for layering during the colder seasons, or I also love to wear them wrapped around my waist with a cute basic tee. It makes for a very casual, yet put together look.
Love Your Mother Tee: Could there be a better message? Such a cute tee and it's thick enough to wear solo. I love it knotted with jeans, or I would also pair it with some leggings and a cute flannel.
Jeans: These jeans are some of my very favorites from Abercrombie! I also bought a 26 short in these and love the way that they fit. They can be dressed up or dressed down and are incredibly comfortable.
Reeboks: If you are looking for a great classic, white sneaker than you will love these! Perfect for running errands and still wanting to be comfortable.
Jacket: This jacket is so warm! I love that it folds small and it is a very flattering fit.
As you can see, it was a very successful Abercrombie try-on haul! The only hard part was deciding what to keep and what not to keep. I hope that this helped guide you to the right places to find some great winter basics. To see the try-on haul in person, head over to my Instagram @twistmepretty and click on my first highlight bubble! If you liked this and found the try on haul to be helpful please let me know and I'll be sure to do more in the future.
Wanting some new hairstyle inspiration? Head over to THIS post to see how I get cute hair in two minutes.