There's nothing worse than your kids drawing on your walls and furniture because they are bored, right? Give them something else to use their artistic talents on with these fun and free printables for kids! Most of these work for all kids under age 12, and some of the sites are age specific. I've broken them up into 'just for fun' and 'educational' to make your life easier. One site that falls into both categories is Scholastic.com. They just announced that they are offering free resources to parents and teachers on their site while kids are out of school!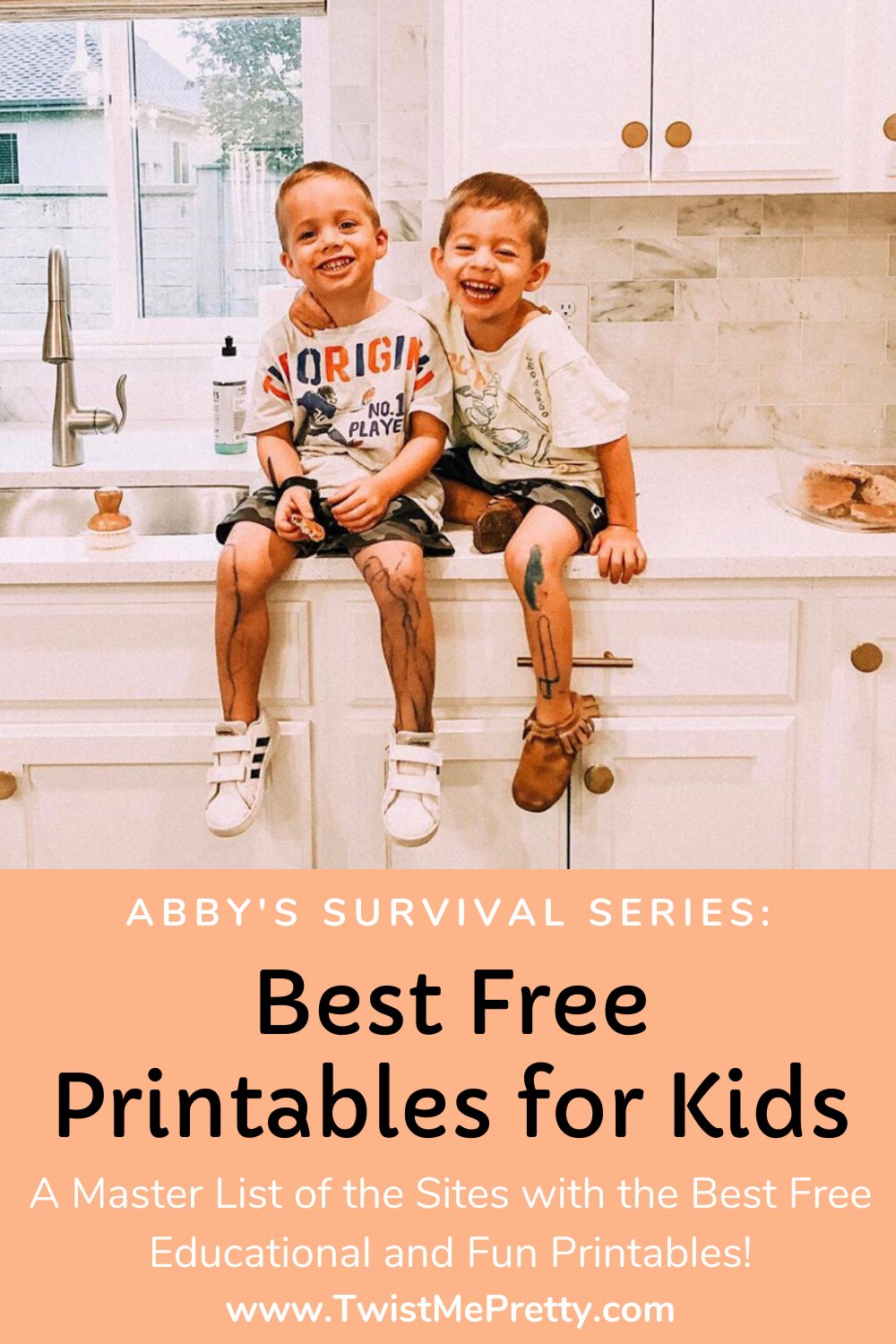 Thank you to everyone who contributed to this list. You had so many great ideas and suggestions, it was hard to sort through all of them. If you have any favorite printable sites I missed in this list, tell me about them in the comments!
This is another installment of Abby's Survival Series. Be sure to sign up for the weekly email I'll be sending out with all of these resources and links compiled for you! Click HERE to sign up!

Just for fun printables and coloring pages:
Nobody wants to be doing schoolwork for 8 hours every day at home. Even I don't want to do that much thinking in one day. This list of fun coloring and activity pages are perfect for those hours/days when you just need to zone out and do a little coloring. Better yet, put on a podcast while your little ones color! (I've got a great guide to awesome podcasts for kids and families HERE!)
Rad and Happy– Their color happy subscriptions are $5 a month. They also have coloring pages to print off or color on an iPad.
Get drawings A site with tons of coloring pages, vector cliparts, drawing tutorials, and more
Petit collage New downloads released monthly. Also tons of cute activities and other things for kids on the site for reasonable prices.
A girl and a glue gun So many fun activities and tutorials for things to do with your kids. Ever wanted to play truth or dare with your kids? She's got a tutorial for it!
Jarret Lerner Got young ones who love comics? Jarret is an author who writes books about farting robots, no, really, it says so on his site. He's got fun activities and blank comics for your aspiring authors to fill in.
Super coloring.com
Every kind of coloring page you could ever want, and more.
Camp Castle
Sign up for free daily printables, or purchase a digital download for a few dollars and print your own mini playmats that your kids can color themselves.

Educational free printables for kids:
When it's time to get down to work, having a stack of these educational printables on hand will save you so much time and energy! Let your kiddos choose their own, or sort them into subject and skill so you can guide their learning for the day. I looked through all of these sites, they really do have the best free printables for kids!
Teachers Pay Teachers–
For teachers. Search by subject/grade level, by price, and type of resource.
Playful learning Free resources include activities for learning, diy tutorials for everything from bath bombs to making pickles, many ideas and instructions on teaching children with an emphasis on educating the whole child.
Education.com
Used by many schools, check to see if your school/teacher has an account you can utilize. Lots of printables too for grades p-5.
Kindergartenworksheets.net Have a kindergartner? Need some worksheets? Head here!
Worksheetfun.com
Worksheets to print off for every elementary age subject.
super teacher worksheets Great for teachers, or those who need lots of worksheets for different subjects. Many free, some require a membership to access.
Raising wonder
sign up for free printables daily, also doing daily videos and printables during "social distancing" on their site.
Kidzone.ws
KidZone's printable preschool and kindergarten worksheets help younger kids learn their letters, numbers, shapes, colors and other basic skills.
KidZone's printable grade school worksheets help older children learn phonics, reading, creative writing, math, geometry, science and geography.
Cleverlearner.com
Numbers, letters, shapes, science, crafts, coloring games, activities, and more, for free.
Edubuzzkids.com
Free games, activities, and worksheets for pre-k, k, 1,2.
Allkidsnetwork.com
Resources for parents, teachers, and anyone who works with children. They've got thousands of fun kids activities like kid crafts, worksheets, coloring pages, printable mazes, dot to dot, hidden pictures, and more.
I know I've probably missed a few sites on this list. There are so many great ones out there! If I missed your favorites, tell me in the comments, so I can check them out. I hope these sites help you as you navigate this new normal and your new life as a homeschooler while the world is on pause for the moment.
Don't forget to sign up for my weekly email! Click the button below to get on the list.