It's been a labor of love and a LONG time coming but I am finally finished with my new home office and ready for the big reveal! I can NOT wait to share this project with you and hear what you babes think. So…… without further ado, let's get this started!!
Right this way babes…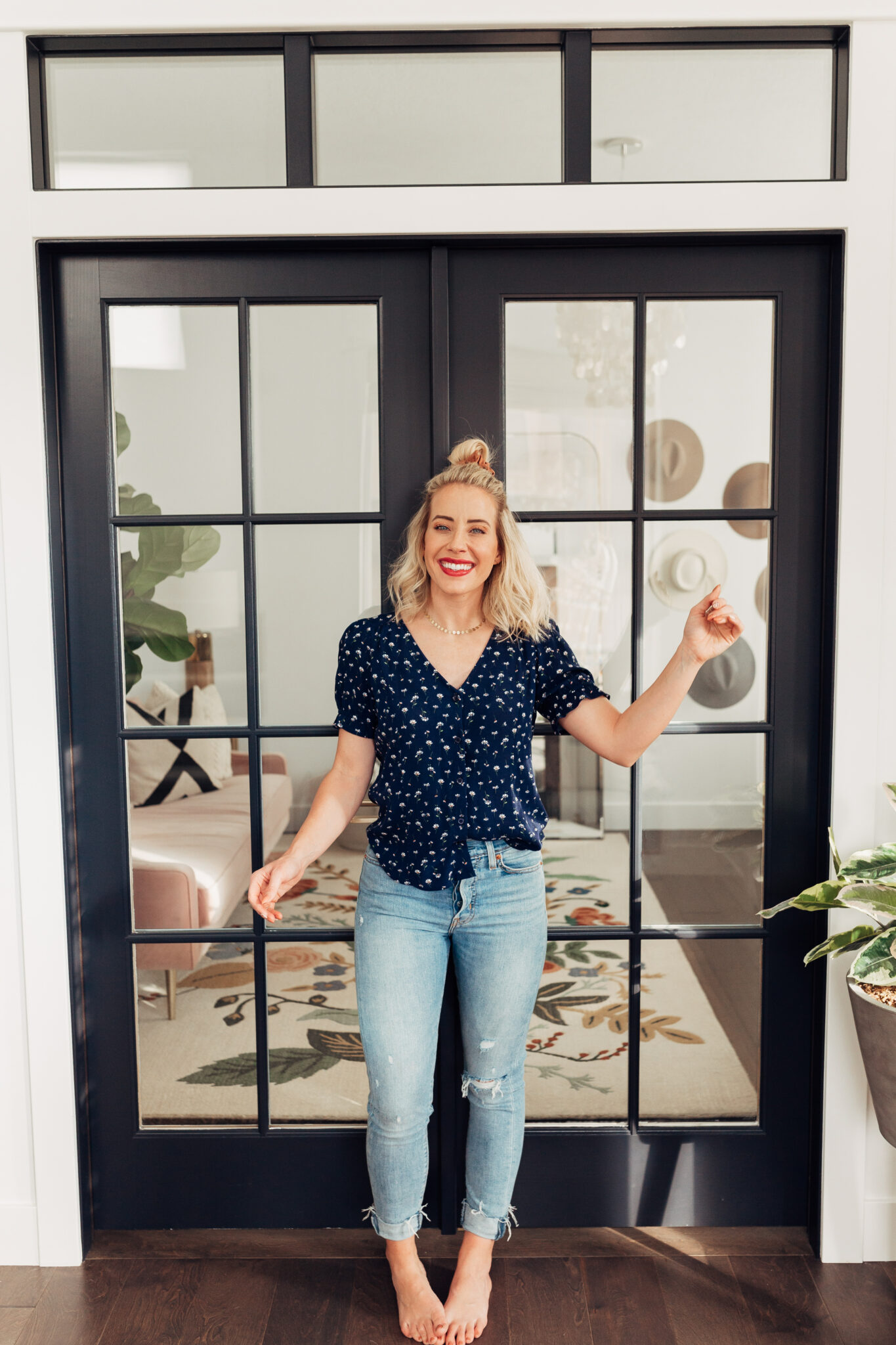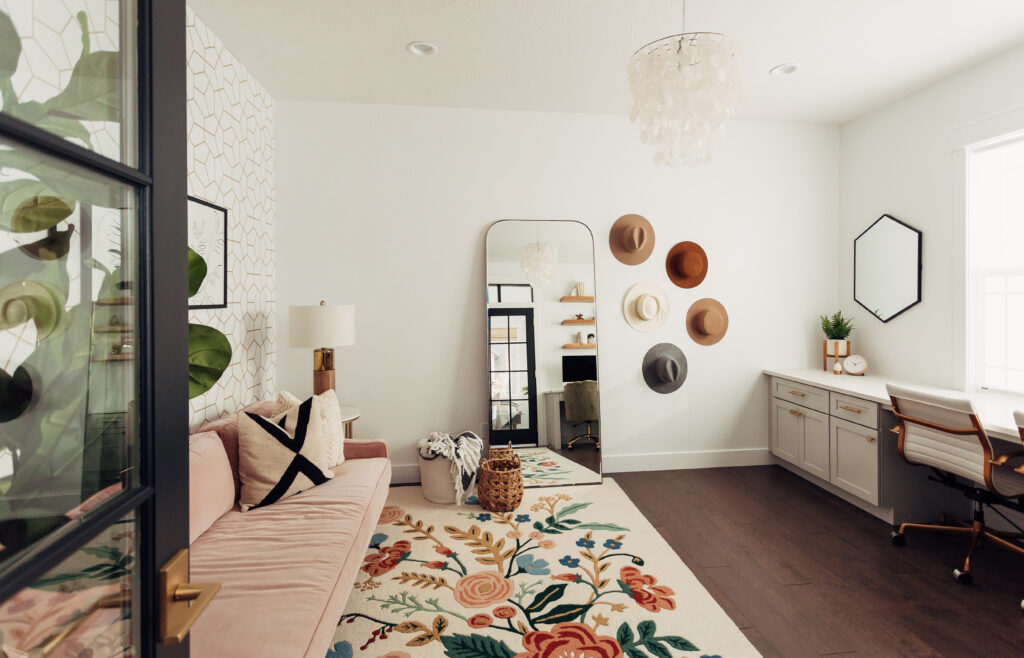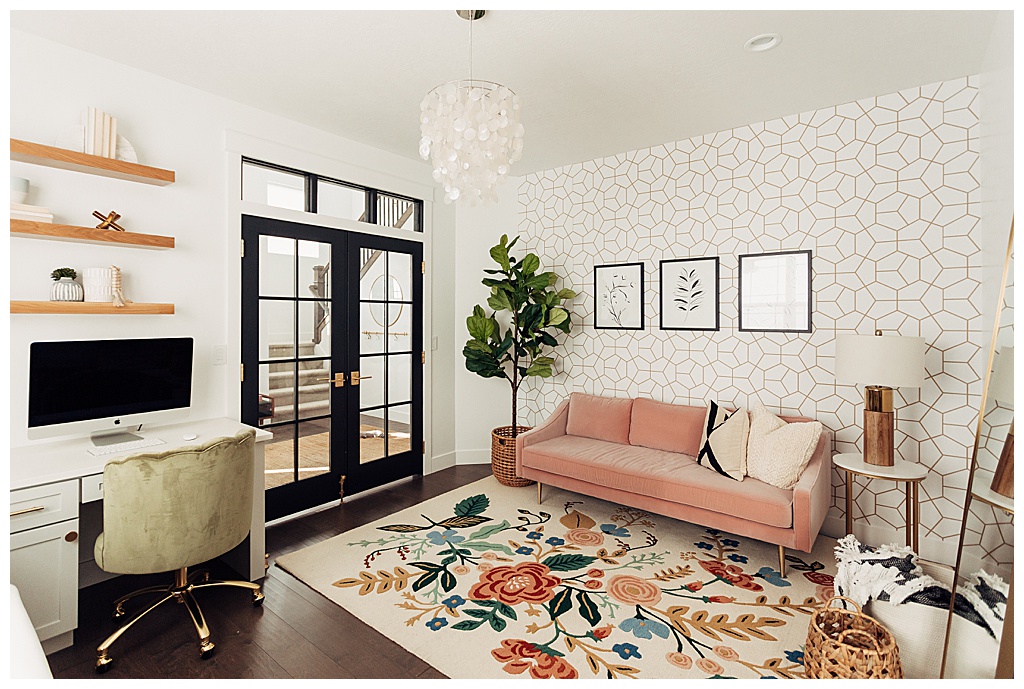 Decor elements of my home office
Can you tell I am excited? I really am. I love everything about this room. Once again I worked with my go-to design girl, Kelsey, you may remember her from my Master Bedroom reveal, Sporty Boys Room, and Savy's Chic Girlie Girl Room. You can find her at Alika Design and trust me, she will rock your world in the very best way! I still can't get over this space. It is so bright and airy. It has the perfect amount of color and textures that bring creativity to life, but still maintains this calming effect if you know what I mean.
Now wait, wait, wait… before we go further let's just take a little walk down memory lane and remember what my home office space looked like BEFORE the redesign.
Before the home office makeover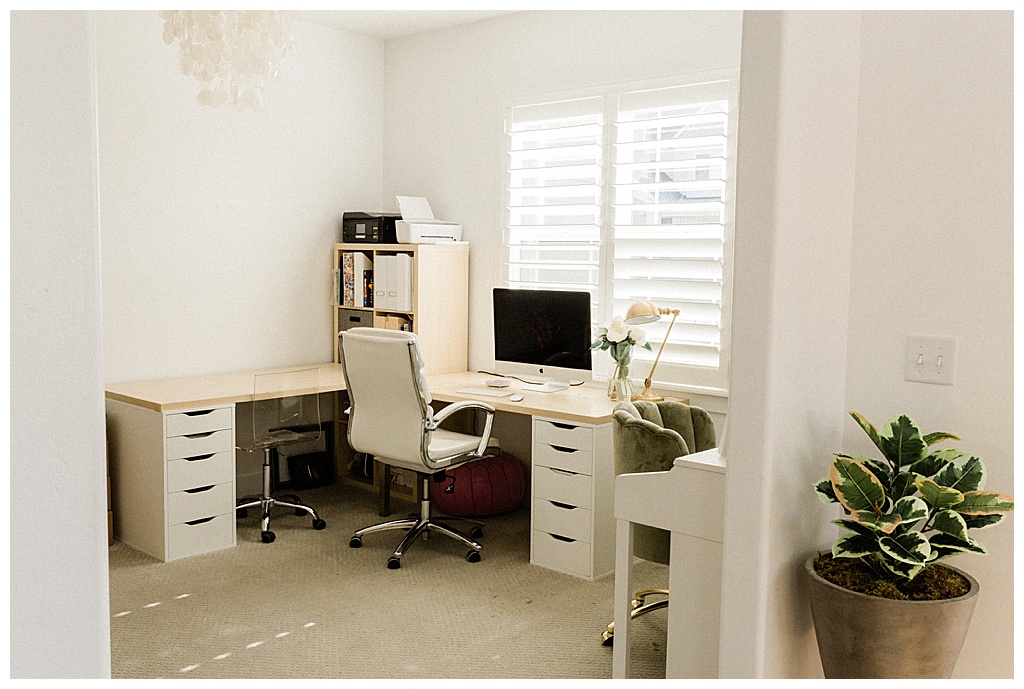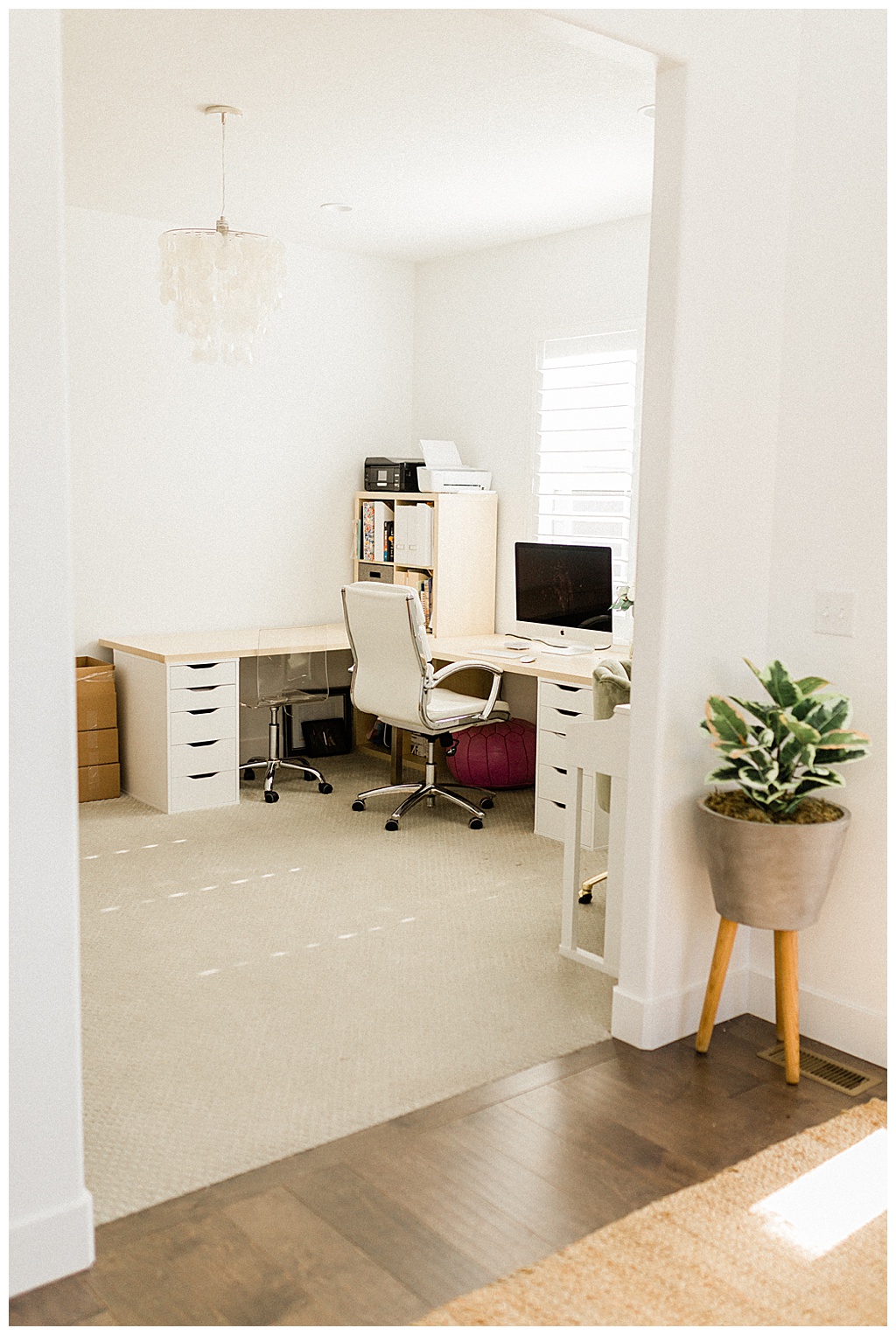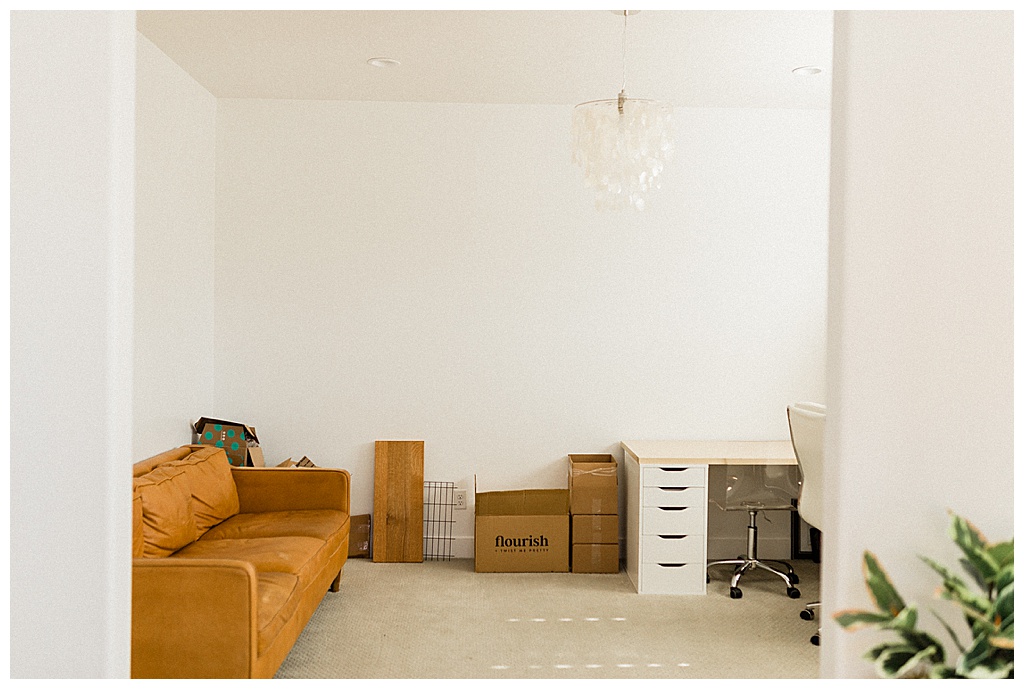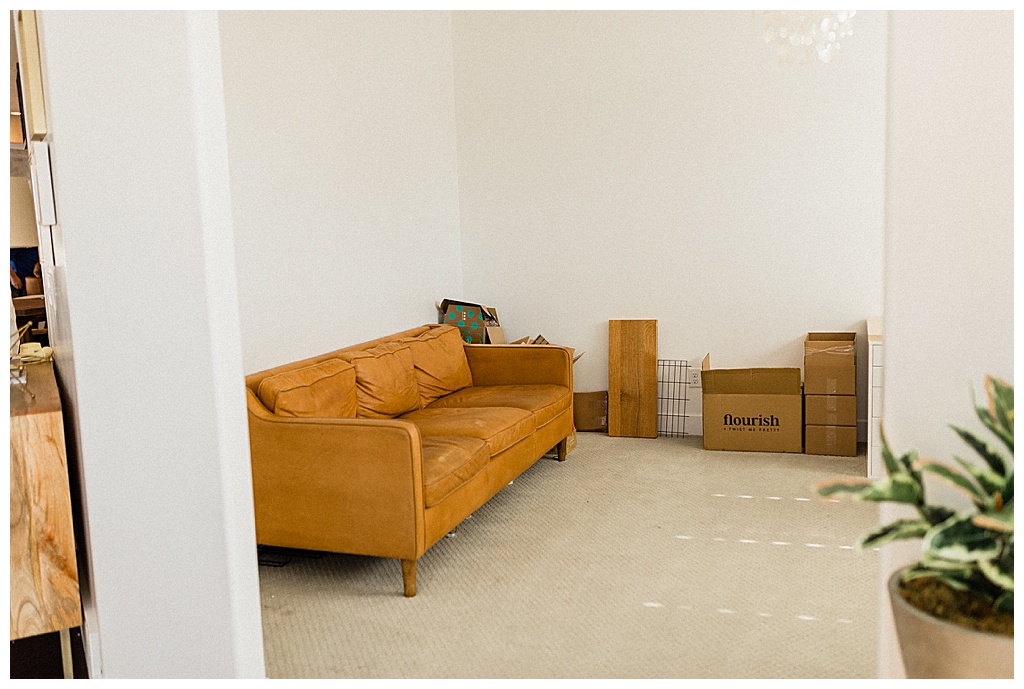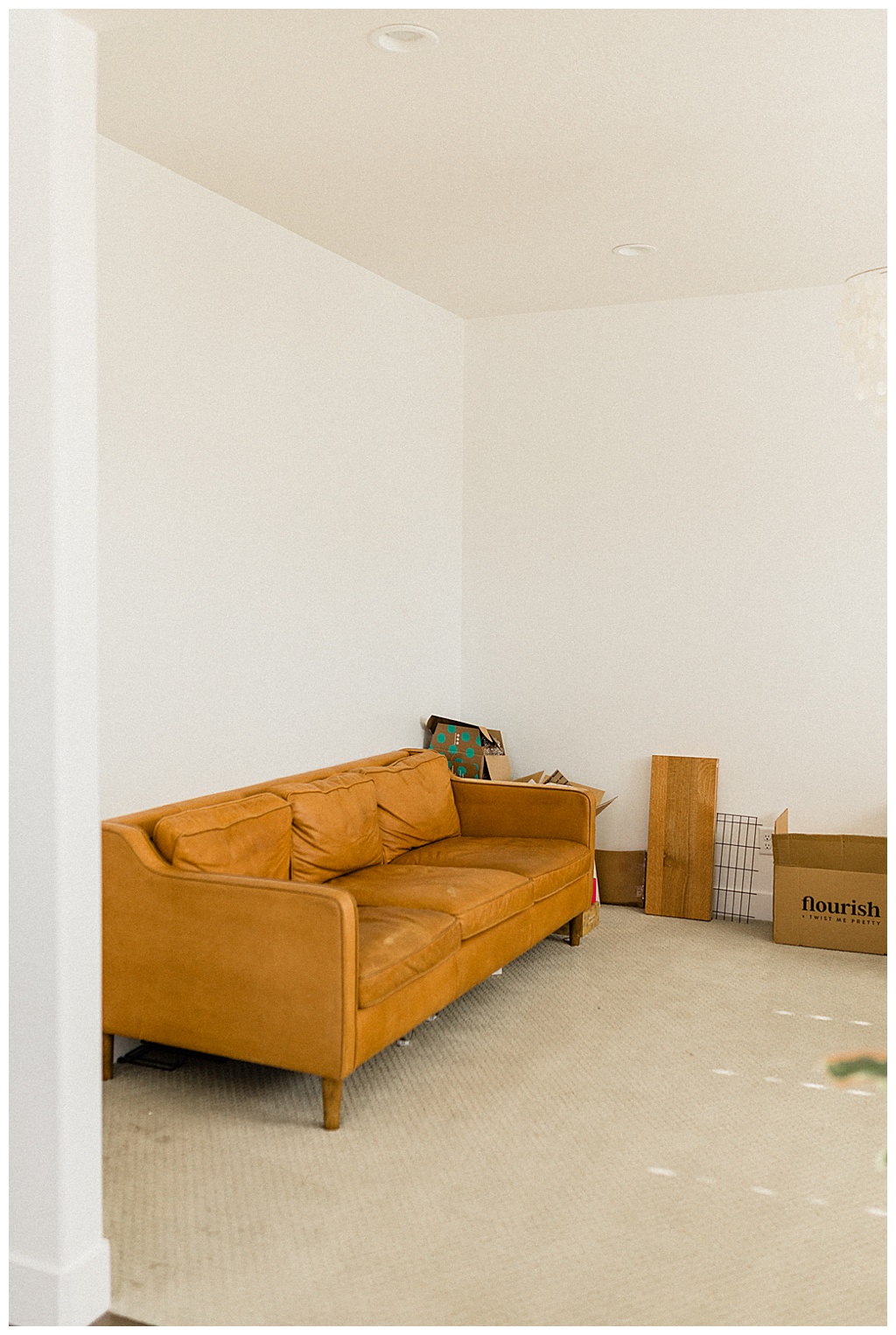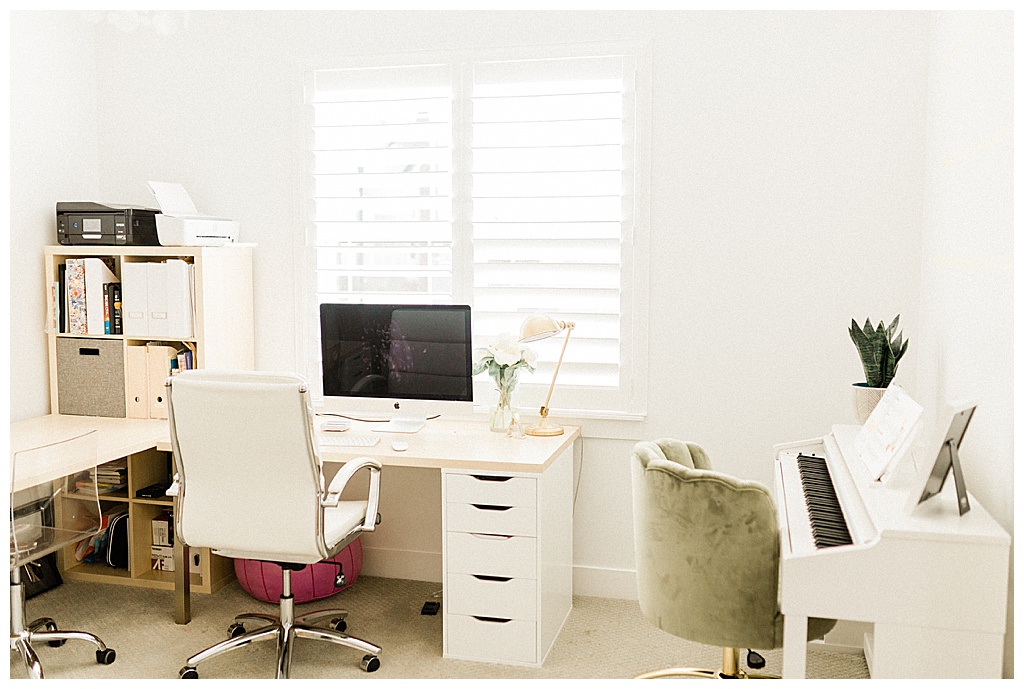 Oh mama, can you believe how BORING it was? I mean, you know how much I love white but THIS? It was excessive, am I right?
And this is where Kelsey steps in to save the day! Or the room.
Not only is this space beautiful, it is FUNCTIONAL. Which is obviously the most important thing, I do need to get work done in here after all. 😉
Elements We Added:
The first project we had to tackle was the carpet. I had a contractor come in, rip out the floors and replace the carpet with hardwood to match the rest of my main level. Now I can roll around on my chairs without any problems at all!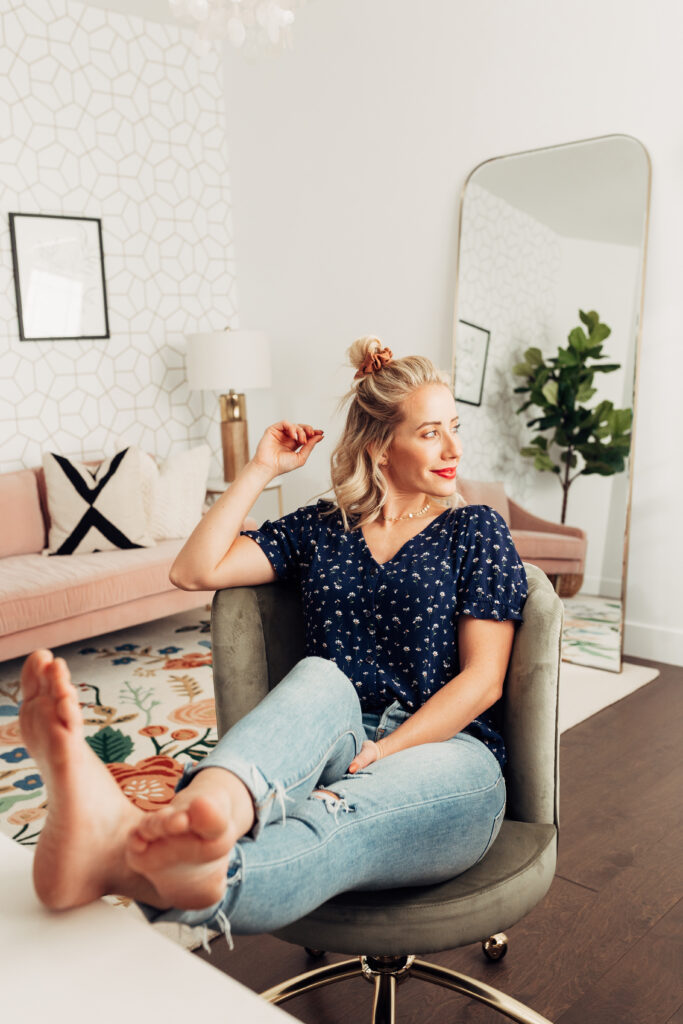 Project number two was adding in those black office doors + transom window. This was truly a PAIN IN THE BUTT. The doors were cut the wrong size our first go around. We had to wait another 12 weeks (it literally takes forever) before the new doors came in. After that we had to hire a painter, which wasn't cheap, to come in and paint the dang things. In the end, it was totally worth it. I'm obsessed + the finishes are perfect.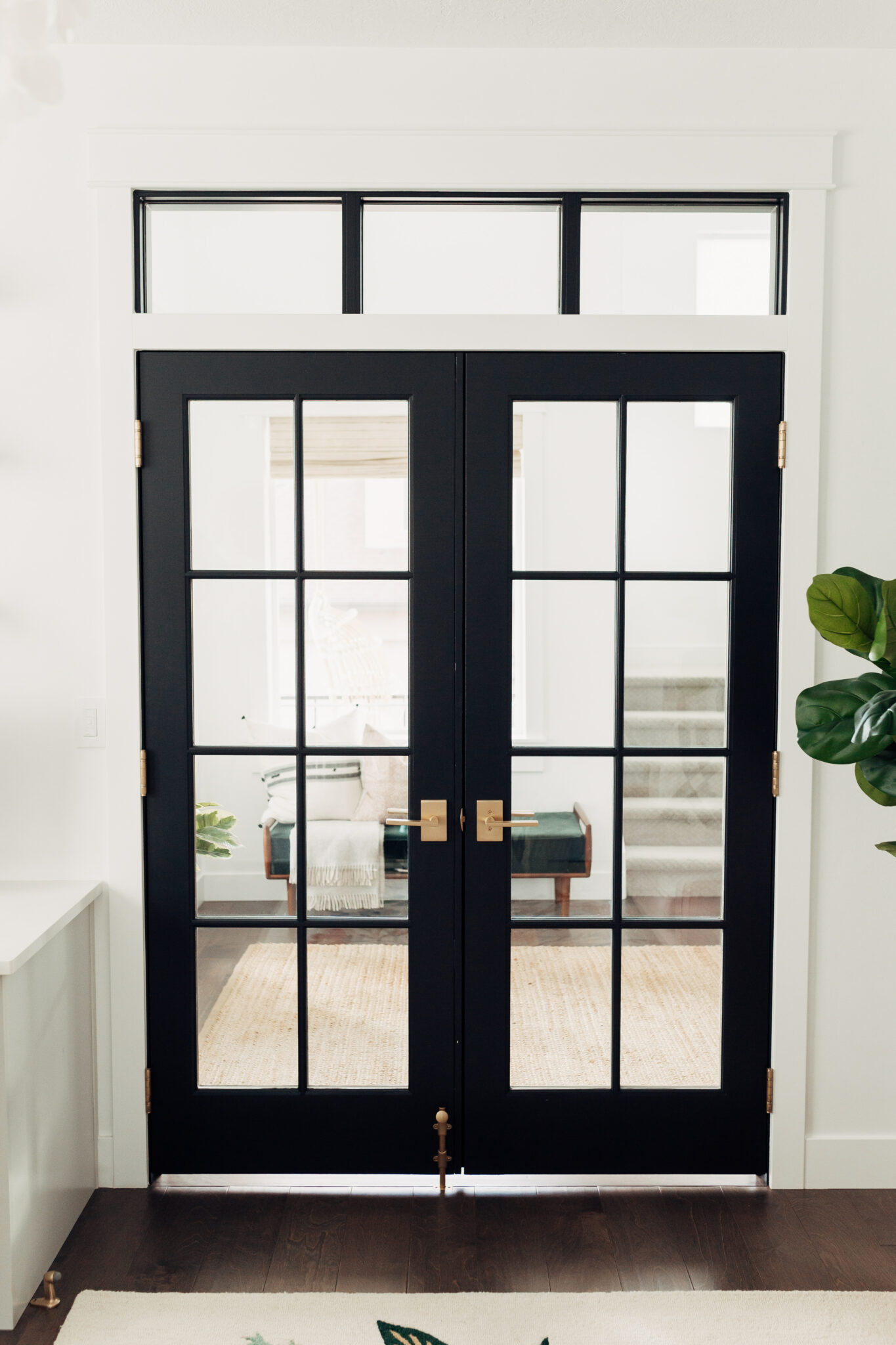 The third project that took some figuring out was the desk space. I knew I wanted a few chairs and enough desk space that my kids could come in and do homework or I could have assistants over to work in my office with me. It also why we added in the couch. I just wanted to have all my bases covered! The cabinetry is actually from home depot and then we used a white quartz on top. I think it turned out awesome and the kids do come in an color next to me while I'm editing or working through emails.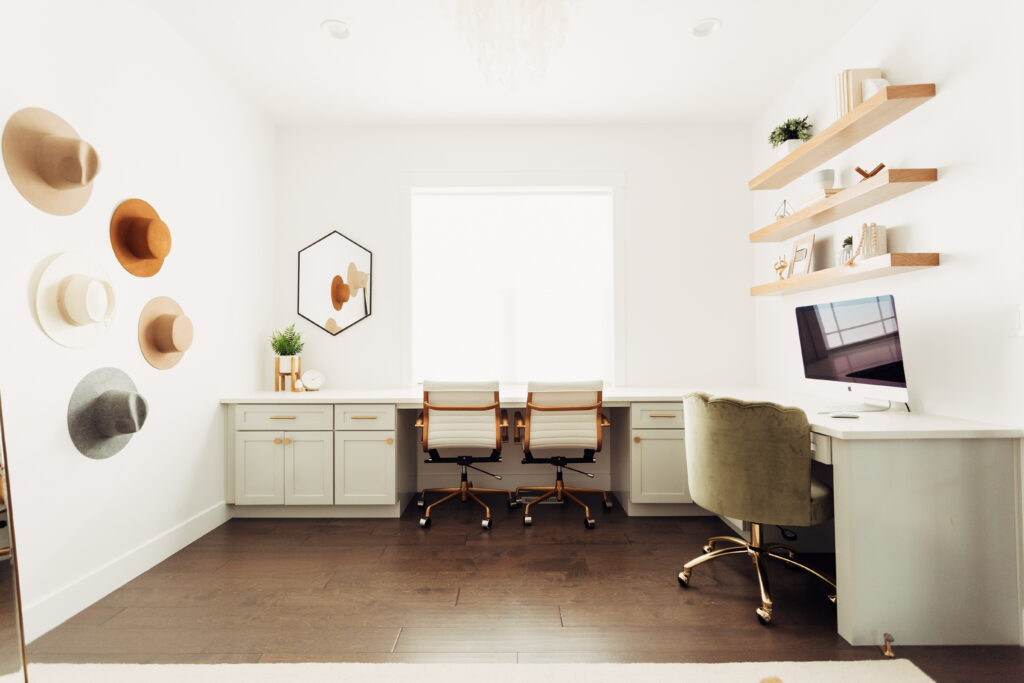 The fourth project was installing the wallpaper from Loomwell. I have an entire YouTube video here on that process – it was so much easier than you'd think. The wallpaper came rolled up in wide strips and we just removed the backing and pressed it on.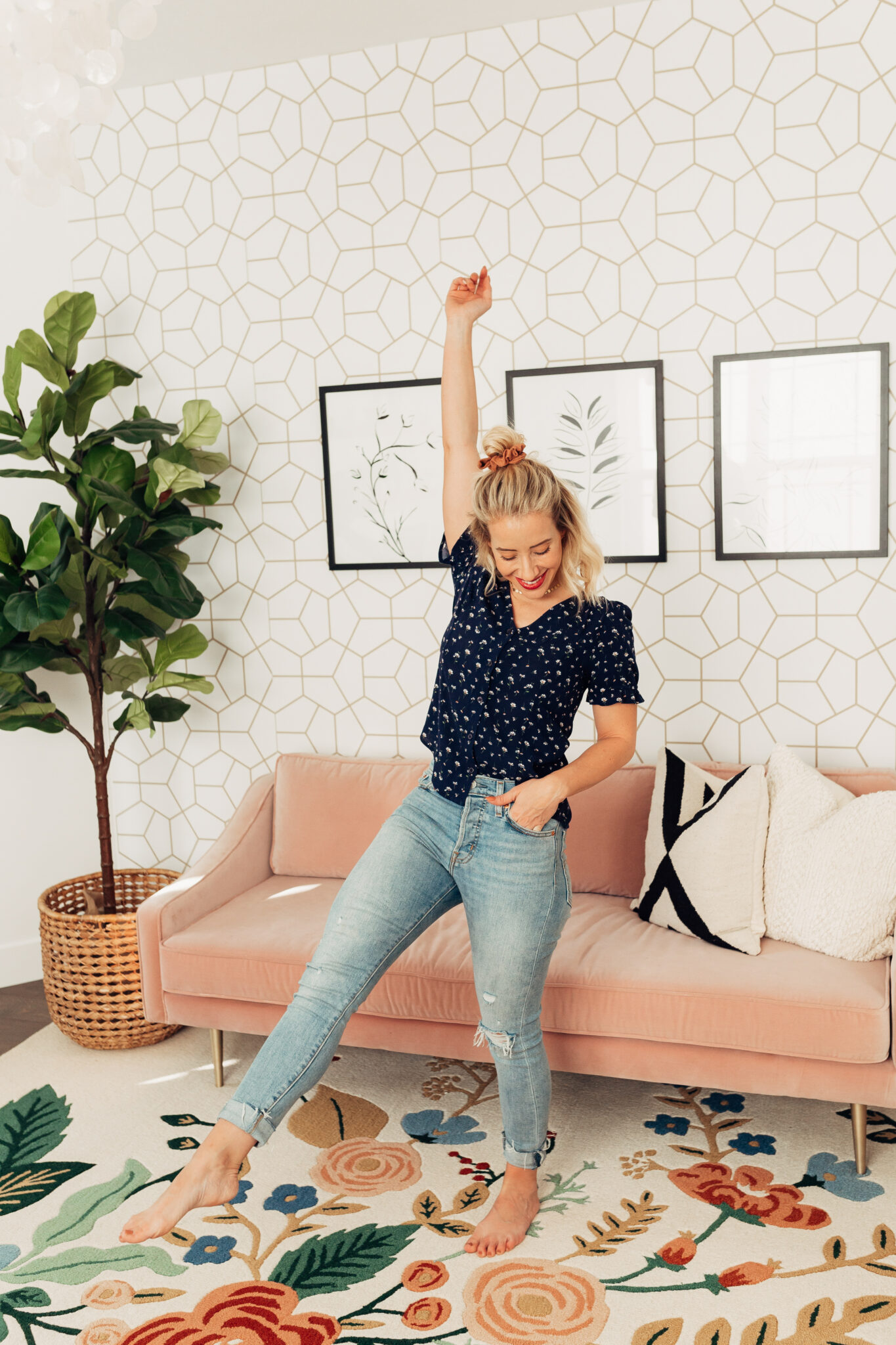 The fifth and final project was the quarter sawn white oak shelves. The contractor who did the floors, shelves and doors also made these shelves – he did an awesome job. I love the warmth they bring into the room and it allows me to style fun little decorations on them.
It's The Little Things That Count…
One of my favorite things (okay, okay there are so many, but can you blame me?) about this home office space is the little touches that add personality and interest, without overwhelming the simplicity of the neutral design of this space.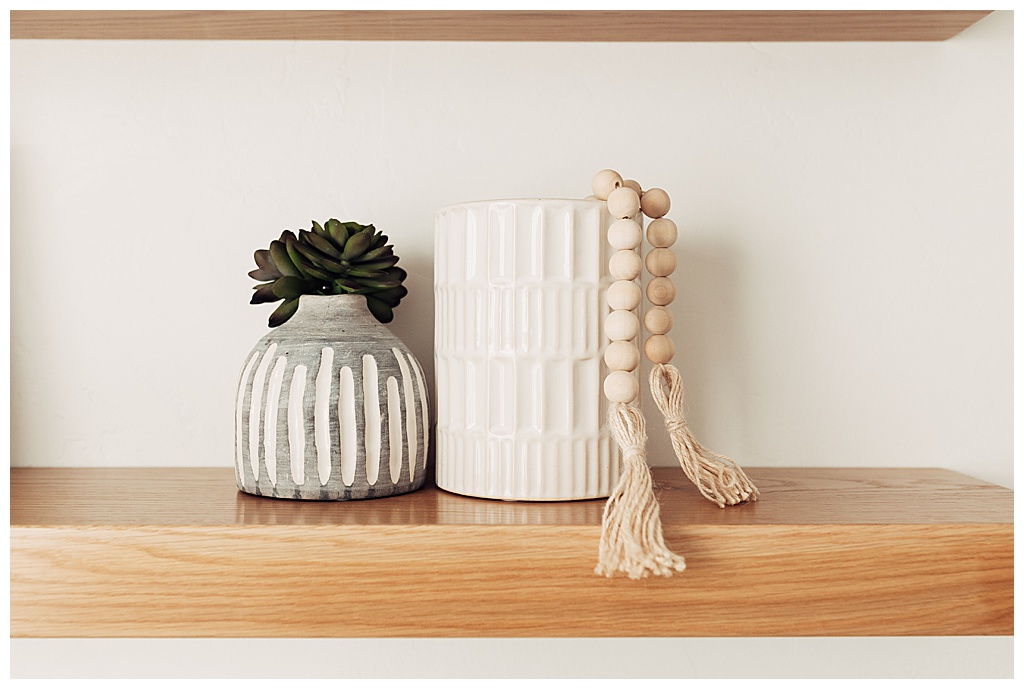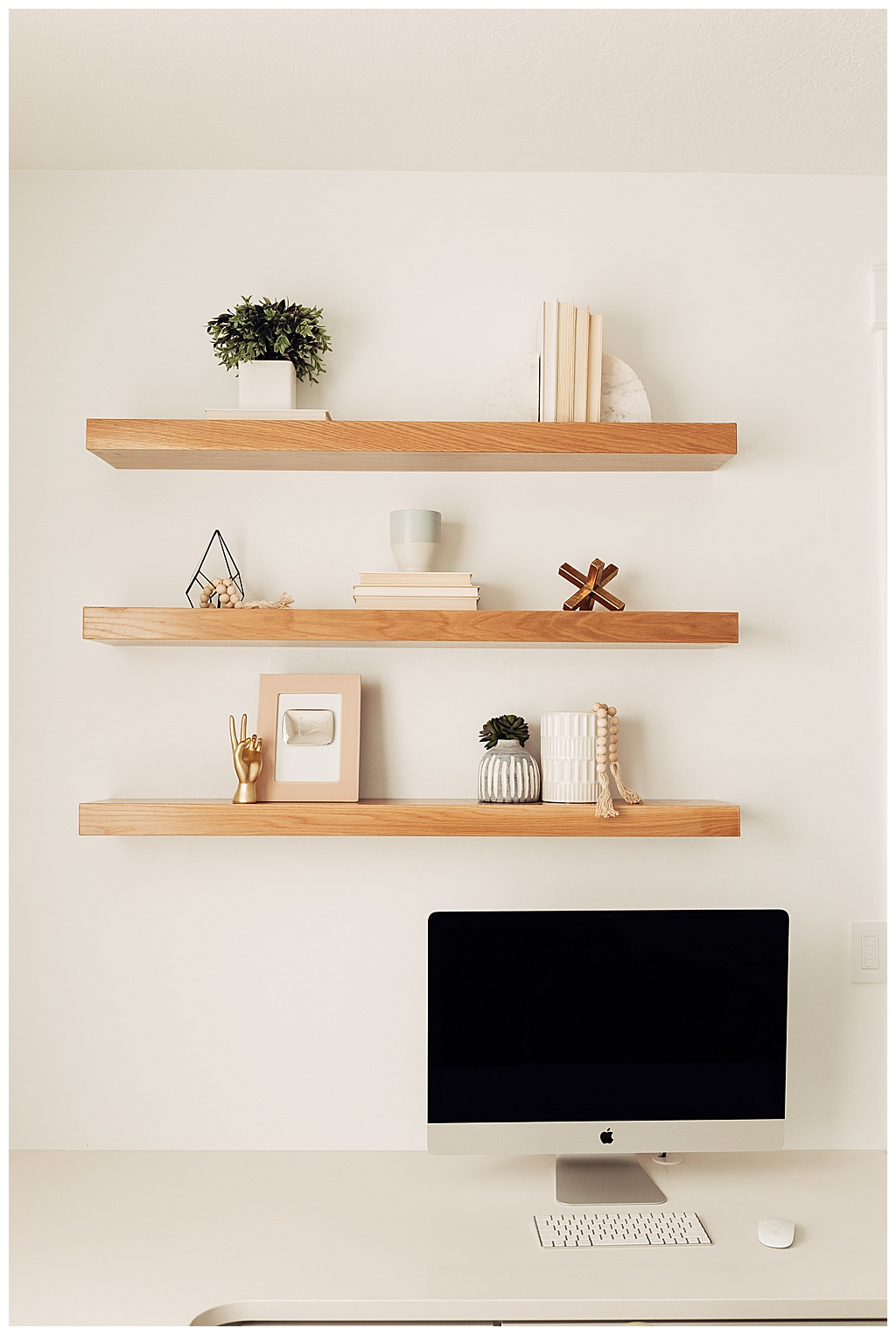 Alright, let's turn you around…
I think you need to see more of this pink couch… yes?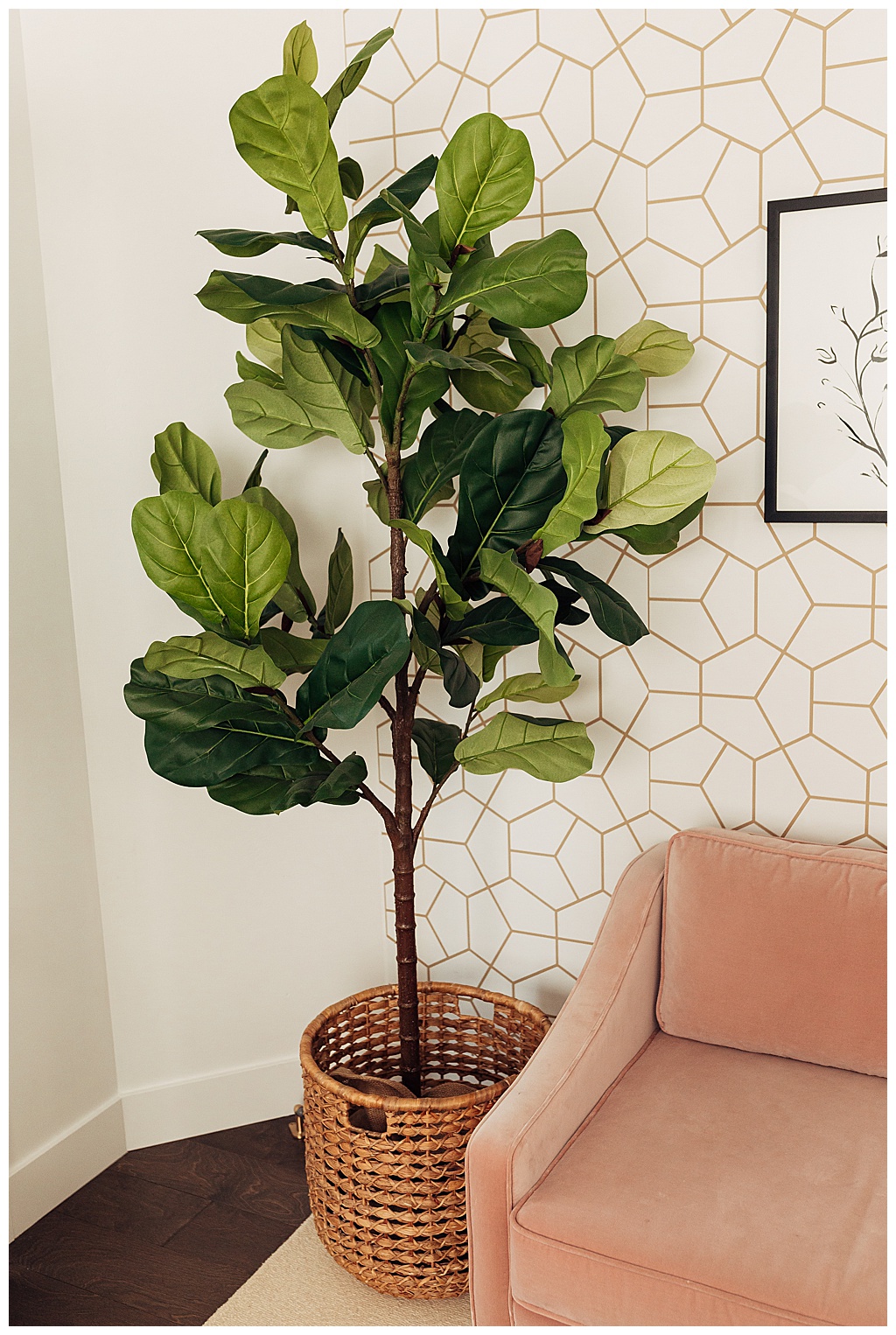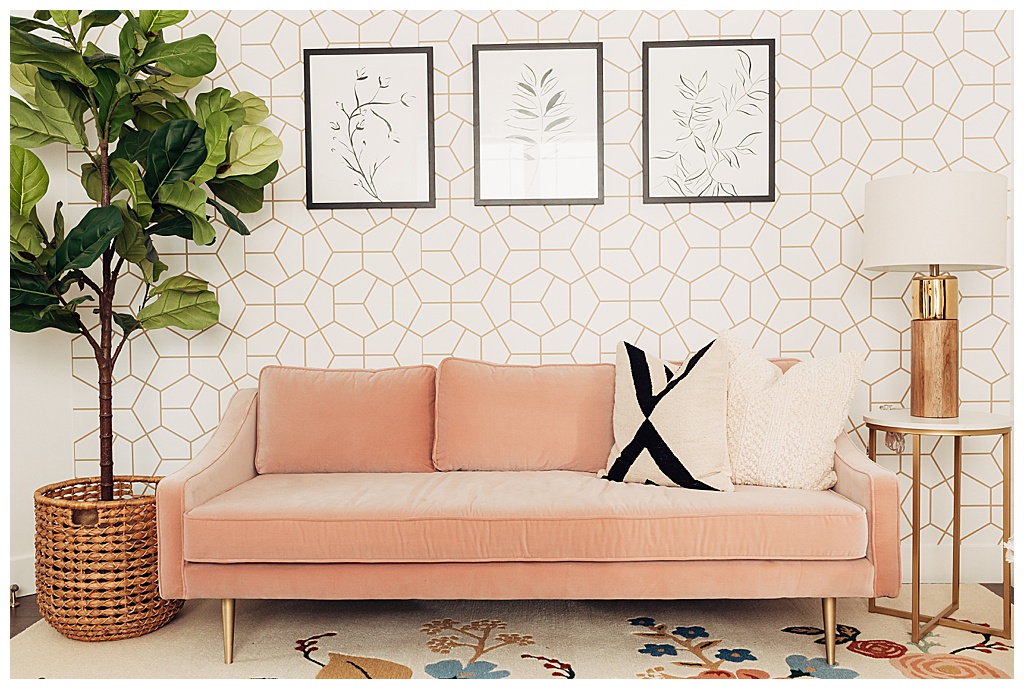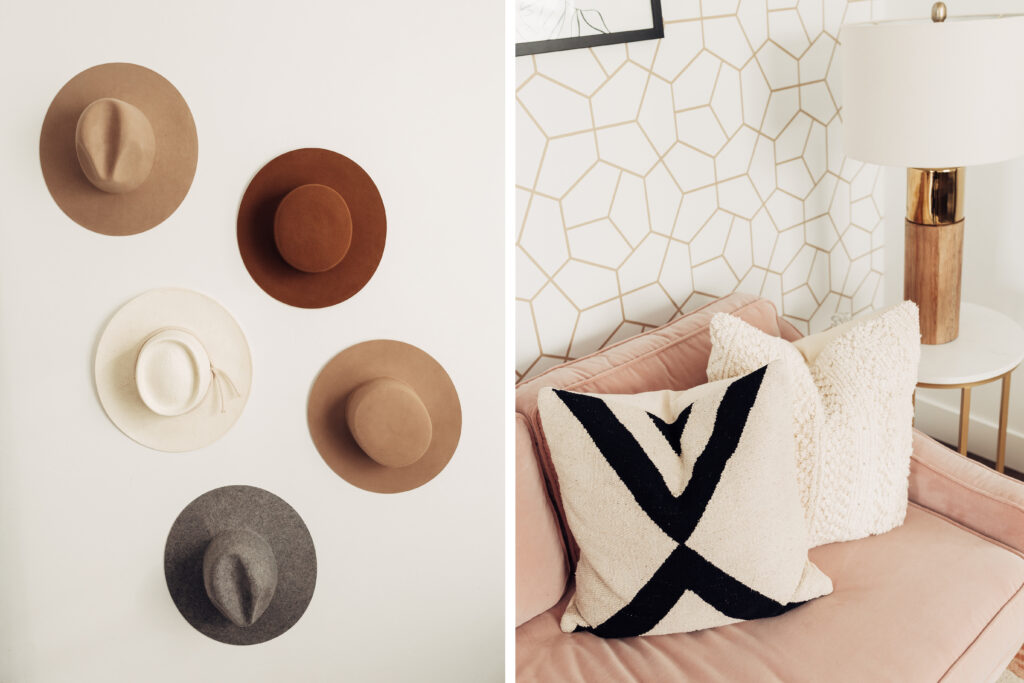 That wall of Gigi Pip hats has my heart SINGING!!! I wish I could remember all the names but you can find her hats HERE and she is always coming out with new styles!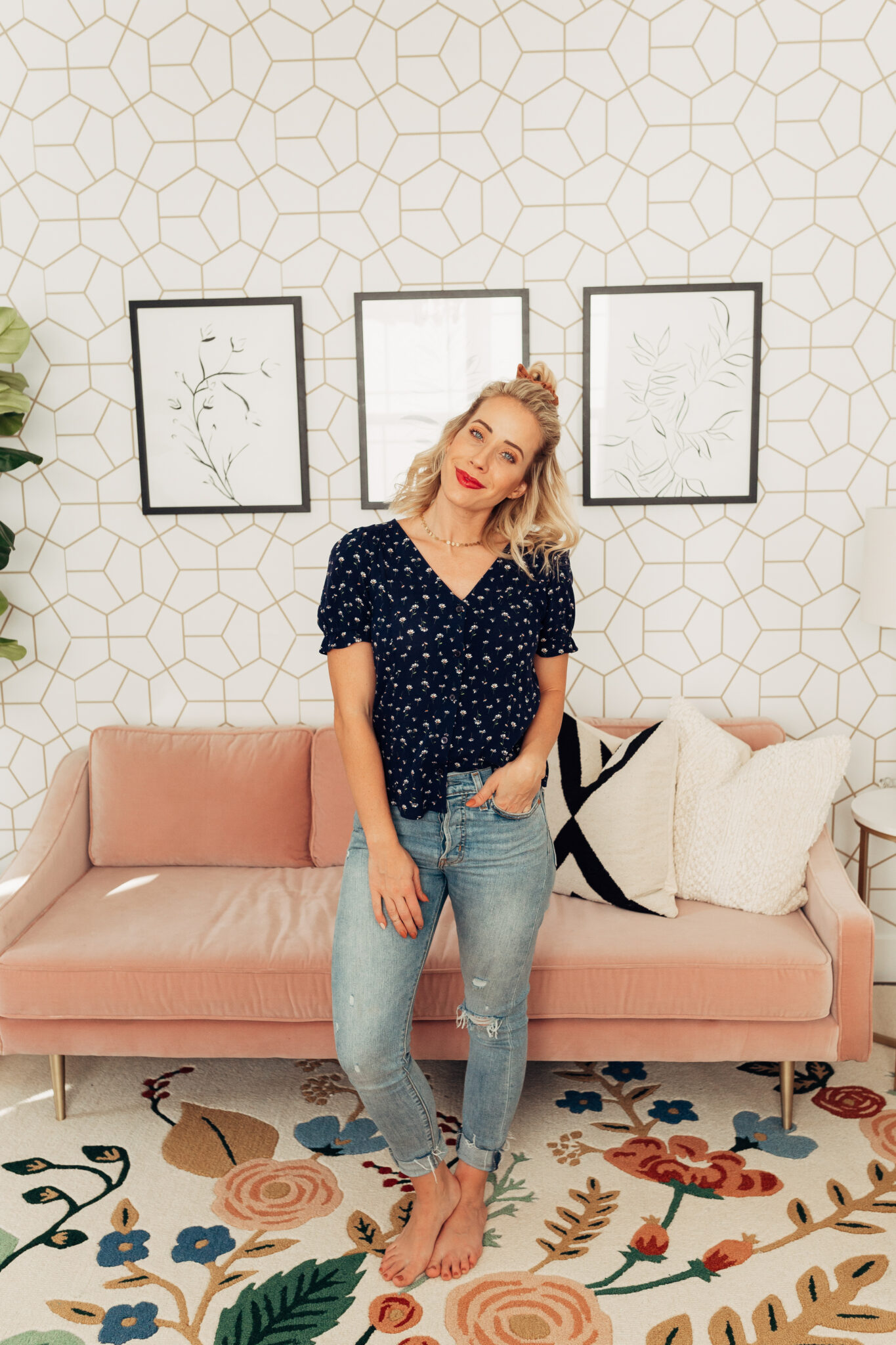 This was the first statement piece Kelsey secured for the room. I WAS OBSESSED. It's a modern velvet couch from Article and the quality is incredible. I love how luxe it makes the room feel, it also gives it such a girly vibe but it's still very grown up and sophisticated.
From the amazing floral rug from Loloi to the geometric wallpaper from Loomwell and the floral artwork Marcelle Calder, there's a lot going on in this room. Somehow, Kelsey pulled it altogether and it came to life so much more beautiful than I ever anticipated. Here are a few more pictures for your viewing pleasure.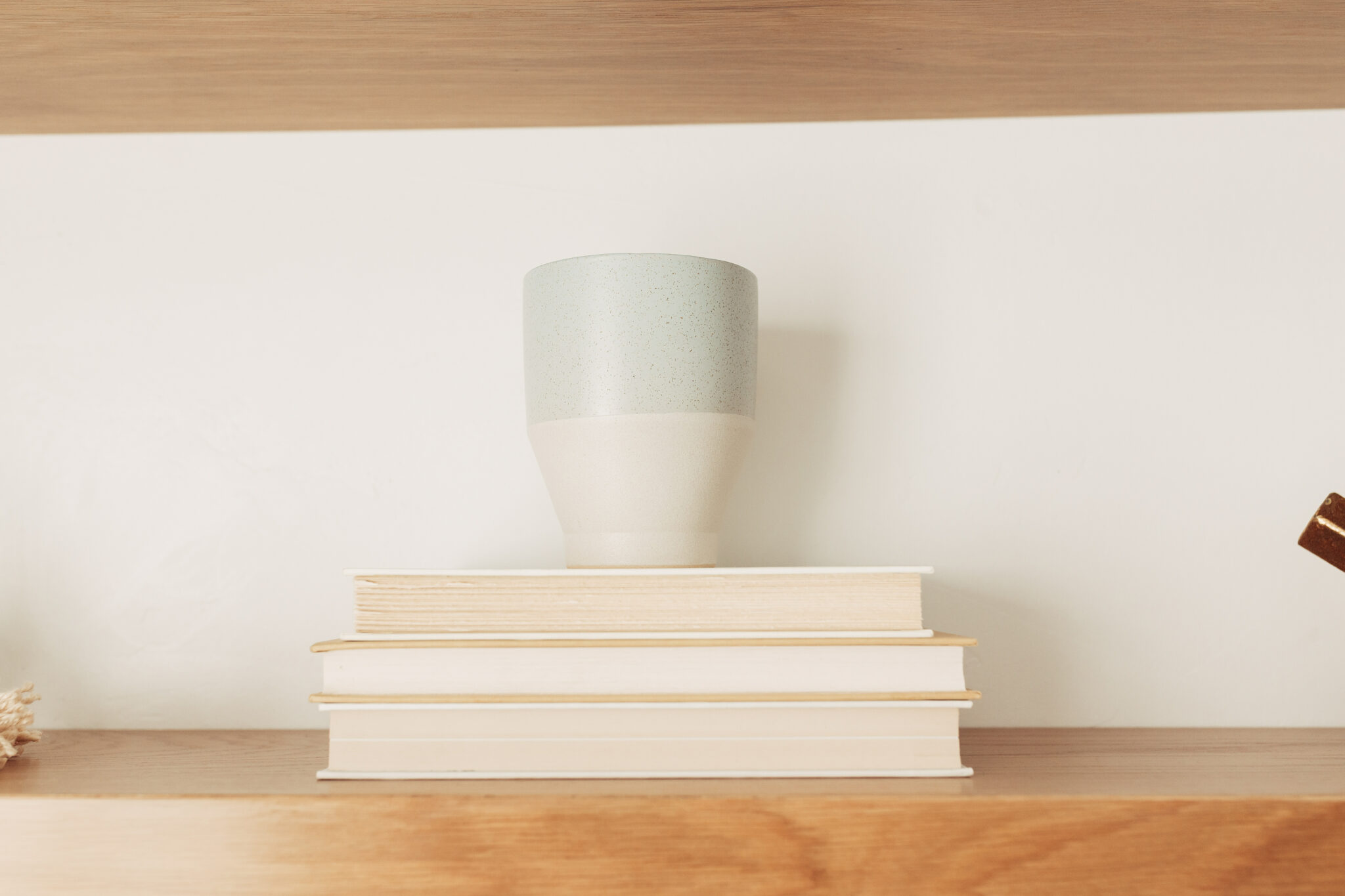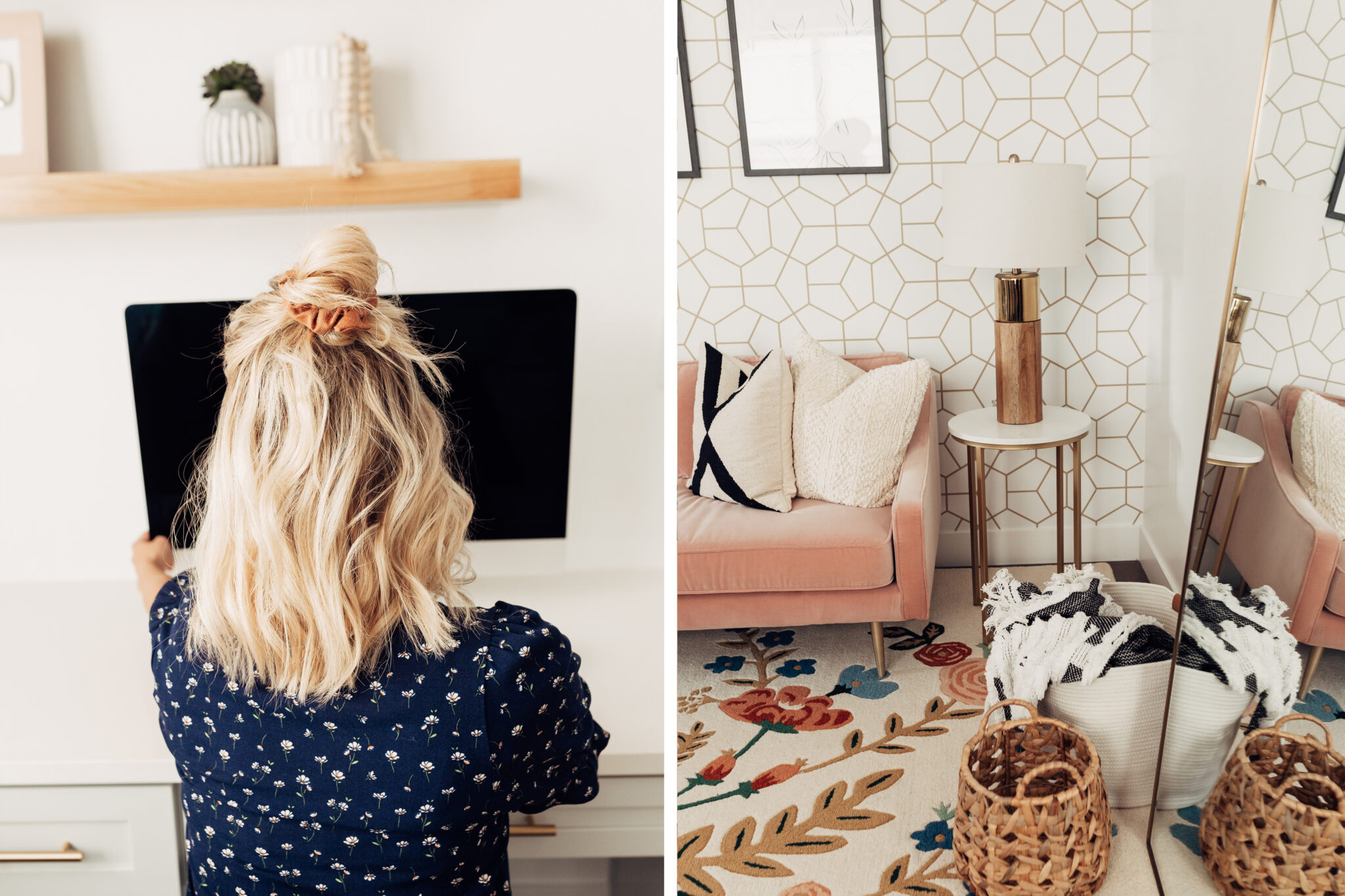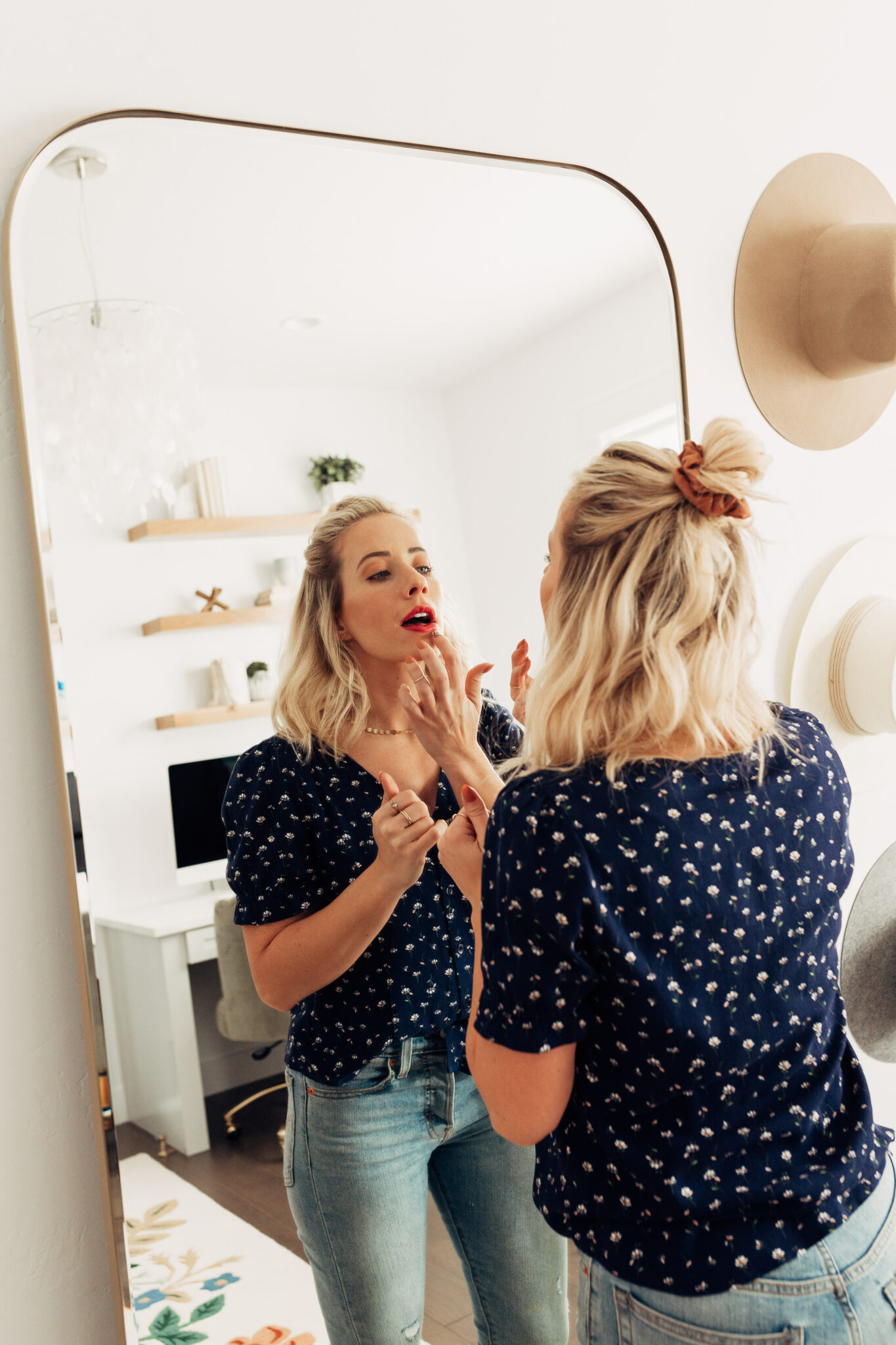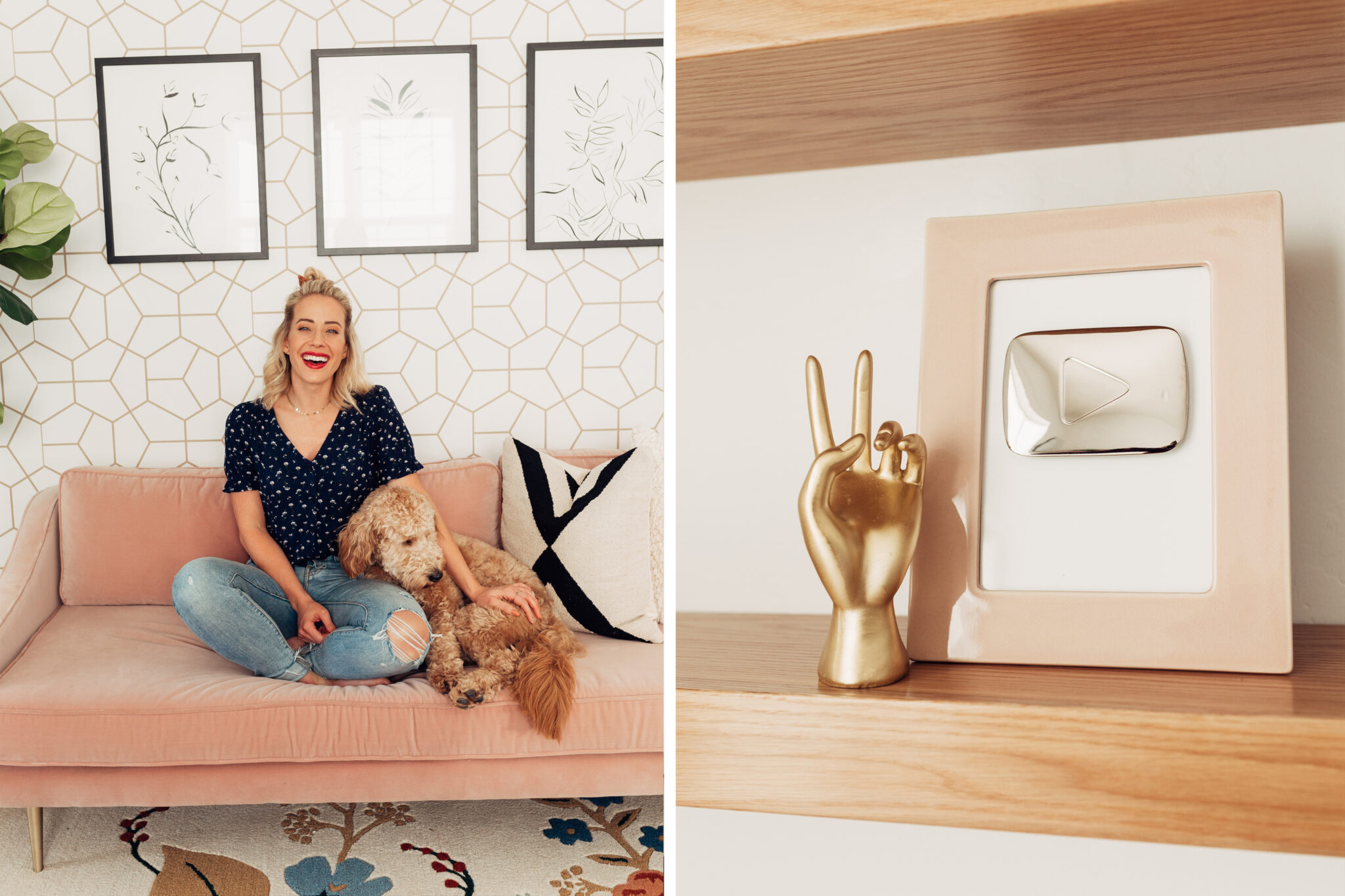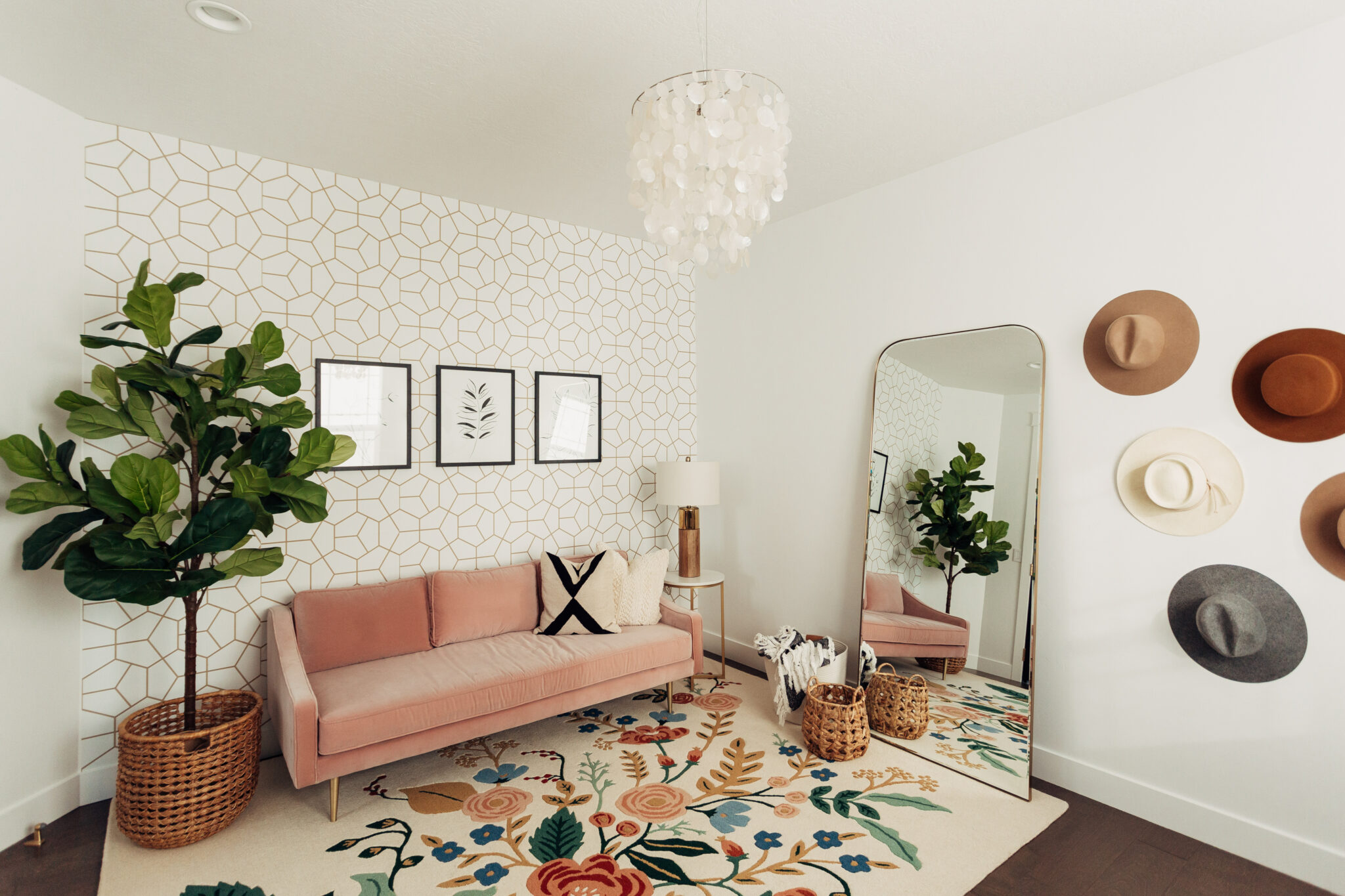 I want to give special mention to Article, Loomwell and Loloi for gifting us pieces for this room. I think my very favorite piece is the floral rug from Loloi. It just makes this room so unique and really pulls everything together. To order anything from them you'll need to go through a designer so if you're interested in anything on their site make sure to reach out to Kelsey! The rug upstairs in my master bedroom is Loloi and I've been highly impressed with their quality. If I've missed anything, let me know in the comments below and I'll try to source it for you!
YouTube
Where to find everything!
Article Mirage Blush Pink Couch
Marcelle Calder Botanicals Art
Chandelier (similar)
Lamp (similar)
Basket 1 similar | Basket 2 | Basket (similar)
Pretty & Functional Home Office
And there you have it babes! I absolutely love how this room turned out and what a difference between the before and afters. What do you think?
Abby