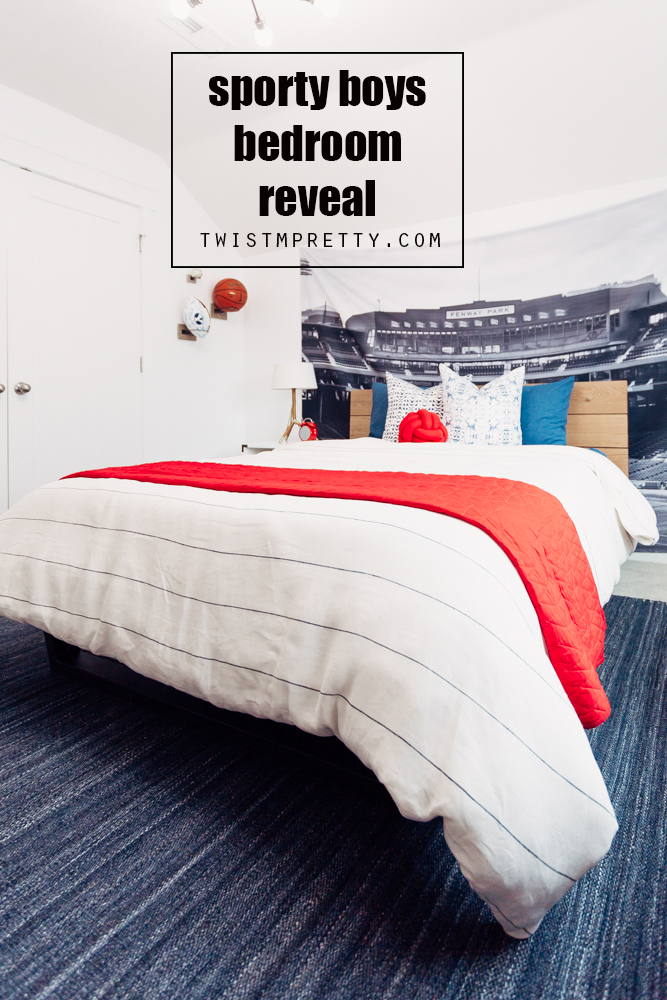 Sporty Boys Bedroom Reveal-Boston's Bedroom – a room for a little boy
GUYS!!!! IT IS FINALLY HERE!!! This room has been a labor of love and it's been SO HARD for me to keep it a secret. Let me introduce you to Boston's new bedroom!
Before all of the pictures and links, I must give a huge shoutout to those who were the biggest help in making this happen. First, my designer, Kelsey from Alika Design, is an all-star. She took my ideas and vision and made them into a reality. She is amazing at making a room functional AND beautiful…I mean cool… we are talking about my son's room, ha! If you are in need of an interior designer, she is wonderful and does online consultations. Snatch her up for your next project.
And secondly, Article. Article is my go-to company for sleek design at affordable prices. They saved the day with their classic and sturdy furniture pieces. I know these pieces will get a lot of wear and tear and Article came through big time. If you are in the market for some high quality and affordable furniture, make sure to check them out.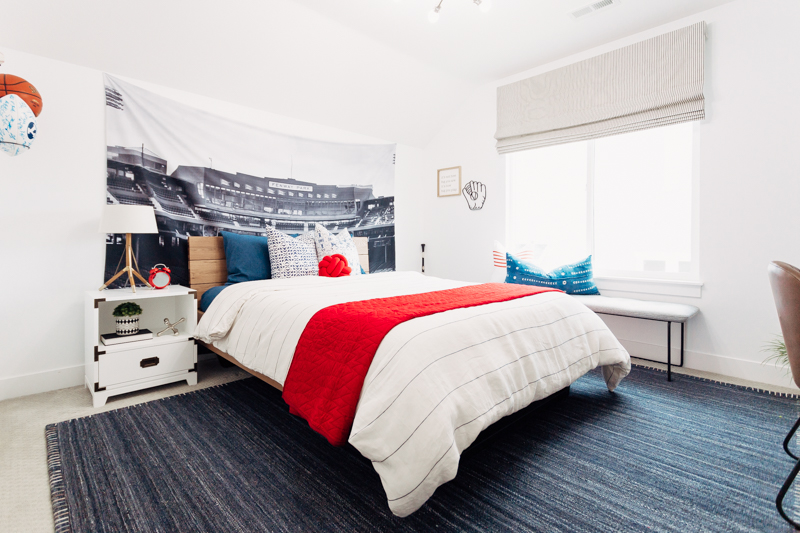 The Bed
This is the Queen Taige Oak Bed from Article and I'm OBSESSED!!! I am so in love with Oak lately and the low, modern design made it perfect for Boston's room! I'm sharing this screen shot from their website because I want you to see the gorgeous frame on it. It has those really pretty iron legs and because of it's low profile it doesn't need a boxspring!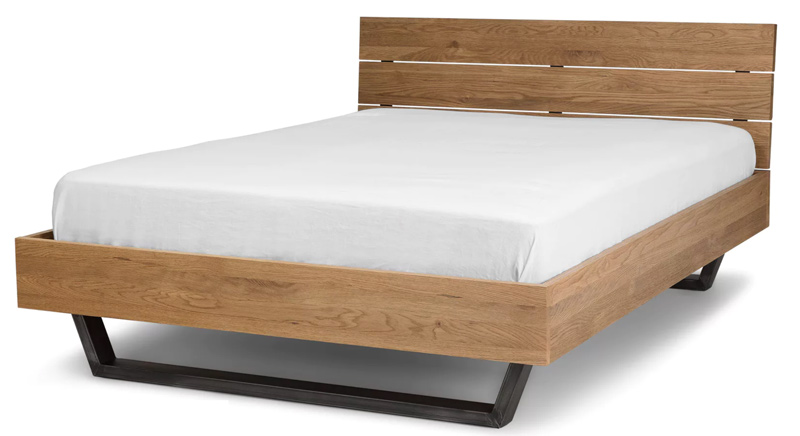 The Purple Mattress
We got a queen Purple Mattress for it because my plan with the kids is to give them a queen right off the bat with a great mattress (Brian and I are OBSESSED with the Purple) so that when they get married we don't have to upgrade their room! That's what Brian's mom did and I always thought it was such a great idea. I believe Purple is running a sale for President's Day through the 28th so make sure to check them out if you're in need of a new mattress. We've had ours for a couple years and it's the best mattress we've ever used and we replaced super expensive Sleep Number mattresses.
I got these Navy sheets from CB2 along with this duvet cover and this quilt from Target! We have the orange one in the twin's room and love it!
Tapestry
I actually found this tapestry from Red Bubble and it became the inspiration behind the room! I loved it because we named Boston after the Red Sox, Brian is a huge fan of Boston and we just ultimately thought it was a cool name. So to have a little Fenway Park tapestry in this sports obsessed little boy room, we thought it was perfect.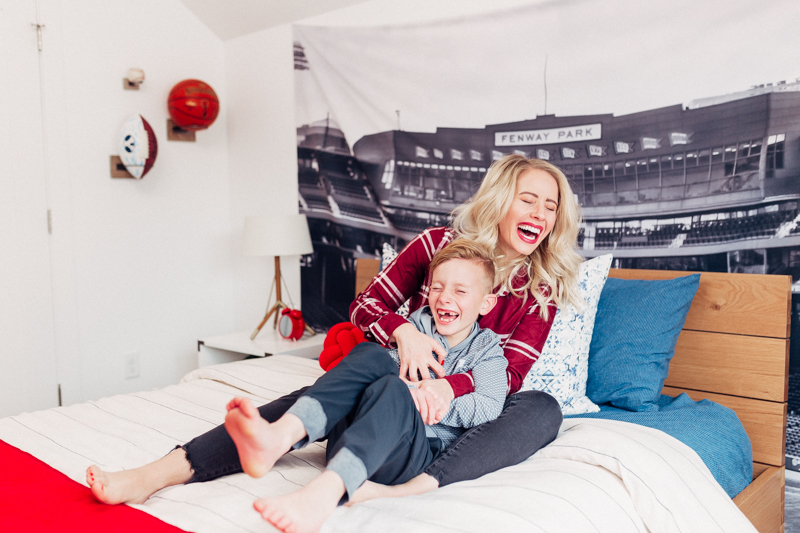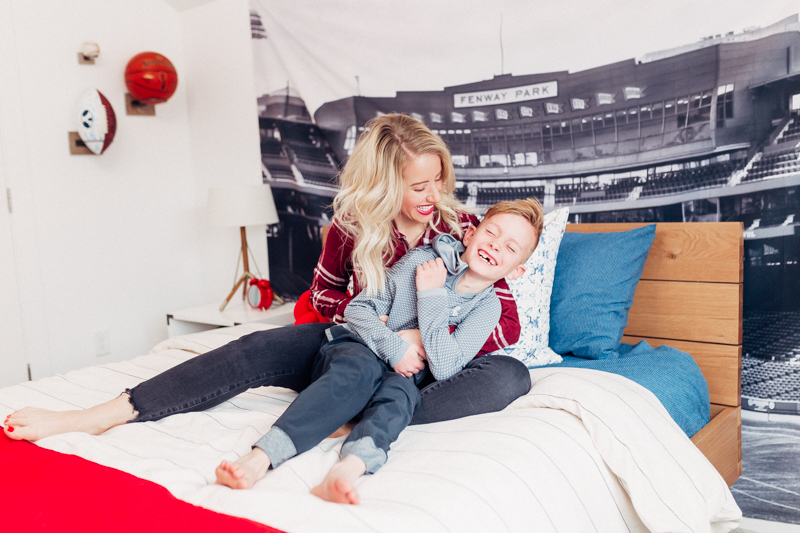 The Bench
This is the most versatile grey bench and it fits this space perfectly!! It's light and breezy so it doesn't weight this small space down and the grey color is perfect!! It's from Article and of course the detail and quality is top notch!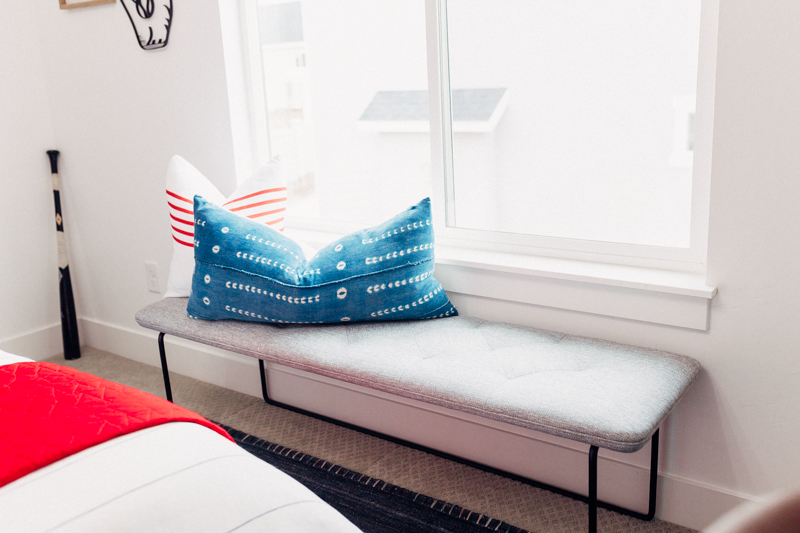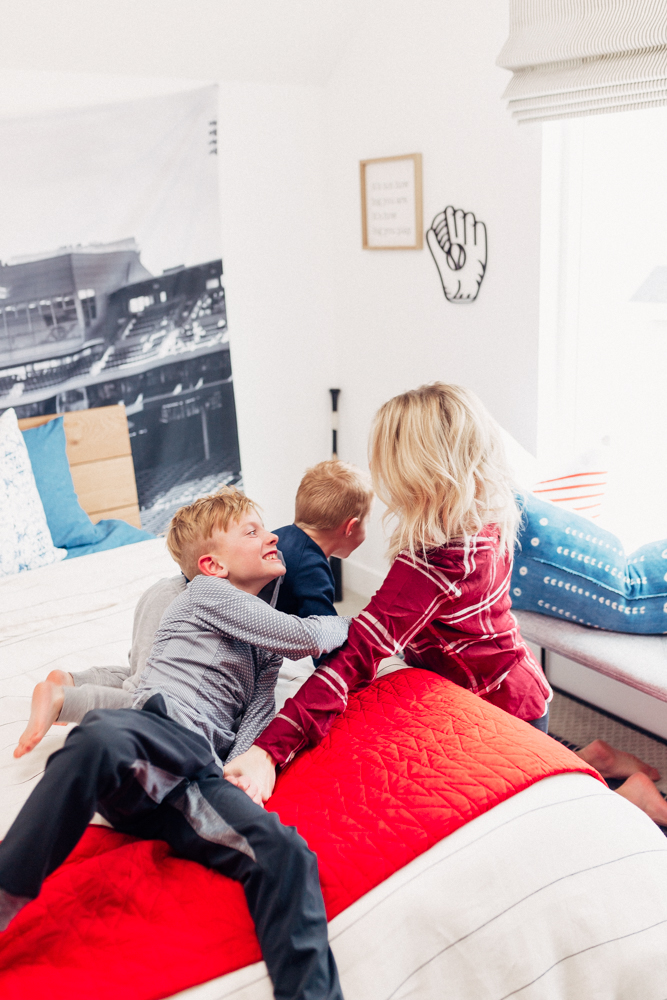 Pillows
I called on one of my favorite pillow shops, Danielle Oakey, to help me pull together this bench! Danielle has become a dear friend of mine and I love her Instagram page. She shares the ups and downs of owning a business and is just as real as i gets! Her pillows are amazing, make sure to check out her mudcloth pillows — DEAD!
The red pillow came from Red Bubble. Not too impressed with the quality of it, it's a little see through but I do love the red baseball stripes!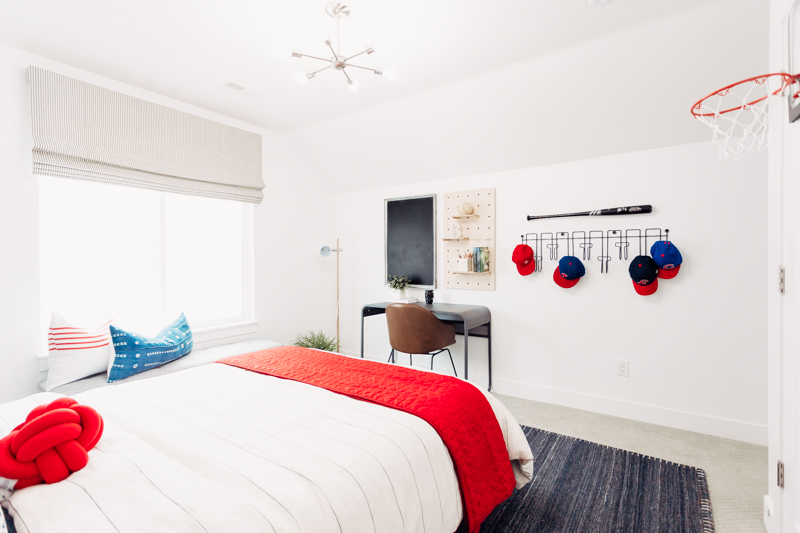 Light Fixture
I ordered the Bautista 6 Light Chandelier from Joss & Main and it's perfect! It's simple yet substantial and just adds extra character and flair to his room!
Basketball Hoop
You can't see this very well but Kelsey found this awesome mini basketball hoop from Amazon that hangs over the closet door. The boys LOVE it.
Wood Ball Holders
I snagged two large and one small wood ball holder from Pottery Barn and they're the perfect addition to help Boston display his favorite balls. His football is signed by the BYU football team and then that's the baseball that hit him in the face when he was four!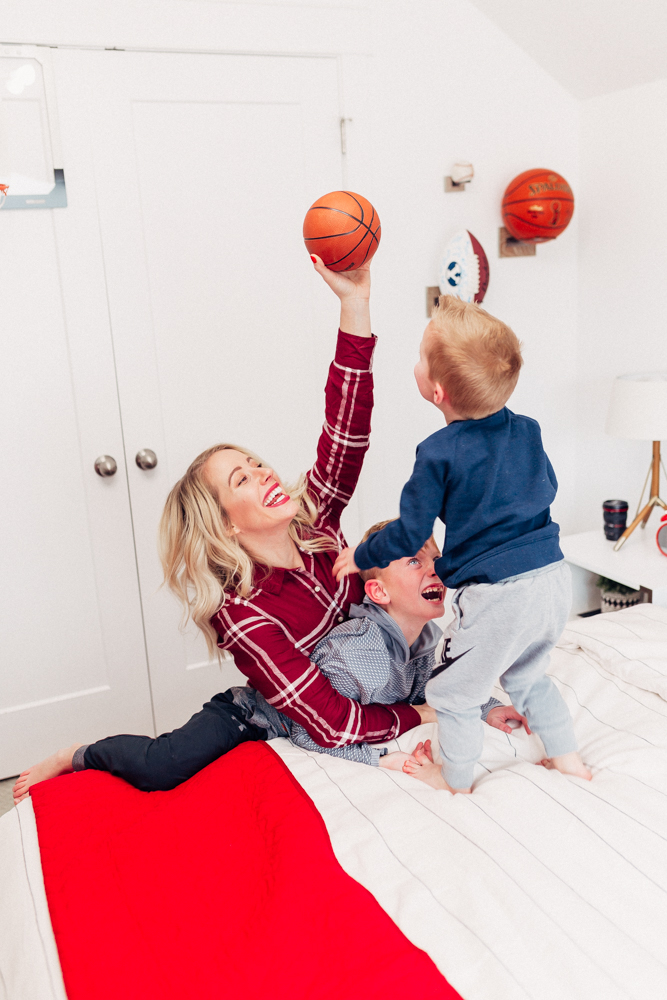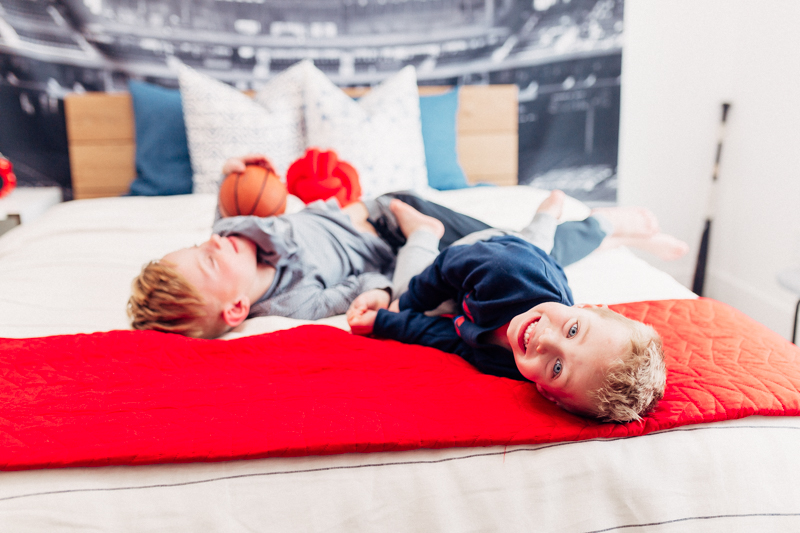 Boston's Writing Area
The Desk
This is the gunmetal desk from World Market and it fit the slim space perfectly.
Pegboard/Chalkboard
Isn't this pegboard the cutest?! We new we were wanting this chalkboard from Pottery barn but needed to add some extra warmth into the room. Kelsey found this cute shop called Little Deer Interiors on Etsy and their Pegboard was almost the exact same size as the chalkboard. It came with cute little shelves and just adds so much character to the room! I love it!
The Glove Chair
And last but not least, we have the glove chair. IT IS PERFECT!!!! It's a leather chair from Article that literally looks like a baseball glove. I don't know if you can tell but I love Article furniture, their quality is superior and I'm obsessed with their love for modern lines.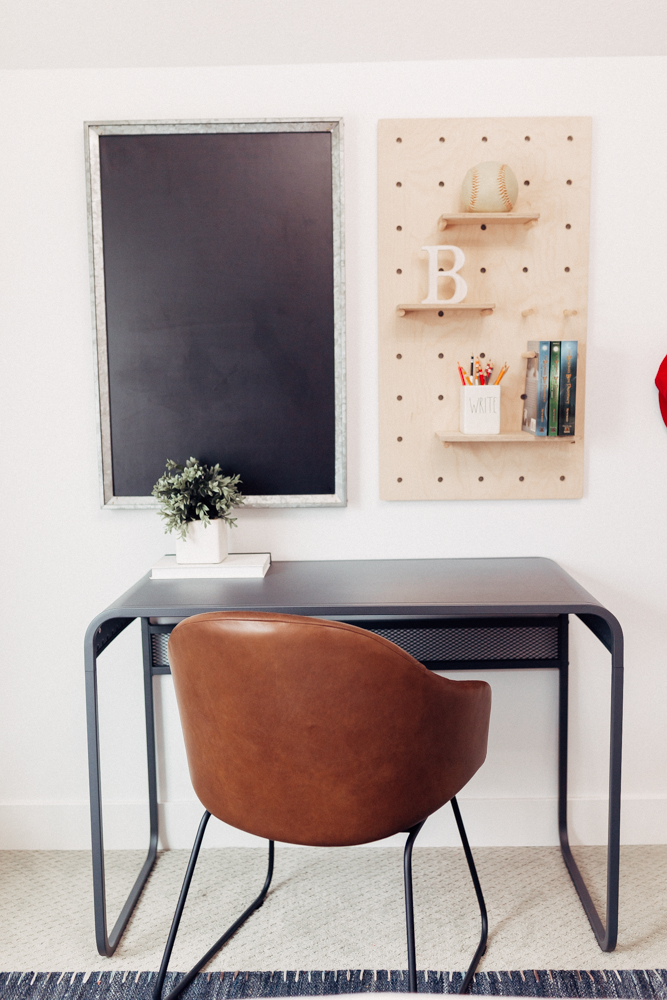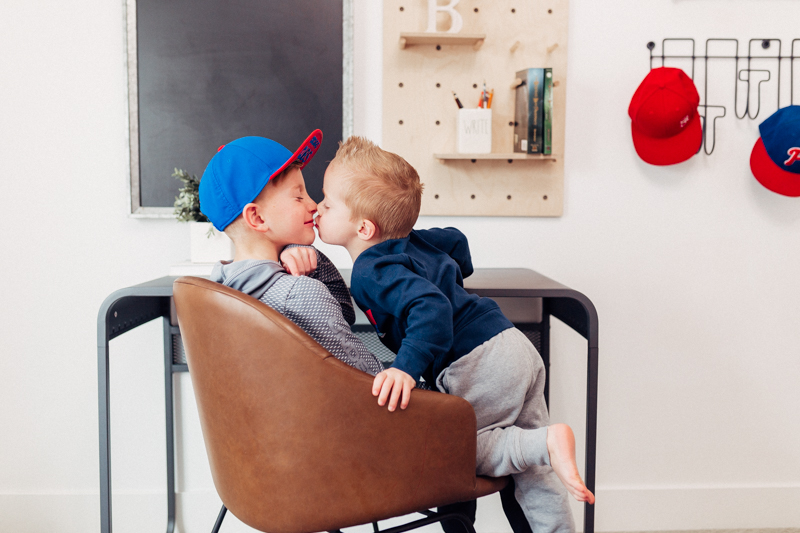 The Baseball Box Prophecy
If you have a little boy who loves sports and you haven't had him read these books — GET THEM RIGHT NOW!!!!! They're by Bruce Newbold and Boston is hooked. Brian has read them too and they both have the best things to say about them. They're Boston's favorite books so we of course needed to put them up on his shelf!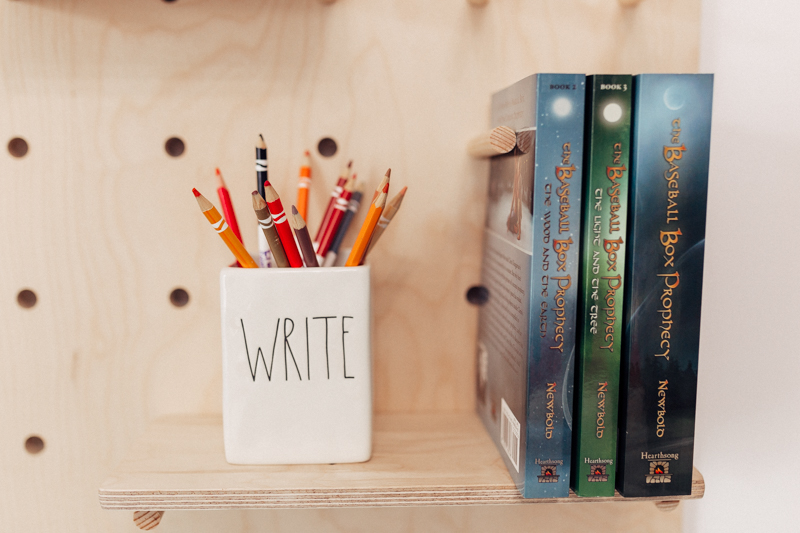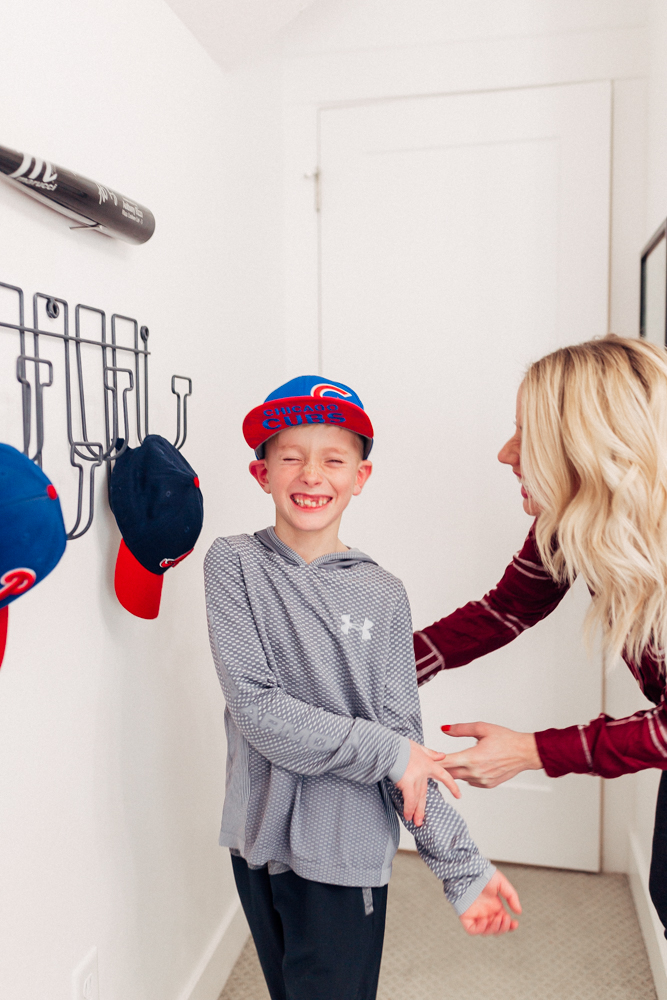 Wire Hat Rack
Do you know how many hats this boy has? One million. He got it from his dad! This wire hat rack was the perfect size to take up space on an empty wall and also get his hats off his floor.
And that signed baseball bat? Well that one's gotta be earned!!! When Boston was four he went to a Cubs game with his Dad and Grandpa while we lived in Ohio. Long story short Anthony Rizzo hit a foul ball and hit Boston right above the eyebrow. I'm sure worried that we'd sue or something, the Chicago Cubs had A Rizzo sign a bat and send him a poster that says "keep your eye on the ball". To this day Boston is a Cubs fan and will always love A Rizzo! You can watch his thank you video here and the tragic picture of the laces etched into his eye here.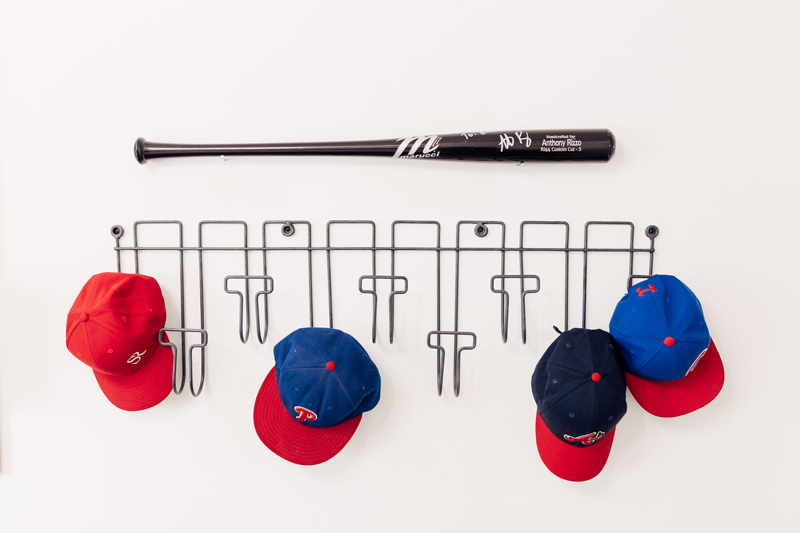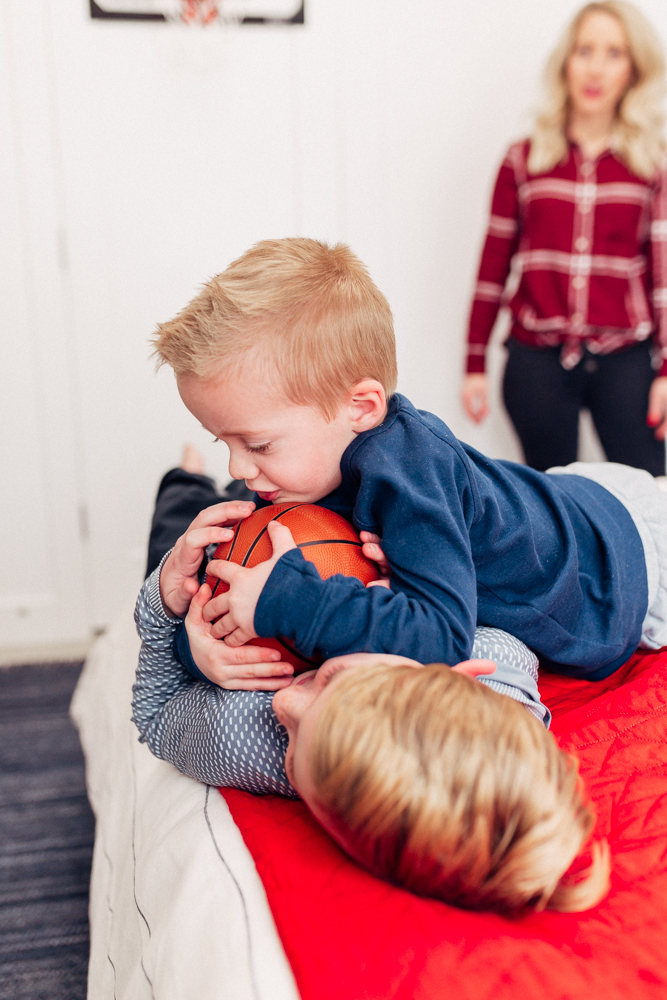 Roman Shades
I sincerely wish we had a before and after of this room! We ordered the roman shade from Uptown Drapes and it immediately transformed the space and brought in so much warmth. Isn't it CRAZY what beautiful window treatments can do to a room?!! We went with Uptown drapes because they have the best selection of luxury fabrics, literally pages and pages of gorgeous designer fabrics. After you choose your fabric you just need to measure your window and order! They have drapes and roman shades, you can get rods, it's your one stop shop for all the things!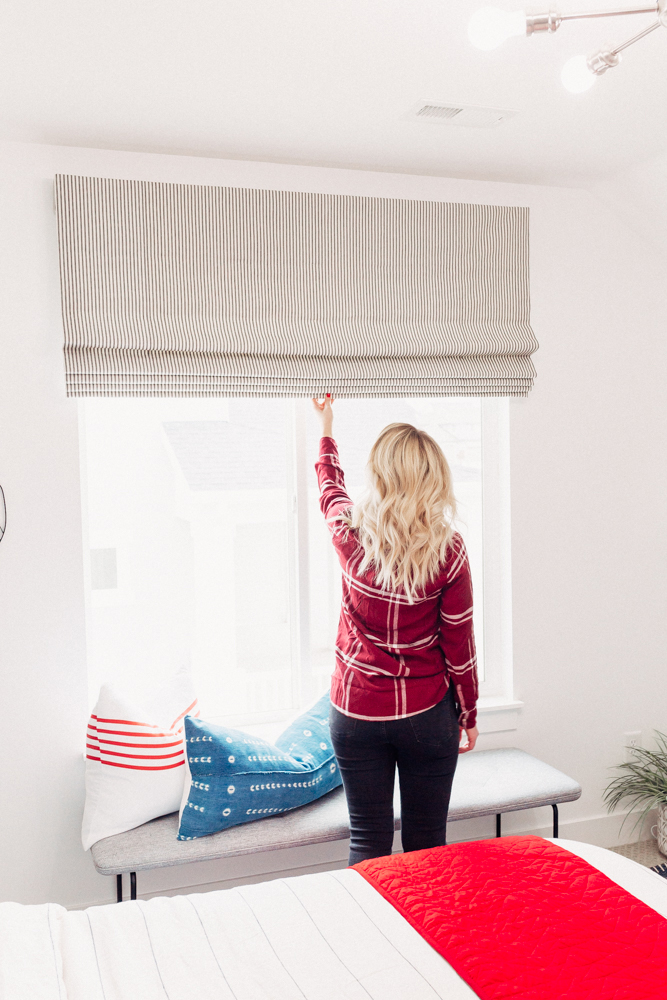 Once the roman shade arrived it was really easy to put up! I have a quick money saving tip. We have a black out roller shade underneath this roman shade so I didn't need it to work, I just wanted the aesthetic of it. So what I did was ordered the roman shade a couple feet shorter than the window to save me money on fabric! It's still a functioning shade though which gives it that really pretty pleated look and then it doesn't look like the cheap stationary shades. Ya feel me?! Anyway, I can't recommend Uptown Drapes enough and they have so many beautiful examples on their Instagram page that'll help you find something you love!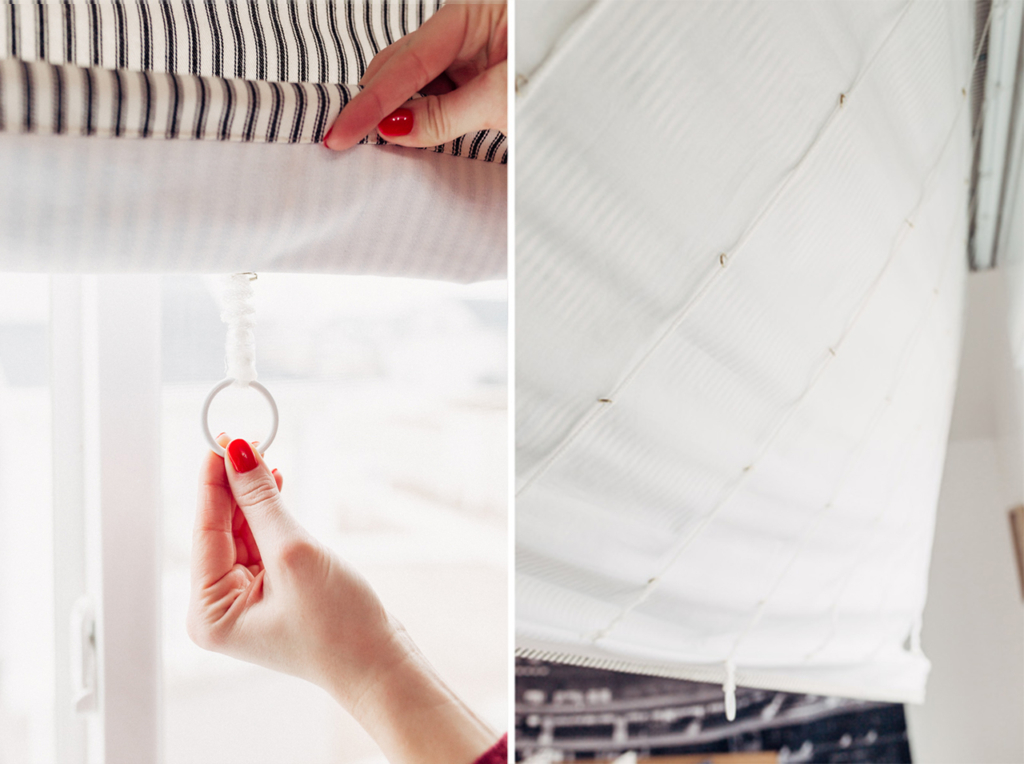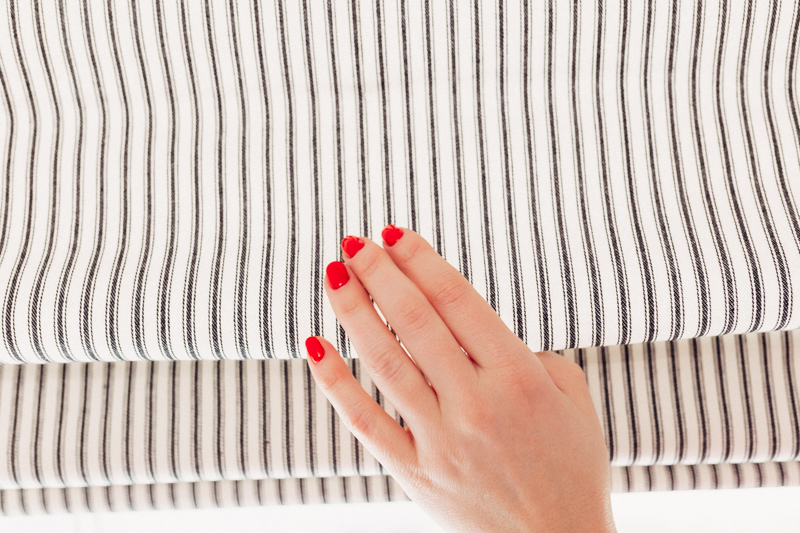 Floor Lamp
We got the floor lamp from Article, it's the perfect light with a good mix of modern and metal and we paired it with some greenery and a cute pot! It fills the corner perfectly!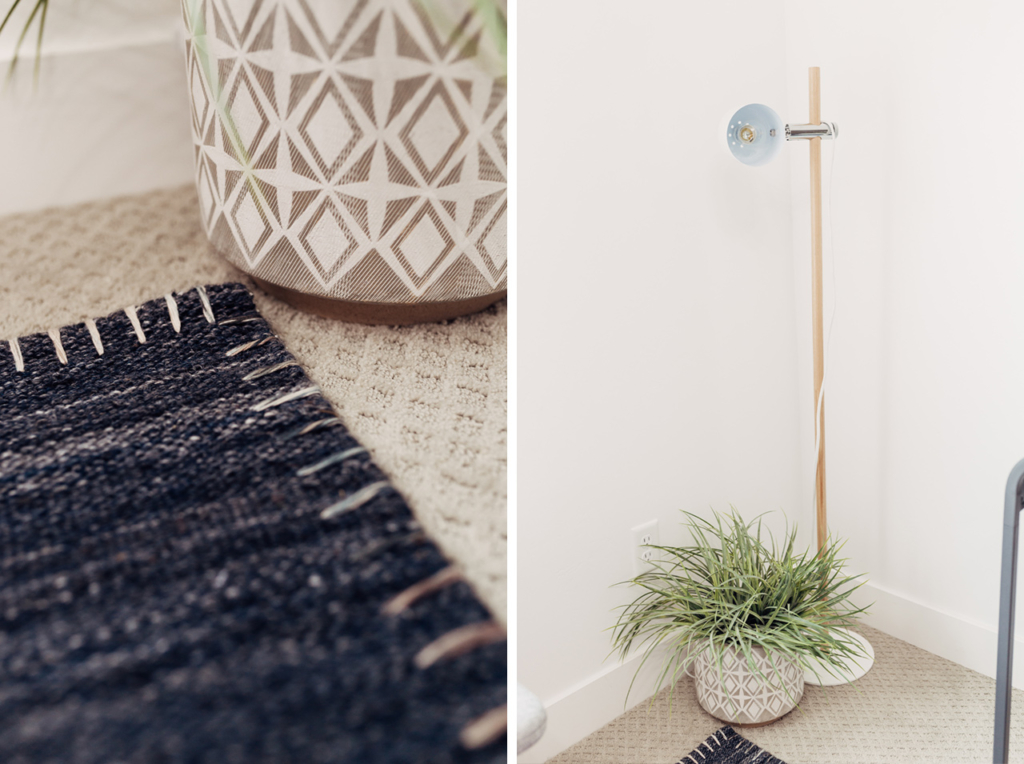 Rug
This is the shale iron rug from Article, isn't it gorgeous? When Kelsey sent me the mood board I'll admit, I was a little worried that dark rug would eat up all the light and make the room feel small. Boy was I wrong!! That dark rug is one of my favorite pieces in the room and it's seriously pulled everything together. It's made it feel masculine and modern and bonus, it always looks clean!!! Article has some fantastic rugs, all very modern and chic, make sure to check them out if you're looking for something to spruce up your place!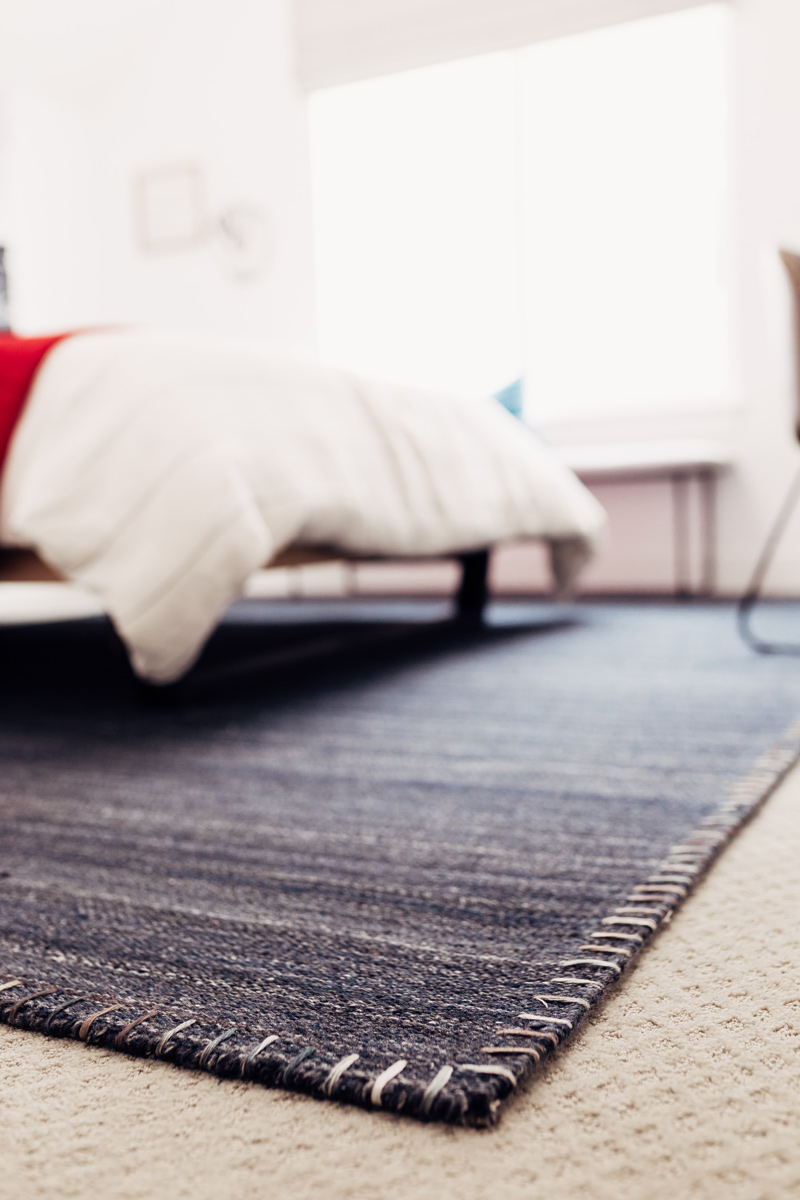 Pillows
Savannah Hayes Textiles
Could you not die over this fabric? These are Savannah Hayes textiles and I can't tell you how obsessed I am. We tossed around other pillow arrangements (… haha see what I just did there?!) but couldn't stop dreaming over these two pillows from Savannah Hayes. We ordered 1 yard of the Lisbon fabric and another of the Palermo, both in the color Indigo.
We shipped the fabric straight to Katie from The Sewing Nerd who turns fabric into masterpieces! She creates custom slipcovers, window seat cushions, pillows, couches and love seats, she does chairs and ottomans. Seriously if you can dream it up I swear Katie can make it!!!
The Red Knot Pillow
I have several of these pillows through out my house, they're just the perfect little size to place in between two square pillows! I got this guy off Etsy, came straight from China but I'm super happy with the quality!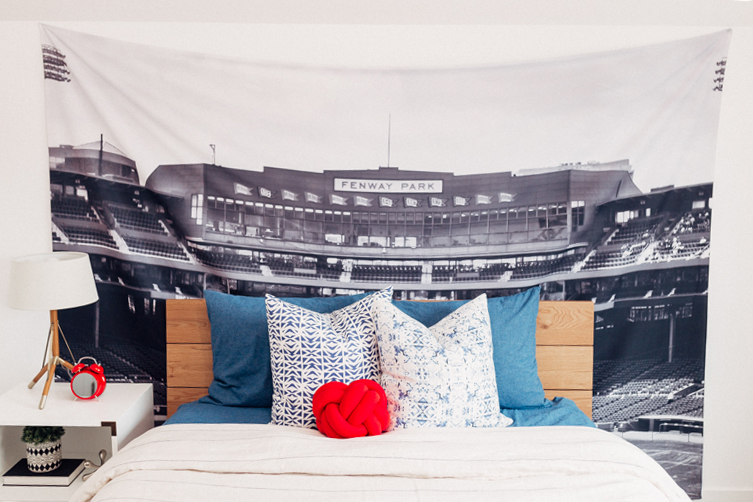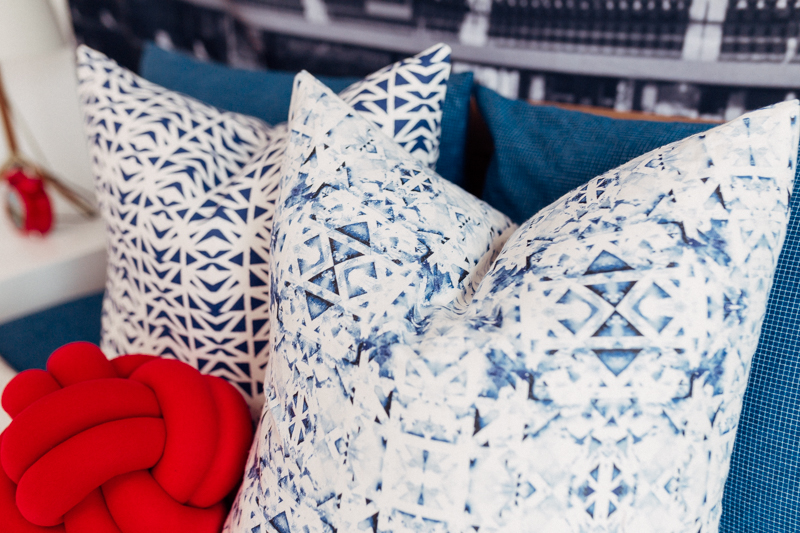 Nightstand
We got the nightstand from Crate and Kids and then Kelsey found the lamp from Target, I tried finding it online but it is eluding me. Isn't it cute, though?! The red alarm clock is from Amazon then all the other accessories are from TJ Maxx!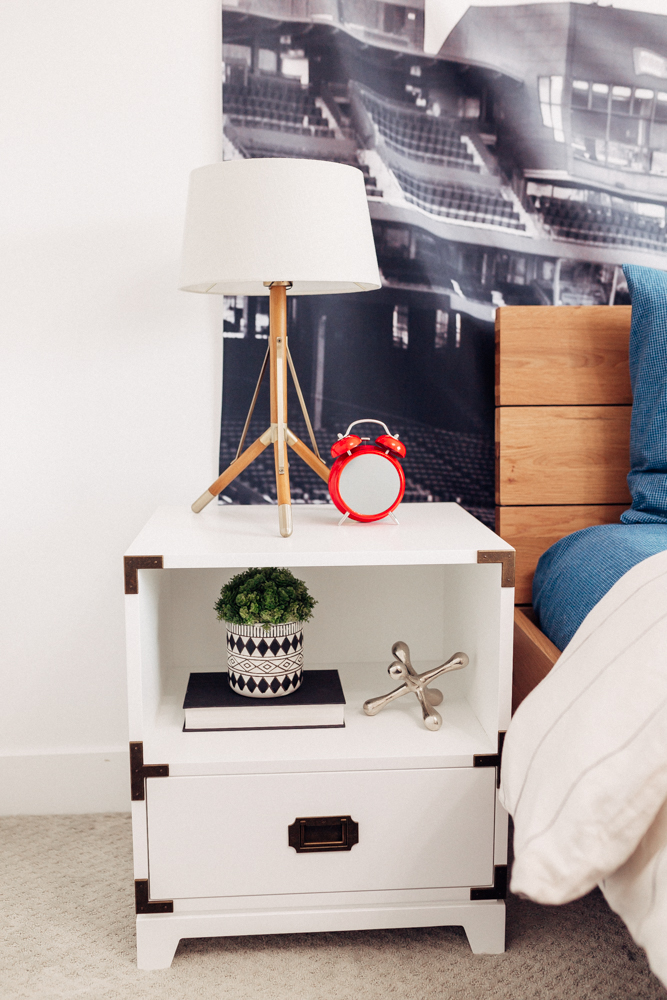 Is he not the cutest?
The Designer
I found Kelsey months ago while exploring Instagram. A simple bunkbed hashtag led me to her page… turns out she lives five minutes from my house!! She helped me with Savy's room and is helping me right now with the Master Bedroom and my office, I'm so excited to share those spaces with you! She designed Boston's room and I take zero credit, she's truly amazing at what she does. I wrote this article awhile back titled Why You Should Hire An Interior Designer. If you're on the fence, read it. She's helped me so many ways, I'm so grateful for her! You can find Kelsey over at Alika Design and she can make mood boards and help you shop from anywhere in the world!
Alright, my babes, what do you think? How are you liking these reveals? I want to know in the comments if you want to see more of them.
And, if you are looking for some more of my room reveals, here are a few of my favorites:
Kitchen and Dining Room Reveal
Photographer: Jordi Jerae Photography