How to refresh your wardrobe for spring
Well, it still feels like Winter here in Utah, but I figured if I shop for Spring, the warmer temps will follow… Right?! I don't know about you, but once it finally starts to warm up a bit, I am ready to pack away all my bulky winter clothes and refresh my closet a little bit with some fun, fresh, Spring pieces. So, I want to show you some amazing sales going on that will help get you ready for Spring.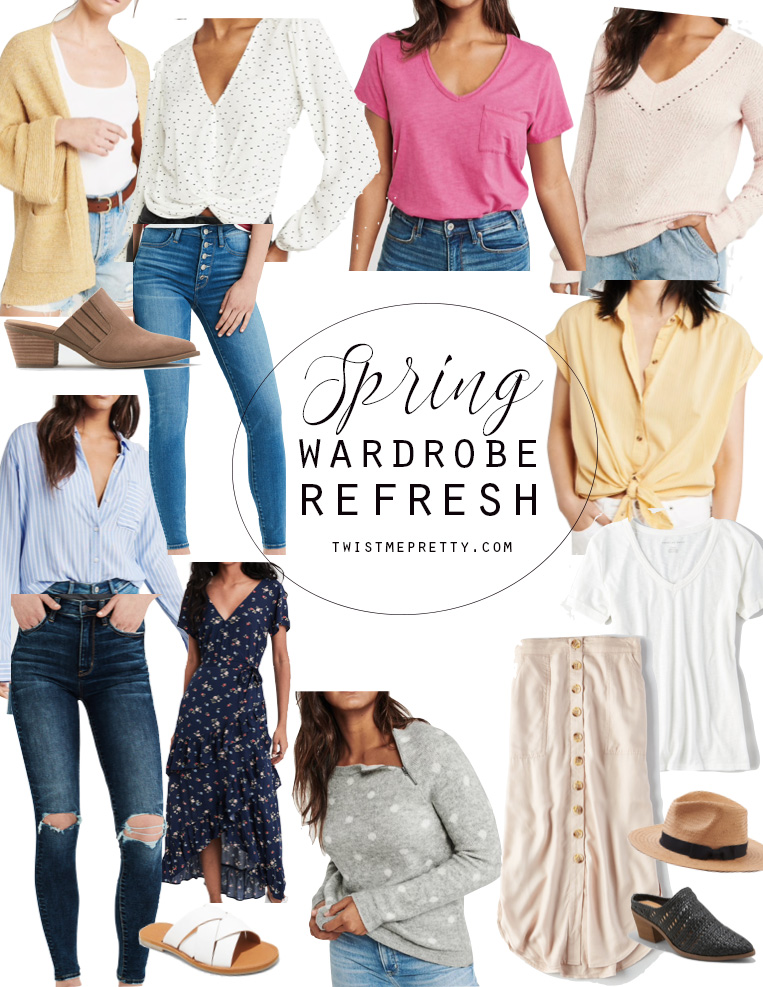 How to refresh your wardrobe for spring
Step 1. Buy cute shoes
The simplest way to add a little fun to your wardrobe is to add a cute shoe. Letting those toes out lets everyone know that you are ready for some warmer weather. (I know I'm ready to trade in these snowboots for a cute slide.)
There are some major sales going on, so I scoured the internet to find the best deals for you girls!
TARGET
Now through Monday, February 18, Target is having a sale – Save $10, when you spend $40 on clothing, shoes, and accessories! I linked a ton of fun Target shoes to go with these cute new outfits! The best part about buying Target shoes is that it is like having a Spring Fling. You don't have to feel like you are committing to these shoes forever because the price is right. Shoes are an easy way to add a little flair and fun. Check out these shoes that I've picked out just for you.

Step 2: Add in some spring color
Next, you need to add a little more fun, spring colors into your wardrobe. You don't have to be all pastels, but buy fresh, versatile pieces that will last you through summer. I've found the perfect place to find those spring clothes and it is at a place you wouldn't expect.
ABERCROMBIE
Do you guys remember Abercrombie?! I mean, I remember shopping there in high school…. but I recently rediscovered it and I'm telling you, they've REALLY stepped up their game! Abercrombie isn't just for preteens anymore. They have the cutest stuff, and tons of their tops are on sale right now, online only!

Step 3: Fill-in the gaps
Lastly, take a look at your current wardrobe and find the gaps. Whether that is a new sweater, shoes or skirts. Take the time to take inventory so that you don't waste any money on pieces that you don't need. Here are a few of my favorites that I've found for you.
I want to know if you girls do a Spring wardrobe refresh like I do?! Trust me, you deserve it! I linked all of my fun finds below, and I can't wait to see them on YOU!
Tops & Sweaters :

Jeans & Shoes :

Dresses, Skirts, & Hats :

Want to master that wavey hairstyle for spring? I've got a step-by-step here.